Cast Iron Skillet Cookie made with chocolate chip cookie dough, then baked in a skillet & topped with vanilla ice cream. Easy skillet cookie recipe for cookie lovers!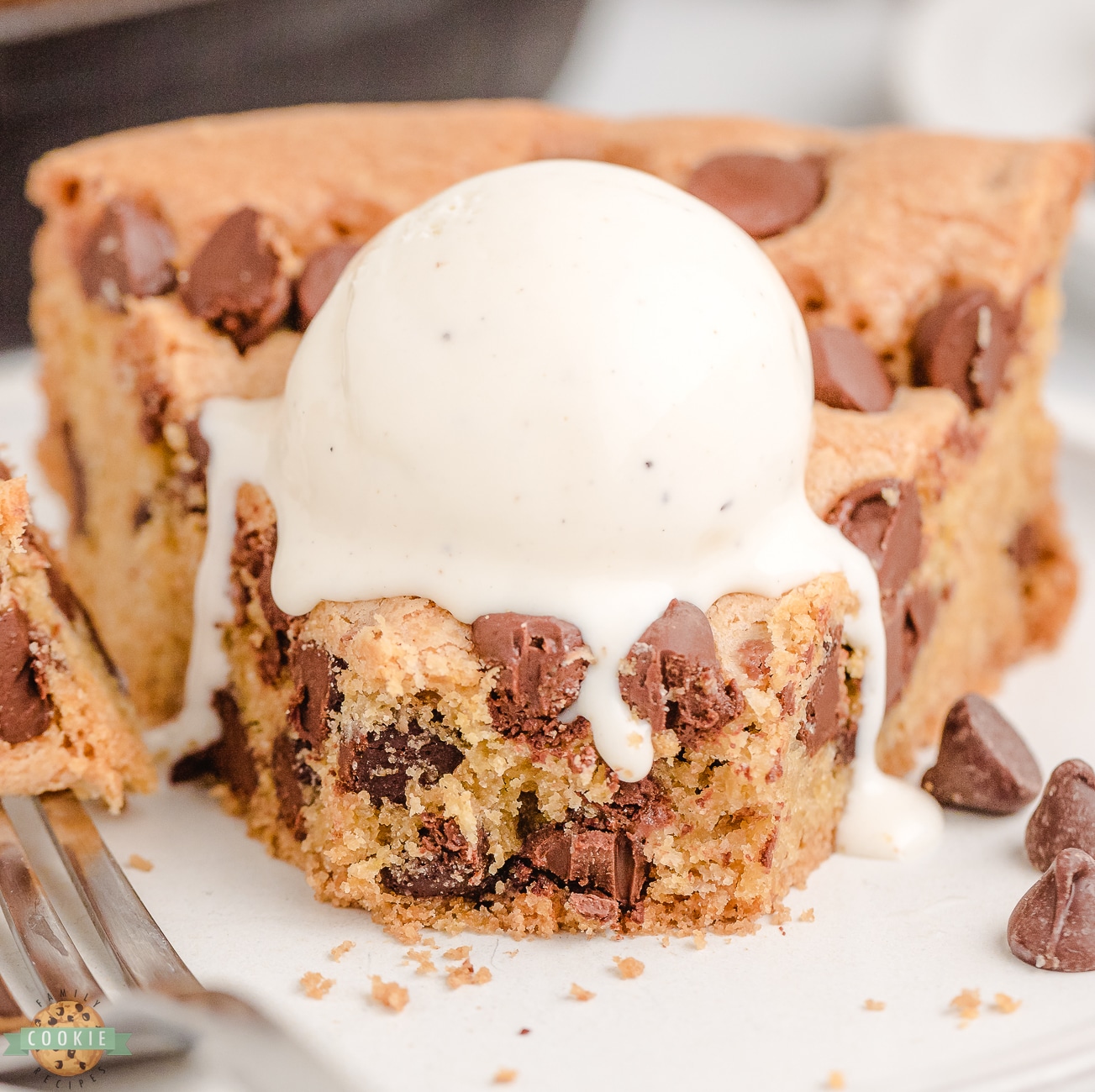 Chocolate chip skillet cookies are a great dessert that's both simple and impressive. Packed with chocolate and chewy cookie goodness this simple treat gets two thumbs up!
Making this cast iron skillet cookie is much easier than rolling out countless balls of dough and gives you the satisfying option of digging in with a spoon or slicing it out and serving it like a pizza. With just a cast iron skillet and an electric mixer, you can have your own chocolate chip skillet cookie in no time.
What is a cast iron skillet cookie?
If you've ever heard of a pizookie, it's essentially the same thing but on a larger scale. It's a homemade chocolate chip cookie baked in a 10 or 12 inch cast iron skillet (making it large enough to share). Thanks to the skillet, it bakes up nice and thick for a perfectly chewy, gooey, melt in your mouth warm cookie feeling. Serve it up with a scoop of ice cream and enjoy it al la mode!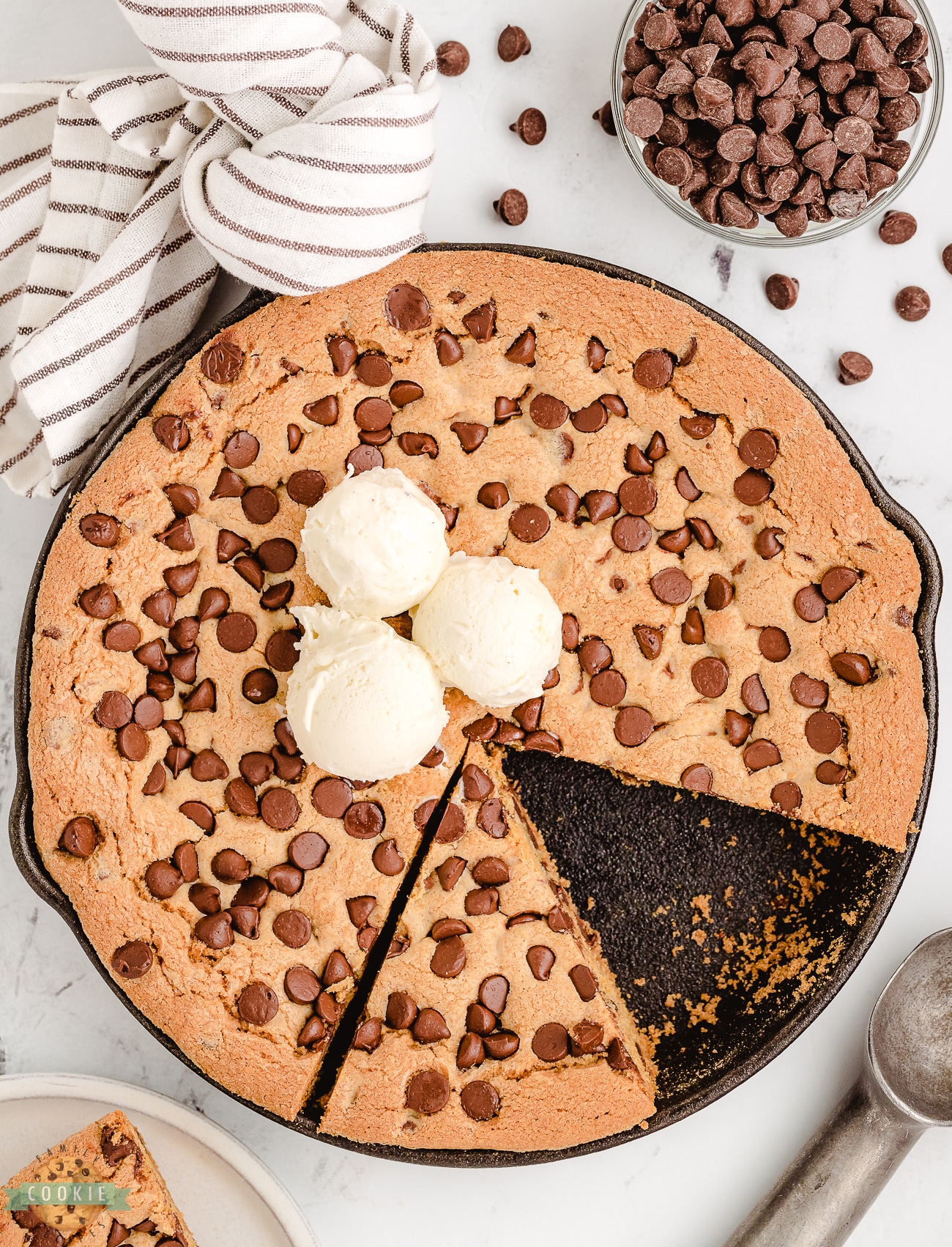 Chocolate Chip Skillet Cookie Ingredients
-Flour: We will use 2 ¼ cups of all purpose flour as the base for this cookie dough, but you can also use gluten free flour like Bob's Red Mill One to One if you want it gluten free!
-Salt: Just a teaspoon of salt will really help to enhance the flavors in this dough and make this dessert taste great.
-Baking Soda: A teaspoon of baking soda is all that we need for leavening agents. It will make the dough puff up beautifully.
-Butter: Butter adds a depth and richness to the cookie dough, you can use salted or unsalted but you'll need 2 sticks (1 cup) worth of softened butter.
-Sugars: A combination of white sugar and brown sugar will make this cookie sweet, brown and chewy. You'll need ¾ cup of each.
-Eggs: Two eggs will bind the dough together so that it's the perfect texture.
-Vanilla Extract: A teaspoon of vanilla will give the dough a nice flavor and if you want a great flavor, I recommend the higher-quality vanilla's because there is a difference in taste.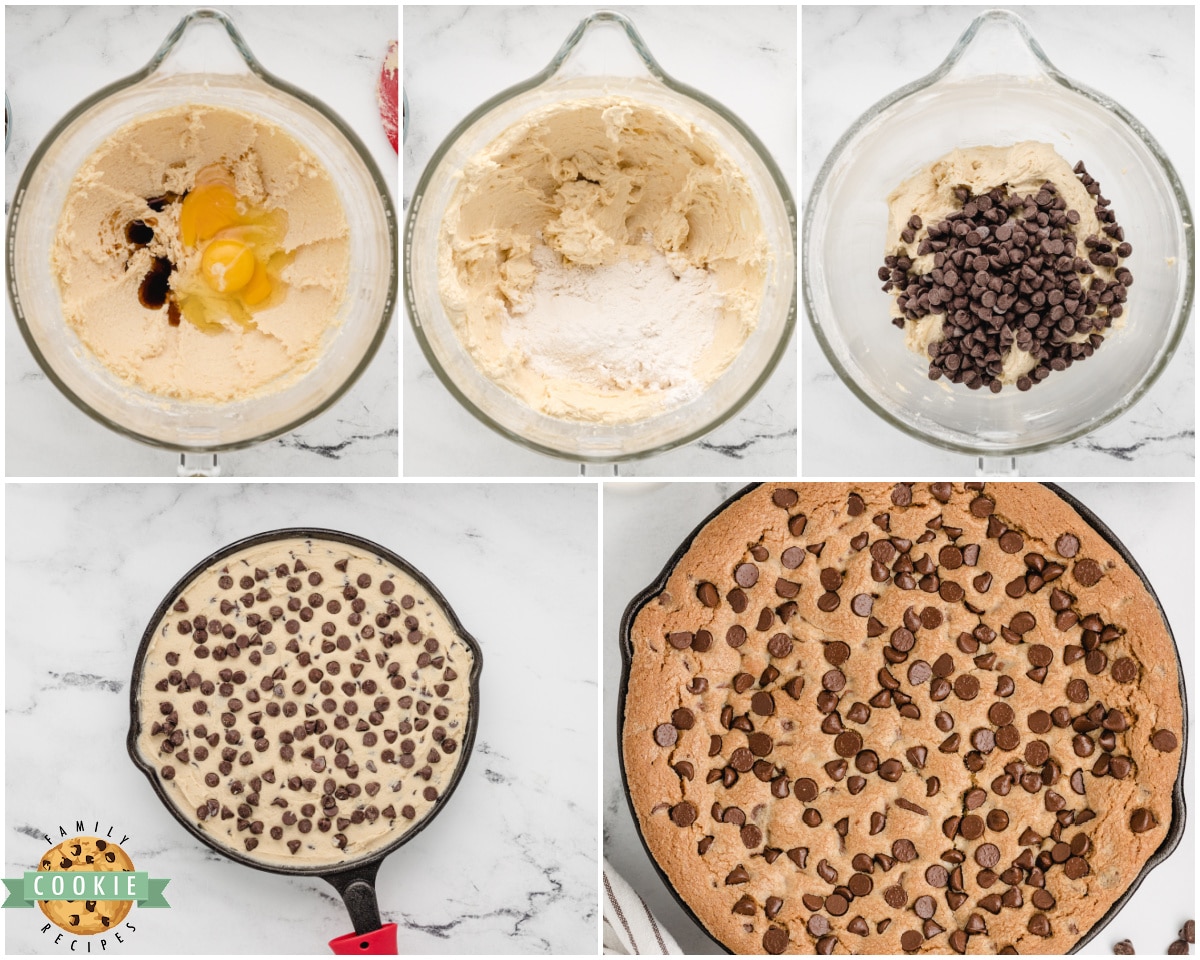 How to Make a Skillet Cookie
Preheat your oven to 325F degrees. Grease a 10-inch cast iron pan and set it aside.
Mix your flour, salt, and baking soda in a medium sized mixing bowl.
Put your butter, brown sugar, and white sugar in another medium sized bowl.
Using an electric mixer, blend the butter and sugars together until fluffy.
Add the vanilla and the eggs to the fluffy butter mixture and then mix together until well blended.
Take ⅓ of the flour mixture and add it into the wet mix, mixing well on medium speed.
Continue to slowly add in the flour until it's all been added and mixed well.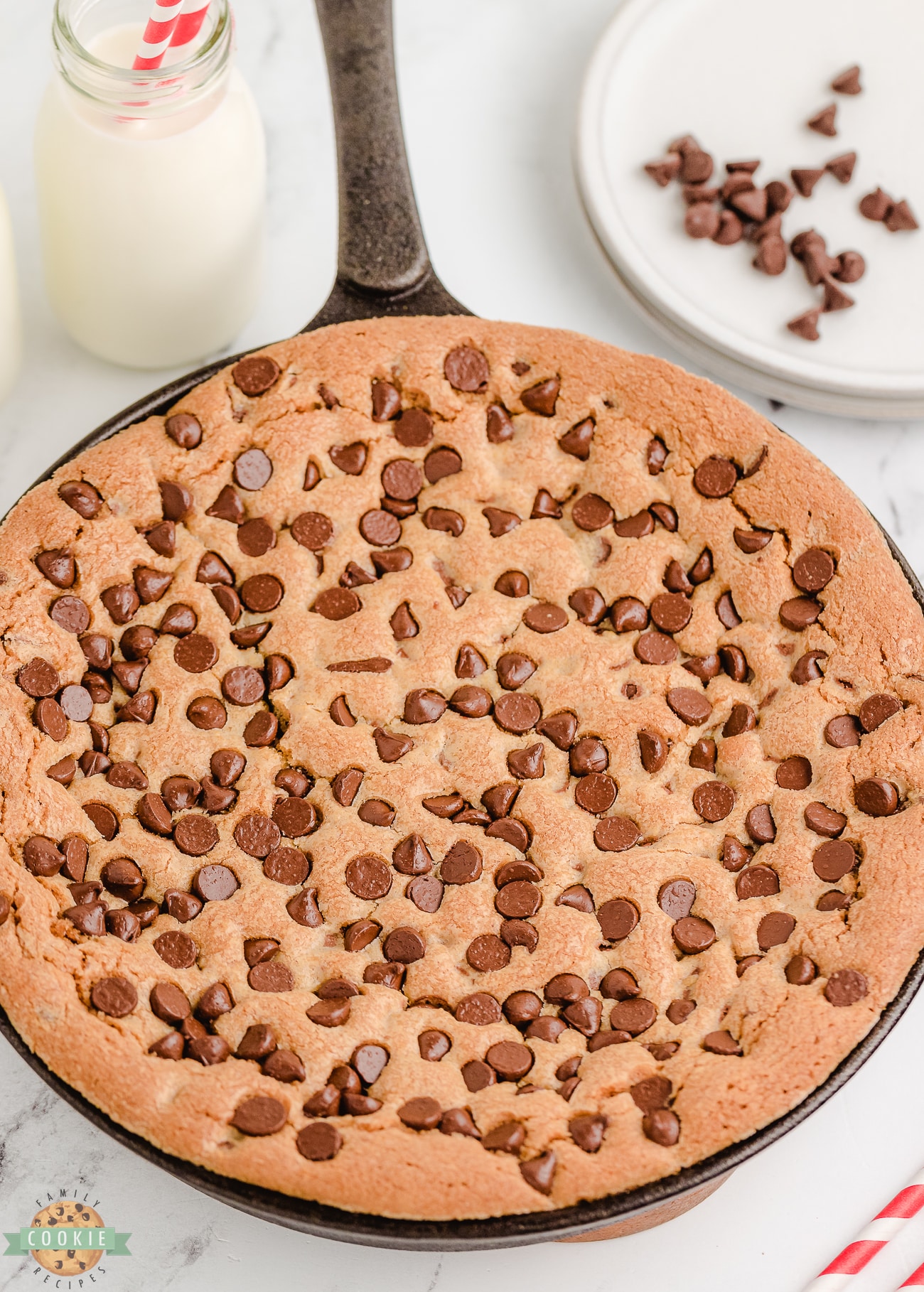 Fold in the chocolate chips with a spoon.
Pour the cookie dough batter into the greased cast iron pan.
Bake in the oven for 35-40 minutes until just golden brown. Be careful not to overcook the cookie as it will continue to cook in the pan after it's been removed from the oven.
Let the cookie cool for at least 15-20 minutes before eating. This helps it to finish baking and to set up.
Serve with ice cream on top. Enjoy!
Can I use a different sized cast iron skillet?
Absolutely! Although keep in mind that cooking times will vary. Small personal sized cookies will take less time to bake because there is less dough. Whereas a larger pan such as a 12 inch cast iron will also take less time (about 25-30 minutes) because it's thinner.
How to serve skillet cookies
Slice your cookie up like a pizza and serve it out in slices or gather around the table and hand everyone a spoon. This large pan cookie would be great with ice cream and chocolate syrup drizzled over the top but you can also take it up a notch by adding chopped pecans or walnuts into the cookie dough batter. Then you open yourself up to even more flavorful possibilities.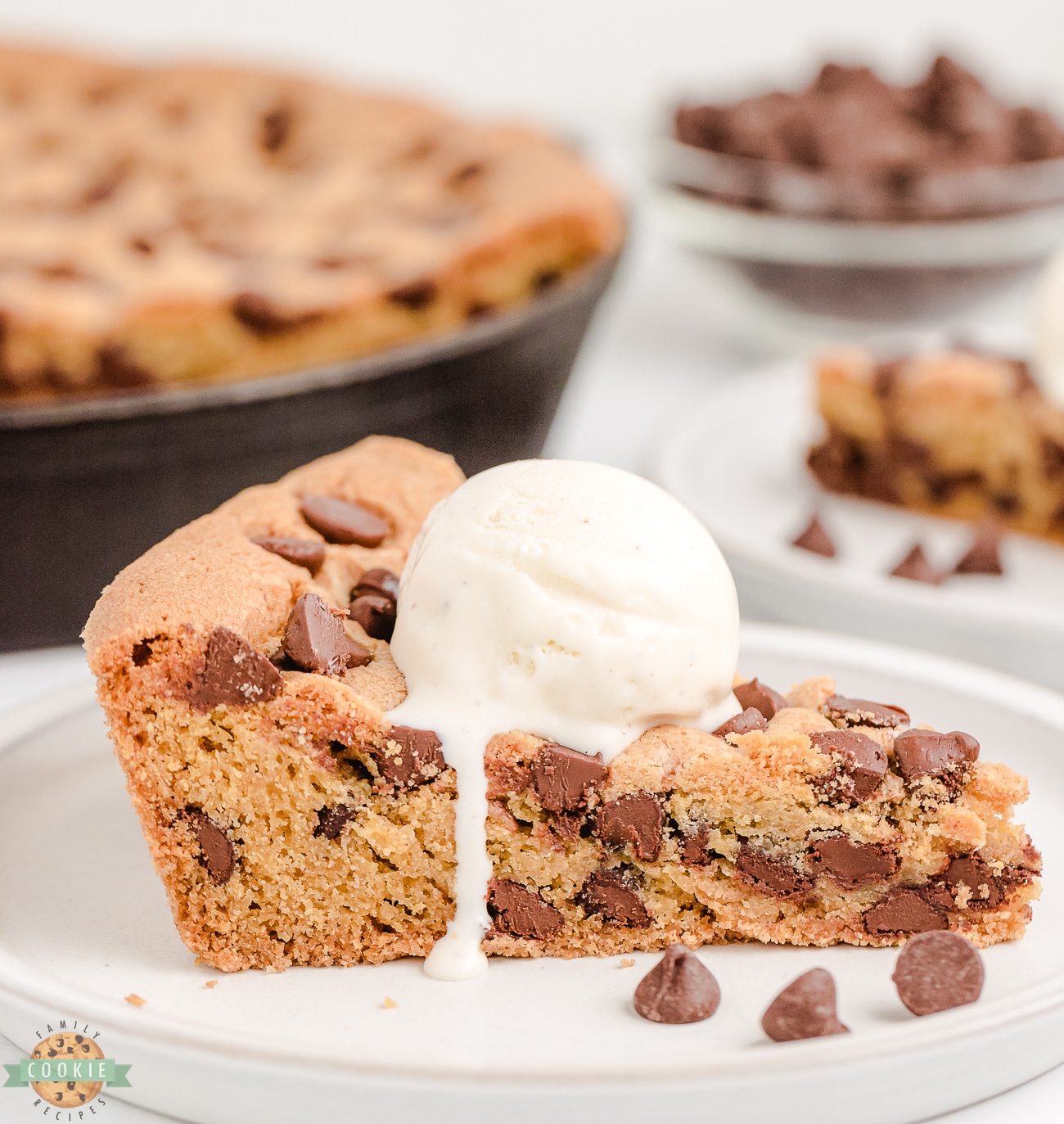 Can cast iron Skillet cookies be made in advance?
Yes, these cookies can be premade (or rather, the dough can) You don't really want to stick a cast iron skillet in the fridge, but you can stick a bowl of premade cookie dough in the fridge up to 2 days in advance. Just make sure the bowl is well covered or use an airtight container because it's more likely to keep the dough nice and fresh.
Can I freeze chocolate chip cookie dough?
Yes, Make this cookie dough in advance and stick it in an airtight container in the fridge for later. It can survive up to 3 months this way, giving you plenty of time to enjoy a delicious warm cookie!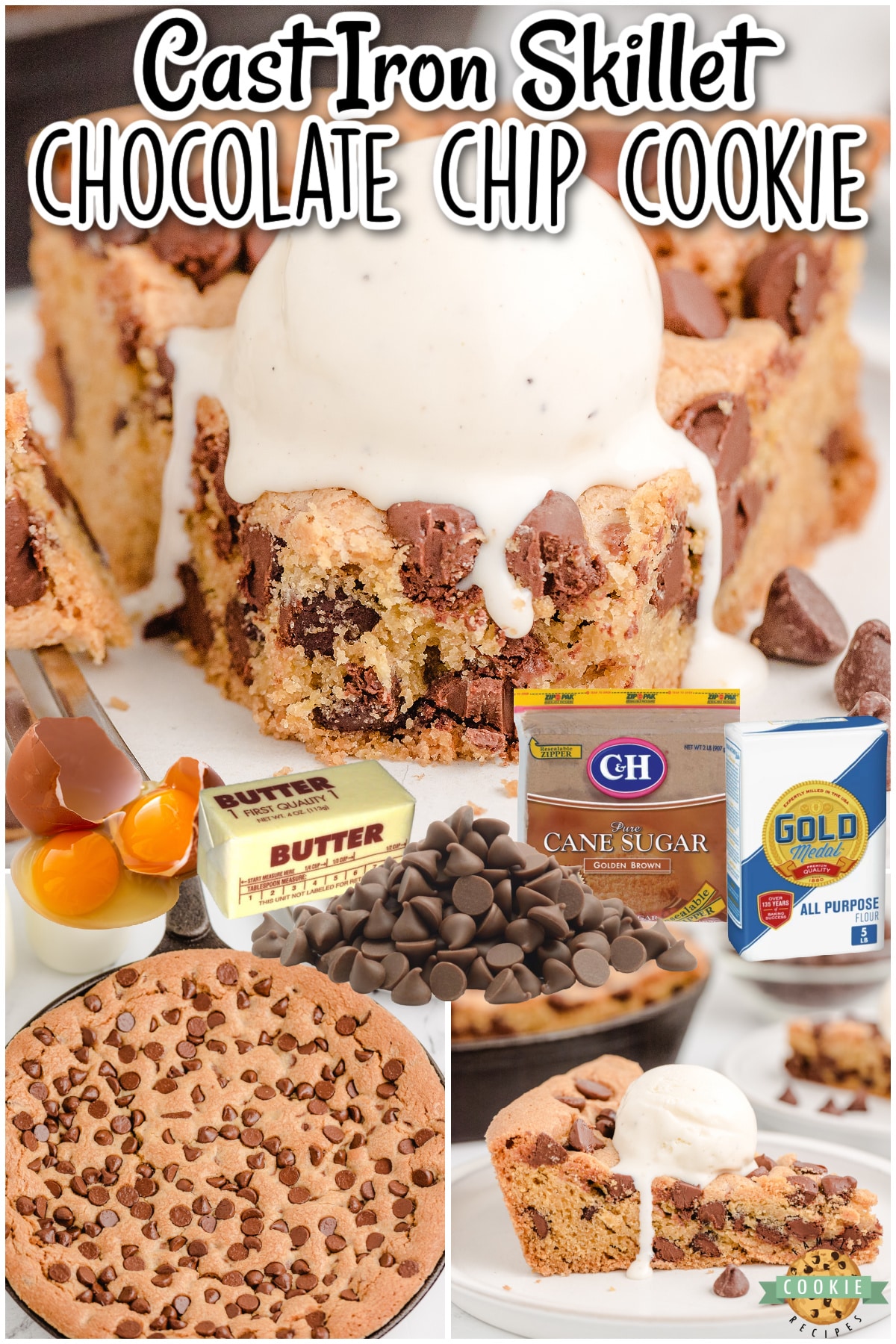 Can you freeze a skillet cookie?
You can definitely freeze any of your leftover skillet cookie slices in an airtight container in the freezer for up to three months. To eat one, simply place it on the counter for a little bit to thaw and come to room temperature and you're good to go. You can also stick it in the microwave for about 30 seconds to get it warmed up and tasting fresh again.


It's nearly our last football game of the season- I'm going to miss it! My middle child, this cute boy below, is suddenly seeming so grown up to me. When did that happen?! He's funny and silly, but also an incredible student who just happens to LOVE sports. Football and basketball are his favorites. He and his team have played so well this year. They're undefeated heading into the playoffs- wish us luck!

Need More Chocolate In Your Life? Check Out These Recipes!