Cream Cheese red velvet cookies are soft & rich, vibrant red cookies with a fun surprise in the middle! Perfect Inside Out Red Velvet Cookies for Valentine's Day or just because!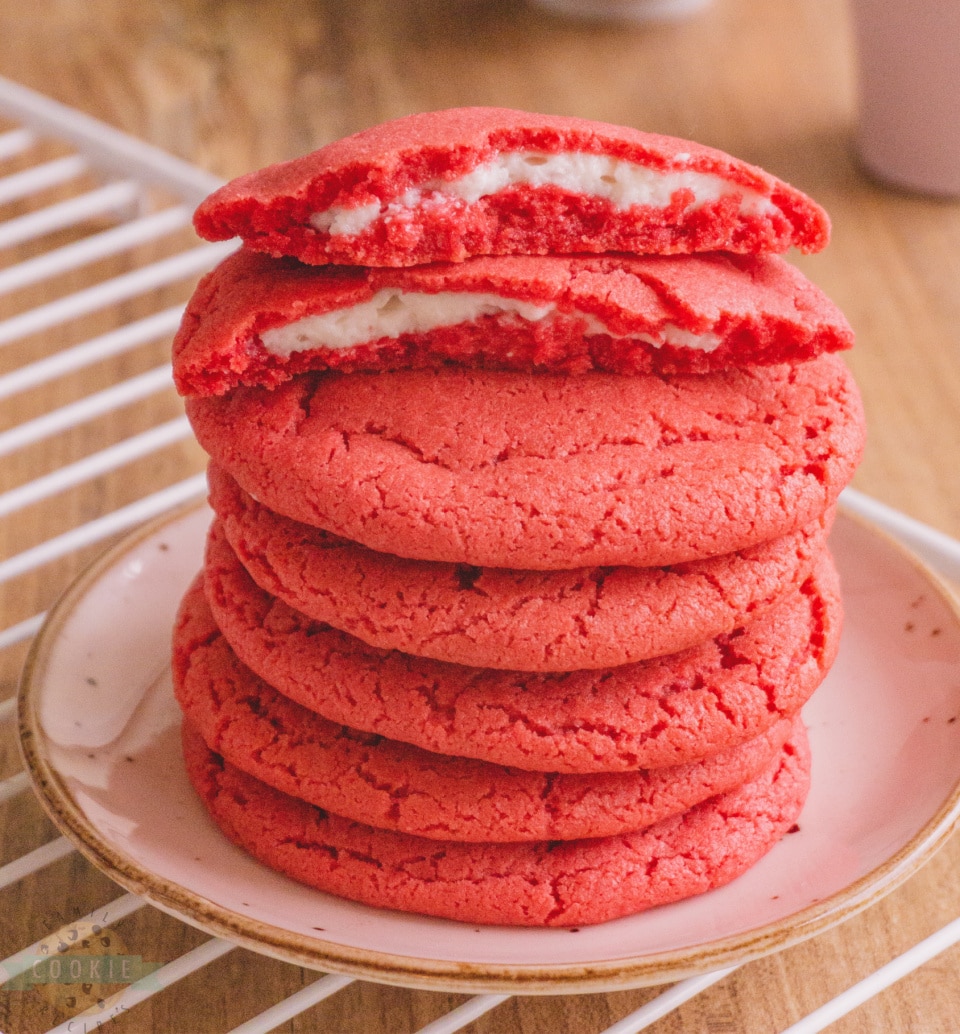 Making red velvet cookies with a cream cheese filling is like a fun twist on a thumbprint cookie, but instead of making the cream cheese sit on the outside, it goes into the center so it can bake along with the cookies and make them extra soft and moist. These cookies are simply fabulous and make for such a rich treat that just a few can really hit the spot. Whether or not you can stop yourself from eating them is a whole other story- they're just too good to put down. Especially when warm!
What are cream cheese red velvet cookies?
They're cream cheese stuffed cookies that pack a fun surprise center into every vibrant red cookie. With a tangy, rich, sweet, and flavorful treat like this, you know it's going to be good! Even better, is that these cookies are pretty simple and easy to make, so you can find yourself making them throughout the year to surprise friends and family or party guests with them as often as you want!
Cream Cheese Red Velvet Cookie Ingredients
-Cream cheese: We only need 1/2 a cup of cream cheese which is roughly 2 ounces.
-Powdered sugar: 1/4 cup of powdered sugar will go into the cream cheese filling to make it nice and sweet.
-Butter: We need 1 stick (1/2 cup) of butter to give us a rich tasting cookie.
-Sugar: 1 cup of granulated sugar will go into the cookie dough to make it sweet and give us nice crisp edges.
-Egg: Using one egg as the binder will get the cookie to hold together well.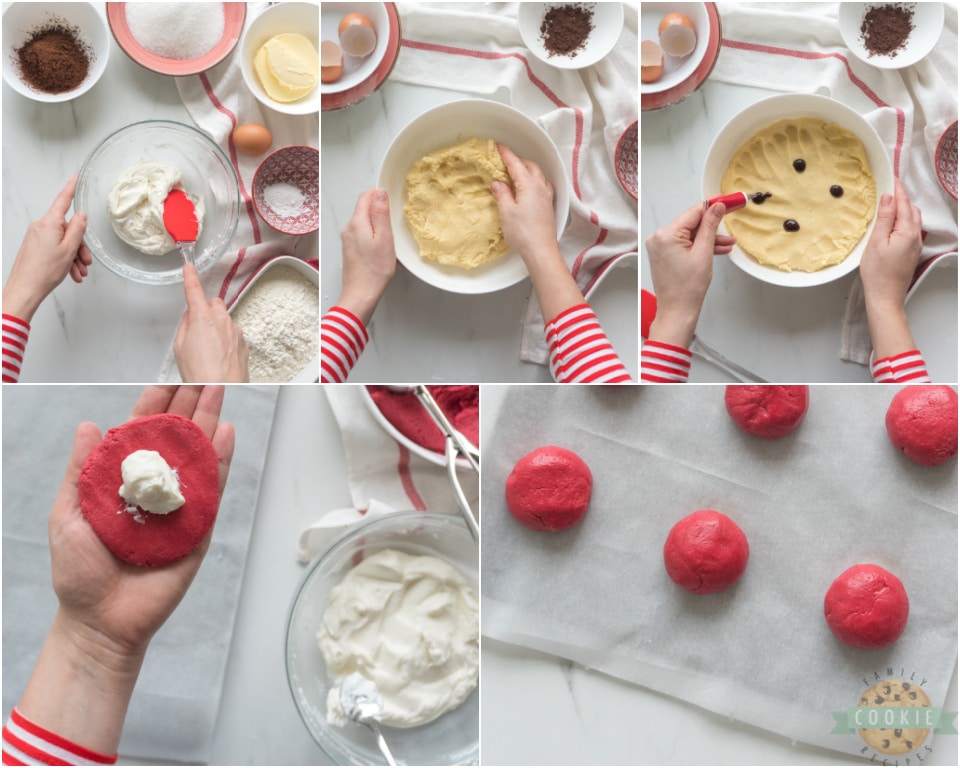 -Flour: 1 1/4 cups of all-purpose flour is the base of our cookie dough.
-Vanilla: We just need 1 teaspoon of vanilla extract to help enhance the flavors in this cookie recipe and make it taste great.
-Cocoa: Red velvet is has a base of chocolate so it makes sense that we need 1 teaspoon of cocoa powder to give us a chocolate flavor in every bite.
-Baking powder: Using 1/2 teaspoon of baking powder as our leavening agent will get our cookies to puff up nicely.
-Red Food coloring: We need 4 tablespoons of red gel food coloring to help us get a deep red color. Gel food coloring works best because it's richer in color, more vibrant, and won't water down the cookie dough.
How to Make Red Velvet Cookies with Cream Cheese
In a mixing bowl, mix together the cream cheese and powdered sugar. Place the bowl in the fridge to let the mixture chill.
In another bowl, beat together the butter, sugar, and egg until combined.
Add in the flour, vanilla, baking powder, and red food coloring, beating until well combined. Lastly, add in the cocoa and mix again.
Take 3 tablespoons worth of cookie dough and then roll and flatten them gently until they're discs about 3-4″ in diameter.
Scoop out 2 teaspoons worth of the cream cheese mixture and place it in the center of the flattened dough. Then take the edges of the dough and fold it up and over the cream cheese, enclosing it inside.
Place 6 cookie dough balls on a baking tray and bake in the oven at 350 degrees F for 14-17 minutes.
Allow the cookies to cool on the baking sheet for about 5 minutes before transferring to a wire cooling rack. Enjoy!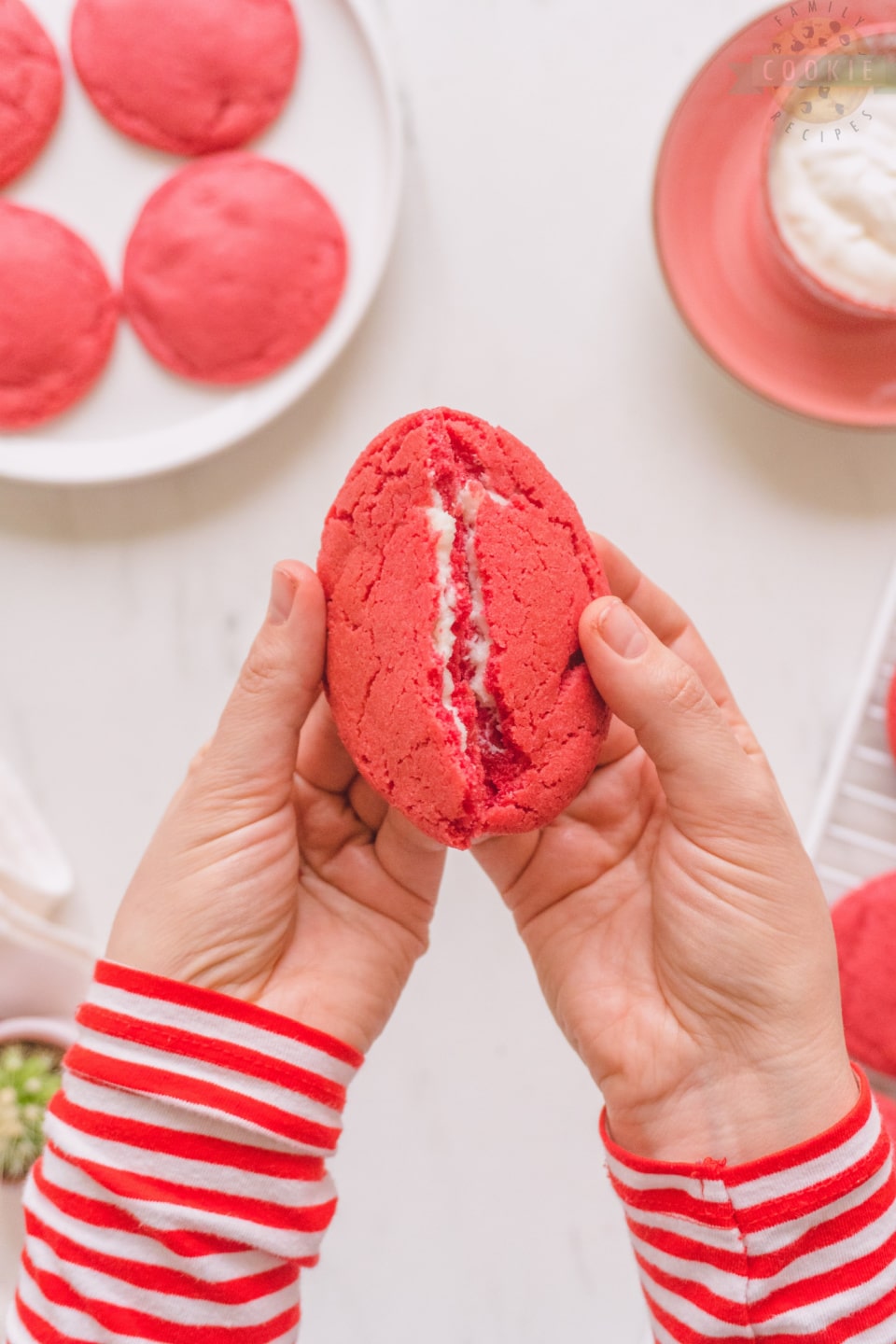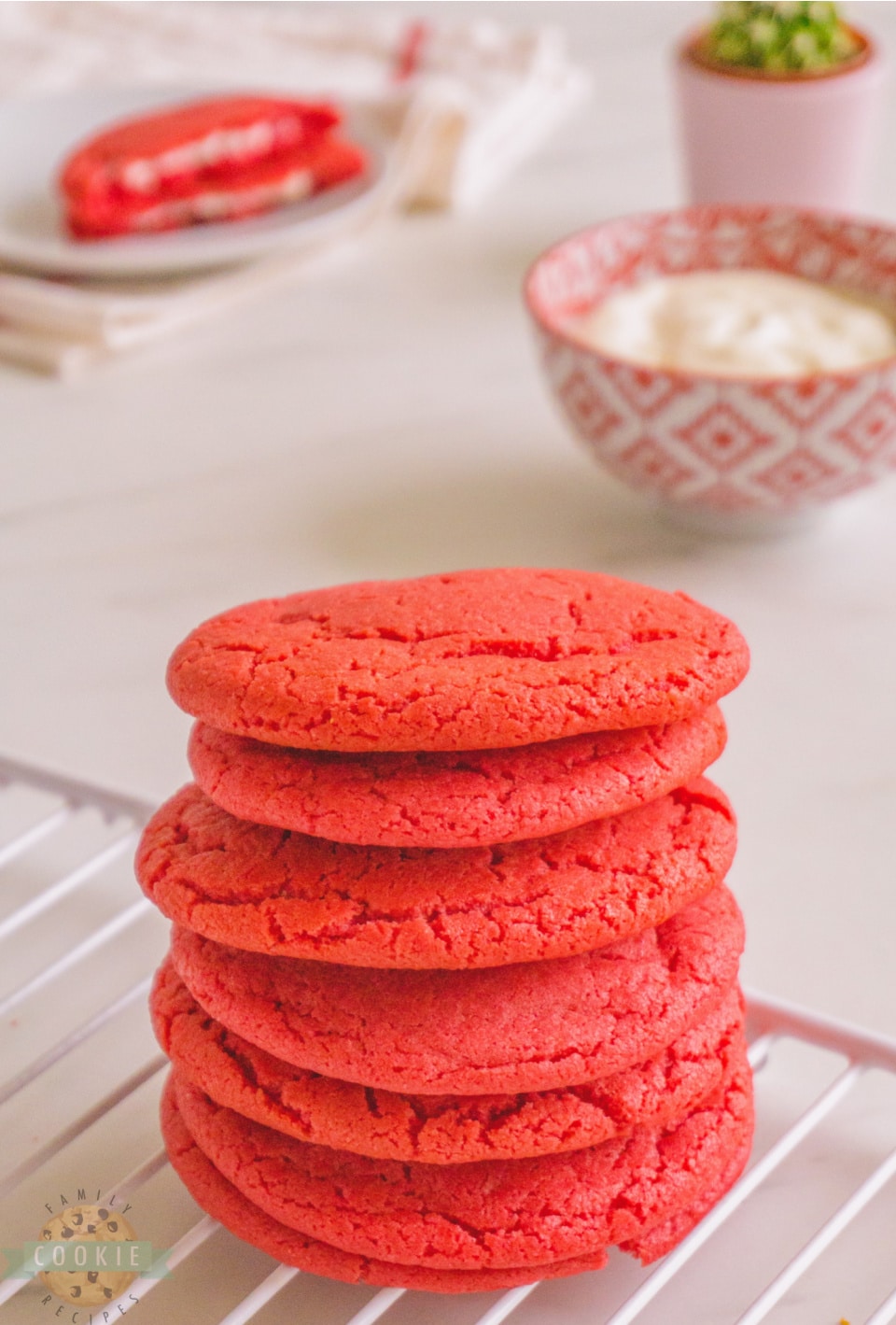 What flavor is red velvet?
Red velvet is a flavorful combination of chocolate, tangy acids, and red food coloring for its iconic coloration. With the tangy cream cheese in the filling and the chocolate-flavored cookie dough around it, every bite is like a symphony of flavors combine together to taste like a classic.
Do you need to refrigerate cream cheese cookies?
Nope. These cookies can be cooled and then stored in an airtight container at room temperature for up to a week. I recommend eating them sooner rather than later because they are so much better when fresh. Yum!
Do I have to chill the cream cheese filling?
Yes, if you don't want the cream cheese filling to melt into the cookie dough and "disappear" then chilling it is very important. Keeping the filling cold means that it can withstand the heat of baking just long enough so that when you go to take a bite you can still be pleasantly surprised by the bright white filling in the center.
More Cookie Recipes to Try Soon!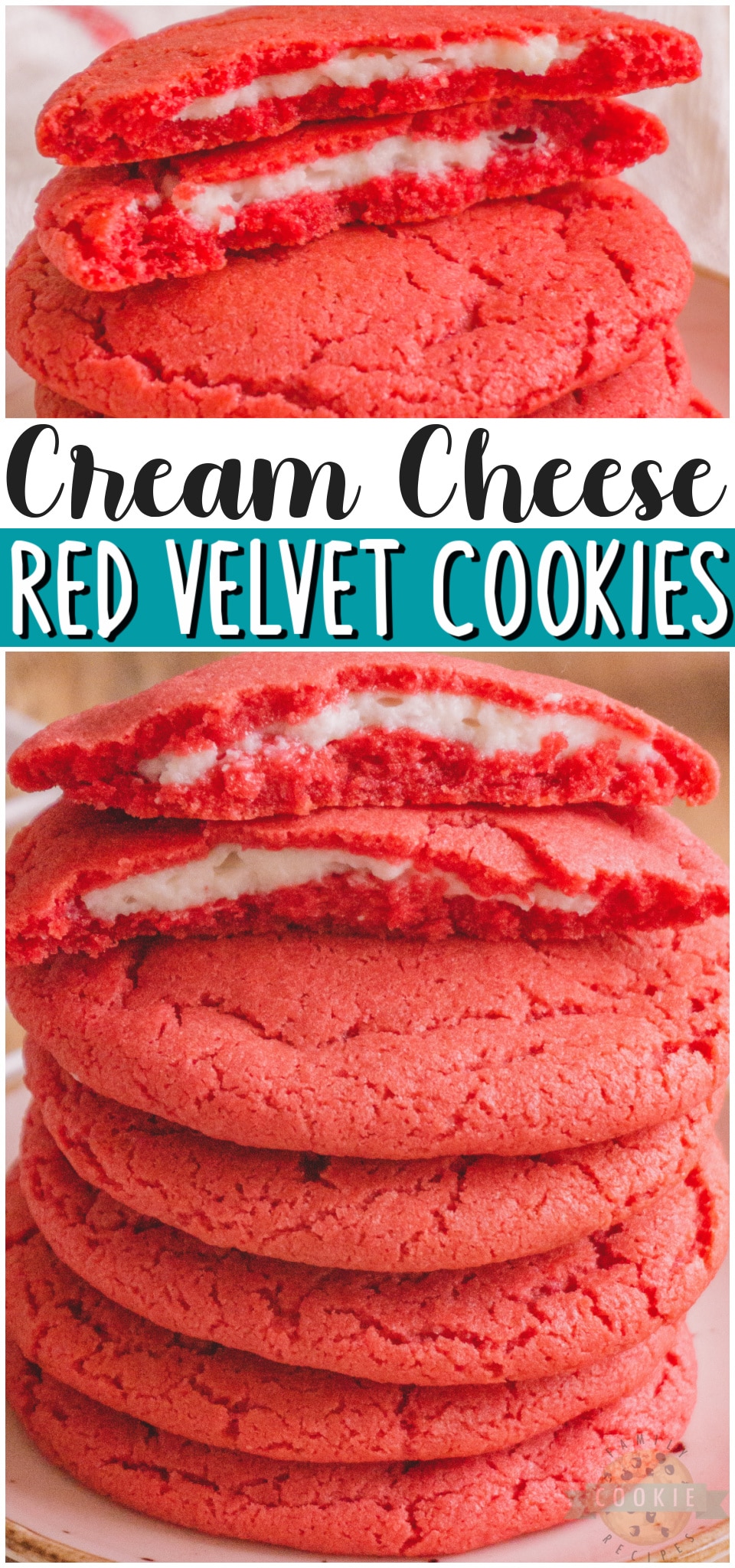 Cream Cheese red velvet cookies are soft & rich, vibrant red cookies with a fun surprise in the middle! Perfect Inside Out Red Velvet Cookies for Valentine's Day or just because!