Pretty Pink Sandwich Cookies begin with a fabulous sugar cookie, colored pink for Valentine's Day or any occasion! Two cookies filled with a sweet vanilla buttercream frosting for a lovely treat everyone enjoys!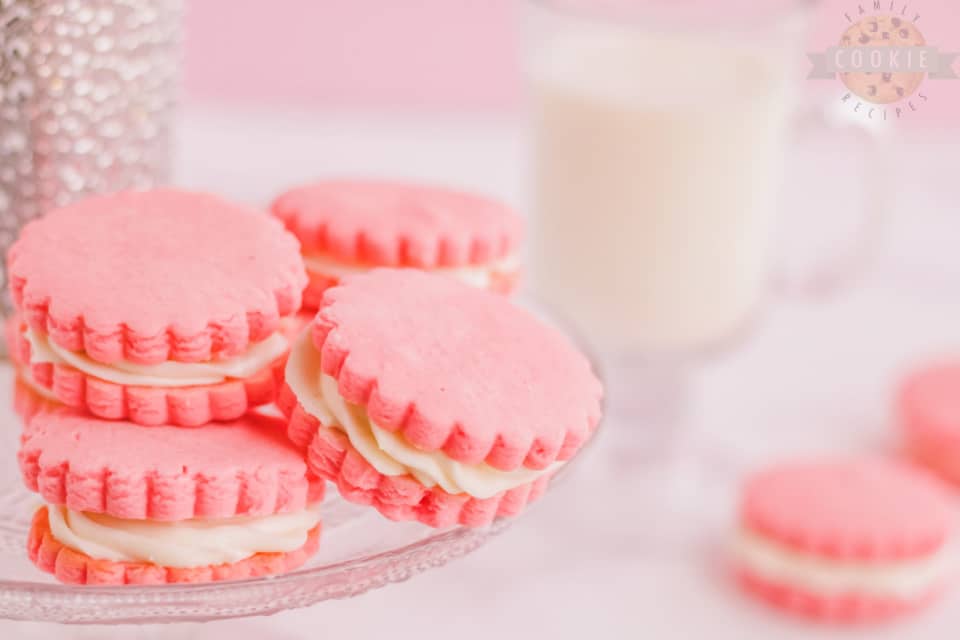 Pink sandwich cookies are a tasty treat that's perfect for Valentine's day (or Wednesdays). With two soft cookies and a nice white filling in between, every bite is packed with sweetness and fun.
Finding a good sandwich cookie can sometimes feel like hitting the holy grail of desserts because you get the best cookies that hold shape and a filling/frosting recipe all in one. Trust me when I say that you'll be pleased with this recipe and will no doubt want to keep it nearby for all holidays (or cookie cravings).
What are pink sandwich cookies?
They're a soft and simple shortbread cookie that takes about 1.5 hours from start to finish (chill time included). Filled with a very basic icing recipe, these cookies are as tasty as they are pleasing to the eye. Use holiday themed cookie cutters for more fun or keep them simple with round cut out shapes.
Pink cookie ingredients
For the cookies you will need:
-Butter: We need 1 cup (2 sticks) of unsalted butter. Softened butter will work best because it will blend more easily and create the perfect butter-infused dough.
-Sugar: With 1 cup of granulated sugar we can make our cookies nice and sweet and help them to get a nicer edge once baked.
-Salt: Just 1/2 teaspoon of salt will help to enhance the flavors in the dough and make these cookies taste incredible.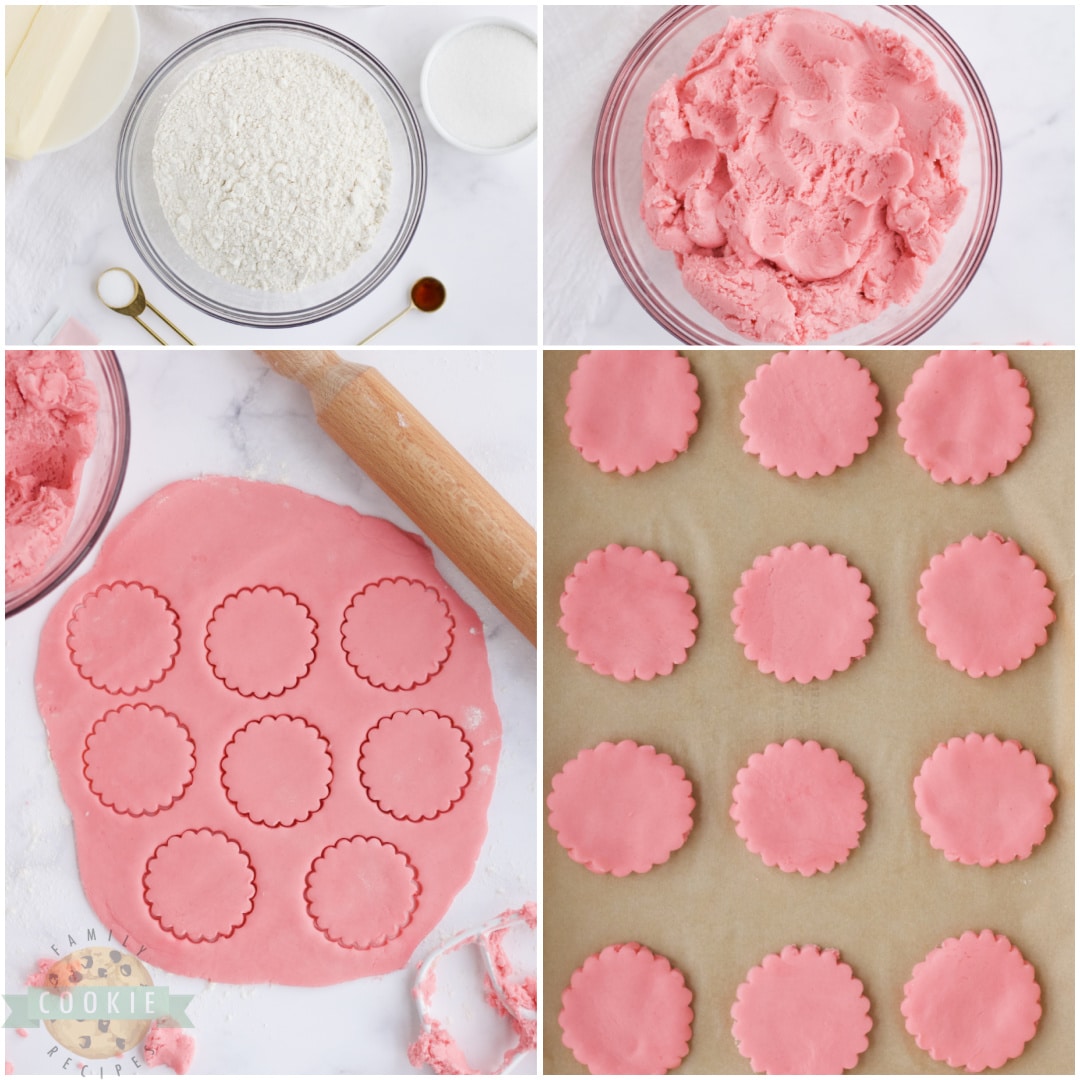 -Eggs: We will need 2 room temperature eggs to make the dough. A fast way to warm the eggs (if you forget like I do) is to place them in a bowl of warm water for a few minutes).
-Vanilla: With 1 1/2 teaspoons of the vanilla extract we can enhance the flavors in the dough. I like to use higher quality vanilla, but use what you have on hand.
-Flour: We will need 3 1/2 cups of all-purpose flour for the gluten base of the dough, but we will need more for rolling the dough out as well
-Pink food coloring: We need some food coloring to make these cookies nice and pink. The amount will vary based on the exact shade you want, but I recommend gel-based food coloring as it works the best for this kind of cookie dough and the colors are more vibrant.
For the icing we will need:
-Powdered sugar: 2 cups of powdered sugar will give us sweet and thick white-colored icing that's perfect for "gluing" these cookies together.
-Butter: We need 1/2 cup (one stick) of salted butter to add a nice richness in flavor. You can use unsalted, but I'd recommend adding a small pinch of salt into the mix as it will help to enhance the flavors nicely.
-Vanilla: We only need 1/2 teaspoon of vanilla extract to help flavor the icing. For a true white colored icing, Wilton makes no-color vanilla that you could use.
-Milk: We will need 1-3 teaspoons of milk, the amount will vary as we will add it slowly to get the icing consistency that we actually want.
How to make pink sandwich cookies
Cream together the butter and sugar with an electric mixer on medium speed in a large bowl.
Blend in the eggs, vanilla, and salt, until thoroughly combined. Add in desired amount of food coloring.
Slowly add in the flour, until just combined.
Cover the dough in a bowl and place it in the fridge for at least 1 hour.
While the dough is chilling, preheat your oven to 350 degrees F and line a baking sheet with parchment paper.
Remove the dough from the fridge and roll it out, using a rolling pin, onto a floured surface until it's about 1/2 inch thick.
Cut the cookie dough into your desired shapes. I like these cookie cutters best.
Place the shapes onto the parchment lined baking sheet.
Bake in the oven for 10-12 minutes or until the cookies are set.
Meanwhile, prepare the icing by combining the powdered sugar, butter, milk, and vanilla in a bowl and beating with an electric mixer until smooth, on low.
When the cookies have completely cooled, pipe the icing onto the bottom of a cookie and then top with an additional cookie. Enjoy!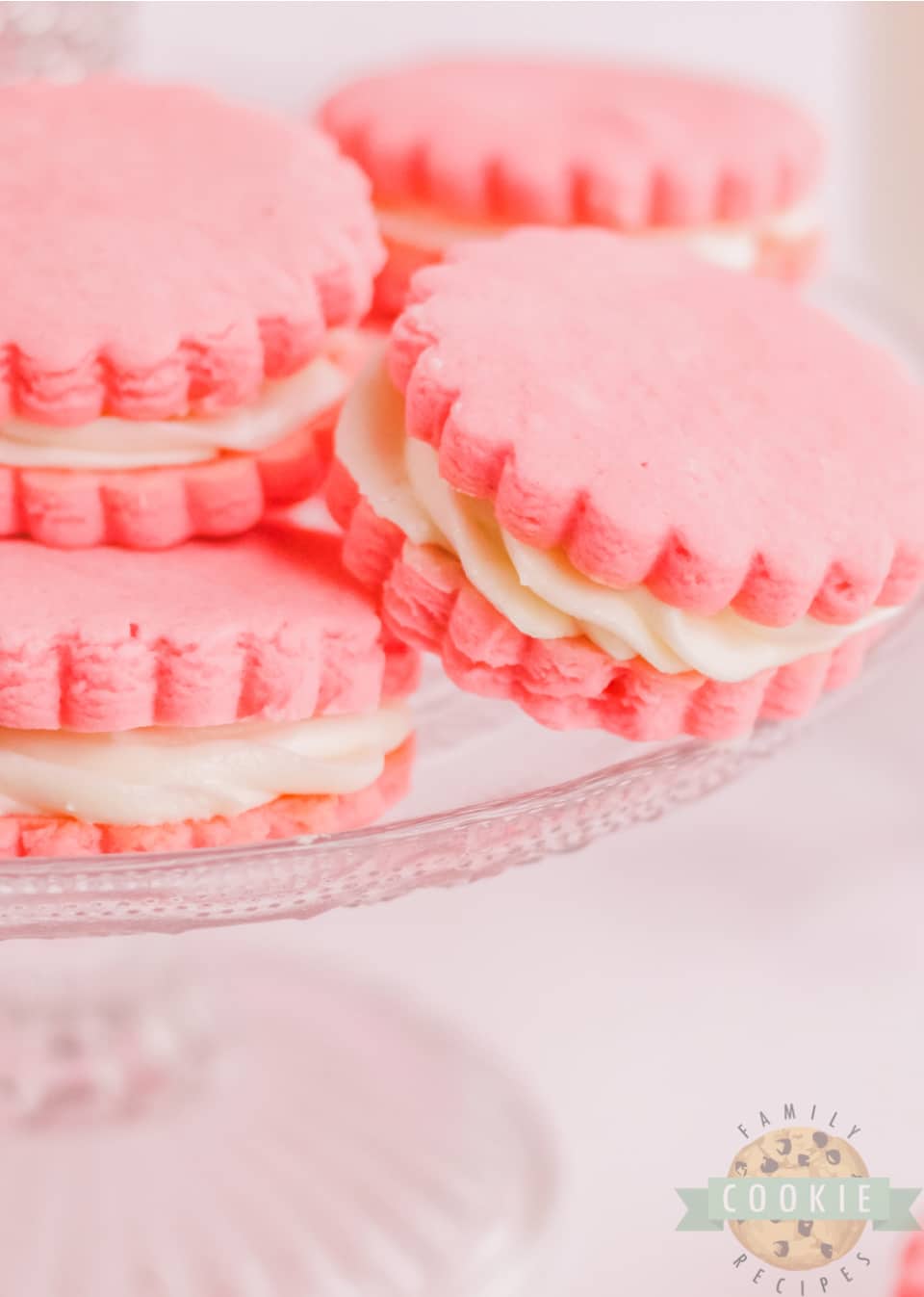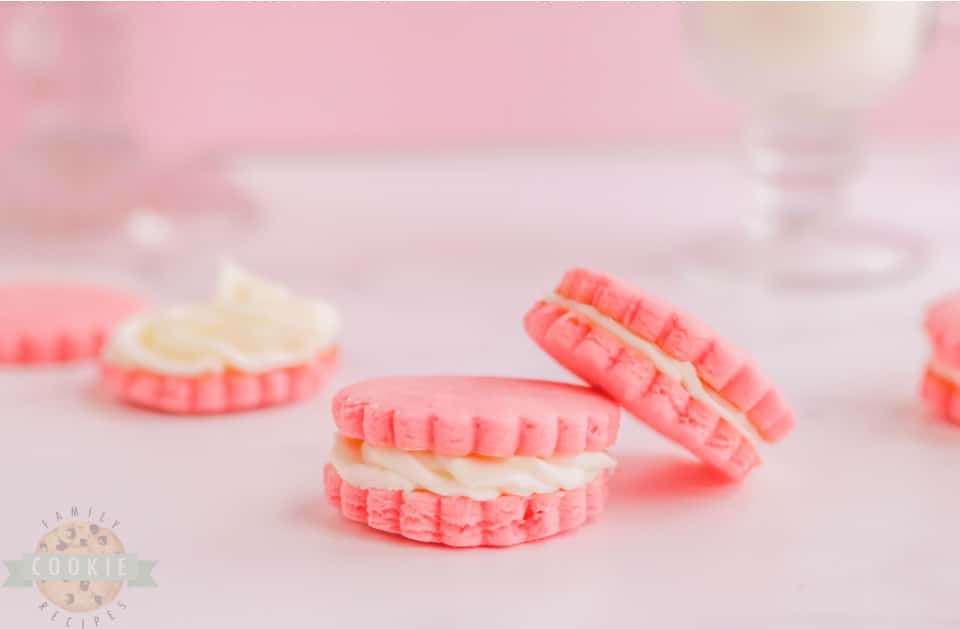 Why does the amount of milk vary in the icing recipe?
Making icing is always pretty interesting. The amount of milk almost always varies for whatever reason. You want to use just enough milk to get the icing to a good Elmer's glue consistency. This will be perfect for "gluing" the cookies together without fail. Slowly add in the milk so that you don't add too much too fast. If you add too much milk, add in more powdered sugar to thicken it back up.
How long are pink sandwich cookies good for?
These cookies can be good for up to a week if properly stored in an airtight container at room temperature. Just make sure to eat them sooner rather than later as cookies always taste best when freshest.
What are the best icing tools for cookies?
For simply putting the icing between the pink cookies you can use a frosting piping bag or a sandwich bag with the corner snipped off. If you're looking to do some decorating on the top of the sandwiches with more icing you can look for more gel-based food colors, small frosting piping tips, sprinkles, or toothpicks to help create the designs you may be looking for.
More incredible cookie recipes to try soon
With pink sandwich cookies, you can have a pretty pink cookie that's perfect for Valentine's Day or any other day of the week. These cookies are fast, simple, and so easy to put together that you won't mind making them for every festive occasion!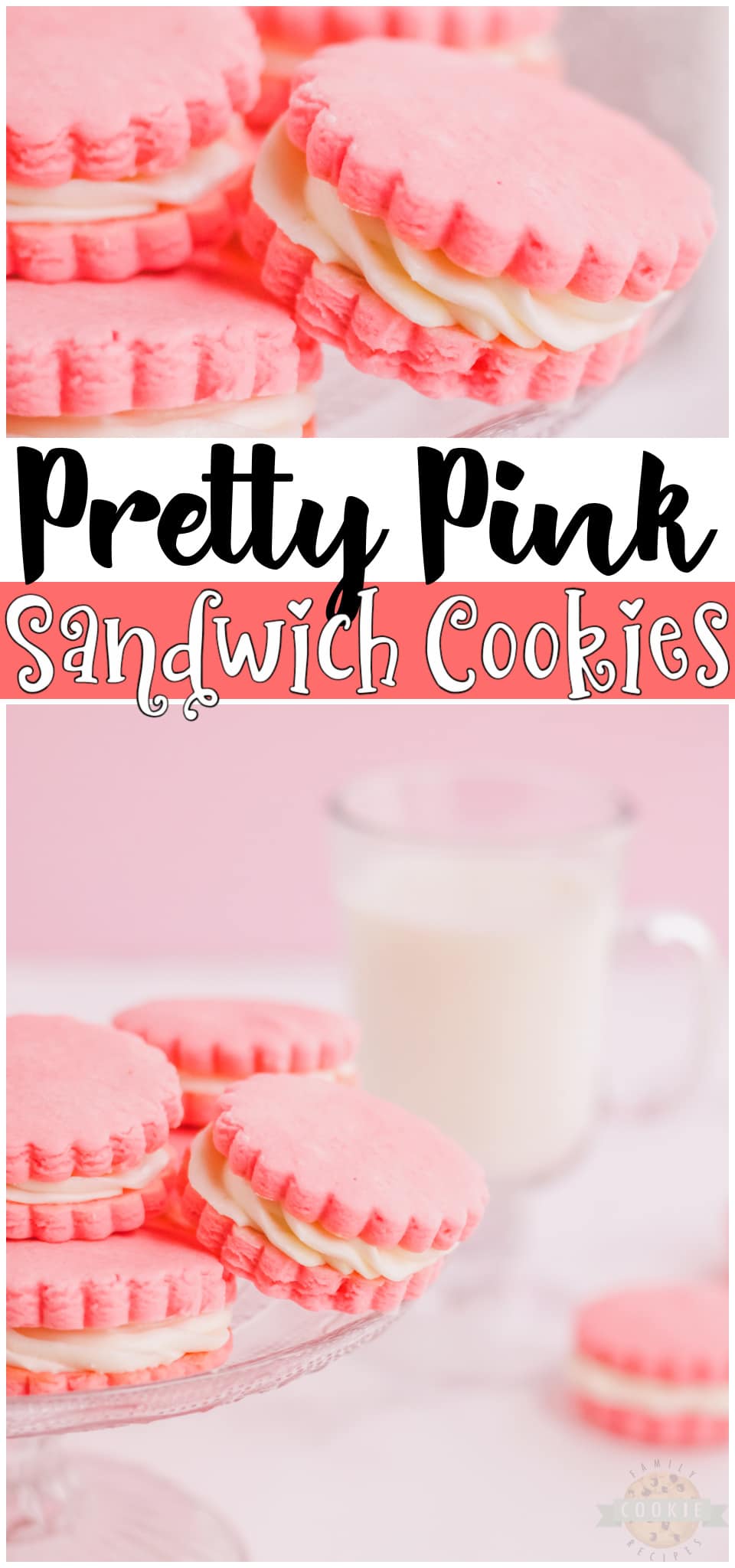 Pretty Pink Sandwich Cookies begin with a fabulous sugar cookie, colored pink for Valentine's Day or any occasion! Two cookies filled with a sweet vanilla buttercream frosting for a lovely treat everyone enjoys!