Crunchy white chocolate cinnamon cookies are packed with warm cinnamon flavor and gooey white chocolate chips. A fun twist on classic chocolate chip cookies that are perfect for the holidays!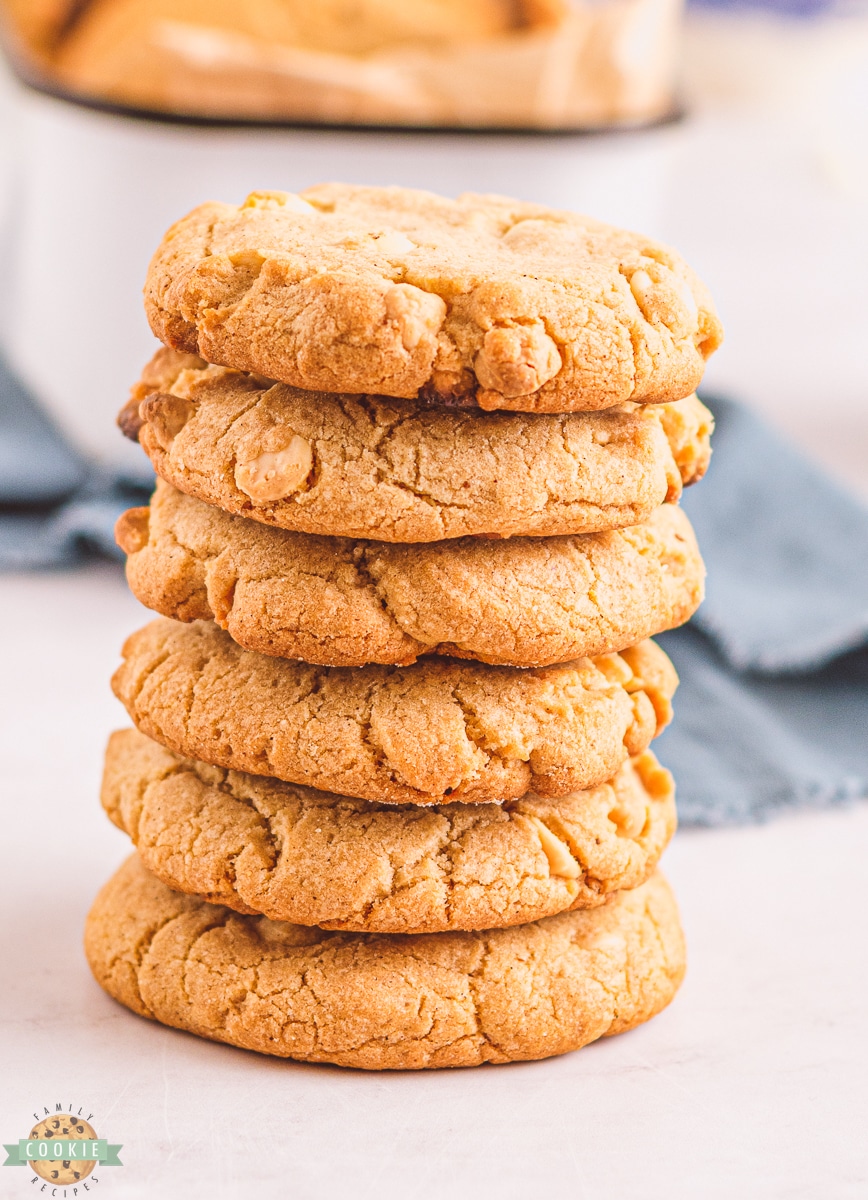 You're going to love these cookies just about as much as we do because they're so simple and yet so amazing. Made with browned butter and almond extract these cookies are flavorful and incredible.
White chocolate cinnamon cookies
These thick, biscotti-like cookies are filled with the delicious flavors of nutty, browned butter, and warm cinnamon. They are loaded with soft, rich, and sweet white chocolate chips. No chilling the dough is required so you'll get these tasty treats in your mouth in about 30 minutes if you started right now, so what are you waiting for?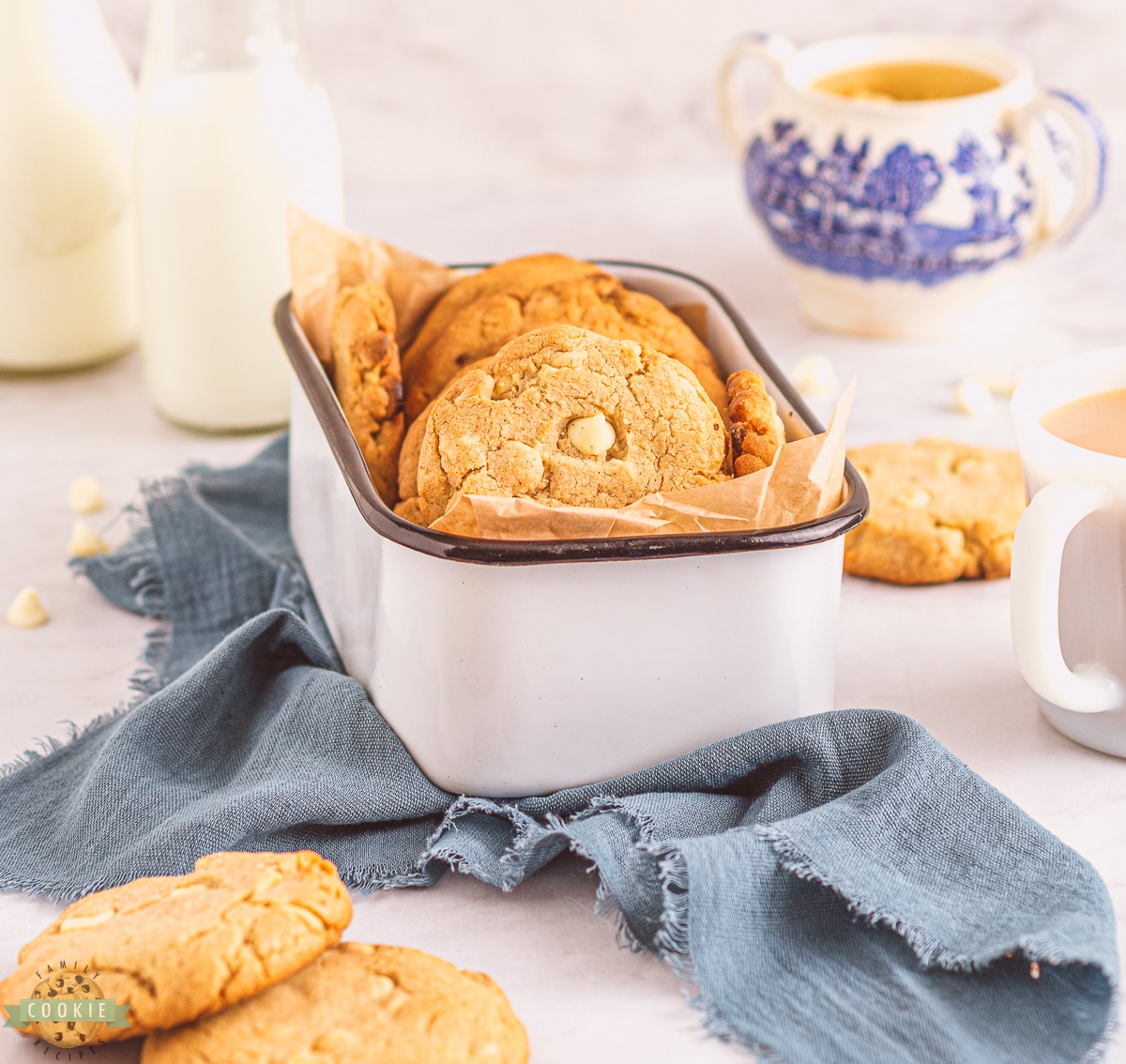 White chocolate cinnamon cookie ingredients
-Butter: You will need 12 TBSP of butter that have been browned and slightly cooled.
-Sugars: Use ⅔ cups of granulated sugar and ¼ cup of brown sugar for a sweet cookie with a nice depth of flavor.
-Eggs: You will need 1 egg plus 1 egg yolk for the perfect binding and richness in every bite.
-Vanilla: Using 2 teaspoons of vanilla will really help to enhance the flavors in these cookies.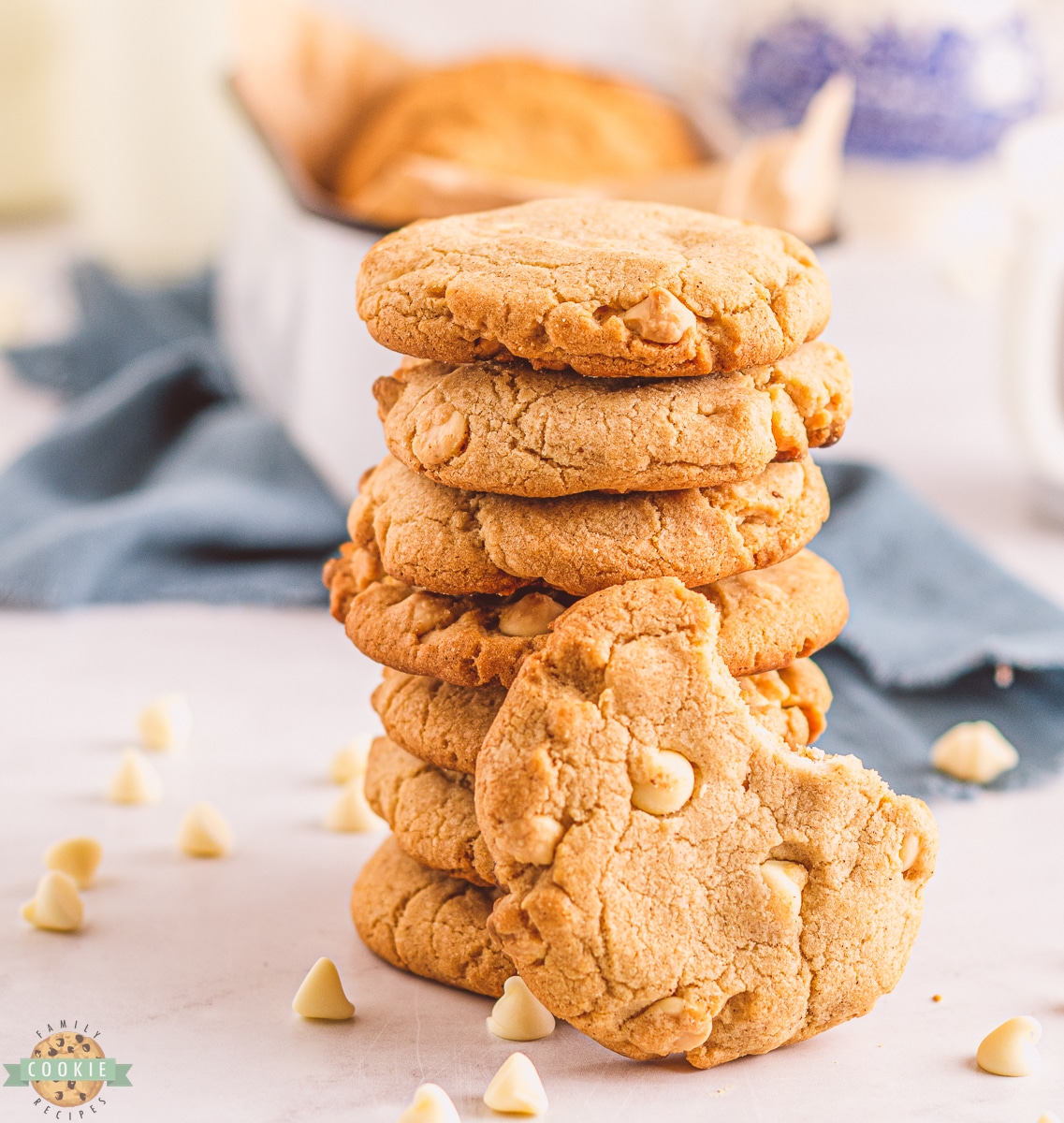 -Almond extract: Use 1/8 teaspoon of almond extract for a great tasting cookie.
-Flour: The base of the cookie dough is 2 cups of all-purpose flour.
-Cinnamon: To give us a great warmth of spice add in 1 teaspoon of ground cinnamon.
-Salt: You will need ¾ teaspoon of salt to help enhance the flavors in these cookies.
-Leavening agents: You will need ½ teaspoon of baking soda and 1/4 teaspoon of baking powder for a perfectly puffed cookie.
-White chocolate chips: Use 2 cups of white chocolate chips so that there is plenty to enjoy in every bite.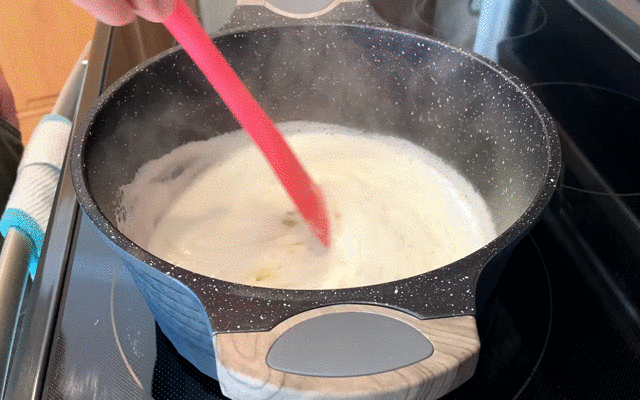 How to Brown Butter
Add all butter to a large saucepan over medium-high heat. (I know a large saucepan seems too big, but as the butter cooks, it foams up, so trust me on this one!)
Stir gently using a rubber scraper as the butter melts. Continue to stir as the butter cooks. It will first liquify, then start to bubble & foam, all while gently bubbling. Within about 5 minutes after the butter foams, it will begin to change color and brown bits will appear. It's easier to see the brown as your stir the butter- you can see the foam turn colors in the video above. I like to cook it about 45 seconds to 1 minute past when it changes color.
Remove from heat and the foam will settle and you'll be able to see BROWN BUTTER! Let cool until butter has solidified again. (It won't return to the same state as it was per-cooking. It will be more the consistency of sour cream.)
NOTE: You CANNOT use margarine to make brown butter! REAL BUTTER ONLY.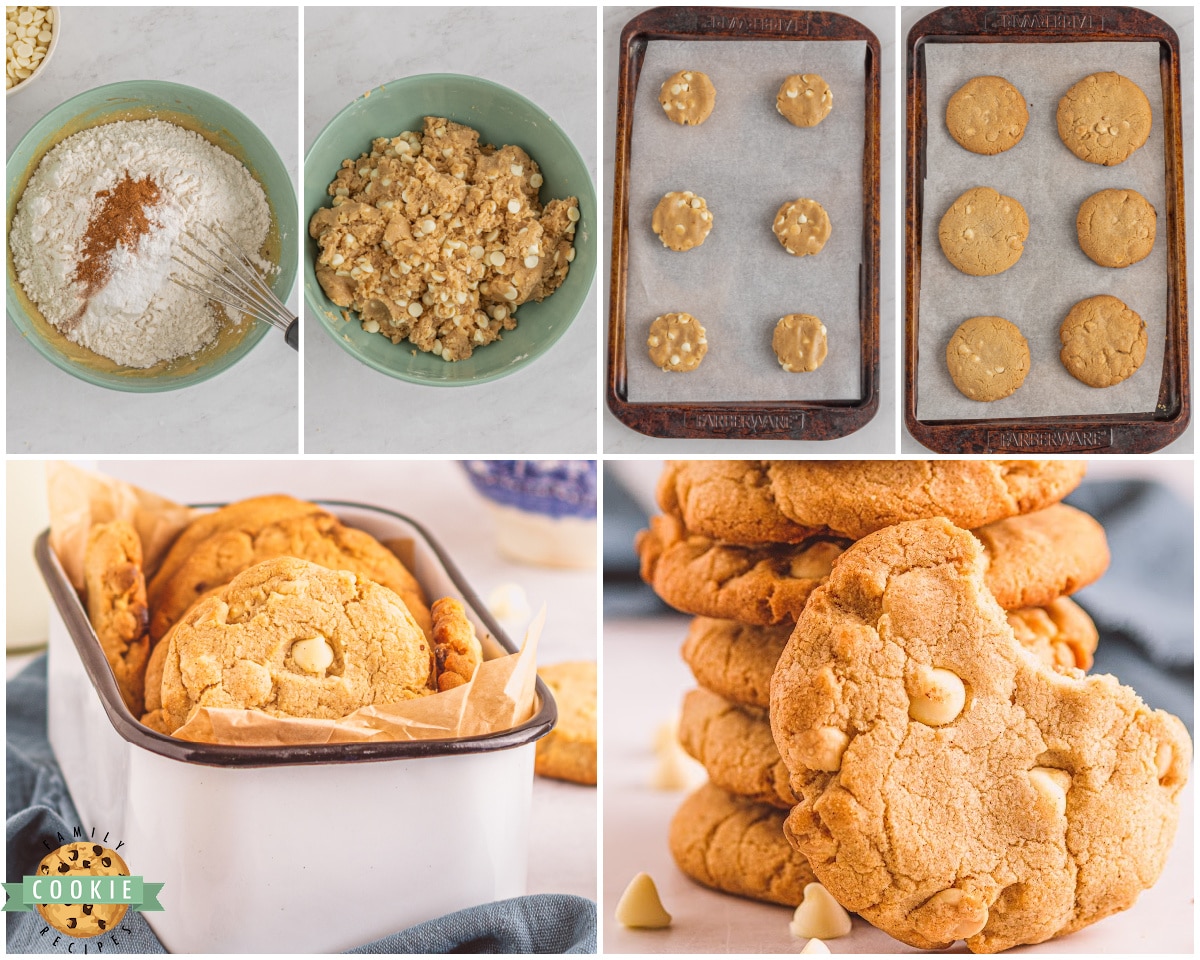 How to Make Crunchy White Chocolate Cinnamon Cookies
Preheat your oven to 350 degrees F and line a baking sheet with parchment paper and set it aside.
After the butter has cooled, add the browned butter and sugars, to a large mixing bowl.
Whisk together until creamy and smooth and then add in the egg and egg yolk. Whisk for another minute or until the mixture begins to lighten up.
Add in the vanilla and almond extract and whisk together to combine.
Next, add in the flour, followed by the cinnamon, salt, baking powder, and baking soda, stirring until the flour is just incorporated.
Fold in the chocolate chips.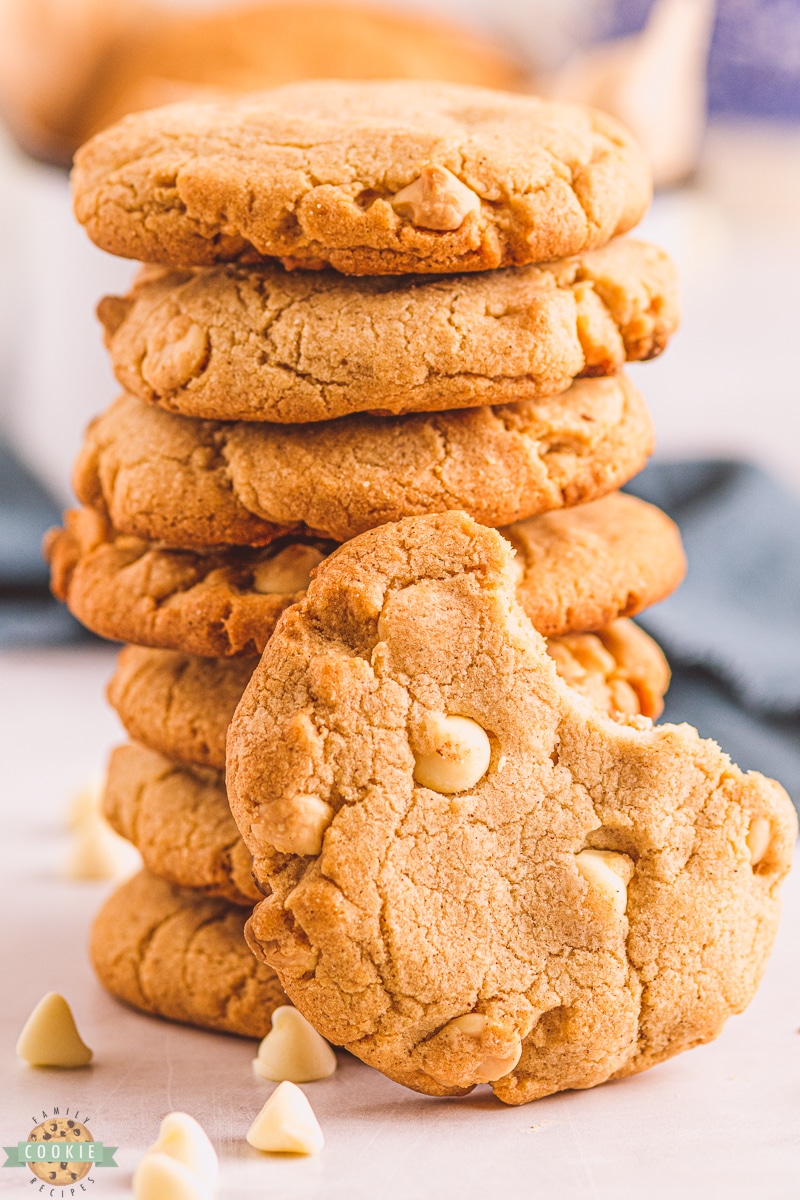 Spoon out the dough into 2 ½ tablespoon to 3 tablespoon sized scoops and roll into balls.
Flatten the balls into discs that are about ¼ inch thick.
Place them onto the baking sheet and give them at least 1 inch of spacing between each cookie.
Place them into the preheated oven and bake for 10-12 minutes or until the edges have set and are slightly beginning to brown.
Repeat until all of the dough has been cooked.
Once baked, remove from the oven and place onto a cooling rack for a few minutes before serving.
Enjoy!
What does browned butter do for a recipe?
Browning your butter means that you cook it on the stove until it's a nice golden brown color and smells nutty. It's perfect for adding a depth of flavor and richness. Just make sure to strain the butter before use so that you don't mix the hard particles that float to the bottom of the pan.
How to make a softer cookie
For a softer cookie, reduce the amount of flour to 1 ¾ cup. This may alter your baking time so be sure to be vigilant while baking them.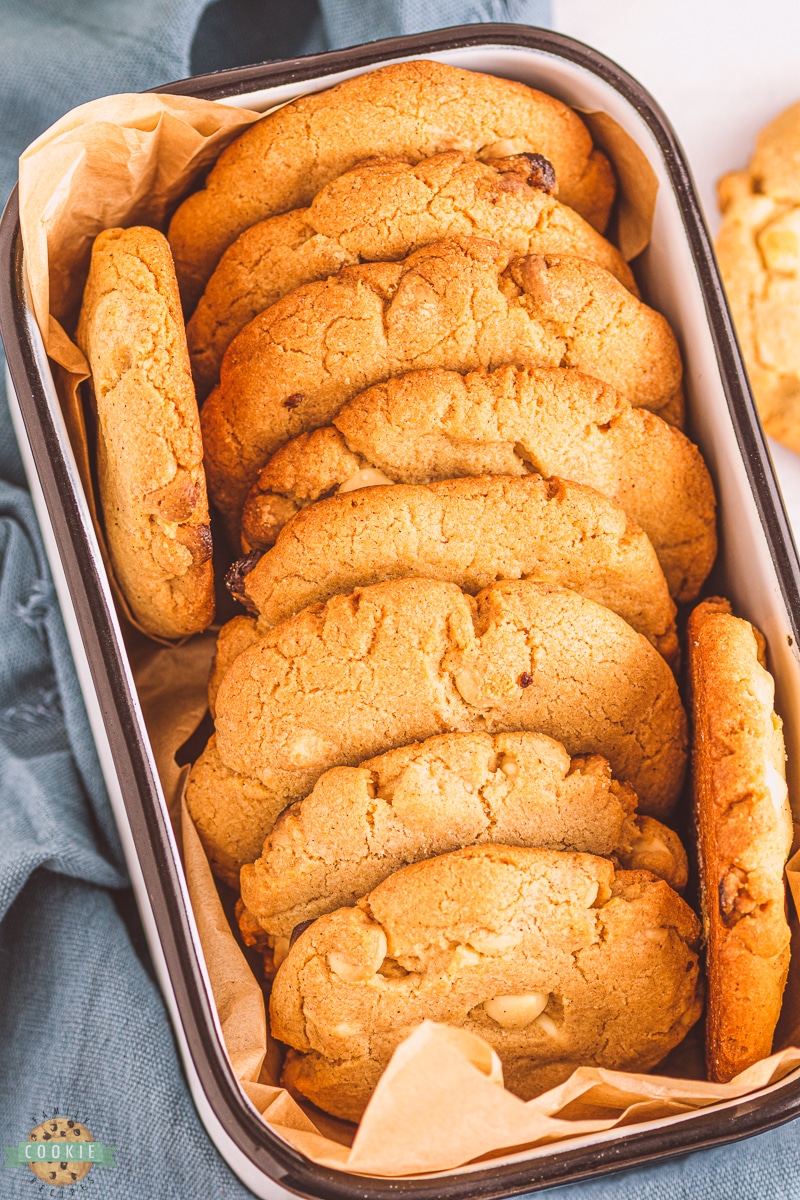 How to store white chocolate cinnamon cookies
You can keep these cookies stored in an airtight container at room temperature for up to 5 days.
If you loved these cookies you're going to enjoy these other white chocolate cookie recipes
These white chocolate cinnamon cookies are a perfect blend of warmth, spices, and creamy white chocolate. A perfect dessert for fall and all year long.

We were all dressed up, hair done, looking nice, so we had to take a picture! This family of mine drives me crazy sometimes… but I sure do love them!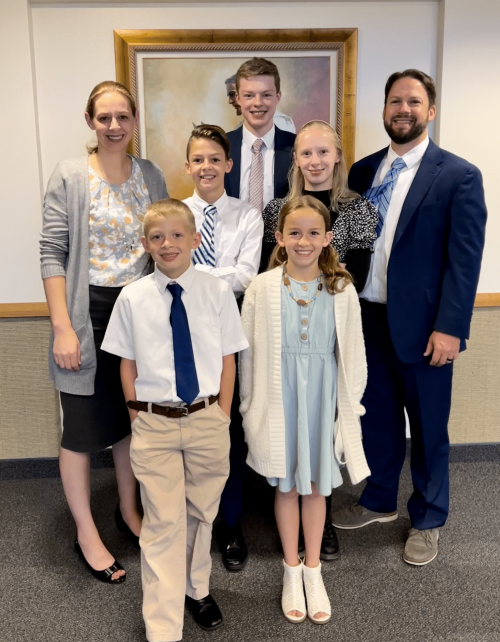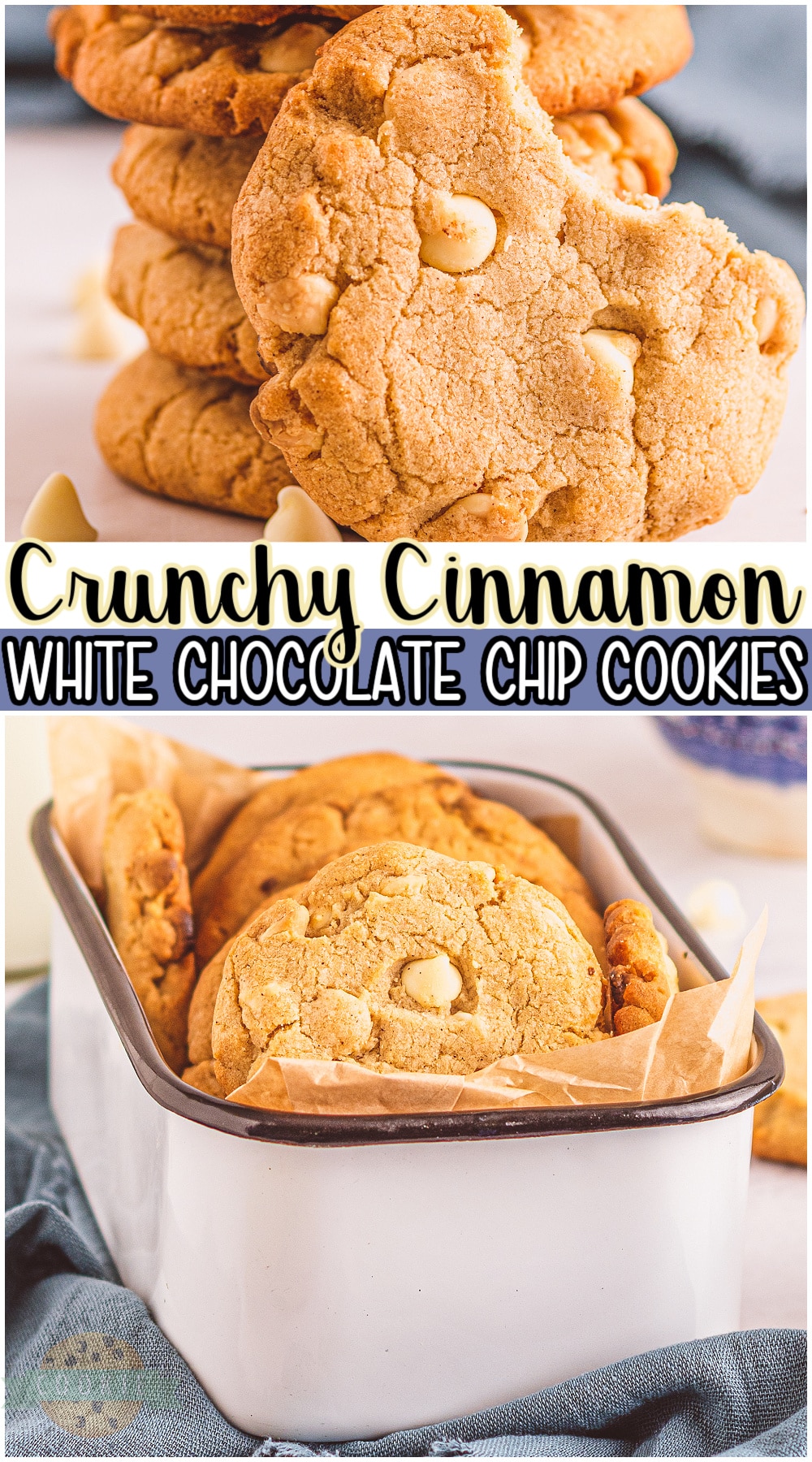 Crunchy white chocolate cinnamon cookies are packed with warm cinnamon flavor and gooey white chocolate chips. A fun twist on classic chocolate chip cookies that are perfect for the holidays!