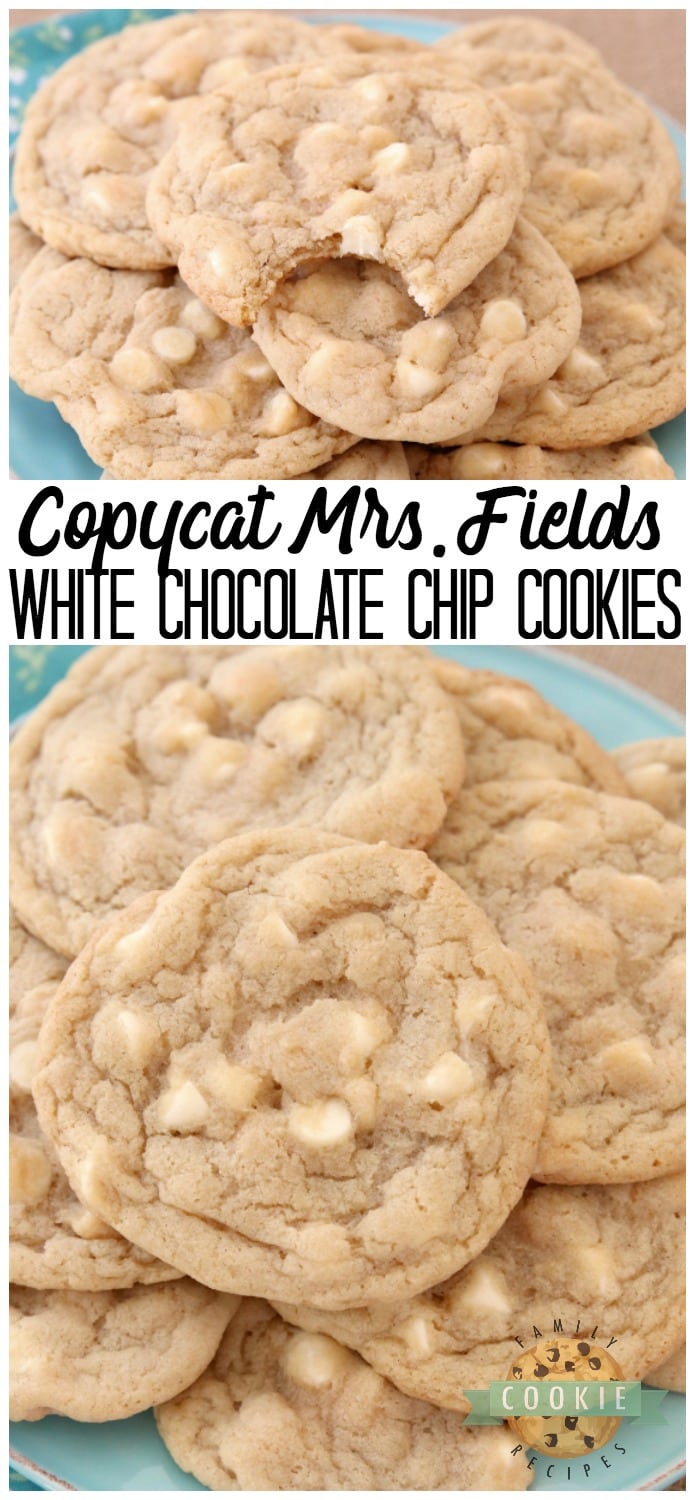 Copycat Mrs.Fields White Chocolate Chip Cookies are soft, delicious cookies filled with sweet white chocolate chips. Copycat Mrs.Field's cookie recipe that everyone can make at home!
Mrs.Fields White Chocolate Chip Cookies are the perfect treat, especially during the cold months! There is just something about the winter weather that makes me want a nice plate of cookies, some hot chocolate and a warm fire crackling in the fire place. Well, I don't have the warm fire but I definitely can enjoy the milk and cookies thanks to this recipe. And I don't have to go to the mall to get them either!!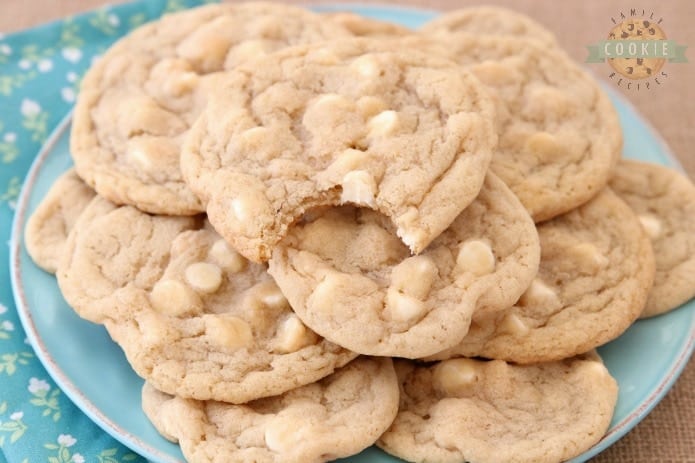 Tips to get the PERFECT Mrs.Fields White Chocolate Chip Cookies:
Three kitchen items make these cookies come together really fast. I actually use these items in nearly every cookie recipe I make, so they're quite versatile. First, I line my cookie sheets with a piece of parchment paper. They're sold in sizes that fit a 12×16 cookie sheet perfectly and enable to cookies to bake well without sticking- and no mess from spraying oil on the cookie sheets!
The second item is a KitchenAid mixer. I love mine! I have a Bosch as well but I find I use my KitchenAid for cookies. There is a cookie paddle that comes with every mixer that you attach to the top of the mixer. They're easy to use and help you mix the ingredients uniformly. I also use the metal whisk attachment in this recipe to make the frosting. It whips it up super fast! Add this to your wish list because it's one of my all-time used small appliances ever!
The third item is a cookie scoop! Years and years ago I used to use 2 spoons to measure and scrape cookie dough onto the pans. It wasn't a perfect process and I often ended up with oblong cookies in various sizes. A friend of mine brought cookies to a party and I noticed each and every one of her cookies looked PERFECT. Her secret? A cookie scoop! They come in three sizes- 1/2 tablespoon, 1.5 tablespoon and 3 tablespoon scoops. I used the large and middle size- 3 tablespoon and 1.5 tablespoon for these cookies. (Although when I'm serving a large crowd, I use the small cookie scoop. People love having a smaller cookie, especially at an event with several other desserts.
COPYCAT MRS.FIELDS WHITE CHOCOLATE CHIP COOKIES
2 1/2 cups flour
1 teaspoon baking soda
1 teaspoon salt
1 cup butter, softened
3/4 cup white sugar
3/4 cup firmly packed brown sugar
1 1/2 teaspoons vanilla
2 eggs
2 cups white chocolate chips
In smaller bowl, mix flour, baking soda and salt. Set aside.
In a larger bowl, mix sugar, brown sugar, melted butter and eggs until completely combined. Add the vanilla. Mix well and then add the flour mixture.
Stir in the white chocolate chips.
Cover a cookie sheet with parchment paper. Using a scoop, drop cookies onto cookie sheet. If you want the large cookies, use a large 3 TBSP scoop. If you want smaller cookies, use a medium, 1.5 TBSP cookie scoop.
Bake in 350 degree F oven. Large cookies take 12-14 minutes. Smaller cookies take 9-11 minutes.
Leave them on the tray for 5 minutes then transfer to a cooling rack.
If you like our
Copycat Mrs. Fields White Chocolate Chip Cookies try a few of our other favorite cookie recipes: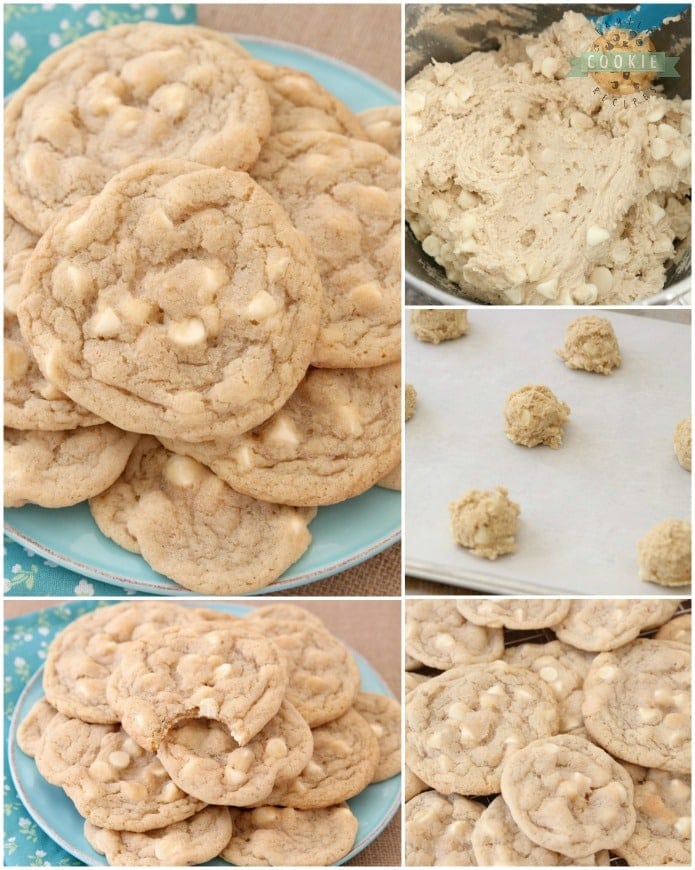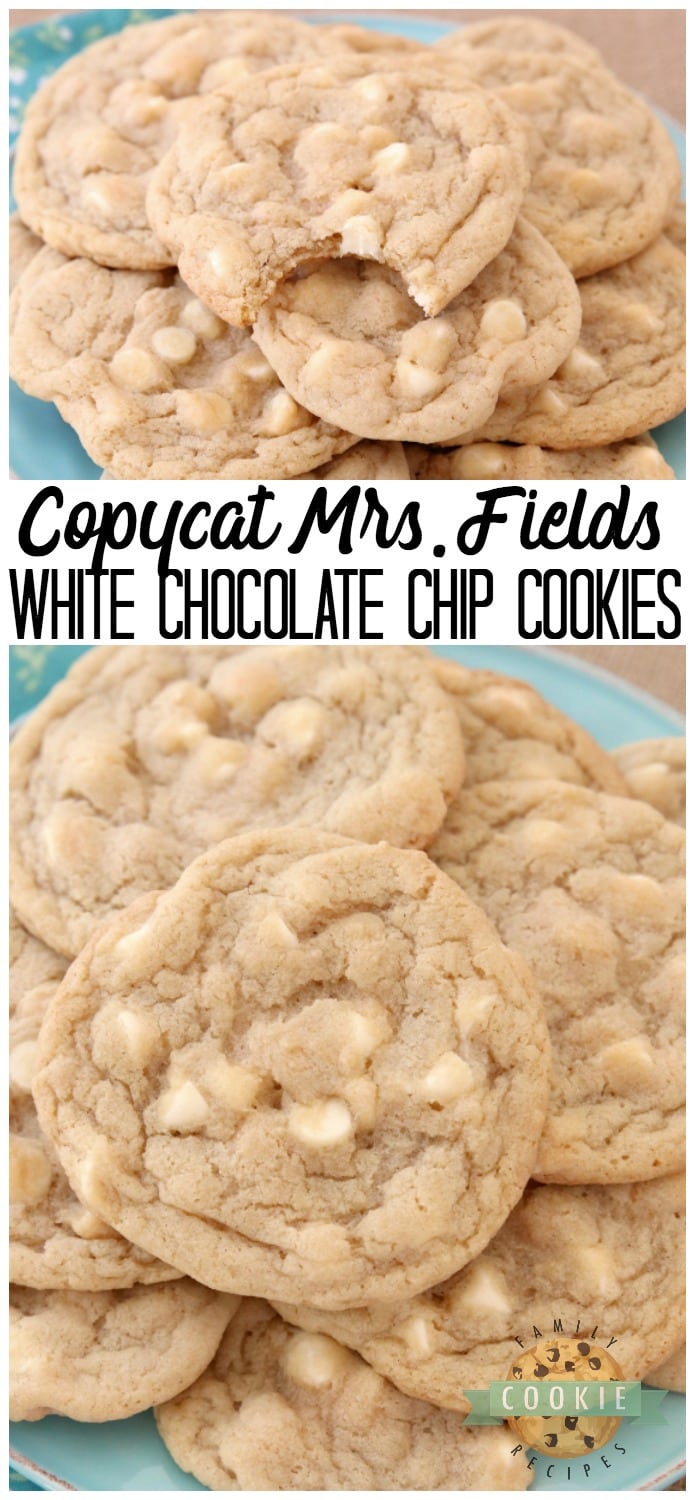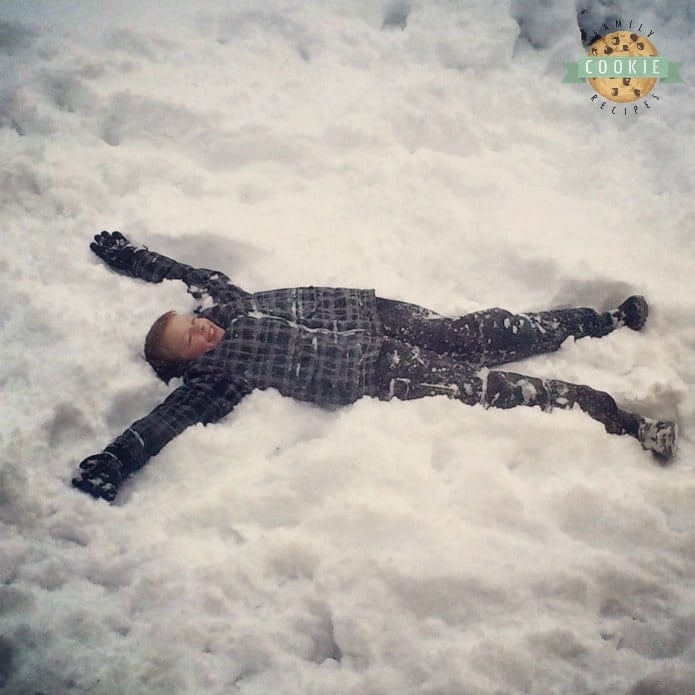 I don't care how old or how tall you are, it's always fun to play in the snow. I caught this smile of pure glee on my teenager. Don't tell him I took a photo. And really don't tell him that I'm sharing it with you all. Ha! Teenagers.