Homemade Nutter Butters are soft, chewy cookies that are so much better than the store-bought! Sweet & packed with great flavor, these copycat peanut butter cookies are a hit!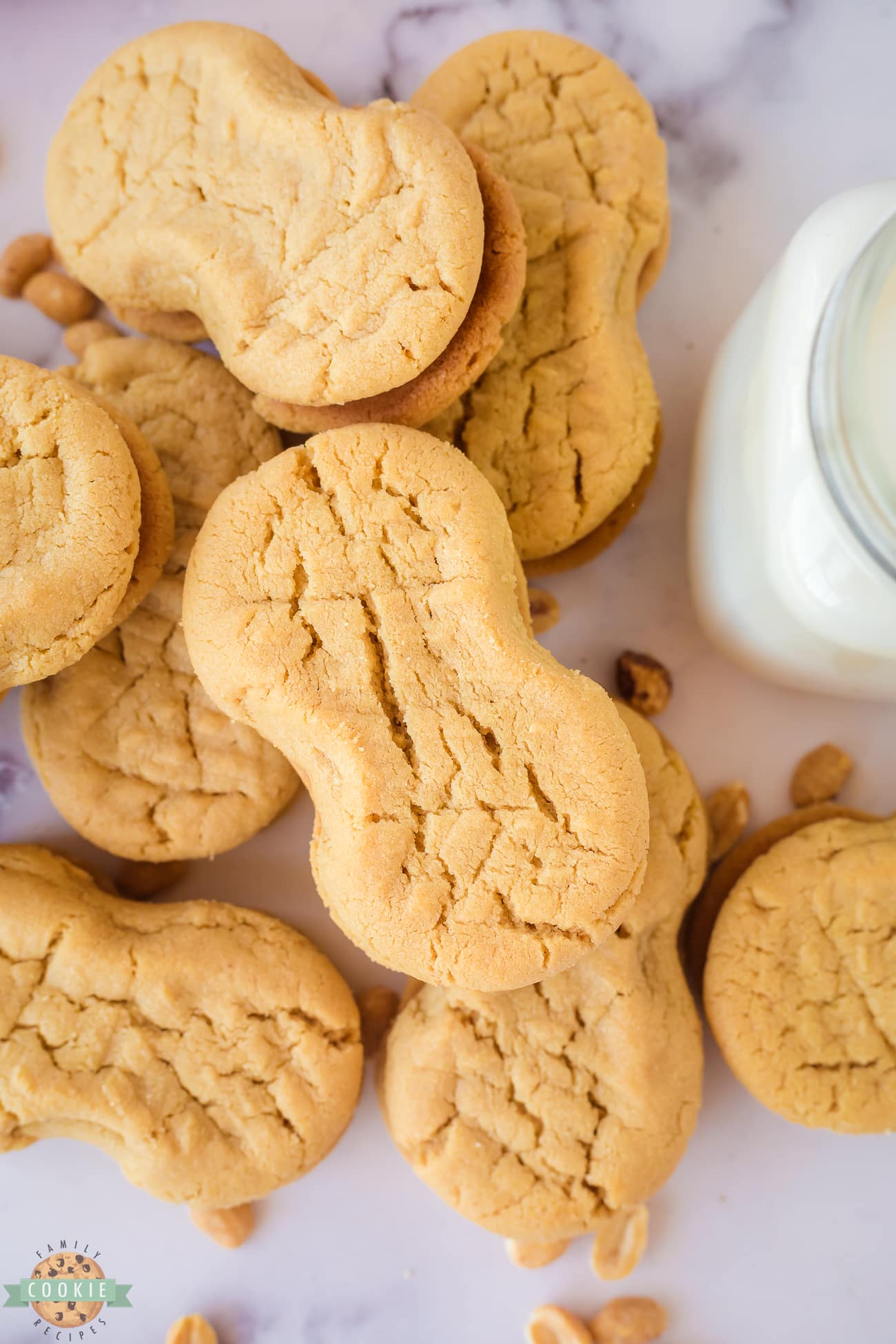 Make this peanut butter cookie recipe with some creamy peanut butter and all your basic cookie ingredients, this easy treat can be thrown together in a matter of minutes! Pack nutter butter cookies as a lunchtime treat, gift them to your neighbors, or serve them as a fun weekend dessert.
What are Nutter Butter Cookies?
Nutter Butters are hourglass-shaped peanut butter flavored sandwich cookies. Think of them like Oreos or whoopie pies, but rich, crunchy, and nutty instead of cakey, chocolatey, or creamy. Unlike the store bought version of these cookies, my homemade Nutter Butters are soft and chewy.
You won't believe how easy it is to make these homemade treats too! These peanut butter sandwich cookies are a 45-minute, one-bowl treat that might be even tastier than the original.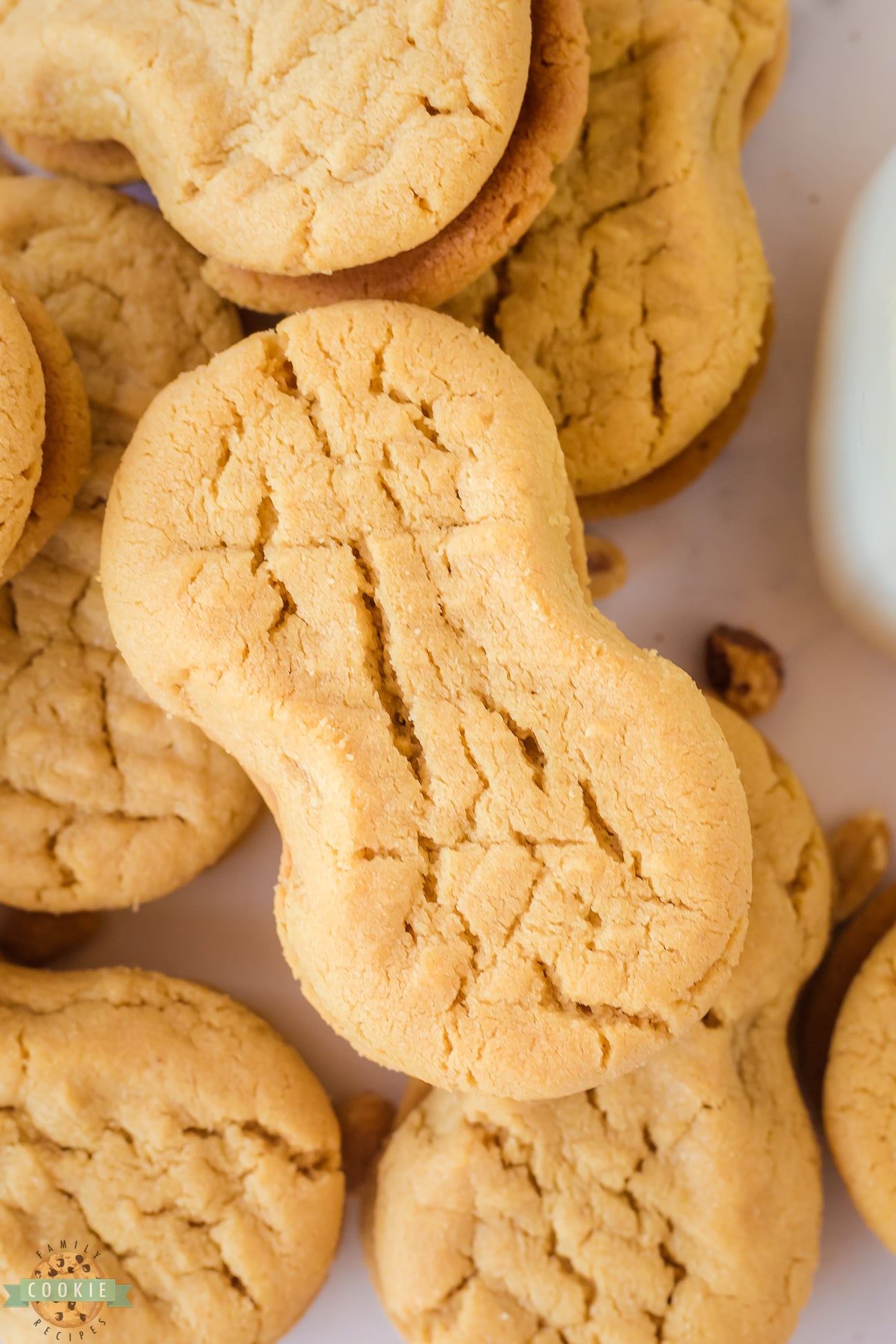 Expert Tips and Tricks for making Peanut Butter Cookies
It's important that you let the baked portion of these homemade Nutter Butters cool before you add the filling. If the cookies are still warm when you add the peanut butter frosting, it will melt and run everywhere.
Like your cookies to have a bit of a crunch? Try swapping out the creamy peanut butter for crunchy peanut butter!
When whipping up your peanut butter filling, add the milk slowly until it reaches your desired consistency. If the mixture is too thick, add more milk. If it's too thin, add more powdered sugar.
Peanut Butter Cookie Sandwich Ingredients
Butter: You will need ¾ cup of salted butter to give these cookies a wonderful rich flavor.
Sugar: Add in ½ cup of white granulated sugar to help make the cookies chewy and sweet.
Brown sugar: Using ¾ cup of light brown sugar gives the cookies an amazing depth of flavor.
Peanut butter: To give these cookies the best possible texture, add 1 cup of peanut butter to the dough.
Egg: 1 large egg adds moisture and helps to bind all the other ingredients together.
Vanilla extract: Using 1 teaspoon of vanilla extract helps to round out the nutty, salty flavor of these cookies.
Flour: The base of this cookie dough is 2 cups of all-purpose flour.
Baking soda: You need 1 ¼ teaspoons of baking soda to give the Nutter Butters a fluffy, chewy texture.
Filling Ingredients
Butter: Use ¼ cup of salted butter to achieve the creamy, rich flavor for the filling.
Peanut butter: You need ¾ cup of creamy peanut butter for the flavorful addition to this cookie filling.
Milk: Adding in 3 tablespoons of whole milk will help thin out the filling to the perfect consistency.
Powdered sugar: For just the right sweetness, you will want to use 1 ¼ cup of powdered sugar.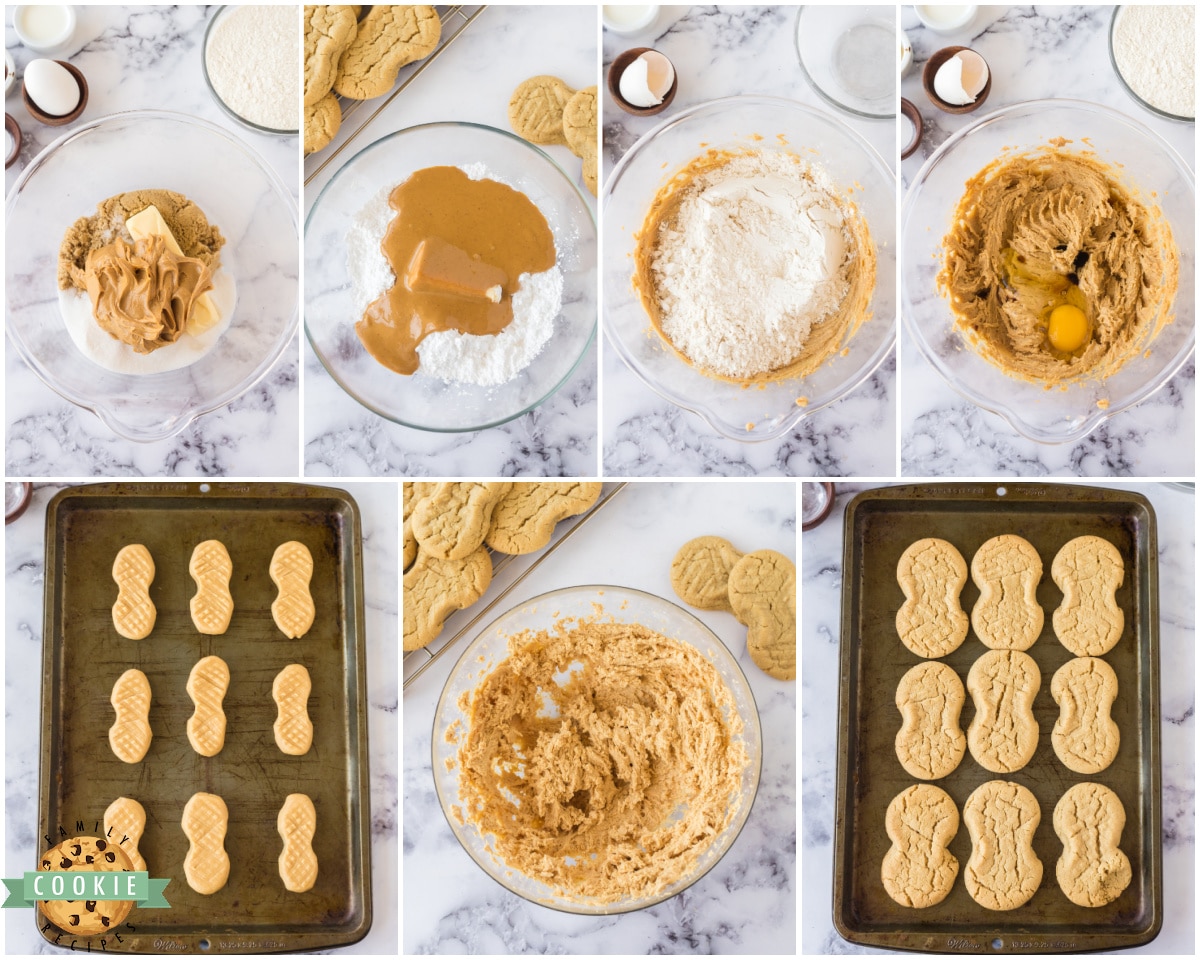 How to make Homemade Nutter Butter Cookies
Prep
Start by preheating the oven to 350°F. Next, line two baking sheets with parchment paper and set them aside.
Cookie dough
Using an electric handheld mixer, cream together the butter, both types of sugars, and the peanut butter in a large mixing bowl for 3-4 minutes.
Once the butter mixture is smooth and creamy, add the egg and vanilla extract. Continue to whisk the mixture on high speed until the egg is fully incorporated into the batter.
After that, gently whisk in the flour and baking soda on a low-medium speed until the dry ingredients are fully incorporated as well.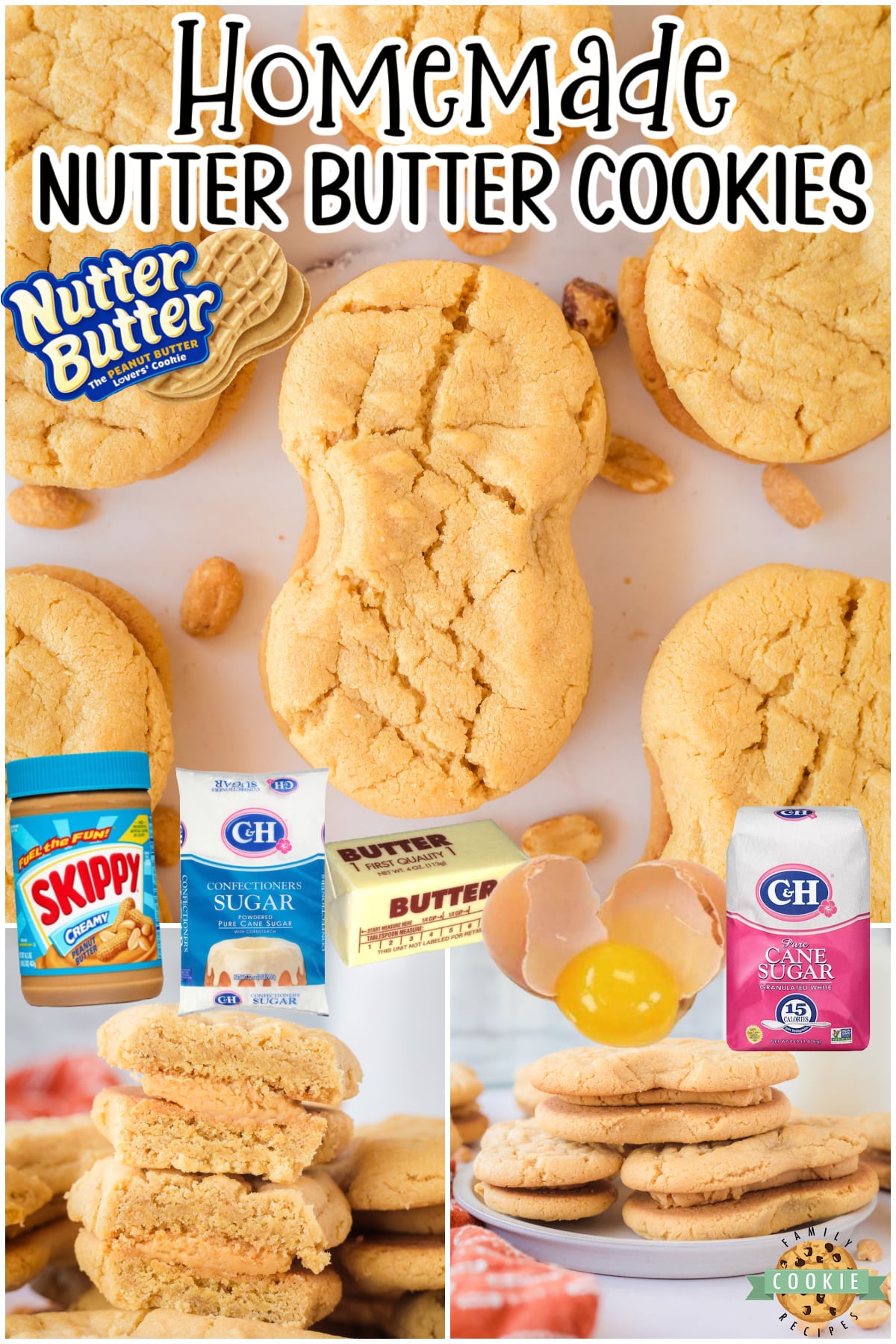 Shape
Next, divide the cookie dough into 2 tablespoon size balls. Proceed to roll the balls of dough into cylinders and pinch them in the middle to create a "peanut" shape. Use a fork to give each cookie a crisscross pattern.
Bake
Place the cookie dough on the prepared baking sheets, leaving about 1 ½ inches between each cookie, and bake for 12 minutes.
When baking is complete, let them cool for about 5 minutes on the sheet, then transfer them to a cooling rack and allow them to cool for 20 minutes while you prepare the filling.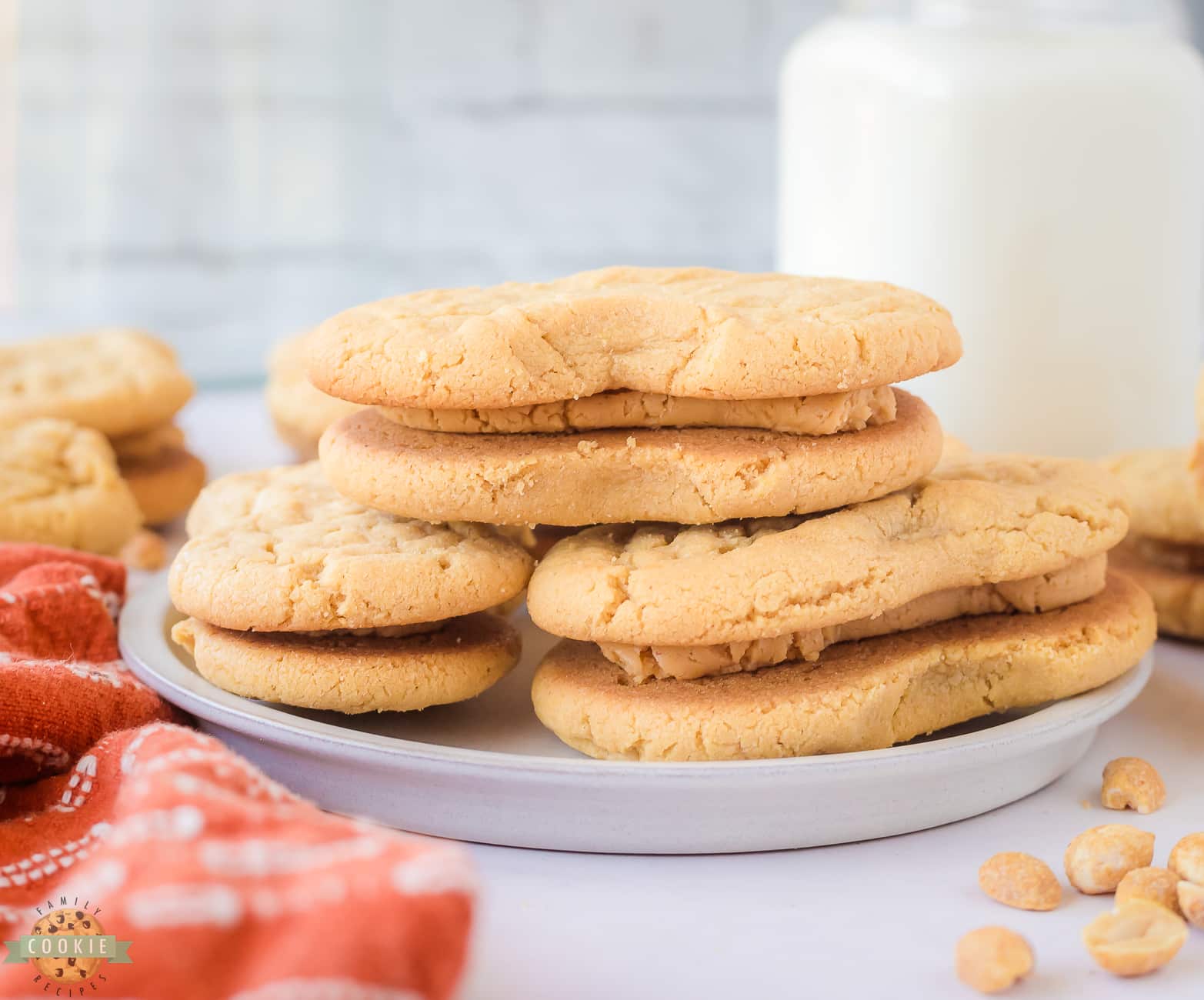 Filling
In a medium sized mixing bowl (you can use the same bowl as the cookie dough), whisk together the butter, peanut butter, milk, and powder sugar, using an electric hand mixer, until smooth and creamy.
Then use a spatula or piping bag to top half the cookies with the filling. Add the remaining cookies to the top to form cookie sandwiches.
Serve with a tall glass of cold milk and enjoy!
How to Store and Serve Homemade Nutter Butter Cookies?
I doubt you'll have any of these nutty, chewy cookies left over, but if you do you can store them in an airtight container on the counter for up to 4 days. You can also store them in the fridge for up to 5 days or in the freezer for up to 3 months. Enjoy these peanut butter sandwich cookies cold, at room temperature, or warmed up slightly in the microwave.
Homemade Nutter Butters are a delectable treat on their own, or you can pair them with some vanilla ice cream, whipped cream, or chocolate sauce to turn it into a decadent dessert. You also can't go wrong serving these sandwich cookies with a glass of plain, plant-based, or chocolate milk.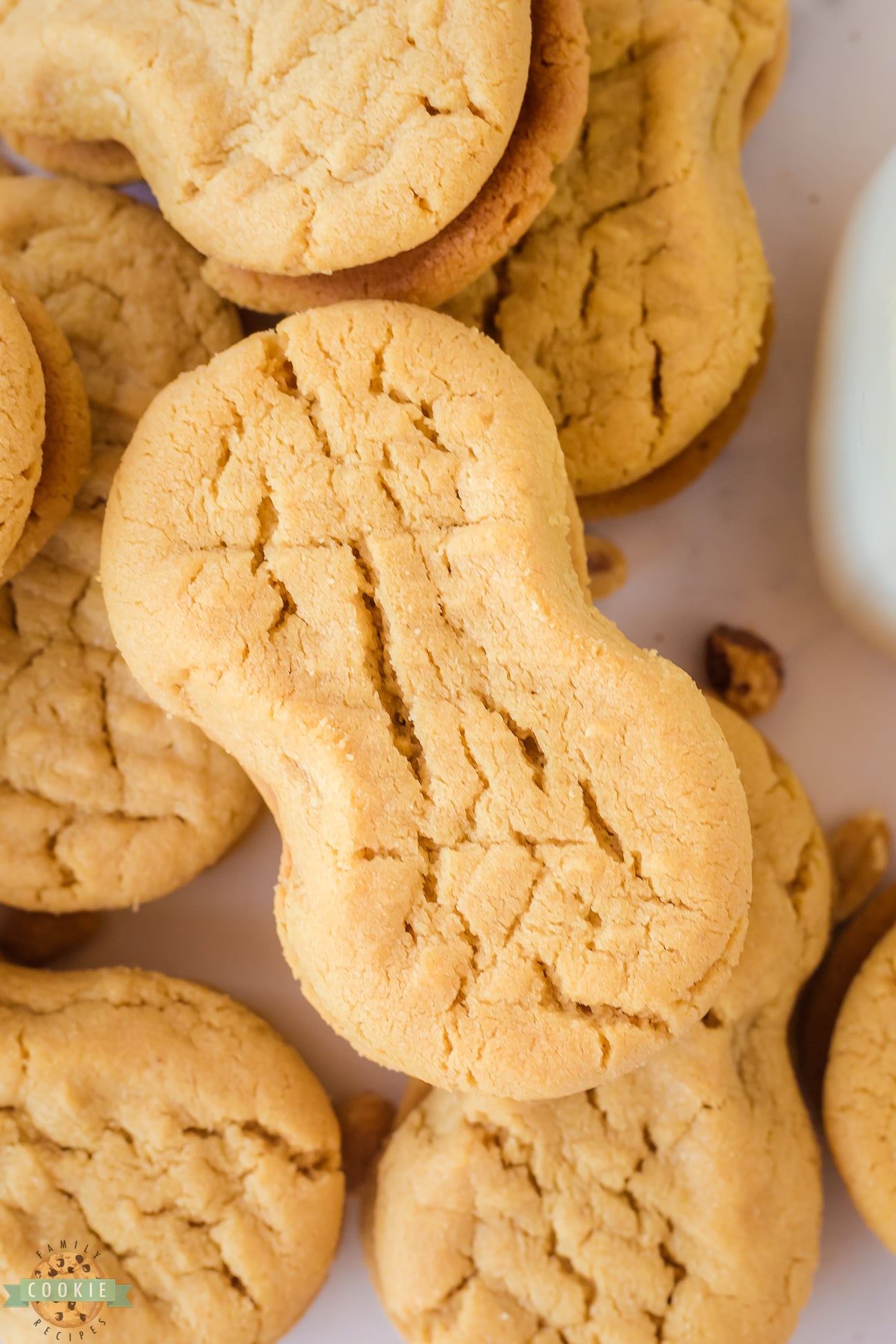 What kind of peanut butter do they use in Nutter Butters?
Store bought Nutter Butters are made with real creamy peanut butter, just like this copycat recipe. However, this homemade recipe features fewer, slightly cleaner ingredients than the store bought version.
Is Nutter Butter a healthy snack?
Not really, no. Nutter Butters are a sweet, crunchy, nutty treat that should be enjoyed in moderation. You can make these peanut butter sandwich cookies a bit healthier by swapping out the refined sugars for a natural sweetener like coconut or maple sugar.
Can Nutter Butters be made vegan?
Although I've never tried making these homemade Nutter Butters vegan, I would imagine that you could easily swap out the animal products with your favorite plant-based alternatives! The texture might not be exactly the same, but the flavor will still be delicious!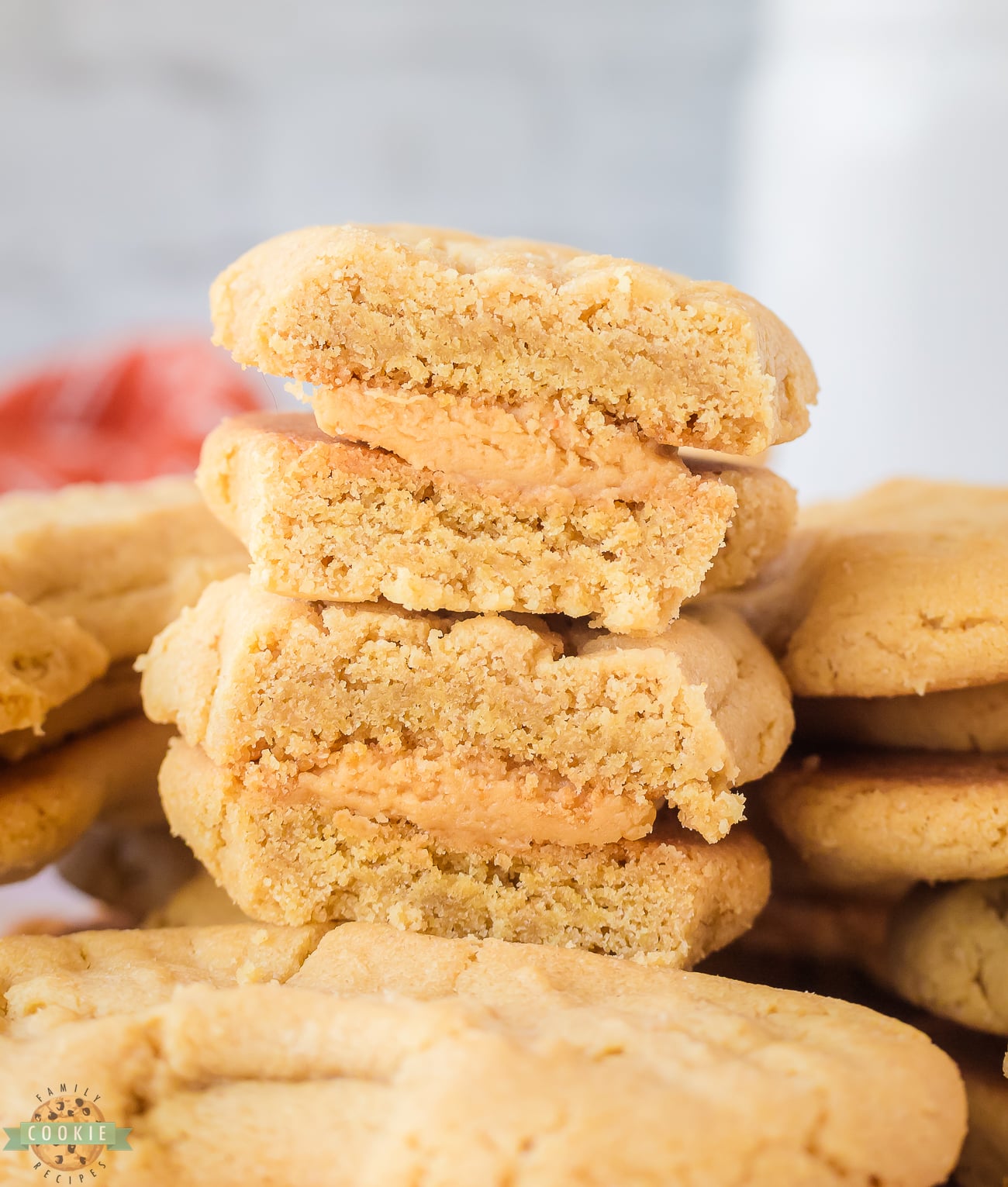 Love peanut butter? Try more great PB cookie recipes here:
Homemade Nutter Butters are an incredible chewy treat that are even better than the store-bought version! Flavorful & loaded with delicious ingredients, these easy peanut butter cookies are sure to be loved by everyone.