Peanut Butter and Jelly Sandwich Cookies are made by spreading a creamy strawberry buttercream frosting between two soft and chewy peanut butter cookies. Your favorite childhood sandwich in the form of a dessert that everyone loves!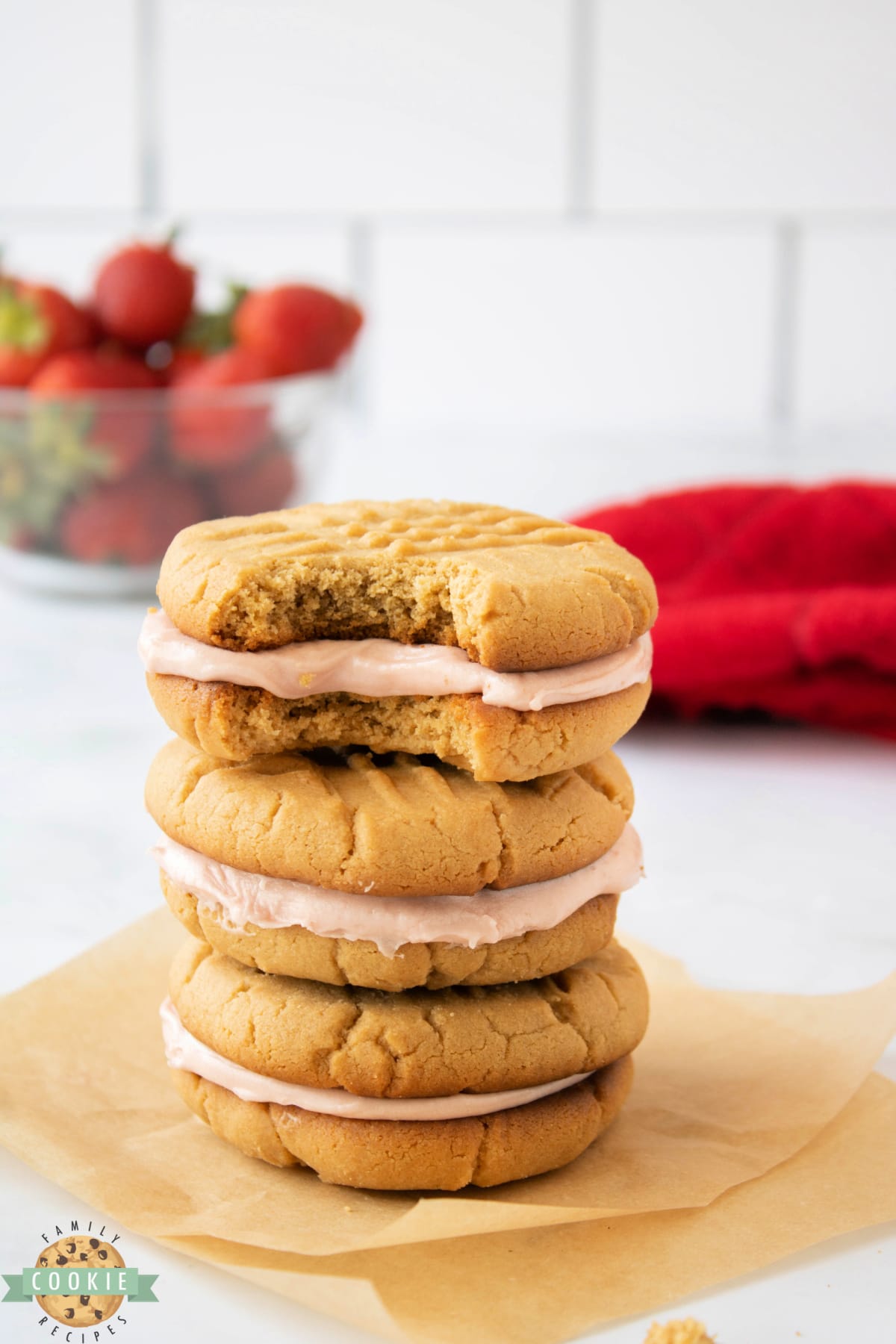 We love peanut butter cookies, but have found that they are even better with strawberry frosting! And if you have a reason to eat two at a time because they are sandwiched together? Even better!
Peanut Butter and Jelly SANDWICH COOKIES
These delicious sandwich cookies begin with a simple and delicious peanut butter cookie recipe. These peanut butter cookies are soft, yet firm around the edges. Both butter and shortening are used in the dough to allow these cookies to hold their shape, but stay soft and chewy.
Once the cookies are baked and cooled, all you need is butter, powdered sugar and strawberry jam to make a delicious strawberry buttercream frosting. Spread it in between two cookies and sandwich them together.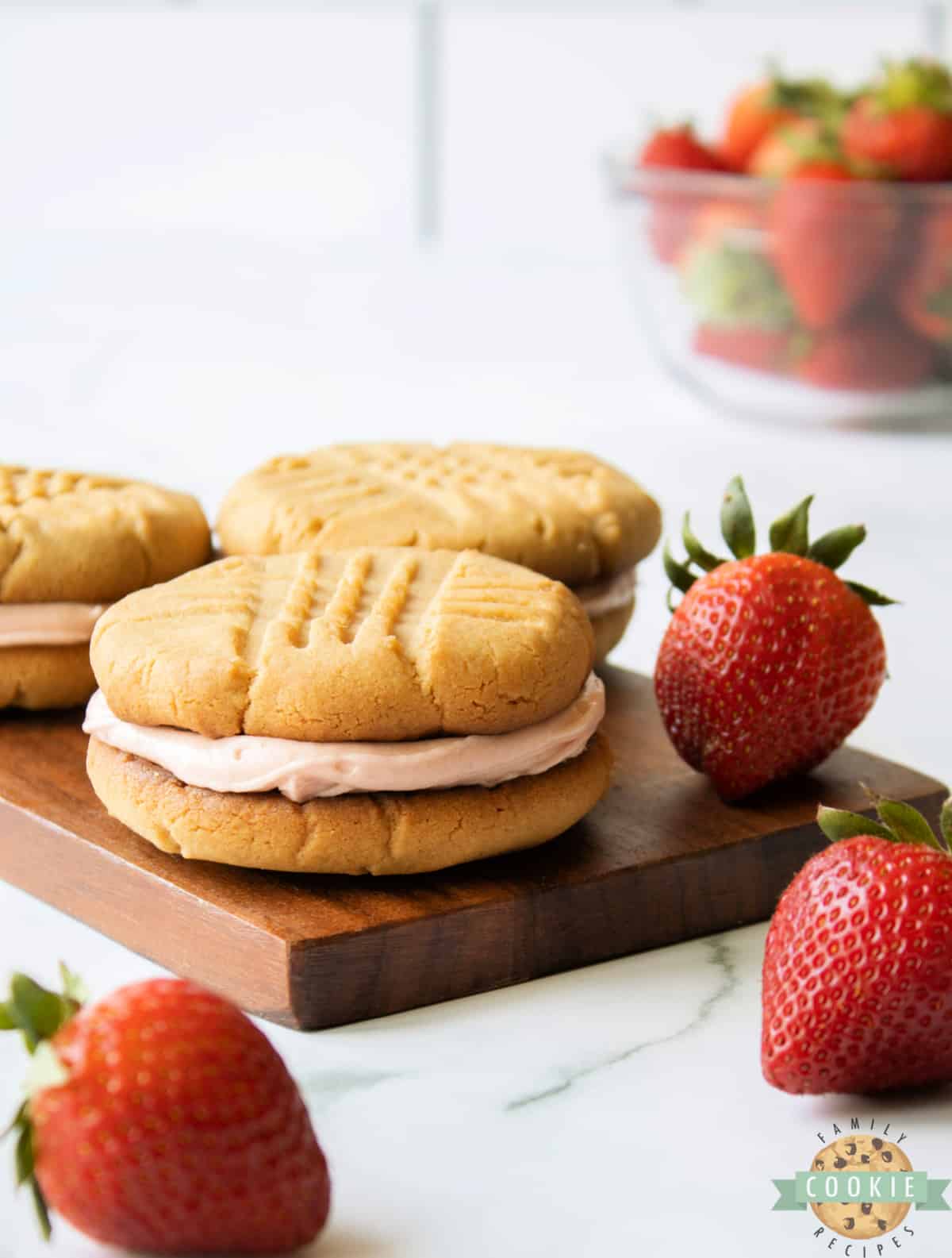 Simple tips for this recipe
Use a cookie scoop to scoop out the dough to make each ball the exact same size. This is especially important when making cookie sandwiches because the cookies line up so much better when they are exactly the same shape and size!
Use any type of jelly/jam you'd like! If you love grape jelly, use that! Raspberry? Use that! Any flavor is delicious, but make sure you use a seedless variety so that the frosting is smooth and creamy.
Use regular peanut butter. Anytime I have tried baking cookies with a more natural peanut butter, the results aren't as good. Peanut butters like Jif and Skippy tend to yield better cookies. You are welcome to use crunchy peanut butter if you prefer a little bit of crunch in your cookies.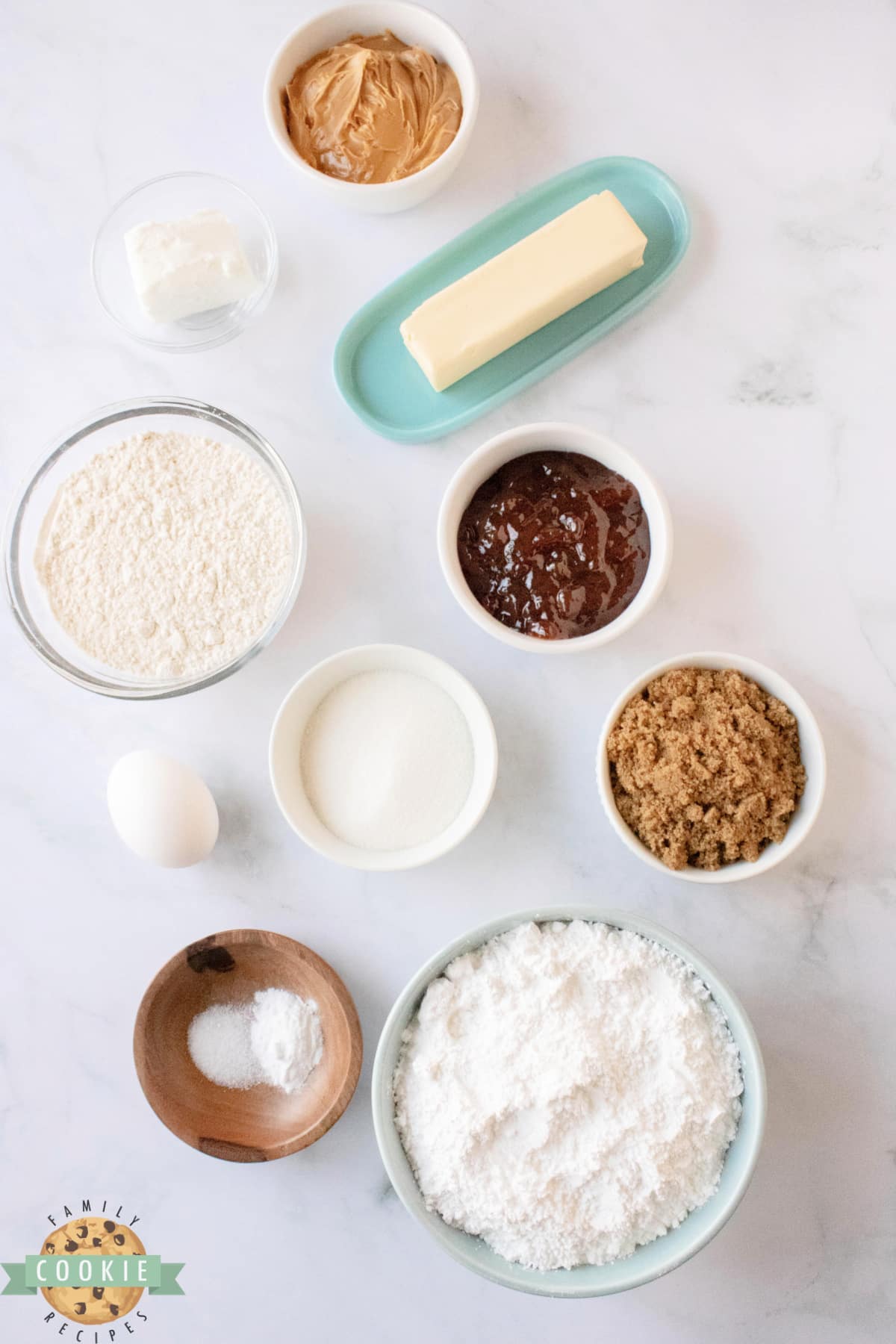 INGREDIENTS IN PEANUT BUTTER & JELLY SANDWICH COOKIES 
PEANUT BUTTER COOKIE INGREDIENTS
Flour – All-purpose flour works great!
Baking soda – This acts as the leavening agent in the cookies so make sure they aren't expired!
Salt – Just a little bit of salt really helps the other flavors to pop.
Butter – You will need a half stick (1/4 cup) of butter, softened to room temperature.
Shortening – You also need ¼ cup shortening for the cookie dough. I prefer to use the Crisco sticks since they are so much easier and less messy to measure out.
Sugar & brown sugar – Can't have cookies without sugar, right?! Make sure your brown sugar is fresh and not dried out for best results.
Peanut butter – The recipe calls for regular creamy peanut butter. You can use crunchy if you prefer. For best results, avoid more "natural" peanut butters as they don't tend to work very well in most baked goods.
Egg – You just need 1 large egg to bind all of the ingredients together.
STRAWBERRY BUTTERCREAM FROSTING INGREDIENTS
Butter – One stick of softened butter is needed for the frosting.
Powdered sugar – You will need 3 ½ cups of powdered sugar to make the frosting sweet and creamy.
Jelly – Use any flavor of jam to mix in with the frosting to flavor it. I usually use strawberry, but any flavor will work. Just make sure the jam doesn't have seeds in it!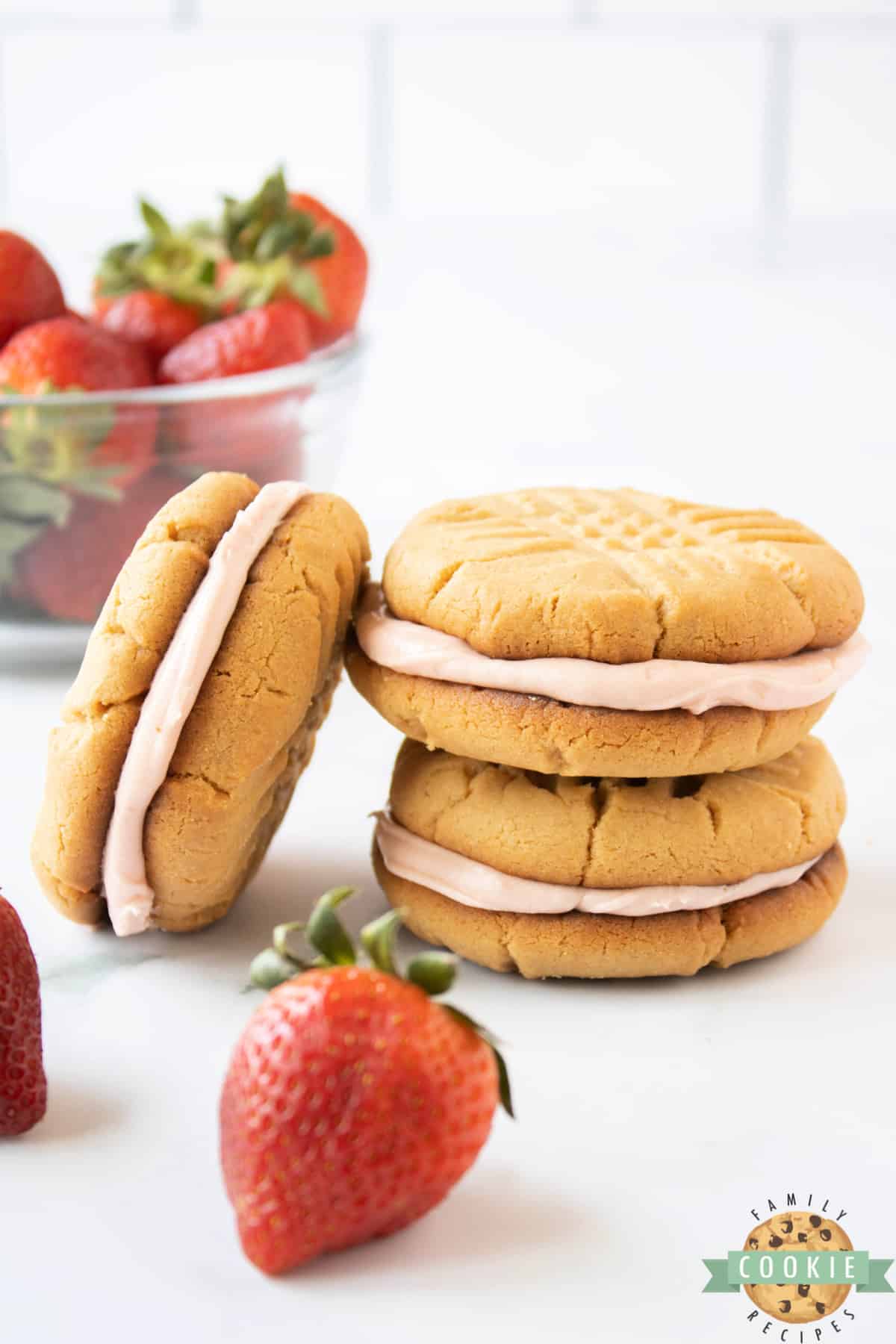 HOW TO MAKE PEANUT BUTTER & JELLY SANDWICH COOKIES
MAKE THE COOKIE DOUGH
Preheat oven to 350°.
Line two baking sheets with parchment paper or silicone baking mats.
Whisk flour, baking soda and salt together in a mixing bowl.
In a separate bowl, beat butter, shortening, granulated sugar and brown sugar on low until light and creamy (about 3 minutes).
Add in the peanut butter and egg and mix for another 2-3 minutes.
Adding the flour mixture a little at a time, beat on low until just combined, scraping down the sides and bottom of the bowl as needed.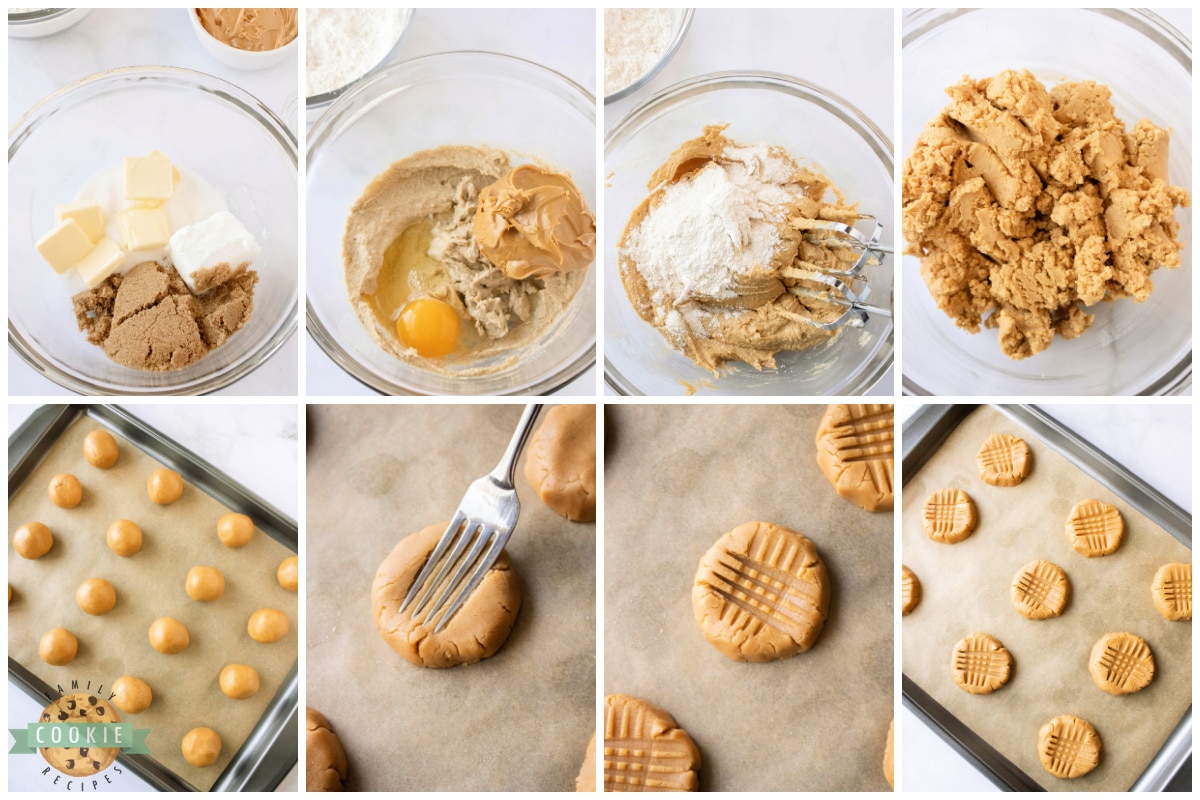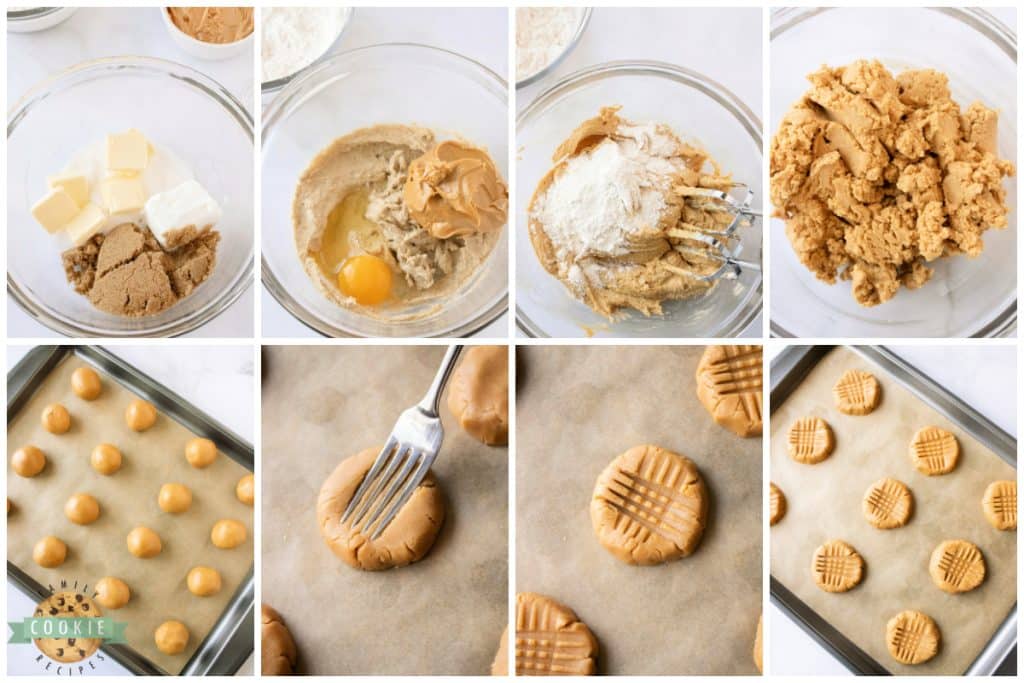 SHAPE THE COOKIES
Use a cookie scoop (2 tablespoon size) to scoop out the dough and then roll it into balls. You should be able to make 18 balls of dough.
Place half of the cookie dough balls on each baking sheet.
Using the back of a fork, make crisscross patterns on the tops of each cookie, pressing down gently. Try your best to press them all down to the same thickness.
BAKE AND COOL THE PEANUT BUTTER COOKIES
Bake 8-10 min or until the bottom edges are set and just barely starting to brown. They will still be very soft.
Allow the cookies to cool for 5 minutes on the baking sheet, then transfer them to a wire rack until fully cooled.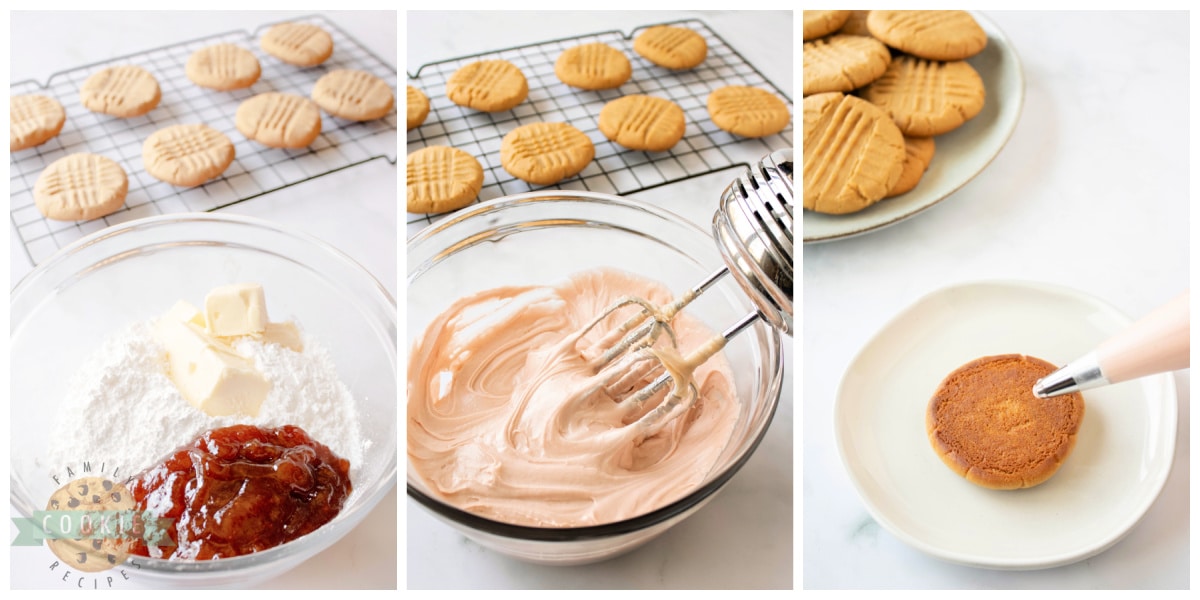 MAKE THE STRAWBERRY FROSTING
While the cookies are cooling, make the strawberry frosting:
Beat butter and sugar until light and creamy. This should take about 3-4 minutes.
Mix in the jam and stir just until combined.
ASSEMBLE THE COOKIE SANDWICHES 
When the cookies are cool, pipe the frosting onto half the cookies and top with the other half of the cookies. You can also just use a knife to spread it.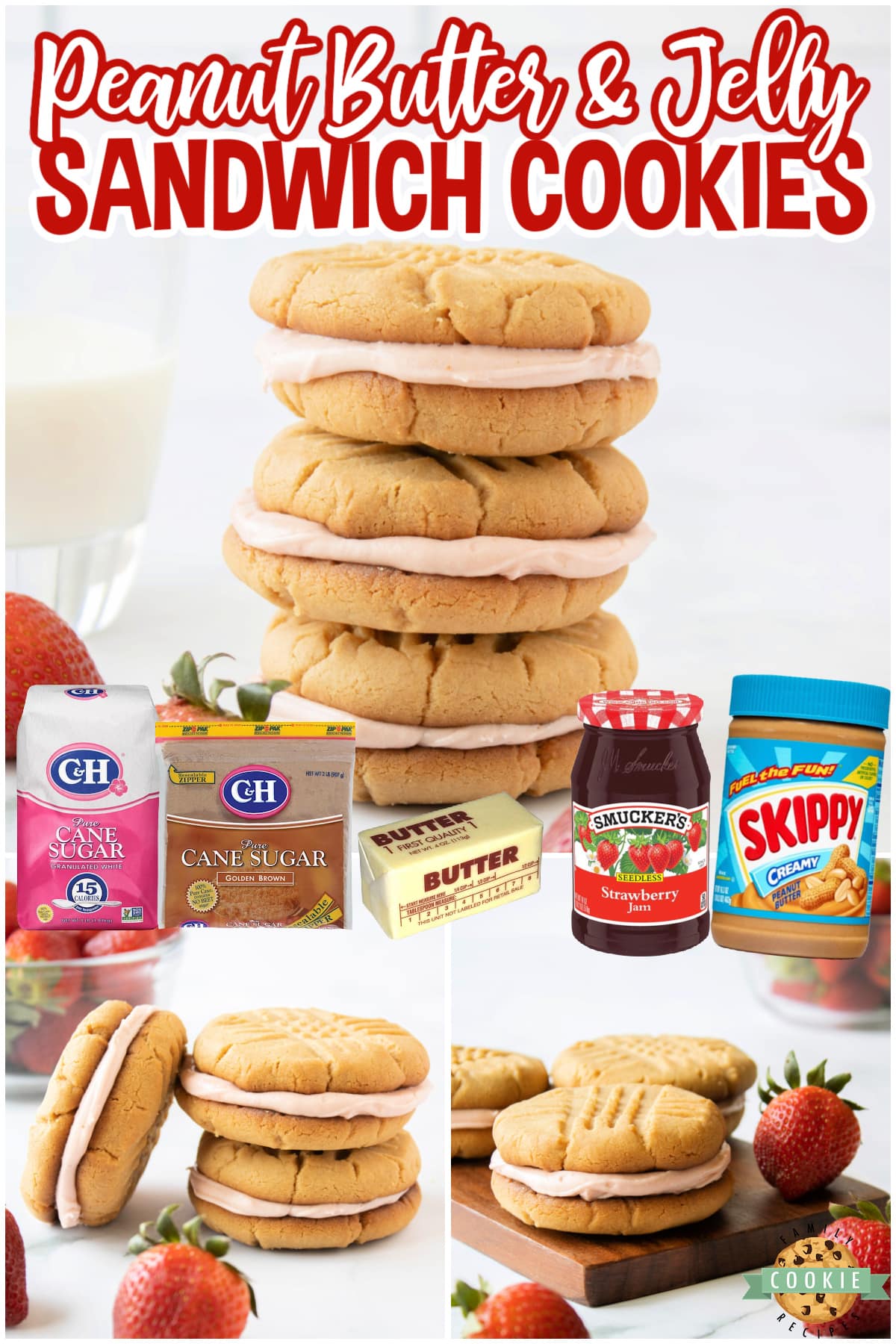 HOW TO STORE COOKIE SANDWICHES
If you have assembled cookie sandwiches leftover, store them in an airtight container in the refrigerator.
If you are not planning to serve all of the cookie sandwiches shortly after making them, then it would be best to store the cookies at room temperature in an air-tight container. Store the frosting in a covered container in the fridge. Assemble the cookie sandwiches right before serving.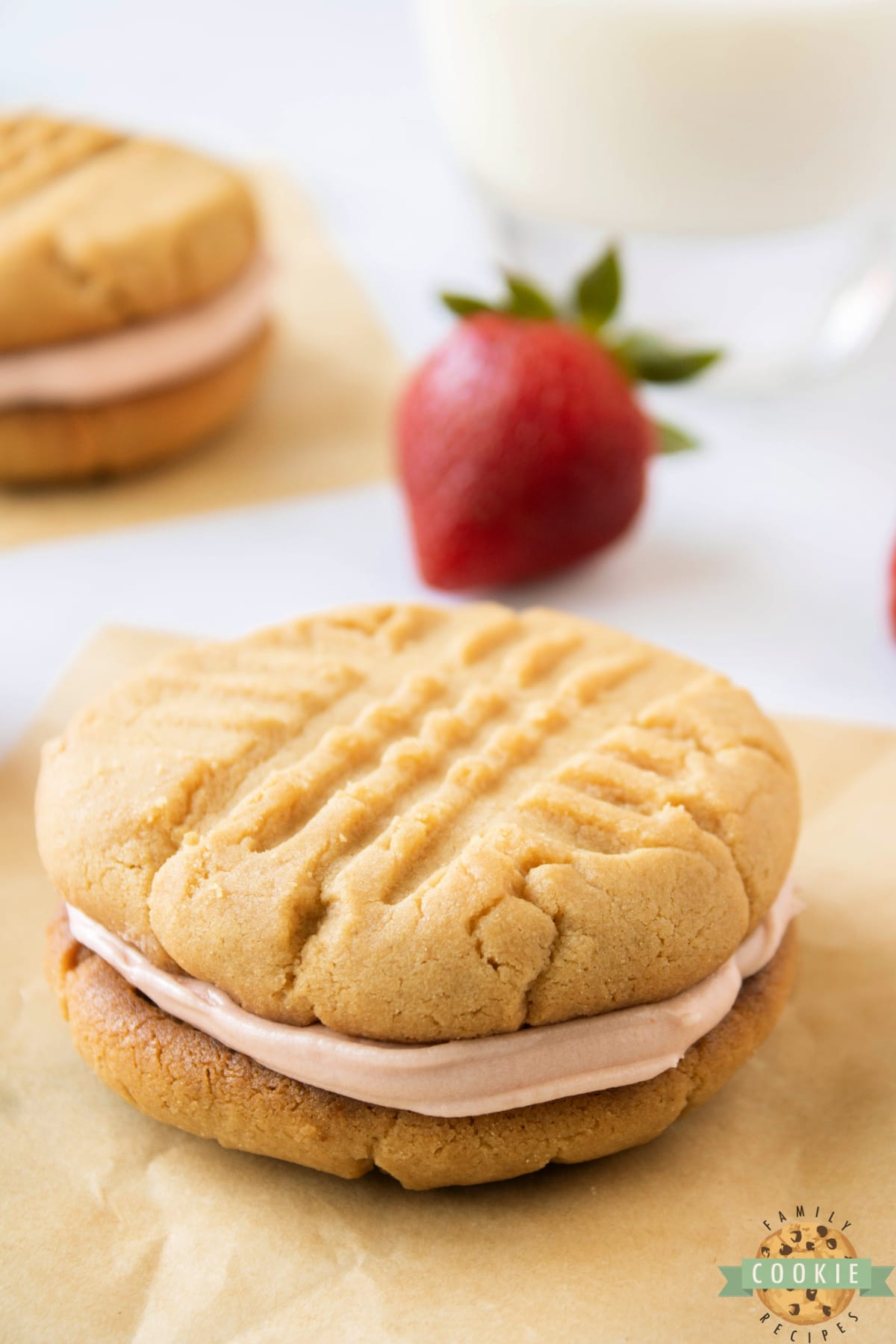 SOME TIPS FOR MAKING THE BEST PEANUT BUTTER COOKIES:
Make sure your butter is softened, NOT melted! One of the most common errors in cookie making is using butter that is either really cold and hard, or using butter that is too warm and melted. If you have time, just leave butter out on the counter for about 1-2 hours before making your cookies. If you are like me and don't plan your cookie cravings that far in advance, just place the butter in your microwave and soften in 5 second intervals, being very careful to pull it out before it melts. I actually like to use the defrost setting on my microwave to soften butter- I don't know the technical reasons behind it, but it seems to soften the butter more evenly and takes a little bit longer so I'm less likely to start melting it!
Preheat the oven. This will help your cookies turn out right every time!
Use a cookie scoop! If you want all your cookies to be perfectly shaped and have them all be the same size, a cookie scoop is the way to go.
Use parchment paper or a silicone baking mat. Doing this will make it really easy to remove the cookies from your cookie sheet so that you don't have to scrape them off the pan – they will just slide right off in perfect shape!
Don't over bake the cookies – when I take mine out of the oven, they still look slightly under baked but they will continue to bake on the cookie sheet for a couple more minutes so that's ok! If you bake the cookies too long, they will get hard and crispy.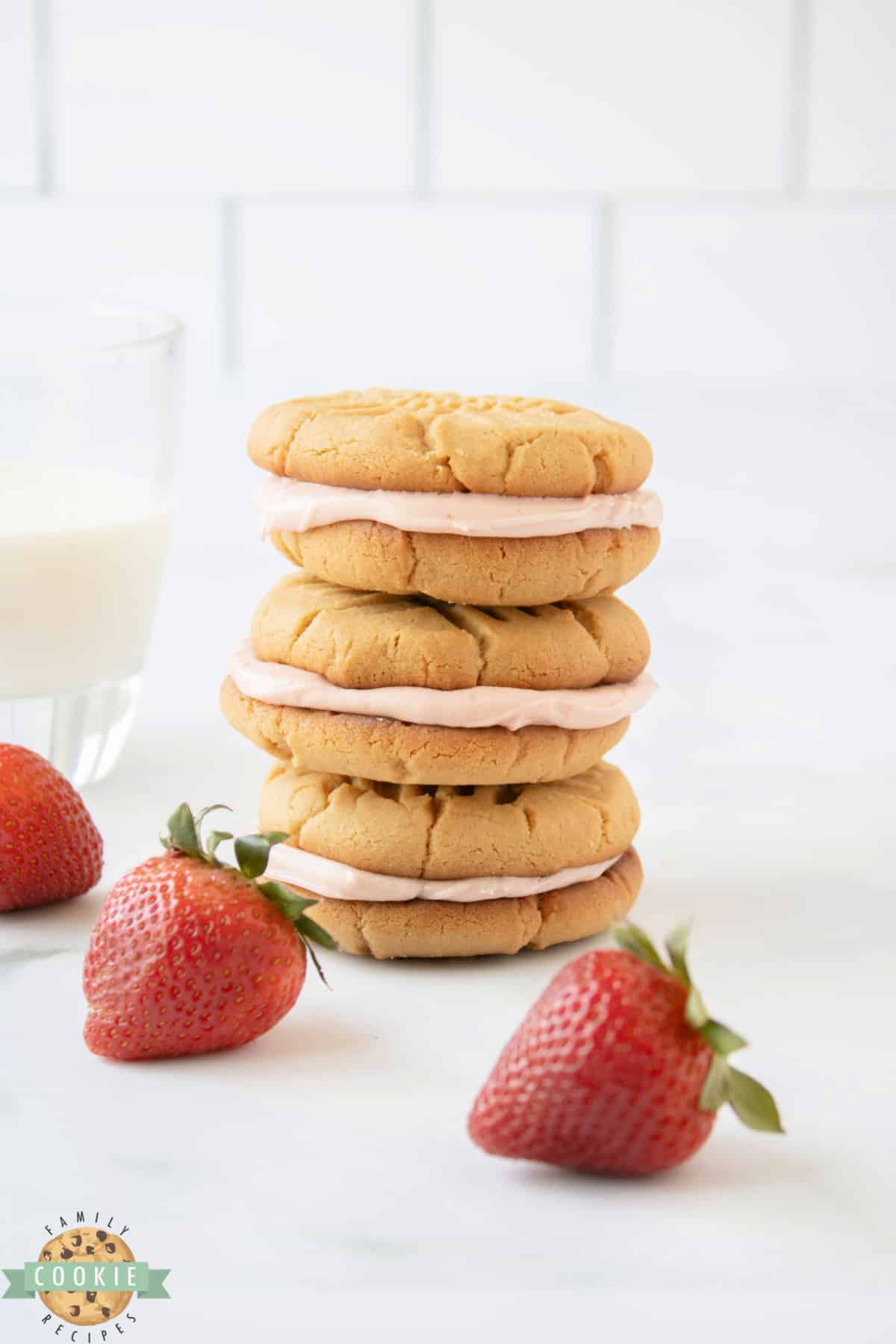 HOW DO YOU SOFTEN BUTTER?
I like to soften butter by using the defrost function on my microwave. If you need the full 1/2 cup cube of butter, you can leave it in the paper wrapper, otherwise, place the amount of butter you need in a glass or porcelain bowl. I use the lowest defrost setting on my microwave and just let it run for 20 seconds. Check the butter and see how soft it is by pressing it with a rubber scraper. If it is still not soft to the touch, meaning it doesn't indent when you press into it, let it warm for another 5-10 seconds. Watch it closely! Butter softens very quickly.
LOVE PEANUT BUTTER COOKIES? SO DO WE! TRY SOME OF OUR OTHER FAVORITE PEANUT BUTTER COOKIE RECIPES!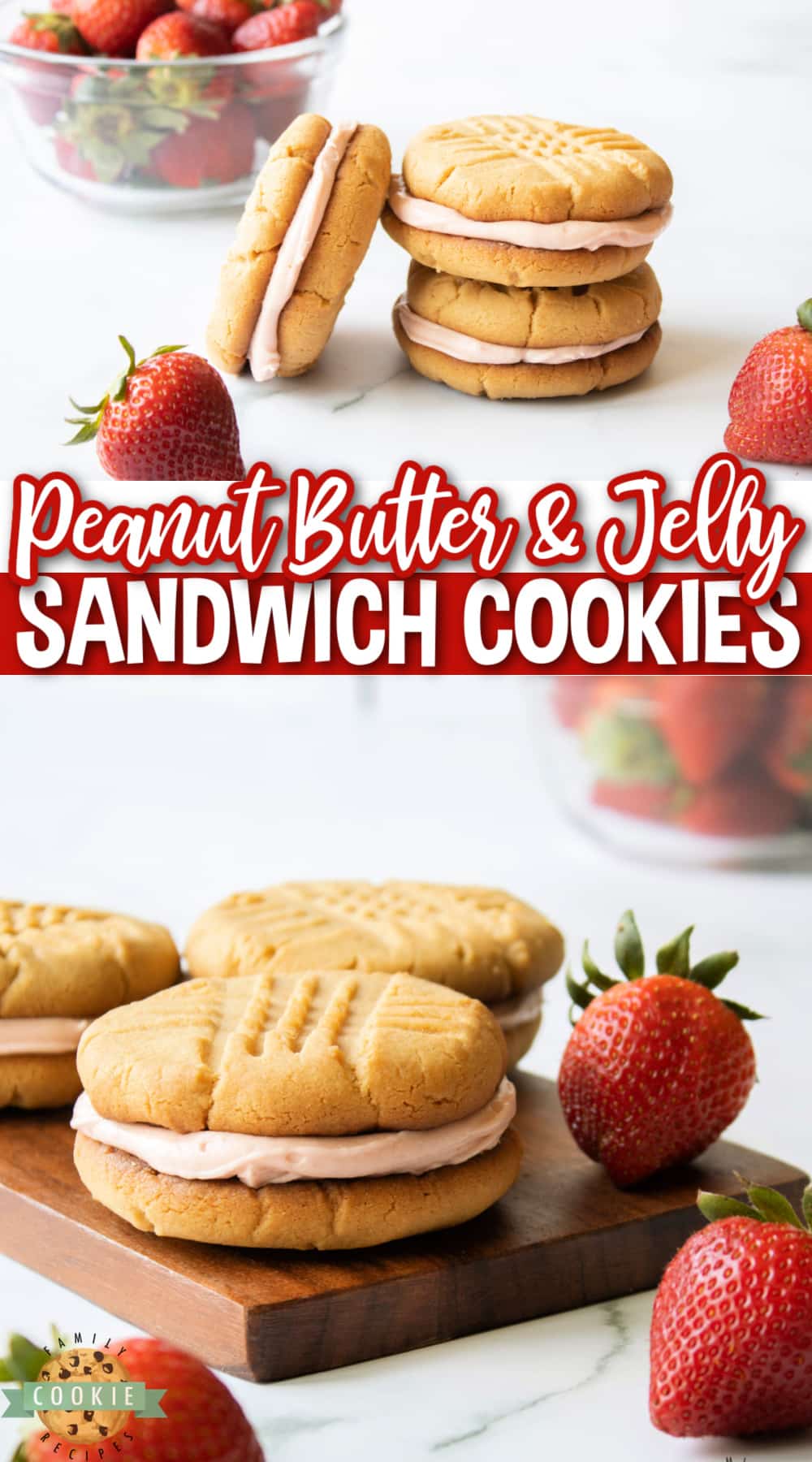 Peanut Butter and Jelly Sandwich Cookies are made by spreading a creamy strawberry buttercream frosting between two soft and chewy peanut butter cookies.