Spiced Reindeer Cookies are a fun & festive addition to your cookie tray! Buttery soft spiced cookies decorated into simple & cute reindeer!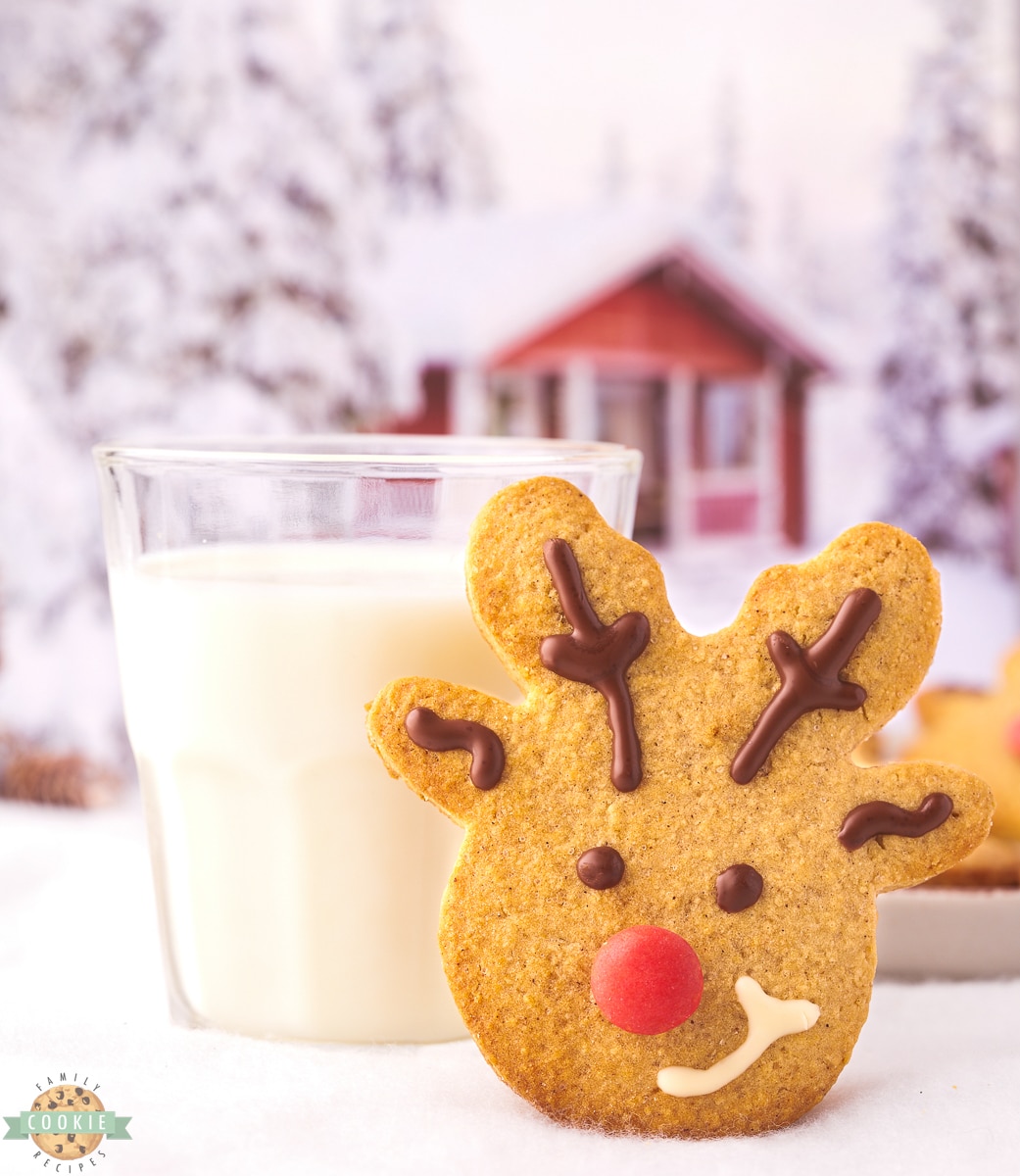 Reindeer Christmas cookies are a fun way to celebrate the holidays and bring joy to faces. Made with a homemade cookie dough that tastes almost exactly like gingerbread, it's no wonder why we can't get enough of these easy spice cookies! Every bite is a wonderful blend of holiday flavors and warmth that you are going to love this season.
Easy Reindeer Cookies
We can't stress enough how stress-free this recipe is. Even if you don't have a reindeer-shaped cookie cutter you can flip a regular gingerbread man one over and use that. (Cool trick, right?) We also use melted chocolate as a simple icing instead of trying to master royal icing which can sometimes be tricky. So these Christmas spice cookies are not only super easy to make but also incredibly tasty as well!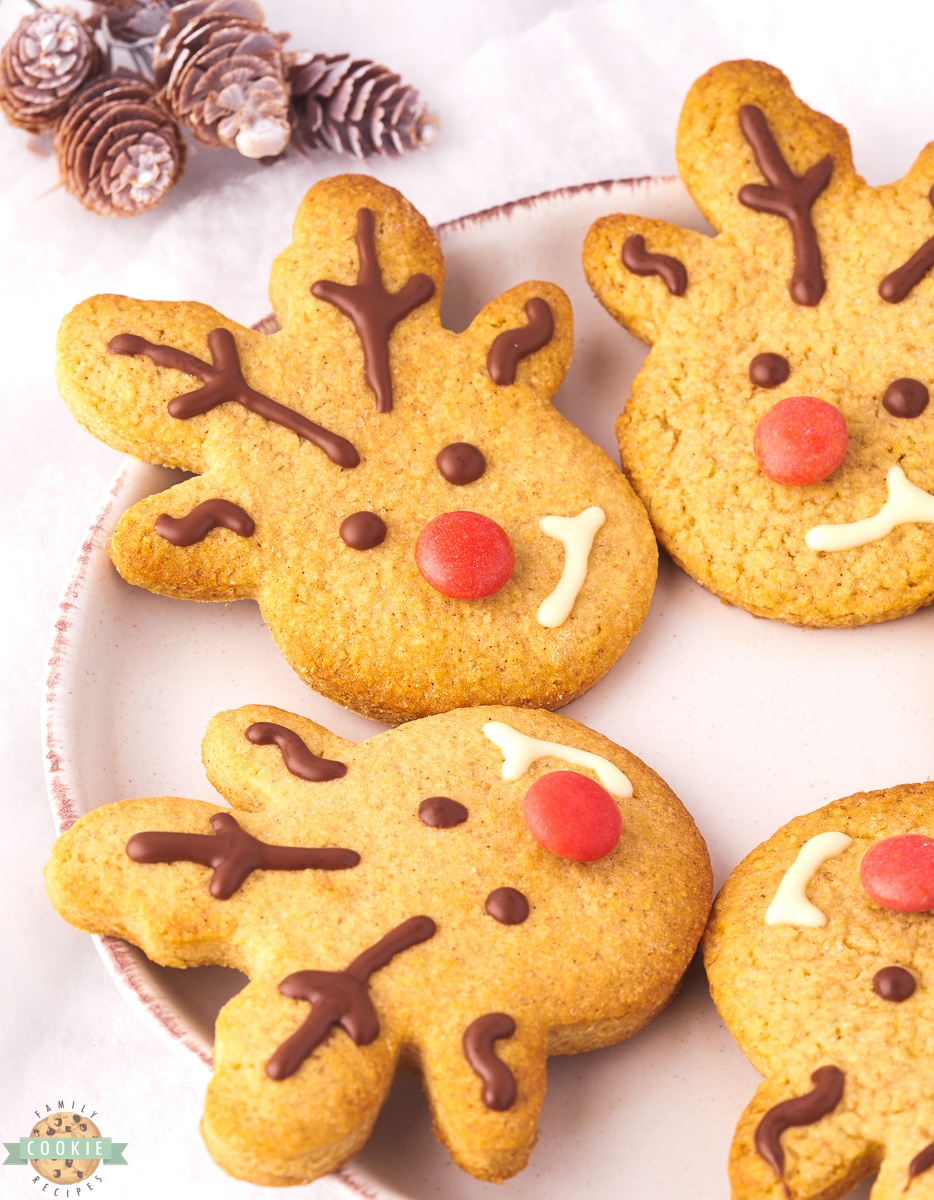 Reindeer Cookie Ingredients
-Butter: You will need ½ cup (one stick) of room temperature unsalted butter for the cookie dough.
-Brown sugar: Use ½ cup of light brown sugar for a chewy cookie that's perfectly sweetened.
-Honey: Adding in 1 tablespoon of honey will help to give us a nice depth of flavor and natural sweetness.
-Flour: The base of this cookie dough is 2 ½ cups of all-purpose flour but you will need more for rolling out the dough.
-Baking powder: You'll only need a pinch of baking powder (about ⅛ teaspoon) to help these cookies puff up as they bake.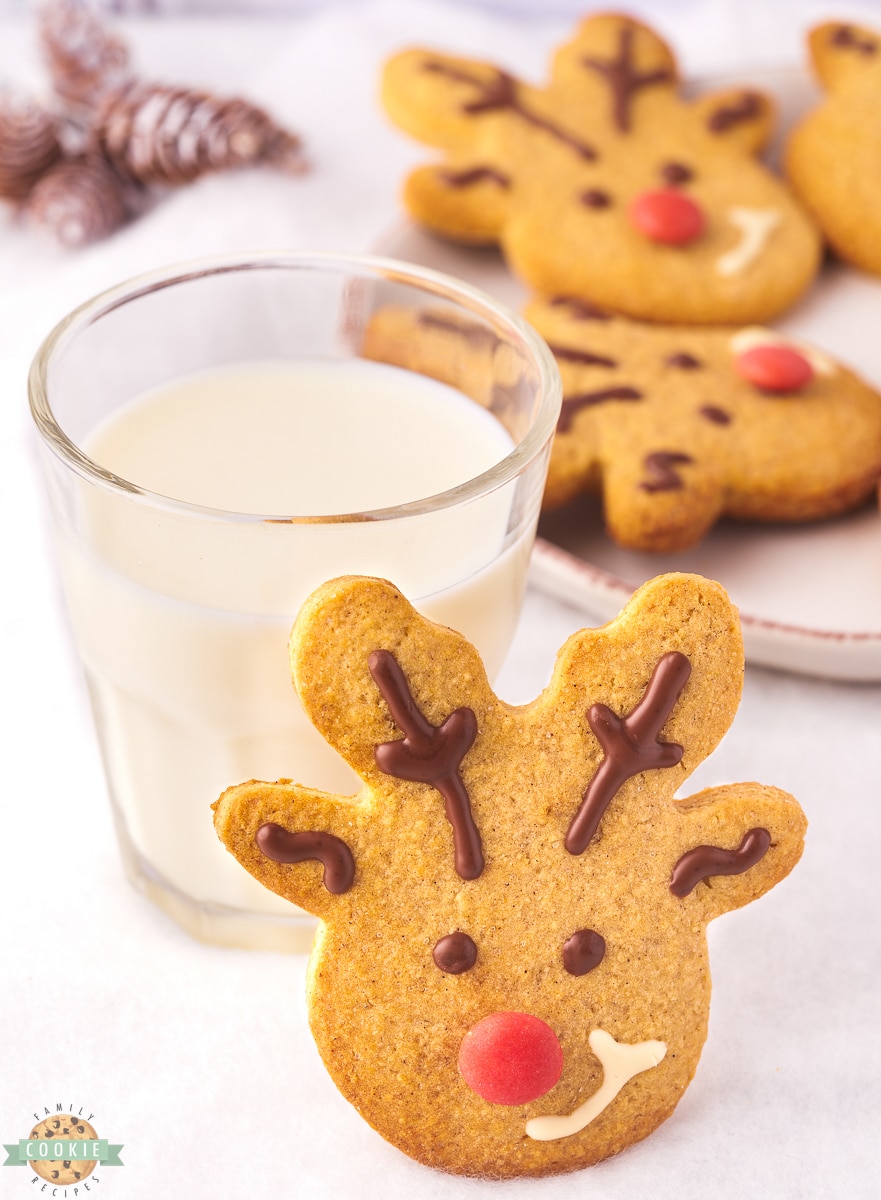 -Spices: Use 1 teaspoon of ground cinnamon and ¼ teaspoon of ground ginger to make these cookies well spiced. If you like a strong flavor, add ½ teaspoon of ground cinnamon or 1/2 teaspoon of ground allspice.
-Salt: Add in a pinch of salt (⅛ teaspoon) to help enhance the flavors in the cookies.
-Egg: You will need 1 egg to help bind the dough together and add a nice richer taste.
-Chocolate: You will need ¼ cup of semi-sweet chocolate and ⅛ cup of white chocolate chips to use as decoration for the reindeer.
-Candies: Use Red M&Ms or Canadian Smarties depending on what you have on hand so that your reindeer can have a red nose like Rudolph.
If you make a lot of Christmas cookies, it is handy to have a Reindeer Cookie cutter. But if you don't have one, don't worry, you can use a Gingerbread man cookie cutter- just position it upside down to decorate!
Here's a Christmas cookie cutter set with BOTH!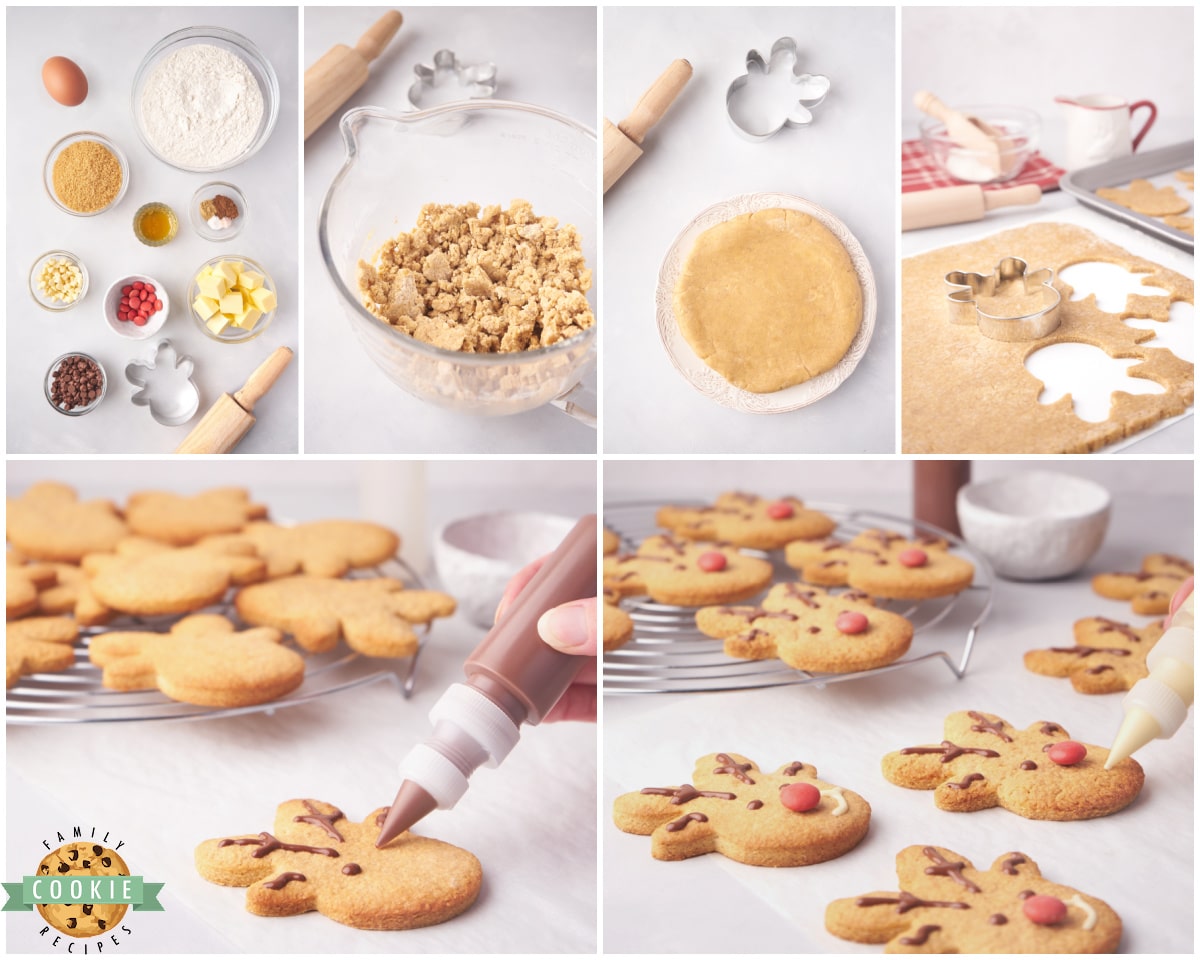 How To Make Reindeer Cookies
Dice the butter and then place it into the bowl of a stand mixer fitted with a paddle attachment.
At medium speed cream, the butter together with the brown sugar until the sugar looks completely dissolved.
Add in the honey and mix again to fully incorporate.
Add in your flour, baking powder, ground cinnamon, ground ginger, and salt. Mix until it resembles breadcrumbs.
Now add in the egg and mix until the dough comes together to form a dough.
Turn the dough out onto a clean surface and finish gathering it together into a ball using your clean hands.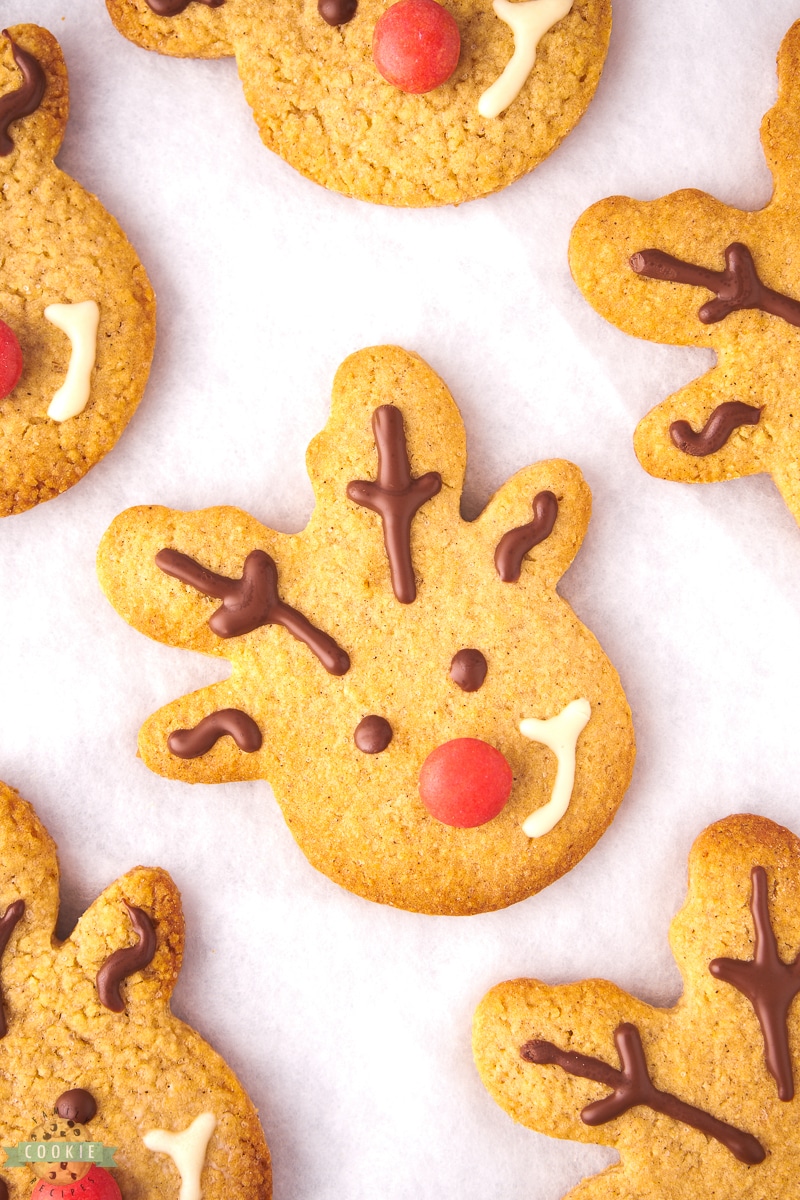 Form the dough into a 1-inch thick disc and cover in plastic wrap. Place in the fridge to chill for 30 minutes.
Line a baking sheet with parchment paper and set it aside.
Roll your dough out onto a lightly floured surface until it's about ⅛ of an inch thick.
Use reindeer-shaped cookie cutters (or upside-down gingerbread men) to cut out shapes.
Transfer the cut-out cookies to the prepared baking sheet.
Place the baking sheet into the fridge and chill for 15 minutes while the oven preheats to 350 degrees F.
Bake in the oven for 8-10 minutes until lightly golden brown.
Transfer to a cooling rack to cool completely so that the cookies can firm up.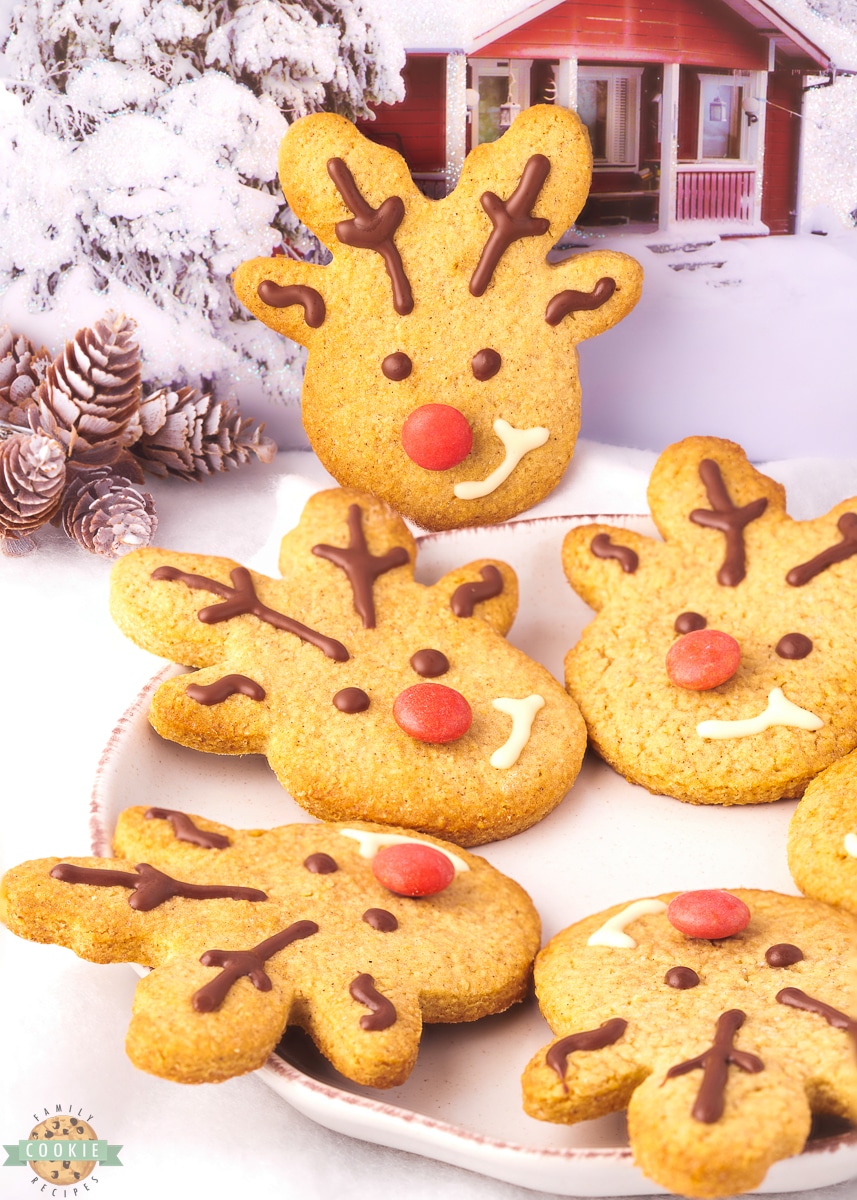 Decorate the cookies once cooled.
Melt your semi-sweet chocolate in a microwave-safe bowl until melted and smooth. Place the chocolate into a piping bag with the corner snipped or into an icing bottle.
Draw the antlers and eyes onto the cookie using the melted chocolate.
Attach a red chocolate candy with melted chocolate onto the cookie to be the nose.
Melt the white chocolate and place it into a bag with the corner snipped or into an icing bottle and use it to draw the mouth on the reindeer.
Place the cookies into the fridge to chill for 5-10 minutes to help the chocolate set faster. Enjoy!
How long are reindeer cookies good for?
These cookies can be kept stored in an airtight container for up to 2 weeks at room temperature. There should be no reason to fridge or freeze them thanks to the long shelf life.
How to make simple royal icing
Do you want to use a simple royal icing for the cookies instead of melted chocolate? You can whisk together 3 cups of powdered sugar, 3-4 tablespoons of milk and 2 tablespoons of light corn syrup in a bowl until smooth. Then pipe on the cookies as desired.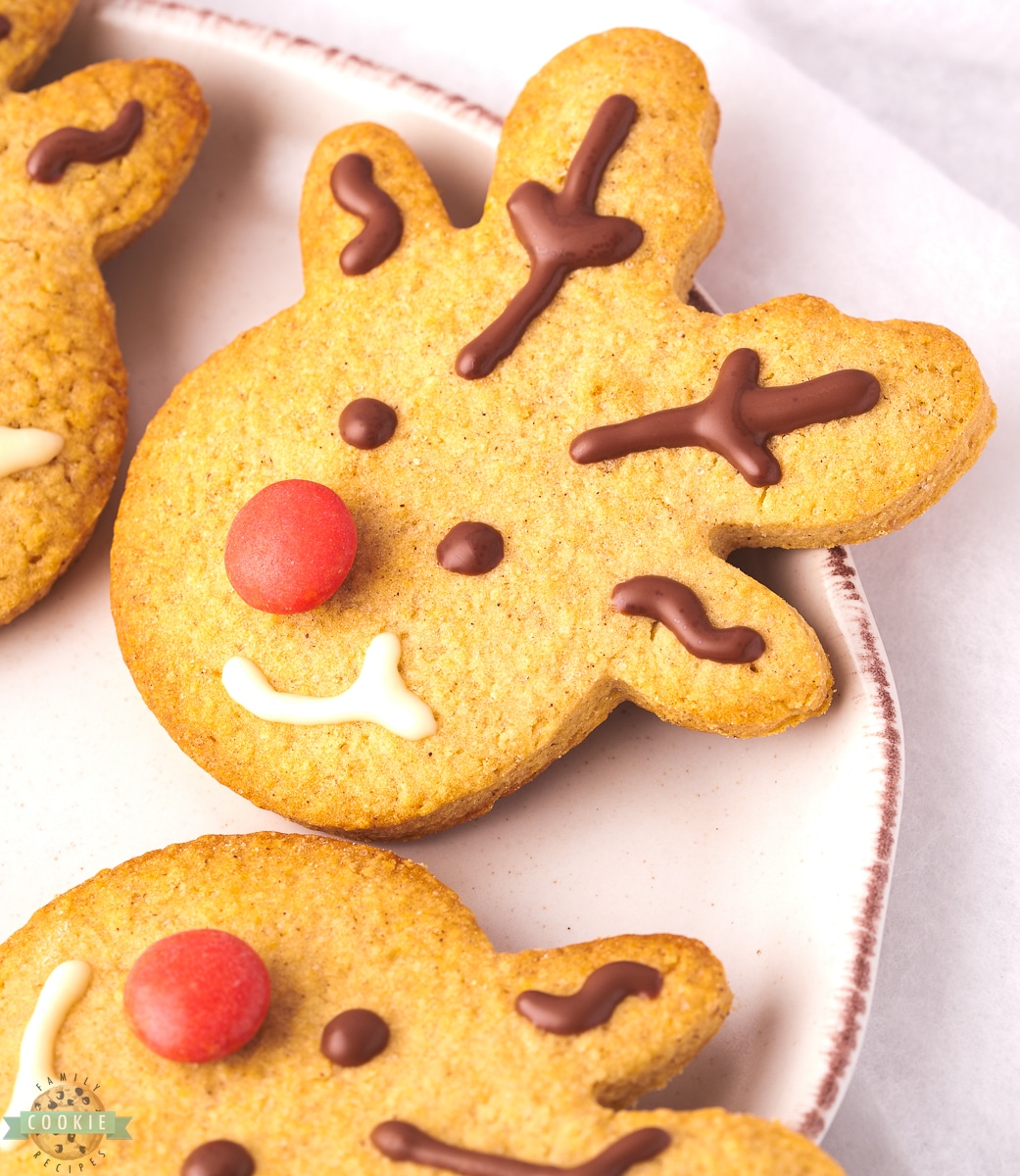 Check out these other fun Christmas cookie recipes!

Anyone else have anxiety looking at this photo? No, it's just me. Okay. Honestly, ever since they could walk, I get irrationally frightened when my husband insists on taking pictures like this. I mean, why on earth would we put our kids RIGHT BY A CLIFF and tell them to smile?! What's wrong with 10 feet in from the cliff?! At any rate, they were thrilled, nothing happened and now I get to look back with mostly fond memories. Ha!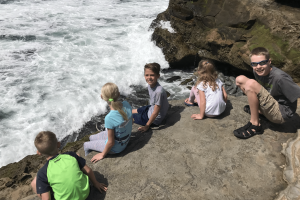 These spiced reindeer cookies are a perfect Christmas treat to share with everyone. Made with simple ingredients and steps, the whole family can join in on the fun of making and eating these Santa approved treats.