Classic White chocolate butter cookies made with buttery cookie dough and covered in white chocolate & sprinkles. Incredible shortbread cookie with a delicate texture and fantastic flavor!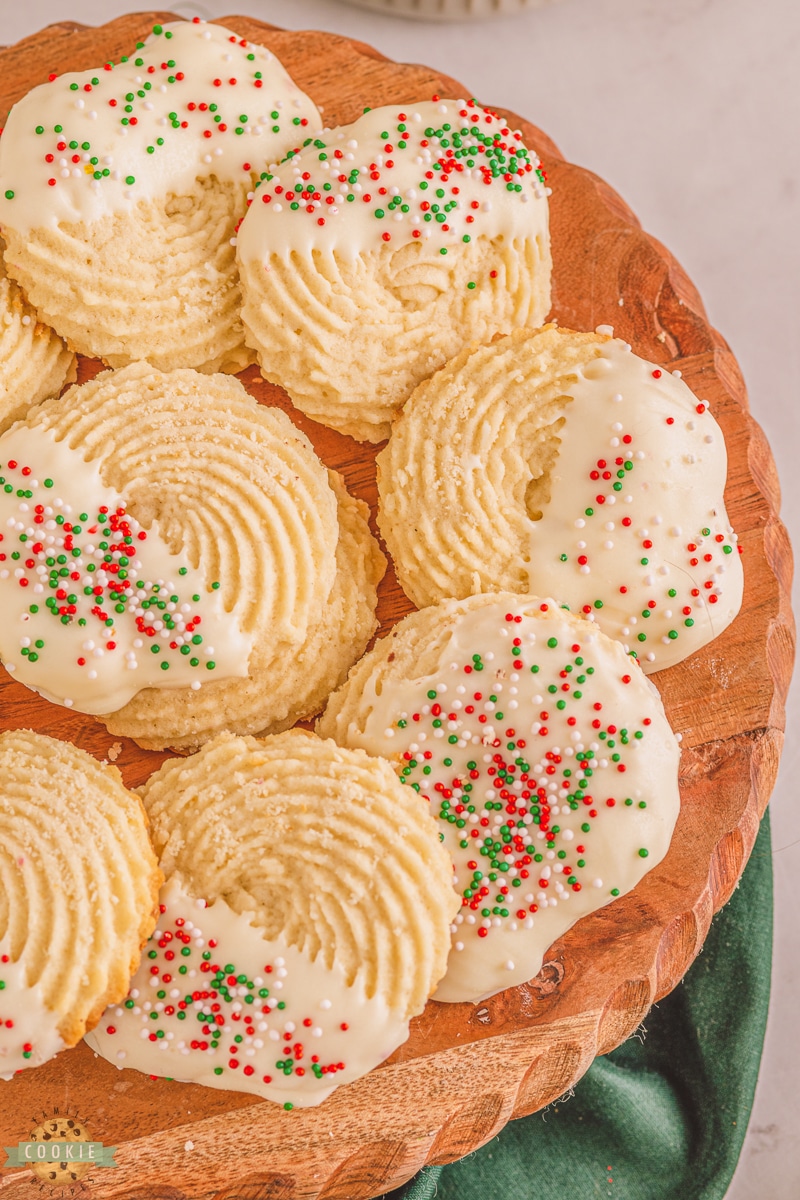 You're going to love this Christmas butter cookies recipe. It's packed with flavor and super easy to make. Not to mention every batch makes about 45 cookies so you'll have plenty to share with family and friends (cookie exchange idea?)
What are butter cookies?
Butter cookies are a fun combination of sugar cookies and shortbread cookies but instead of chilling the dough before rolling or shaping the dough, we use a piping bag and a fitted tip to shape the cookies before chilling. This gives us fun shapes that look almost too good to eat. Our Christmas butter cookies with sprinkles are a fun holiday variation that you're going to enjoy!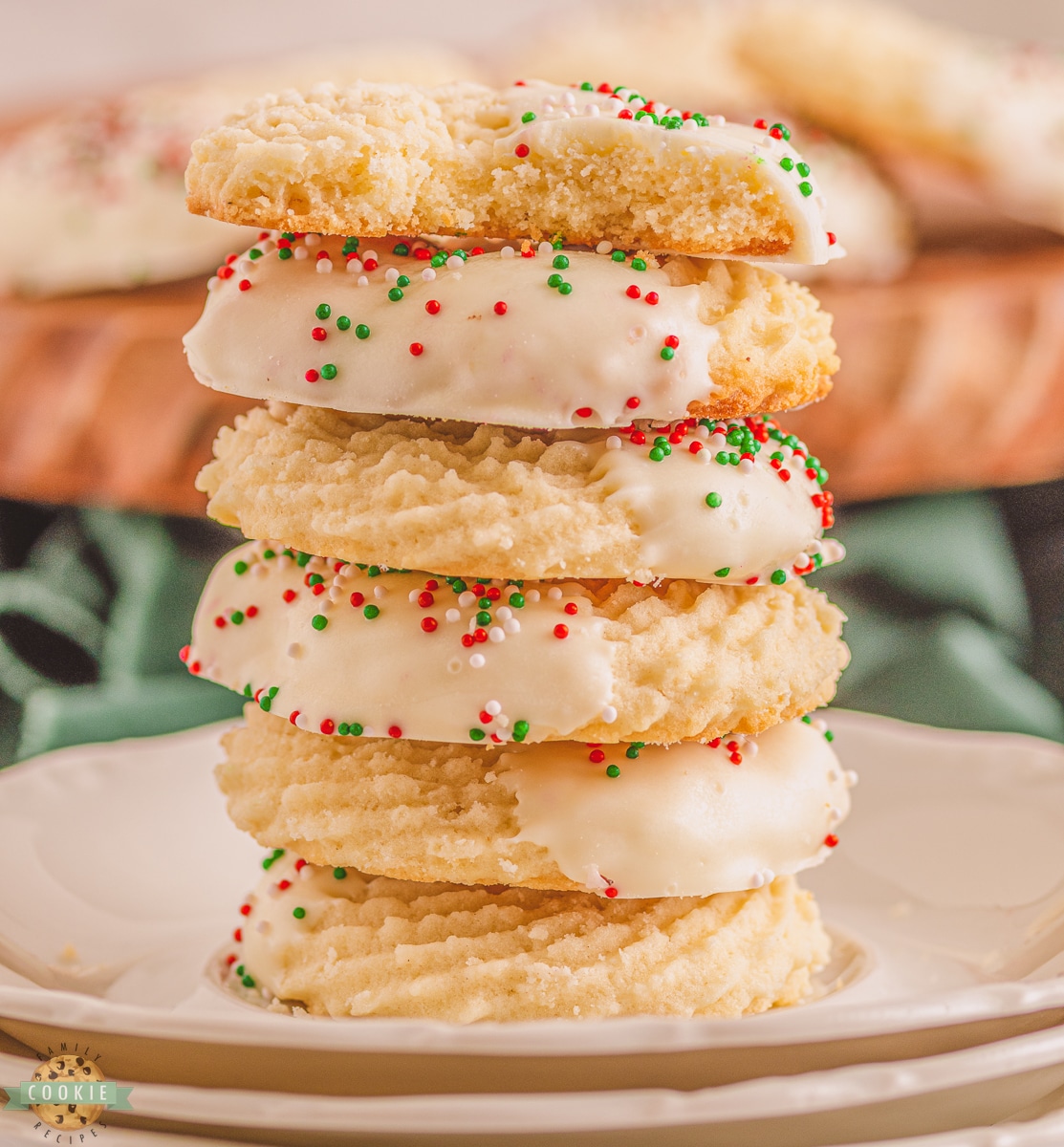 White chocolate butter cookies ingredients
-Butter: You will need 4 sticks (2 cups) of butter that have been softened to room temperature.
-Eggs: Use 2 eggs plus one egg yolk to get your cookies to the perfect rich texture we want.
-Milk: You need 4 tablespoons of milk to get the dough to the right consistency.
-Salt: Adding in 1 teaspoon of salt will help to naturally enhance the flavors in the cookies and make them even more incredible.
-Vanilla: You want to use a teaspoon of vanilla extract to help make the cookies taste great.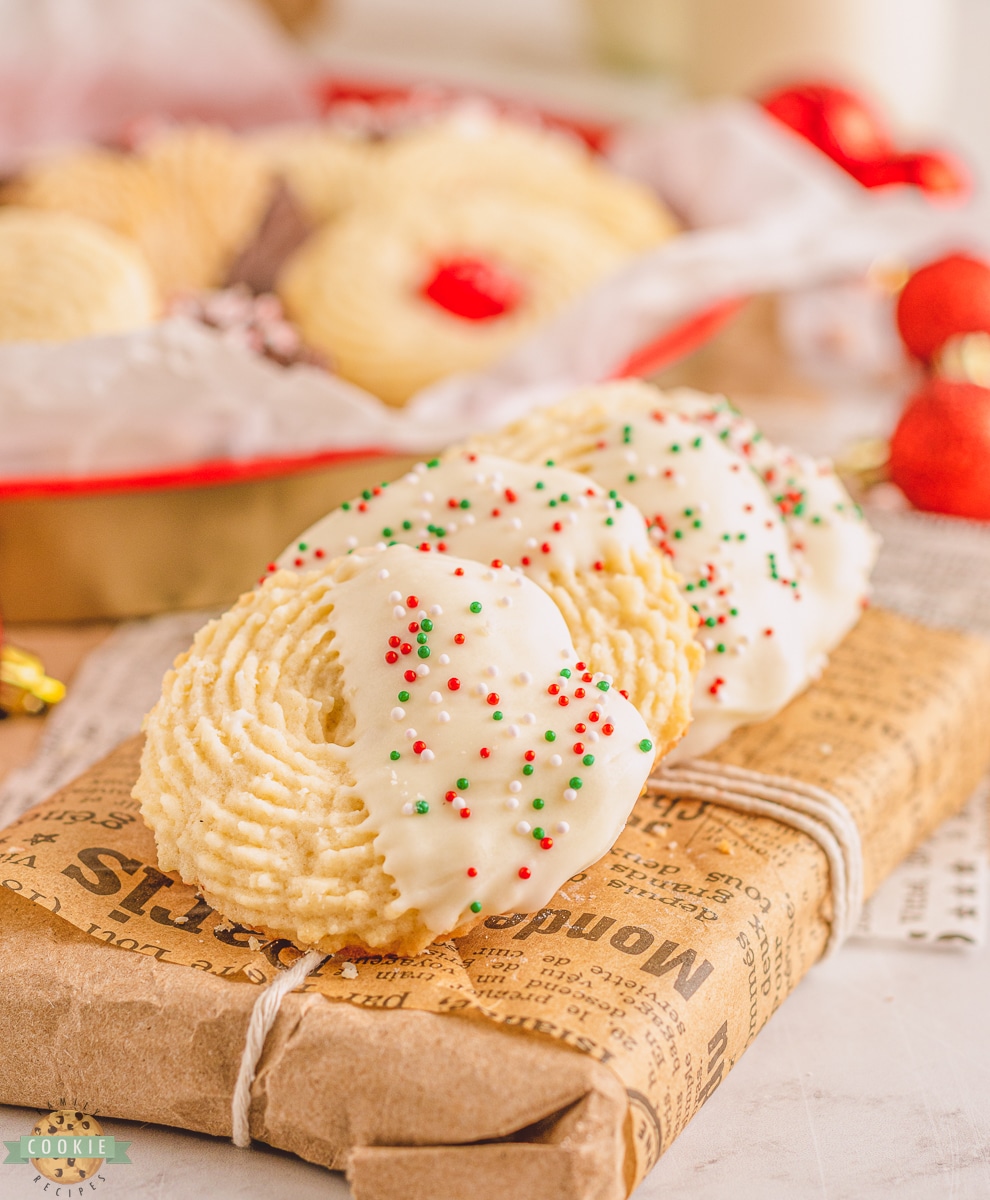 -Flour: Use 4 ⅔ cups of all-purpose flour for the base of the cookie dough.
–Butter extract: Adding in ½  teaspoon of butter extract will give you a richer tasting cookie without changing the consistency.
-White chocolate: You will need ⅔ cups of melted white chocolate to dip the cookies into after they've been cooled.
-Sprinkles: Use red and green holiday sprinkles for a fun festive touch to the cookies or use any color to fit in with the theme.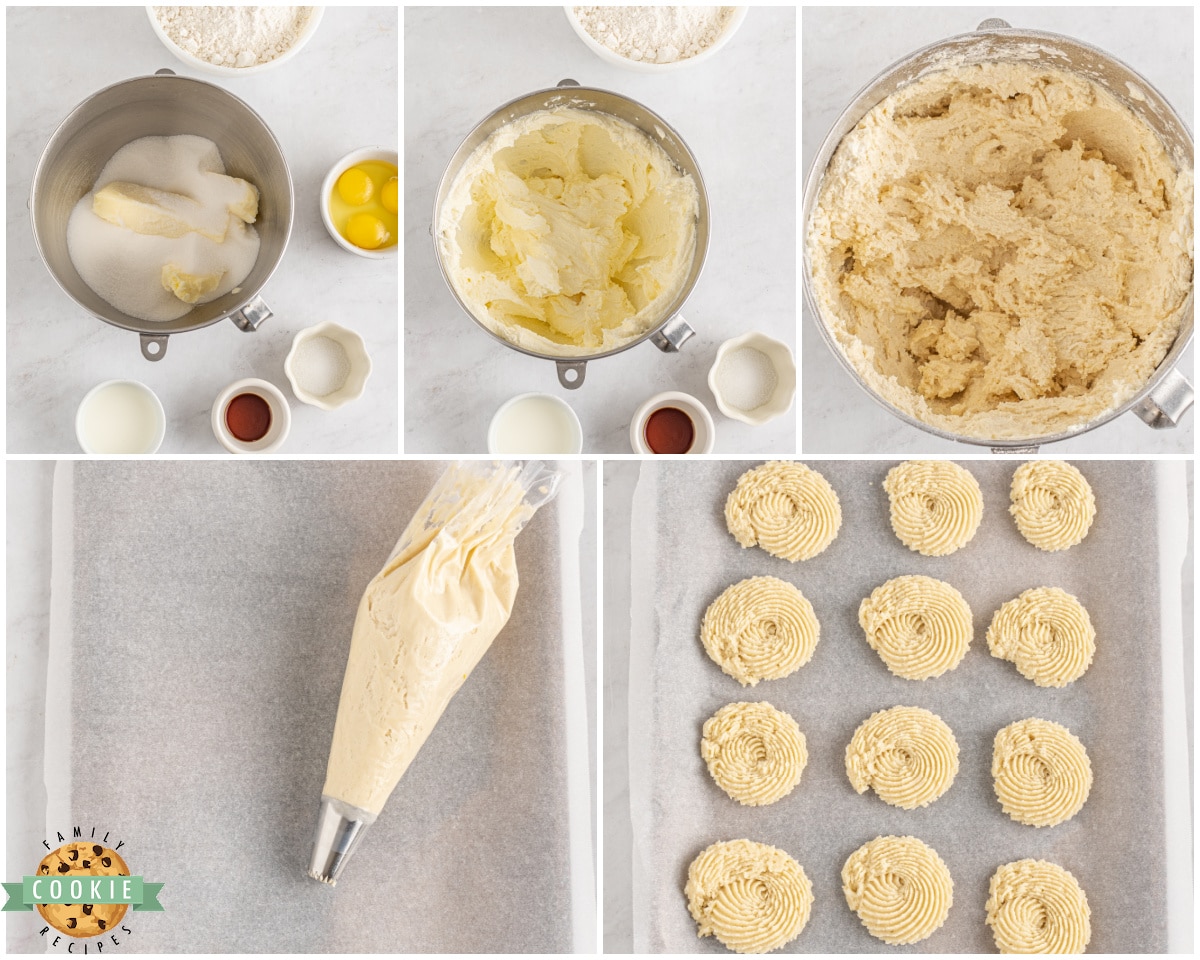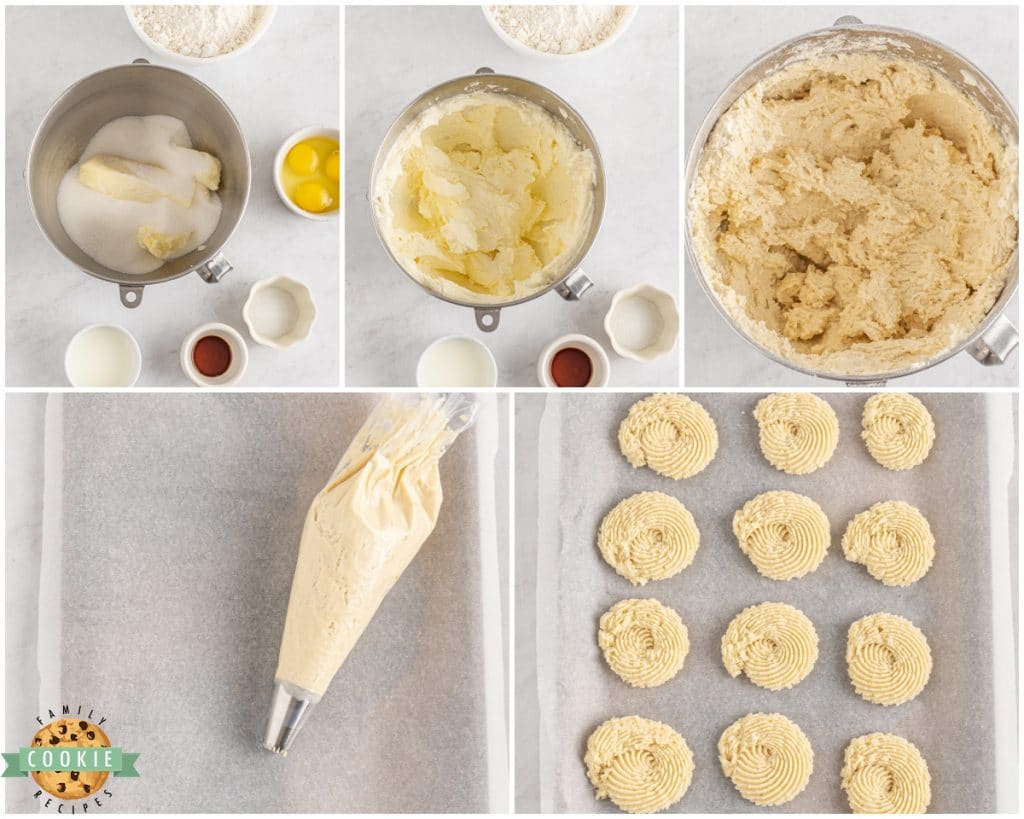 How to make white chocolate butter cookies
Add your butter and sugar to a bowl and beat together on high for 2 minutes or until creamy and fluffy.
Add in the eggs and beat again to combine for about 15 seconds.
Next, add in the milk, salt, and vanilla and beat to combine.
Mix in the flour until fully incorporated.
Mix the butter extract into the dough and then spoon the dough into a piping bag that was fitted with a large star tip.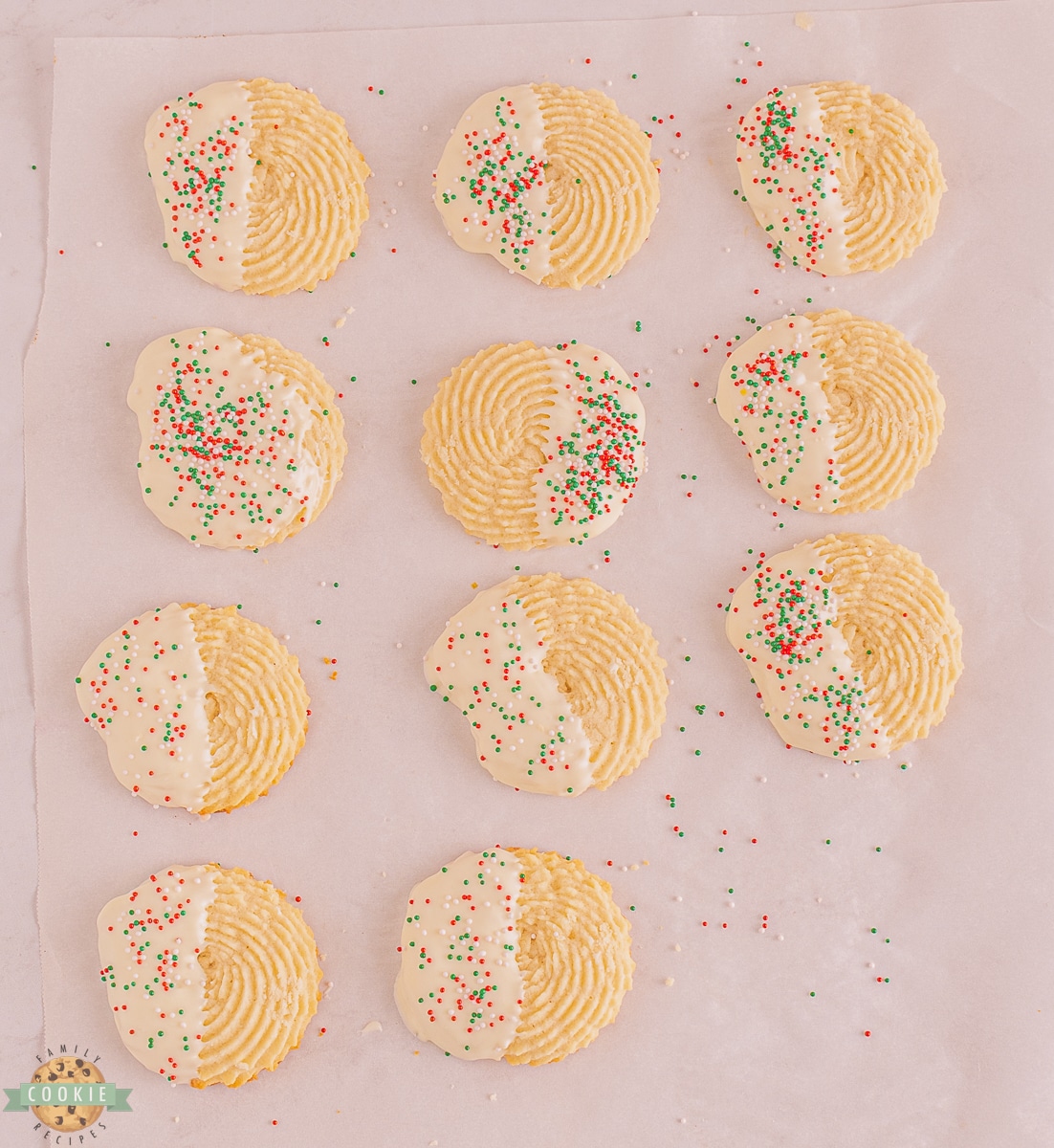 Hold the piping bag at a 90-degree angle from the baking sheet and pipe circles that are not touching or overlapping and are at least 2 inches apart.
Place the baking sheet into the fridge to chill for at least one hour.
Preheat the oven to 350 degrees F and bake for 12 minutes, one tray at a time, rotating halfway through baking.
Place the cookies onto a wire rack to cool completely.
Once the cookies have cooled, dip them halfway into the melted white chocolate. Sprinkle the tops with your red and green holiday sprinkles.
Let sit at room temperature or in the fridge until set. Enjoy!
You may have luck finding this extract in the baking aisle of your local grocery store but if not then you will have success looking in the cake decorating sections of your local Walmart or craft stores like Joann or Michaels because a lot of cake decorators use butter extract to help give their baked goods a richer taste.
Also- I buy it online here!
How long are white chocolate butter cookies good for?
These cookies can last up to a week if stored in an airtight container in the fridge but they can be held in an airtight container at room temperature for up to 2 days. I do not recommend freezing the cookies once dipped to prevent the chocolate from sweating as it thaws.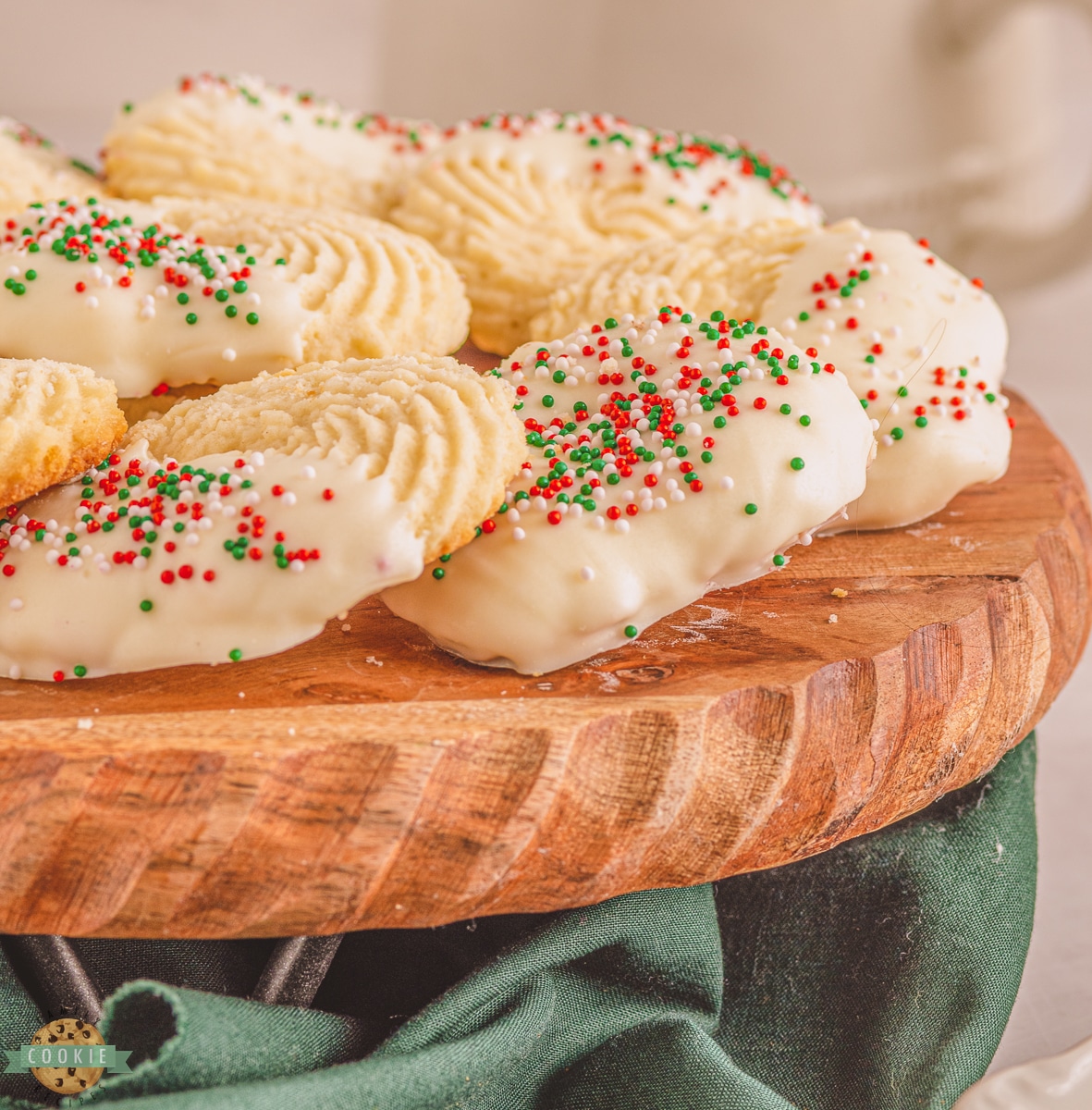 CAN YOU FREEZE COOKIES?
I love freezing cookies! There are 2 ways I prefer to freeze them. The first is by freezing the unbaked cookie dough balls. I scoop & shape the balls round with my hands, then freeze them in 1 layer on a cookie sheet. You can position them as close together as possible without touching. Freeze, then once solid, transfer them to a ziplock freezer bag. Then you can pull them out and bake them whenever you want! You'll want to either let them thaw on a cookie sheet while preheating the oven, or add a couple minutes to the bake time to compensate for frozen cookie dough.
The second way is to just freeze the baked cookies. My mother in law does this ALL the time. They turn out pretty well, albeit a tiny bit drier and more crumbly once thawed. Oh and you've got to make sure you thaw them. Frozen cookies are pretty hard to eat. Thankfully, they only take about 20 minutes or so to thaw out.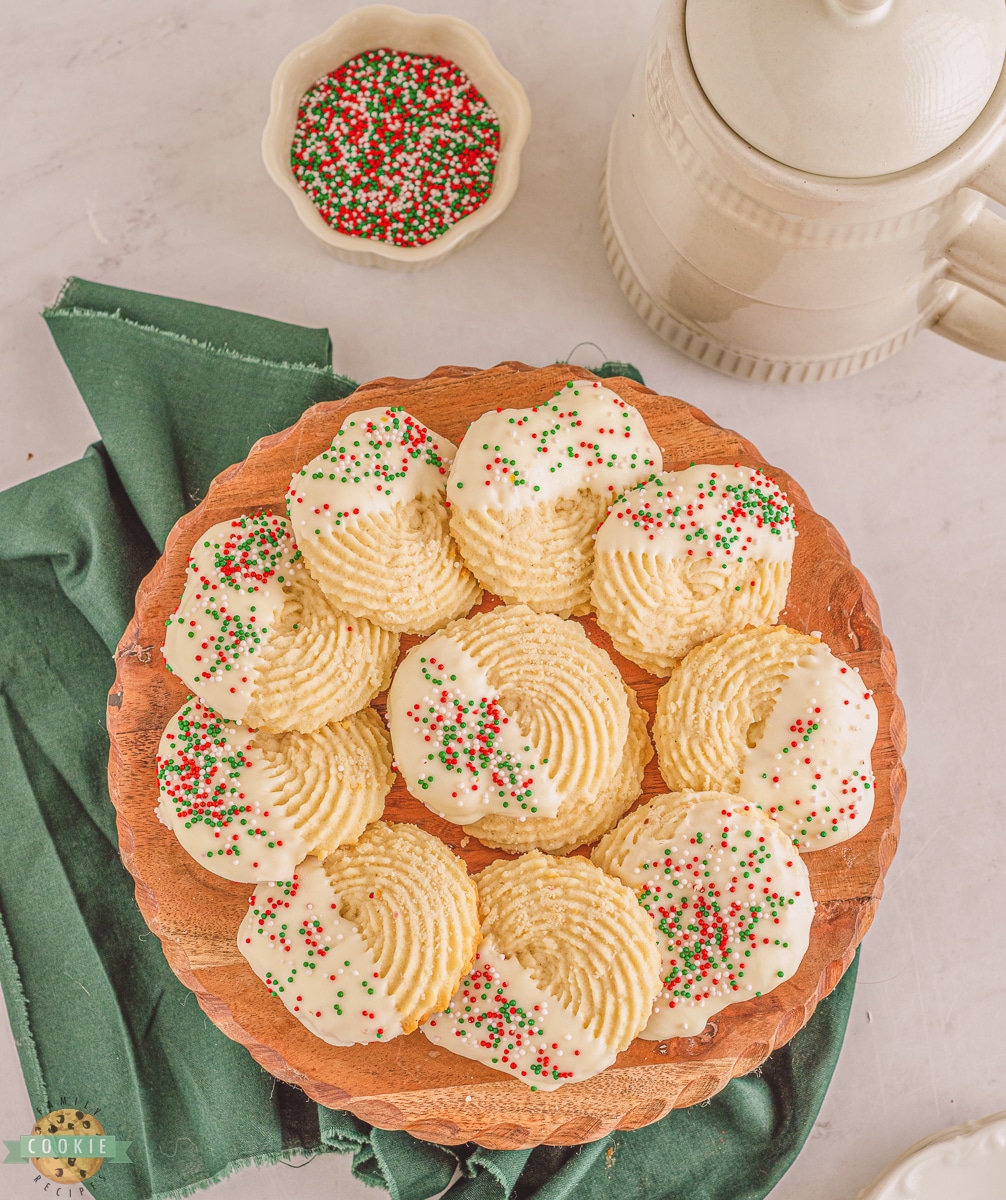 Check out these other great holiday cookie recipes


We have several cousins that live close by and I absolutely ADORE that they are great friends! Here they are eating lunch out on the deck. I had to snap this picture because I hope we can recreate it in 20 years when they're all adults!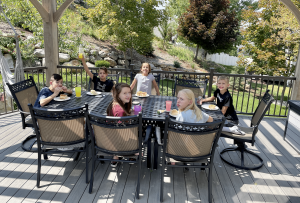 This Christmas butter cookies recipe is an instant holiday classic and favorite thanks to the easy-to-make cookie dough and fun colorful sprinkles. You're going to love making these cookies just as much as eating them.