Gumdrop Gingerbread Cookies are a classic Christmas treat that everyone enjoys! These cookies with gumdrops are an simple way to serve up something sweet and delicious during the holidays.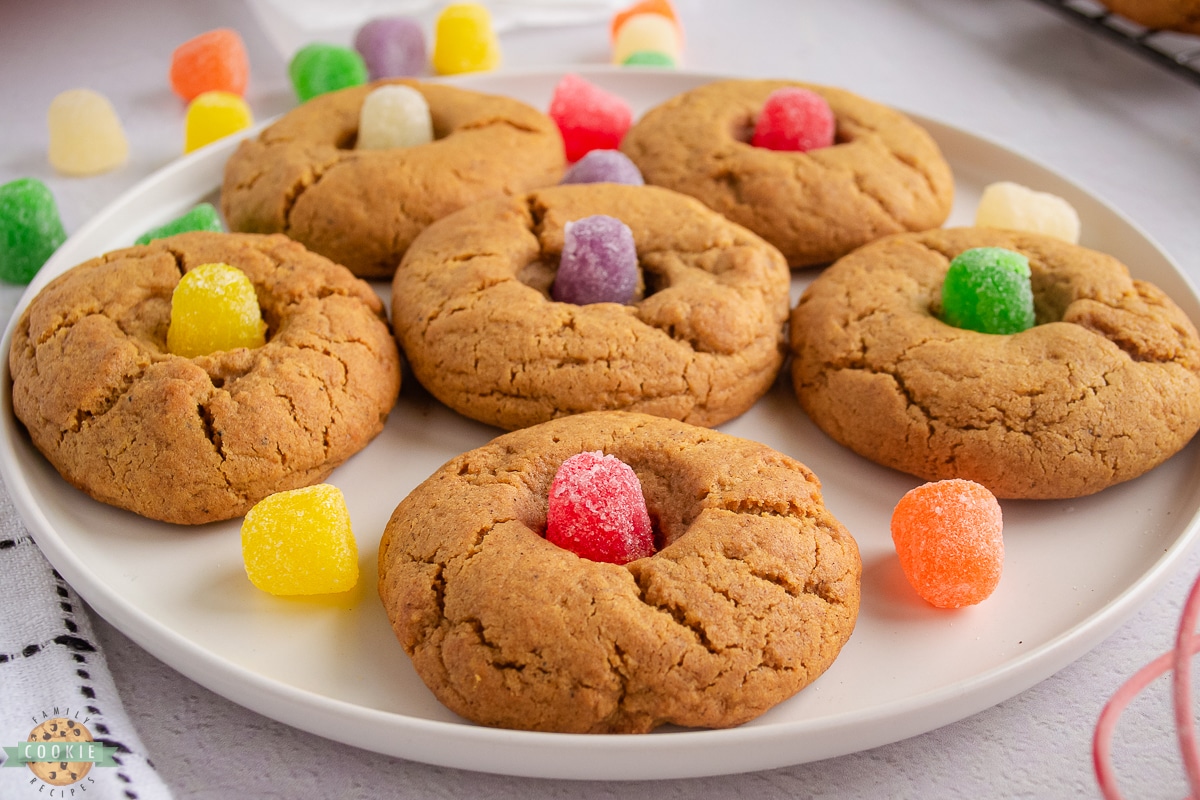 When you think of Christmas, you think of cookies and festive candies, and this recipe for gingerbread cookies is a wonderful combination of the two. These easy gingerbread cookies are so good, you are going to want to leave them out for Santa or make them for your holiday cookie exchanges.
Gingerbread Gumdrop Blossoms
These soft gingerbread spiced cookies are easy to whip up for the Christmas Holiday season. You get all the taste of gingerbread without needing to roll or cut out the dough, which makes this easier than other holiday gingerbread cookie recipes. Getting the amazing and traditional taste of gingerbread cookies, but without all the effort is a win in my book. My family loves getting involved in the holiday baking and with this recipe it is even easier for the littles to help. We hope you enjoy this simple gingerbread cookie recipe as much as we do!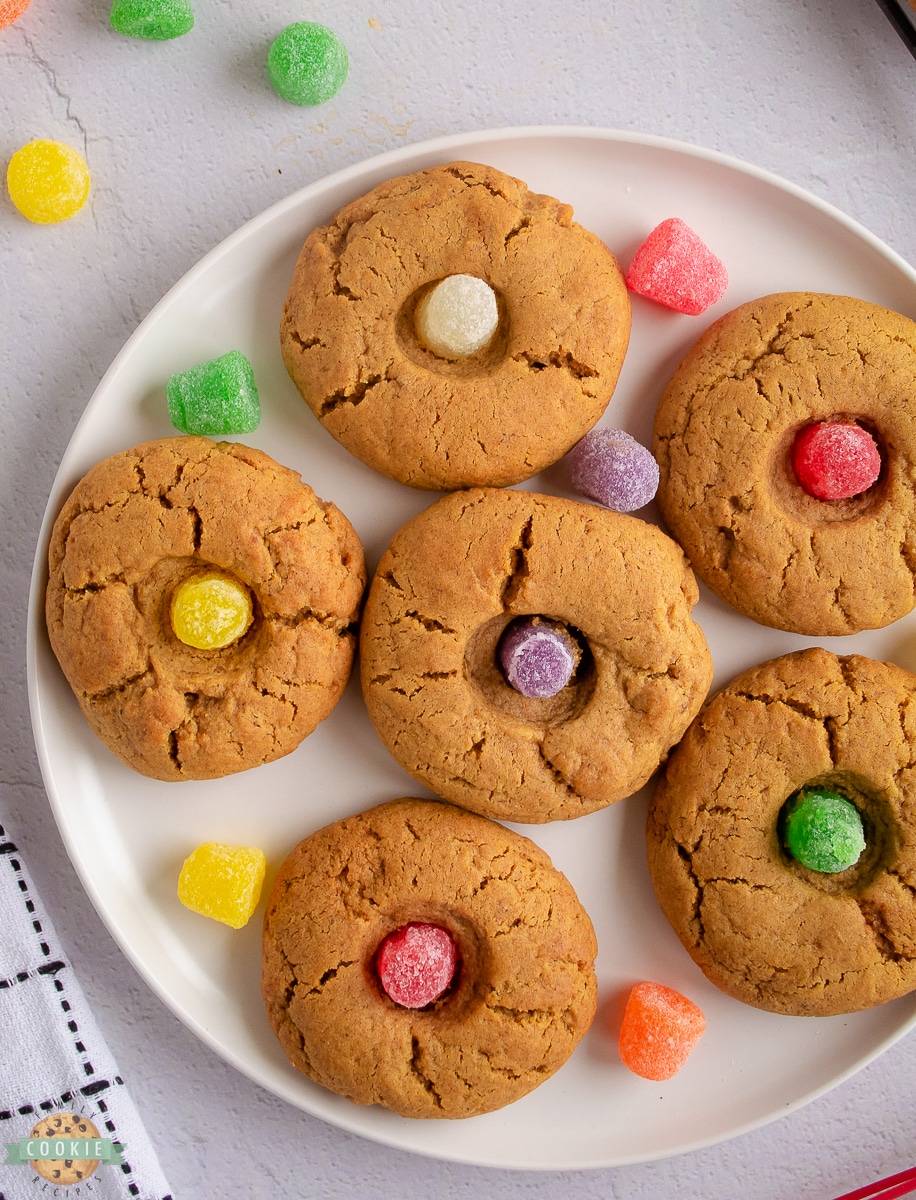 Why we think you will fall in love with this cookie recipe
If you were not already sold on this simple gingerbread recipe, here are a few more reasons that will!
Simple ingredients. You will need basic pantry staple ingredients like spices, butter, and sugar. So thankfully, any shopping trip needed will be minimal and easy to handle.
No chilling is required. From start to finish, these cookies will only take a few minutes to make. ?Which is perfect for those of us that can get a little impatient when it comes to cookies.
Easy to follow steps. If you can mix, roll and bake, you've got what it takes to make these simple holiday cookies. Grab the kids and have them lend a hand if you want to!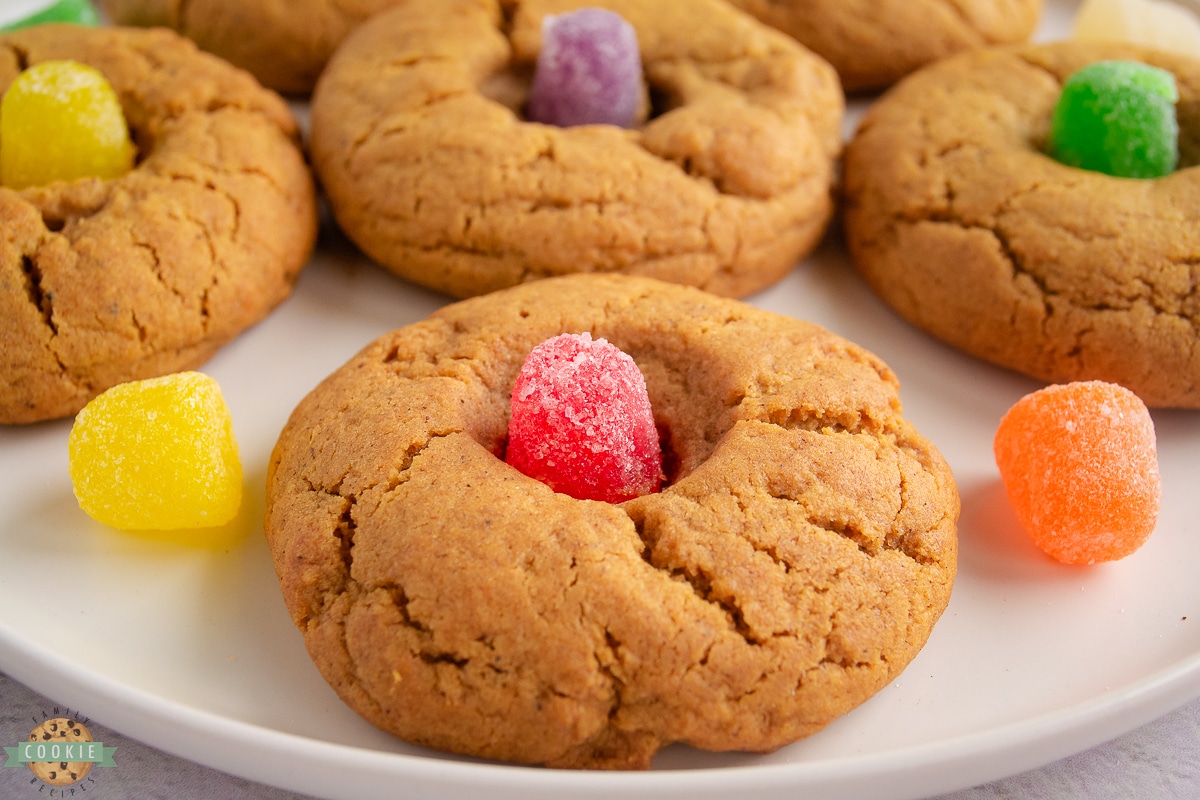 Gingerbread Cookies with Gumdrops Ingredients
Flour– You will need 2 cups of all-purpose flour for the structure and base of the cookie dough.
Baking soda- Use 1 teaspoon of baking soda to get the cookies to puff up nicely as they bake.
Spices– For a well-spiced cookie, you will need 2 teaspoons of ground ginger, 1 tablespoon of ground cinnamon, and ¾ teaspoons each of nutmeg and cloves.
Salt– Use ½ teaspoon of salt to help enhance all the wonderful flavors in this recipe.
Butter– You will need 12 tablespoons of butter, this is equal to 1 ½ sticks.
Brown sugar- Add in 1 cup of brown sugar to make the cookies sweet and chewy, with a nice depth of flavor.
Molasses– Using a ⅓ cup of molasses will give you that iconic gingerbread cookie taste and dark color you'd expect.
Egg– Using 1 large egg will help to bind the dough together well.
Gumdrops– You will need 20 spiced gumdrops so that it is enough for every cookie to get one. The spiced gumdrops pair nicely with the gingerbread flavor.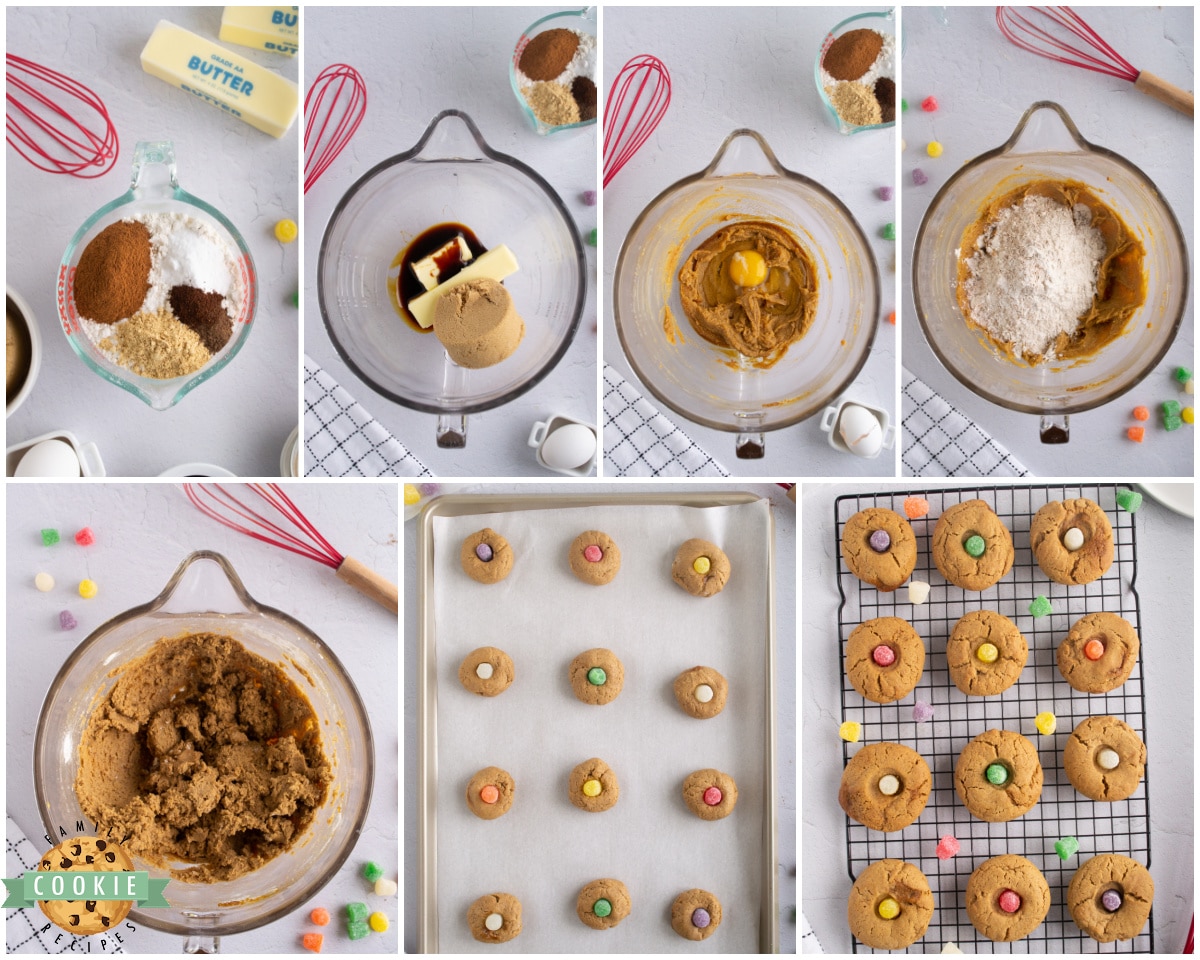 How to Make Gumdrop Gingerbread Cookies
Prep
Start by preheating the oven to 375 degrees F. Then, line a baking sheet with parchment paper and set it aside. Non-stick cooking spray or a silicon mat can also be used.
Cookie dough
Next, in a mixing bowl, whisk together the flour, baking soda, all the spices, and salt until combined. Set aside.
In a large bowl, using an electric mixer, cream together the butter, brown sugar, and molasses.
Then add in the egg and mix again to incorporate.
Proceed to add the dry flour mixture to the wet mixture and blend together on low speed until the dough is smooth.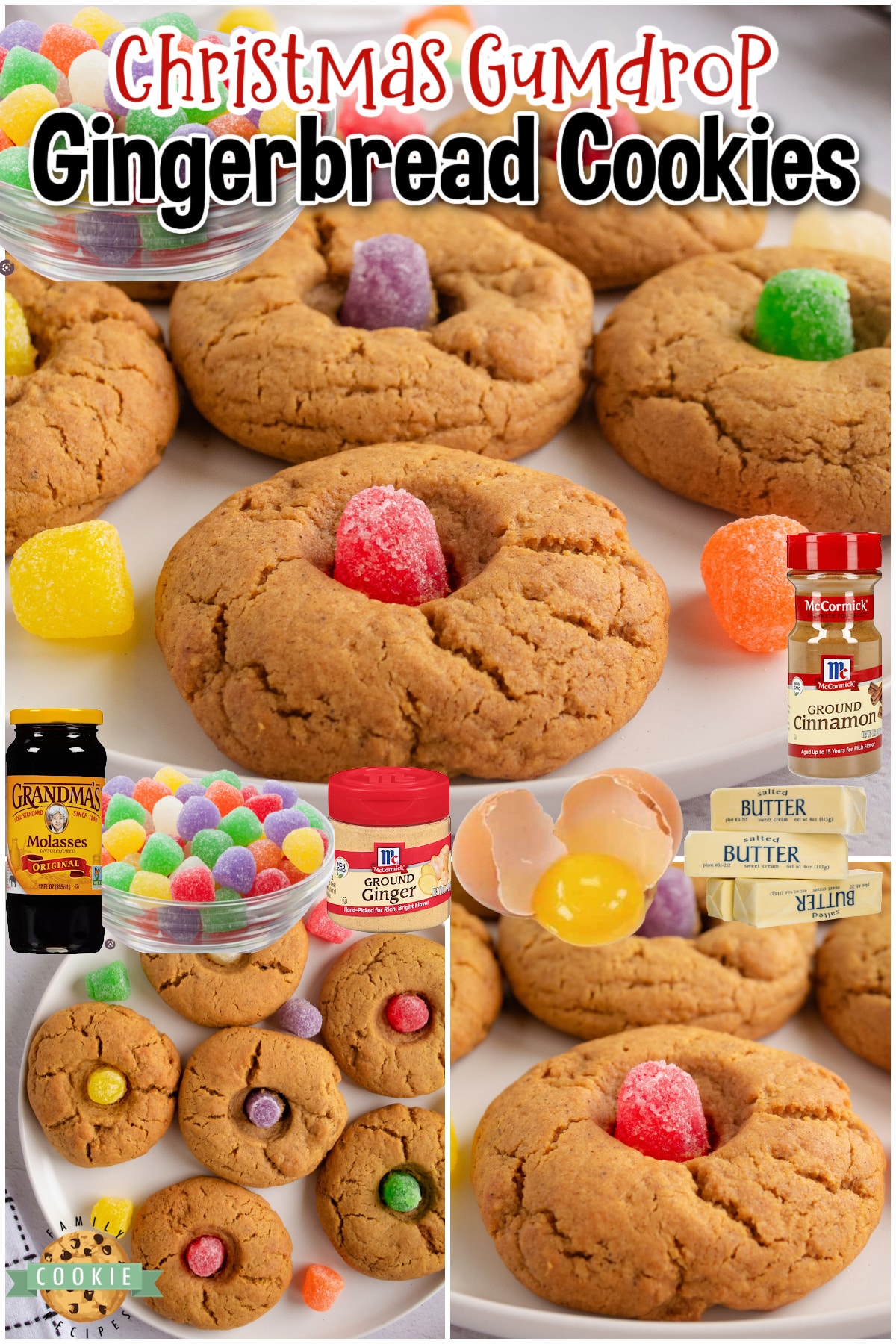 Using a cookie scoop, portion out the dough into 1-inch-sized balls and place them 2 inches apart on the prepared baking sheet.
Continue to press a spiced gumdrop into the center of each ball of dough.
Bake
Place the cookies in the preheated oven and bake for 12 minutes.
Be sure to let the cookies cool completely on the baking sheets before transferring to a wire rack or container for storage.
Serve immediately and enjoy!
How long are soft gingerbread cookies good for?
These cookies can be kept stored for up to 5 days in an airtight container with parchment paper between layers of cookies. This will help to prevent the cookies from sticking to each other.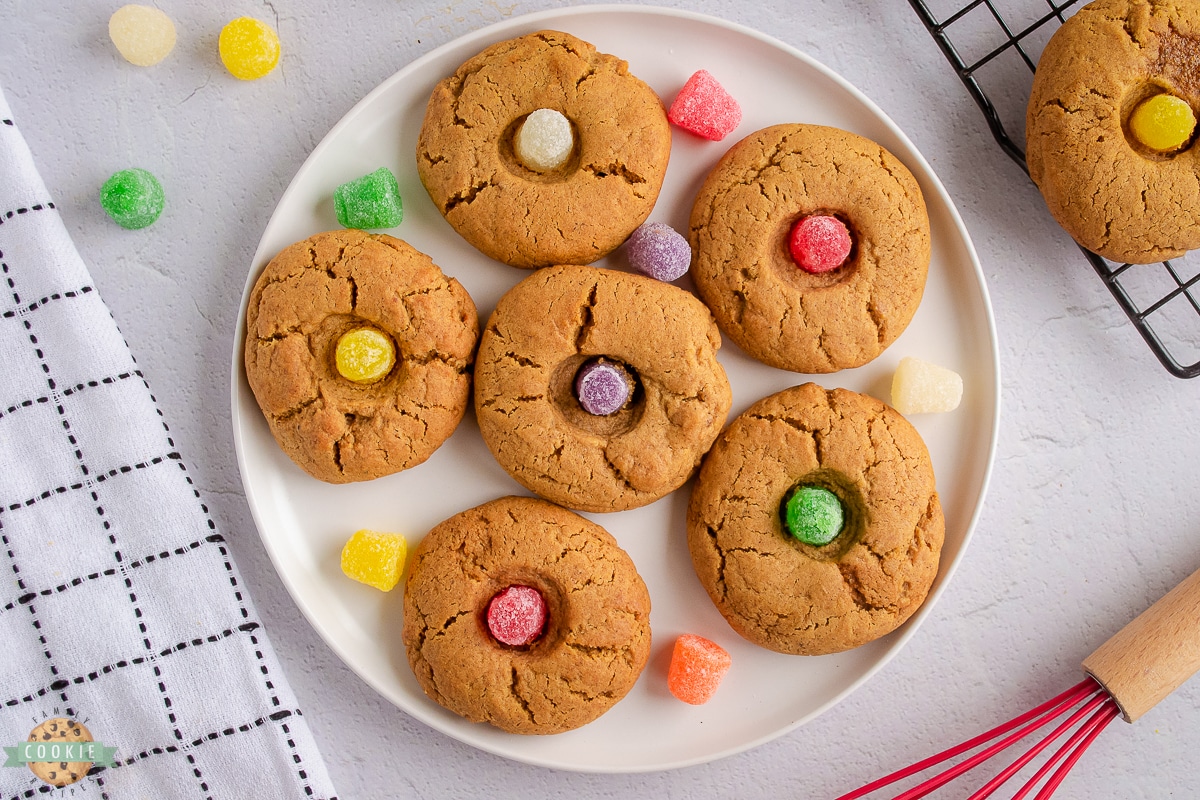 Can you freeze gumdrop cookies?
Yes, these cookies can be frozen following the same storage container method as above, but in the freezer. While in the freezer, these cookies should stay good for up to 2-3 months. Let the cookies thaw for several minutes at room temperature before eating them so that the gumdrop has a chance to soften.
Can I freeze gingerbread cookie dough?
Absolutely! Make the dough as directed above and wrap and cover it well. Freeze for up to 2 months, and then let thaw for several hours in the fridge so that it's soft enough to scoop and roll. Then simply follow along with the directions for assembly and baking.


Our family often goes out to eat when it's someone's birthday and at least a couple times a year, we end up at a local sushi place. Let me tell you, my family LOVES sushi. We put away much, much more than anyone probably imagines. And we have such a fun time!
If you love candy in cookies, you'll love these recipes!
Gumdrop Gingerbread Cookies are a fantastic Christmas dessert that taste absolutely divine. These cookies with gumdrops are an easy way to serve up something delicious during the holidays.