M&M Spring Flower Cookie Bites are simple & fun pastel candy treats! Made to look adorable and taste delicious, these M&M cookies are a perfect treat for Spring.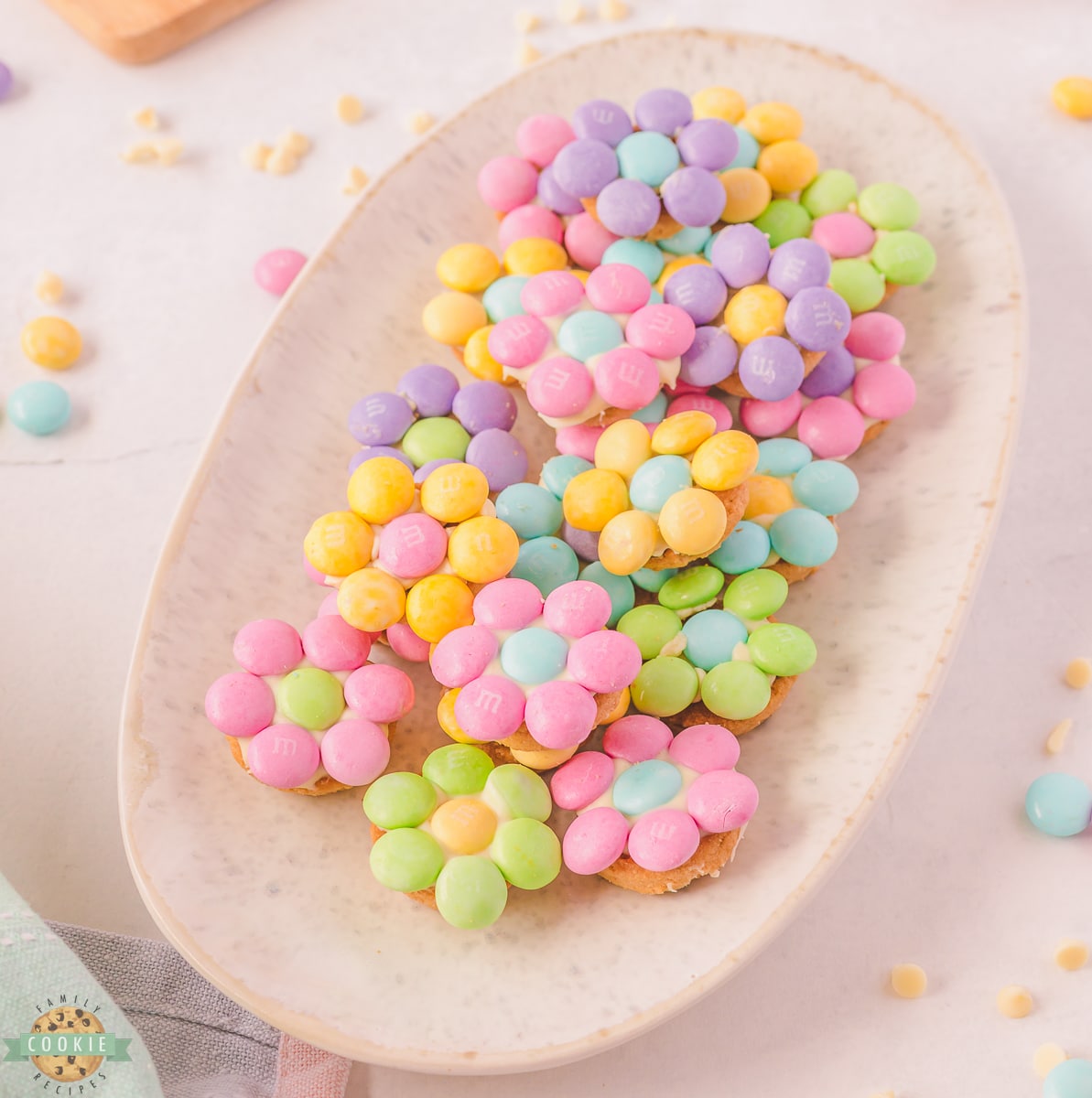 Spring is all about new growth, flowers popping up out of the ground, on trees, and now in your kitchen with these Easter flower cookies. The great part about these spring cookies is that they are entirely edible and so simple and easy to make!
What Are Cookie Flowers?
Similar to our recipe for Spring flower pretzel bites, these are tiny chocolate chip cookies topped with M&Ms that have been arranged to look like little flowers. These cookies are made simply because there is nothing to make from scratch, so this recipe comes together in just minutes and with no hassle. It is a fun and festive treat to make with your family, everyone will want to get in on the fun of making these cookies. They are great for holiday get togethers or just a weekend at home, they are delicious and appealing to the eye!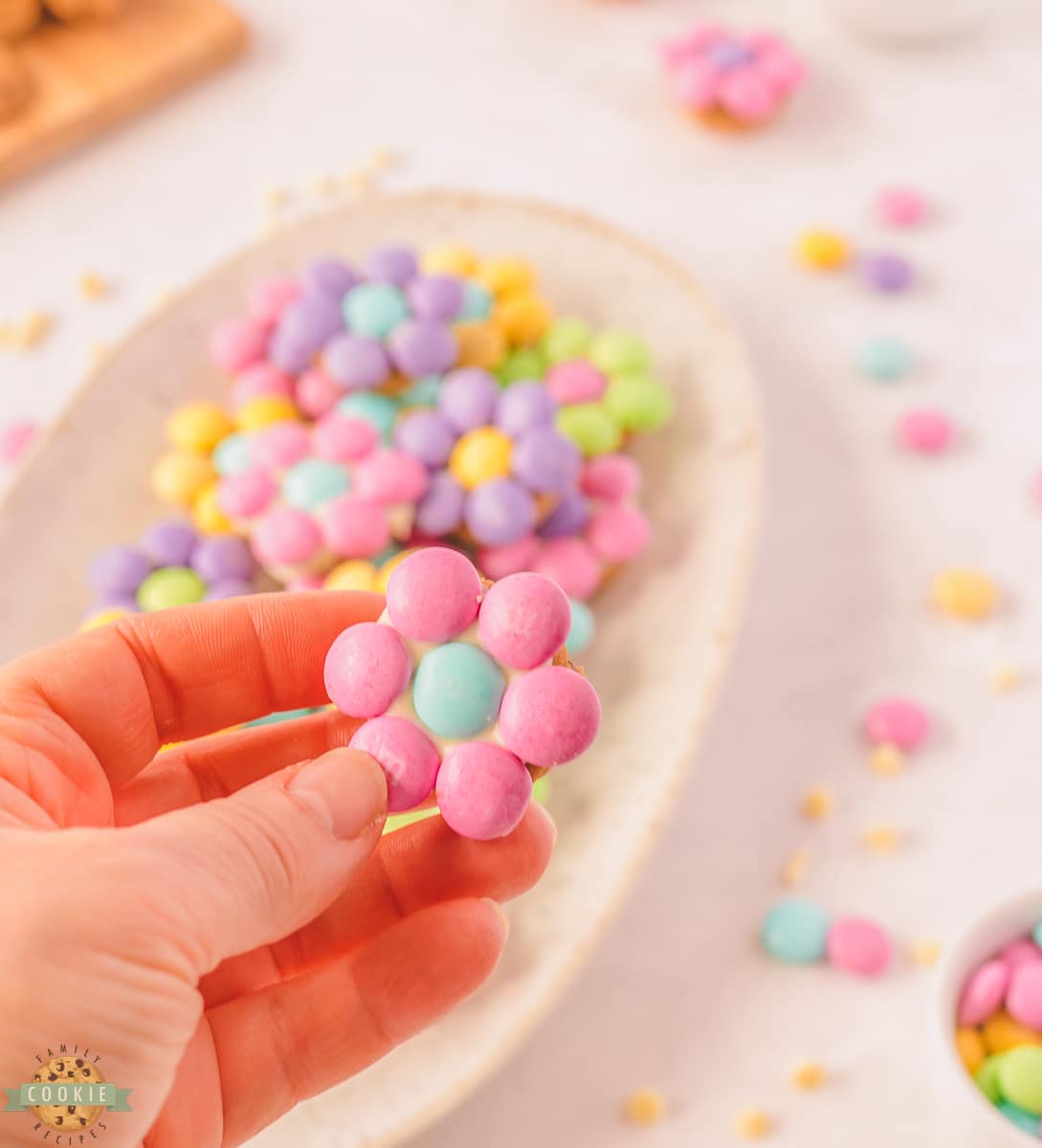 Why you are going to love Flower Cookies!
There is so much to love about this recipe, from the fun springtime colors, to the rich chocolate flavor in every bite. Here are our top three reasons why we think you are going to enjoy this recipe:
Minimal ingredients. With just 3 ingredients needed, you can whip up a batch of these mini cookie bites in very little time.
One batch makes a ton. Because these pastel M&M cookies are made so tiny, we actually get about 4 dozen cookies from every batch, making them perfect for sharing at parties or enjoying for a few weeks with the family.
You can get the kids involved. The recipe steps are super simple and perfect for getting your kids to help too. Have them arrange your flowers or sort the M&M colors. They will love it!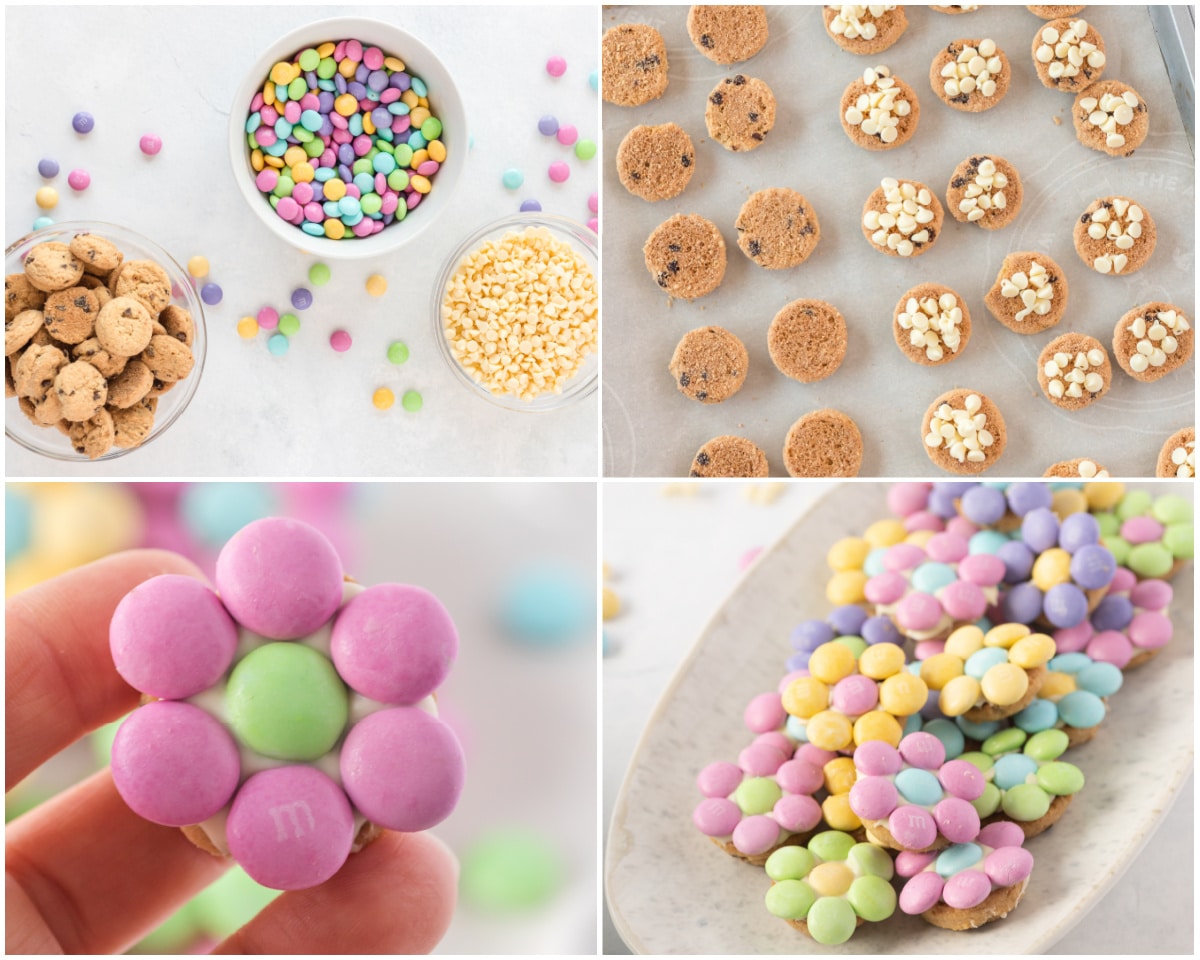 Flower Bites Ingredients
-M&Ms: You will need 1 ½ cups of pastel-colored M&Ms for the flowers on these cookie bites. I recommend buying the sharing-sized bag or party-sized bag so that there is more than enough M&Ms for all of your flower needs. This also allows you extra M&Ms to "sample" throughout the process.
-White Chocolate Chips: You will want 1 cup of white chocolate chips to melt down and adhere the M&Ms on top of the cookies. You can also swap out the chocolate for white vanilla frosting instead, this is great for a no-bake recipe version.
-Mini Cookies: You will need 45 mini chocolate chip cookies. You can find mini chocolate cookies in the bulk section of your grocery store, Chips Ahoy or store-brand versions of these cookies are ideal.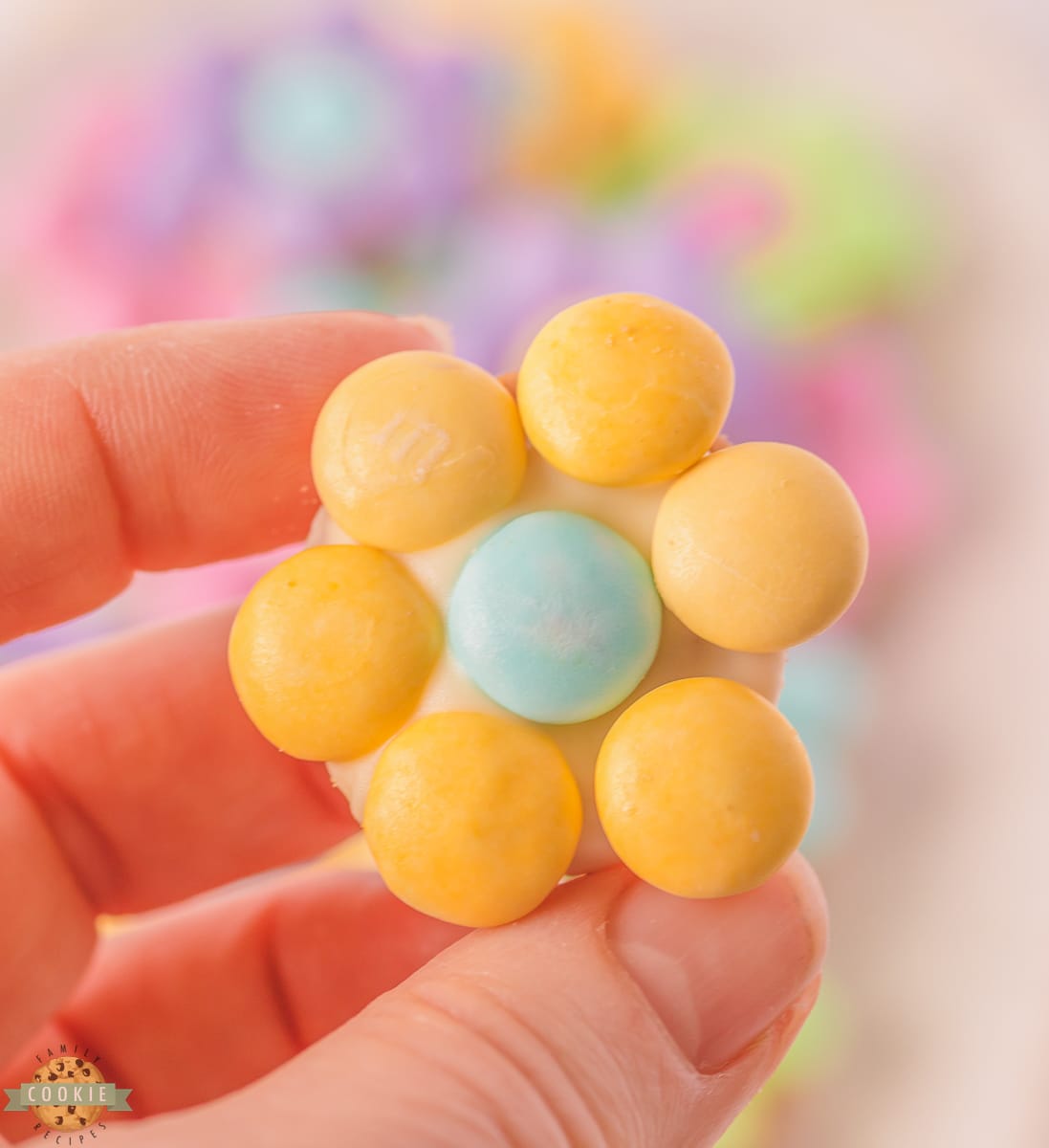 How to Make M&M Spring Flower Cookie Bites
Prep
Preheat the oven to 375 degree F and line a large baking sheet with parchment paper.
Assembly
Start by placing your mini-cookies upside down onto the prepared baking sheet.
Next, add ¼ teaspoon of white chocolate chips on top of each cookie. You only need enough chocolate to cover the cookie.
Then, place the baking sheet with the cookies into the oven for 3 minutes or until the chocolate has melted.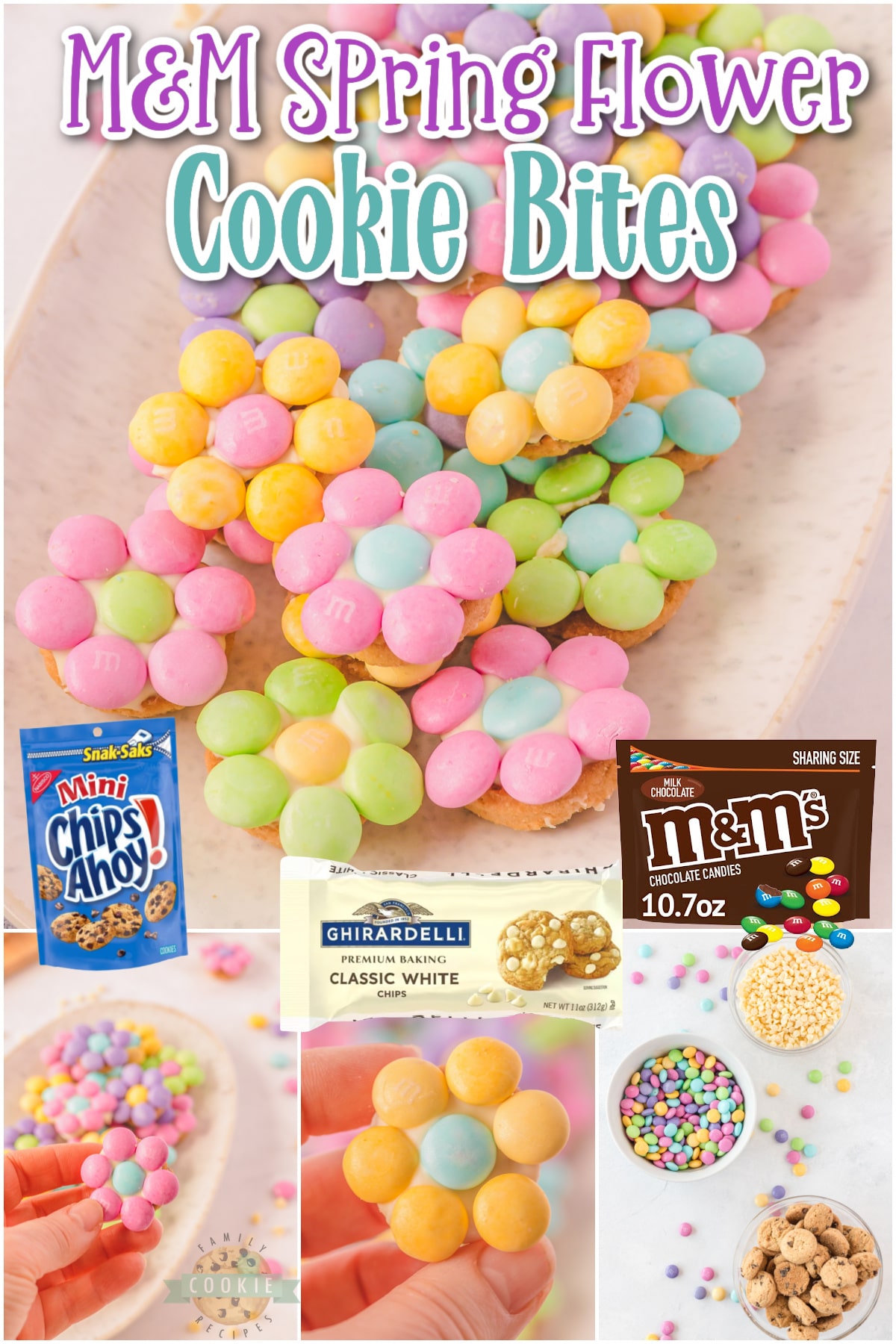 Once the chocolate has melted, remove the cookies from the oven and place 7 M&Ms onto the white chocolate in the shape of a flower. To do this, start by adding the first one in the center and then arranging the others into the shape of a circle around the middle one.
Be sure to let the cookies cool, at room temperature or in the fridge, to set.
Serve on a festive party tray or on a simple plate, either way they will taste delicious! Enjoy!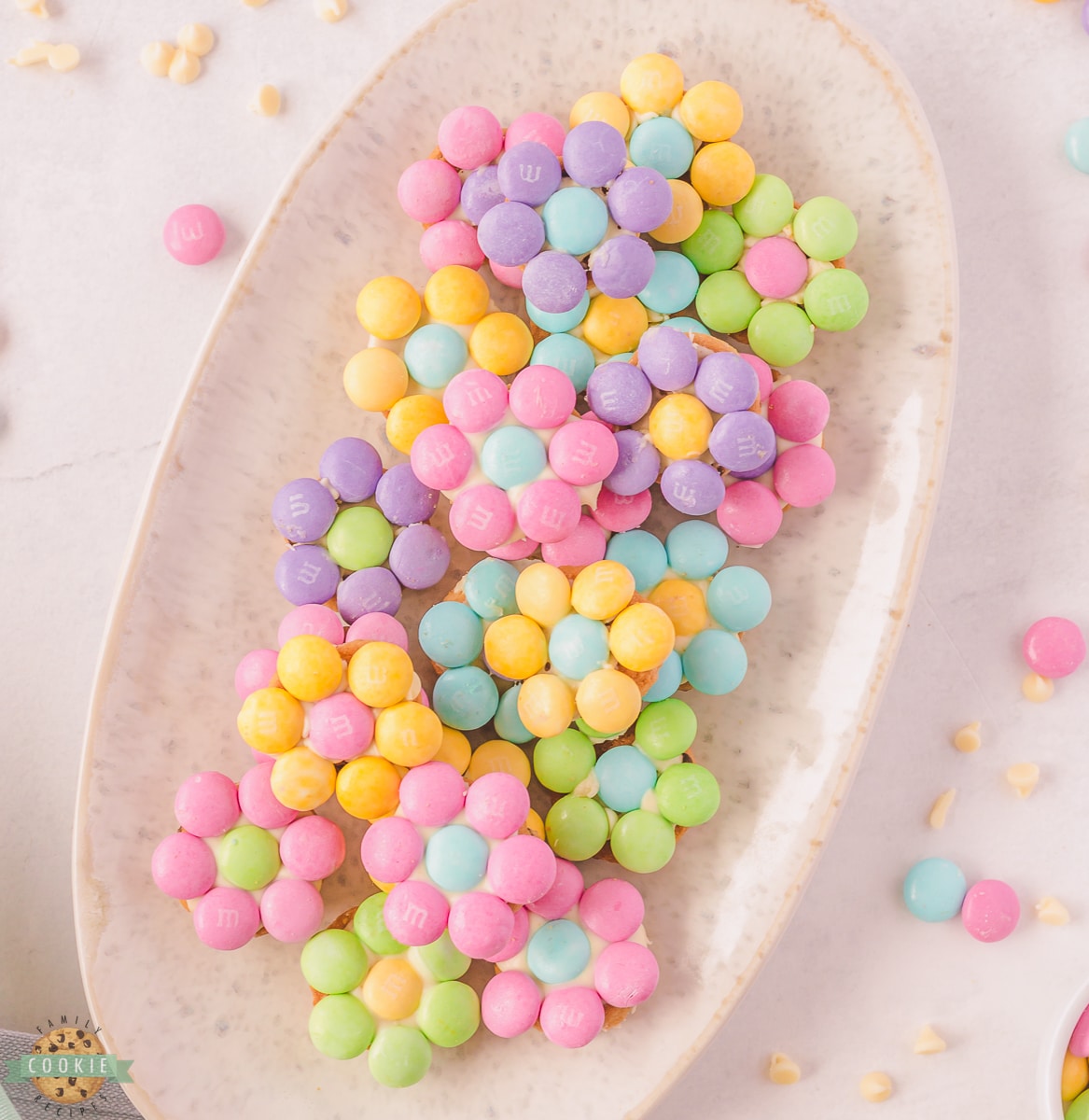 How to Make Flower Cookie Bites Without an Oven
If you want to make this recipe without heating up the house by turning on the oven, you can easily use your microwave instead. Simply place the chocolate chips into a bowl and microwave for 1 minute. Stir the chocolate after 30 seconds and return to the microwave.
When the chocolate has been melted completely and is smooth, spread a small amount onto the backs of the cookies using a butter knife.
Then decorate your cookies and repeat until all of the cookies have been completed.
How long are Flower Cookie Bites good for?
These cookies should be stored in an airtight container, at room temperature, and will last for up to 2 weeks. This will give you plenty of time to enjoy these tasty mini cookies.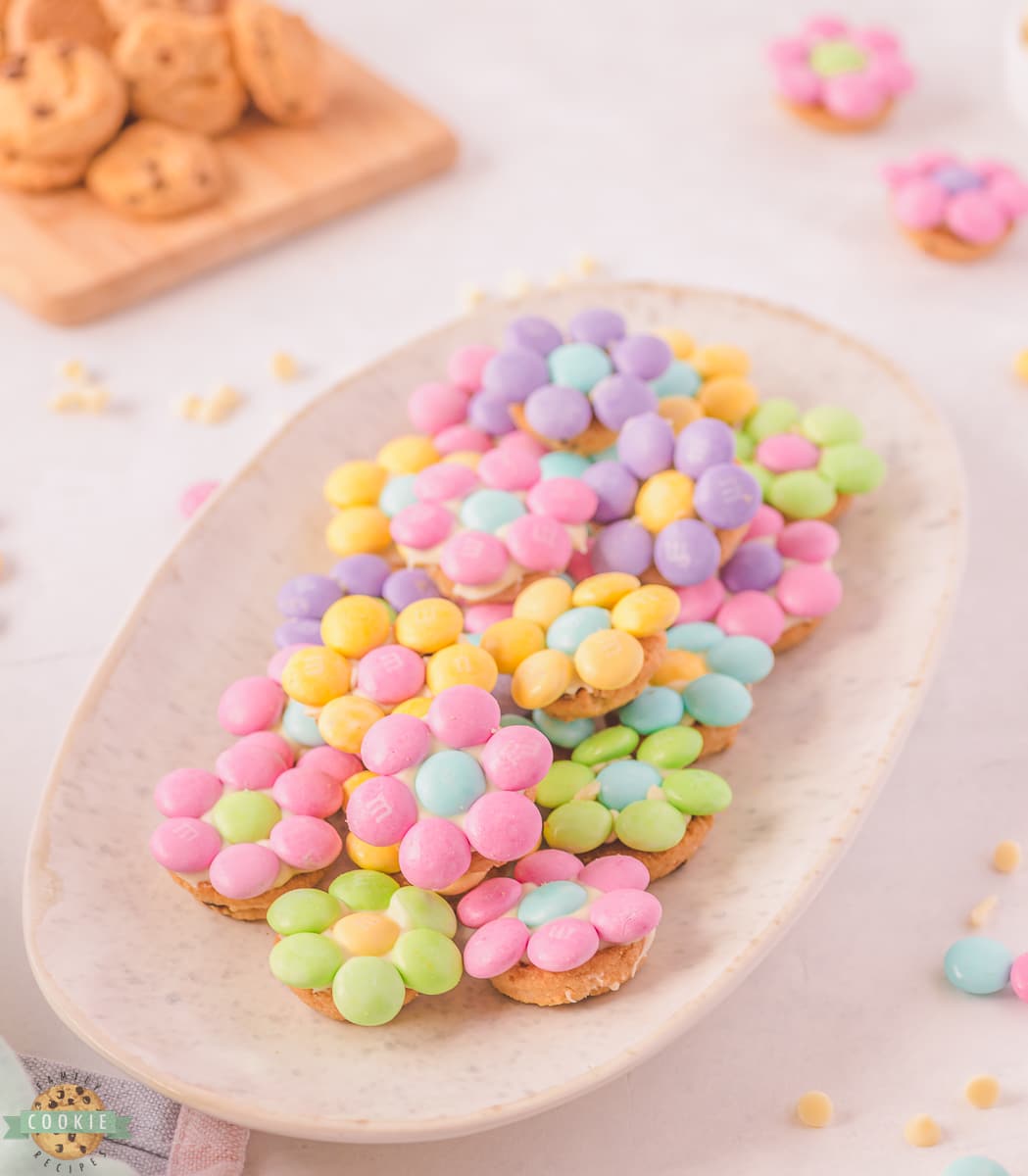 When to serve Spring Flower Cookies?
These flower cookies make a perfect snack all season long but they would also make a perfect gift for someone special. They would be great to serve at an Easter lunch, Mother's Day brunch, or a wedding or baby shower too. Another great idea is to use them to decorate a cake or cupcakes!

Look at all these cute kids! Sometimes I just pinch myself with how incredibly blessed I am for having these five. FIVE. Wow. It's a lot of work, but I wouldn't have it any other way!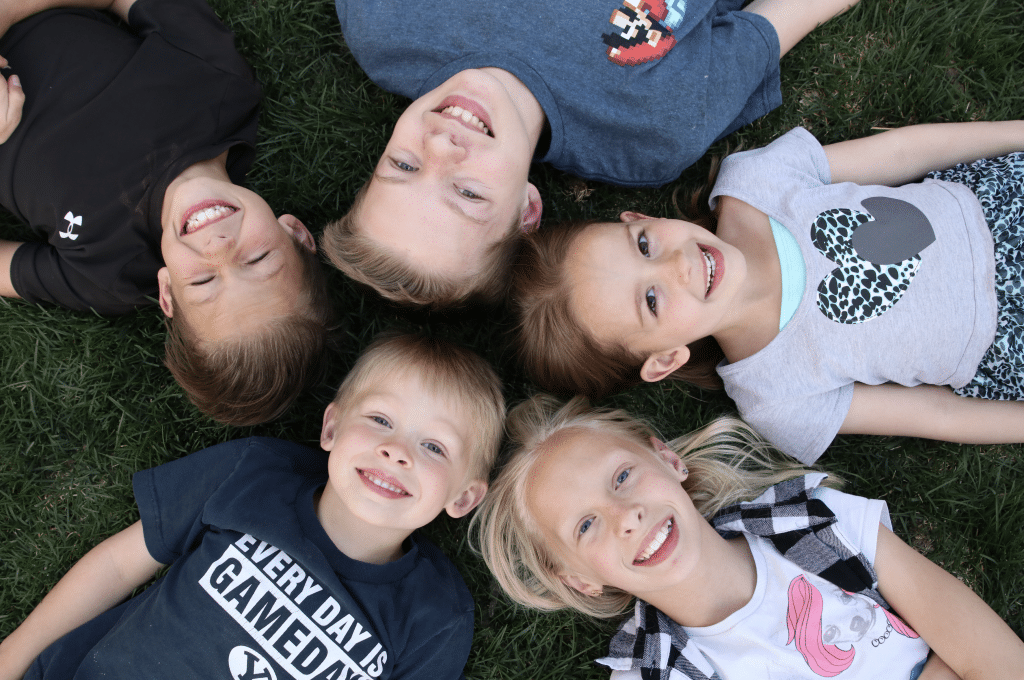 For a wonderful reminder of this great spring season, enjoy making these M&M Spring Flower Cookie Bites. Made with only 3 ingredients this recipe is simple and fun!