Double Chocolate Mint Cookies with a brownie cookie base, topped with mint icing and a decadent chocolate drizzle! Fantastic cookies that mint chocolate lovers go crazy over!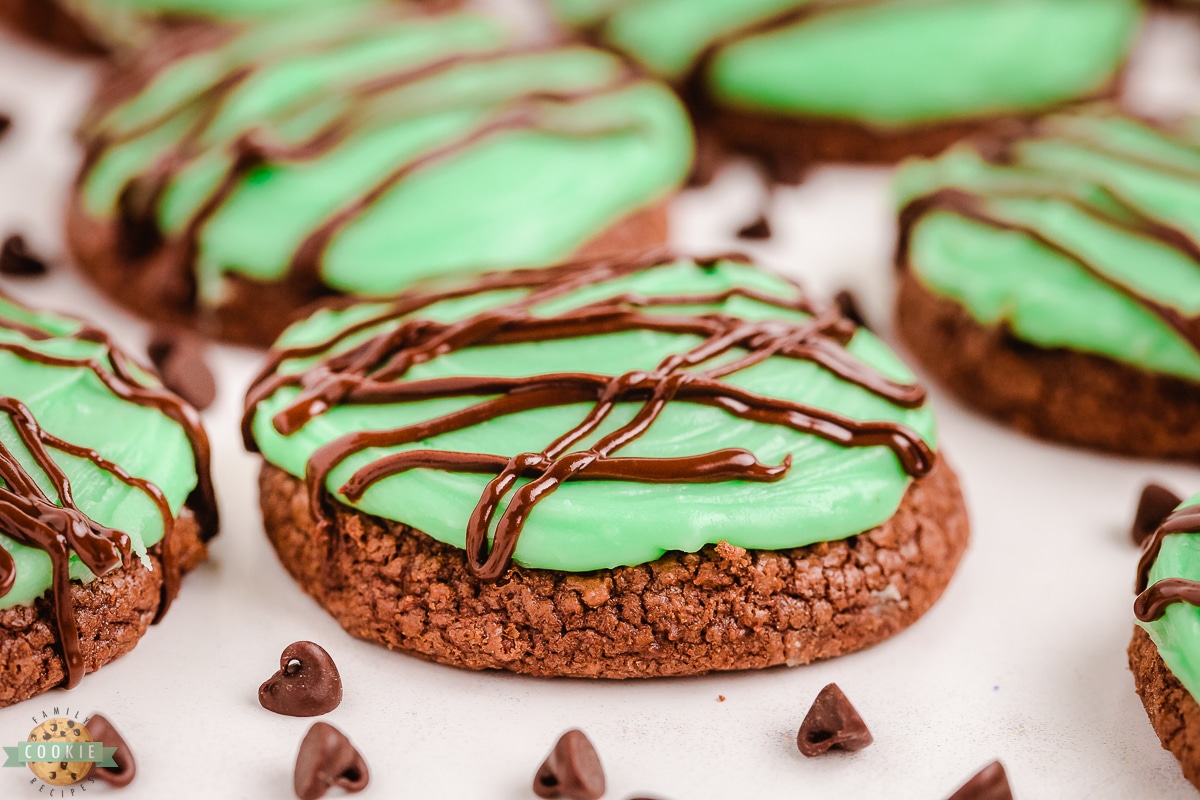 These cookies are packed with refreshingly sweet flavor in every bite. While these little grasshopper cookies might remind you of a Thin Mint cookie, they're so much better and completely homemade from scratch too! Made with simple pantry ingredients this chocolate mint cookie recipe is pretty basic but totally fabulous.
Chocolate Fudge Mint Cookies
The classic combination of chocolate and mint is so popular that it's hard to beat. While these cookies are great any time of the year, you'll probably see them as a great seasonal treat as well. For example, minty chocolate cookies for Christmas sound divine but the green coloring is also perfect for St Patricks Day as well!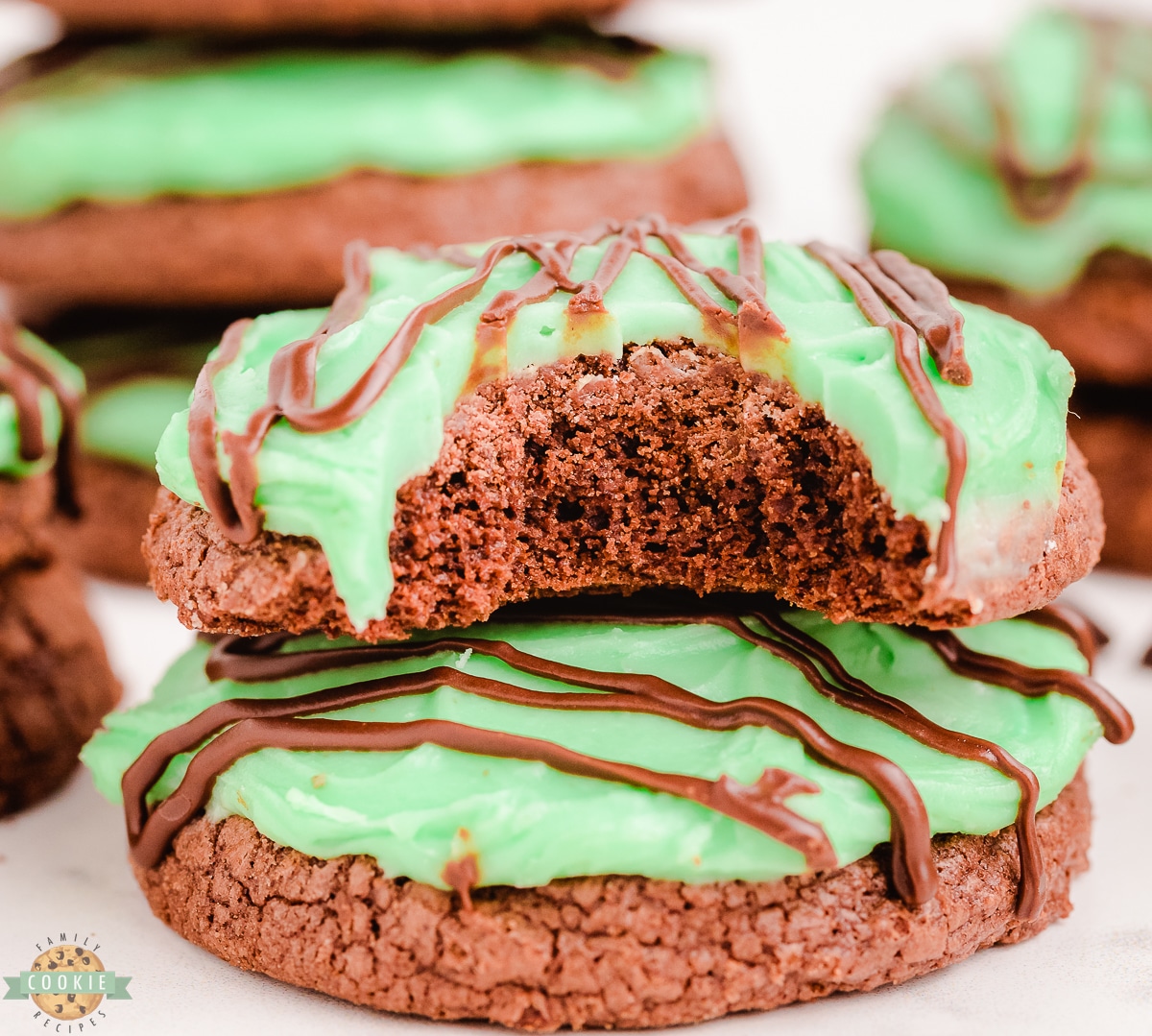 Chocolate Mint Cookie Ingredients
Cookie dough
-Chocolate chips: You will need 1 cup of semi-sweet chocolate chips for a rich chocolate flavor in every bite.
-Flour: You will need to use 1 cup of flour for this cookie recipe.
-Cocoa powder: Use 1/4 cup of cocoa powder for an added layer of depth in chocolate flavor.
-Baking powder: To help the cookies rise nicely as they bake you will need to use 1 teaspoon of baking powder.
-Salt: You need 1/2 tsp salt to help enhance the flavors in this dough.
-Butter: Adding in 5 tablespoons of butter will give the cookies a nice texture and richness.
-Brown Sugar: Adding in 3/4 cups of brown sugar will give the cookie a little chewiness and depth of flavor.
-White sugar: Using 1/4 cup granulated sugar will add more sweetness to this chocolatey treat.
-Eggs: You will need to use 2 eggs to help bind the dough together well.
-Vanilla extract: Add in 1 teaspoon of vanilla extract to provide an enhanced flavor to these cookies.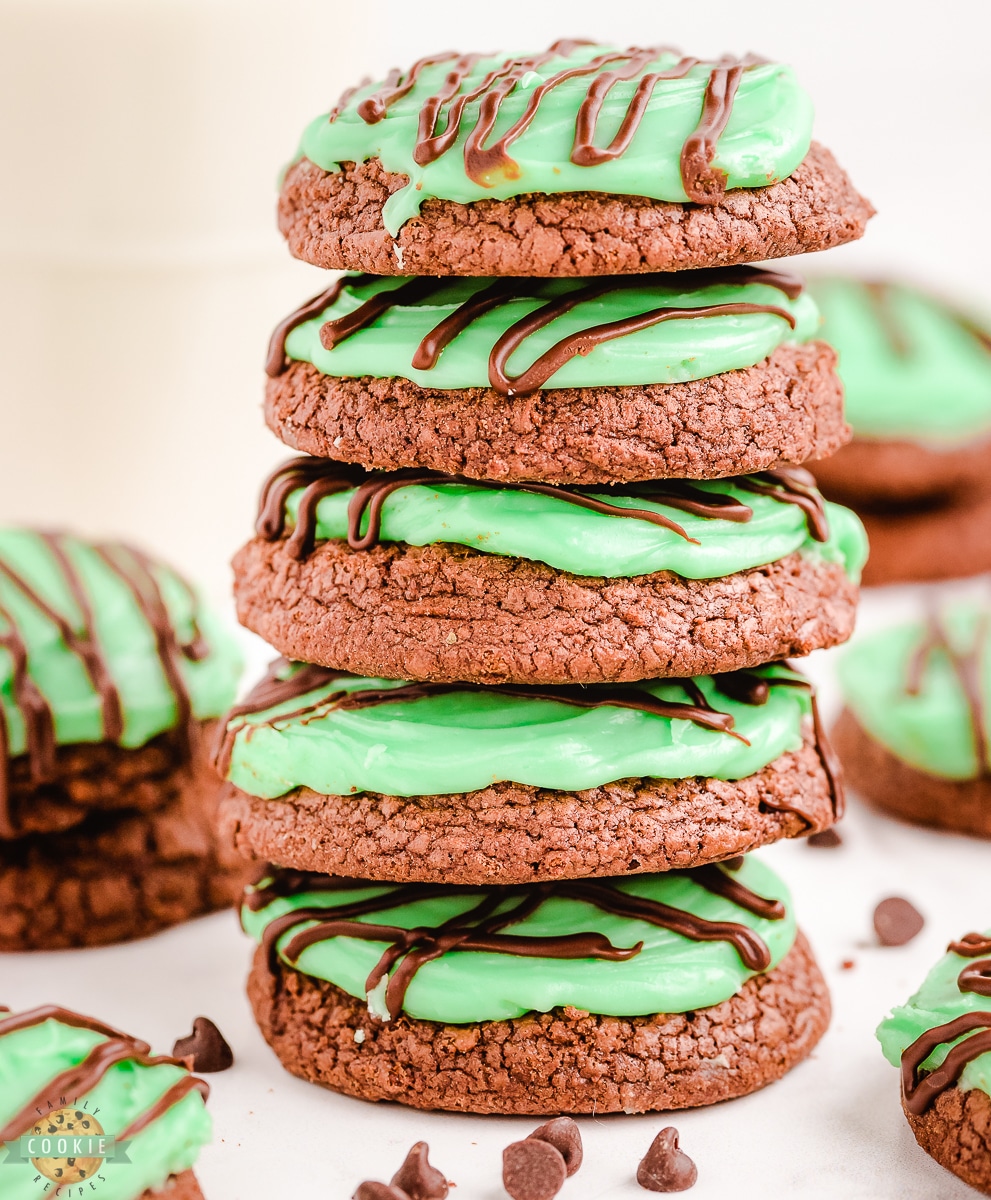 Mint Frosting
-Powder sugar: For a creamy topping, you will need 1 1/4 cups powdered sugar.
-Butter: Add in 2 tablespoons of melted butter for a balanced creamy rich flavor.
-Corn syrup: You need 2 teaspoons of corn syrup for a thick frosting texture and shiny appearance.
-Mint extract: Add in 1 teaspoon of mint extract to give the frosting a minty flavor.
-Milk: You will need to use 1-2 tablespoons of milk to help thin out this frosting to the perfect consistency.
-Food coloring: If desired you can use 2 drops of green food coloring to make the mint frosting more fun.
Fudge drizzle
-Chocolate chips: Use 1/2 cup of semi-sweet chocolate chips for an extra layer of chocolate goodness.
-Butter: Use 1 tablespoon of butter to help thin out the chocolate and provide a wonderful rich flavor throughout the drizzle.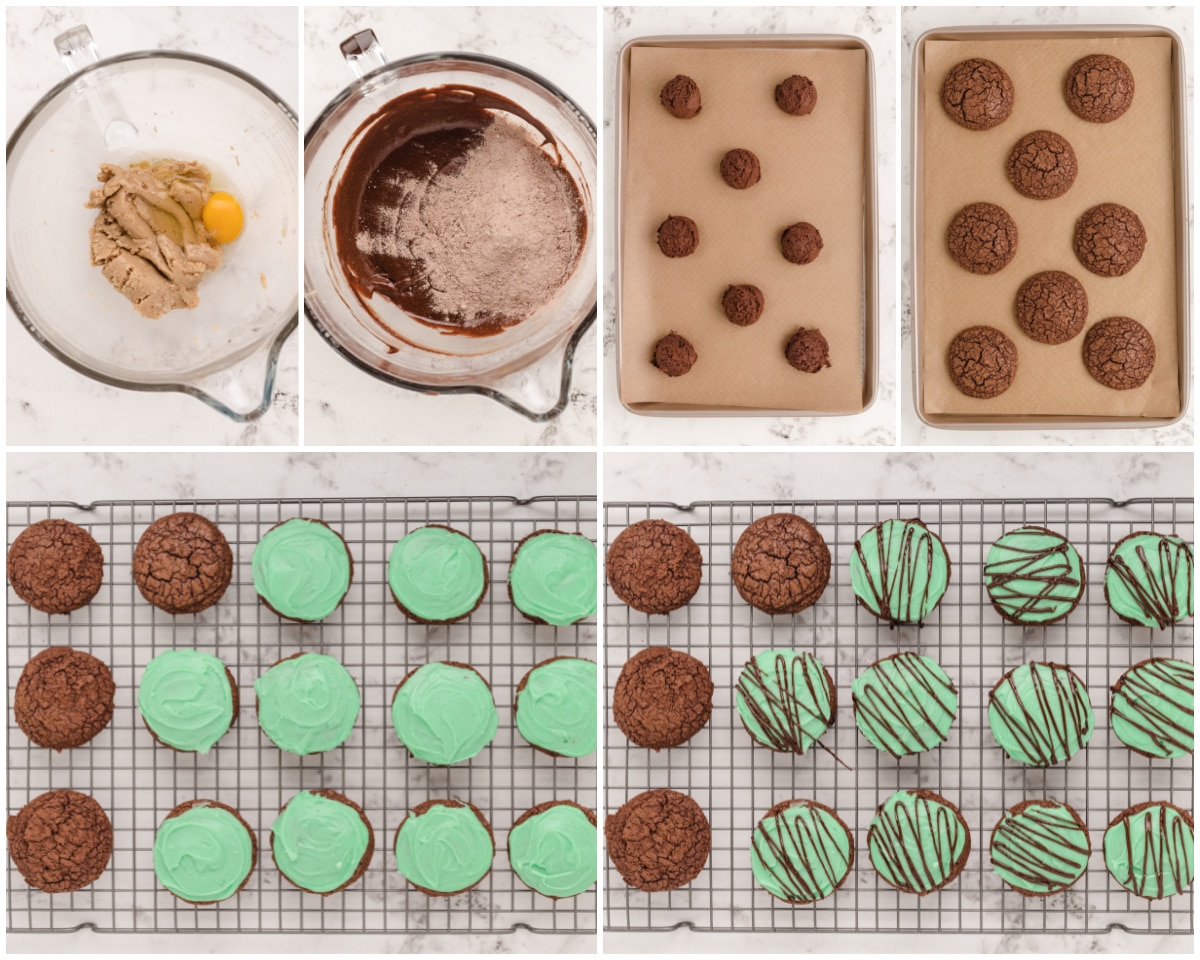 Step by step on how to make Double Fudge Mint Cookies
Prep
Preheat the oven to 350 degrees F.
Line a cookie sheet with parchment paper and then set it aside.
Cookie dough
Combine the flour, cocoa powder, baking powder, and salt in a small bowl, and then set it aside.
In another bowl, microwave the chocolate chips for 1 1/2 minutes and stir until smooth. Set aside.
In a medium-size bowl, cream together the butter and sugars until smooth.
Beat in the eggs, one at a time, mixing well after each addition.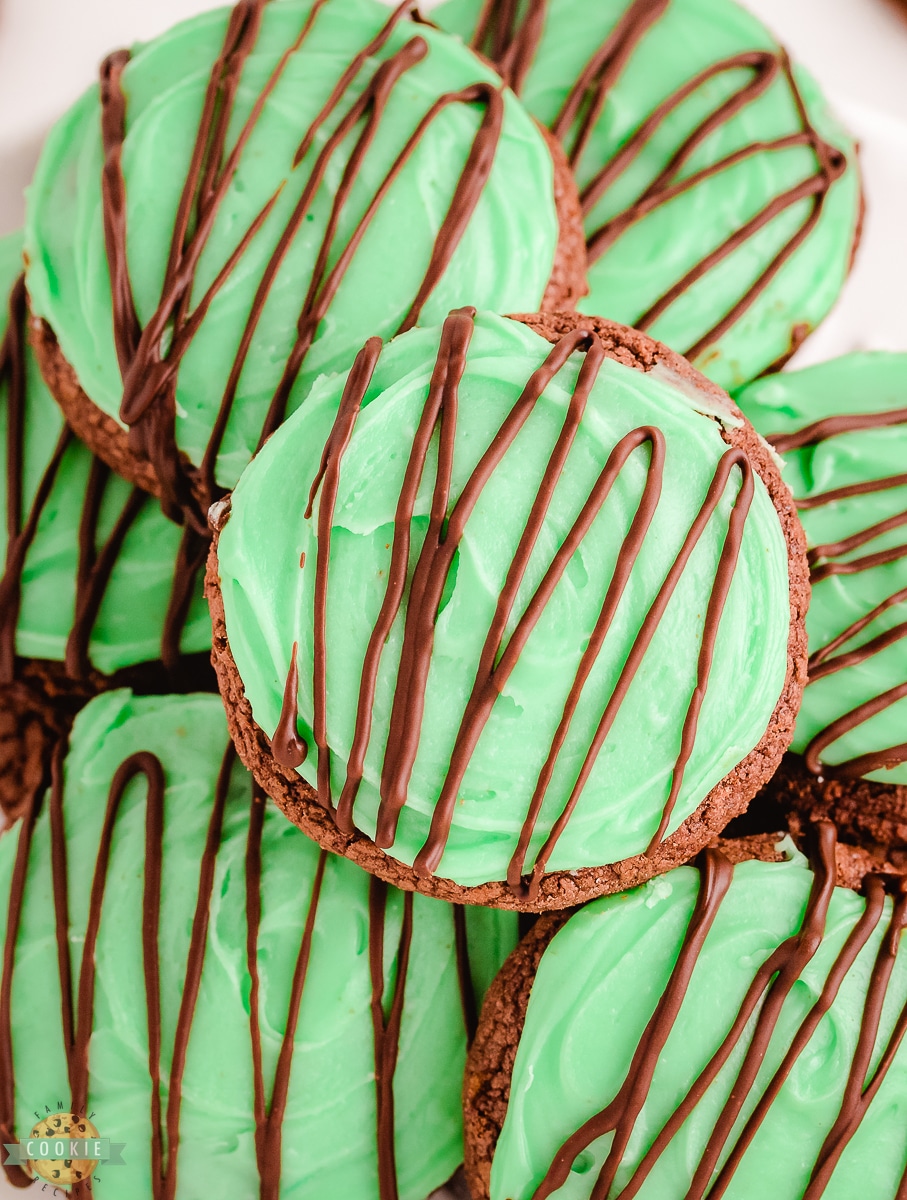 Add in the vanilla extract and mix again until blended.
Add in the melted chocolate and stir to combine.
Now add in the flour mixture and mix until the dough just comes together.
Let the dough rest for 10 minutes so that the chocolate can set.
Bake
Drop the dough by the rounded tablespoons onto the prepared cookie sheet from earlier.
Bake in the oven for 8-10 minutes.
Allow the cookies to cool on the baking sheet for a few minutes before transferring them to a wire rack to cool completely.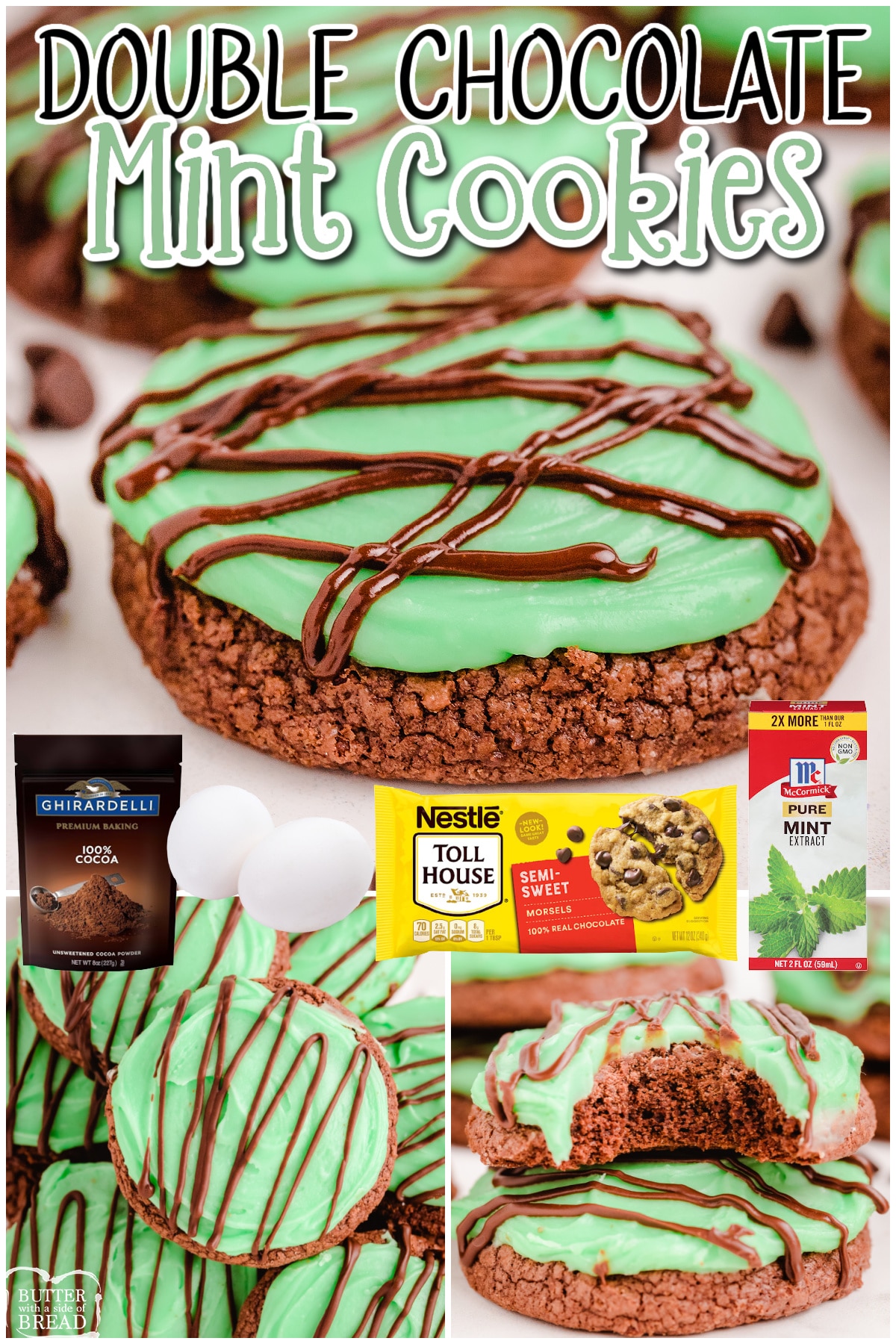 Mint Frosting
Prepare the frosting by whisking together all of the ingredients until smooth in a medium-sized mixing bowl.
Once the cookies have cooled for about 10 minutes, spoon about 2 teaspoons of glaze over the top of each cookie.
Spread the icing out over the top of the whole cookie.
Fudge drizzle
Melt the chocolate chips and butter in a microwave-safe bowl in 30-second intervals, stirring well between each until smooth and creamy.
Once the frosting has been set for 5-10 minutes, use a spoon to drizzle the fudge over the top.
Serve immediately.
Enjoy!
Can I freeze frosted cookies?
After applying the frosting to the cookies, go ahead and let them sit at room temperature for n hour or so to set. This allows the frosting to firm up a bit. Then place the cookies onto a baking sheet and freeze for 1-2 hours until solid before transferring to an airtight container with parchment paper between the cookie layers to prevent sticking. Remove the cookies and thaw on the counter for a few minutes until soft enough to eat.
How long will decorated cookies be good for?
These cookies can keep well for up to a week if kept stored in an airtight container at room temperature.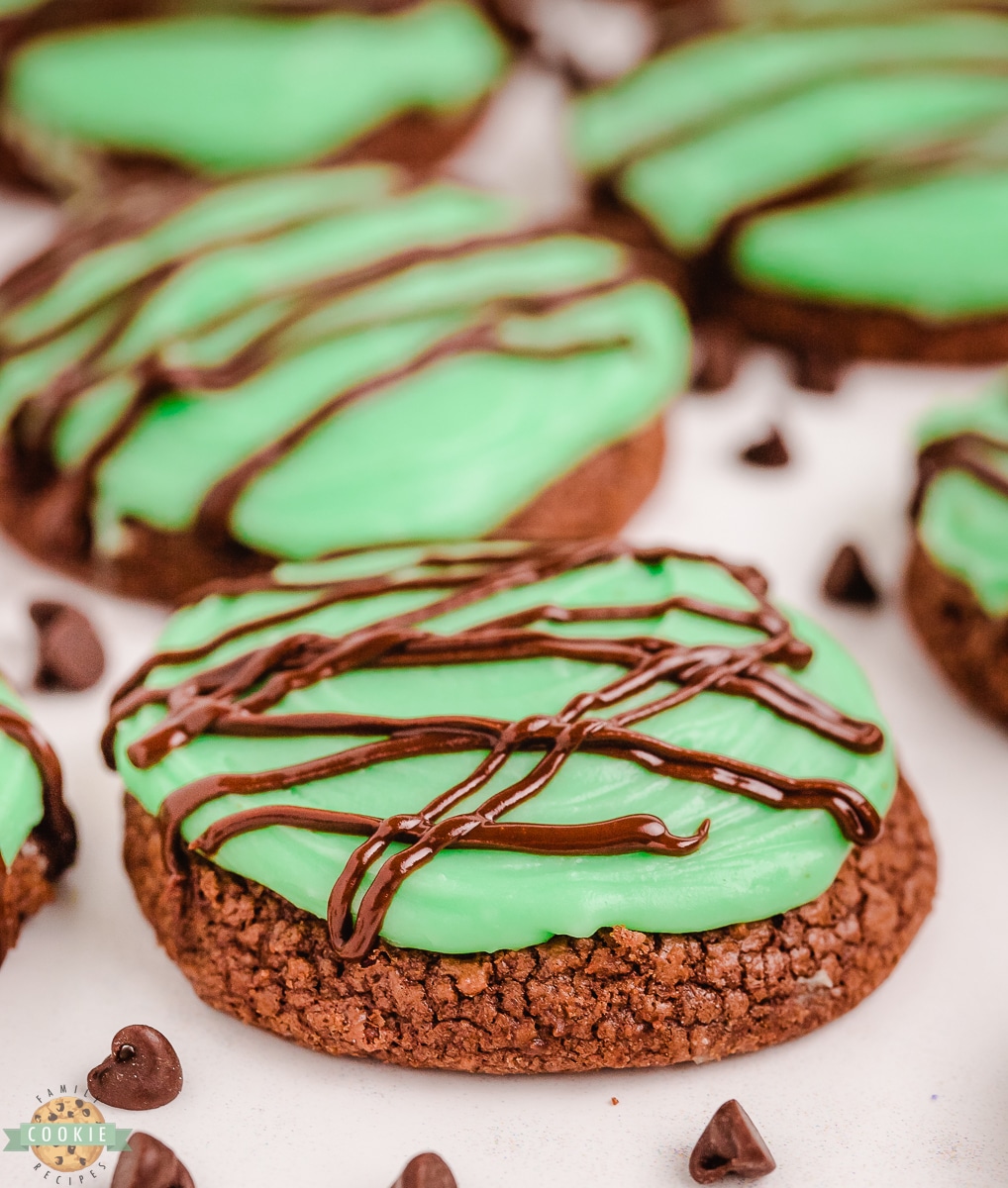 How to Make Better cookies
A few tips and tricks to making better cookies every time!
Use an Electric Mixer for Even Mixing
It's worth it to use an electric mixer! You can use a handheld one or a stand mixer; I prefer a stand mixer, but use what you have on hand.
Cream the Butter & Sugars for Longer
Spend a little extra time when you mix the butter and sugars. Creaming them together for 2-3 minutes will improve the consistency of your cookies.
Preheat the oven. This will help your cookies turn out right every time!
Cookie Scoops for Perfect Cookies
Use a cookie scoop! If you want all your cookies to be perfectly shaped and have them all be the same size, a cookie scoop is the way to go.
Make Sure your Cookies don't Stick to the Pan!
Use parchment paper or a silicone baking mat. Doing this will make it really easy to remove the cookies from your cookie sheet so that you don't have to scrape them off the pan – they will just slide right off in perfect shape!
Take them out of the oven Earlier
Make sure not to overbake your cookies. They may not even look totally done on the tops, but if the bottoms start to brown, I take mine out and they are perfect!

We are lucky enough to live very close to several mountain hiking trails! Sometimes I exercise my right as the mom and implement some "forced family fun!" Ha! Do you do that at your house? Most often it doesn't go quite as planned, but thankfully, everyone seems to have at least a few fun moments. I have happy memories of this particular outing, so I call it a win!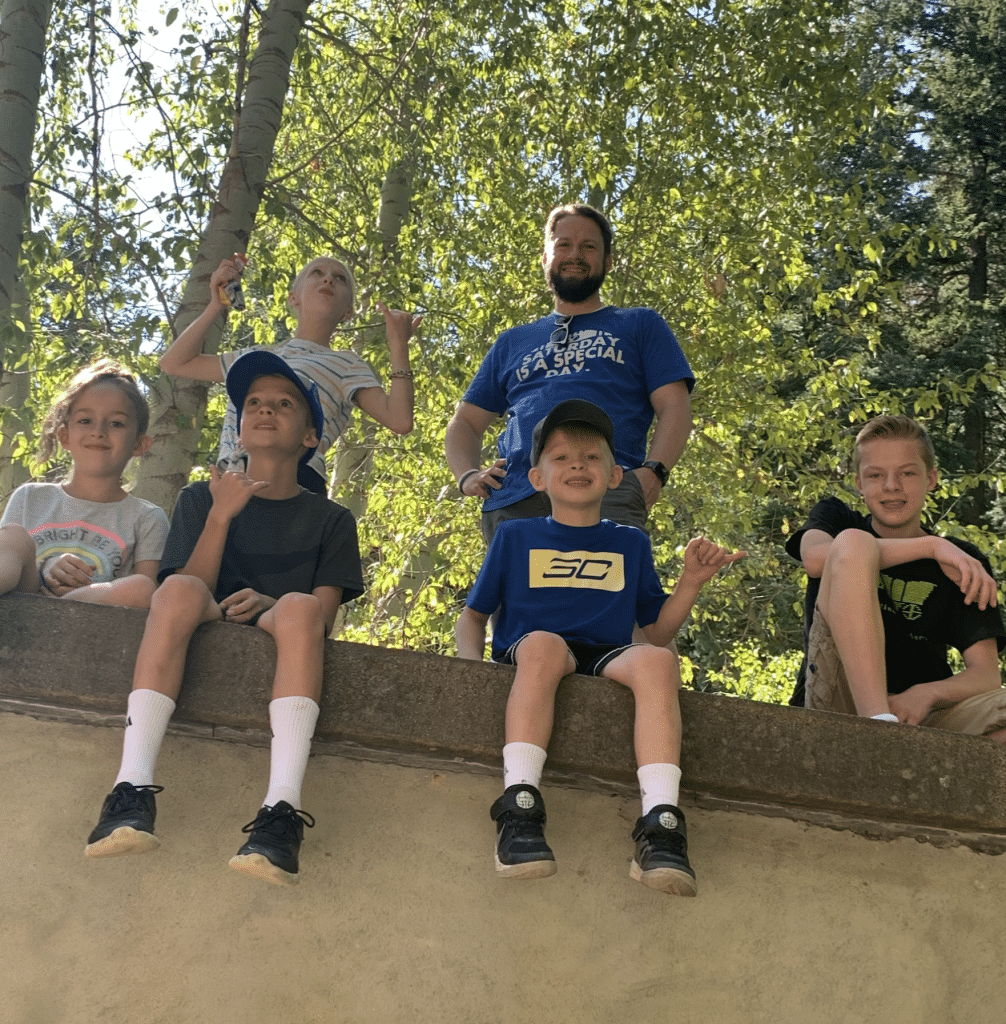 Want to try some other great chocolate mint recipes? Check these out!
Double Chocolate Mint Cookies are truly delicious and will rival any store bought cookie. Made with a chocolatey cookie base and topped with a green mint frosting and fudge glaze, these cookies are truly special and irresistible.