Andes Mint Chocolate Cookies are chewy, chocolate and frosted with a melted Andes mint! These cookies have the perfect combination of chocolate and mint flavors – this is one of my favorite cookie recipes!
Anyone else absolutely love chocolate and mint together? This chocolate cookie recipe is made with melted chocolate chips in the batter and the mint flavor comes from the Andes mint that is melted and spread on top. Add a few more basic ingredients and that's it! These cookies are very easy to make and they taste incredible!
I have always loved the Thin Mint cookies that the Girl Scouts sell around this time of year, but these cookies actually taste very similar and I can make them all year long! This cookie recipe has that same strong chocolate/mint flavor, but they are softer and chewier!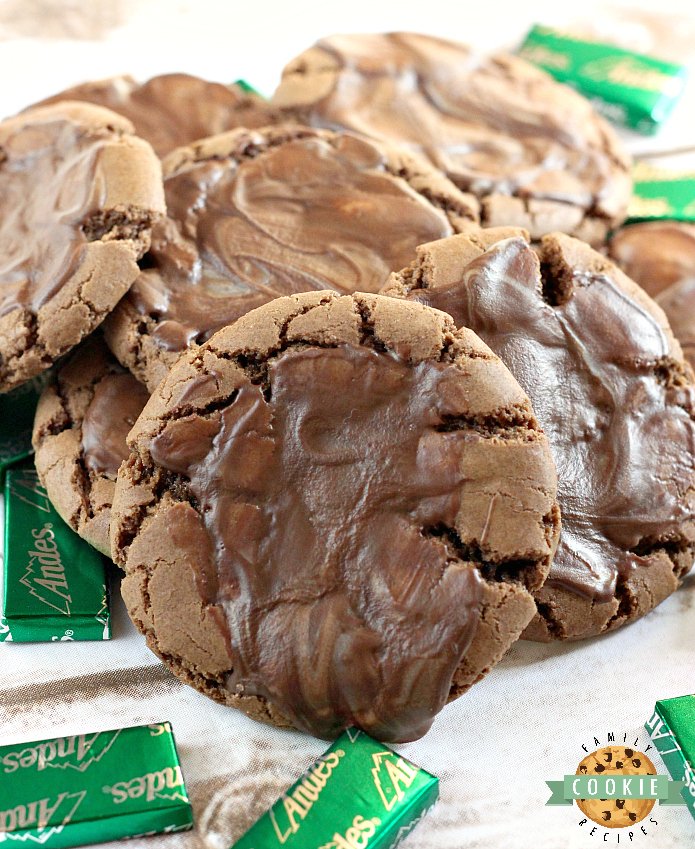 Tips for making the best Andes Mint Chocolate Cookies
Preheat the oven. This will help your cookies turn out right every time!
Use a cookie scoop! If you want all your cookies to be perfectly shaped and have them all be the same size, a cookie scoop is the way to go.
Use parchment paper or a silicone baking mat. Doing this will make it really easy to remove the cookies from your cookie sheet so that you don't have to scrape them off the pan – they will just slide right off in

perfect shape

!
Don't over bake the cookies – when I take mine out of the oven, they still look slightly under baked but they will continue to bake on the cookie sheet for a couple more minutes so that's ok! It is really hard to tell when chocolate cookies are done because you can't just wait for them to begin to brown like you can with sugar cookies and chocolate chip cookies. (I baked these cookies for exactly 11 minutes, but if your oven tends to run a little hotter and cook a little faster, you may want to take them out at 10 minutes just to make sure they don't cook too long!)
Ingredients in Andes Mint Chocolate Cookies
-3/4 cup butter
-1 1/2 cups brown sugar
-2 tablespoons water
-1 1/2 cups chocolate chips
-2 eggs
-2 1/2 cups flour
-1 1/4 tsp baking soda
-1/2 teaspoon salt
-3 dozen Andes mints, unwrapped
How to make Andes Mint Chocolate Cookies
Preheat oven to 350°.
In a medium saucepan, melt the butter over medium heat and then add the brown sugar, water and chocolate chips. Stir just until the chocolate chips are almost completely melted and then remove the pan from the stove. Continue to stir until the mixture is completely smooth.
Pour the chocolate mixture into a mixing bowl and let it cool for about 10 minutes. Add the eggs and mix for 1 minute.
Add the flour, baking soda and salt to the chocolate mixture and mix just until well combined.
Using a cookie scoop, scoop the dough and then roll into balls. Place the cookie dough balls on cookie sheets that have been lined with parchment paper or silicone baking mats to prevent sticking.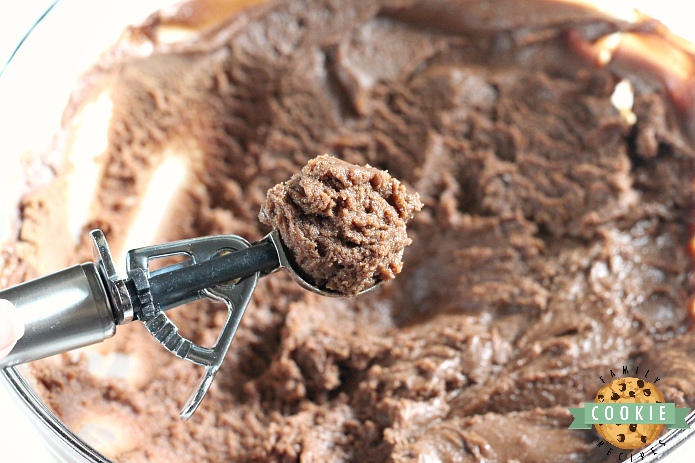 Bake the cookies for 10-12 minutes or just until the centers of the cookies look done. Pull the cookies out of the oven and immediately place one Andes mint on top of each cookie. Wait 1-2 minutes or until the Andes mint is completely shiny and then use a butter knife or spreader to spread the melted mint all over the top of the cookie.
The melted mint topping will set up after an hour or two, but if you want to speed up the process you can place the cookies in the refrigerator for just a few minutes. I actually really like the cookies warm and the mint melty and gooey, so my strategy is to eat as many cookies as possible before the mint topping sets up…it's totally a personal preference thing!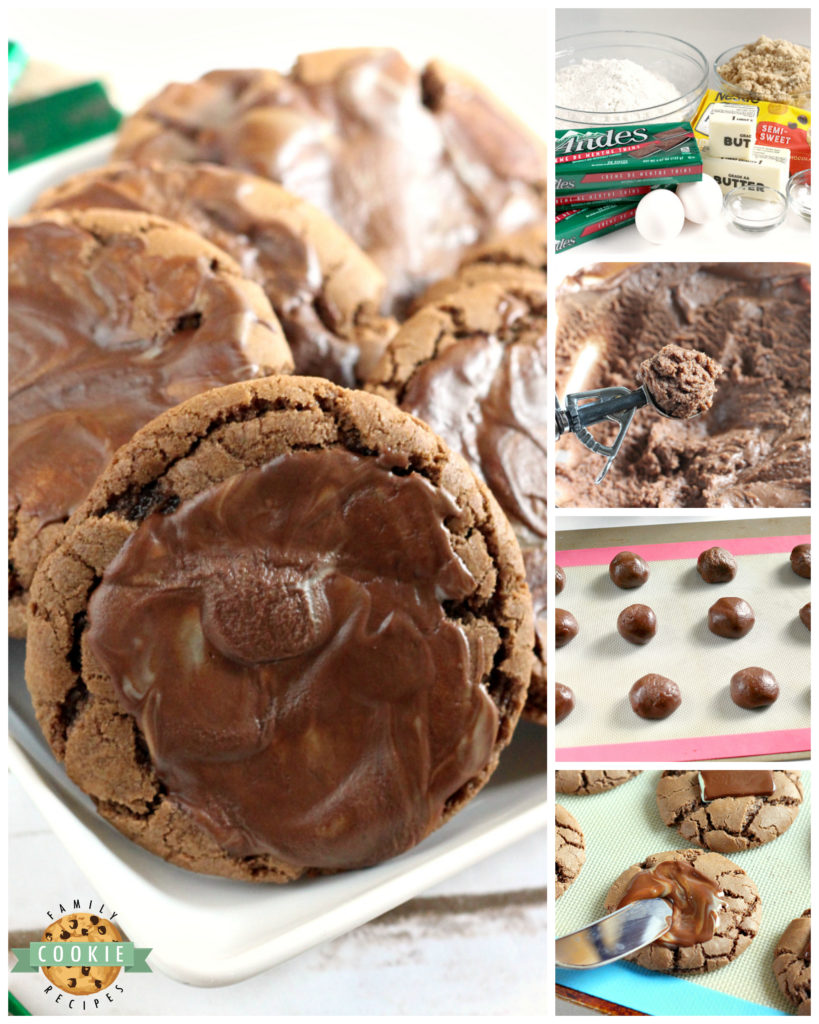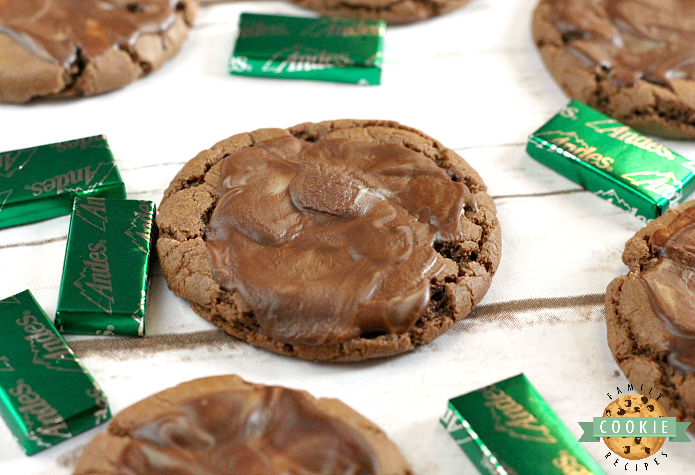 Why do my cookies burn on the bottom but aren't done in the middle?
If your cookies are always burning on the bottom, it is probably a cookie sheet issue! If you are using really dark cookie sheets, the bottoms of your baked goods will tend to burn before they are actually cooked all the way through. If you use a lot of cooking spray, the same result can happen. I prefer to use lighter colored non-stick pans so that I don't have to use cooking spray at all. As mentioned above, I have been converted to silicone baking mats over the last couple of years and I love how easy it is for cookies to come off the tray – no sticking ever!
Can you freeze cookies?
You can freeze the cookie dough by rolling it into balls and placing the dough balls on a cookie sheet, just barely far enough apart that they aren't touching. Place the cookie sheet in the freezer for 1-2 hours or until the dough is completely frozen through. Place the cookie dough balls in a Ziplock freezer bag and then pull them out when you want to bake them.
Frozen cookie dough balls thaw pretty quickly so you can bring them to room temperature before baking, or you can bake them straight out of the freezer, but you may need to add a minute or two to the baking time for them to be completely baked all the way through.
You can also freeze Andes Mint chocolate cookies once they are baked and topped. Wait until the cookies are completely cooled and the mint topping completely set before wrapping in plastic wrap and then placing in an airtight container in the freezer.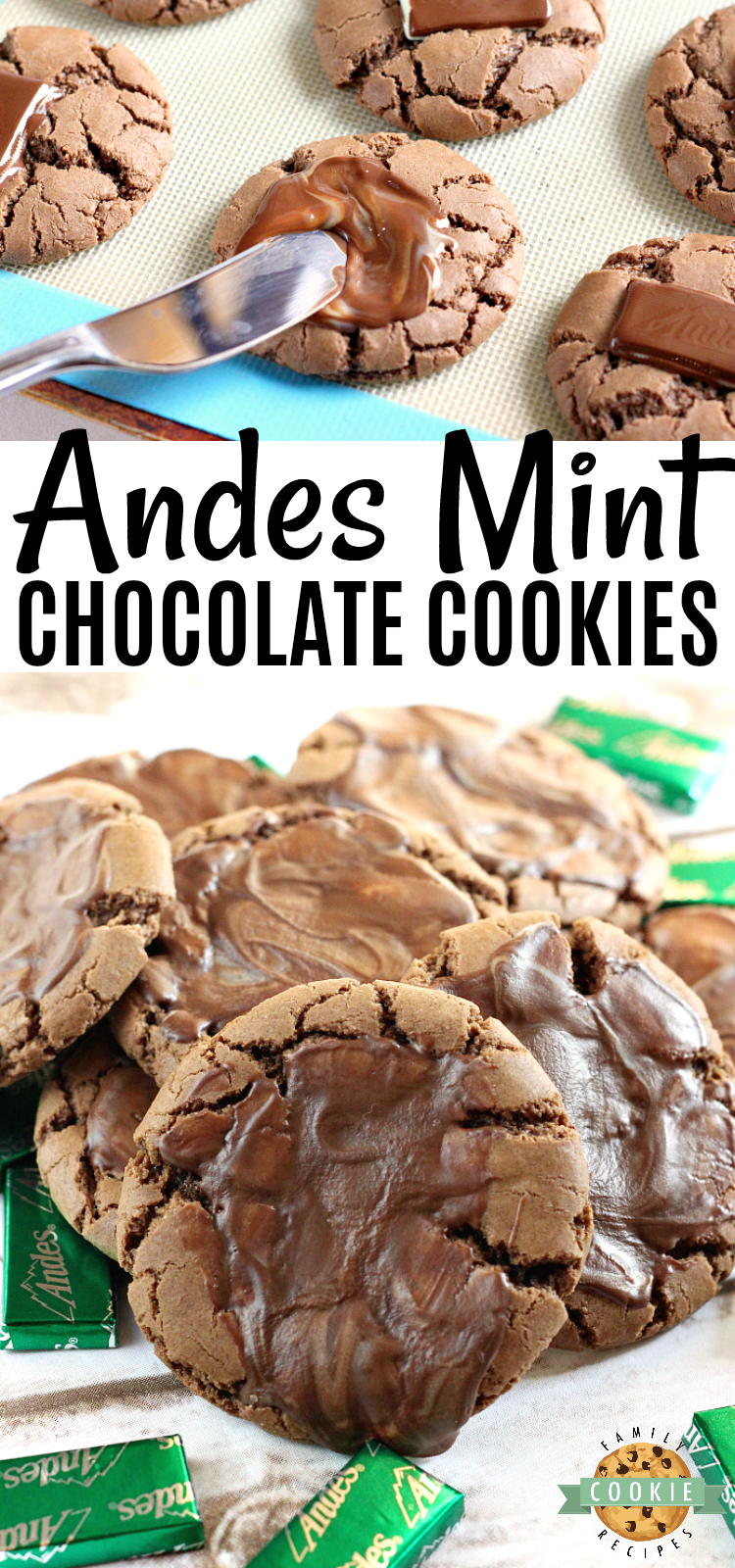 I'm finding that I'm posting a lot of pictures of this sweet little one! I love my other kids, but this one is just so cute and sweet these days and we are all a little obsessed with taking pictures of her. Especially since she has gotten so good at smiling at everyone! I don't even bother with bows most of the time, but we do pull them out for church every week and she is just so cute! She is actually 3 months old today – time is going by way too fast.