Andes Mint Stuffed Chocolate Cookies are rich chocolate mint cookies that are filled with chocolate ganache and a grasshopper cookie in the middle. Tons of mint flavor in this amazing chocolate cookie recipe!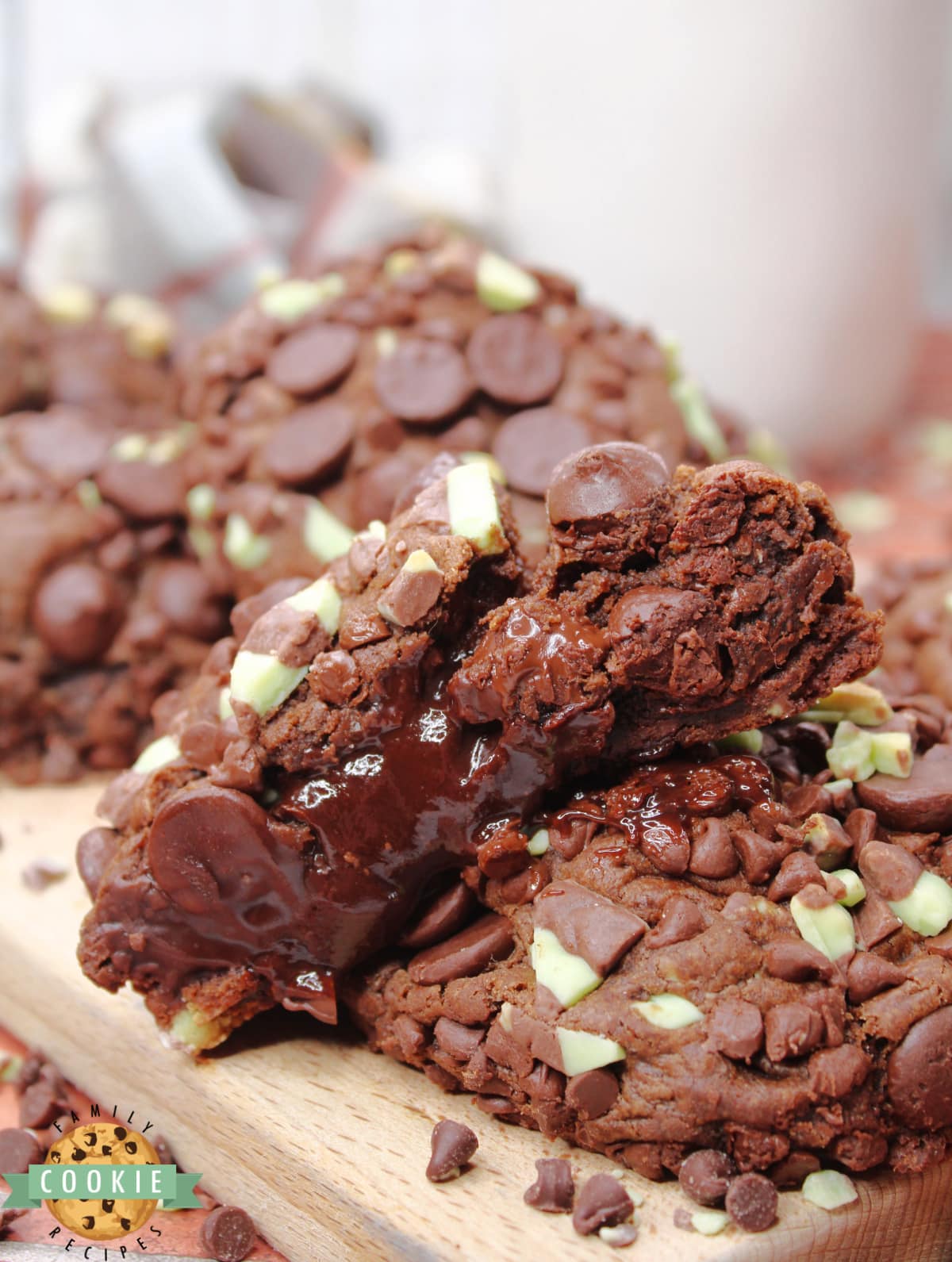 We really love mint and chocolate, especially together. Mint Chocolate Chip Cookies, Mint Chocolate Brownie Cookies and Andes Mint Chocolate Cookies are some of our favorite cookie recipes ever.
Andes Mint Stuffed Chocolate Cookies
These cookies are rich chocolate cookies flavored with mint extract and mixed with Andes mint chips and chocolate chips. Make up a simple ganache and put a grasshopper cookie along with a scoop of ganache in the middle of each ball of dough. The cookie dough balls are then rolled in more Andes mint chips and chocolate chips and then baked. Delicious stuffed mint chocolate cookies with a gooey chocolate filling. These cookies are impressively decadent!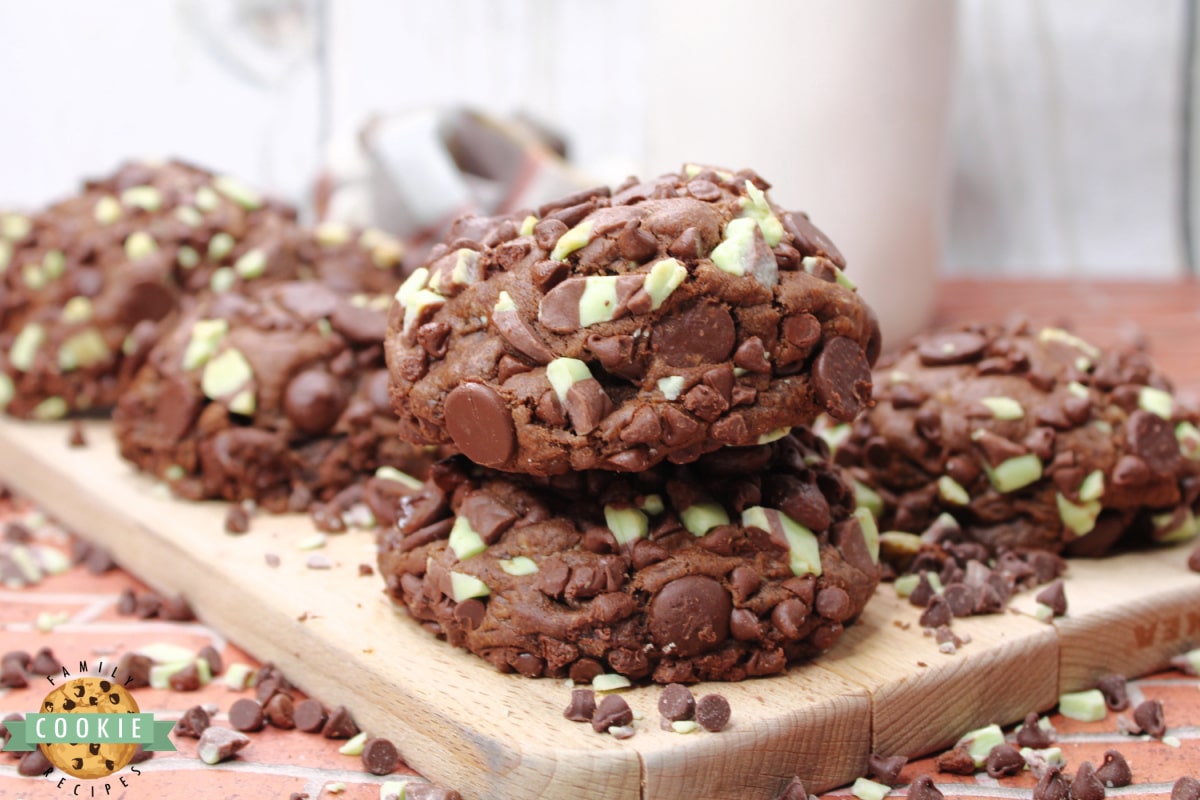 TIPS FOR MAKING THE BEST ANDES MINT STUFFED CHOCOLATE COOKIES
Preheat the oven. This will help your cookies turn out right every time!
Make sure your butter is softened, NOT melted! One of the most common errors in cookie making is using butter that is either really cold and hard, or using butter that is too warm and melted. If you have time, just leave butter out on the counter for about 1-2 hours before making your cookies. If you are like me and don't plan your cookie cravings that far in advance, just place the butter in your microwave and soften in 5 second intervals, being very careful to pull it out before it melts. I actually like to use the defrost setting on my microwave to soften butter- I don't know the technical reasons behind it, but it seems to soften the butter more evenly and takes a little bit longer so I'm less likely to start melting it!
Use a cookie scoop! If you want all your cookies to be perfectly shaped and have them all be the same size, a cookie scoop is the way to go.
Use parchment paper or a silicone baking mat. Doing this will make it really easy to remove the cookies from your cookie sheet so that you don't have to scrape them off the pan – they will just slide right off in perfect shape!
Don't over bake the cookies – when I take mine out of the oven, they still look slightly under baked but they will continue to bake on the cookie sheet for a couple more minutes so that's ok! It is really hard to tell when chocolate cookies are done because you can't just wait for them to begin to brown like you can with sugar cookies and chocolate chip cookies.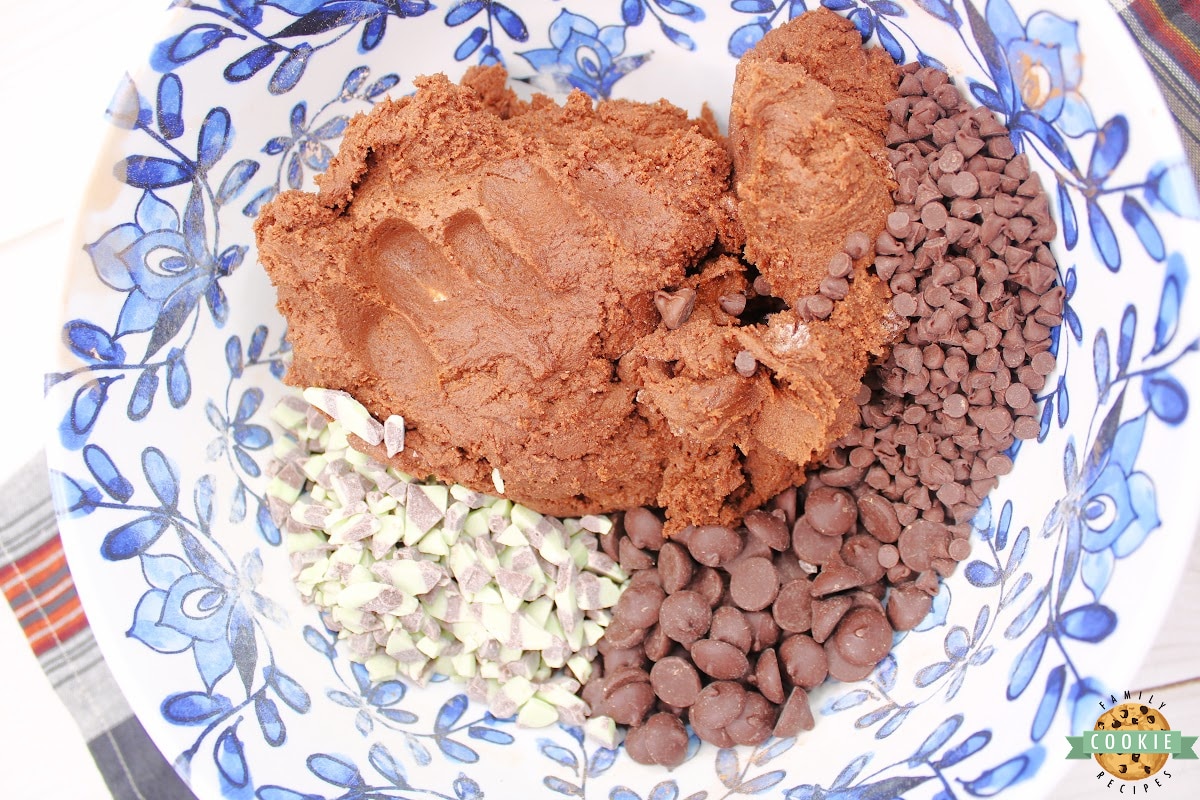 Ingredients in Andes Mint Stuffed Chocolate Cookies
CHOCOLATE GANACHE
Semi-sweet chocolate chips – Just a cup of semi-sweet chocolate chips will add the perfect amount of chocolate flavor to the ganache.
Whipping cream – You need to heat up a half cup of heavy whipping cream to mix with the chocolate.
MINT CHOCOLATE COOKIE DOUGH
Butter – You need 1 ½ cups (3 sticks) unsalted butter. Make sure the butter is softened to room temperature. For best results, use real butter.
Sugars – You will need regular granulated sugar and light brown sugar as well. For best results, make sure the brown sugar is fresh and soft.
Eggs – Three large eggs will help bind everything together.
Corn syrup – You will need 2 tablespoons of light corn syrup to create the perfect consistency in the cookies.
Mint extract – Adding 2 teaspoons of mint extract will add the perfect amount of mint flavor to the cookie dough. Mint extract is pretty strong, so be careful not to add too much! You can reduce the amount if you don't want the mint flavor to be as obvious.
Flour – All-purpose flour works best in this cookie recipe.
Cocoa powder – The recipe calls for dark cocoa powder, but you can use regular cocoa powder if you'd like.
Cornstarch – Just a tablespoon of cornstarch will help to make the cookies perfectly soft and chewy.
Baking soda – Baking soda is the leavening agent in the cookies. For best results, make sure the baking soda isn't old or expired.
Salt – Just a teaspoon of salt helps to bring out all of the other flavors in the cookies.
Semi-sweet chocolate chips, mini semi-sweet chocolate chips and Andes mint chips – You will need a total of 2 cups of each of these baking chips. This is equal to one bag of each. You will reserve 3/4 cup of each type of chip to mix together and roll the cookie dough balls in before baking.
Grasshopper cookies – You will need about 36 grasshopper cookies. You may need a few more or less, depending on how big you make the cookies. Grasshopper cookies are thin and crispy chocolate mint cookies, basically the same as Thin Mints if you are lucky enough to snag a few boxes from your local Girl Scouts.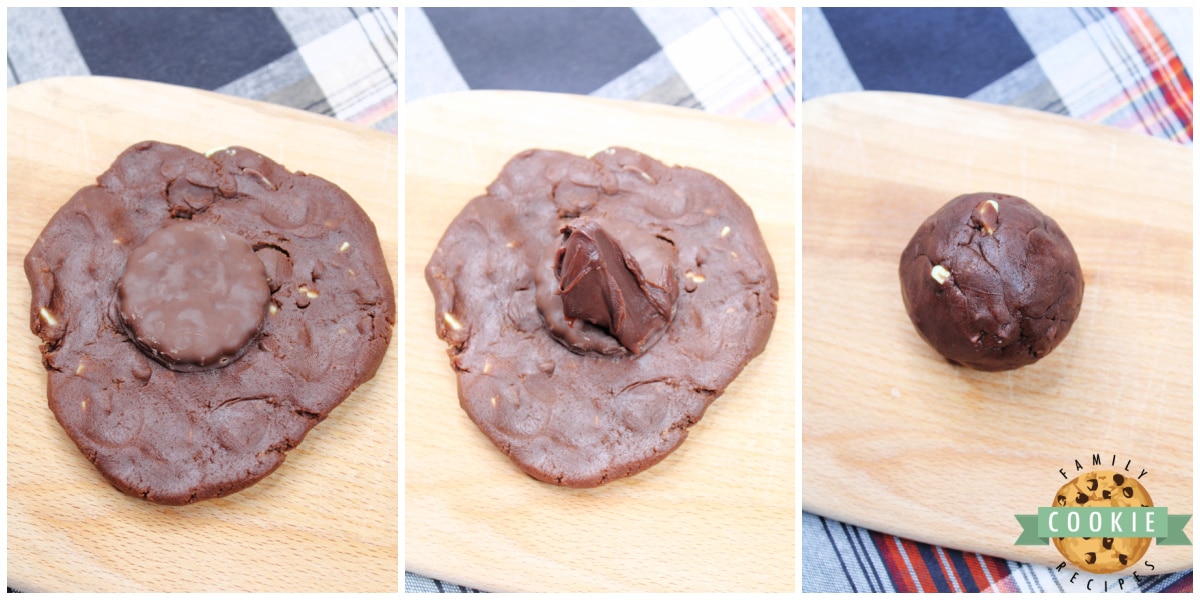 How to make Andes Mint Stuffed Chocolate Cookies
Make the chocolate ganache
Using a small pot, bring the heavy whipping cream to a mild simmer over medium heat. Pour the hot cream into a small bowl with 1 cup of semi-sweet chocolate chips.
Let it sit for 1 minute before whisking together until the chocolate chips are completely melted and smooth. Continue to allow the ganache to thicken while you make the cookie dough.
Make the cookie dough
Preheat oven to 350° and line two cookie sheets with a silicone baking mat.
Using a mixer, beat the butter, sugar, light brown sugar, eggs, corn syrup, and mint extract until light and fluffy. This will probably take about 3-4 minutes.
In a separate medium bowl, whisk the flour, cocoa powder, cornstarch, salt and baking soda together.
Gradually beat the dry ingredients into the wet just until combined.
Gently fold in 1 ¼ C chocolate chips, 1 ¼ C mini chocolate chips and 1 ¼ C andes mint chips.
Assemble and stuff the cookies
Using a medium cookie scoop, scoop out dough mound into your hand and roll into a ball. Flatten the dough into a flat disk and place a grasshopper cookie in the middle.
Using a small cookie scoop, scoop a small mound of chocolate ganache onto the center of the grasshopper cookie. Mold the dough into a thick ball around the cookie and ganache.
In a small bowl, combine the rest of the chocolate chips, mini chips and Andes mint chips.
Roll the dough mound into the mixture to completely coat the dough ball. Place the cookie dough balls about 2 inches apart onto the prepared cookie sheets.
Bake the cookies
Bake in the oven for 16-18 minutes or until firm around the edges. Let the cookies cool on the cookie sheets for a few minutes before transferring to wire racks to cool completely.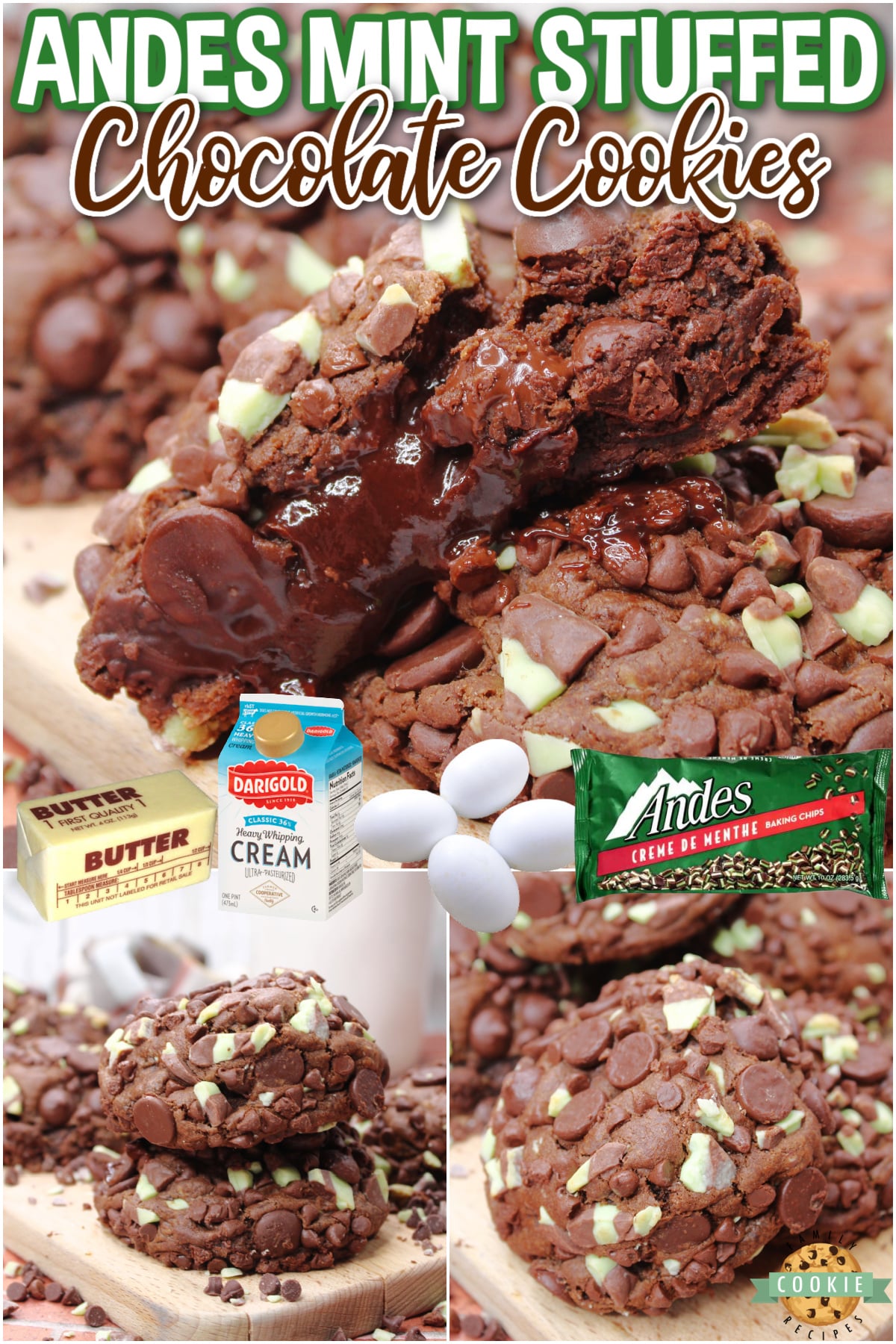 HOW DO YOU SOFTEN BUTTER?
I like to soften butter by using the defrost function on my microwave. If you need the full 1/2 cup cube of butter, you can leave it in the paper wrapper, otherwise, place the amount of butter you need in a glass or porcelain bowl. I use the lowest defrost setting on my microwave and just let it run for 20 seconds. Check the butter and see how soft it is by pressing it with a rubber scraper. If it is still not soft to the touch, meaning it doesn't indent when you press into it, let it warm for another 5-10 seconds. Watch it closely! Butter softens very quickly.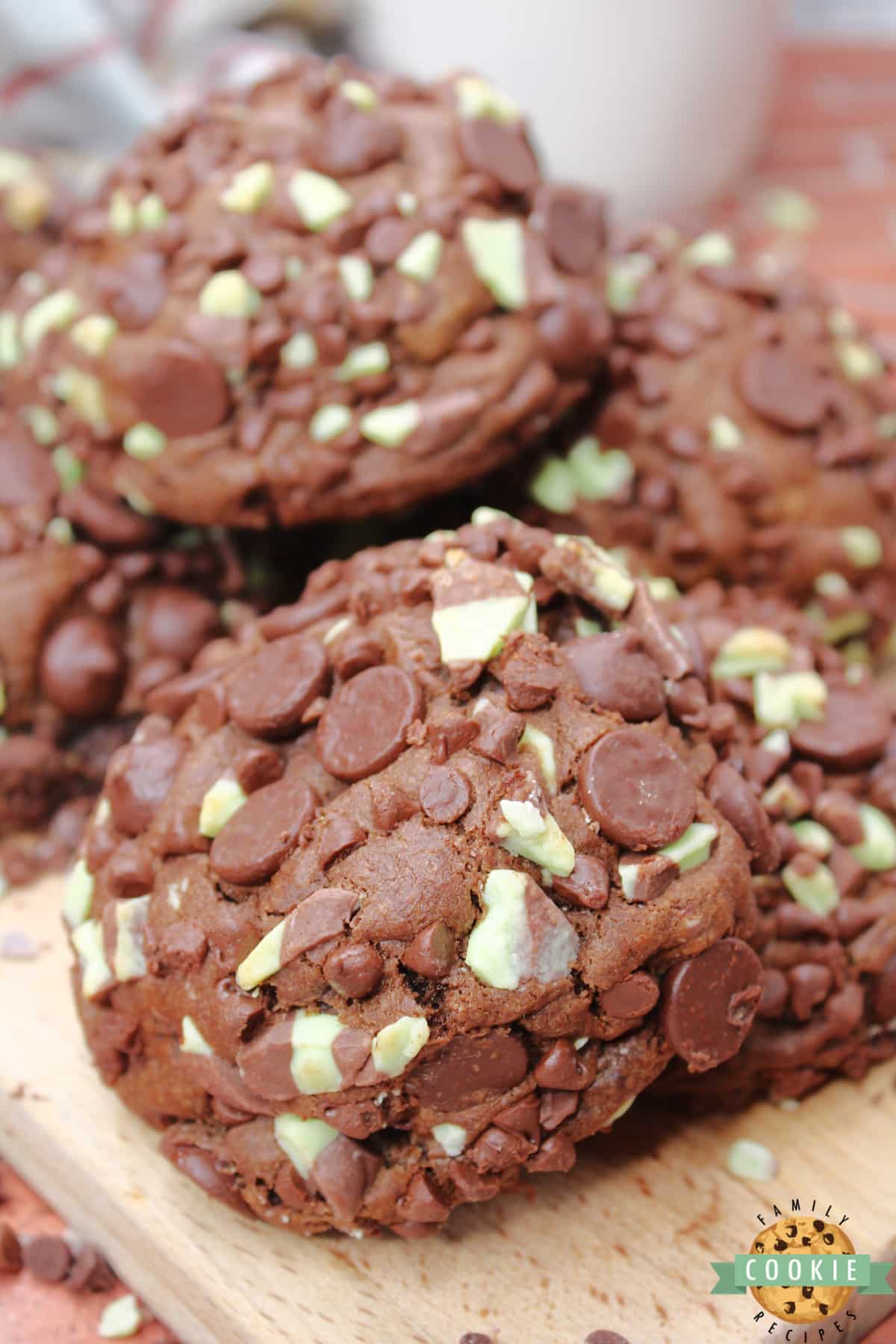 CAN STUFFED CHOCOLATE COOKIES BE FROZEN?
Yes, you can freeze the baked cookies in an airtight container for up to 1 month.
Another option is to assemble and shape the dough into round balls as instructed, and then freeze them all on a cookie sheet (about 1-2 hours). Once frozen, toss the dough balls in a ziplock freezer bag and store up to 1 month. That way you can bake them when you would like and enjoy warm cookies! When you are ready to bake them, just place as many as you'd like on a prepared cookie sheet and bake like normal (they may need an extra minute or two to bake when frozen).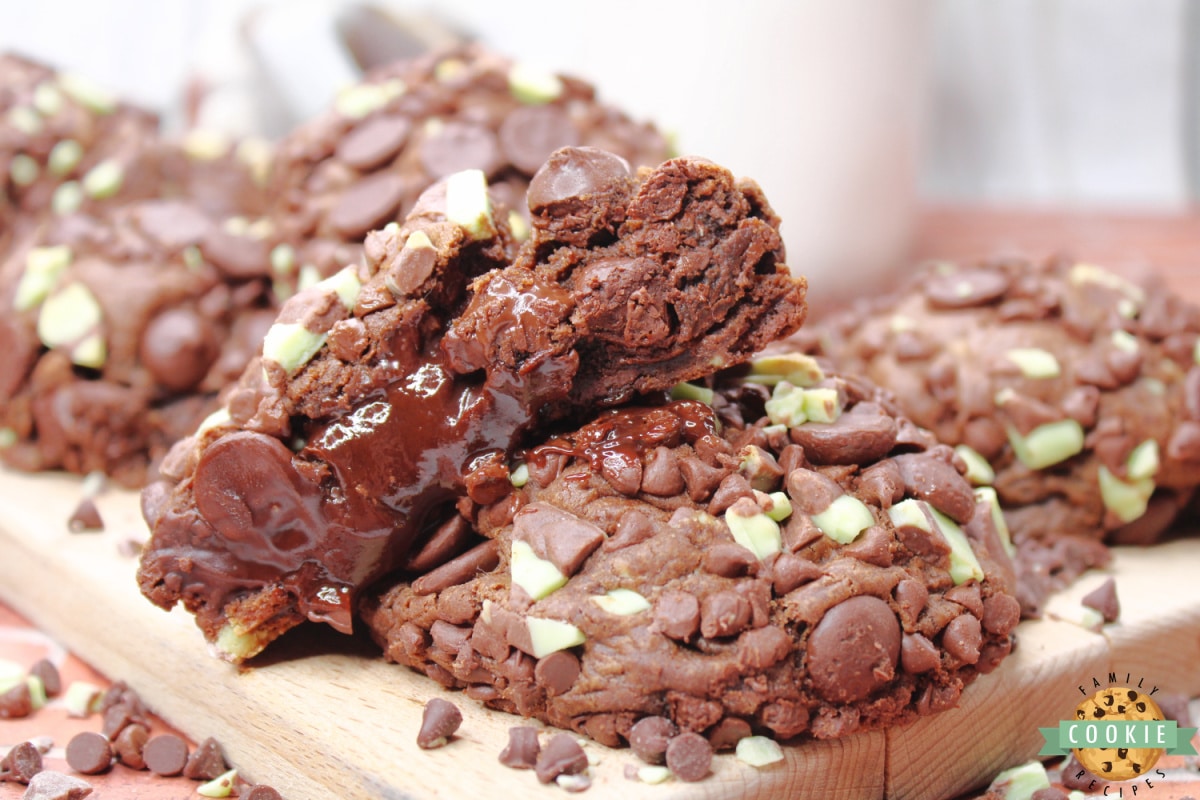 TRY SOME OF OUR OTHER FAVORITE CHOCOLATE COOKIE RECIPES: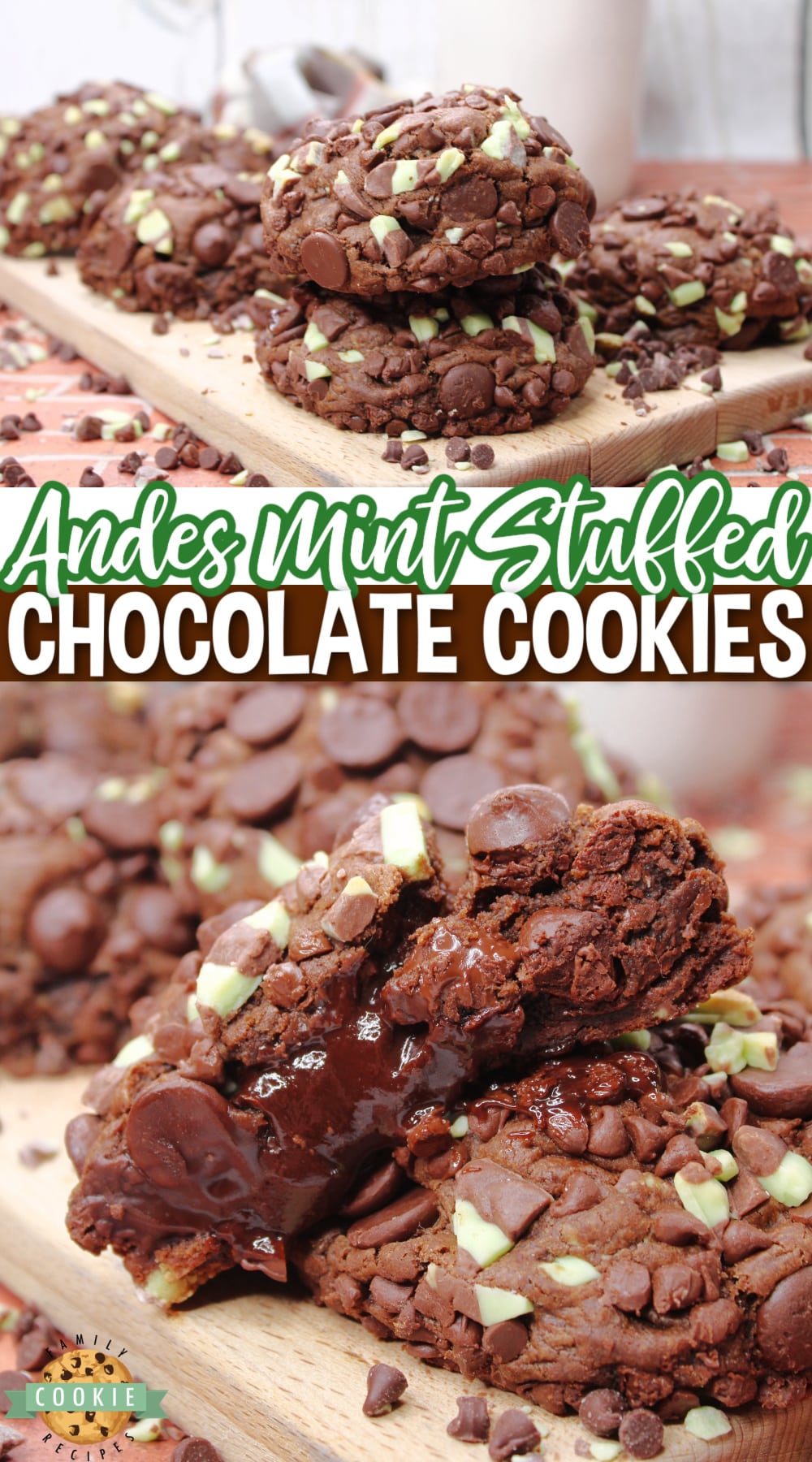 Andes Mint Stuffed Chocolate Cookies are rich chocolate mint cookies that are filled with chocolate ganache and a grasshopper cookie in the middle. Tons of mint flavor in this amazing chocolate cookie recipe!



I absolutely love this picture. My oldest and my youngest and this perfectly captures how much they love each other. My youngest absolutely loves all of her older siblings, but she has a special bond with her oldest sister and it is so fun to watch them together. She will be off to college next year and I think it's going to be rough on all of us, but I think these two are going to miss each other the most. Having teenagers and preschoolers at the same time has it's challenges, but it has been so fun to see the older kids interact with this little girl. And so good for them too.