Chocolate Sprinkles Cookies have a soft and chewy center, with a crunchy shell thanks to the colorful sprinkles. These chocolate sugar cookies are a delightful combination of buttery goodness and chocolatey crunch, a dessert that is sure to satisfy your sweet tooth!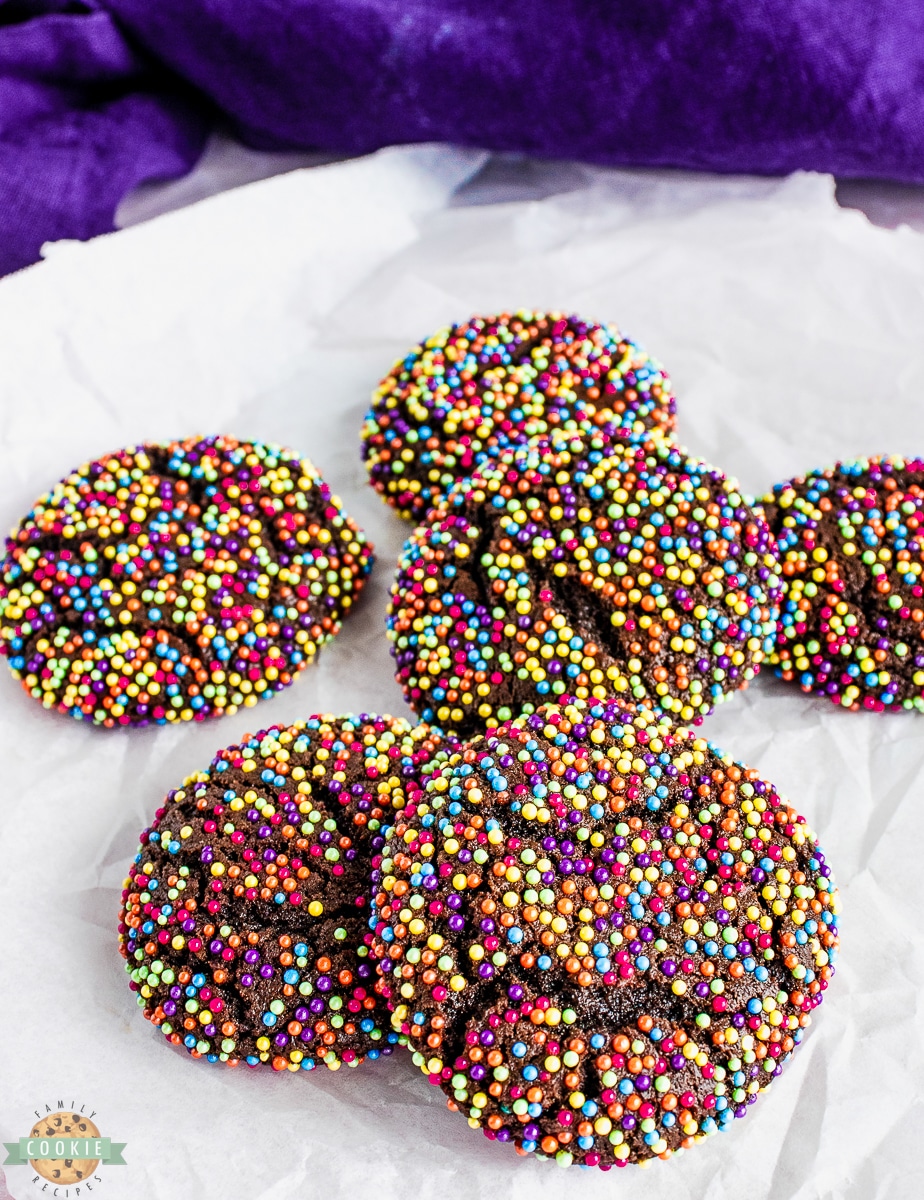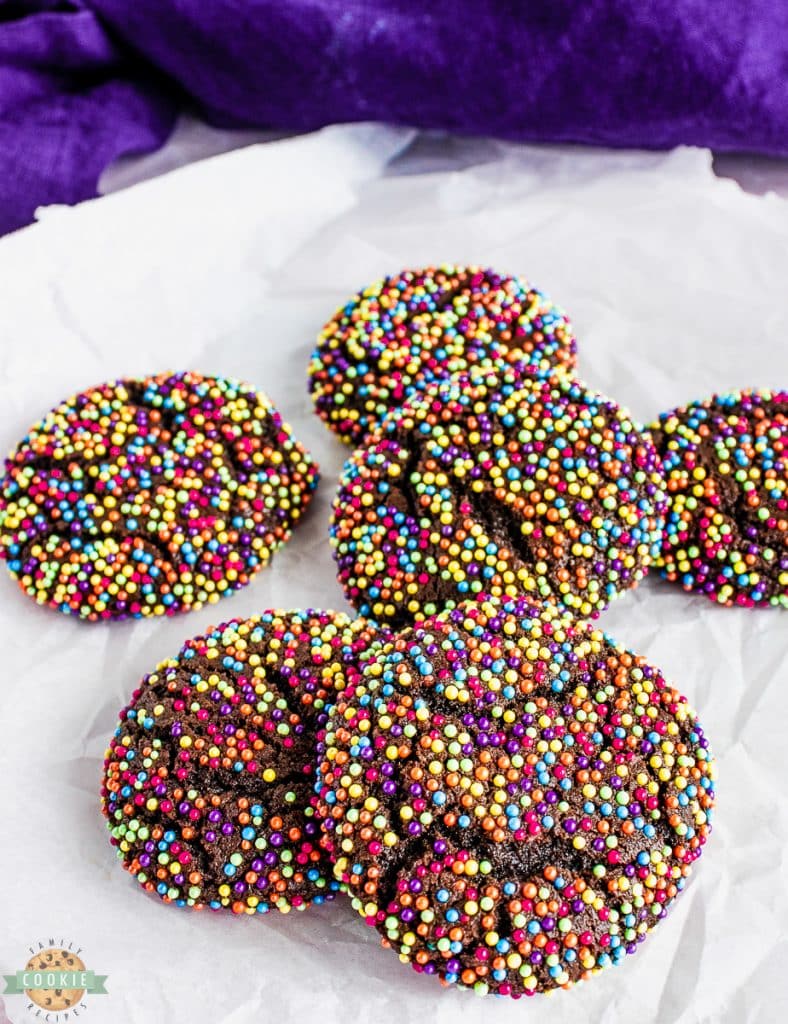 To make sprinkles cookies, all you need is a few simple ingredients such as butter, sugar, flour, and of course, sprinkles. This recipe for sprinkle cookies is easy to prepare and can be made in advance, so you can have fresh cookies whenever you want. With their simple yet delicious flavor, these cookies are a classic treat that everyone will love!
Sprinkle Cookies – Taste & Texture
Sprinkle cookies are a delightful treat that combines the sweetness of cookies with the crunchiness of sprinkles. These cookies are perfect for those who love a little bit of crunch in their desserts.
The taste and texture of sprinkle cookies is unique and interesting. These cookies are soft and chewy on the inside, with a slightly crunchy exterior due to the sprinkles. The sprinkles add a delightful crunch that complements the softness of the cookie. Chocolate sprinkle cookies have a sweet and buttery flavor that is enhanced by the addition of sprinkles. The sprinkles add a subtle sweetness and a hint of vanilla flavor to the cookies.
Whether you enjoy them with a glass of milk or as a snack on the go, sprinkle cookies are sure to satisfy your sweet tooth.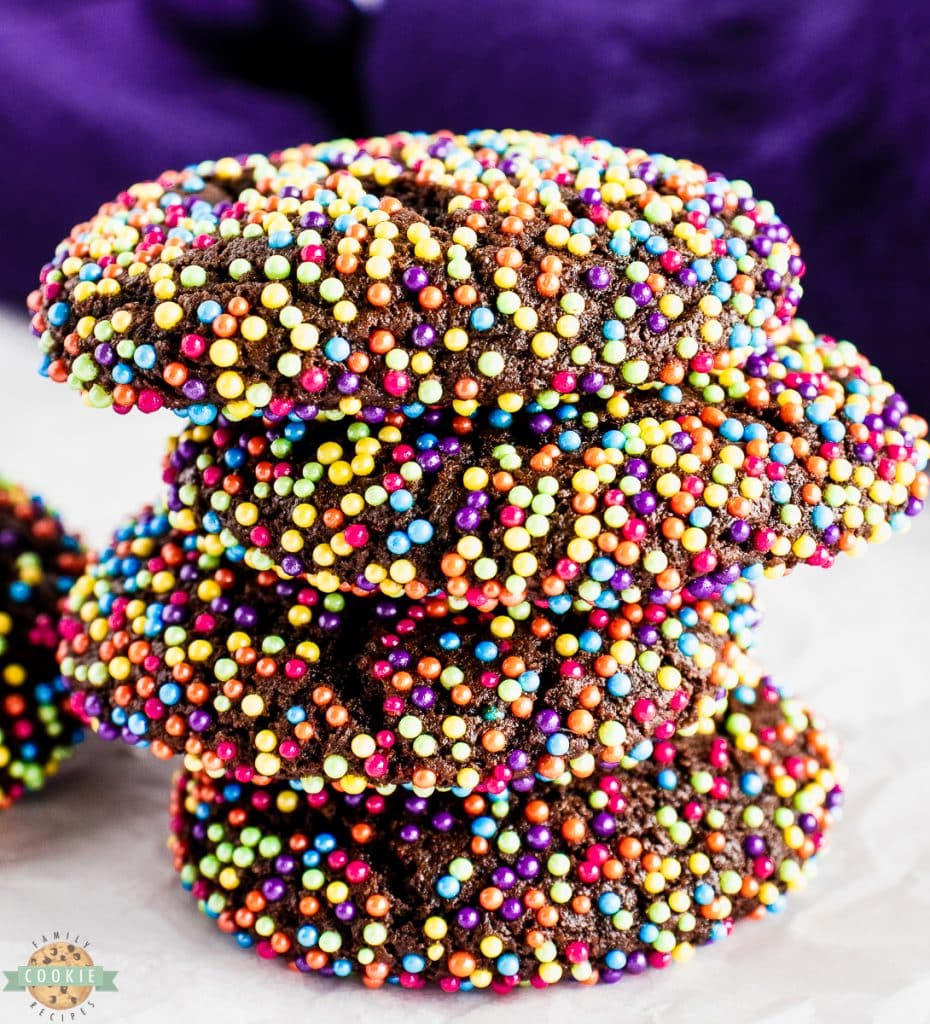 Why you'll LOVE this Easy Cookie Recipe
Minimal ingredients. You only need a couple of ingredients to make these cookies and most of them are simple pantry staple basics that you may already have on hand like flour, baking powder, and sugar.
No chilling is required. This dough is very fast to prep and assembles and requires no chilling at all, so you can enjoy a tasty cookie even more quickly.
They are customizable. Swap out the sprinkles for different color combinations and get an awesome cookie that is ready for any themed party, holiday, or occasion.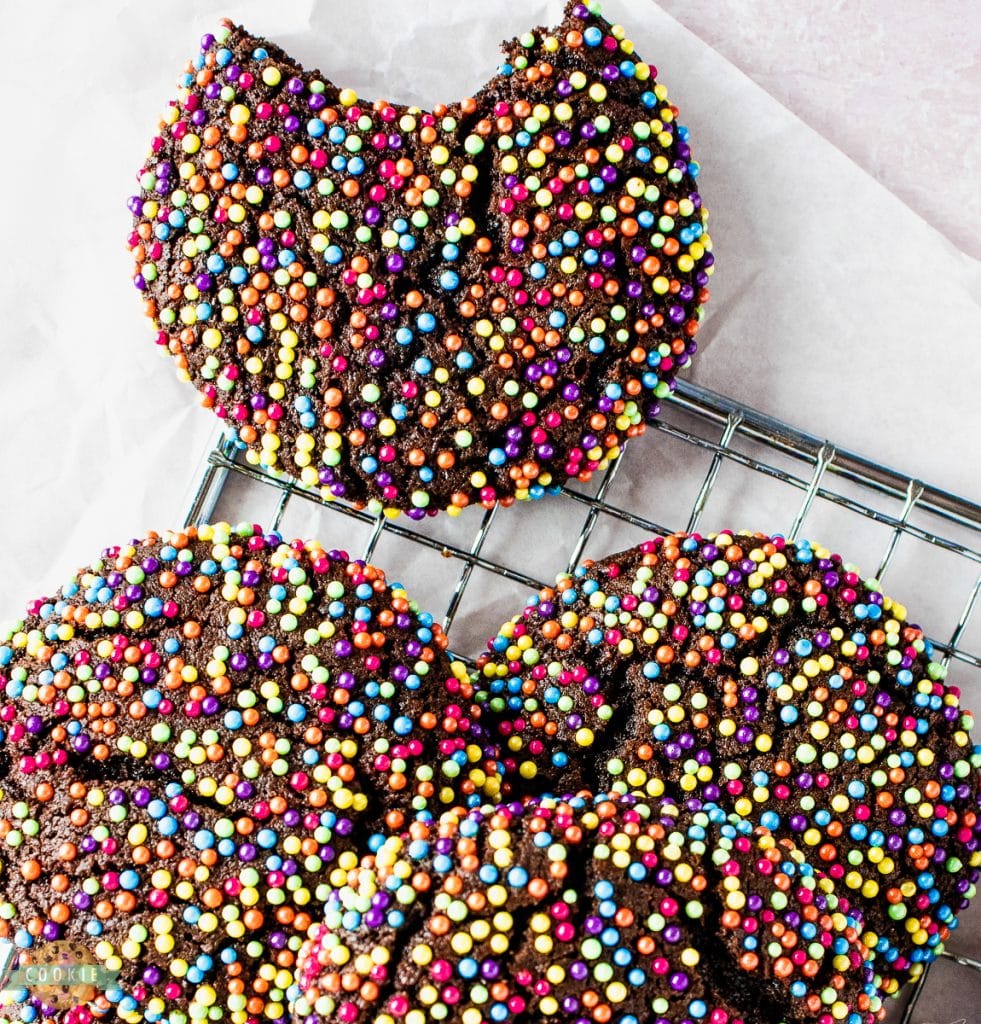 Chocolate Sprinkle Cookie Ingredients
Butter: You need ½ cup (one stick) of unsalted butter, room temperature, to create a nice rich taste.
Sugars: For sweet and chewy cookies, add in ½ cup each of brown sugar and granulated sugar. Make sure to pack the brown sugar to get as much as possible in your measurement.
Egg: Using 1 large egg will help bind the cookie dough ingredients together well.
Vanilla extract: Adding in 1 teaspoon of vanilla extract will enhance the flavor of the cookies.
Flour: Use 1 cup of all-purpose flour for the base of the dough. Make sure to use the scoop and level method so that you get the proper amount of flour or else your cookies may not turn out properly.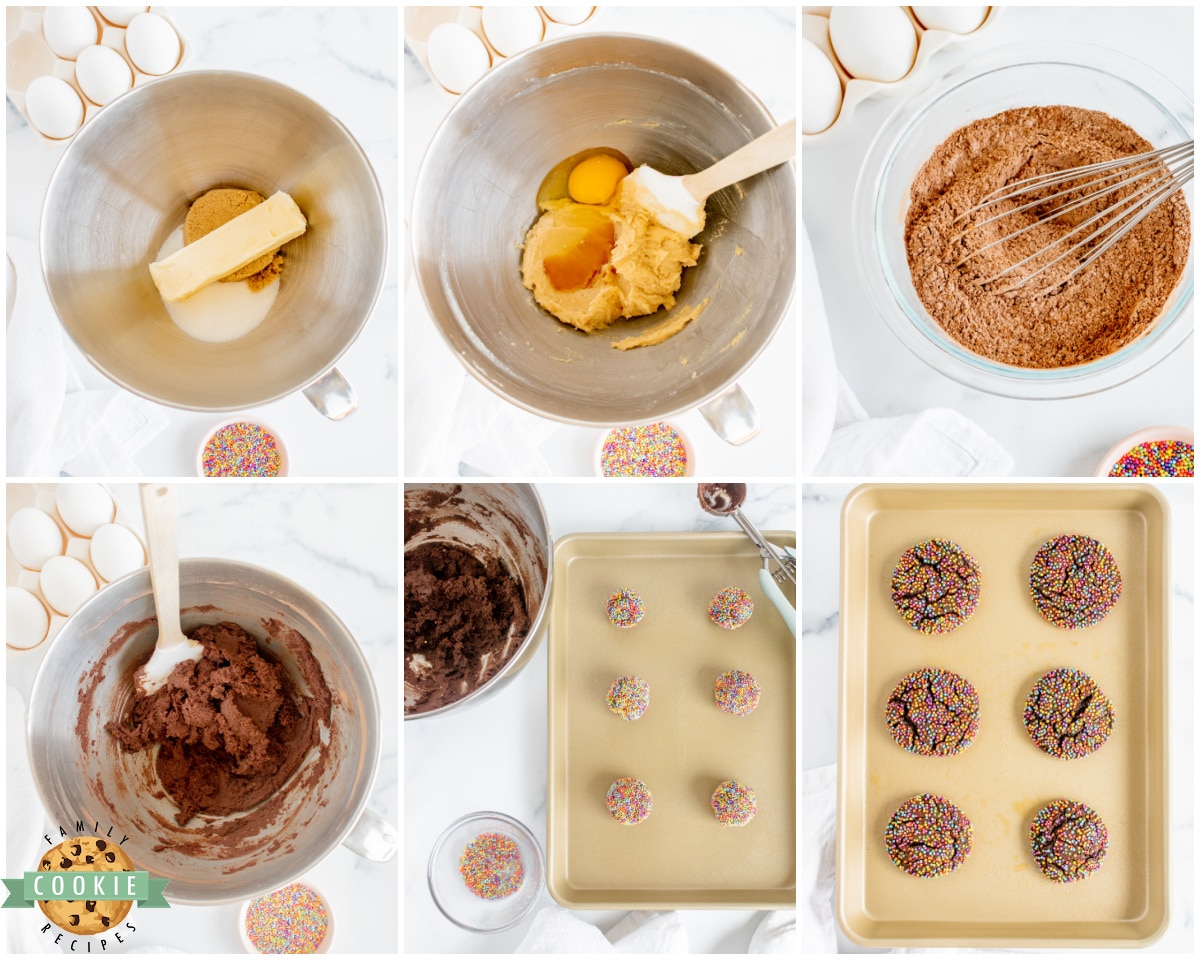 Cocoa powder: For delicious rich chocolate taste in every cookie, add in ½ cup of Cocoa powder.
Baking powder: ½ teaspoon of baking soda will leaven these cookies so they puff up nicely as they bake.
Salt: Use ¼ teaspoon of salt to balance all the flavors in the cookies.
Sprinkles: To cover all of the cookies you will need about ½ cup of your favorite sprinkles. I recommend sanding sugar or Jimmie sprinkles as they hold up best to baking without melting.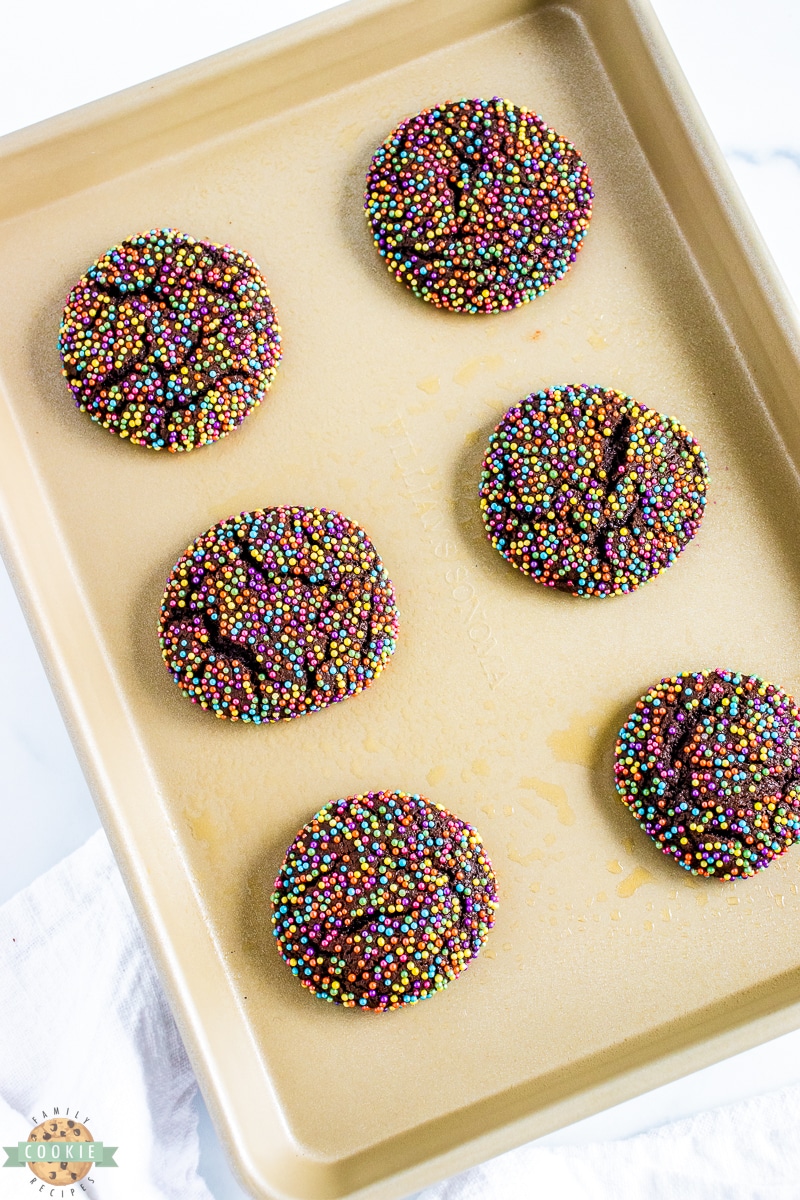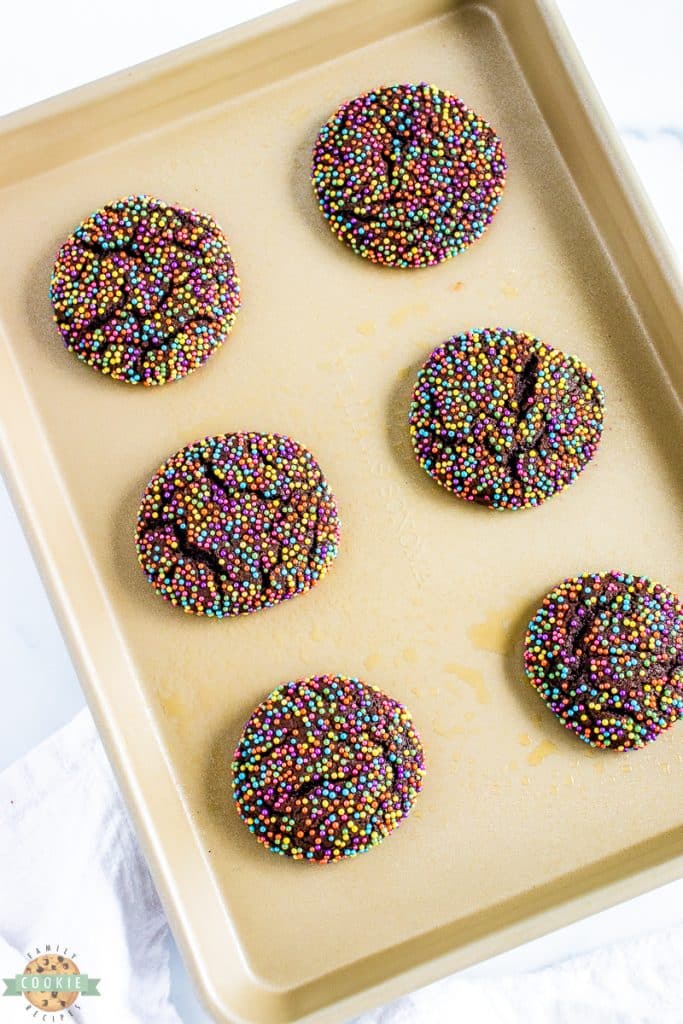 How to make Chocolate Sprinkle Cookies
Prep
To begin, preheat the oven to 350 degrees F and then spray two baking sheets with nonstick cooking spray or use silicon mats. Set the prepared baking sheets aside until needed.
Dough
In the bowl of a stand mixer, fitted with the paddle attachment, or in a large mixing bowl with an electric mixer, beat the butter and both sugars until light and fluffy. This should take about 3-4 minutes.
Next, add in the egg and the vanilla extract. Beat again for another minute until combined.
In a separate small bowl, whisk together the dry ingredients: flour, cocoa powder, baking soda, and salt.
Then, add the flour mixture to the butter mixture and mix on low speed until just combined. Be careful to not overmix, stir until just combined and no white flour is showing.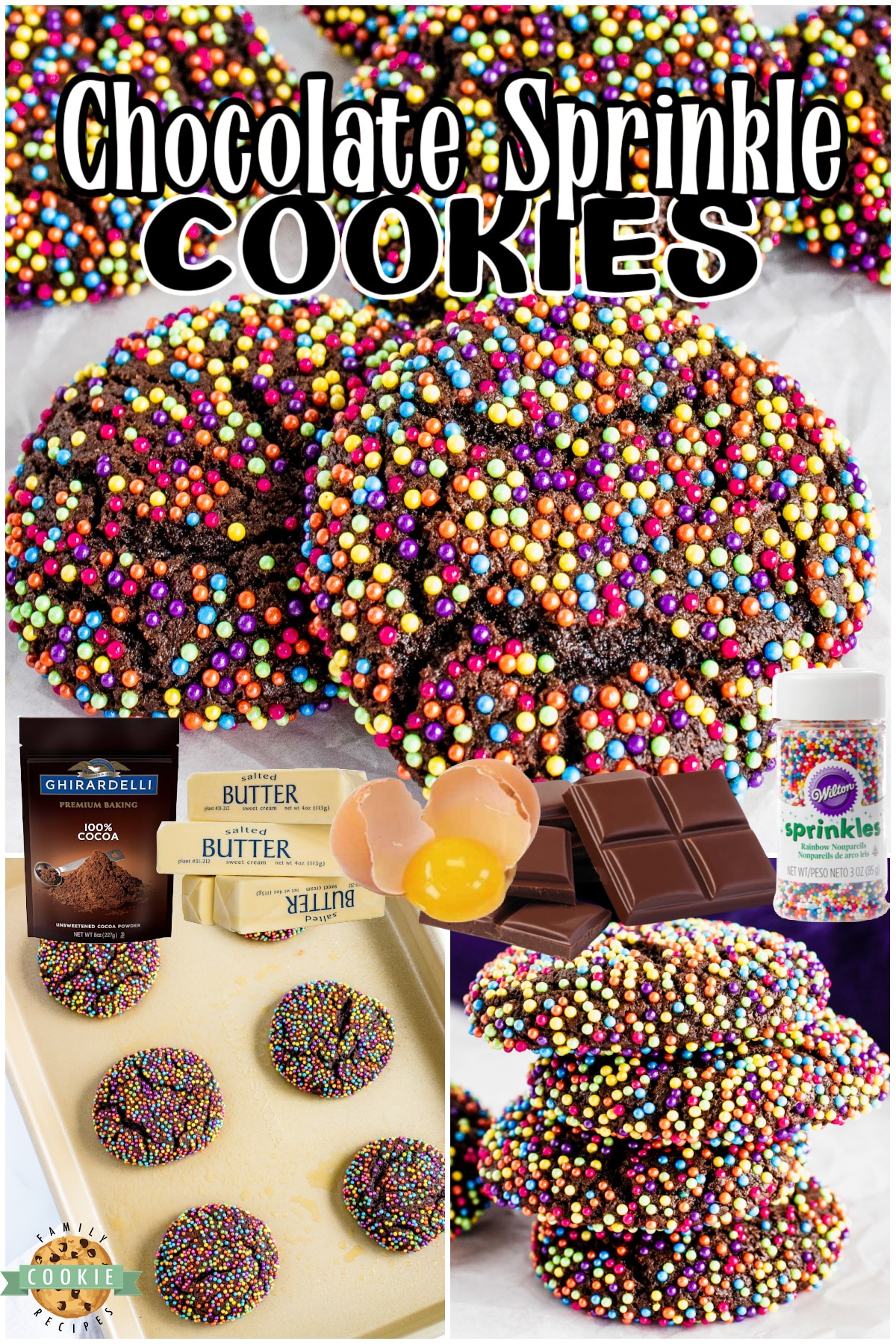 Scoop & Sprinkle
Use a 1 tablespoon-sized cookie scoop or measuring spoon to scoop out the dough and roll it into balls.
Proceed to pour the sprinkles into a small bowl, then roll the cookie dough balls into the sprinkles until well covered.
Place the cookie dough onto your prepared baking sheets.
Bake
Place the cookies in the preheated oven and bake for 11-13 minutes or until the edges of the cookies look firm.
Then, remove the cookies from the oven and allow them to cool for 10 minutes. Transfer to a wire rack to finish cooling completely.
Serve immediately and enjoy!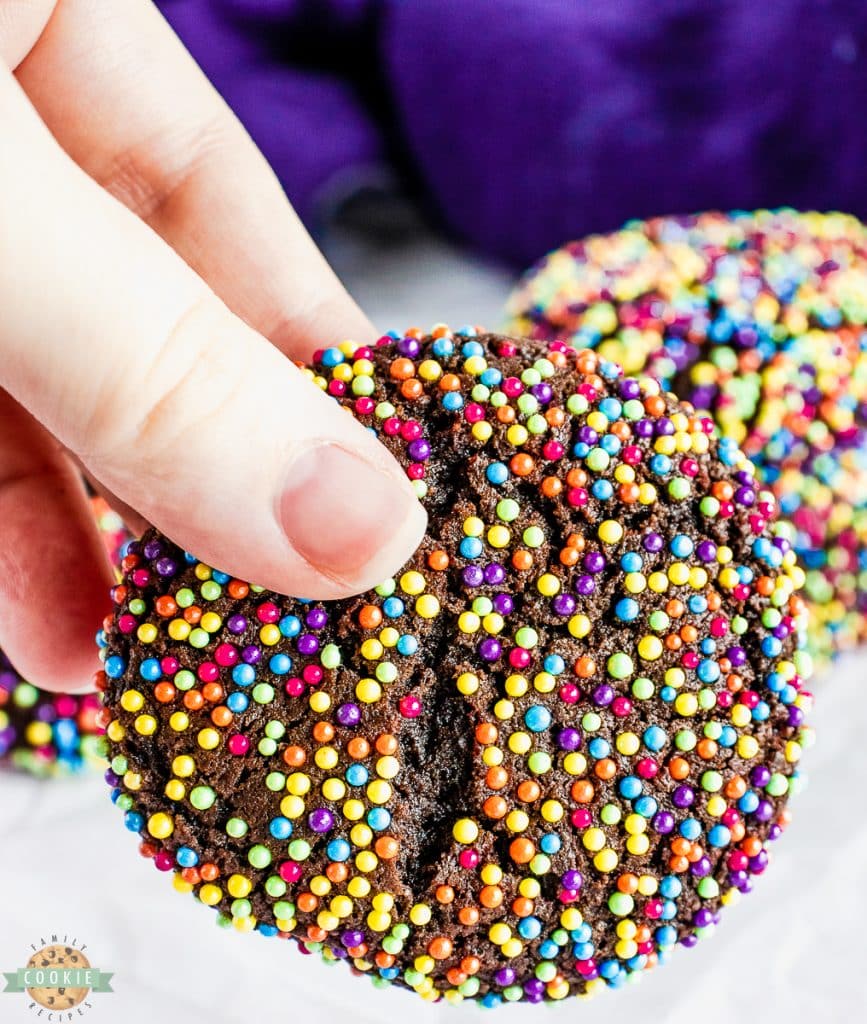 Variations of Chocolate Sprinkles Cookies
Dietary Variations: For those with dietary restrictions, there are several variations of Chocolate Sprinkles Cookies that can be made. For example, gluten-free flour can be used to make gluten-free Chocolate Sprinkles Cookies. Vegan butter and egg substitutes can be used to make vegan Chocolate Sprinkles Cookies. Sugar substitutes can also be used to make low-sugar Chocolate Sprinkles Cookies. These variations may alter the taste and texture slightly, but they still provide a tasty treat for those with dietary restrictions.
Fun Variations: For those who want to add a little extra fun to their Chocolate Sprinkles Cookies, there are several variations that can be made. For example, adding peanut butter to the cookie dough can create a delicious peanut butter and chocolate flavor combination. Adding chopped nuts or dried fruit can add a crunchy or chewy texture to the cookies. Using different colored sprinkles or adding edible glitter can make the cookies more festive and fun. These variations can add a unique twist to the classic Chocolate Sprinkles Cookies.
What is the scoop and level method?
The scoop and level method is also sometimes referred to as the "spoon and level method" because you are scooping flour from the container or bag, usually with a spoon, and then placing it into the dry measuring cup. After the cup has been filled a straight edge (like a butter knife) is then run over the top of the cup to make sure that the flour is level with the top of the cup.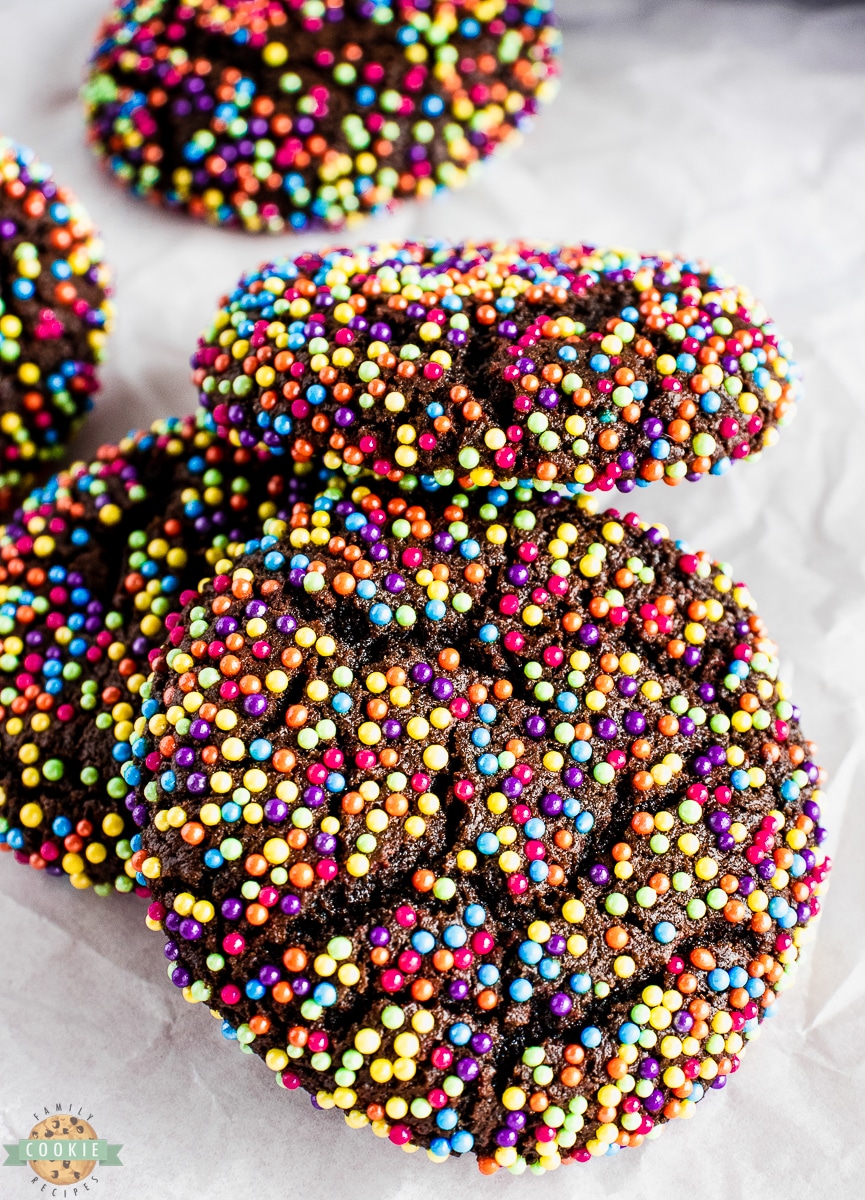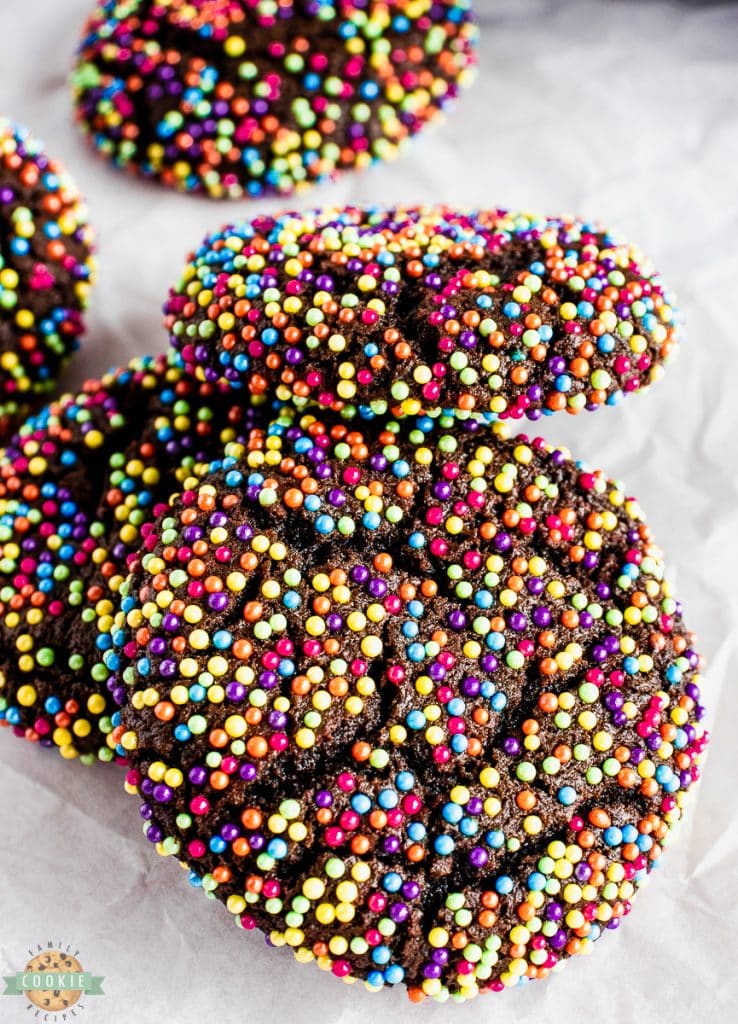 Why use the scoop and level method?
Measurements for ingredients may be the same but weight and volume is much more accurate, which is why most professional bakers or bakers overseas in the UK use weights instead of cup measurements like Americans and home bakers.
The scoop method may not be changing the weight of the flour but it does help to keep the flour from becoming compacted and causing dense results. If you were to weigh the same 1 cup measure of flour using the scoop and level method vs other methods, you'll see the weight changes based on how much flour is filling the cup.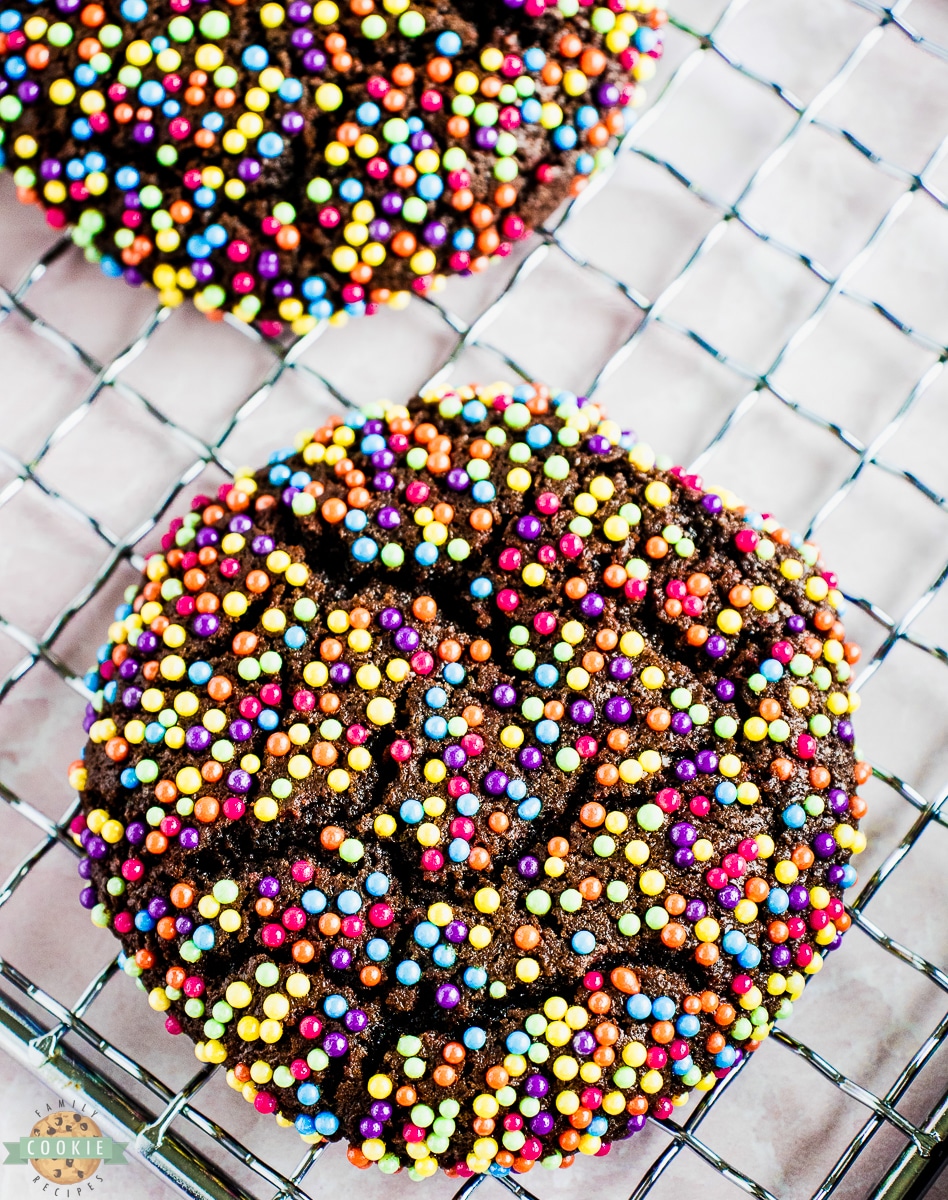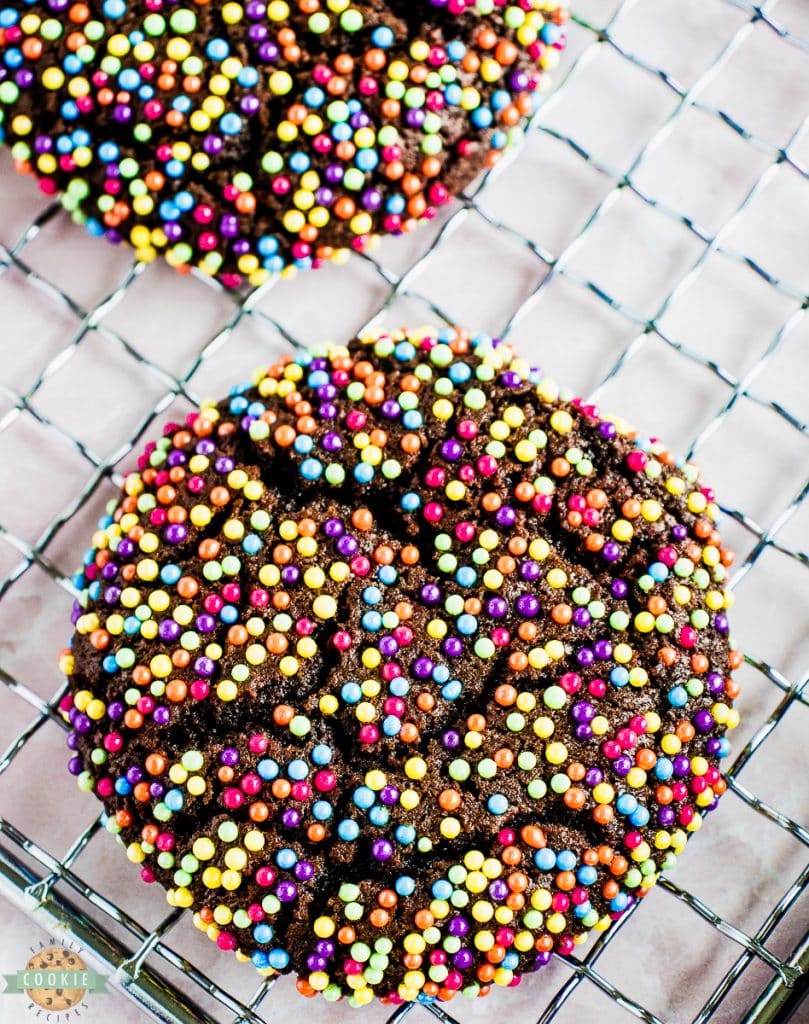 How long are chocolate sprinkle cookies good for?
Chocolate sprinkles cookies can be stored in an airtight container at room temperature for up to one week. For longer storage, they can be frozen for up to three months. When freezing, it is recommended to separate layers of cookies with parchment paper to prevent sticking.


Hurrah for impromptu family photos! I used my tripod and camera timer for this one. Not too bad! It's crazy how much these kids have grown in the past year. Some big changes coming to our family soon as my oldest leaves the nest!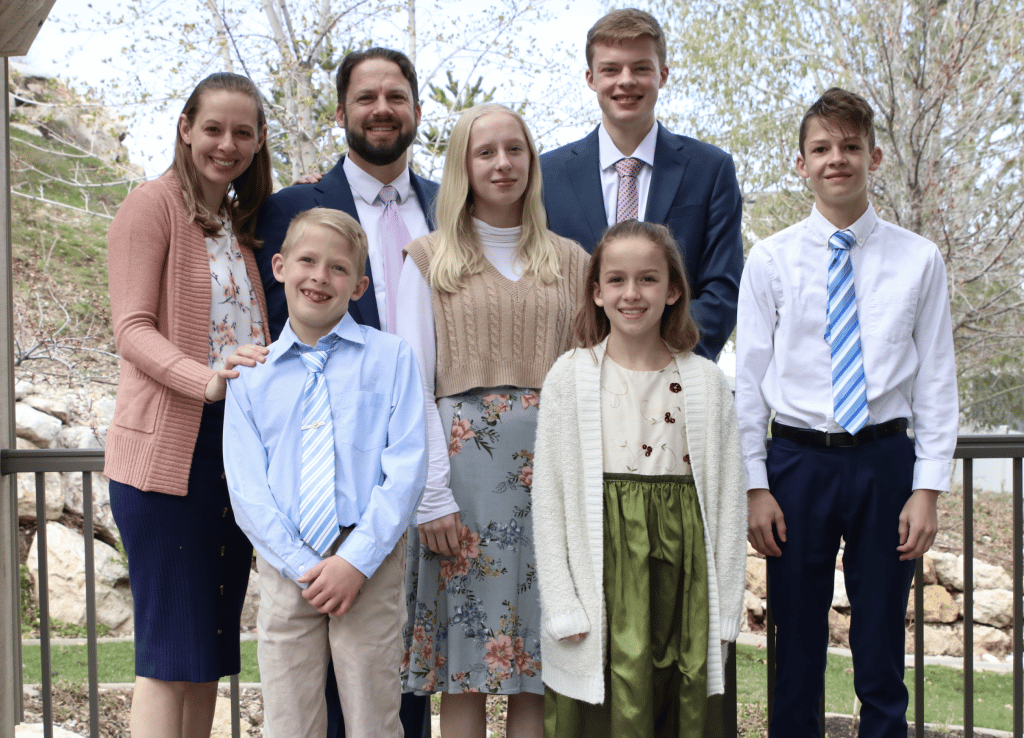 Chocolate Sprinkles Cookies are a homemade cookie, covered in colorful sprinkles and are as pretty as they are tasty! These chocolate sugar cookies are made with basic ingredients and the results are an absolutely sensational treat!