German Chocolate Cookies made from scratch with a double chocolate cookie that is topped with a creamy coconut pecan topping and a chocolate drizzle.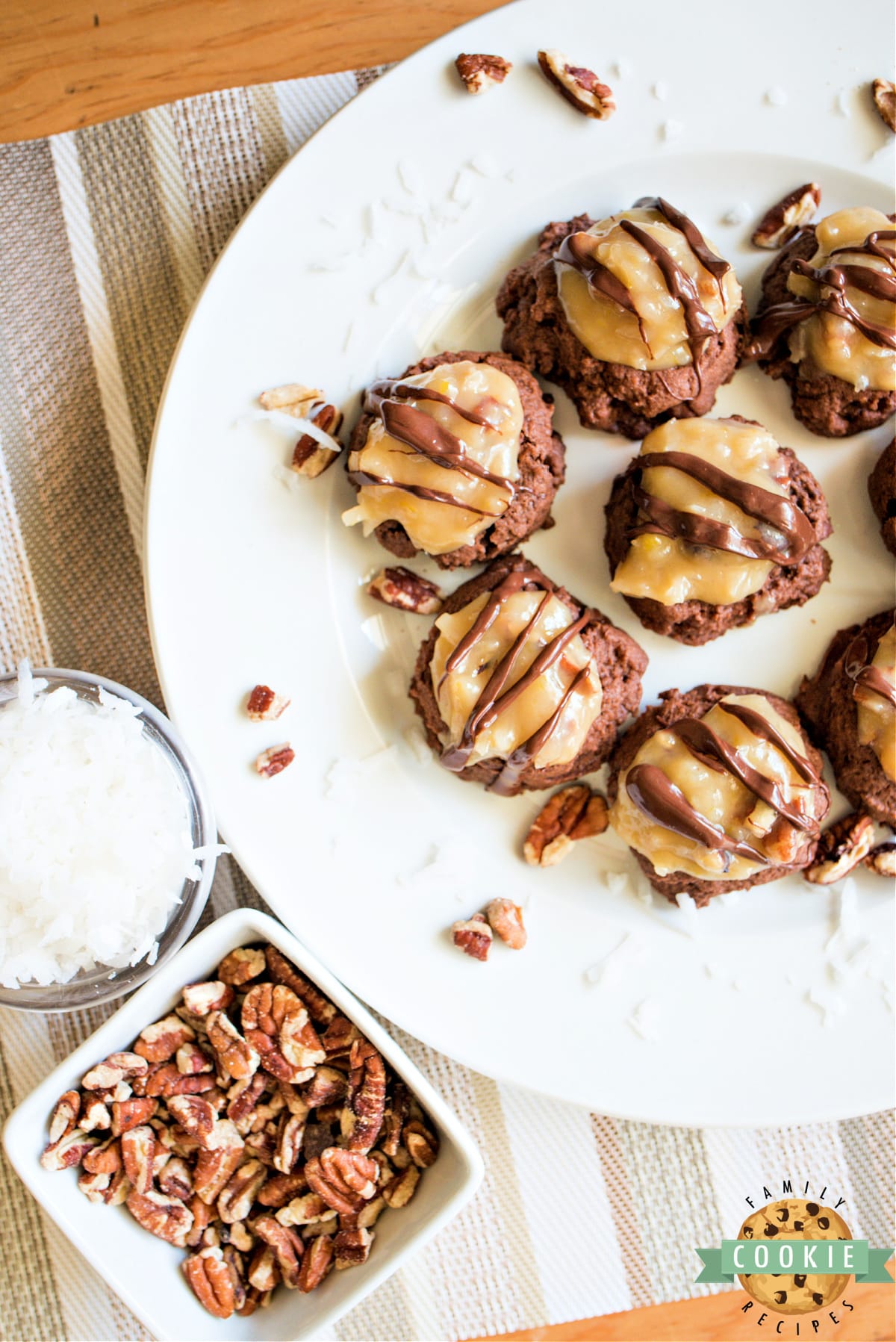 Have you ever had German Chocolate Cake? German chocolate cake is essentially chocolate cake that is topped with a very unique "frosting." Instead of a typical buttercream icing, this frosting is more of a custard-like topping that is made with egg yolks, evaporated milk, coconut and pecans.
GERMAN CHOCOLATE COOKIES
German chocolate cookies are very similar to the cake after which they are named. They are soft and chewy chocolate cookies made from scratch with chocolate chips in them. The topping is made with egg yolks, evaporated milk, butter, sugar, shredded coconut and chopped pecans. Just like classic German chocolate cake!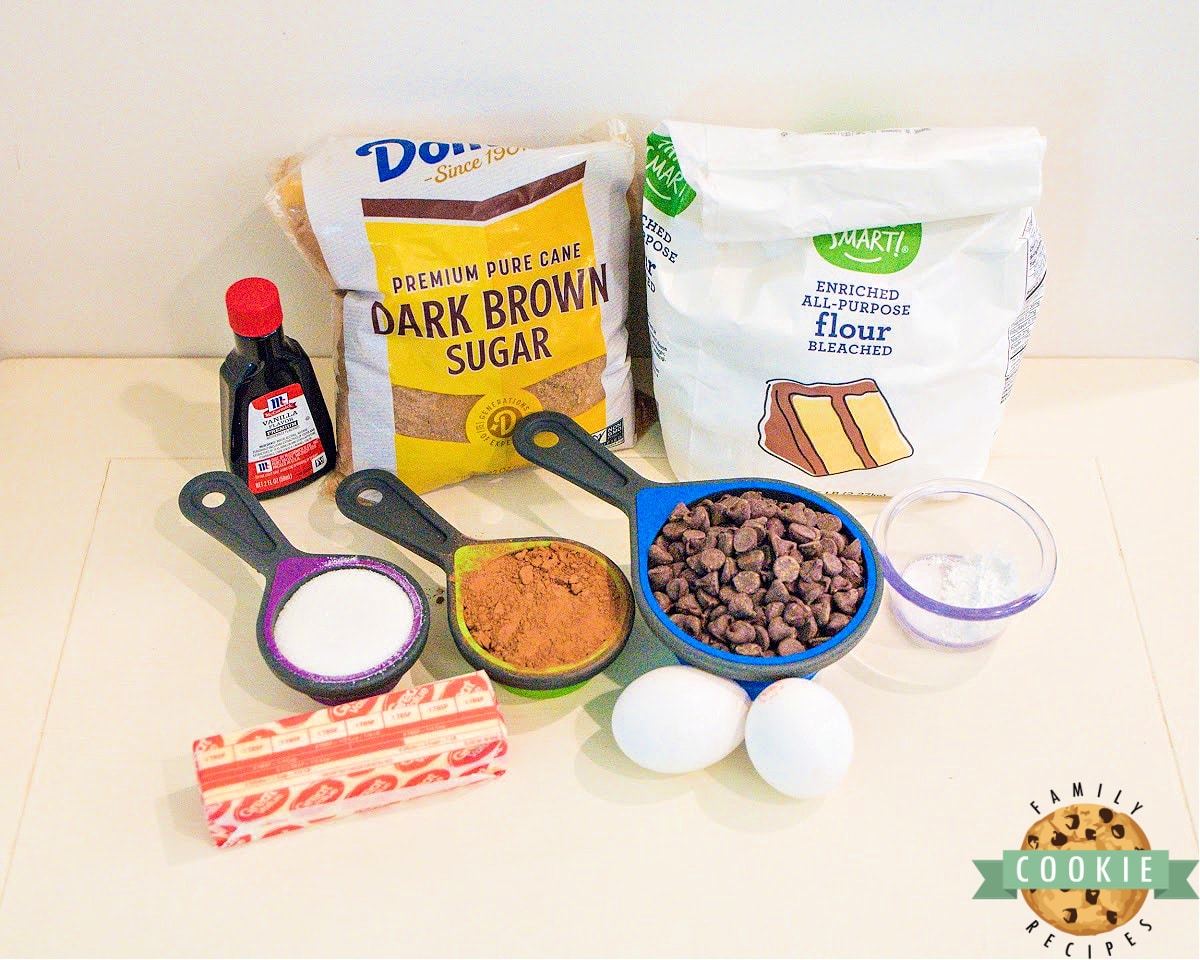 Ingredients in German Chocolate Cookies
Flour – All purpose flour works best in these cookies. Cake flour also works well.
Cocoa powder – You will need 1/3 cup of unsweetened cocoa powder to give the cookies a rich, chocolate flavor.
Baking powder – This is the leavening agent in the cookies so make sure your baking powder isn't old or expired.
Salt – Just 1/4 teaspoon of salt helps to bring out the other flavors in the cookies.
Butter – You'll need 1/2 cup (one stick of butter) for the cookies. Make sure it is softened to room temperature before mixing with the sugars.
Brown sugar – Most cookies require light brown sugar, but this recipe calls for dark brown sugar. This gives the cookies a richer flavor. If you only have light brown sugar on hand, it will still work but the flavor will be a little different.
Sugar – Just 1/4 cup granulated sugar will add a little extra sweetness to the cookies.
Eggs – You just need 1 large egg and another egg yolk to bind everything together.
Vanilla extract – The higher the quality of the vanilla, the better!
Chocolate chips – A cup of semi-sweet chocolate chips adds even more chocolate to the cookies. You can't have too much chocolate, right?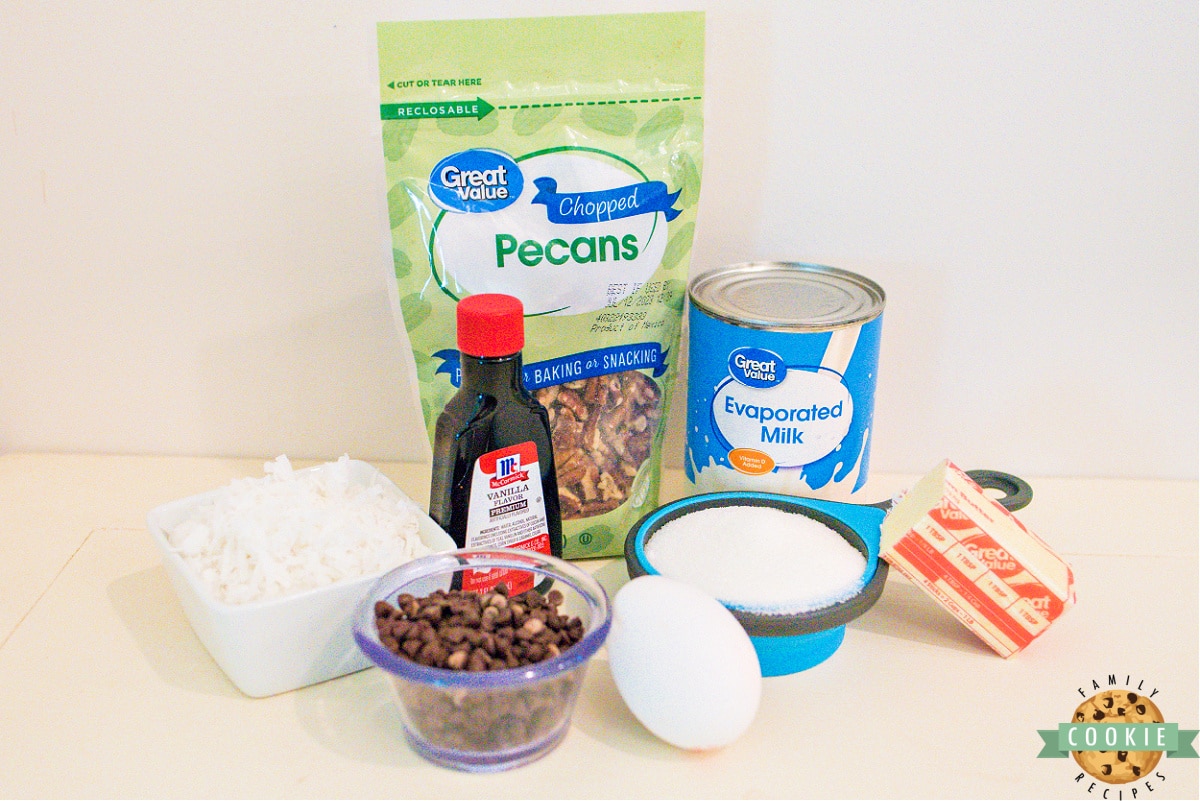 For the topping:
Evaporated milk – You will need 1/2 cup of evaporated milk to provide the liquid for the topping.
Granulated sugar – A 1/2 cup of sugar will sweeten up the topping perfectly.
Egg yolk – You will need 1 egg yolk. Don't worry about consuming raw eggs, you will be cooking the yolk with the other ingredients.
Butter – Just a half stick of butter adds a lot of flavor and creaminess too.
Vanilla extract – The higher the quality of the vanilla, the better.
Coconut – Can't have German Chocolate cookies without the shredded sweetened coconut.
Pecans – Just a 1/2 cup of chopped pecans add the perfect crunch to the topping.
Semisweet chocolate chips – You will need 2 ounces (1/4 cup) of semi-sweet chocolate chips to melt and drizzle over the top of the cookies.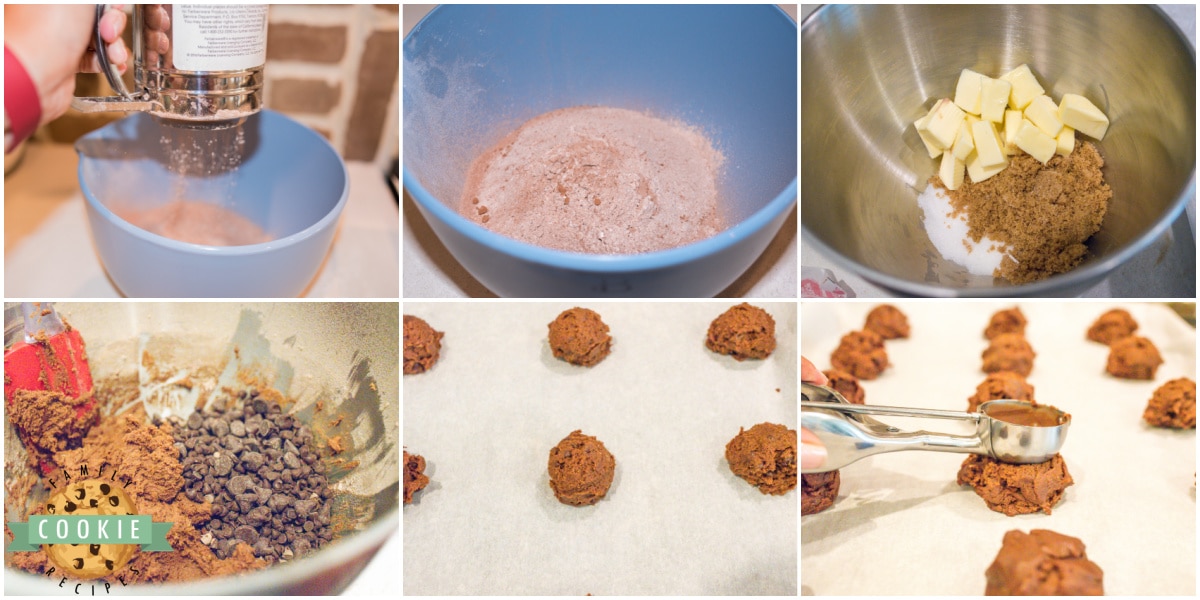 How to make German Chocolate Cookies
Preheat the oven to 350°F. Line two baking sheets with parchment paper or silicone baking mats.
In a medium bowl, sift together the flour, cocoa powder, baking powder, and salt.
In the bowl of an electric mixer, beat the butter, brown sugar, and granulated sugar on medium-high speed until well combined and smooth (at least 2-3 minutes). Add the egg, egg yolk, and vanilla and beat until combined. On low speed gradually add the flour mixture. Fold in the chocolate chips with a rubber spatula.
Using a medium cookie scoop, drop the dough by 1.5 tablespoon rounds onto the prepared baking sheets. Using the cookie scoop, press indentions into the cookies to allow for the topping at the end. The indentions can be made before they are cooked or after they come out of the oven.
Bake for about 10 minutes, or until the cookies are set. Let cool on baking sheets for 10 minutes before removing the cookies to wire racks to cool completely. If the indentions on top aren't visible after baking, you can use the back of the cookie scoop to lightly press the hot cookies and re-make them.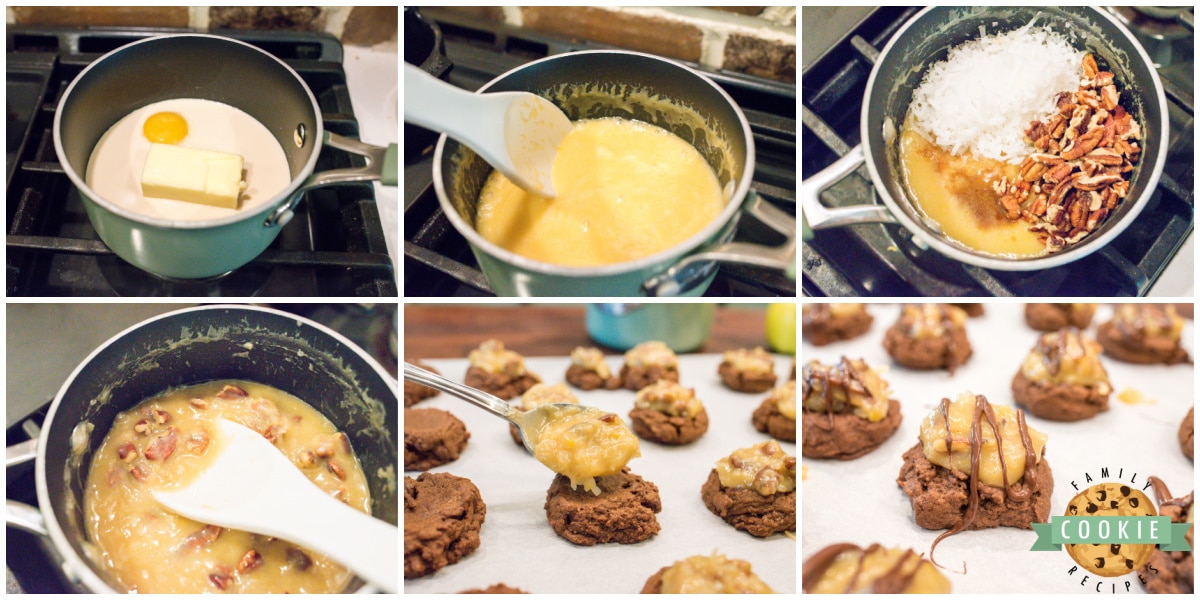 For the topping: In a small saucepan set over medium heat, combine the milk, sugar, egg yolk, and butter. Cook, stirring frequently, until the mixture has thickened, about 10 minutes. Remove from heat and stir in the vanilla, coconut, and pecans. Let cool until thick enough to spread on top of the cooled cookies.
Drizzle the melted chocolate all over the cookies. (To melt the chocolate chips, put them in small bowl and microwave for 30 seconds before stirring. Microwave for 15 more seconds and stir again until smooth.)
Let everything set for at least 15 minutes before serving. Cookies are best served the day they are made.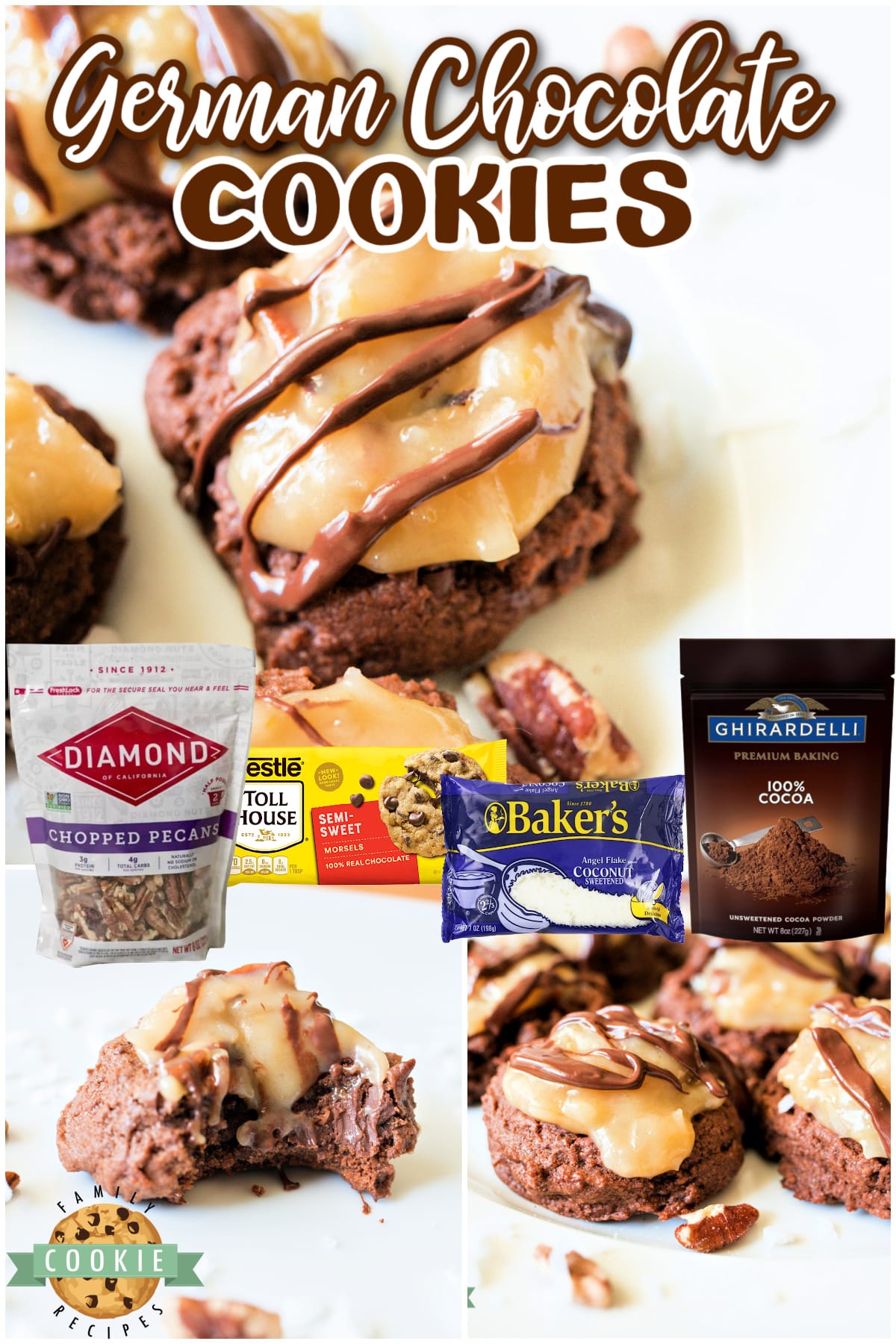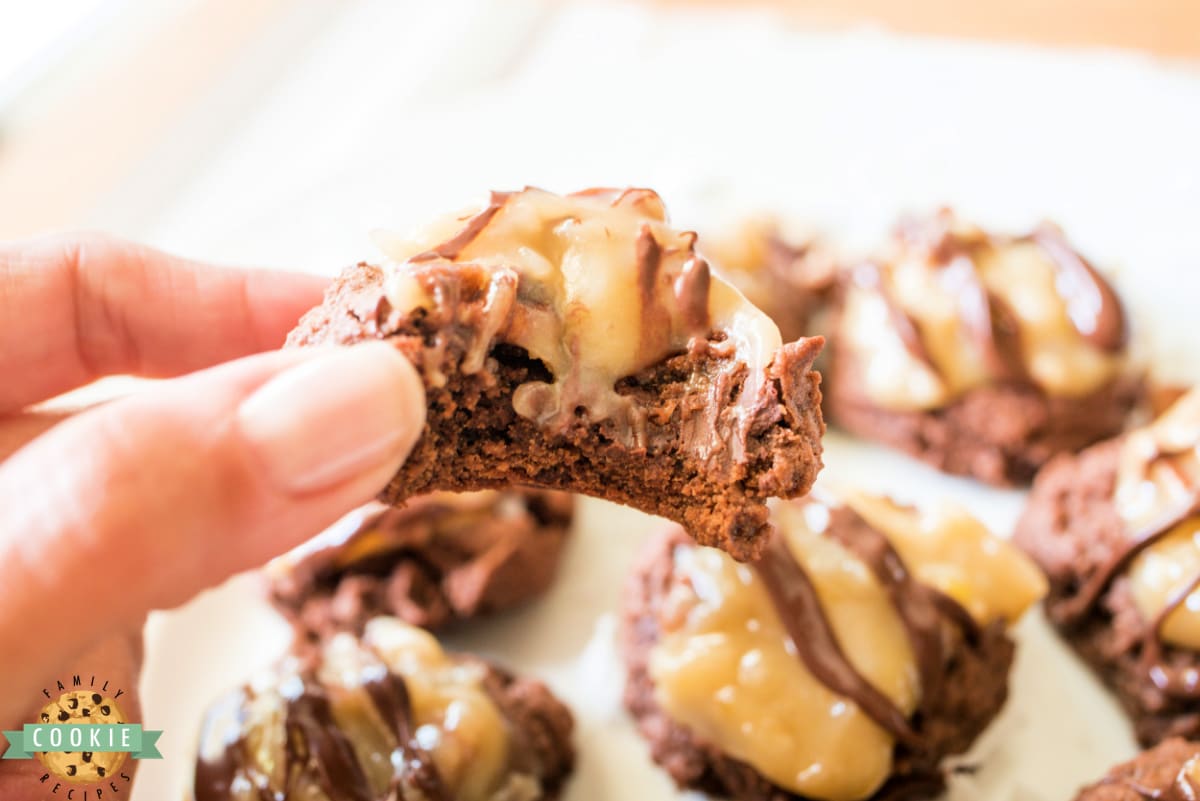 HOW DO YOU MAKE PERFECT GERMAN CHOCOLATE COOKIES?
Making German Chocolate cookies is easy! Here are a few tips to getting perfect cookies every time!
Make sure you use softened butter – DON'T melt it! One of the most common errors in cookie making is using butter that is either really cold and hard, or using butter that is too warm and melted. If you have time, just leave butter out on the counter for about 1-2 hours before making your cookies. If you are like me and don't plan your cookie cravings that far in advance, just place the butter in your microwave and soften in 5 second intervals, being very careful to pull it out before it melts. I actually like to use the defrost setting on my microwave to soften butter- I don't know the technical reasons behind it, but it seems to soften the butter more evenly and takes a little bit longer so I'm less likely to start melting it! 
Most cookie recipes require that you mix the dry ingredients separately before adding the wet ingredients. This is an important step!
Spend a little extra time when you mix the butter and sugars. Creaming them together for 2-3 minutes will improve the consistency of your cookies.
Preheat the oven. This will help your cookies turn out right every time!
Use a cookie scoop! If you want all your cookies to be perfectly shaped and have them all be the same size, a cookie scoop is the way to go.
Use parchment paper or a silicone baking mat. Doing this will make it really easy to remove the cookies from your cookie sheet so that you don't have to scrape them off the pan – they will just slide right off in perfect shape!
Don't over bake the cookies – when I take mine out of the oven, they still look slightly under baked but they will continue to bake on the cookie sheet for a couple more minutes so that's ok!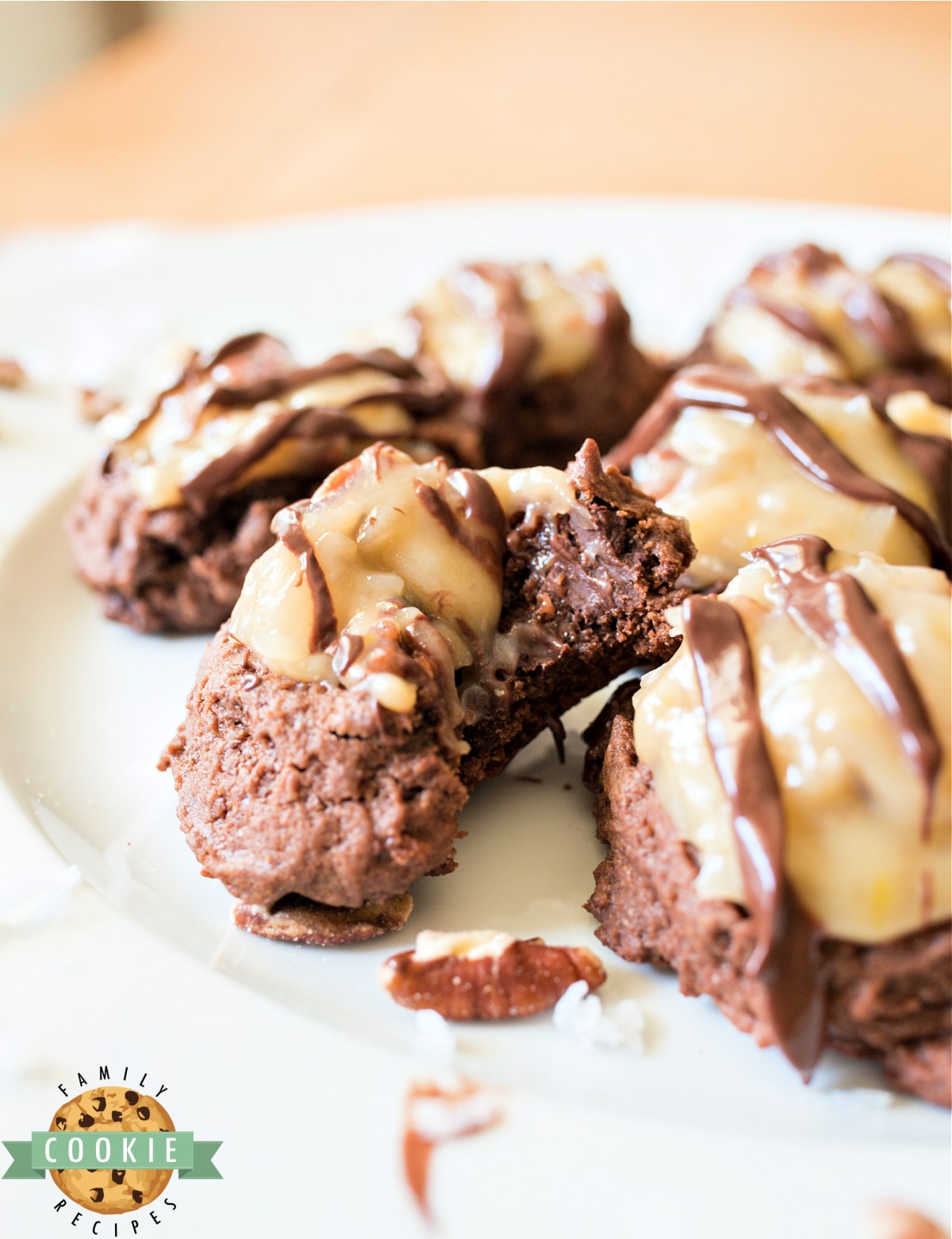 MORE CHOCOLATE COOKIE RECIPES THAT WE LOVE: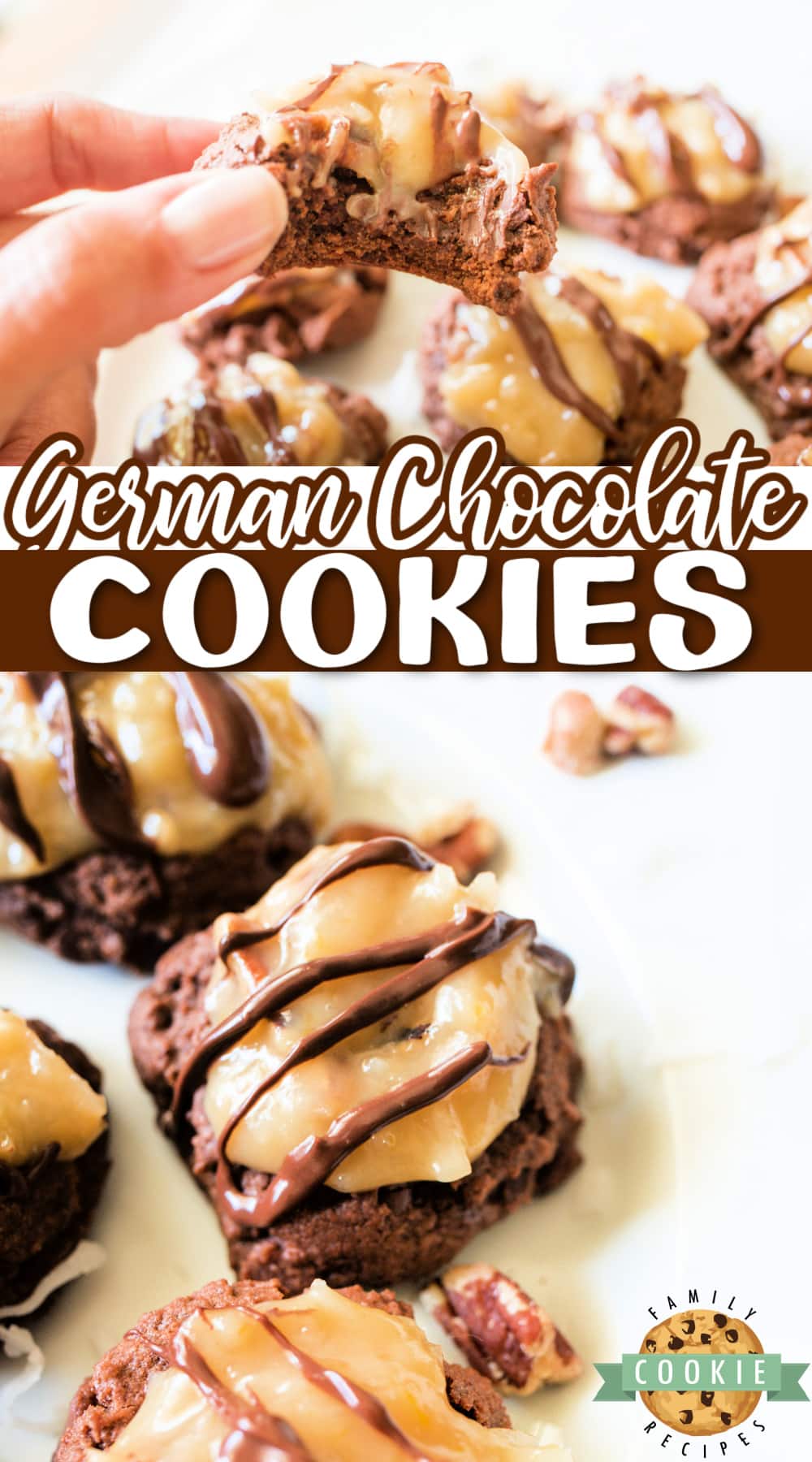 German Chocolate Cookies made from scratch with a double chocolate cookie that is topped with a creamy coconut pecan topping and a chocolate drizzle.



A couple of weekends ago, we went on a Saturday drive to Bryce Canyon. I have lived in Utah for many years and had never gone! I had no idea how amazing the view would be, and we had a great time doing a short, easy hike around part of the rim of the canyon. Little Miss B absolutely loved it, even though it was a long drive. She thought it was hilarious when we told her that the rock formations are called "hoo-doos." She kept saying "hoo-doo" over and over again and kept laughing every time. We aren't really big on hiking and nature, but every time we do something like this, I feel like we should do it more often.