Chocolate Cheesecake Cookies made with cream cheese & chocolate! Everything you love about cheesecake, in cookie form! Soft & chewy cheesecake cookies with 2x the chocolate!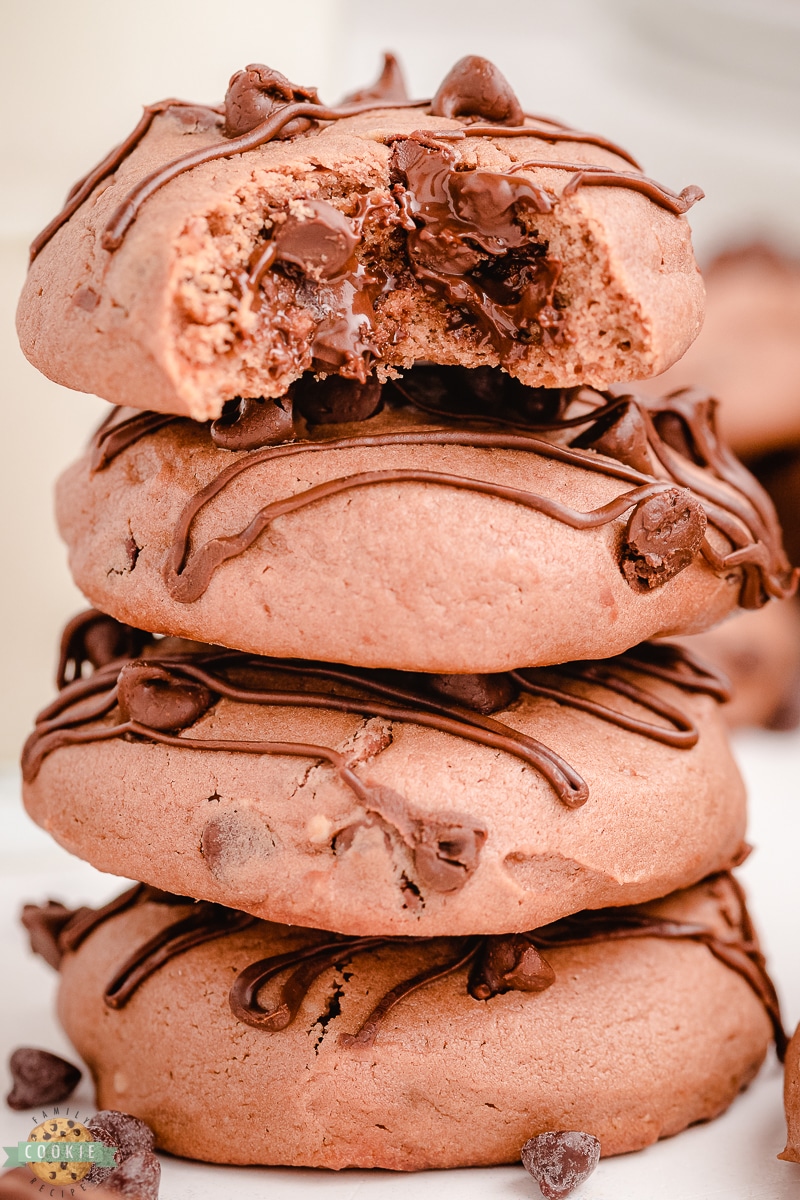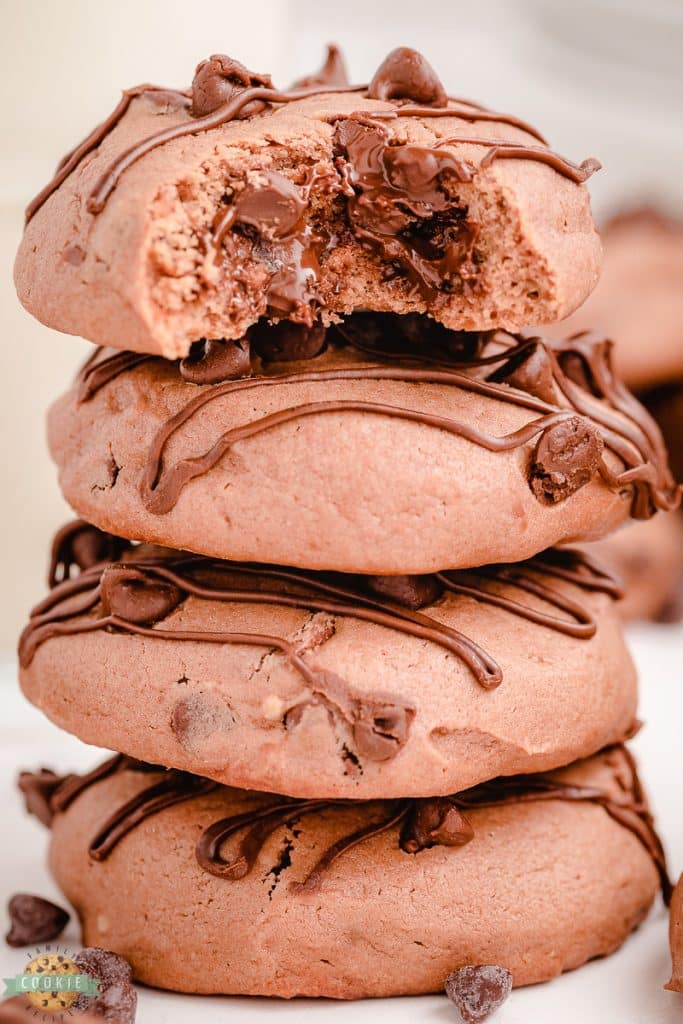 Every bite of these chocolate chip cheesecake cookies is a decadent treat that is perfect for the chocolate lovers in your life. This cheesecake cookie recipe is great for many occasions and are sure to be a huge hit with your family and friends, just watch how quickly they disappear!
Chocolate Cream Cheese Cookies
These are some of the best chocolate cookies that you will ever make. They are made to be soft, thick, and fluffy, every bite is simply divine. If you love fudgy cookies, then you are going to LOVE these cookies. Cheesecake cookies give you all the classic tastes of a chocolate chip cookie. But with the added cream cheese in the dough they give the creaminess of the other classic and favorite cheesecake dessert.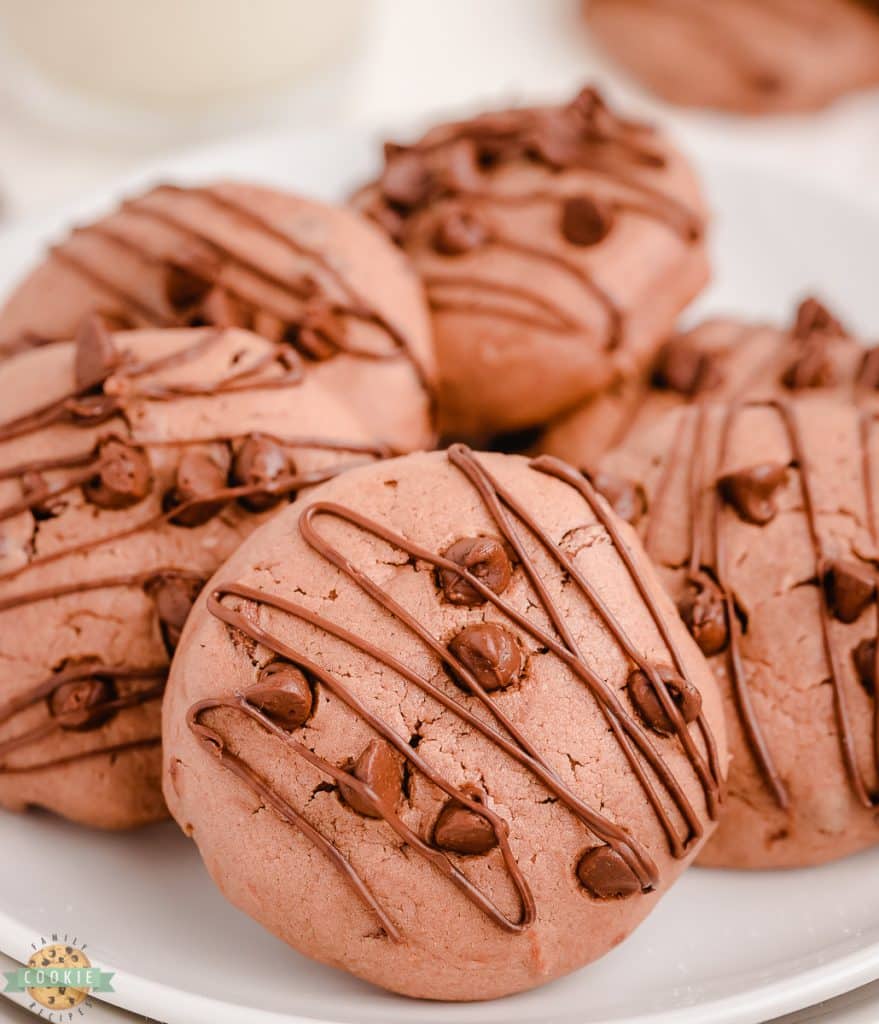 Why we think you will love this delicious cookie recipe!
There are so many incredible reasons to love this recipe but here are three reasons that we think you're going to enjoy:
They are so soft. We use cream cheese as an ingredient not just to make these cookies rich in taste but also to make the dough in the cookies much lighter and softer too. This also keeps the dough from spreading out too far while they bake.
No chilling is required. Unlike many other cookie recipes, this one does not require any chilling so you can bake your cookies and eat them even more quickly. Perfect for those of us with little patience when it comes to cookies.
They are filled with chocolate! Need I say anything more? From the chocolate-flavored cookie to the chocolate chips studded throughout, these cookies are packed with rich chocolate taste.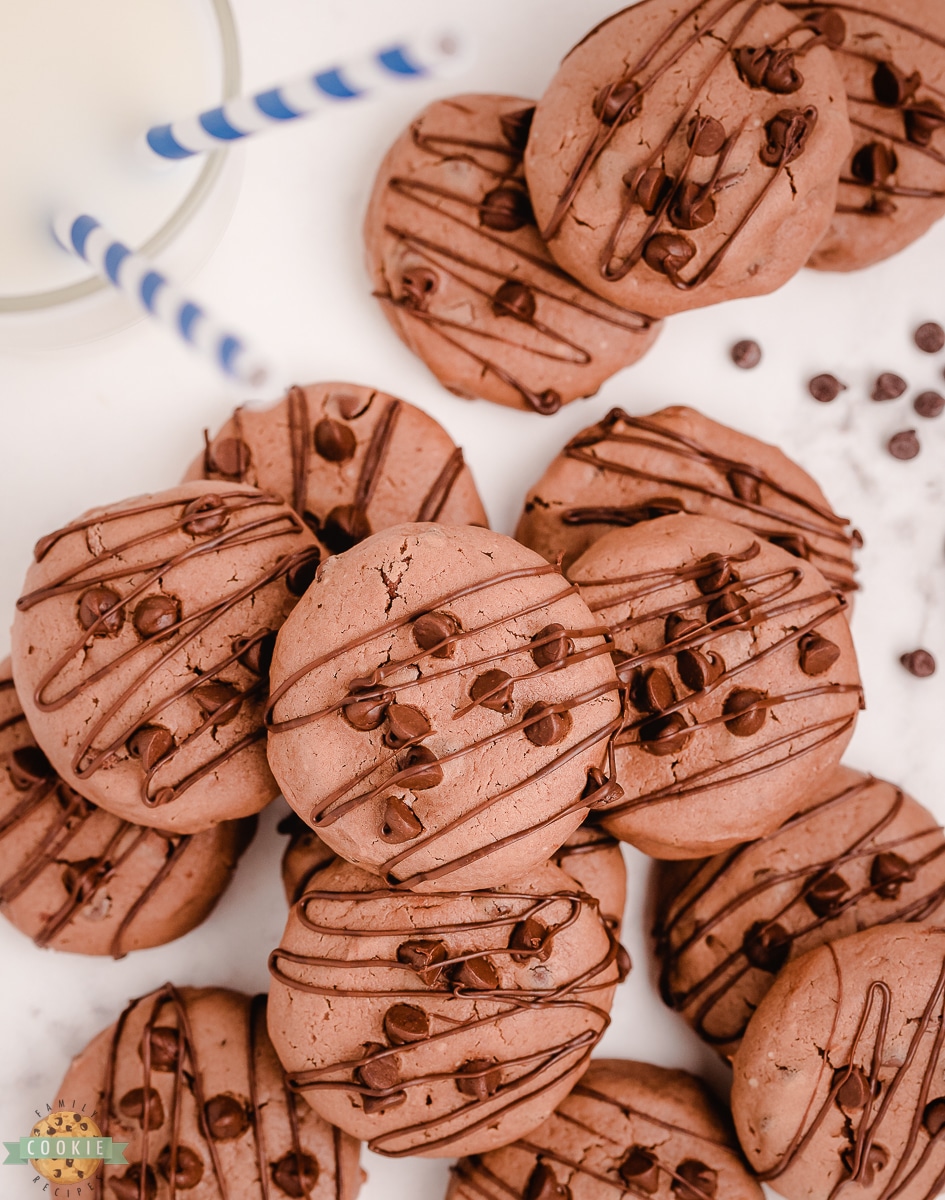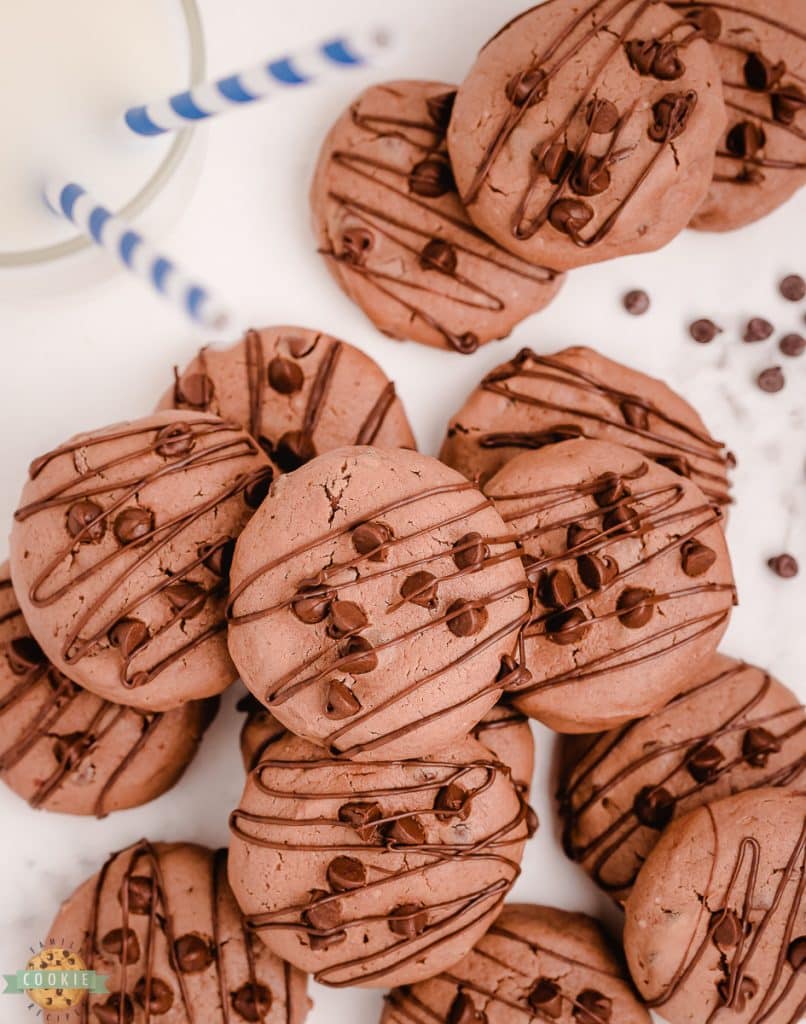 Chocolate Chip Cheesecake Cookies Ingredients
Butter: You will need ½ cup of softened salted butter to make these cookies richer in taste.
Cream cheese: Adding in 1 8-ounce package of cream cheese will give them the desired rich cheesecake flavor.
Milk: Use ¼ cup of milk to moisten the dough to the correct consistency.
Sugar: Adding 1 ½ cups of granulated sugar to the cookies will make them sweet and chewy.
Eggs: You will need 2 eggs to bind the cookie dough together well.
Cocoa powder: Adding ⅓ cup of cocoa powder will make the cookies rich in chocolate taste.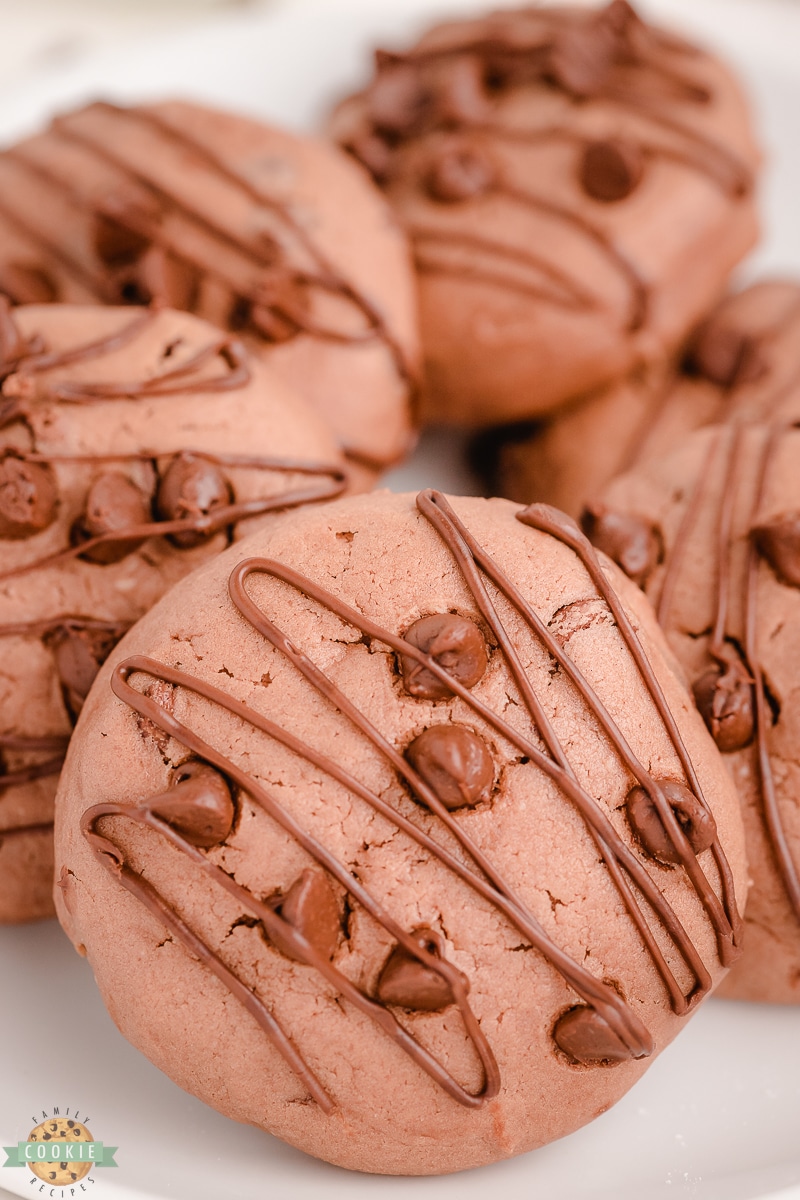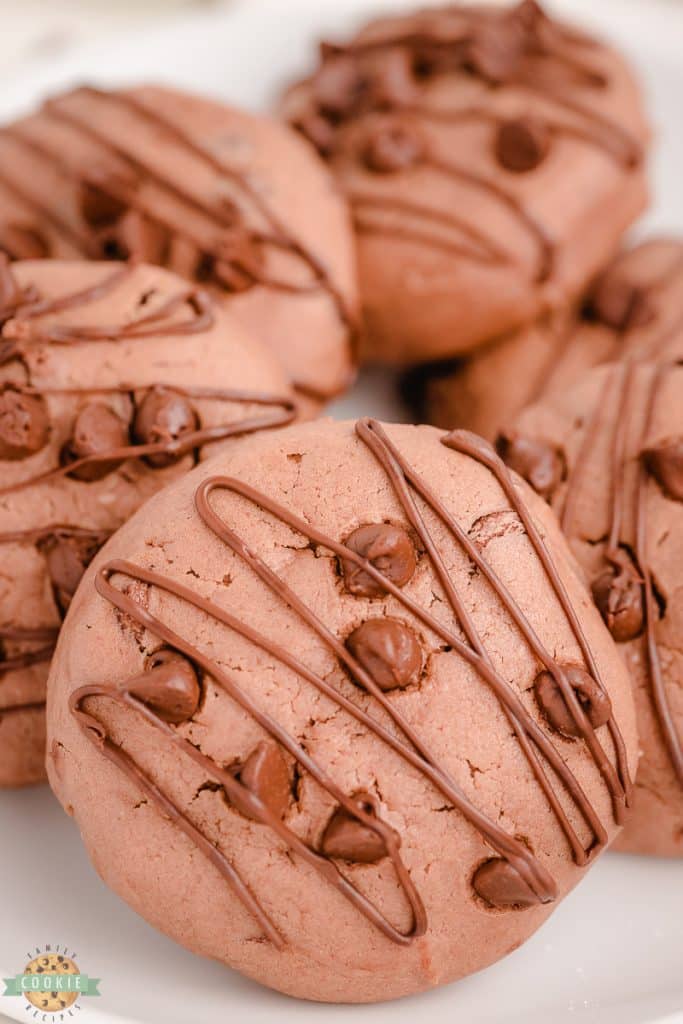 Flour: The base of the cookie dough is 2 ½ cups of all-purpose flour.
Vanilla extract: Use 1 tablespoon of vanilla extract to enhance the flavors in the cookies.
Salt: Using just a pinch of sea salt will help to bring out the flavors in the cookies and make them taste incredible.
Baking powder: To help the cookies puff up and rise as they bake, add 1 teaspoon of baking powder.
Chocolate chips: You will need ⅔ cups of mini chocolate chips and ½ cup of regular-sized chocolate chips to make sure that these cookies are packed with chocolate flavor.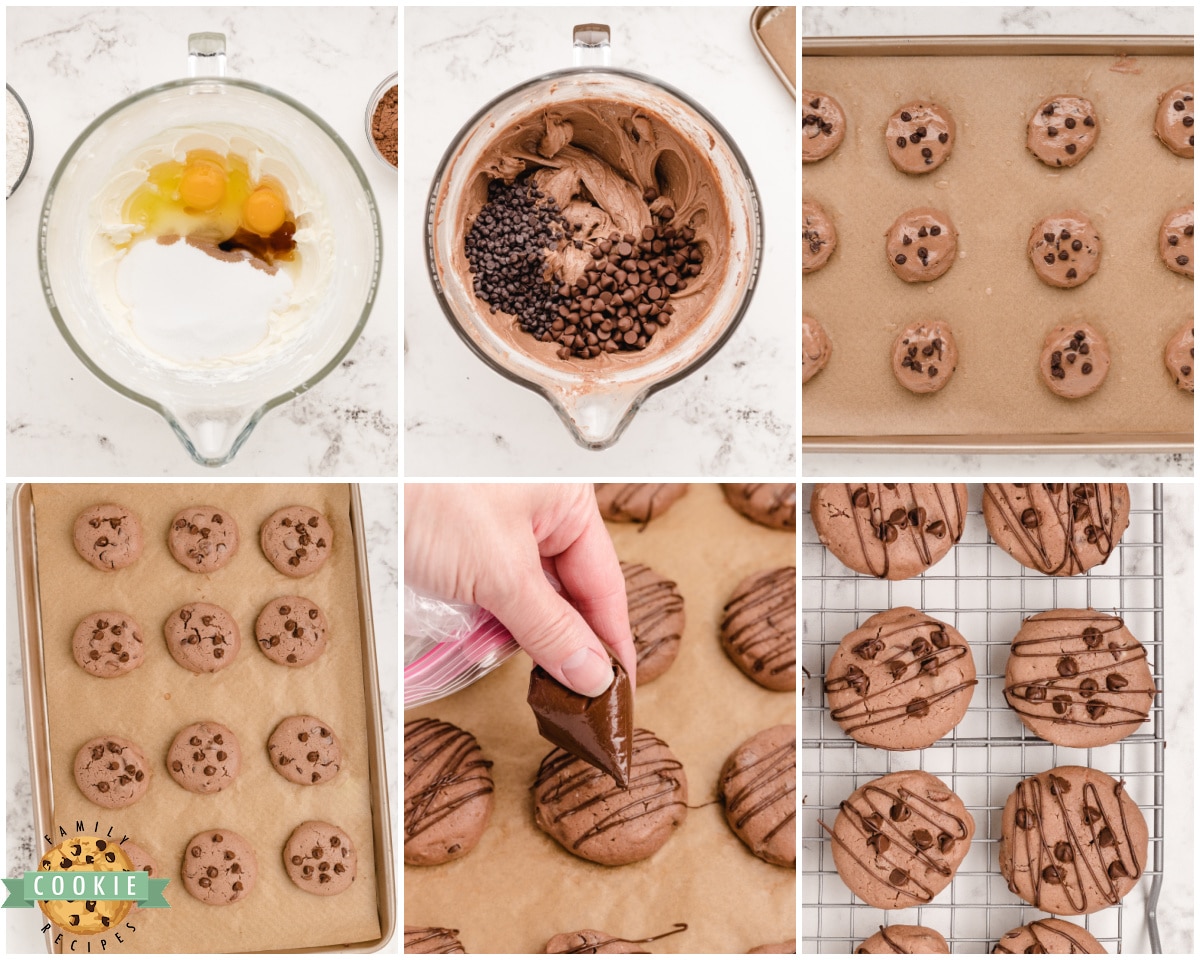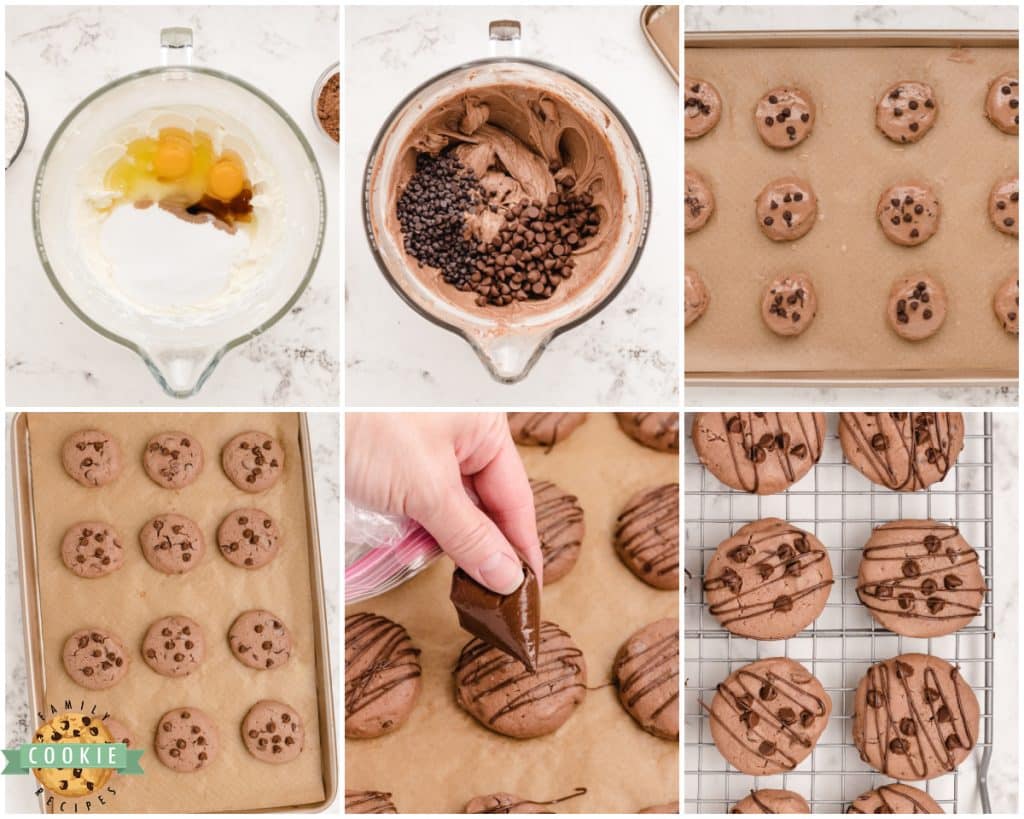 How to make Chocolate Cheesecake Cookies
Prep
Preheat the oven to 350 degrees F.
Line your cookie sheet with parchment paper or a silicon baking mat. Set it aside.
Cookie Dough
In a small mixing bowl, cream together the softened butter, cream cheese and milk until smooth. I use an electric hand held mixer for the best results.
Then, add in the sugar, vanilla extract, and eggs. Mix again to combine well.
In a separate large bowl, combine the flour, cocoa powder, salt, and baking powder. Whisk the dry ingredients together.
Add the wet ingredients to the large bowl of dry ingredients, a bit at a time, mixing well after each addition.
Next, fold in the mini chocolate chips and ¼ cup of regular chocolate chips.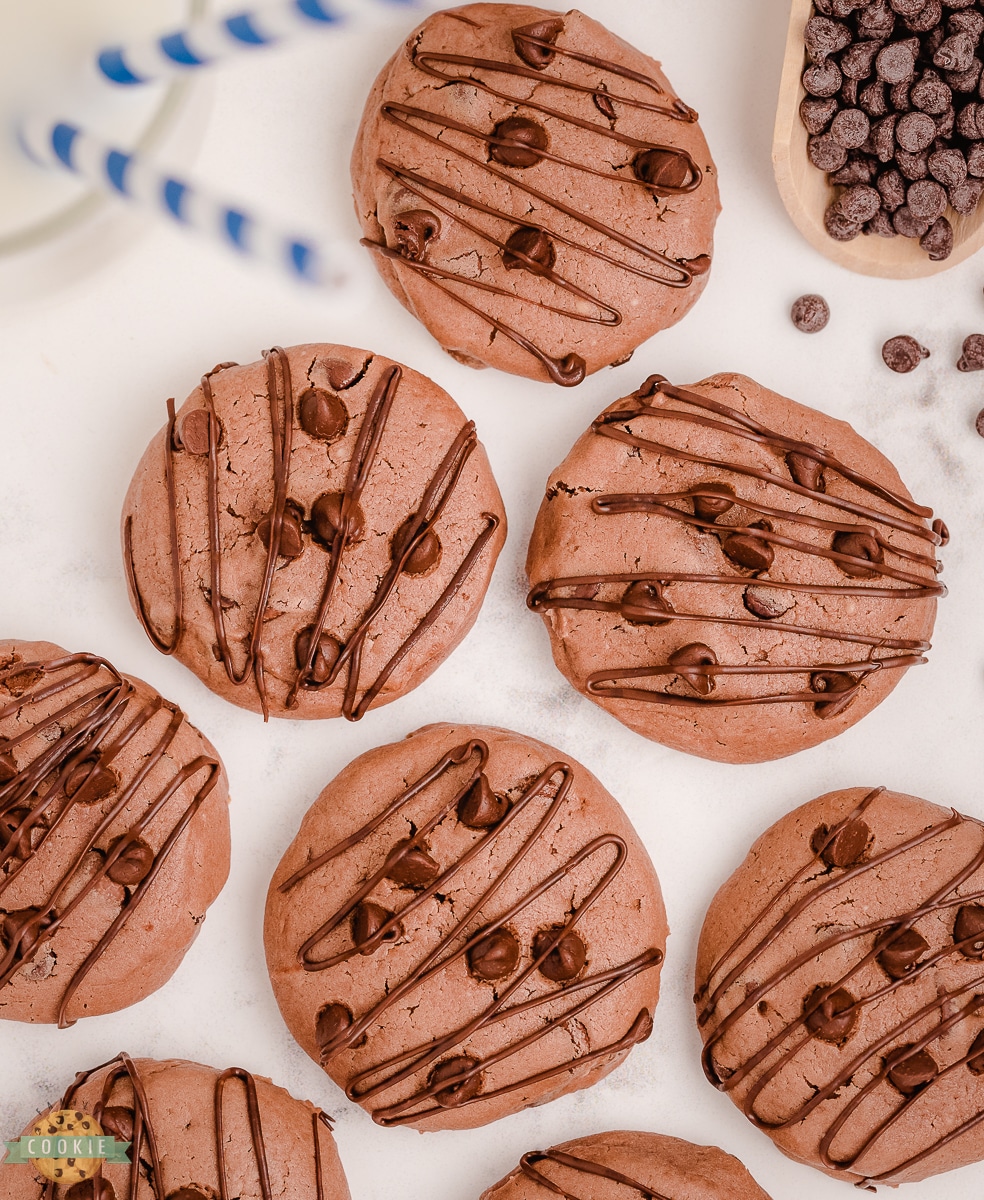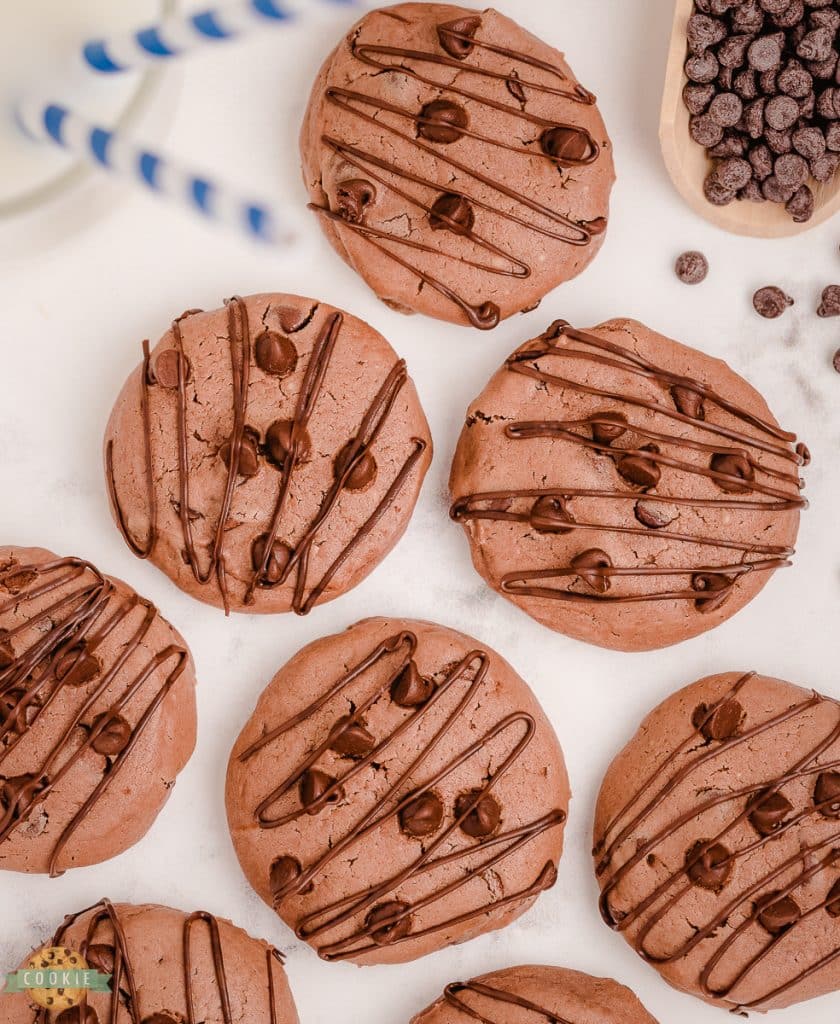 Scoop dough
Use a medium-sized cookie scoop to scoop the dough out into round balls of dough.
Arrange 12 cookie sheets onto your prepared cookie sheets.
Wet your hands slightly and gently press down the tops of the cookies. Tap the cookie dough balls with your fingers to smooth the edges.
Bake
Proceed to place baking sheet in the oven and bake for 12-14 minutes.
Allow the cookies to cool on the baking sheet for 5 minutes before transferring them to a wire cooling rack.
Make chocolate drizzle
In a small bowl, measure out the remaining ¼ cup of semi-sweet chocolate chips and microwave for 1 minute and allow to rest for 2 minutes in the microwave before gently stirring.
If necessary, heat for an additional 10-15 seconds to fully melt.
Using a small spoon, drizzle the chocolate over the top of the baked cookies. Alternatively, you can transfer the chocolate to a small baggie and snip the corner to easily pipe the chocolate over the tops of the cookies.
Let cool to set for 5-10 minutes, then serve and enjoy.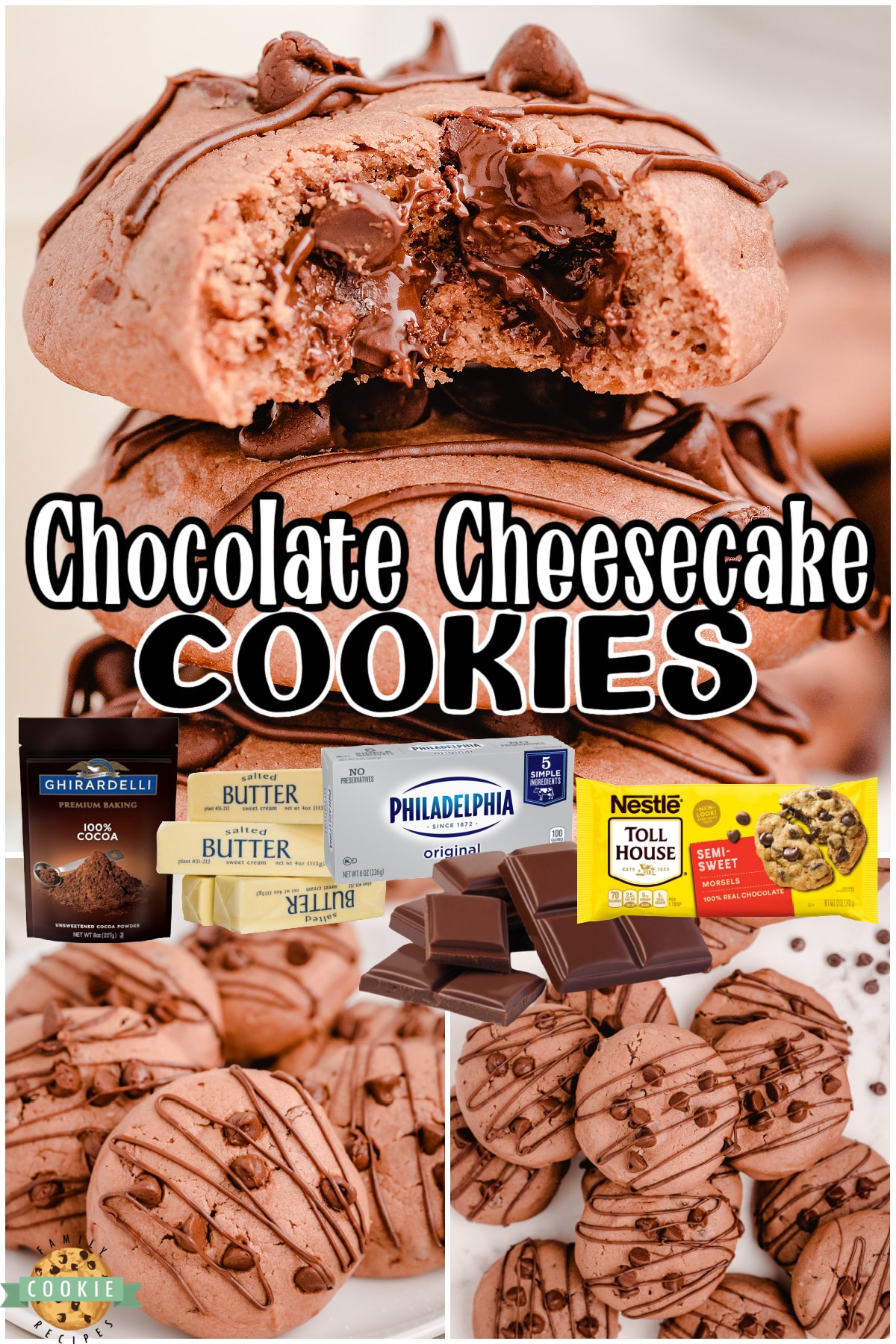 When to serve Cream Cheese Chocolate Cookies
These cookies are perfect for any occasion but some great ideas for serving them up to friends and loved ones would be around the holidays when cookies are present (like Christmas cookie exchanges). Another great idea is to serve up these cookies for Valentine's Day because chocolate is always welcomed on this romantic holiday. You could even add some red food coloring to turn the cookies pink and make them extra festive! But really, these cookies are good any time of the year and for any occasion!
How do I know when chocolate cookies are done?
You will know that these cookies have finished baking when the edges look set and the tops are no longer glossy. The cookies will look soft and fluffy, but this is okay!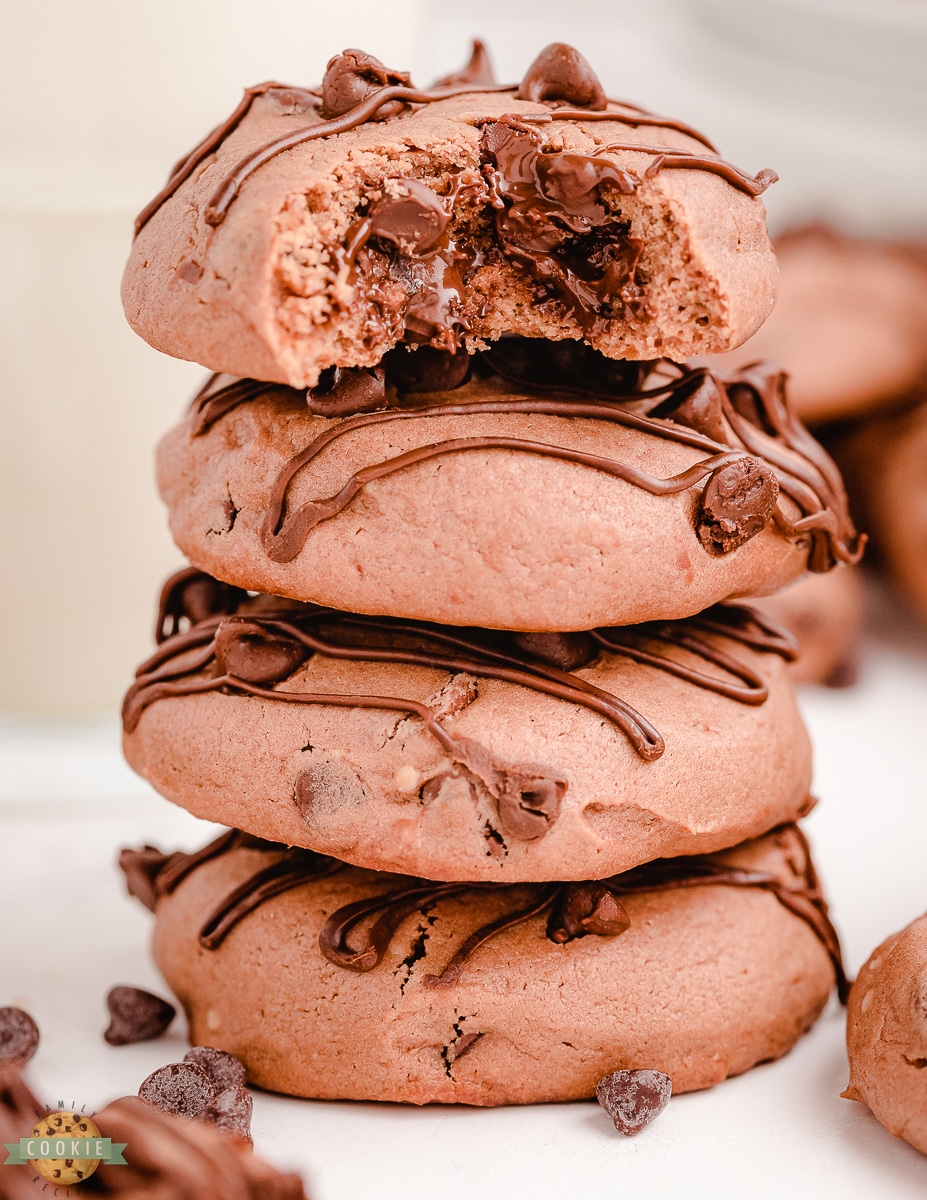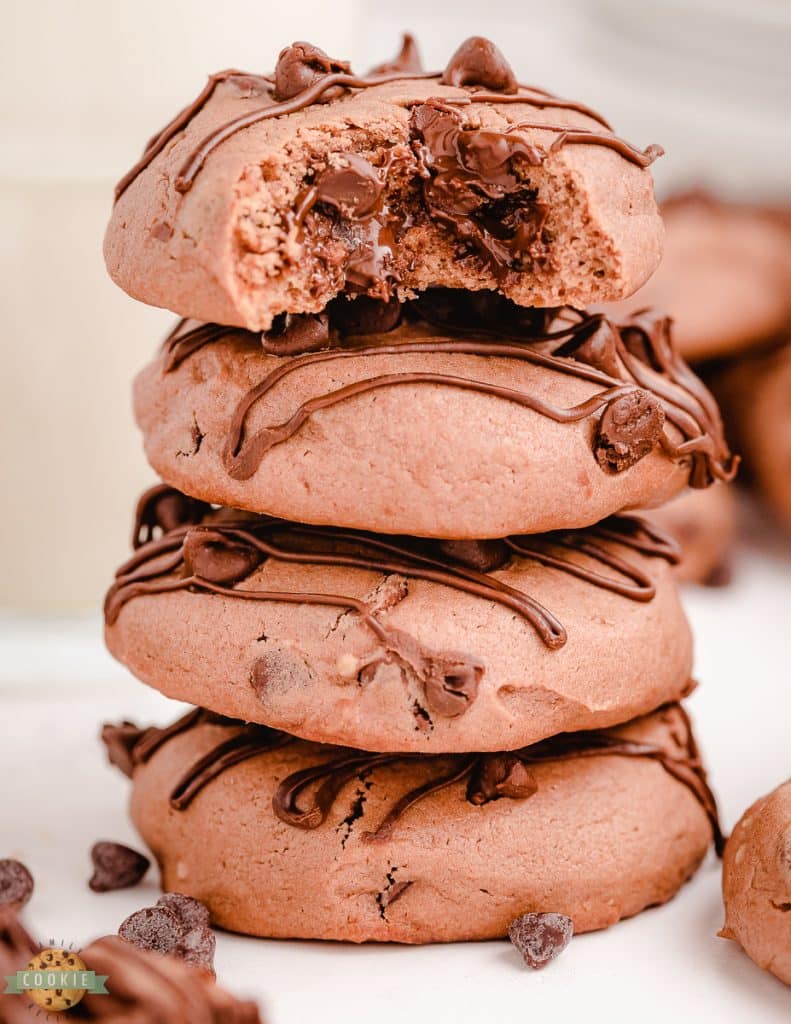 How long are cream cheese cookies good for?
These cookies can last up to 5 days if stored in an airtight container at room temperature but they will taste best when fresh.
Can I freeze chocolate cream cheese cookies?
Yes, these cookies can be frozen in an airtight container for up to 3 months. Simply thaw and enjoy whenever you want a chocolate cookie treat.


Our 5 children alternate genders, boy-girl-boy-girl-boy. So our girls have played with boy stuff, our boys have dressed up in heels, it all works! It's less frequent as they get older, so I have to catch these moments when I can! My son rocks the pink leopard!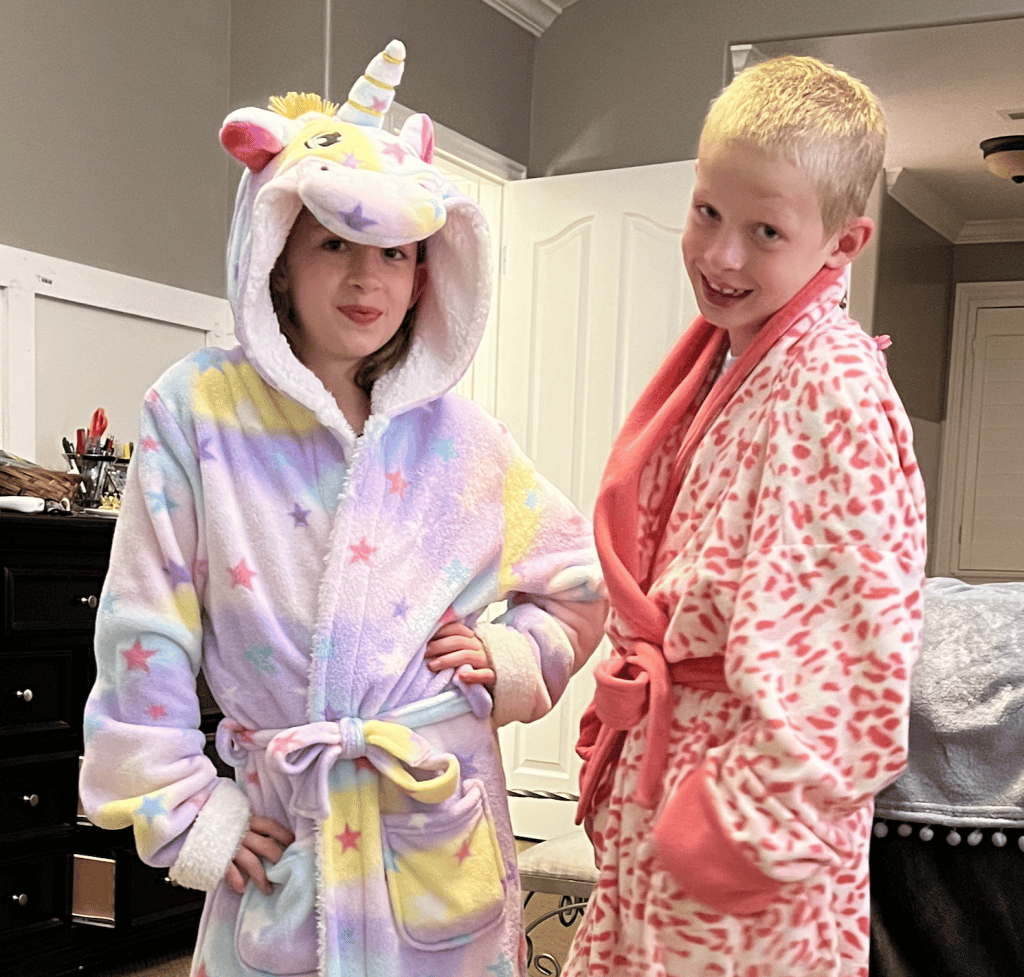 Chocolate Cheesecake Cookies are a rich and tasty cookie that perfect for so many occasions! These cheese cake cookies are made with cream cheese and chocolate chips, they are packed with chewy goodness in every bite.