Chocolate Brownie Cookies are soft & fudgy brownies in cookie form! Recipe is loaded with chocolate and made into over-the-top GIANT cookies that everyone goes crazy for!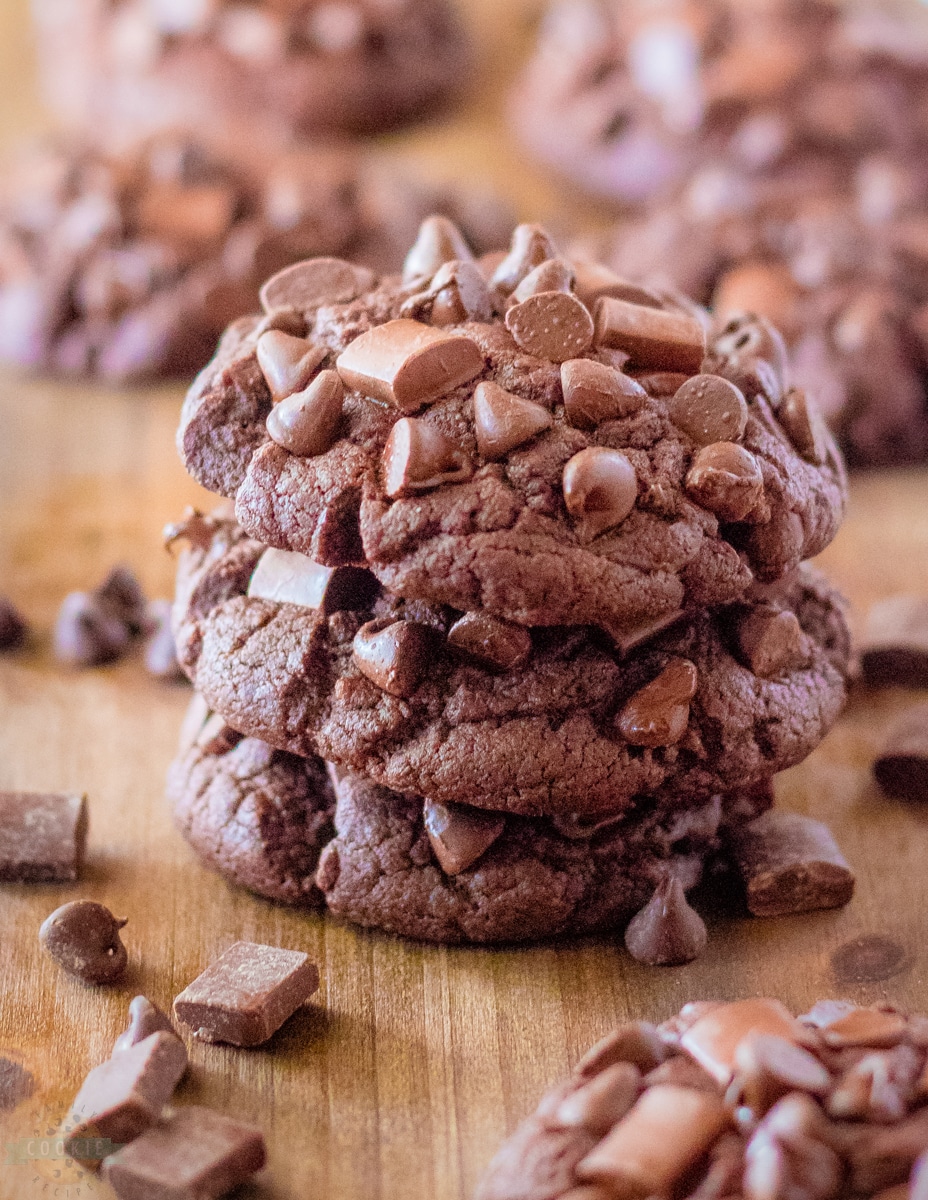 We LOVE chocolate, I mean, who doesn't? But these chocolate brownie cookies truly are the best. They're a simple one-bowl cookie recipe that packs a lot of flavor and chocolate in every bite. They're absolutely perfect for any occasion and a simple treat that's perfect for when you want something chocolate to satisfy the cravings.
What are brownie cookies?
Brownie cookies are a simple brownie recipe that's been modified to be able to hold up to a cookie shape instead of a bar cookie in a pan. This means you get rounded little chocolate cookies with chewy edges and soft centers in every bite. Adding in some chocolate chips and chocolate chunk pieces we get three types of chocolate in every bite so these cookies are an indulgent treat that's made from scratch and well worth the effort.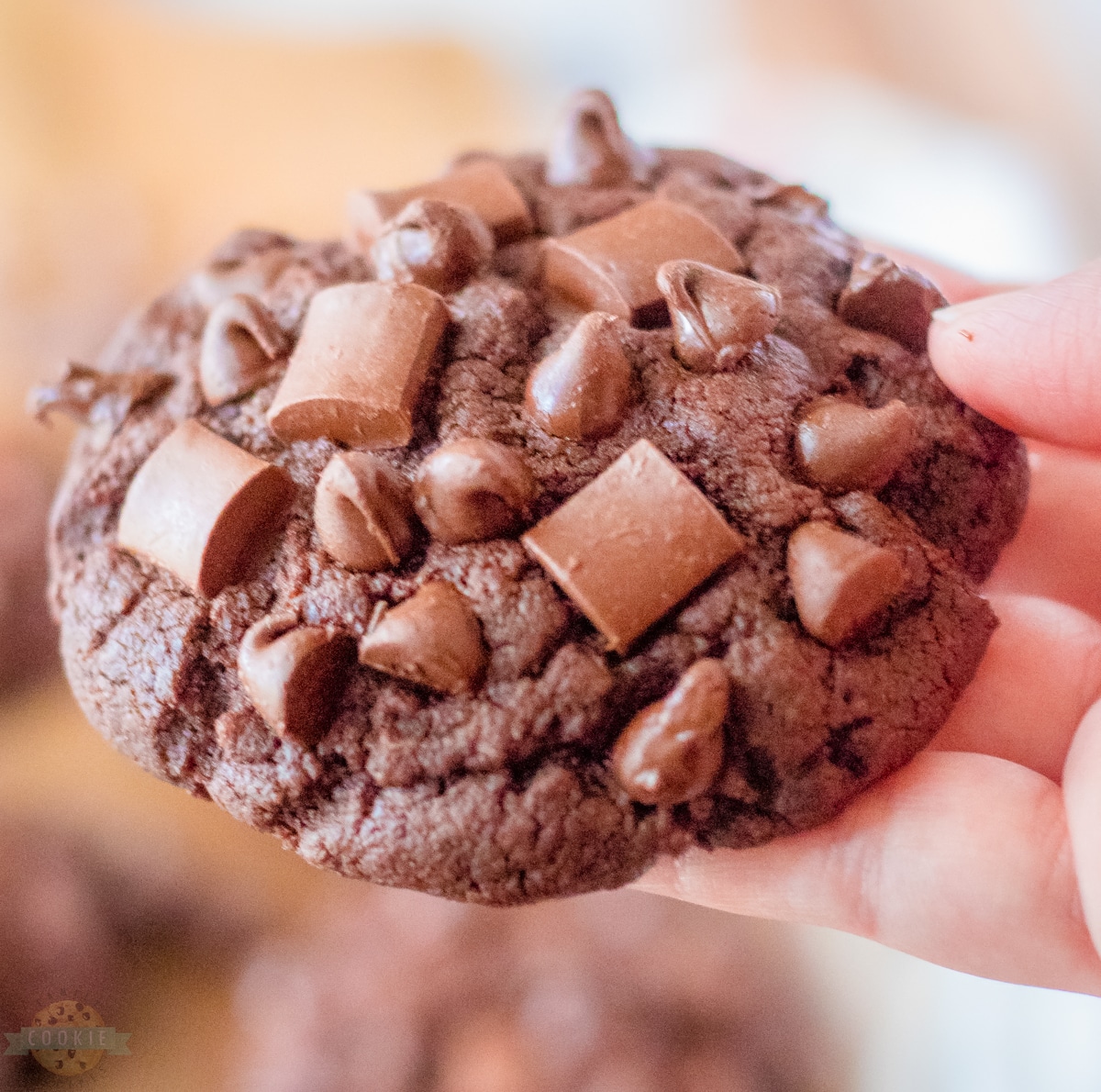 Brownie Cookies Ingredients
-Cocoa powder: For a delicious chocolate flavor in every bite you will need ½ cup of unsweetened cocoa powder.
-Sugar: Using 1 cup of granulated sugar will make our cookies sweet and chewy.
-Butter: To give us a richer flavor we want to use ½ cup of melted butter.
-Oil: Adding in 3 tablespoons of vegetable oil will give us a little more fats for a moist and fudgy cookie.
-Egg: We only need 1 egg to help bind together the dough.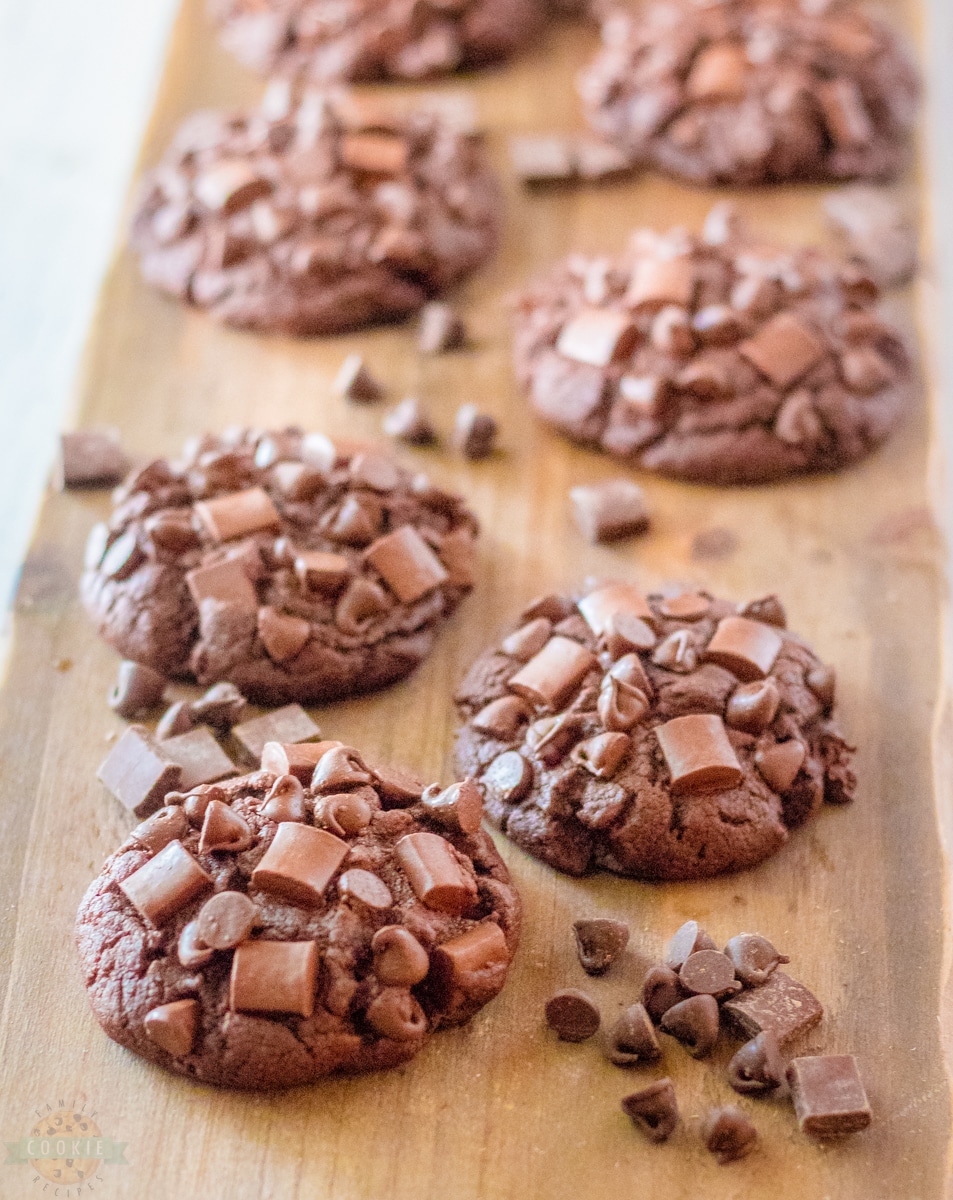 -Vanilla: Adding in 1 teaspoon of vanilla extract will make our cookies taste better.
-Flour: The base of the cookie dough is 1 ⅓ cups of all-purpose flour.
-Baking powder: We need ½ teaspoon of baking powder to get our cookies to puff up nicely while baking.
-Salt: Adding ½ teaspoon of salt will help to naturally enhance the flavors in our cookie dough.
-Chocolate chips and chunks: We need 1 cup of semi-sweet chocolate chips and ½ cup of semi-sweet chocolate chunks so that every bite is packed with chocolate.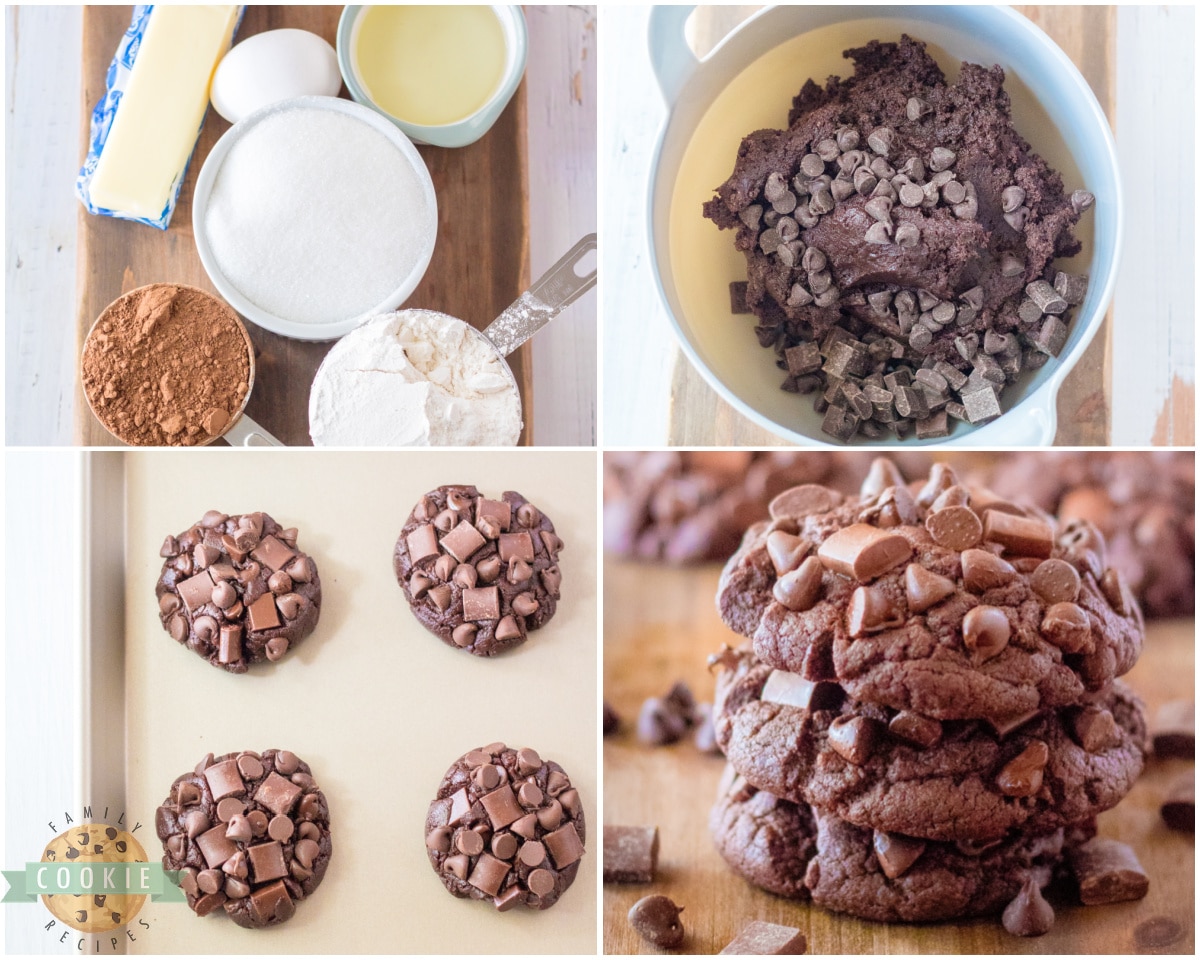 How to make the best brownie cookies
Preheat your oven to 350 degrees F.
Mix together the cocoa powder, sugar, butter, and vegetable oil in a large mixing bowl.
Whisk in the egg and vanilla until incorporated.
Use a wooden spoon to stir in the flour, baking powder, and salt until just combined.
Stir in ½ cup of chocolate chips to your dough.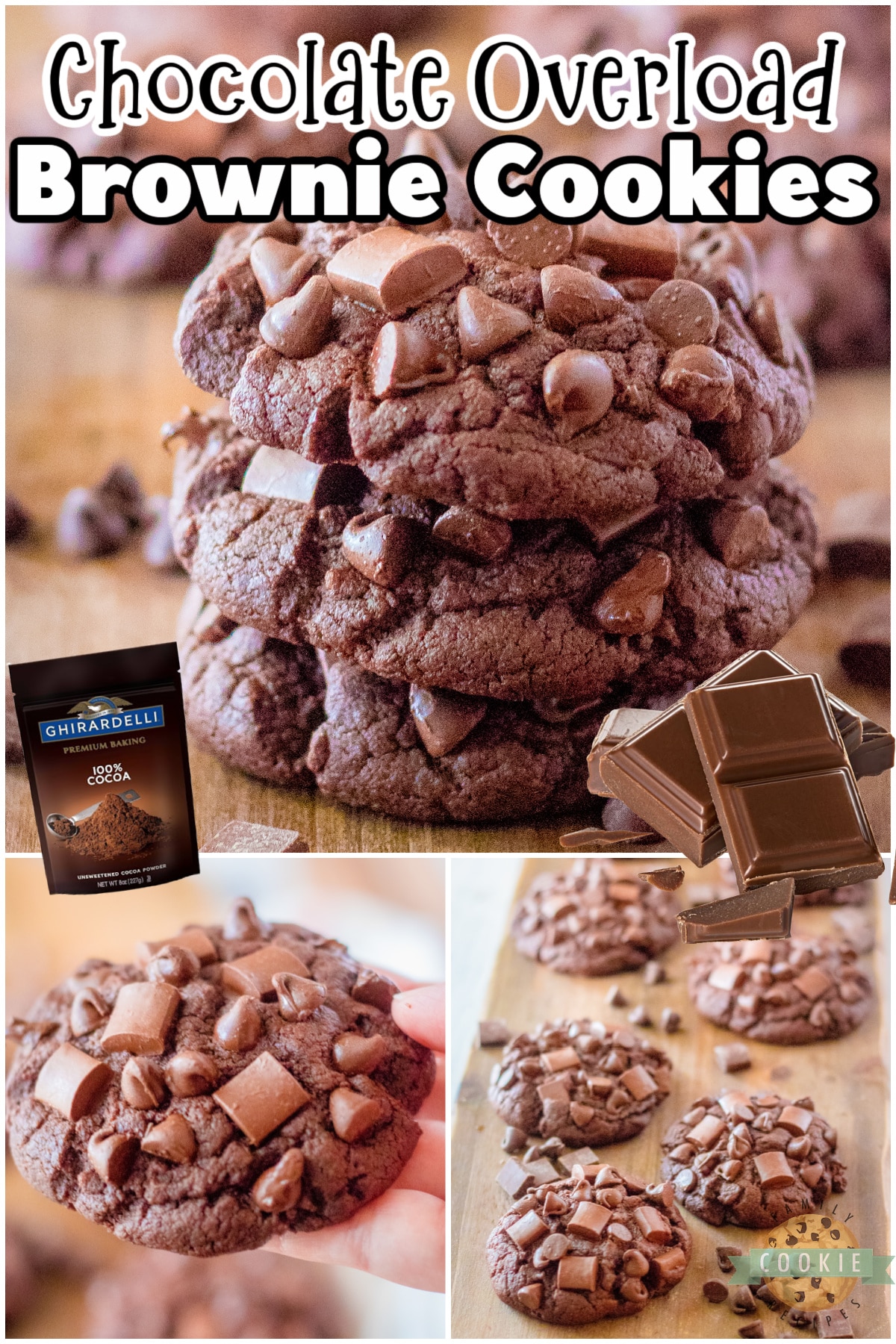 Use a 2 tablespoon scoop to round out balls of dough and place them onto your baking sheet.
Press down on the tops of the cookies slightly.
Add more chocolate chips and chocolate chunks to the tops of the cookies.
Bake in the oven for 12 minutes.
Let the cookies rest on the baking sheet for 5 minutes before transferring to a wire rack to cool completely. Enjoy!
How to store brownie cookies
After these cookies have cooled completely keep them stored in an airtight container at room temperature. You can also pack them away in the freezer for up to a few months if desired. Placing the cookies in the fridge is not necessary as it may cause the cookies to dry out and the shelf-life won't be extended.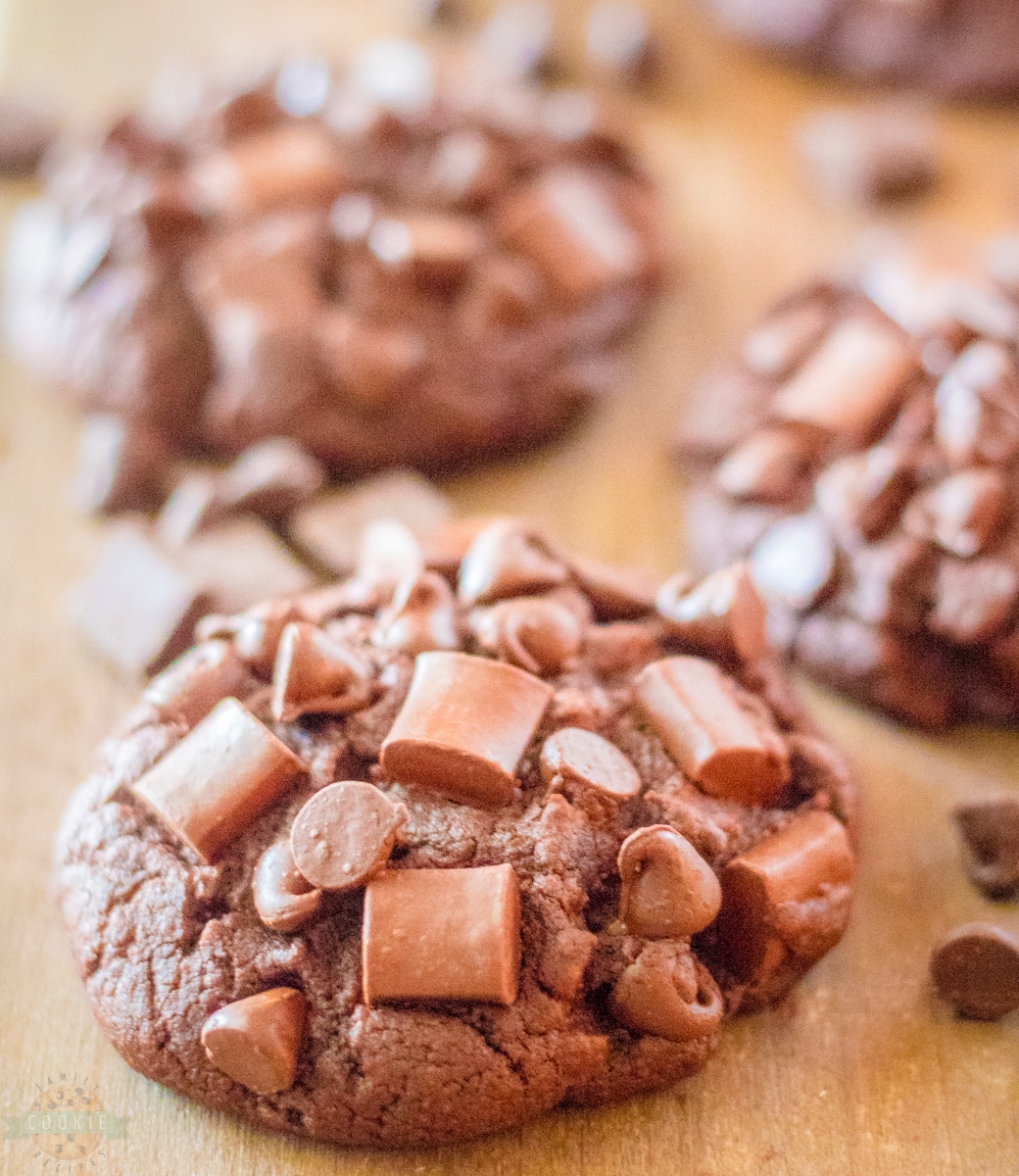 How long do brownie cookies last?
These cookies, if properly stored can last up to a week at room temperature. They can also be frozen and last up to 3 or 4 months before needing to be thawed and eaten. If you plan to freeze the cookies, wrap them well in plastic wrap to avoid freezer burn so that they still taste fresh and delicious once thawed.
More Brownie Cookie Recipes To Enjoy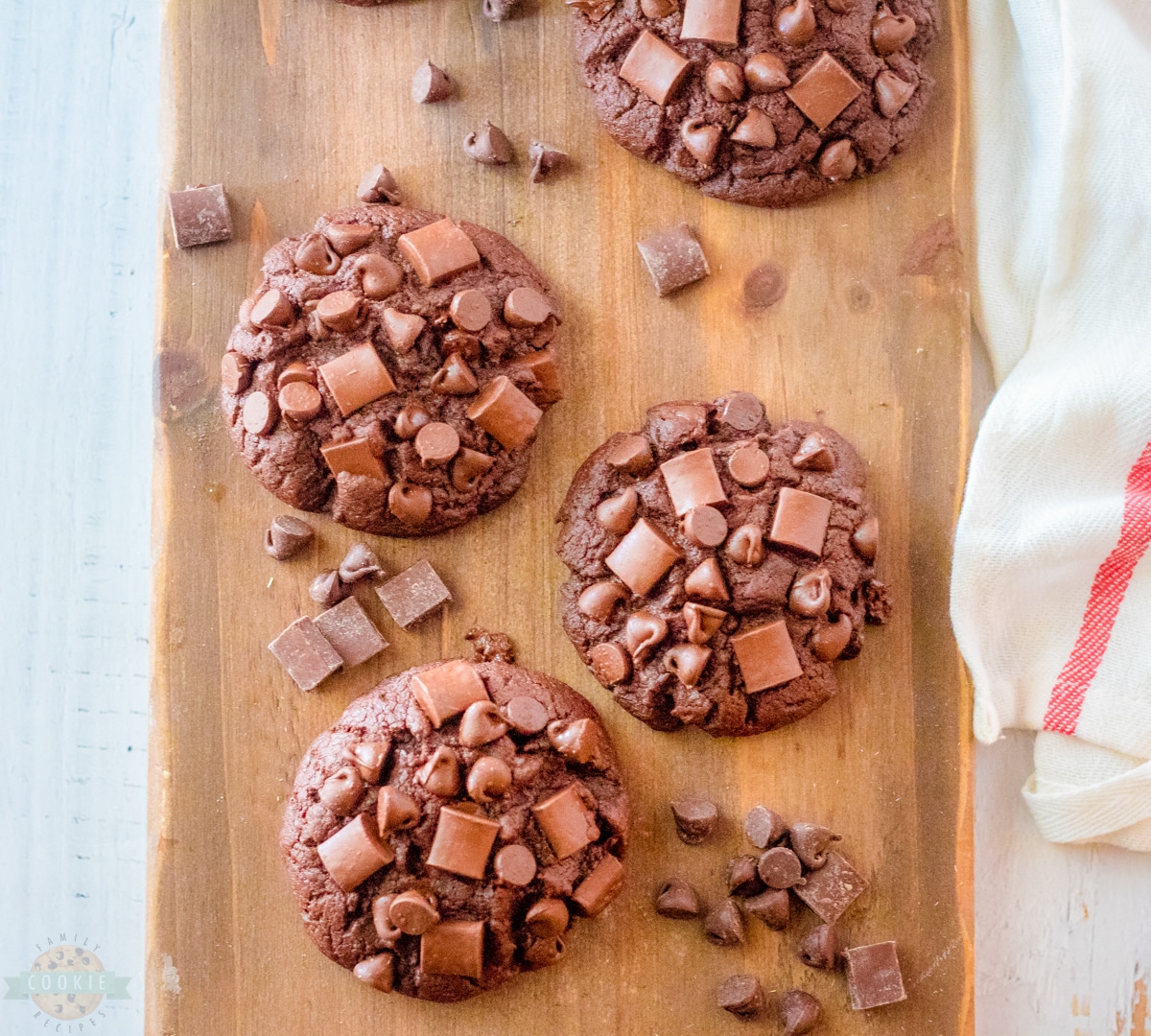 Chocolate Cookie Recipes You May Like


Aren't cousins great? They love you at your best or at your worst, ha! I am so grateful that we live close enough to family so that all the cousins can hang out and really form strong friendships. Even if they are a bit crazy. And yes, mine is the crazy one.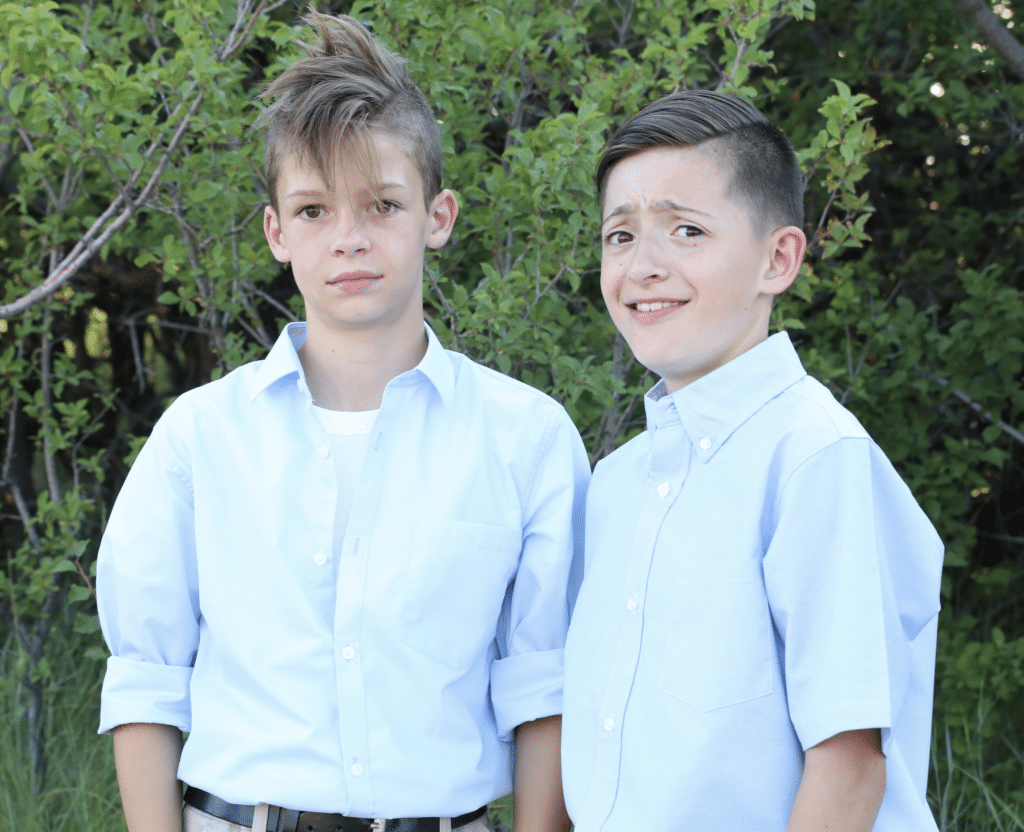 These chocolate brownie cookies are easy to make and really hit the spot. With three types of chocolate coming together in every chewy cookie, these are the perfect indulgent dessert.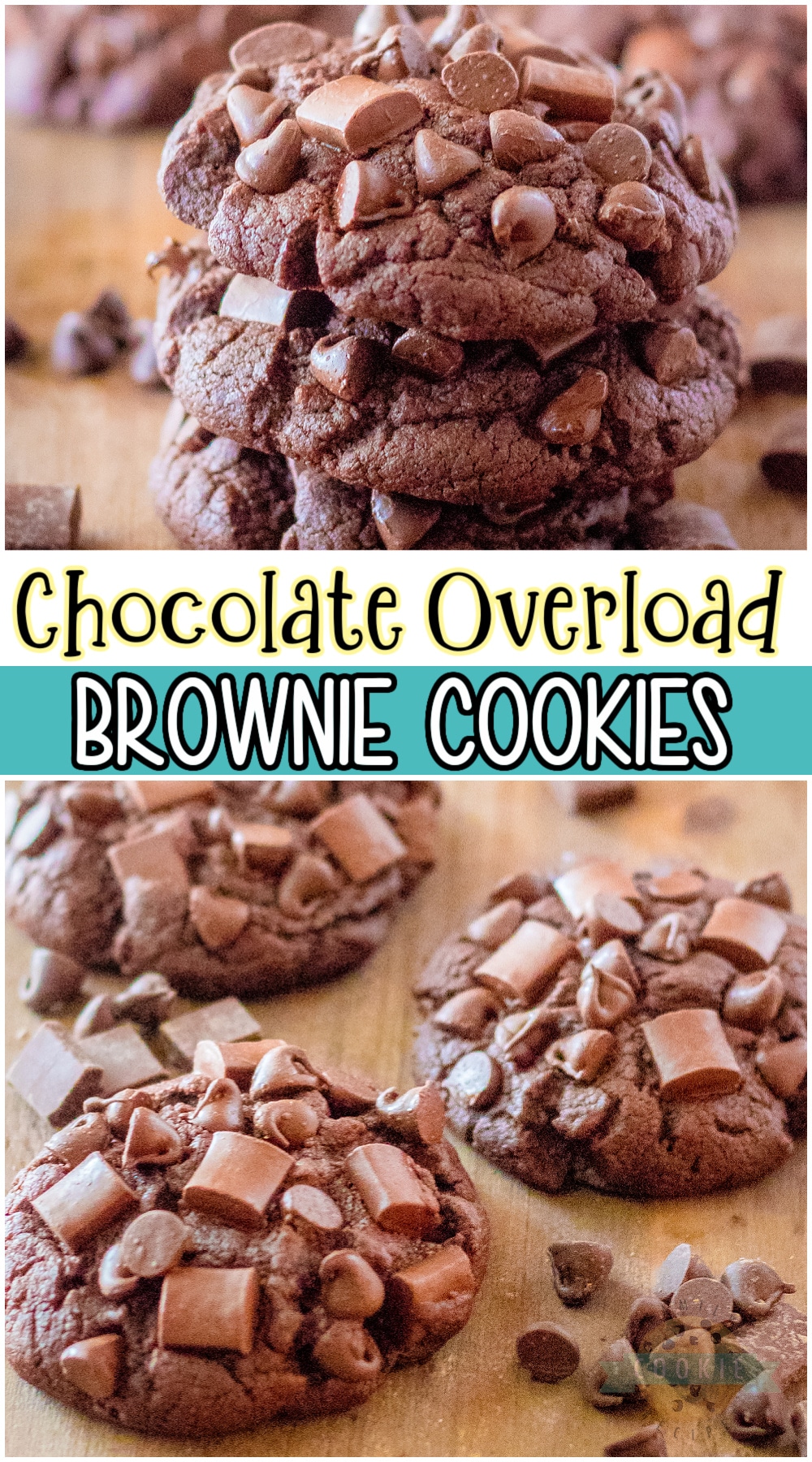 Chocolate Brownie Cookies are soft & fudgy brownies in cookie form! Recipe is loaded with chocolate and made into over-the-top GIANT cookies that everyone goes crazy for!