Easy Brownie Cookies are easily made with a brownie mix, butter and an egg and then frosted with a little bit of a melted Hershey bar. One of the easiest cookie recipes ever and they taste just like brownies…in cookie form!
I love brownies and I love cookies so obviously I love making these easy brownie cookies. You can use your favorite brownie mix and then you just add an egg and butter. That's it! My favorite way to frost brownies is with Hershey bars, so I put a little square on top of each cookie and it makes just the right amount of chocolate topping.
Ingredients in Easy Brownie Cookies
-1 box brownie mix
-1 egg
-1/2 cup butter, melted
-2 (1.55 oz) Hershey bars, broken into separate squares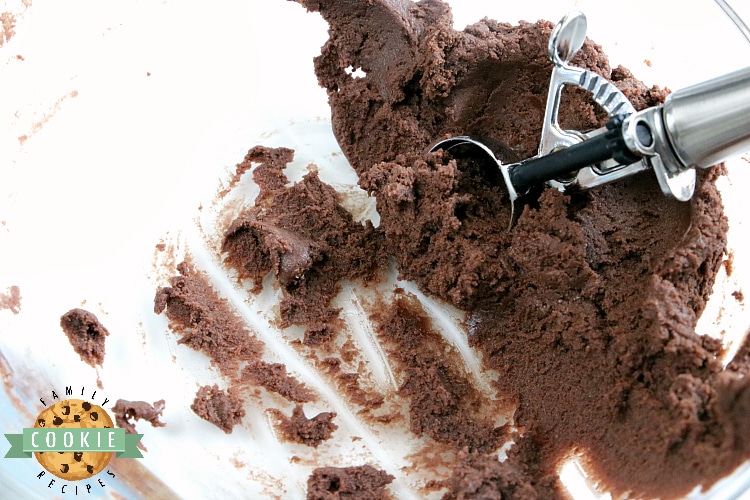 How to make Easy Brownie Cookies
Preheat the oven to 350°.
In a mixing bowl, combine the brownie mix with the egg and the butter and mix until well combined.
Use a cookie scoop to scoop the cookie dough onto a cookie sheet.
Bake the cookies for 8 minutes and remove from the oven. As soon as the cookie come out of the oven, place one square of Hershey bar on top of each cookie. Wait 1-2 minutes and then use a knife to spread the melted Hershey bar around on top of each cookie.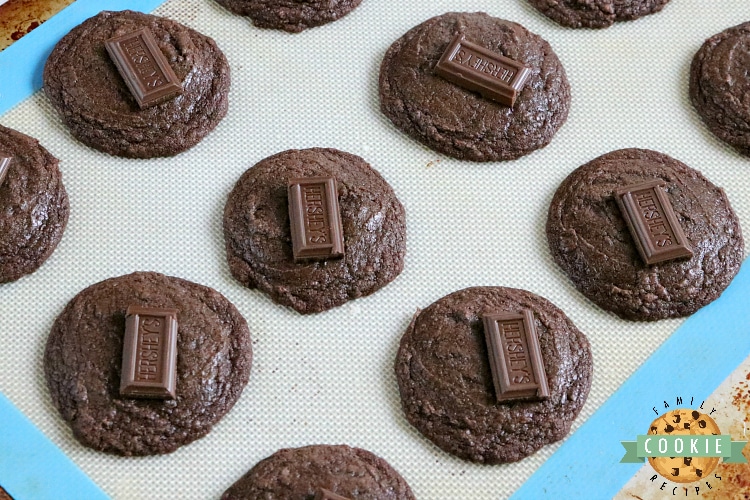 Let the cookies cool for a few more minutes on the cookie sheet and then place on a wire rack to cool completely. Makes 24 cookies.
Tips for making the Best Brownie Cookies
Preheat the oven. This will help your cookies turn out right every time!
Use a cookie scoop! If you want all your cookies to be perfectly shaped and have them all be the same size, a cookie scoop is the way to go.
Use parchment paper or a silicone baking mat. Doing this will make it really easy to remove the cookies from your cookie sheet so that you don't have to scrape them off the pan – they will just slide right off in perfect shape!
Don't overbake the cookies – when I take mine out of the oven, they still look slightly underbaked but they will continue to bake on the cookie sheet for a couple more minutes so that's ok!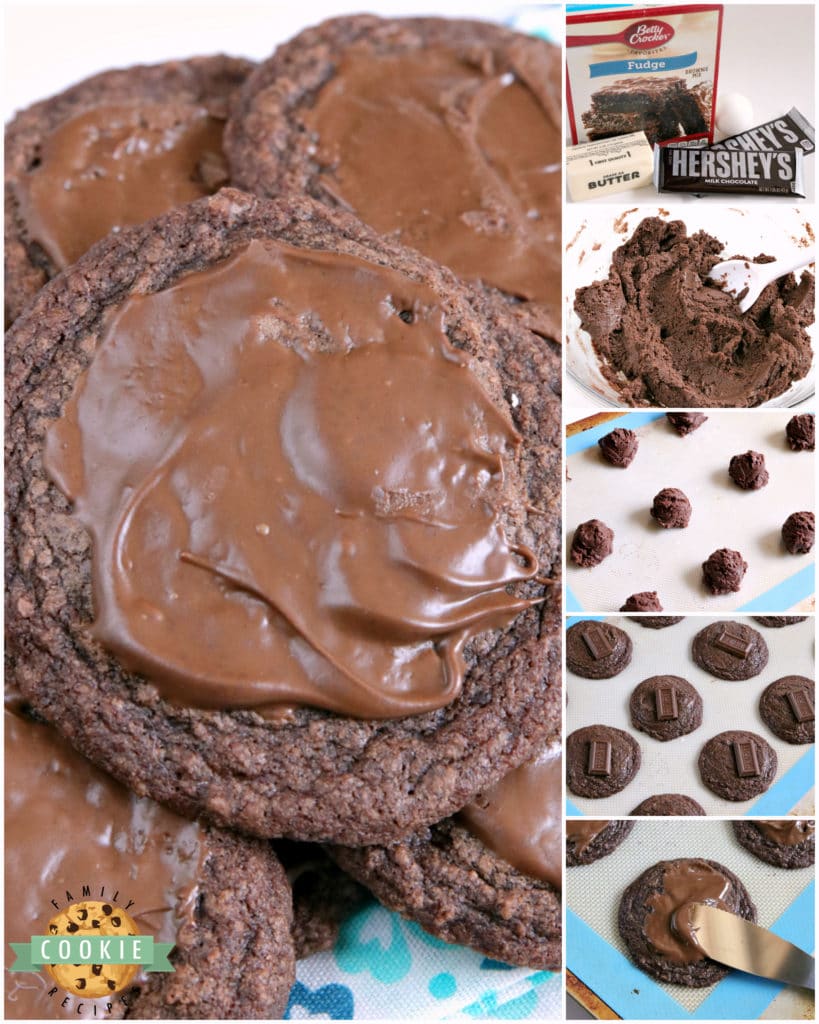 Why do my cookies burn on the bottom but aren't done in the middle?
If your cookies are always burning on the bottom, it is probably a cookie sheet issue! If you are using really dark cookie sheets, the bottoms of your baked goods will tend to burn before they are actually cooked all the way through. If you use a lot of cooking spray, the same result can happen. I prefer to use lighter colored non-stick pans so that I don't have to use cooking spray at all. As mentioned above, I have been converted to silicone baking mats over the last couple of years and I love how easy it is for cookies to come off the tray – no sticking ever!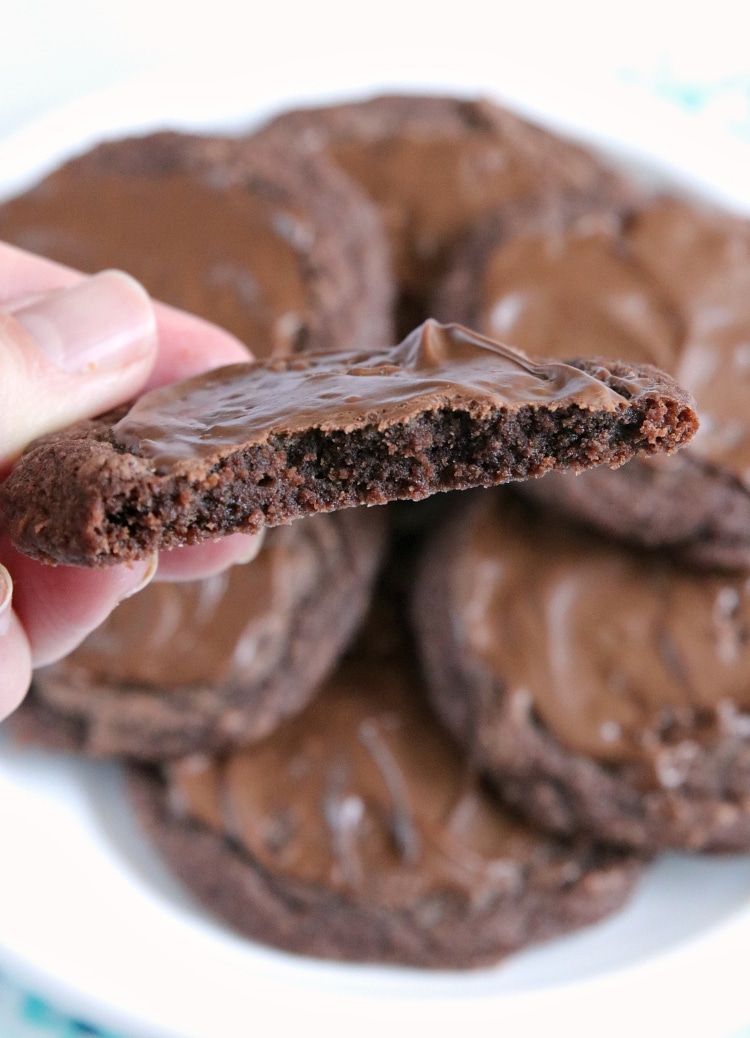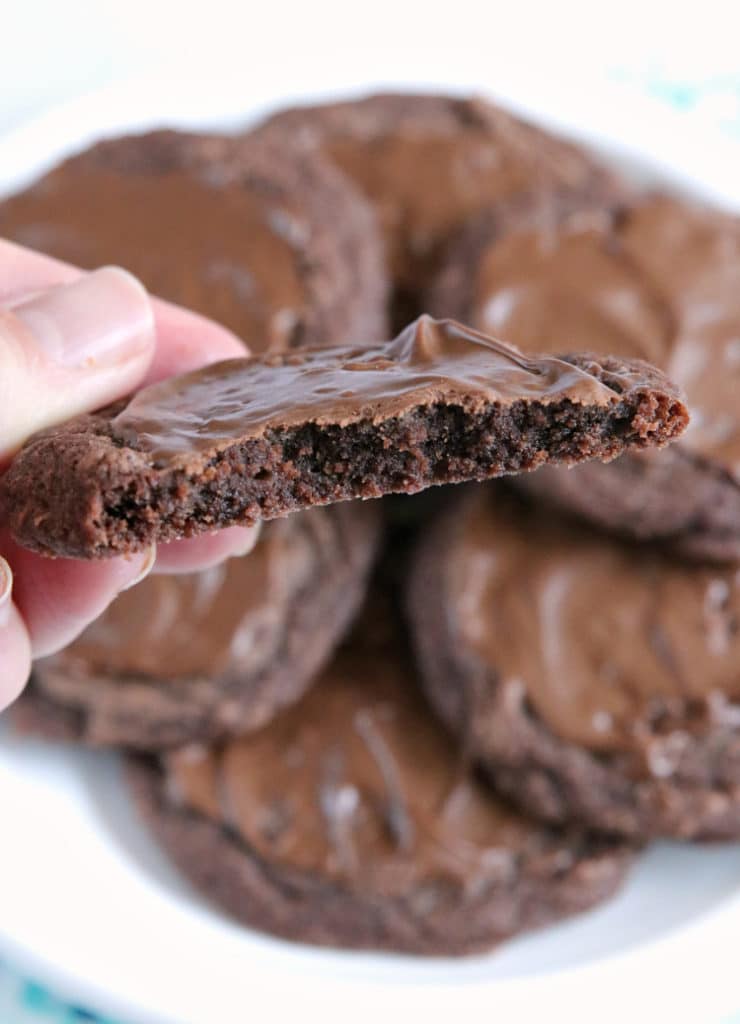 Can you freeze cookies?
You can freeze the cookie dough by rolling it into balls and placing the dough balls on a cookie sheet, just barely far enough apart that they aren't touching. Place the cookie sheet in the freezer for 1-2 hours or until the dough is completely frozen through. Place the cookie dough balls in a Ziplock freezer bag and then pull them out when you want to bake them.
Frozen cookie dough balls thaw pretty quickly so you can bring them to room temperature before baking, or you can bake them straight out of the freezer, but you may need to add a minute or two to the baking time for them to be completely baked all the way through.
You can also freeze Easy Brownie cookies once they are baked and topped. Wait until the cookies are completely cooled and the Hershey topping completely set before wrapping in plastic wrap and then placing in an airtight container in the freezer.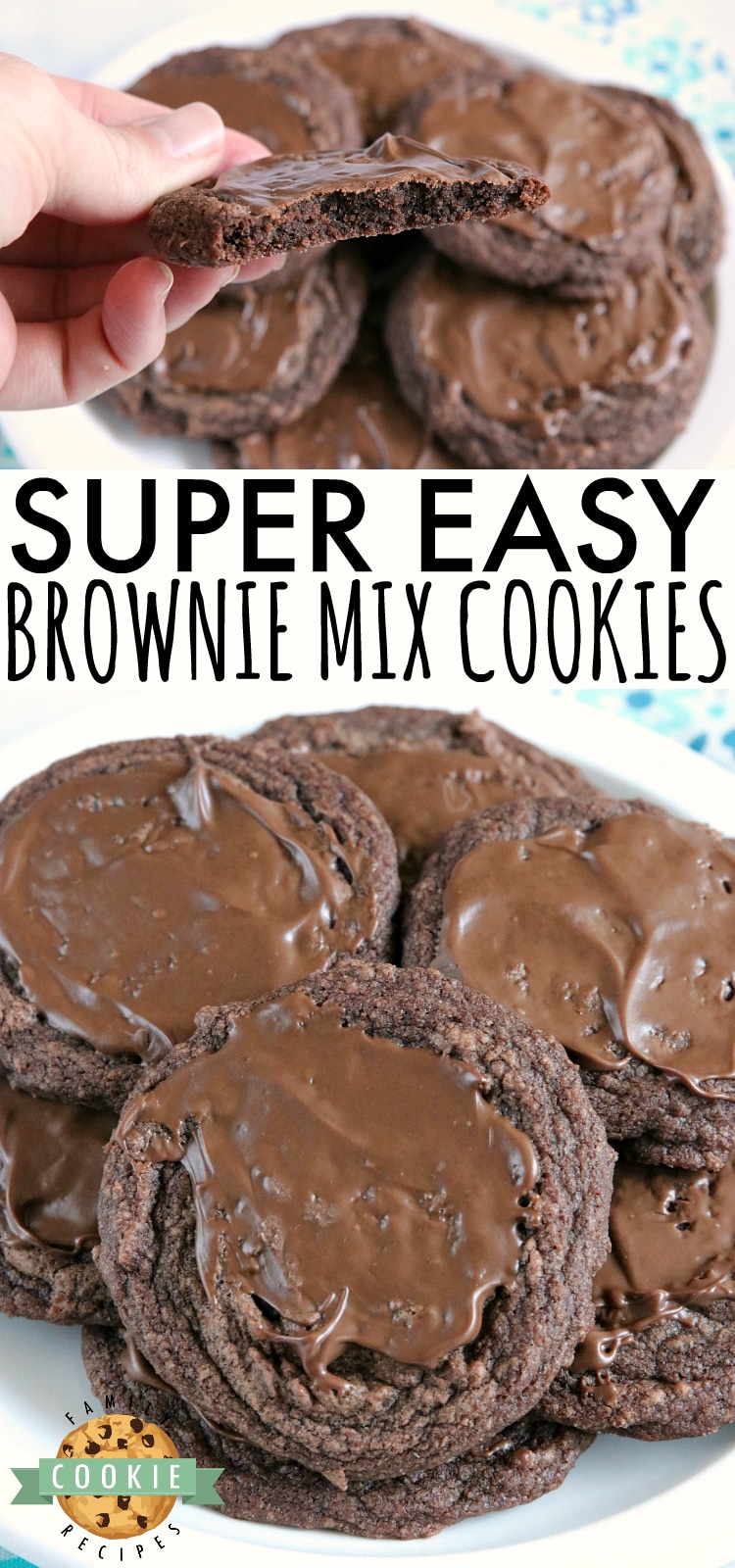 Love easy cookie recipes? So do we! Here are some other easy cookie recipes to try!


Every summer we go to the same swimming hole that is just a short drive a ferry ride from our house. Just a small little lake with a little sandy beach and the kids absolutely love this little tradition of ours. We just went again a couple of weeks ago and I got home and realized that I didn't take any pictures!!! So I started looking through my photos and found one from 3 years ago in the same spot…I can't believe how little my kids look!