Chocolate sugar cookies are a chewy sweet chocolate cookie made with cocoa powder & melted chocolate. These homemade dark chocolate cookies are rich in taste completely satisfying.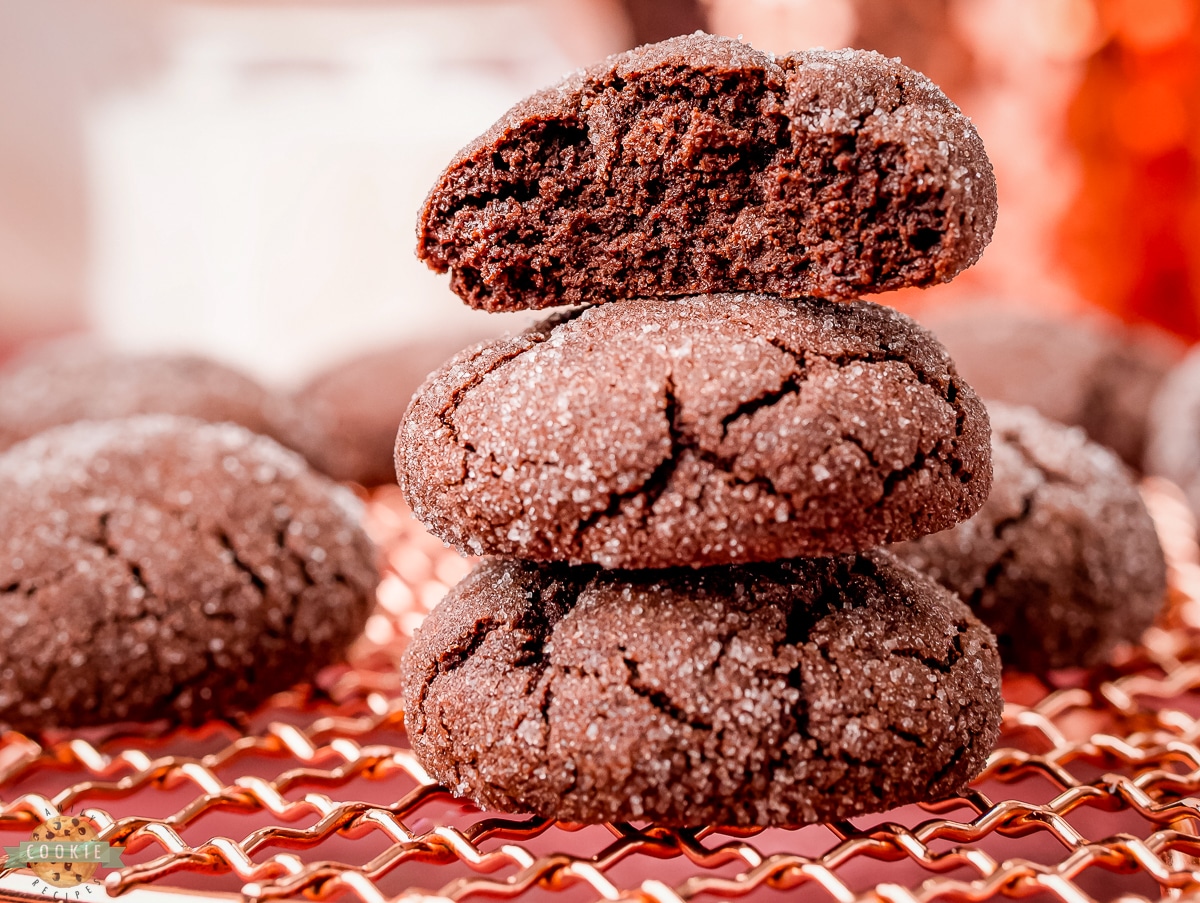 If you're a fan of dark chocolate then you are going to be a fan of these cookies. These sweet little bites are an absolutely perfect treat for any occasion. Serve them up at parties, in cookie exchanges, or just because you want a taste of the good stuff. Is there ever a bad time for chocolate?
Dark Chocolate Chocolate Cookies
You're going to love this chocolate sugar cookies recipe. This recipe really packs in the chocolate flavor and intensity making these every chocolate-lovers dream come true. With every ball of soft dough is rolled in sugar, you get a deliciously sweet finish that brings a smile to your face in the first bite.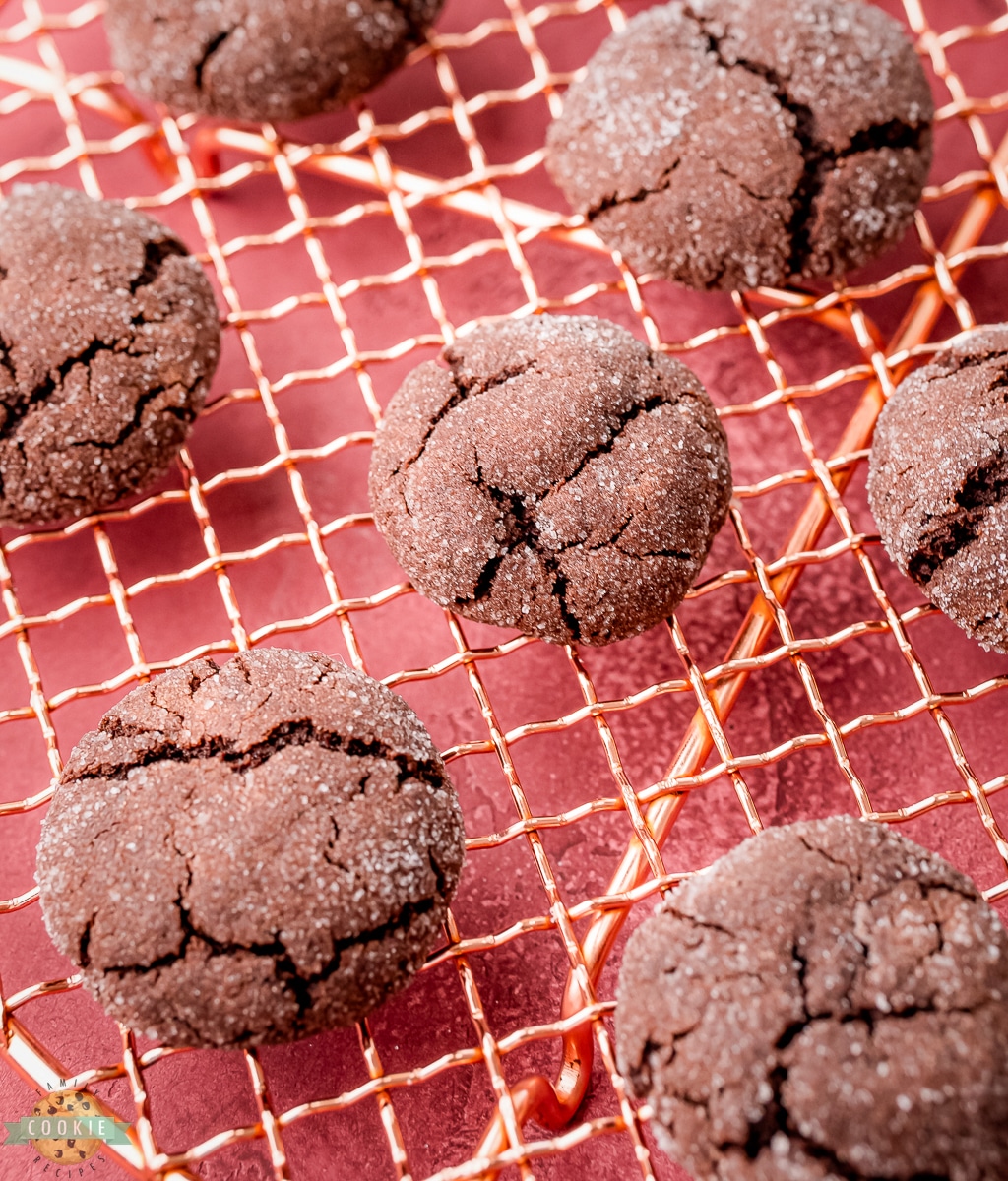 Chocolate Sugar Cookie Ingredients
-Dark chocolate: You will need 1 ¾ cups of finely chopped dark chocolate, this is about 7-8 ounces.
-Butter: Use 8 tablespoons of softened unsalted butter to give these cookies the fats needed to stay moist.
-Espresso powder: Adding in 1 teaspoon of espresso powder will help to intensify the chocolate flavor, but it can be omitted.
-Sugars: You will use 1 ½ cups of granulated sugar and ¼ cups of light brown sugar in this cookie recipe.
-Eggs: 2 large eggs will help to bind together the dough well.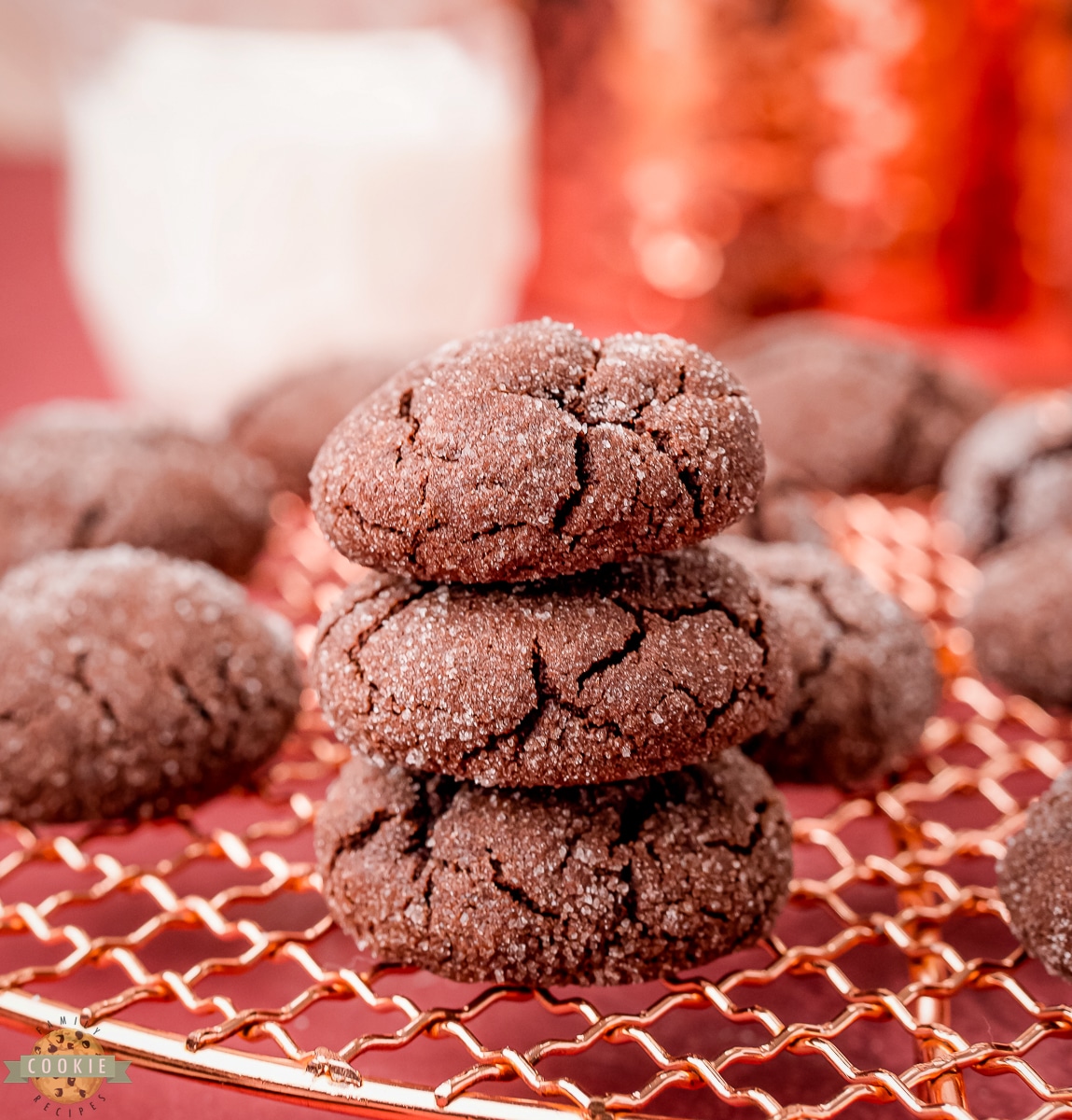 -Vanilla: Add in 3 teaspoons of vanilla extract for a wonderful flavor.
-Flour: The base of this cookie dough is 1 ½ cups of all-purpose flour.
-Cocoa powder: Use ½ cup of Dutch cocoa powder for a rich chocolate taste in every bite.
-Leavening agents: You will need a teaspoon of baking powder and ¾ teaspoon of baking soda for these cookies to puff up nicely as they bake.
-Salt: Adding in 1 teaspoon of salt will help to enhance the flavors in these cookies.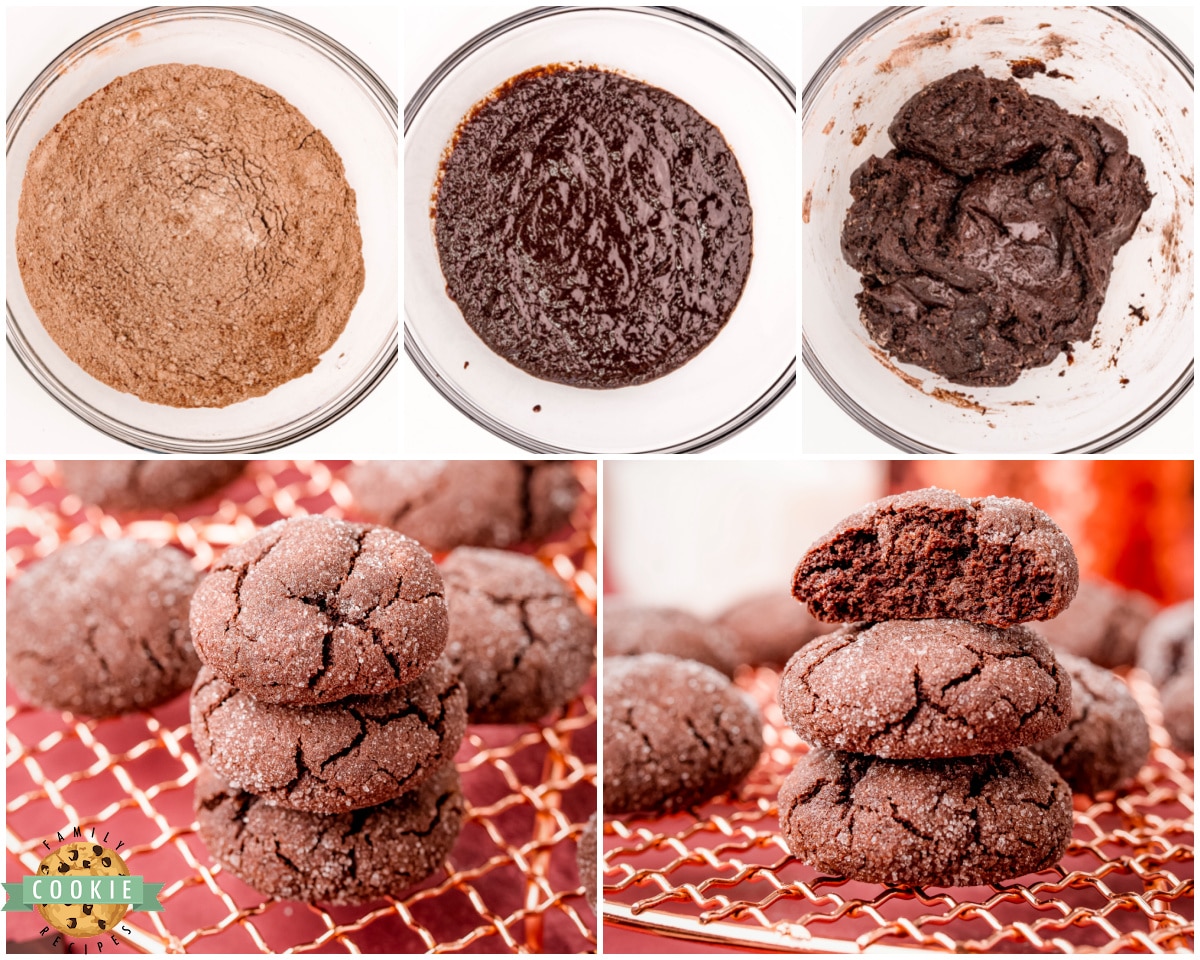 How to Make Chocolate Sugar Cookies
Make your own double boiler by placing a medium-sized heat-safe bowl over the top of a medium-sized saucepan with 3-4 inches of water inside. Simmer the pot over low heat.
Add your chocolate, butter, and espresso powder to the bowl.
Stir the chocolate constantly until smooth and melted.
Remove the chocolate from the heat and add ¾ cups of granulated sugar and the brown sugar, mixing until smooth.
Whisk in the eggs and vanilla.
In another medium-sized bowl, whisk together the flour, cocoa powder, baking powder, baking soda, and salt.
Fold the dry ingredients into the chocolate mixture until just combined.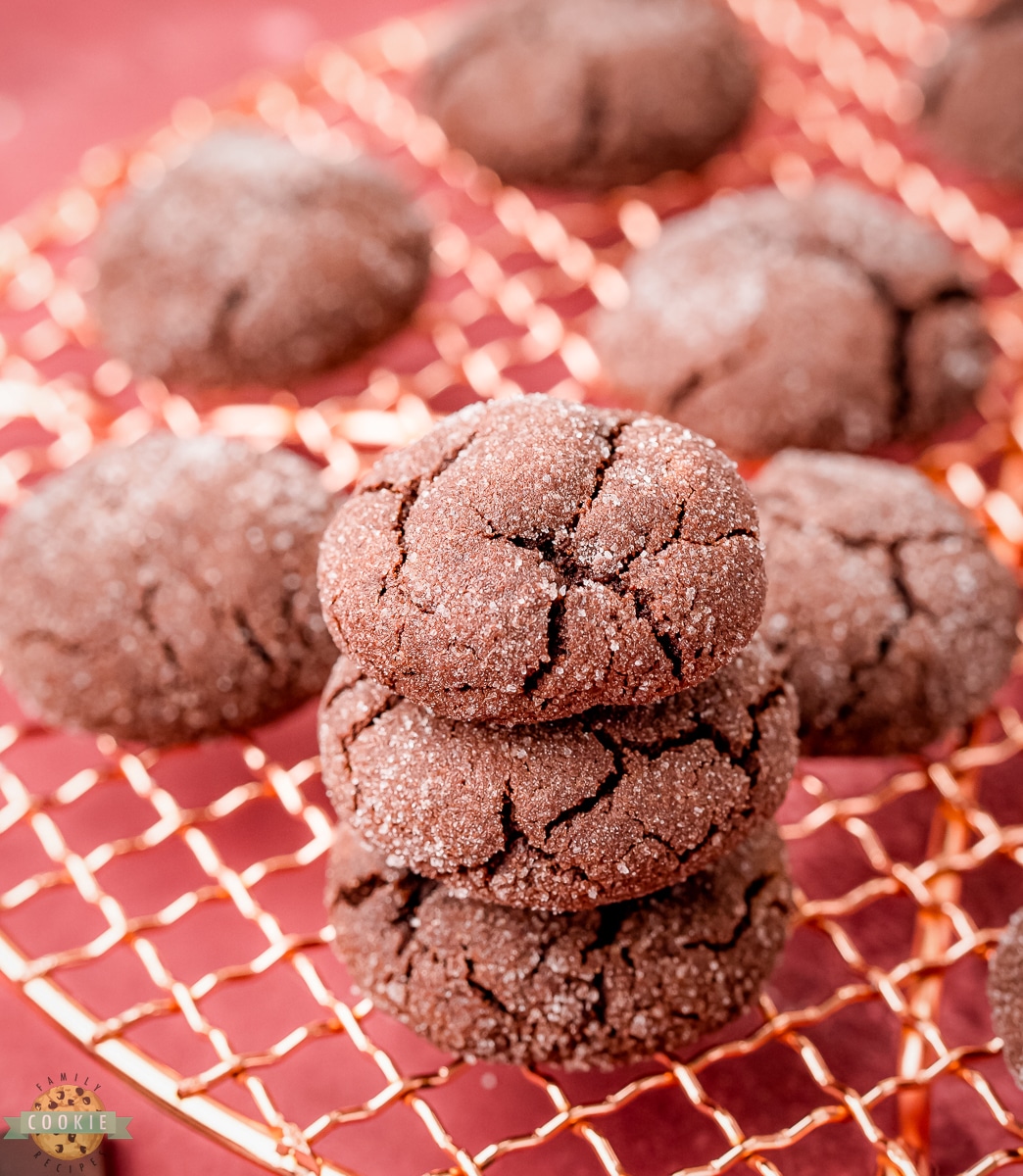 Cover the bowl of dough with plastic wrap and place it into the fridge to chill for 20-30 minutes. The dough doesn't have to chill, but it makes the cookies thicker and chewier.
Preheat your oven to 350 degrees F and line a baking sheet with parchment paper.
Place your remaining granulated sugar into a bowl.
Using a medium-size cookie scoop, scoop the dough and roll it into balls.
Roll the cookie dough balls into the granulated sugar until coated.
Place the cookies on the baking sheet 1-2 inches apart and bake for 9-11 minutes. The cookies will appear underdone when removed.
Allow the cookies to cool for 15 minutes on the sheet before transferring to a wire cooling rack.
Enjoy!
How to store chocolate sugar cookies
Keep these cookies stored in an airtight container at room temperature for up to 2 days. You can also freeze these cookies in an airtight container or zip-top baggie for up to 3 months before thawing and eating.
Can I use different chocolate?
If you aren't a fan of dark chocolate but would still enjoy a chocolate taste, then go right ahead and pick a different type of chocolate bar, one will have less bitterness and more milk chocolate-like. Milk chocolate or semi-sweet would still give these cookies a fabulous flavor.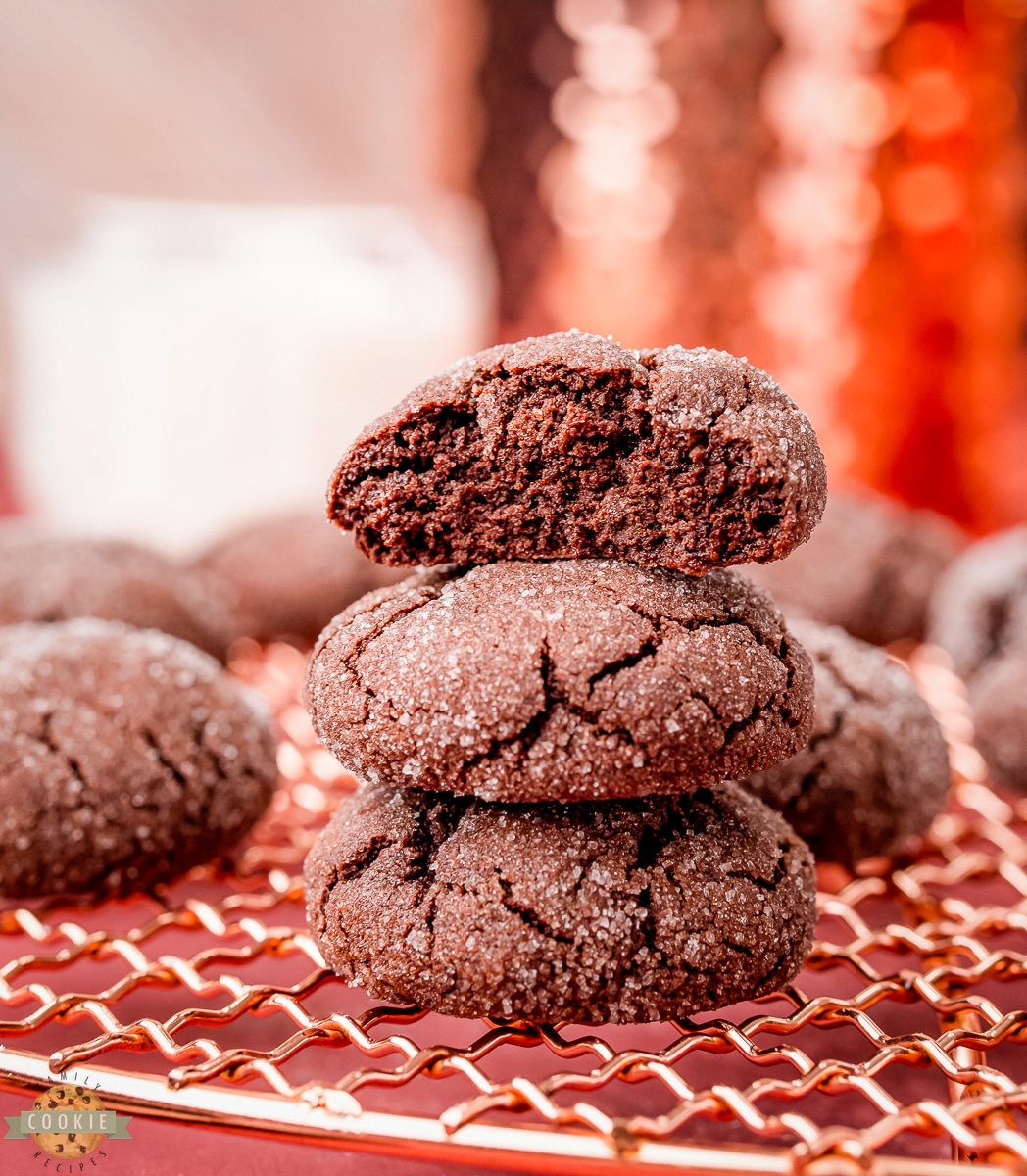 Check out these other great chocolate cookies recipes!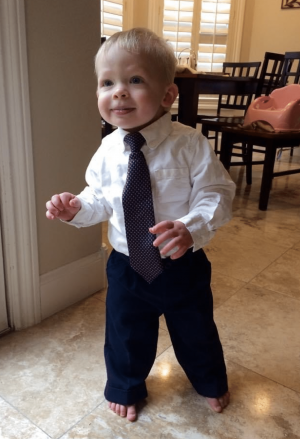 Oh my word, my Momma heart can't take the cuteness of this picture! This is my baby, at about a year old. My mom bought him this outfit, and realistically, I think he ended up wearing it to church once or twice. But dang it, I got this picture, which makes it all worth it! SO ADORABLE.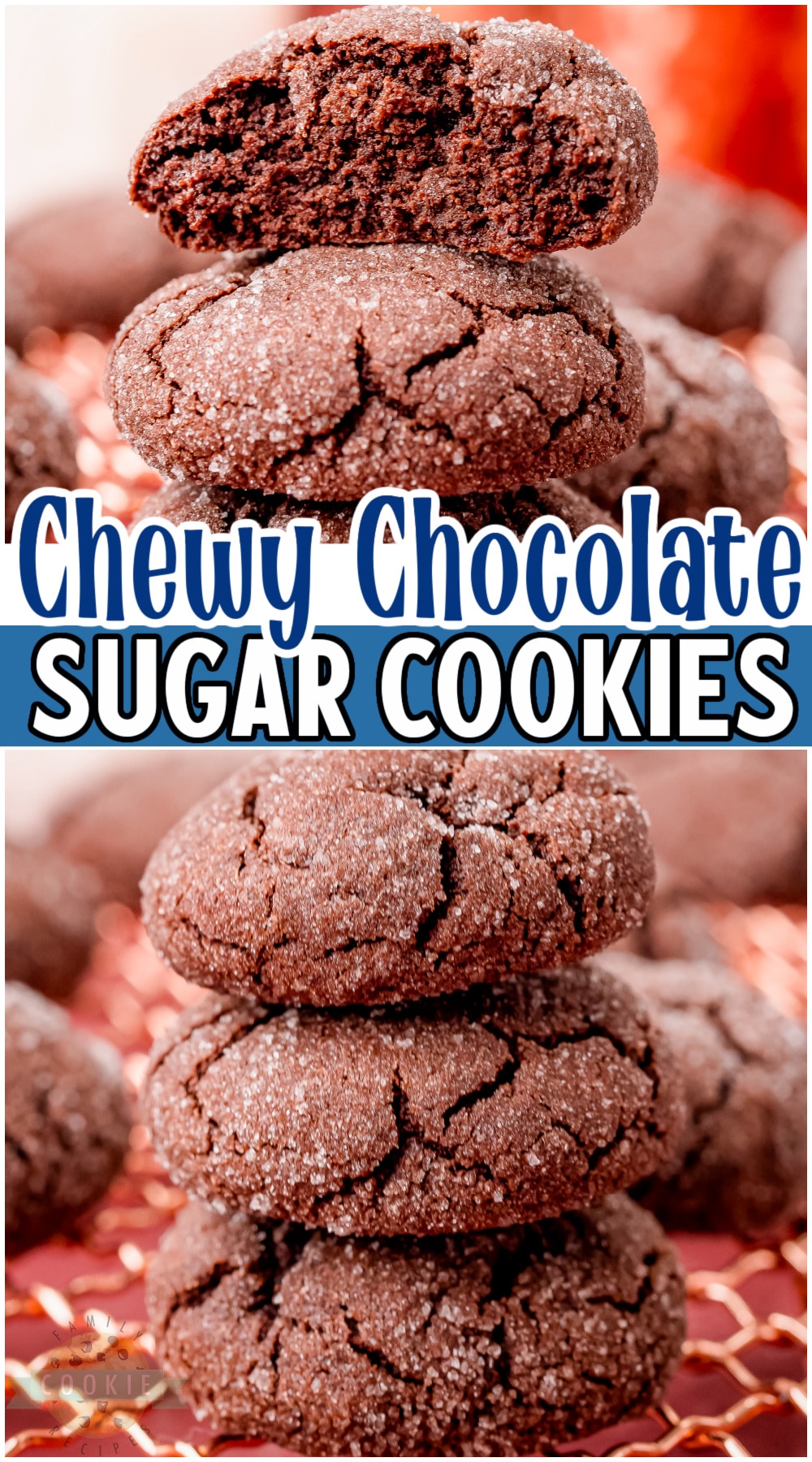 This chocolate sugar cookie recipe is perfect for any occasion and makes about 36 cookies making them perfect for parties, cookie exchanges, and more. Enjoy them soon!