Chocolate Caramel Linzer Cookies are sandwich cookies that pack a lot of flavor into every gooey bite. With caramel filled chocolate cookies, every bite is going to be delicious but making these cookies is half of the fun!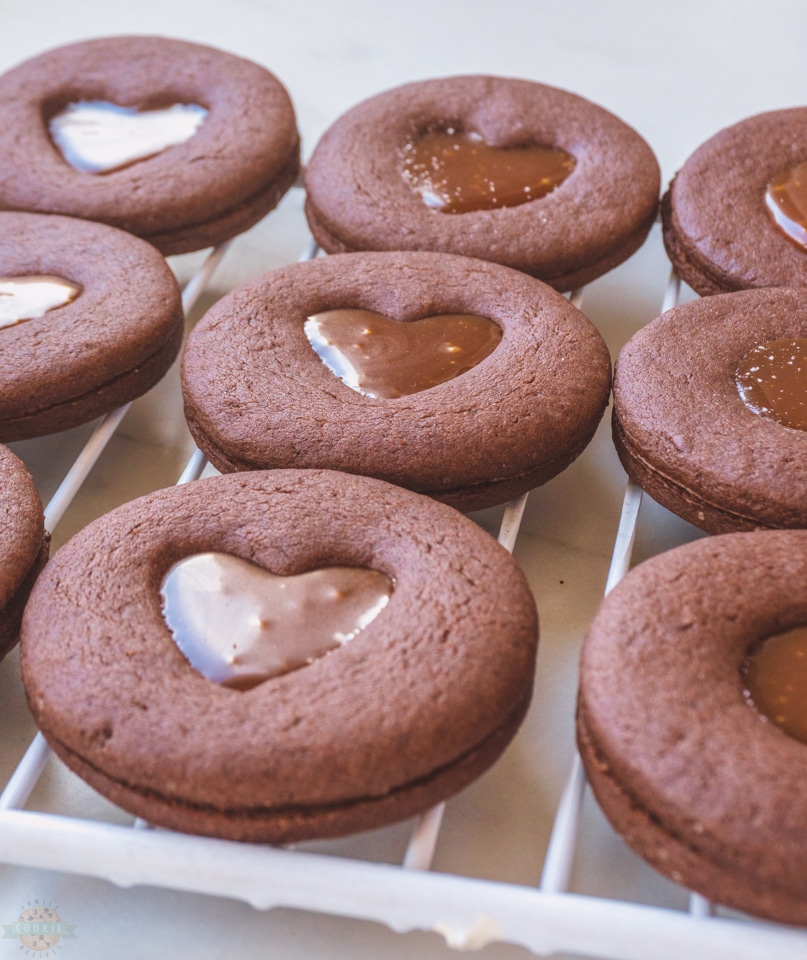 With fun cookie shapes and a simple caramel recipe for the centers, these cookies are ones that just keep giving. The chocolate Linzer cookie recipe holds its shape as it bakes and you can make a few sandwich cookies or several mini cookies thanks to the used cut outs from the dough. Either way, you'll have your hands (ad mouths) full of tasty cookies soon.
What are chocolate caramel Linzer cookies?
They're a window box framed style sandwich cookie. This means that the same shape is cut twice, but the top one is given a center removed, allowing for a filling to be there and visible. With our caramel going into the center of the cut out pieces, we're left with tasty cookies that look almost too good to eat!
Chocolate caramel Linzer cookie ingredients
For the cookies, you will need:
-Butter: We need 1 1/2 cups of butter for this cookie dough. This is 3 sticks and it's best to use unsalted butter so that the cookies don't end up too salty.
-Sugar: We only need 1/2 cup of granulated sugar to make these cookies nice and sweet.
-Egg: One egg is the perfect amount needed for becoming the binder in this recipe so that the cookies hold together well.
-Milk: Adding in 2 tablespoons of milk will help to give our cookie moisture and thin down the dough so it's easier to work with.
-Flour: We need 2 cups of flour for the base of this cookie dough recipe.
-Cocoa Powder: 2 tablespoons of cocoa powder will give our cookies the nice chocolate flavor and dark color we are looking for.
-Vanilla: With 1 tablespoon of vanilla, we know these cookies will taste great.
-Salt: A pinch of sea salt will help to enhance and bring out the flavors in this cookie recipe.
– Baking Powder: We want 1/4 tablespoons (3/4 teaspoons) of baking powder to help give these cookies the leavening needed to be soft.
For the caramel, you will need:
-Butter: We need 2 tablespoons of butter to help give us a rich tasting and shiny caramel sauce.
-Sugar: 1/2 cup of sugar will give us the sweetened caramel we want and will create the brown color as is cooks.
-Heavy cream: With 3 tablespoons of heavy cream we can have a rich tasting and creamy caramel.
How to make chocolate caramel Linzer cookies
How to Make Caramel
Place sugar inside a large saucepan.
Cook the pan over medium heat until the sugar has melted, whisk constantly. At first the sugar will clump up, but it eventually melts and begins to caramelize.
Once melted, stop whisking and remove from heat.
Add in the butter and whisk to combine.
Slowly add in the heavy cream and whisk to incorporate.
Let cool for about 10-15 minutes before using.
How to Make Cookies
Preheat your oven to 350F degrees.
In a mixer bowl beat together the butter, sugar, egg, and milk until creamy.
Combine the flour, cocoa powder, vanilla, sea salt, and baking powder in a large mixing bowl.
Add your dry ingredients into the butter mixture by adding it in batches and mixing in between each.
Place the dough between two layers of parchment paper and roll it out to about 3-4mm thick using a rolling pin.
Use a Linzer cookie cutter or a cookie cutter of choice to cut out solid shapes for the bottoms.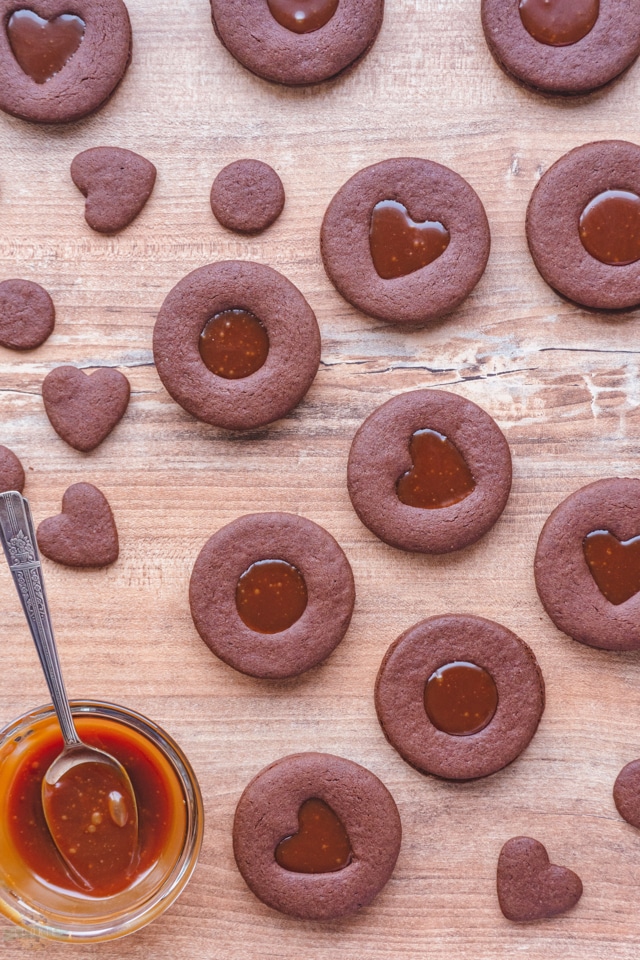 Transfer the cookies to a parchment paper lined baking sheet.
Repeat until you have 12-15 solid shaped cookies.
Next, cut out the cookie top layer pieces which instead of being solid, will be a frame to allow caramel to go in the middle.
You can either bake the cut out centers as mini cookies or roll them back into the dough for additional cookies. Just make sure to have an even amount of top and bottom pieces so you can make whole cookies.
Bake for 6-8 minutes.
Let cool for 1-2 minutes on the baking sheet before transferring to a wire cooling rack.
To fill the cookies with the caramel, position the top and bottom cookies the flat side in the center. Pick up and spoon 1 teaspoon of caramel onto the bottom cookie and directly in the center. Top with the frame shaped cookie so that the caramel is mostly filled in the center, but also has enough caramel to hold the two cookie pieces together.
Repeat with remaining cookies. Enjoy!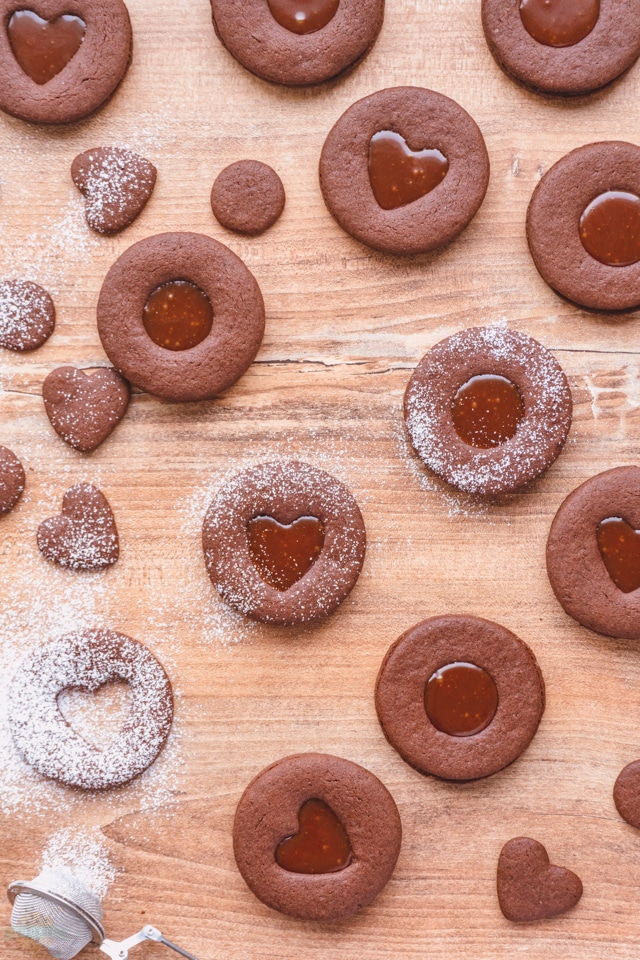 How to store caramel filled chocolate Linzer cookies
Keep your cookies stored in an airtight container at room temperature. The cookies will last bout 5-7 days and always taste best about 2-3 days after baking. This is when the caramel is set and the cookies are a bit softened so they're so much easier to eat and enjoy. Yum!
Can I freeze caramel filled cookies?
You can safely freeze caramel filled cookies. I recommend keeping the cookies layered in an airtight container with parchment or wax paper between each to prevent sticking. To eat, place cookies on the counter and allow them to come to room temperature so that the caramel I easier to bite into. The caramel may "sweat" as it thaws, this is natural.
What can I do with extra caramel?
If you find yourself with extra caramel and want more ideas than simply enjoying it with a spoon, I recommend trying it on ice cream or brownies. Even drizzling this caramel sauce over your favorite chocolate chip cookies could be a big game changer, but don't forget about the classic caramel and apple combination that's always good too.
More Cookie Recipes You'll Enjoy!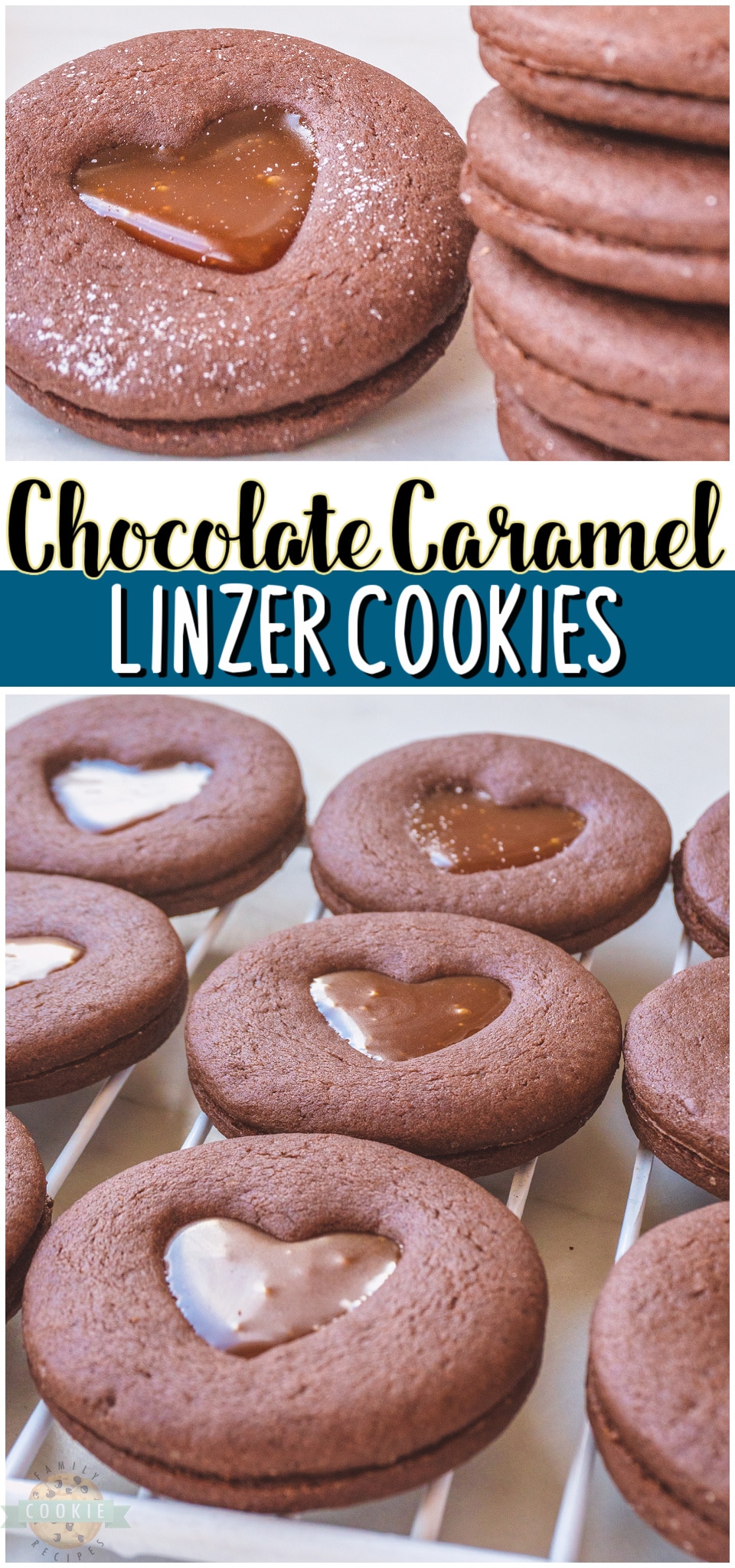 You're going to love these awesome chocolate caramel Linzer cookies. With chocolate cookies and a chewy caramel center you can see, you already know your tastebuds are in for a bit of a treat.