Coconut chocolate chip cookies packed with chocolate chips and double the coconut! Soft & chewy pudding chocolate chip cookies with coconut perfect for coconut lovers!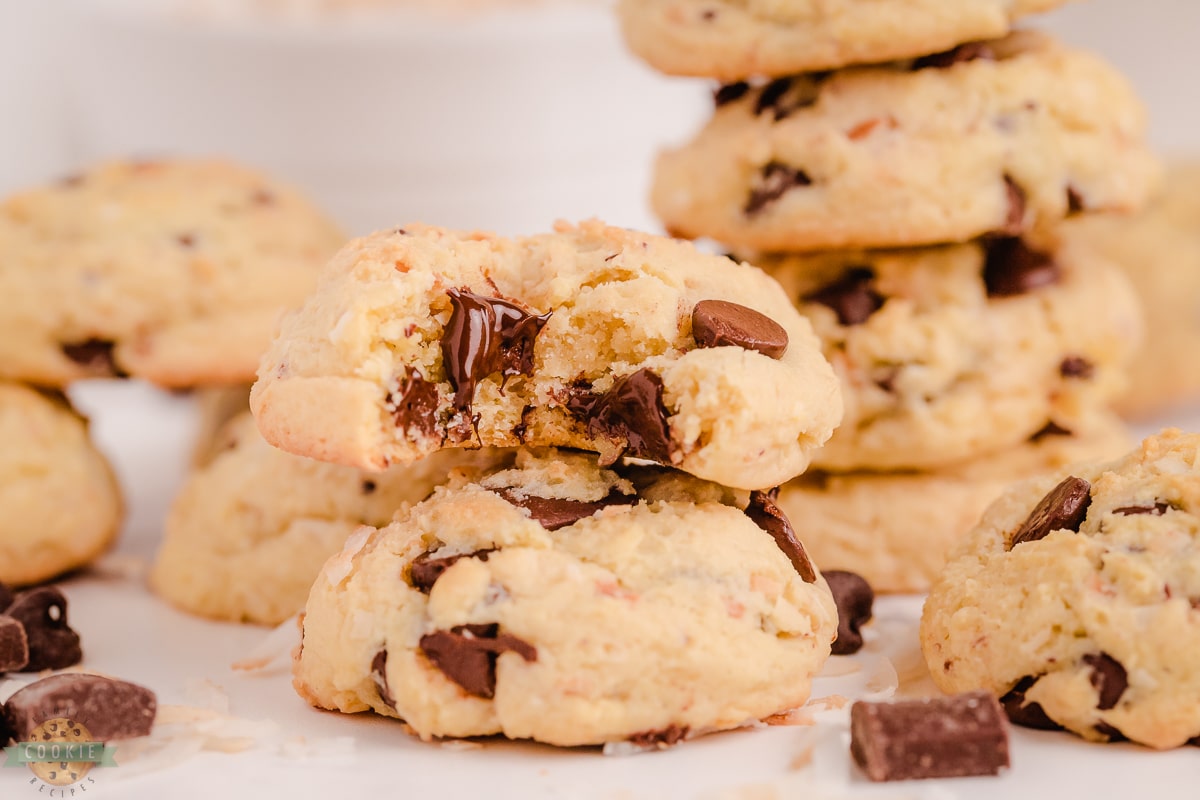 You're going to love these chocolate chip cookies with coconut pudding. Every cookie is soft, chew, flavorful, and oh so delicious! Serve your cookies up with a tall glass of milk to help complete the picture of a perfect snack time.
Coconut chocolate chip cookies
These are a treat! A chocolate chip cookie recipe that's been modified to bring us the best that coconut has to offer. By using coconut extract, coconut pudding mix, and a bit of toasted coconut in every cookie we get a wonderful flavorful experience that pairs well with the chocolate chips and chocolate chunks. Every bite will remind you of your favorite Mounds candy bars.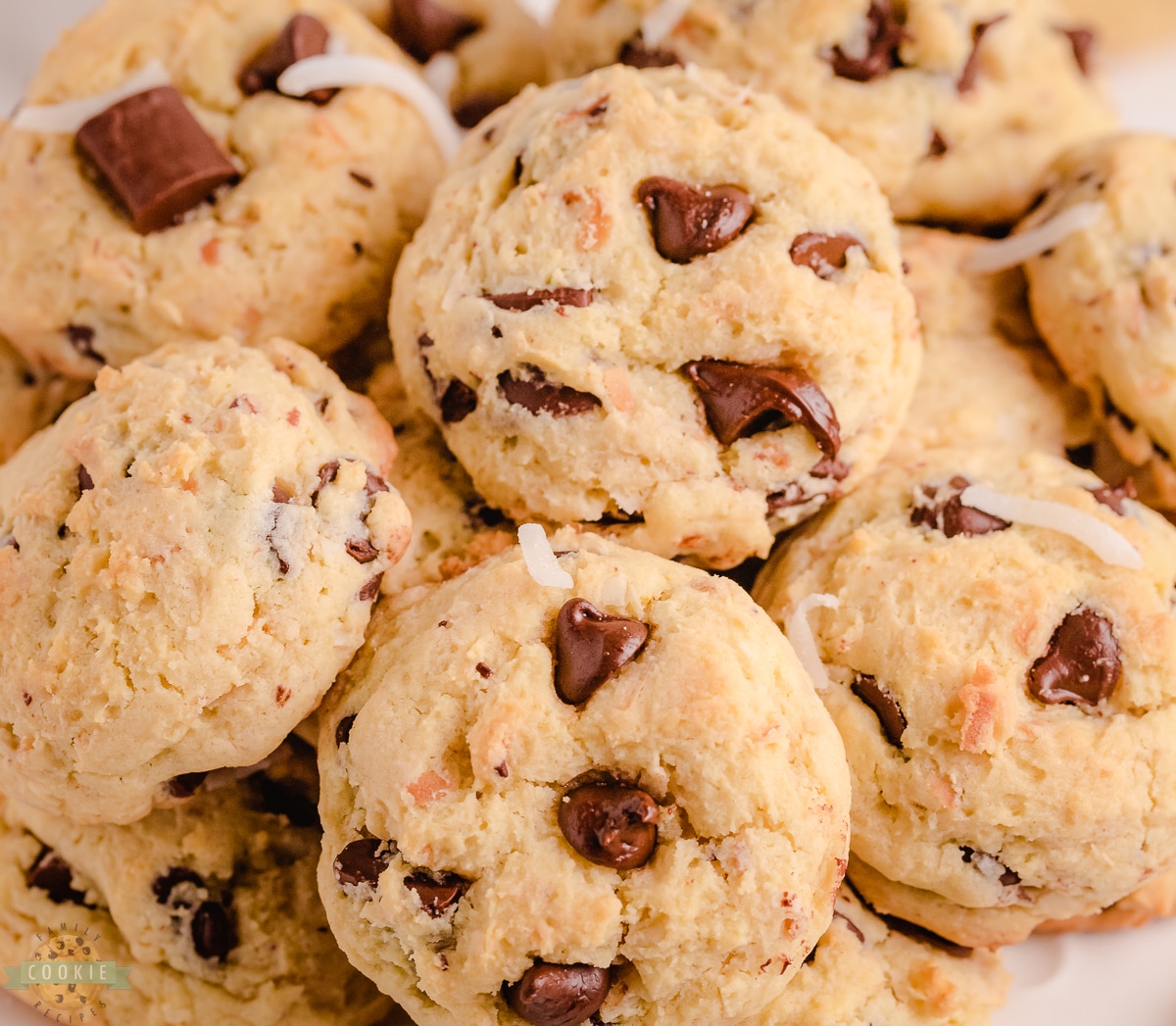 Coconut Chocolate Chip Cookie Ingredients
-Sugar: You will need 1 cup of granulated sugar to make these cookies nice and sweet.
-Butter: Using ½ cup of softened butter (one stick) we get a nice and rich tasting cookie.
-Egg: 1 egg will help to bind the cookie together so that they are a great consistency.
-Milk: Use 2-4 tablespoons of milk to help wet the dough well enough that it holds together.
-Pudding: You will want to use a 3.4 ounce sized box of coconut creme pudding mix. Just the dry mix!
-Sour cream: Use ⅓ cup of sour cream to give our cookies added moisture and richness.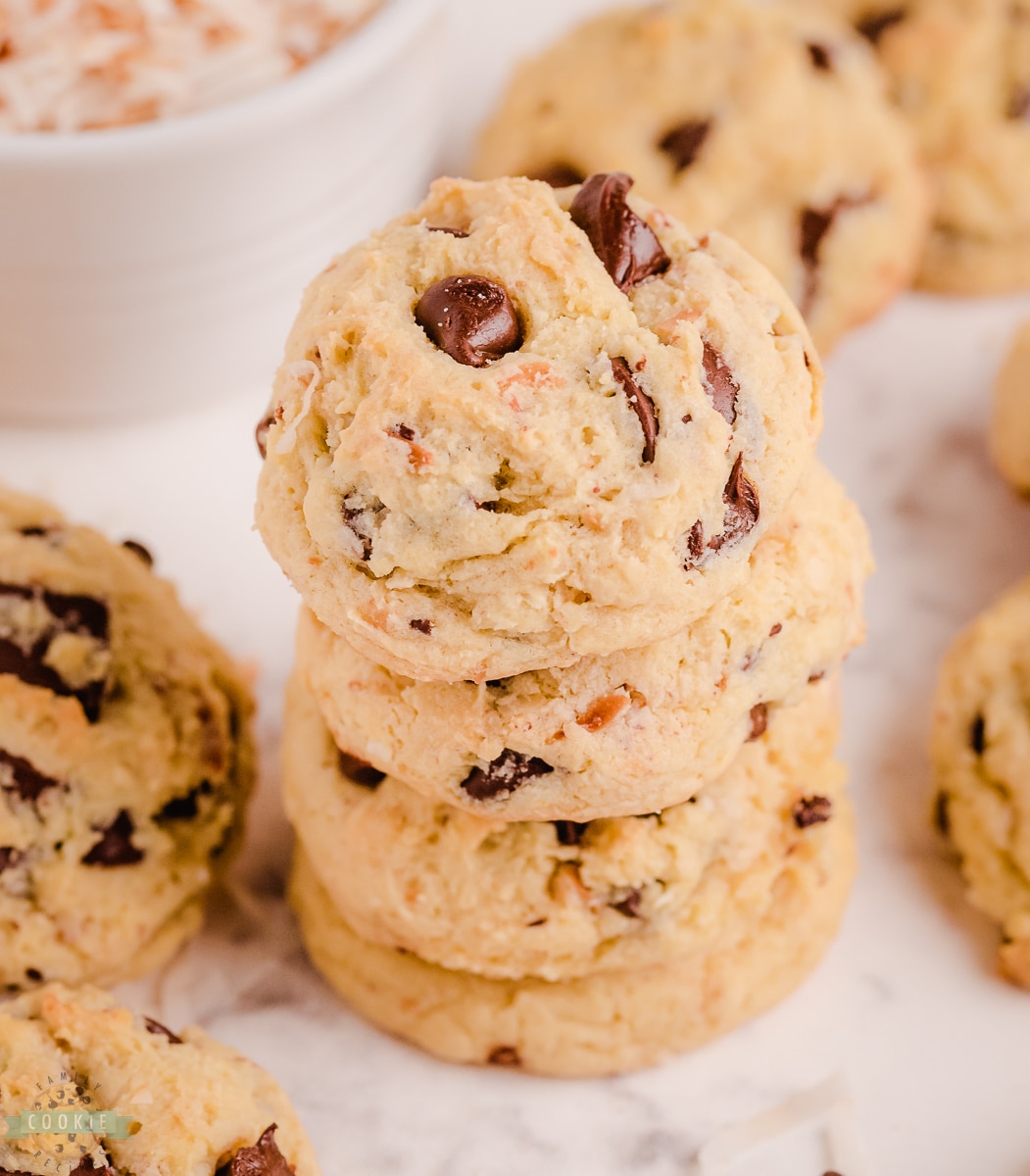 –Coconut extract: For flavoring, use 1 ½ teaspoons of coconut flavored extract. You can find this in your grocery store's bakery section.
-Salt: Adding in just ½ teaspoon of salt will help to really enhance the flavors in these cookies.
-Baking soda: Use ½ teaspoon of baking soda to help the cookies puff up as they bake.
-Flour: The base of the cookie dough is 2 cups of all-purpose flour.
-Chocolate: You will need 1 cup each of semi-sweet chocolate chips and chocolate chunks.
-Coconut: Adding ½ cup of toasted coconut will really make these stand out and taste incredible.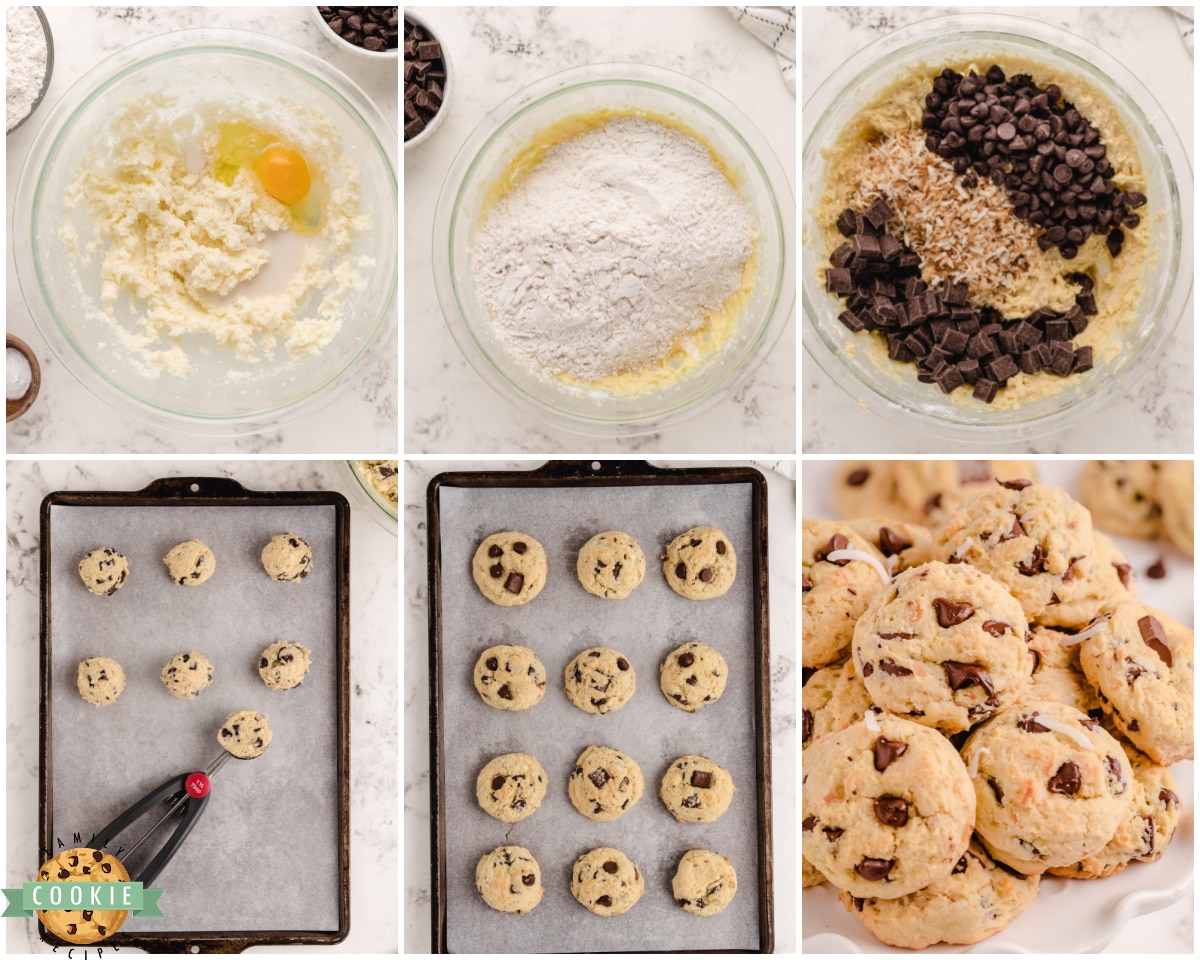 How to Make Coconut Chocolate Chip Cookies
In a mixing bowl, cream together the sugar and butter until fluffy.
Add in the egg and milk and then stir again.
Add in the sour cream, pudding mix, and the coconut extract and stir to combine.
Combine the flour, baking soda, and salt into the mix and stir until smooth.
Mix in the chocolate chips, chocolate chunks, and toasted coconut.
Drop the cookie dough by the rounded tablespoonful onto a greased cookie sheet and bake at 375 degrees F for 10 minutes before transferring to a wire rack to cool completely. Enjoy!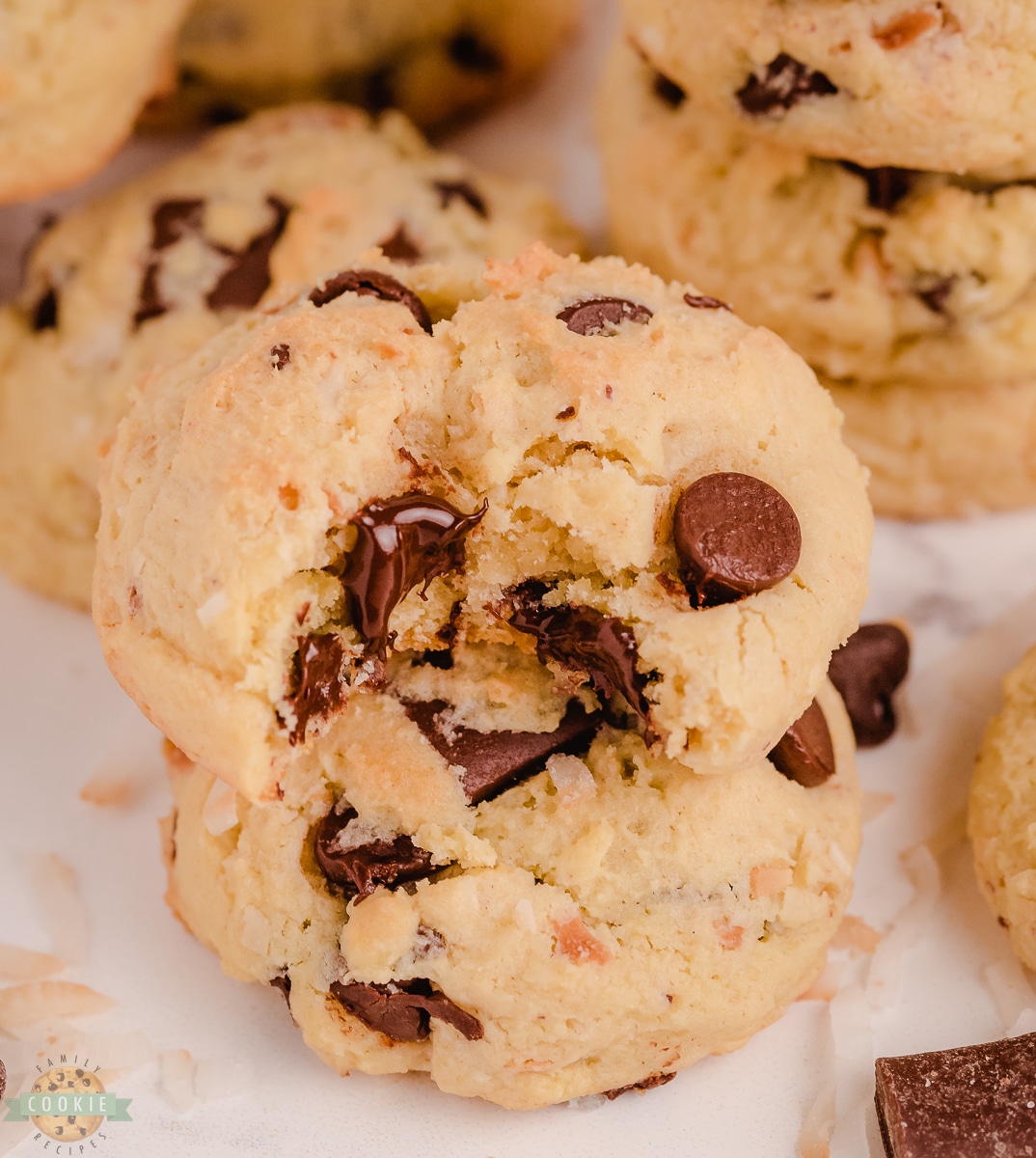 How to toast coconut
You can toast coconut on a baking sheet in the oven prior to use by simply spreading your coconut out on the pan and baking at 350 degrees F for about 8-10 minutes. Keep an eye on the coconut as it bakes to make sure that it doesn't become overcooked, or extend the time slightly if you want the coconut darker.
You can also toast coconut in a nonstick skillet on the stove. Simply heat the shredded coconut over medium heat, turning often with a rubber scraper. It takes about 5 minutes, but the coconut will turn a toasty brown. Remove from heat and let cool before adding to cookie dough.
What does pudding mix do in cookies?
It helps to add a lot of flavor and moisture to every cookie bite. Not only that but it also helps to act as a binding agent that holds the cookies together for a better cookie structure.
How to Make Better cookies
A few tips and tricks to making better cookies every time!
Use an Electric Mixer for Even Mixing
It's worth it to use an electric mixer! You can use a handheld one or a stand mixer; I prefer a stand mixer, but use what you have on hand.
Cream the Butter & Sugars for Longer
Spend a little extra time when you mix the butter and sugars. Creaming them together for 2-3 minutes will improve the consistency of your cookies.
Preheat the oven. This will help your cookies turn out right every time!
Cookie Scoops for Perfect Cookies
Use a cookie scoop! If you want all your cookies to be perfectly shaped and have them all be the same size, a cookie scoop is the way to go.
Make Sure your Cookies don't Stick to the Pan!
Use parchment paper or a silicone baking mat. Doing this will make it really easy to remove the cookies from your cookie sheet so that you don't have to scrape them off the pan – they will just slide right off in perfect shape!
Take them out of the oven Earlier
Make sure not to overbake your cookies. They may not even look totally done on the tops, but if the bottoms start to brown, I take mine out and they are perfect!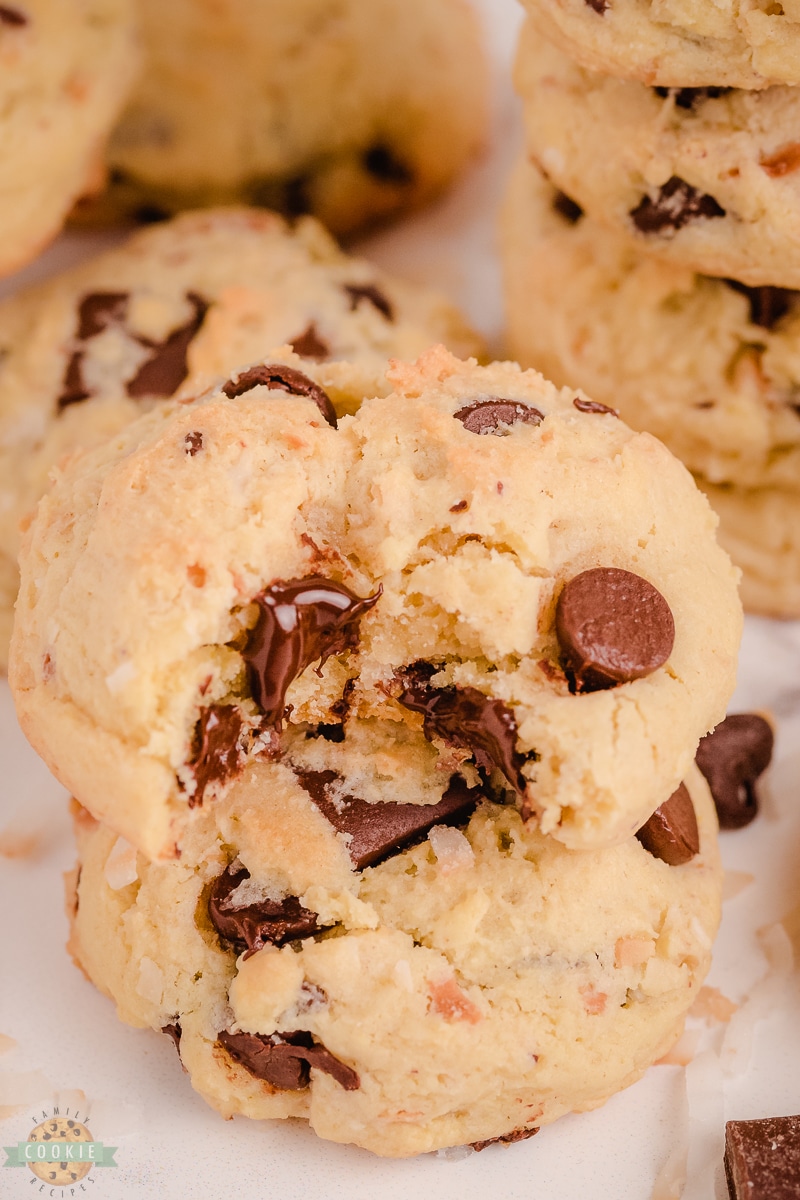 More Chocolate Chip Cookie Recipes You're Sure to Love!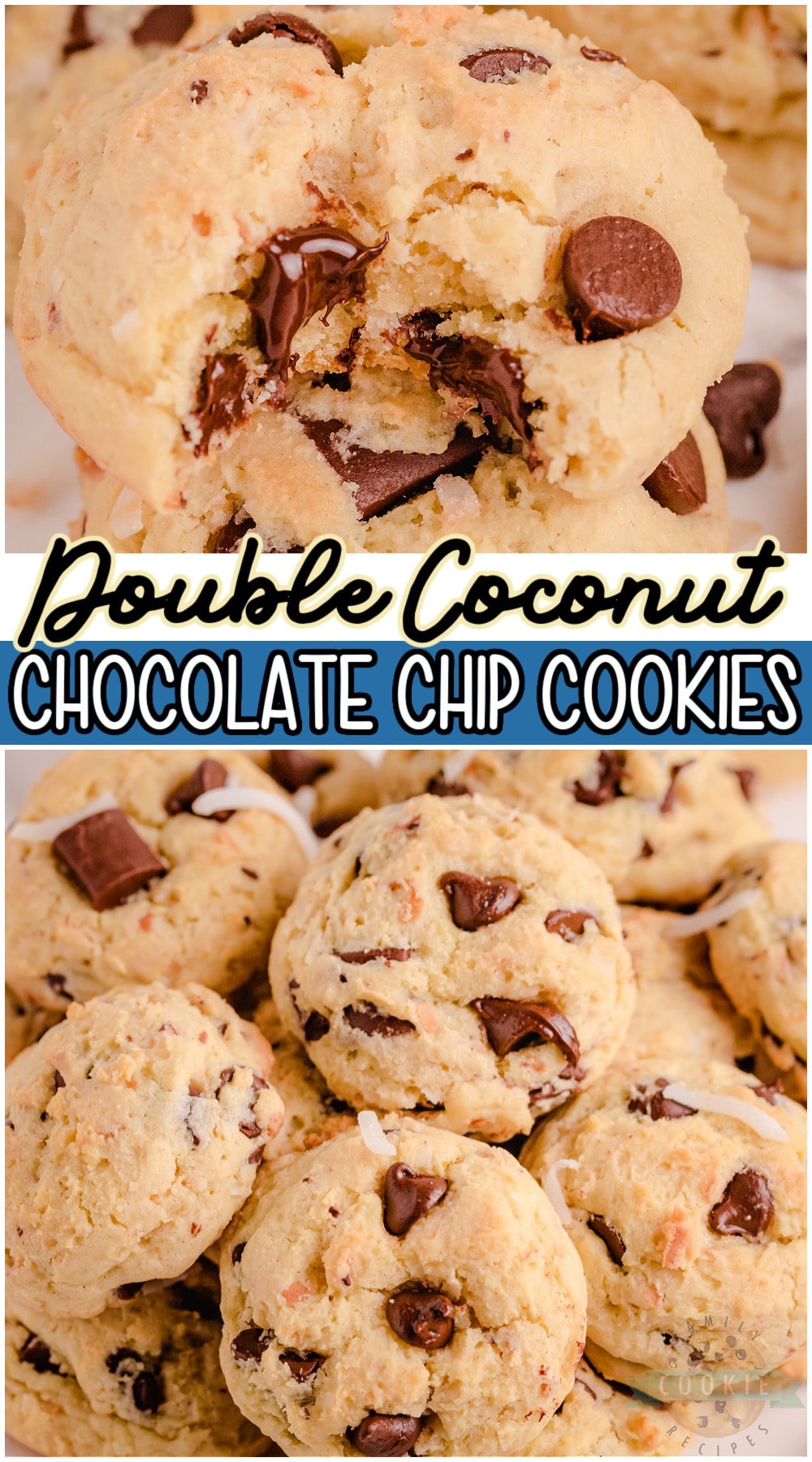 Coconut chocolate chip cookies packed with chocolate chips and double the coconut! Soft & chewy pudding chocolate chip cookies with coconut perfect for coconut lovers!