Chocolate Chip Puff Pastry Cookies are unique cookies made with just 4 simple ingredients! Buttery Puff Pastry serves as the "cookie dough" for these deliciously flaky cream cheese chocolate chip cookies.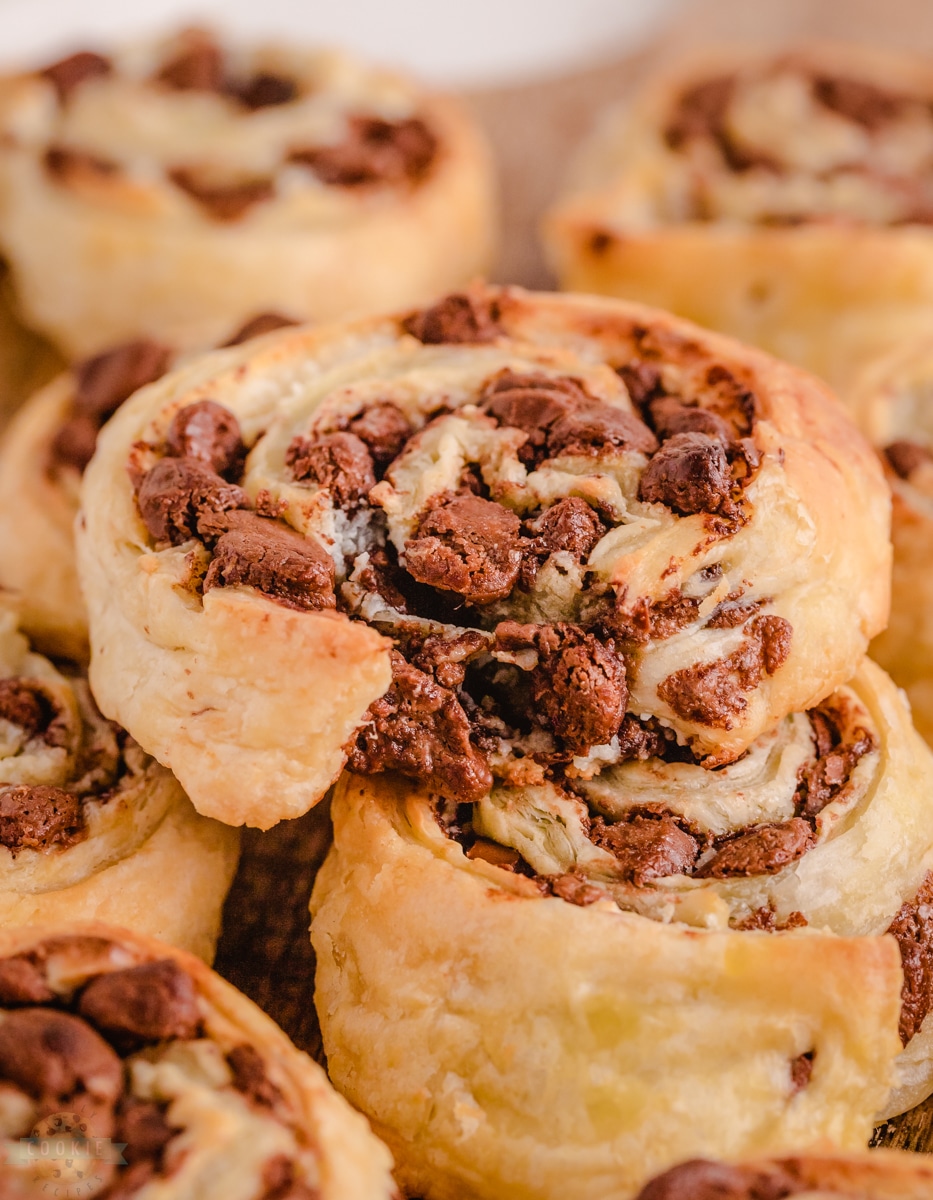 These soft and buttery tasting chocolate chip cookies only take a moment to prepare and can disappear even faster. With such a luxuriously rich tasting cookie in every chocolatey bite, you'll be so glad you made these unique cookies!
Puff pastry cookies
While puff pastry elephant ears (or Palmiers) may be the first cookie to come to mind, these ones won't soon be far behind. With chocolate chips, sweetened cream cheese, and a buttery flaky puff pastry in every bite, these chocolate chip cookies bring all of the things you love most about cookies in a rather untraditional and exciting way.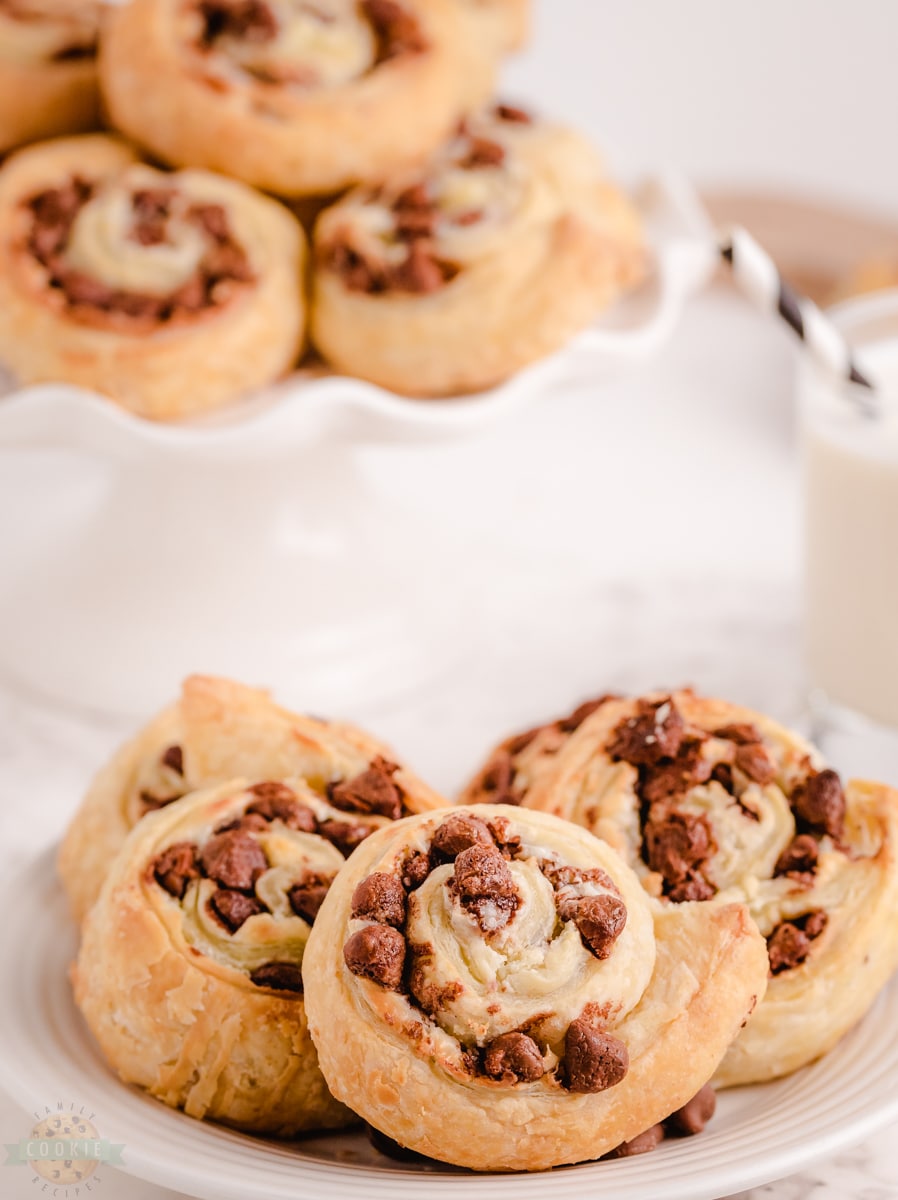 Ingredients for cookies made from puff pastry
-Puff Pastry: You'll need two thawed sheets of puff pastry, you can find these in the fridge section of your grocery store with the thawed pie crusts or you can find them in the freezer section.
-Cream cheese: You will need 8 ounces of softened cream cheese. You can soften the brick faster by wrapping the foiled cream cheese in a warm towel for about 10 minutes.
-Sugar: You will need 3 tablespoons of granulated sugar to help sweeten the cream cheese filling.
-Chocolate chips: You will need 2 cups of semi sweet chocolate chips, this is the amount found inside an 8 ounce bag.
How to make puff pastry chocolate chip cookies
On a lightly floured surface, unfold one puff pastry sheet and roll it out to be a 14×10 inches rectangle.
In a small bowl, combine the cream cheese and granulated sugar until smooth. Spread half of the cream cheese over the puff pastry, leaving a 1 inch border on one long side.
Sprinkle half of the chocolate chips over the top.
Roll up the puff pastry starting from on the long side with the cream cheese, and seal the end by moistening it with water.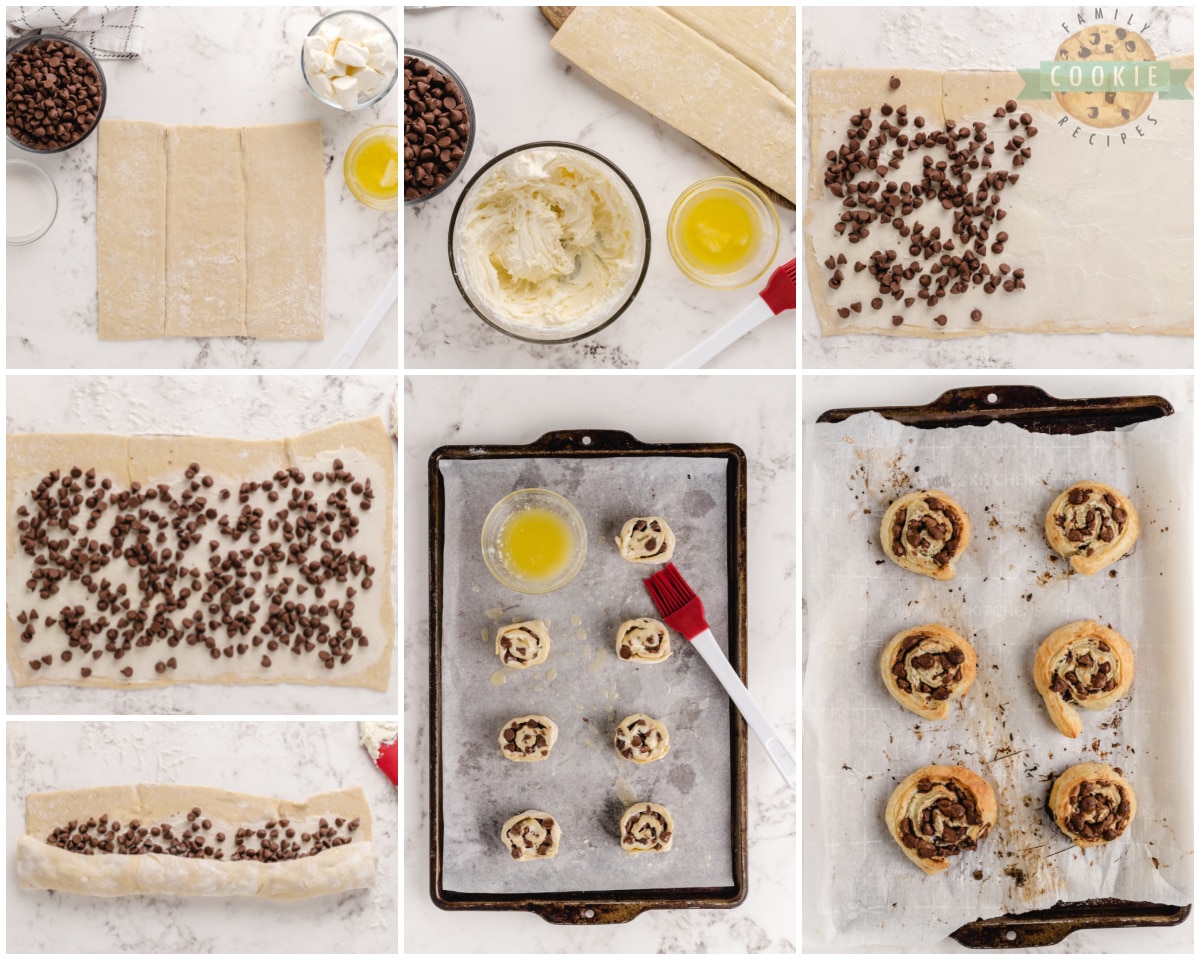 Repeat the steps with the other ingredients (unfold, roll, spread, sprinkle, roll).
Place your two logs of chocolate chip puff pastry in the fridge for one hour to chill.
Preheat your oven to 375 degrees F. Lightly grease a baking sheet with nonstick cooking spray or line it with parchment paper.
Cut the logs into 1 inch thick slices and place cut side down onto the prepared baking sheets.
Bake in the oven for 20-25 minutes or until golden brown.
Cool on the baking sheets for 2 minutes before removing to wire racks to cool completely. Enjoy!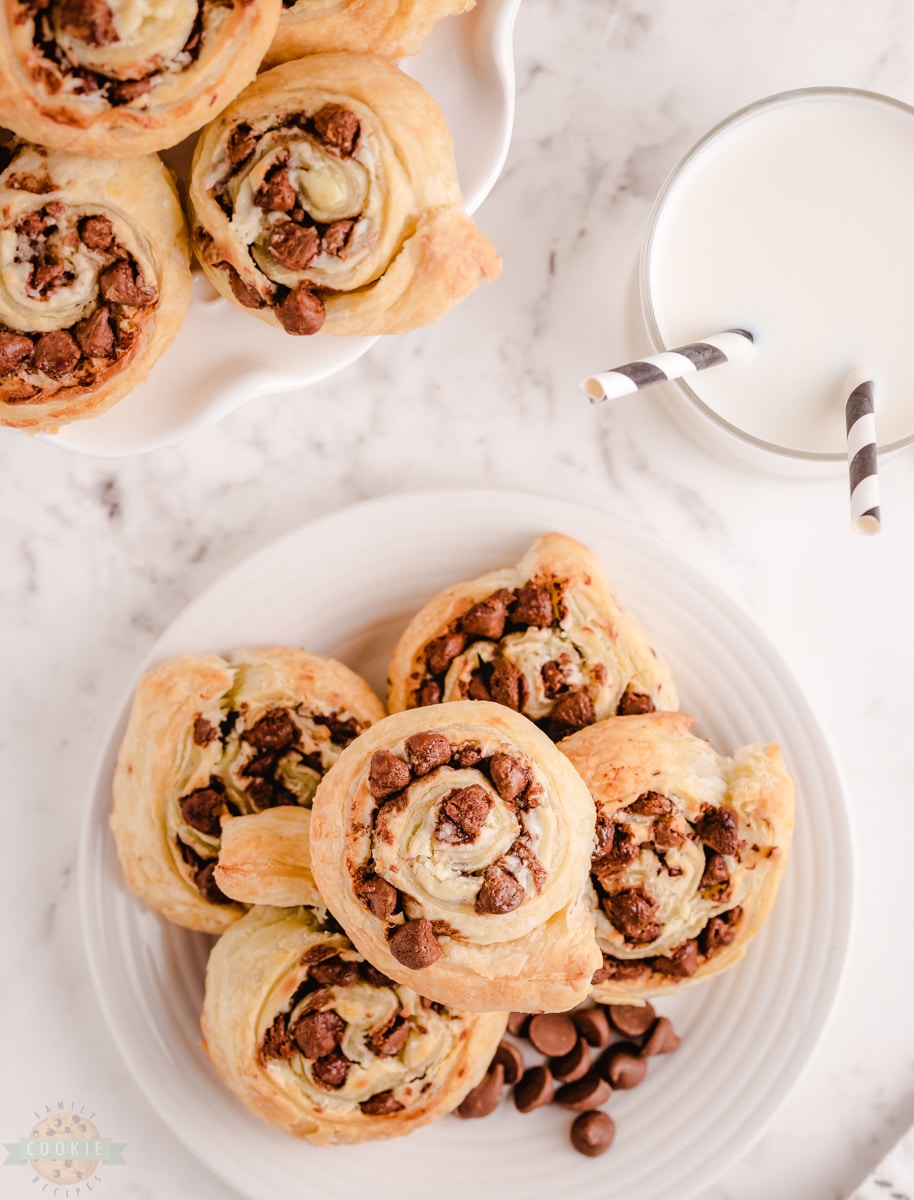 Do cookies with cream cheese need to be refrigerated?
These cookies should be kept stored in the fridge in an airtight container when not being eaten. This will help to keep the cream cheese from spoiling and allows you a few extra days to savor the wonderful cookie flavors. You can always place a few cookies in the microwave or let them rest on the counter to bring to room temperature if you find that you enjoy them better warmer.
How do I cut my puff pastry roll without smooshing it?
First, be sure to chill the log for an hour! Tips for cutting your dough without hurting the round appearance include using a large sharp knife (like a butcher knife) or using a string. Using a fishing line or unflavored dental floss and circling it around the dough from the bottom and crisscrossing the strings at the top and pulling will help to cut the dough from all sides at once for a more uniform shape.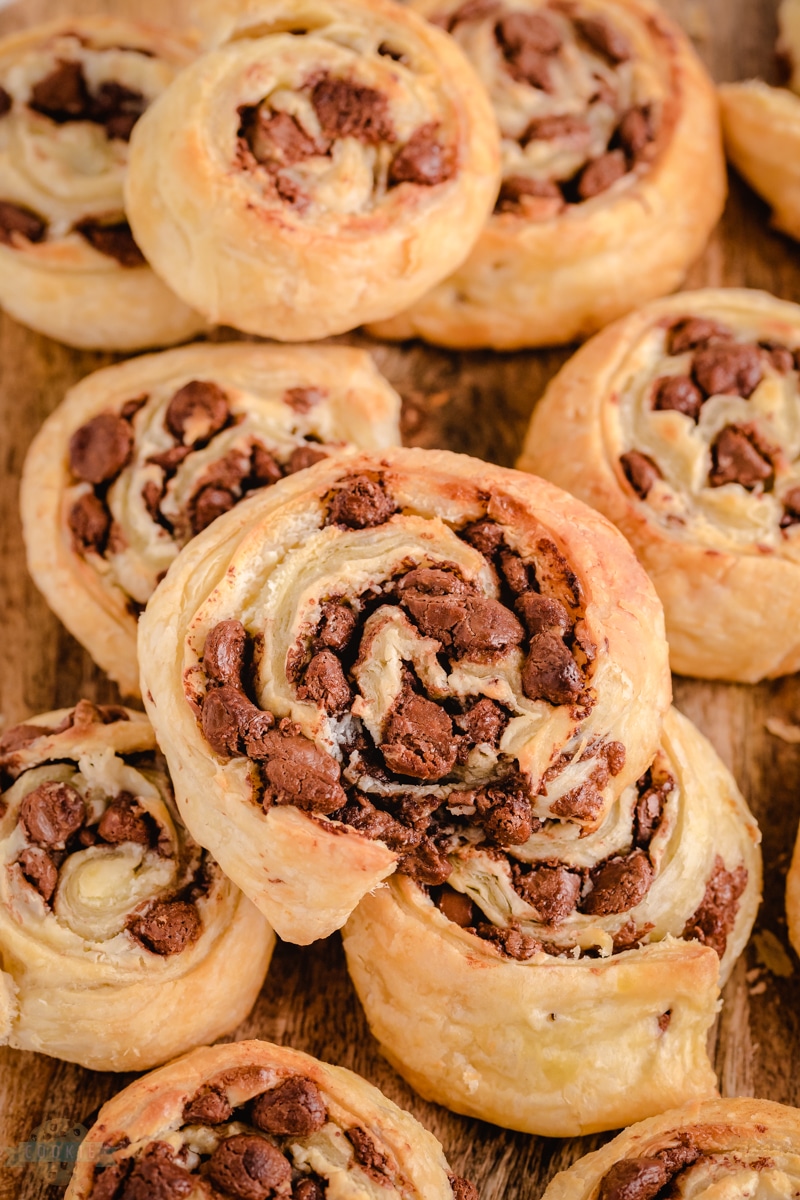 I don't care what kind of graduation it is, when one of my kids graduates from anything, I get a bit sentimental. Everyone says "enjoy each day, it goes so fast!" But I'm certain those people have COMPLETELY FORGOTTEN the day-to-day challenges of raising kids. School lunches. Homework. Allowance. Lost library books. SO MUCH laundry. It's hard!! But you know what, "those" people are right. It does go by fast.
And some days when I'm lamenting about kids NEVER turning off lights, or leaving the back door open so we can air condition the neighborhood, I try and stop for a second and remember– SOMEDAY I'm going to miss this.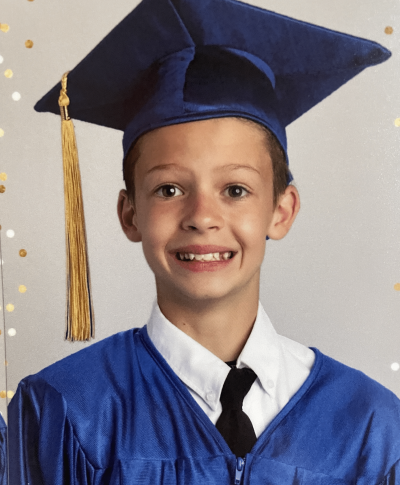 And here's to another graduation. <<insert crying face emoji here>>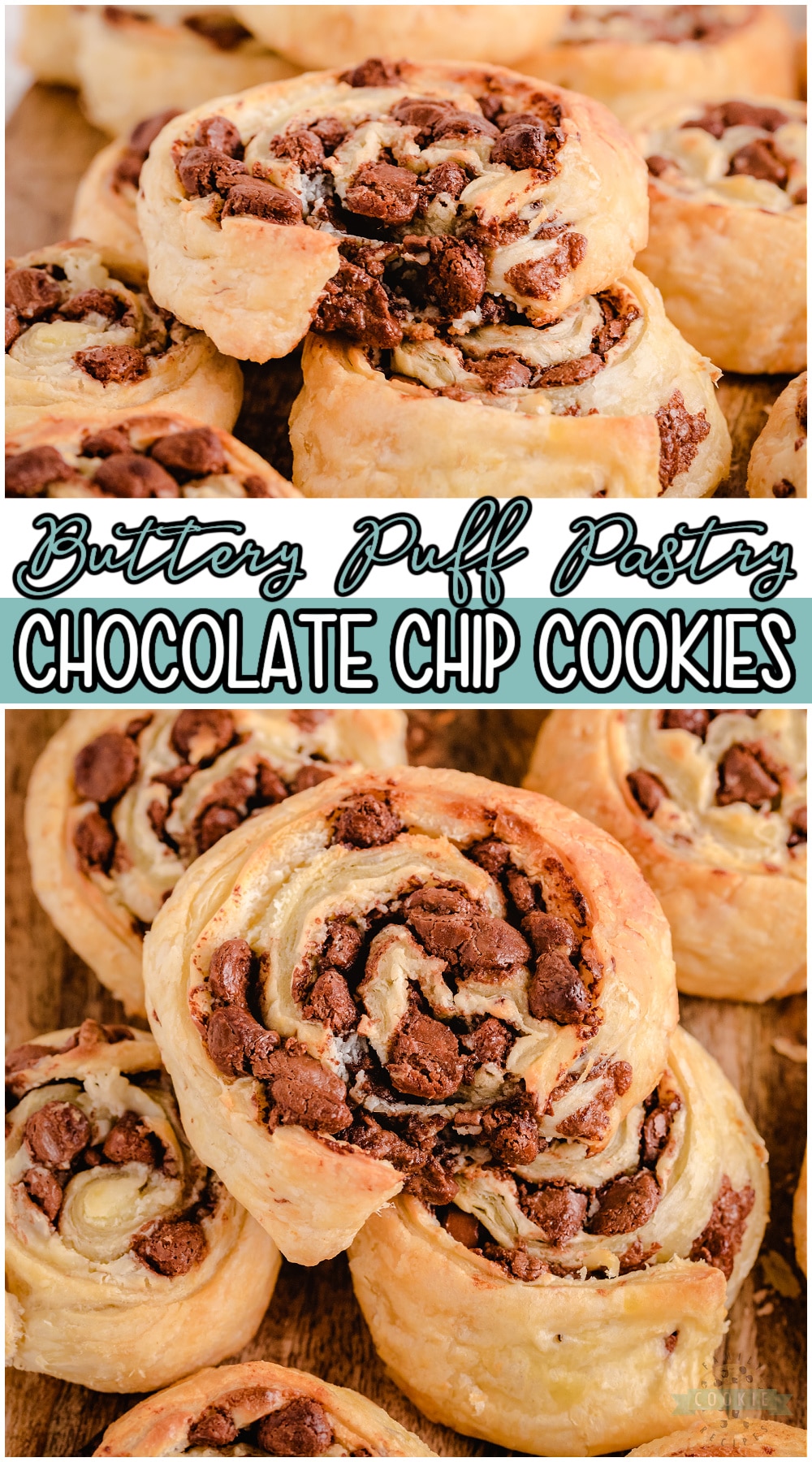 These 4 ingredient puff pastry chocolate chip cookies are the perfect recipe for any chocolate-loving baker. With a rich cream cheese filling and melty chocolate chips, every bite is even better than the last. Yum!