Bakery Style Chocolate Chip Cookies are large, crisp on the outside and soft in the middle. The perfect chocolate chip cookie recipe that you've been looking for all your life!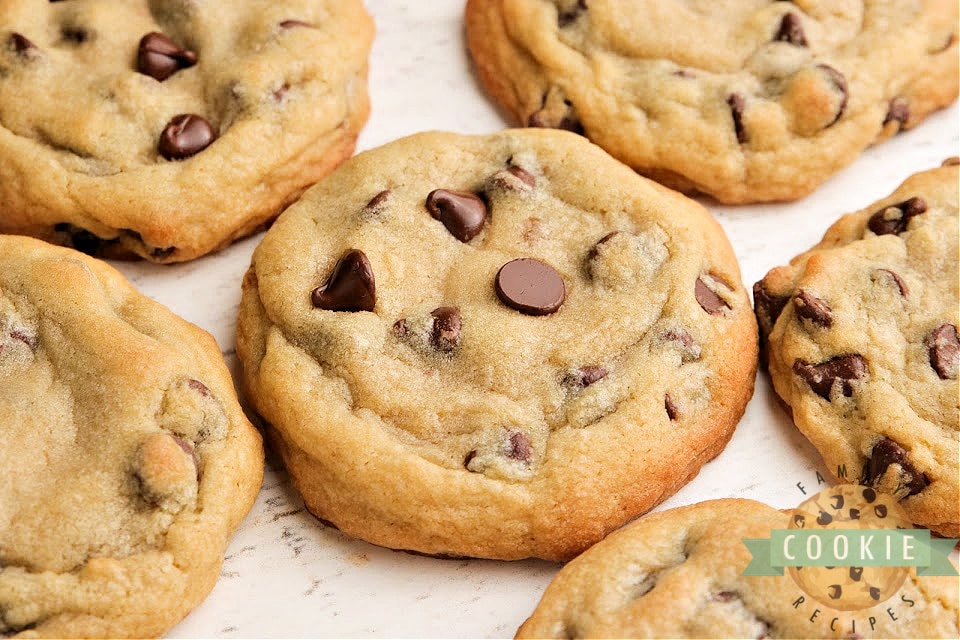 I've made so many chocolate chip cookie recipes. Some are absolutely amazing. This one is absolute perfection. The recipe is very simple. There are only a couple small variations on most chocolate chip cookie recipes, but those little things make the biggest difference. The texture and consistency of these cookies are absolutely incredible. My kids have been raised on good cookies, but they kept asking me why I'd never made this kind before because they were the best.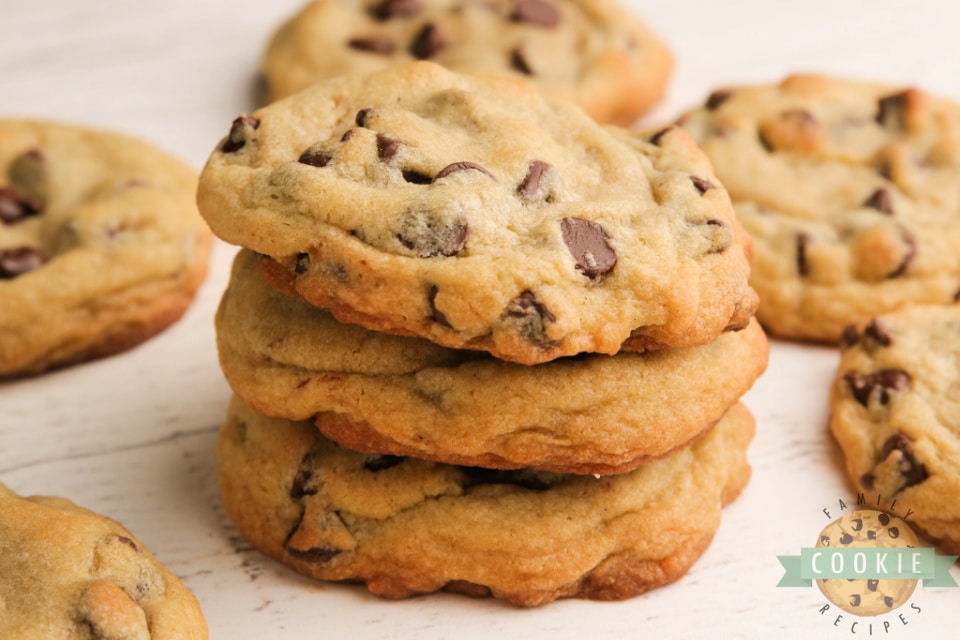 Ingredients in Bakery Style Chocolate Chip Cookies
Butter – You will need 1 cup (2 sticks) of butter, cold and diced into small pieces. Real butter definitely works best!
Brown Sugar – For best results, make sure your brown sugar is fresh.
Sugar – You will need 1/2 cup of granulated sugar to add the rest of the sweetness to the cookies.
Eggs – 2 large eggs are needed for the recipe.
Flour – All-purpose flour works best in the recipe, but you can use a gluten-free substitute if needed.
Cornstarch – Just a teaspoon of cornstarch helps to attain that perfect soft and chewy consistency in these cookies.
Baking soda – 3/4 teaspoon of baking soda acts as the leavening agent in the cookies, so make sure that your baking soda isn't expired.
Salt – Just a little bit of salt helps to bring out all of the other flavors in the cookies.
Chocolate chips – I prefer semi-sweet chocolate chips in cookies, but you can use milk chocolate chips or even dark chocolate chips!
Walnuts (optional) – I don't love nuts in cookies, but if you do, throw them in! Just a cup of chopped walnuts add a lot of crunch and flavor!
How to make Bakery Style Chocolate Chip Cookies
Preheat oven to 410°.
Cream butter and sugars together for about 3-4 minutes or until butter is completely incorporated and smooth.
Add eggs and mix for 2 more minutes.
Add all of the dry ingredients and mix just until combined.
Stir in the chocolate chips and walnuts.
Use a large cookie scoop (about 1/4 -1/3 cup) to scoop the dough onto prepared cookie sheets. I line the cookie sheets with silicone baking sheets and the cookies turn out perfectly every time. These cookies will be bigger than normal chocolate chip cookies. That's a good thing! You should get about 15 large cookies from the cookie dough.
Bake cookies for 9-10 minutes or until they are a light golden brown on the tops and edges.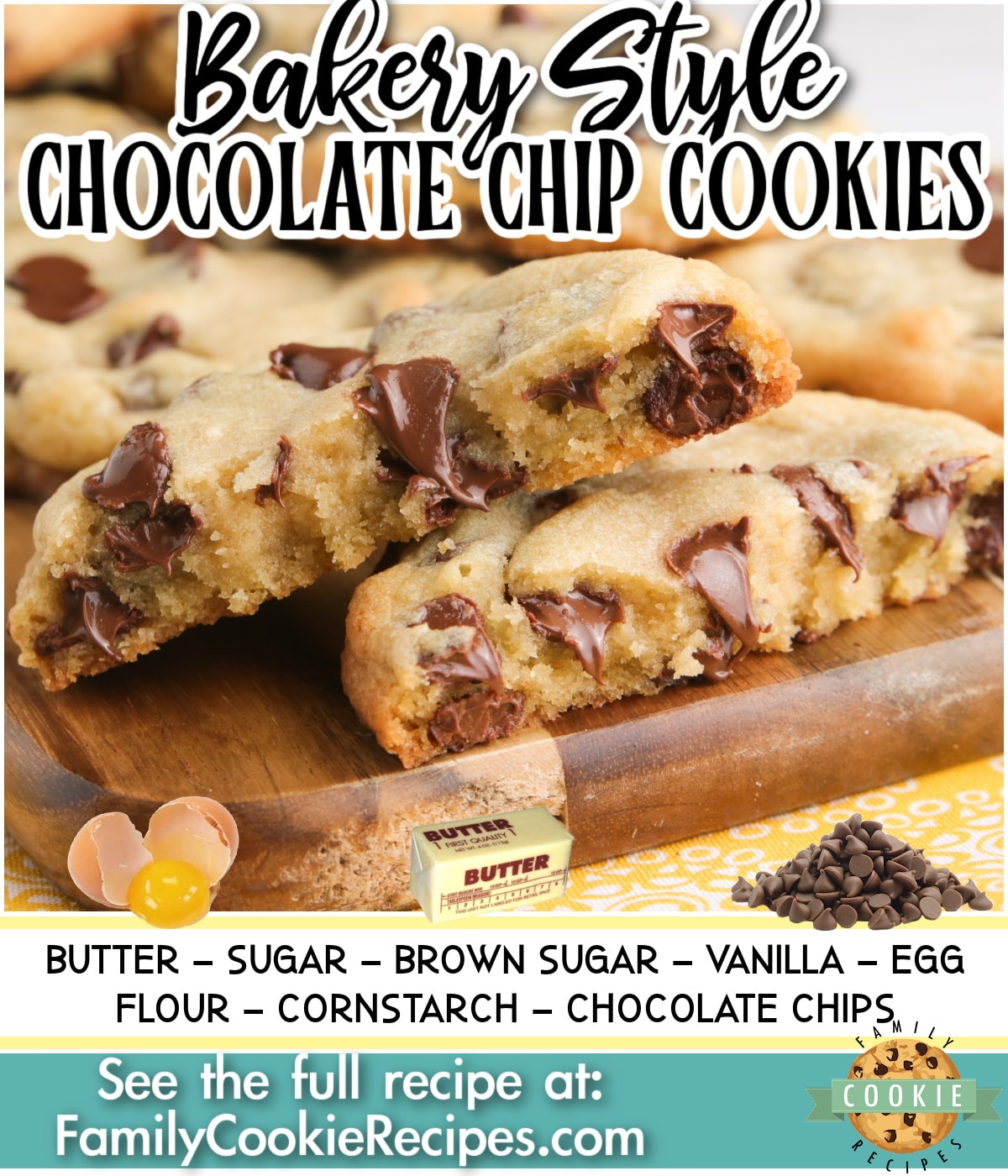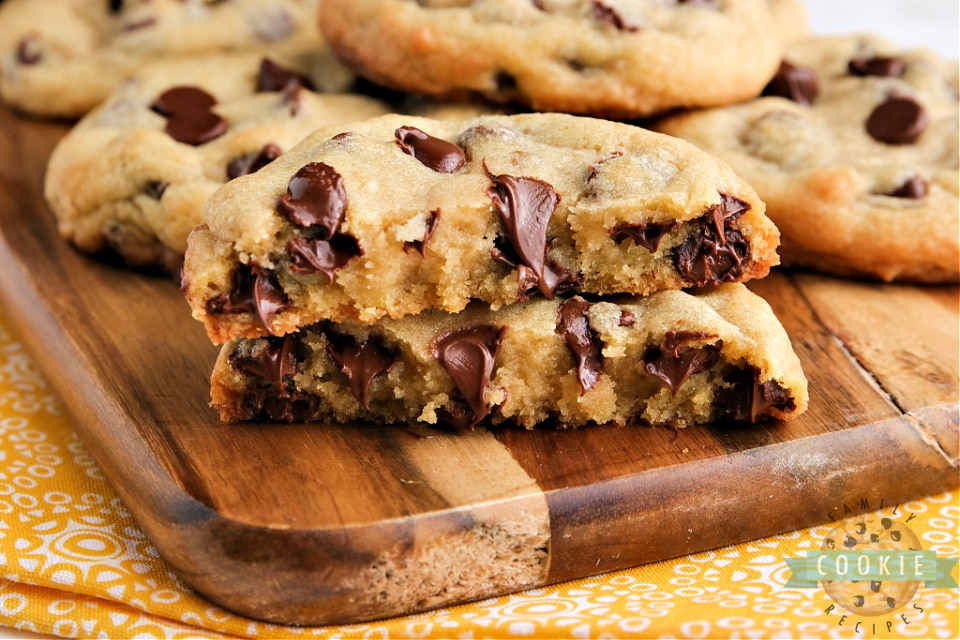 HOW LONG TO LET COOKIES COOL
Cookies are best left to cool on the baking sheet they're cooked on for 3-4 minutes, then you can transfer them to a cooling rack to cool further. This way, they don't fall apart as cookies are pretty soft still when they're pulled out of the oven. After a couple minutes on a cooling rack, cooking are usually cool enough to eat! Warm cookies are the best! Especially with a scoop of vanilla ice cream.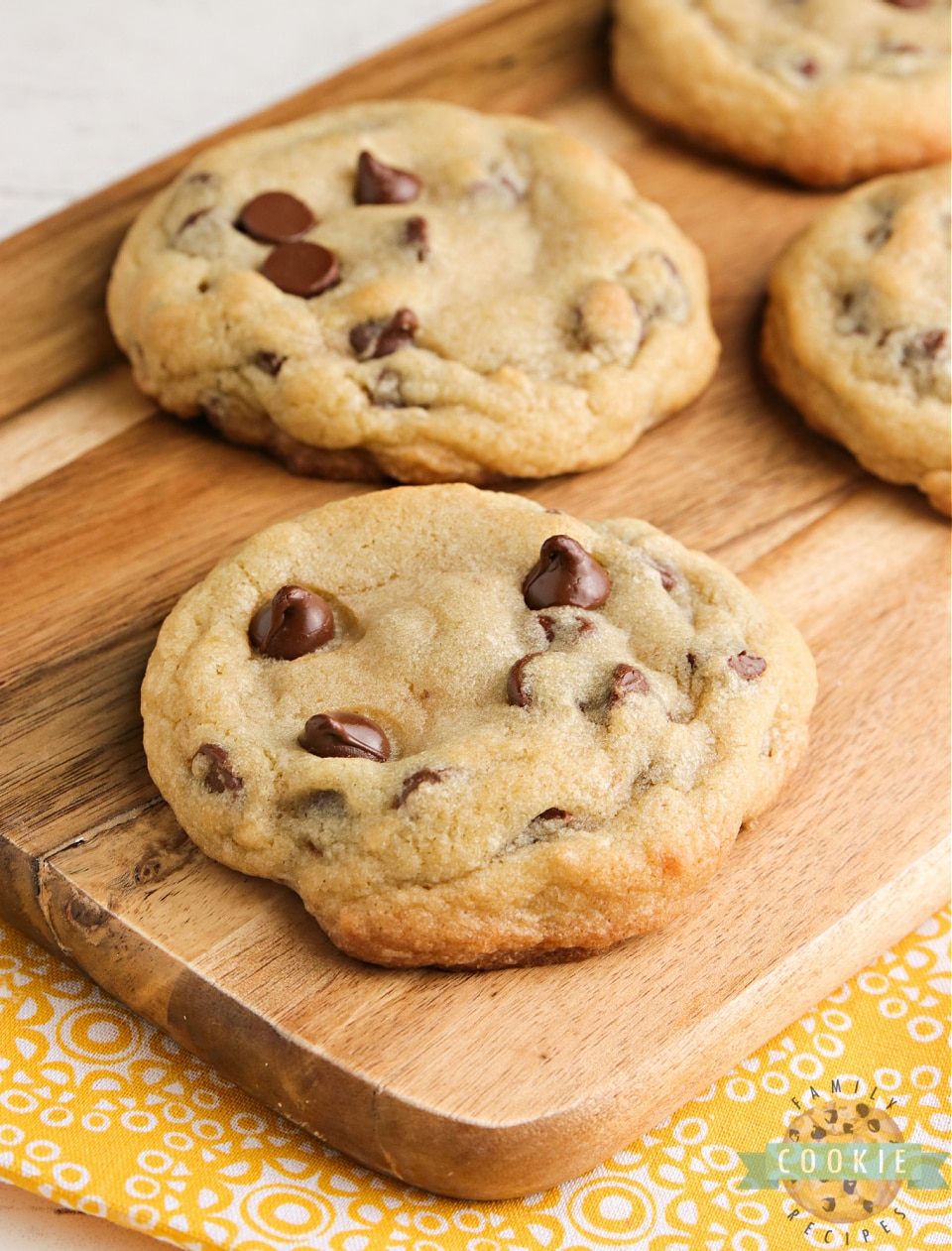 HOW DO YOU MAKE PERFECT CHOCOLATE CHIP COOKIES?
Making Chocolate Chip cookies is easy! Here are a few tips to getting perfect cookies every time!
Many cookie recipes require softened butter. These cookies call for cold butter. I like to place mine in the freezer for about 20-30 minutes before I make the cookies. That way it doesn't get too warm while I'm dicing it up. Dice up the butter into small pieces before adding to the sugar. Not really sure from a chemistry perspective what this does, but I can promise you this extra step is absolutely worth it in this recipe.
Spend a little extra time when you mix the butter and sugars. Creaming them together for 2-3 minutes will improve the consistency of your cookies.
Preheat the oven. This will help your cookies turn out right every time!
Use a cookie scoop! If you want all your cookies to be perfectly shaped and have them all be the same size, a cookie scoop is the way to go.
Use parchment paper or a silicone baking mat. Doing this will make it really easy to remove the cookies from your cookie sheet so that you don't have to scrape them off the pan – they will just slide right off in perfect shape!
Don't over bake the cookies – when I take mine out of the oven, they still look slightly under baked but they will continue to bake on the cookie sheet for a couple more minutes so that's ok!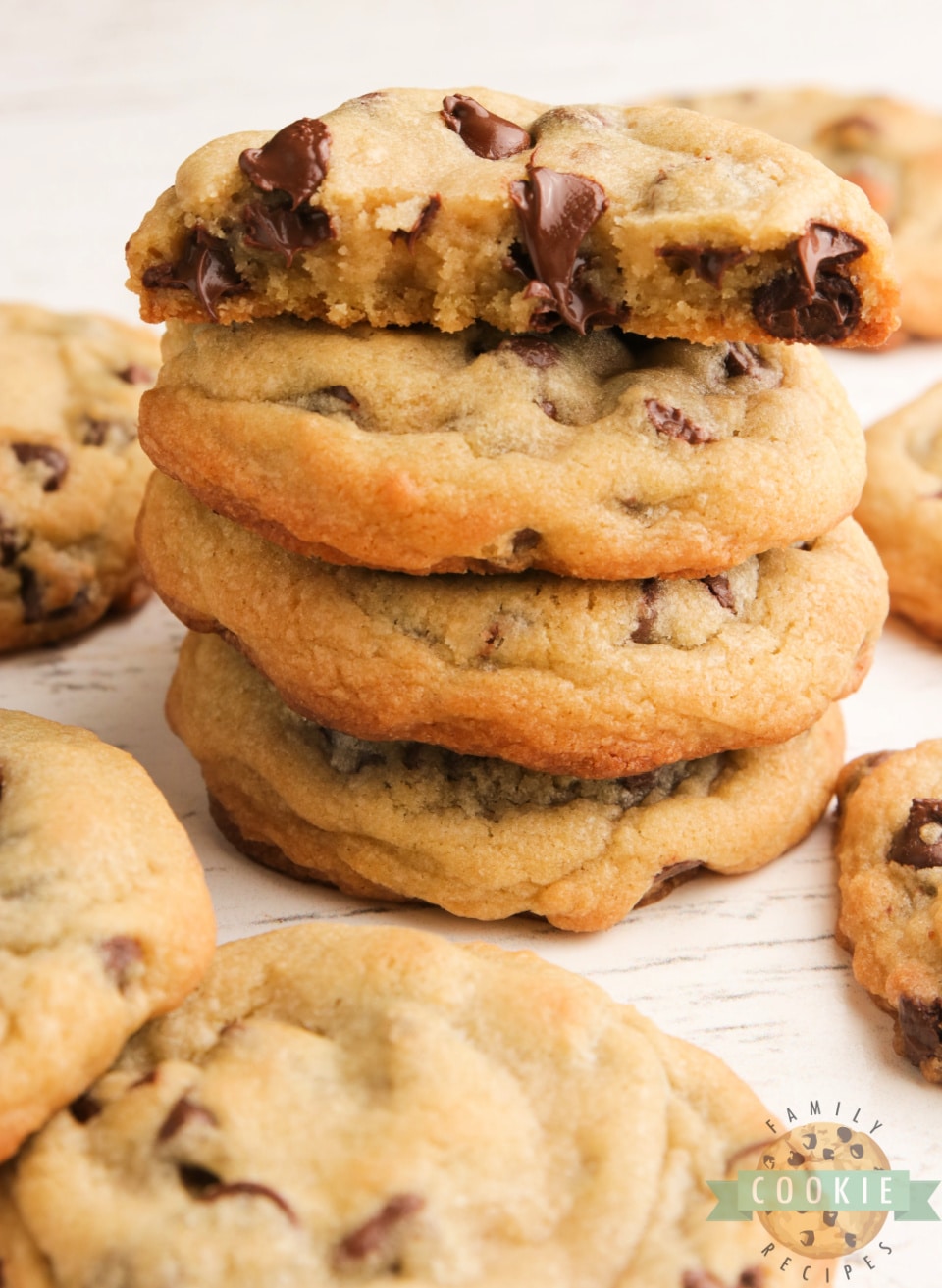 CAN I FREEZE COOKIE DOUGH?
Yes, if you plan on freezing your dough, I recommend having it already portioned into the proper-sized cookie scoops so that you can place them on a baking sheet and let them thaw a minute or two as you preheat the oven. Then bake at the recommended time and enjoy.



Poor middle children sometimes get a little bit neglected, but this middle child of mine is absolutely amazing and I love her to pieces! Can't believe she's 11! Little Miss M has always had so much personality and has really big emotions. She has always been a little bit of a goof. Nearly all the pictures I have of her are of her making some sort of silly face. She has become such a good helper and she is very conscientious – as a friend, student, and with a million other things too. Love this daughter of mine and am a little bit sad she is getting so old, even though it's really fun to watch her grown up too.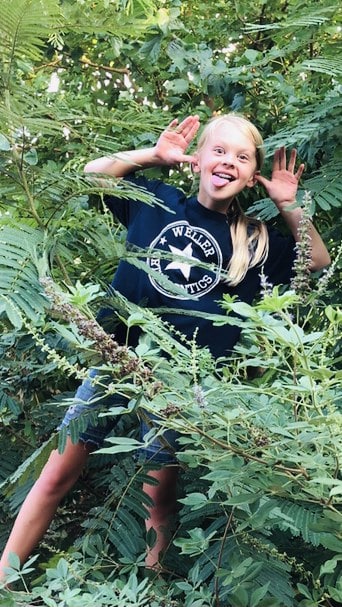 LOVE CHOCOLATE CHIP COOKIES? SO DO WE! HERE ARE SOME OF OUR FAVORITE CHOCOLATE CHIP COOKIE RECIPES!

Bakery Style Chocolate Chip Cookies are large, crisp on the very outside and soft in the middle. The perfect chocolate chip cookie recipe that you've been looking for all your life!