Double Chocolate Thumbprint Cookies are thick, chewy chocolate cookies filled with a creamy chocolate ganache. Perfect chocolate cookie recipe for all chocolate lovers!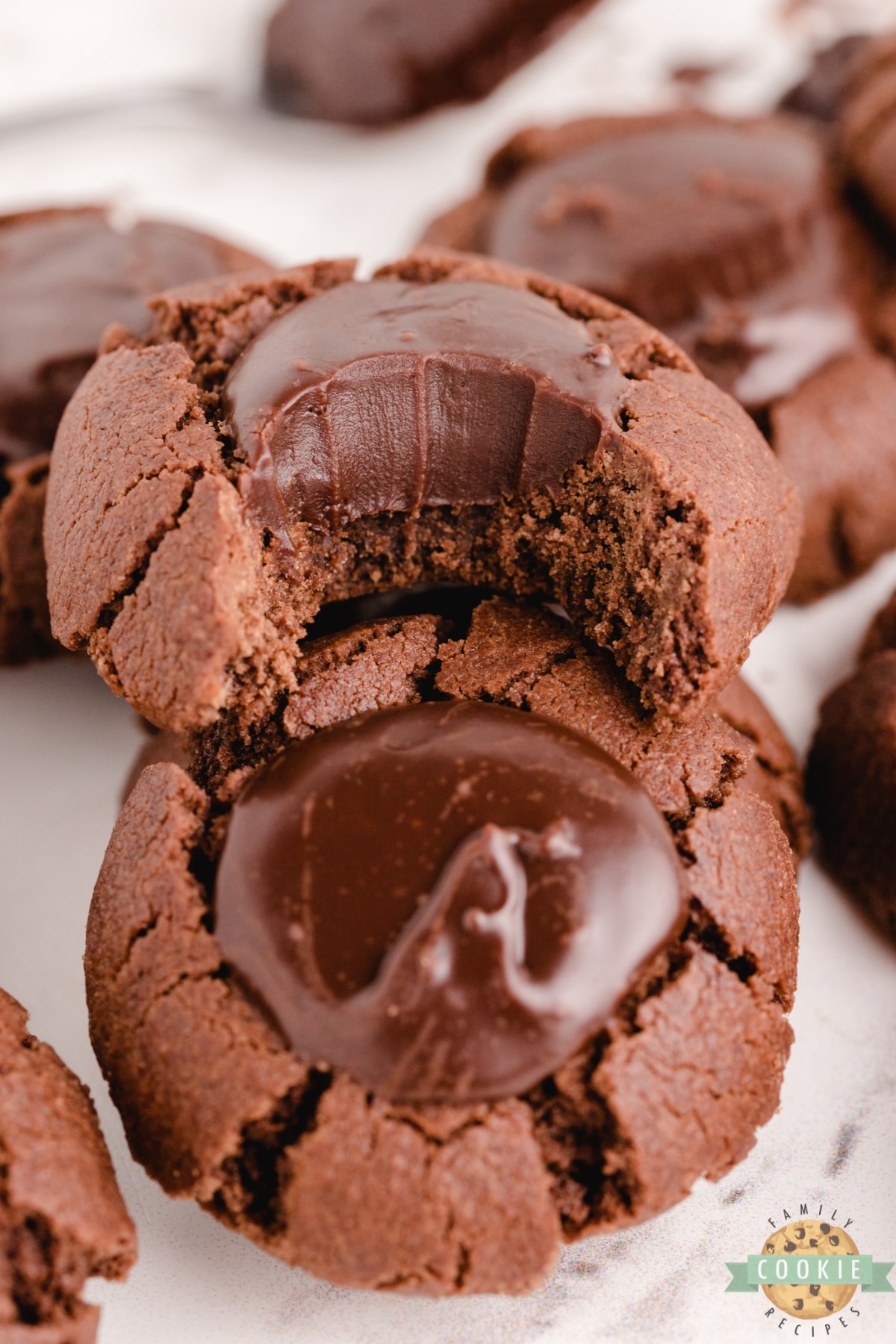 What are Double Chocolate Thumbprint Cookies?
Classic thumbprint cookies are shortbread cookies with an indention on top that is filled with jam. This version has a soft chocolate cookie as the base and then the indention is filled with a thick, creamy chocolate ganache that is amazing! If you love chocolate, this cookie is perfect. And even if you don't love chocolate, you should still try this recipe because it is so yummy!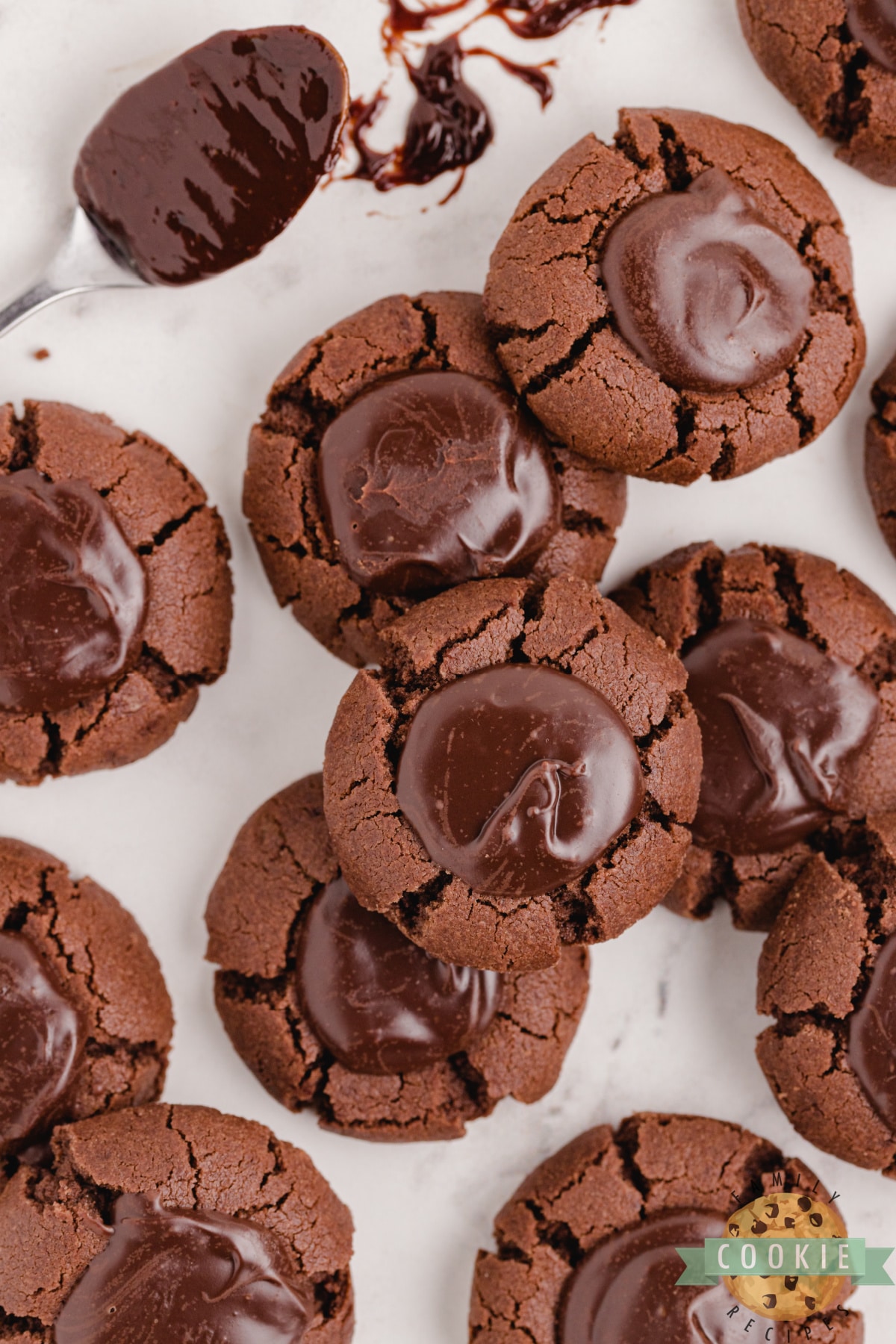 HOW TO MAKE THE BEST THUMBPRINT COOKIE RECIPE
Three kitchen items really help you make the best thumbprint cookies ever! I actually use these items in nearly every cookie recipe I make, as well as several other types of recipes, so they're quite versatile.
First, I line my cookie sheets with a piece of parchment paper. They're sold in sizes that fit a 12×16 cookie sheet perfectly and enable to cookies to bake well without sticking- and no mess from spraying oil on the cookie sheets!
The second item is a KitchenAid mixer. I love mine! I have a Bosch as well but I find I use my KitchenAid for cookies. There is a cookie paddle that comes with every mixer that you attach to the top of the mixer. They're easy to use and help you mix the ingredients uniformly. Add this to your wish list because it's one of my all-time used small appliances ever!
The third item is a cookie scoop! Years and years ago I used to use 2 spoons to measure and scrape cookie dough onto the pans. It wasn't a perfect process and I often ended up with oblong cookies in various sizes. A friend of mine brought cookies to a party and I noticed each and every one of her cookies looked PERFECT. Her secret? A cookie scoop! They come in three sizes- 1/2 tablespoon, 1.5 tablespoon and 3 tablespoon scoops. I used the smallest size- 1/2 tablespoon for these thumbprint cookies.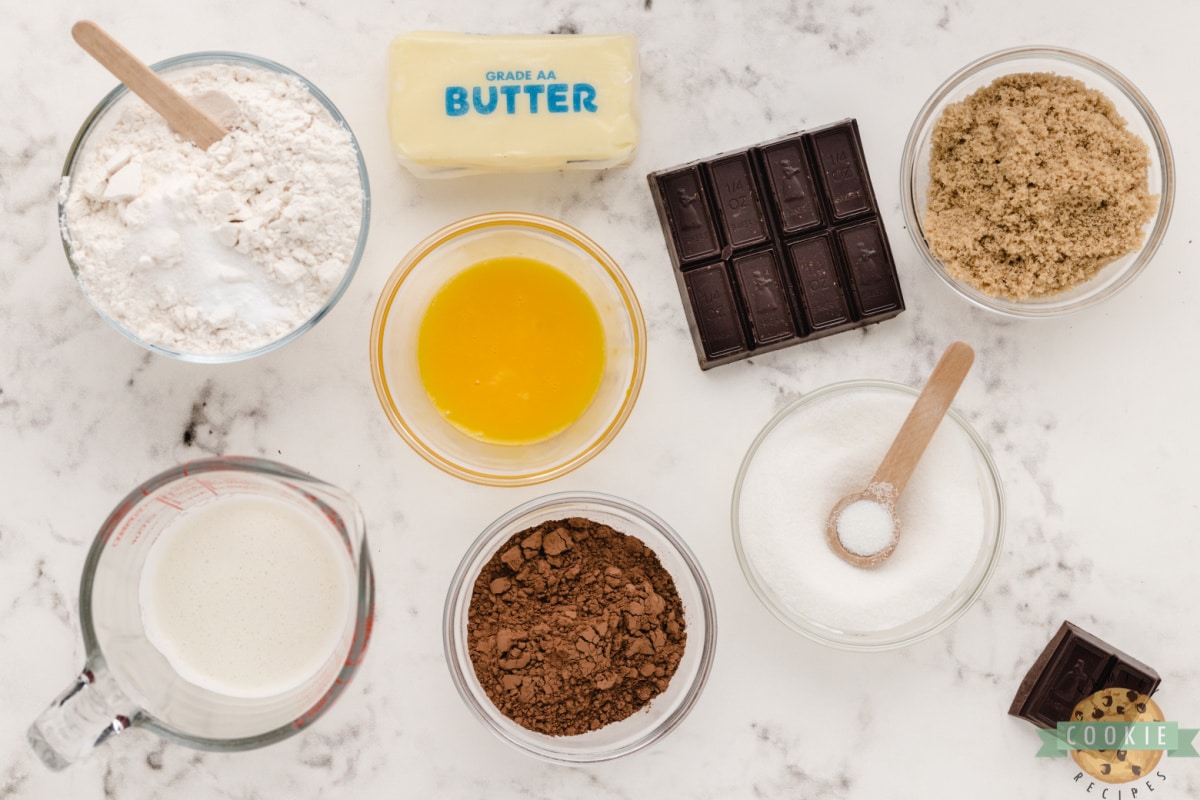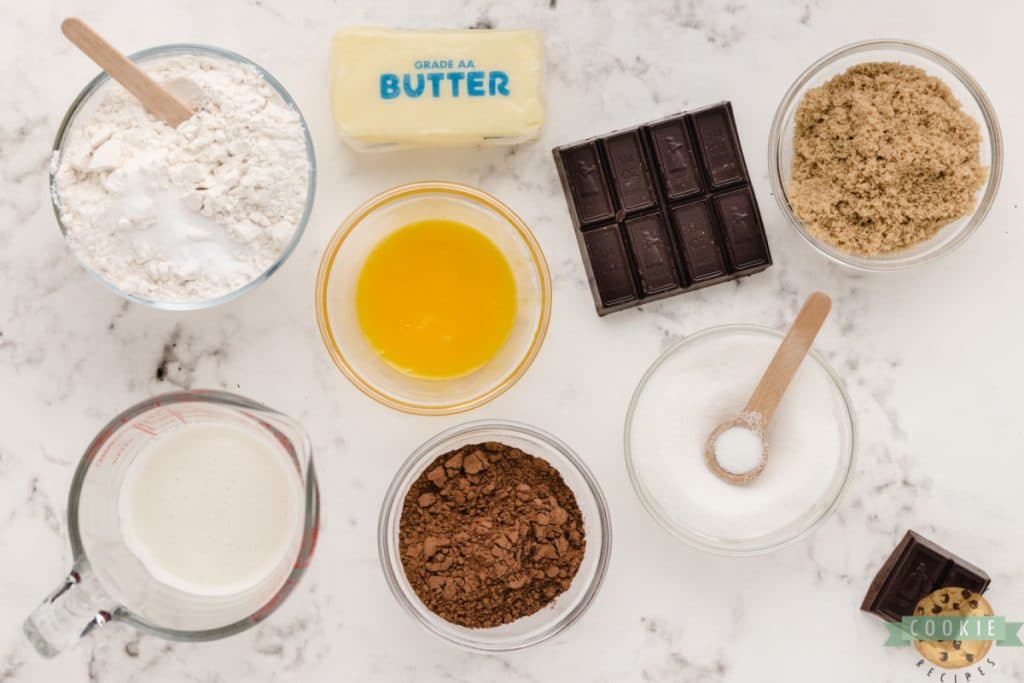 Ingredients in Double Chocolate Thumbprint Cookies
Flour – All-purpose flour works best in these cookies.
Cocoa powder – The unsweetened cocoa powder is what gives these cookies their rich, chocolate flavor. You can use dark cocoa powder if you like more of a dark chocolate taste!
Baking soda – You only need 1/4 teaspoon of baking soda to act as the leavening agent in these cookies. For best results, make sure it isn't expired.
Salt – A little bit of salt helps all the other flavors pop.
Butter – You will need one stick of butter to make these cookies. Make sure it is softened to room temperature before adding to the recipe.
Sugar – Just 1/3 cup of granulated sugar is needed for these cookies.
Brown sugar – For best results, you'll want to make sure that your brown sugar is fresh and soft.
Egg yolk – You can use the whole egg if you want, but using just the egg yolk makes these cookies a little more dense and rich.
Dark chocolate – You will need 2.5 ounces of dark chocolate (58-62% cacao), chopped or broken into 1/2 inch pieces. This is what you will melt down to make the ganache. If you feel like dark chocolate is too rich, you can use a semi-sweet or milk chocolate if you prefer.
Heavy cream – Heavy cream provides the thick, creamy texture and taste to the ganache filling.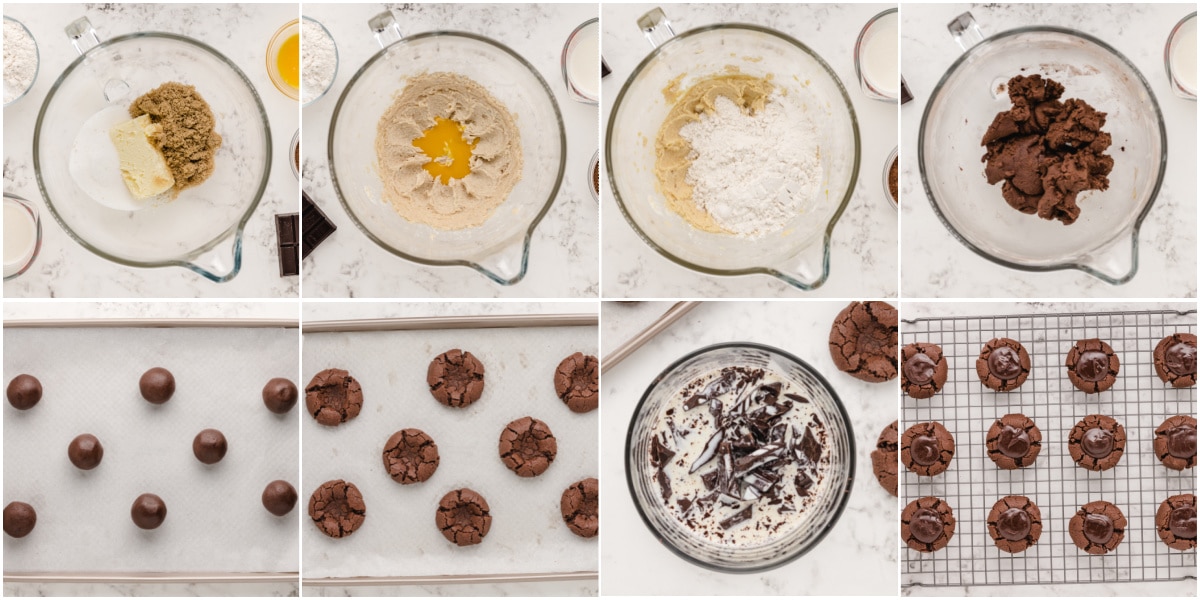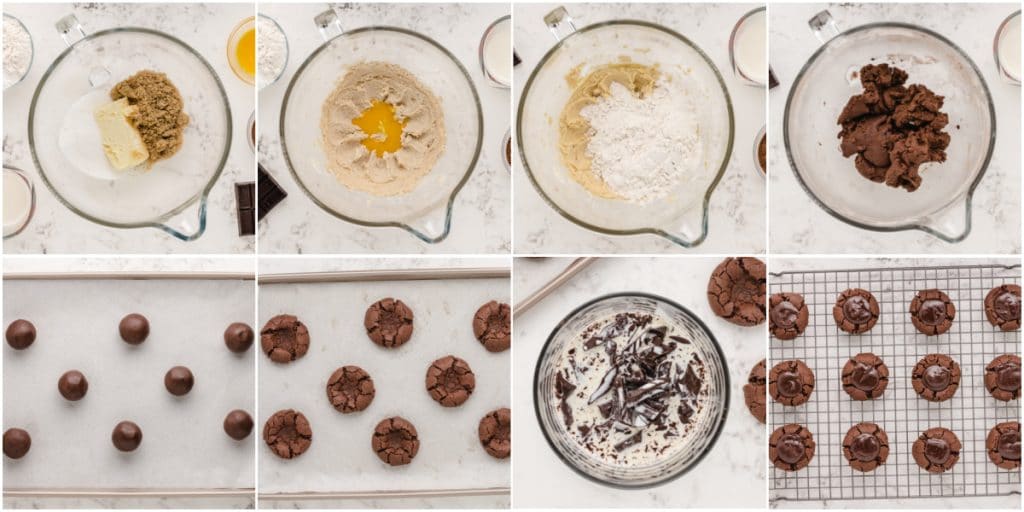 How to make Double Chocolate Thumbprint Cookies
Preheat oven to 350°.
In a small bowl, mix the flour, cocoa powder, baking soda and salt together.
In another bowl, beat the butter and sugars together for 2-3 minutes. Add the egg yolk and mix well. Add the flour mixture to the butter mixture and mix just until combined.
Use a cookie scoop to scoop tablespoon sized balls and roll them between your hands into perfect ball shapes before placing on a parchment lined cookie sheet.
Bake for 10 minutes. Remove from oven and use your thumb (or the back of a teaspoon) to make a thumb-sized indention in the center of each cookie while still warm. If the cookies break or fall apart, you can kind of push them back together. Bake for 3 more minutes and then let them cool completely.
While the cookies are cooling, you can make the ganache. Place the chopped chocolate in a bowl. Warm the cream in a saucepan over medium heat for a few minutes and then as soon as it starts to barely bubble around the edge, remove from heat and pour over the chocolate. Whisk until smooth. Let cool for about 5-10 minutes. Use a small spoon to scoop the ganache into each indention on the cookies. Allow about an hour for the ganache to set before serving.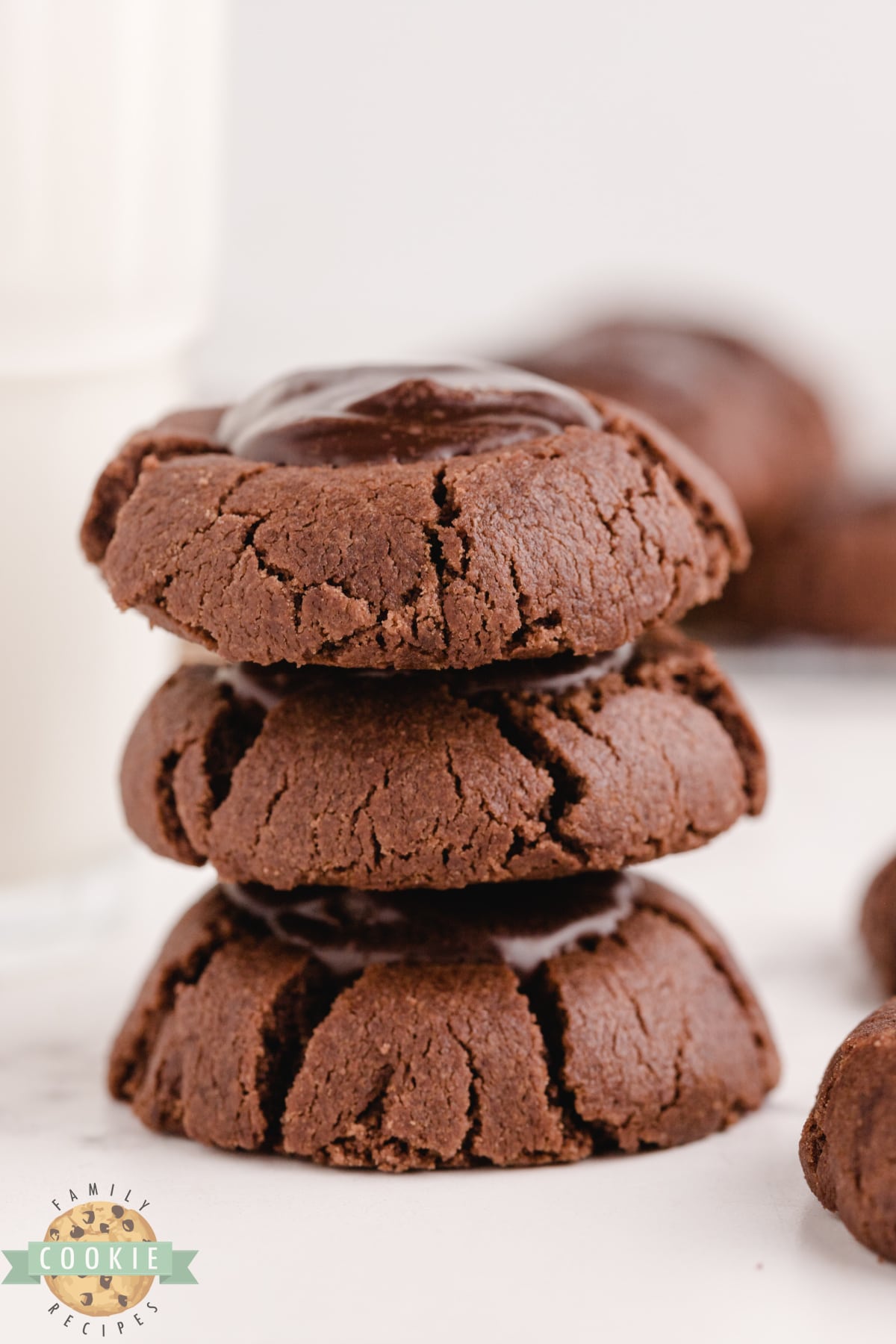 HOW LONG ARE CHOCOLATE FILLED THUMBPRINT COOKIES GOOD FOR?
These cookies can be stored in an airtight container for up to 5 days but can be frozen for up to 3 months. I actually prefer to freeze them before adding the ganache because I think the ganache is better fresh, but you can freeze it if you need to!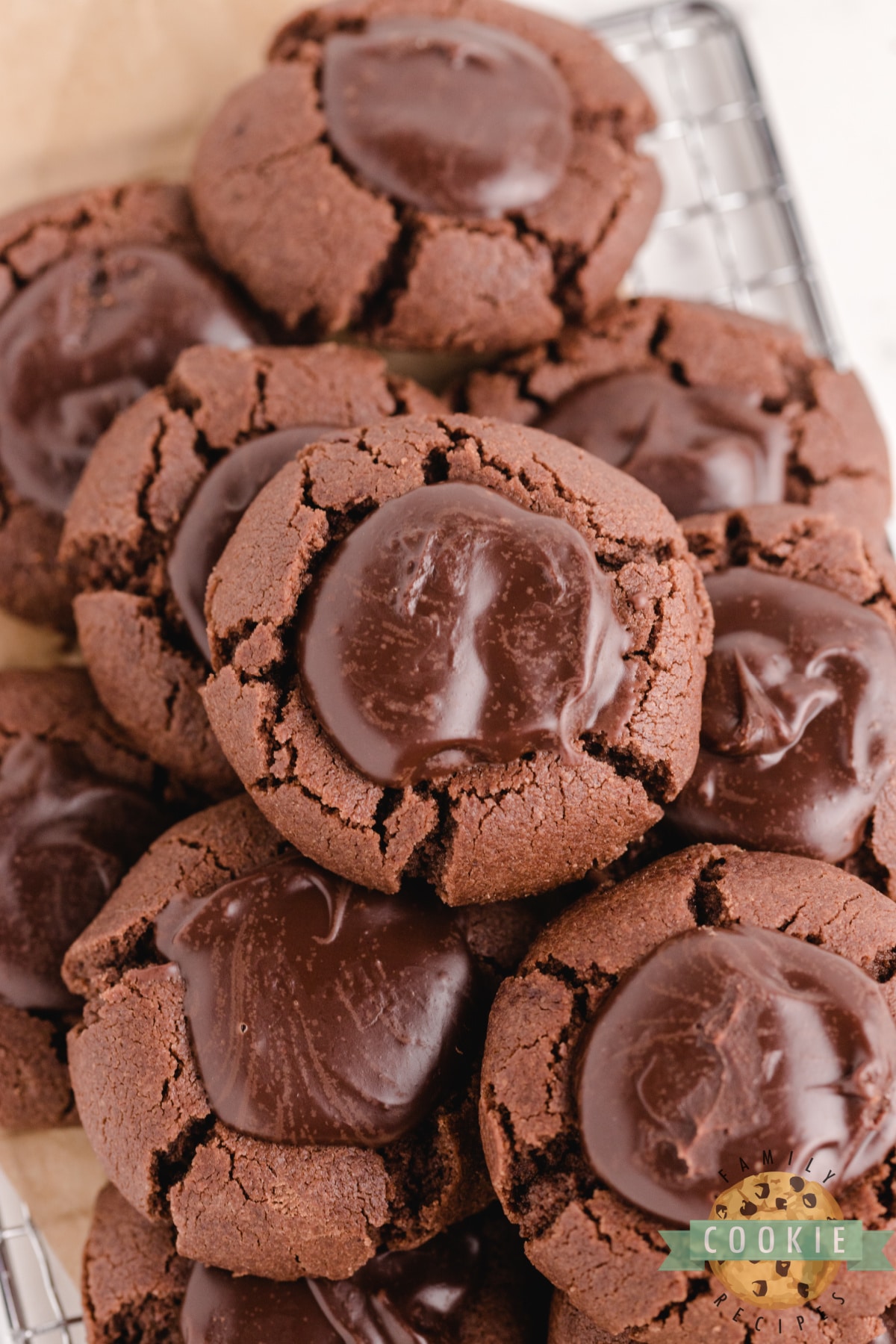 HOW DO I KEEP MY THUMBPRINT COOKIES FROM SPREADING?
Make sure to use parchment paper or a silicone baking mat on your baking sheets as this is a nice nonstick surface. Using nonstick cooking grease or butter will add moisture to the cookies and can cause them to spread as they bake.
HOW DO YOU SOFTEN BUTTER?
I like to soften butter by using the defrost function on my microwave. If you need the full 1/2 cup cube of butter, you can leave it in the paper wrapper, otherwise, place the amount of butter you need in a glass or porcelain bowl. I use the lowest defrost setting on my microwave and just let it run for 20 seconds. Check the butter and see how soft it is by pressing it with a rubber scraper. If it is still not soft to the touch, meaning it doesn't indent when you press into it, let it warm for another 5-10 seconds. Watch it closely! Butter softens very quickly.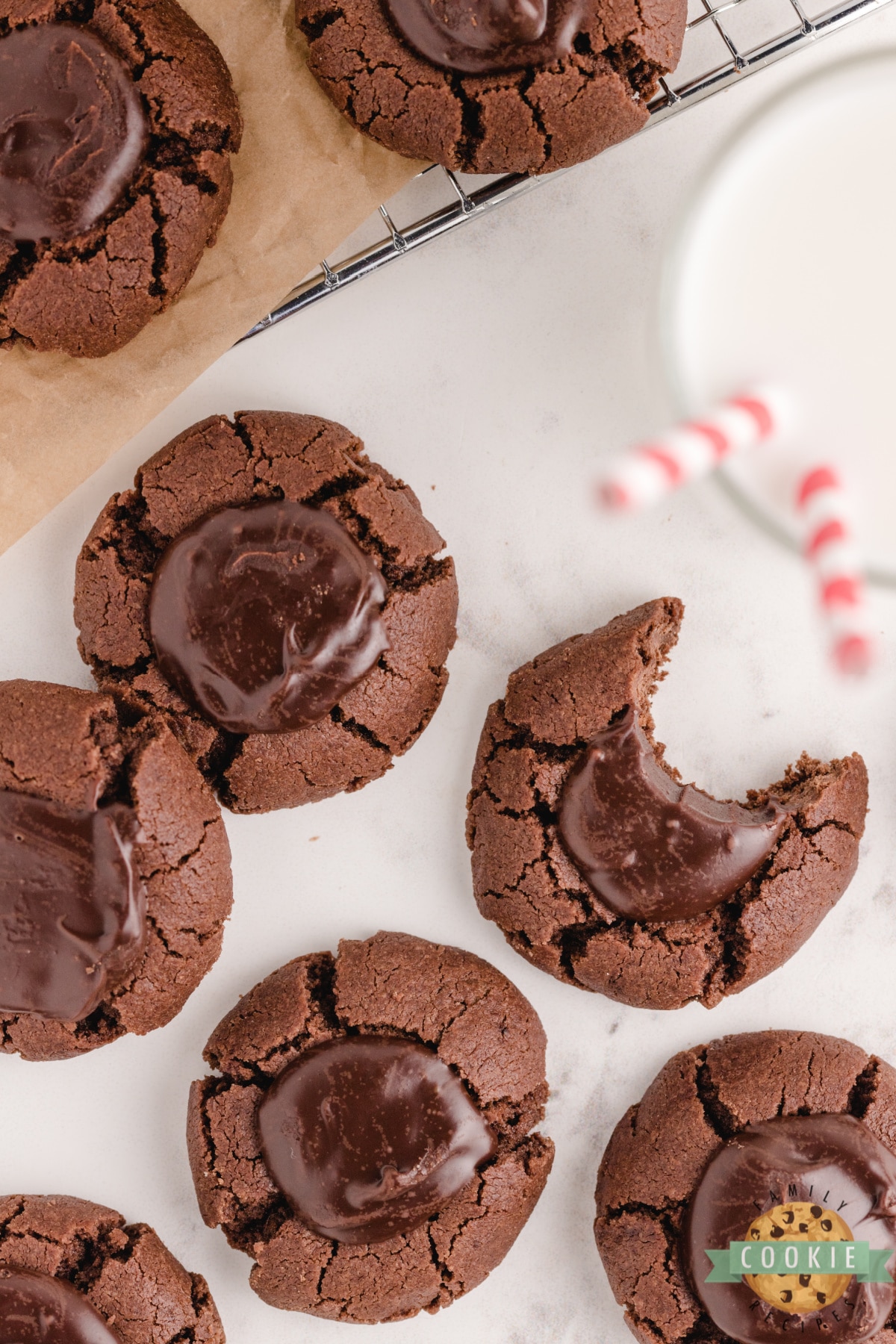 MORE CHOCOLATE COOKIE RECIPES!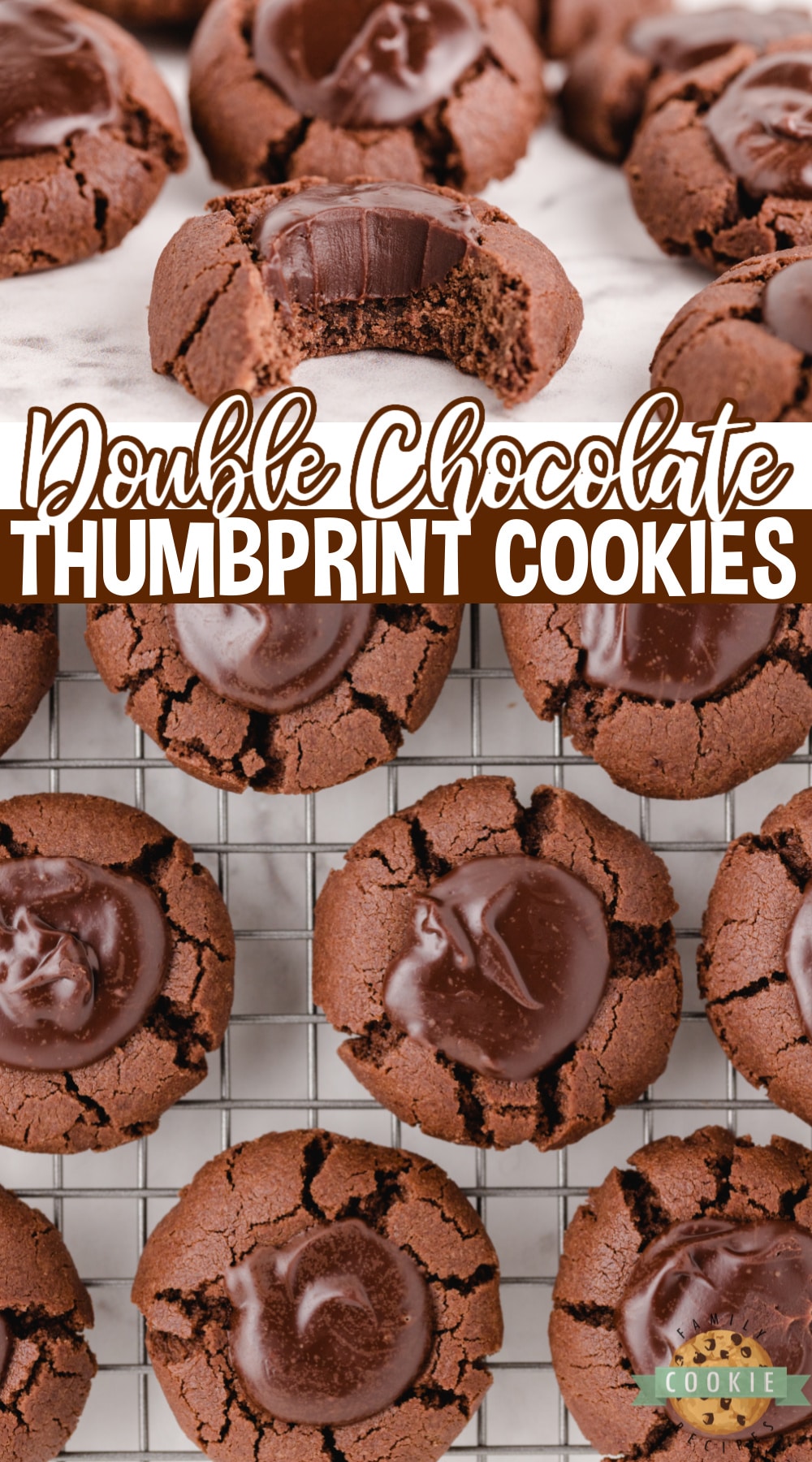 Double Chocolate Thumbprint Cookies are thick, chewy chocolate cookies filled with a creamy chocolate ganache. Perfect chocolate cookie recipe for all chocolate lovers!



These two girls are awesome. I really have lucked out in the teenager department so far! One is in orchestra and one is in band, so usually I have to go to two separate concerts around the holidays. This year though, they had a combined concert and it was so fun to see both of them up there at the same time! They are both so talented and I am just so grateful for both of them. And so grateful that for the most part, they get along so well. Especially for being only 16 months apart…I was always nervous that maybe they would be fighting all the time, but they really don't at all. They have entirely different personalities but they are both so sweet and kind that it works out. Love these girls!