Chocolate Raspberry Cheesecake Cookies are indulgent cookies made with cream cheese, chocolate chips & raspberries! Soft cookies with bright raspberry cheesecake flavor that everyone loves!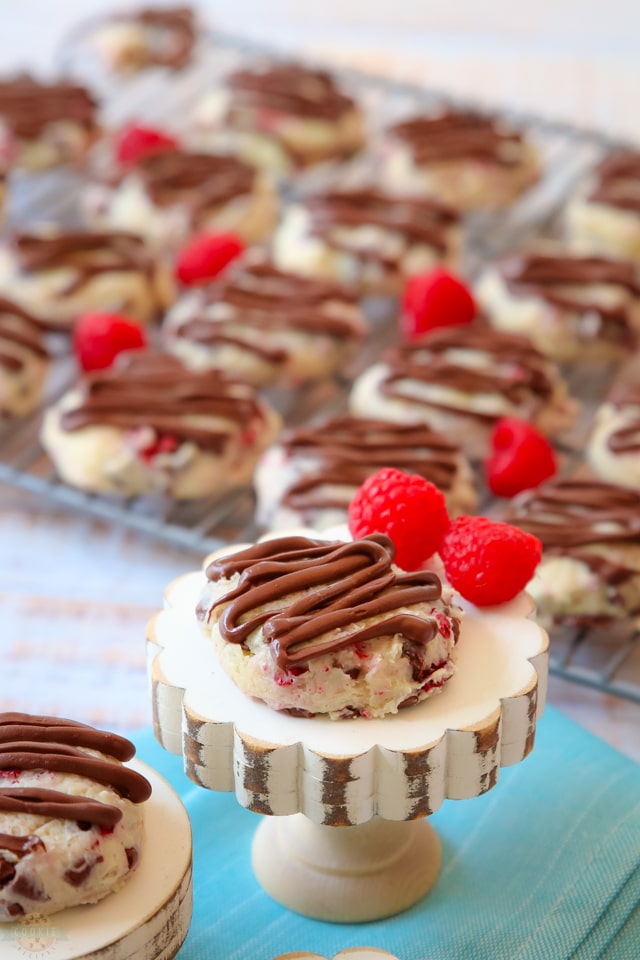 It's no secret that we love cookies, but raspberry cheesecake cookies are a new family favorite! These are fairly unique cookies as they're soft & dense in texture. They really do have great cheesecake flavor, so they're a must if you enjoy cheesecake!
What are raspberry cheesecake cookies?
These are dense, soft cheesecake cookies made with cream cheese, dried raspberries, and basic cookie dough. Together, the flavors combine and create a sweet, tangy, rich, and flavorful cookie. The chocolate drizzled on top is the perfect final touch!
Raspberry Cheesecake Cookie Ingredients
-Butter: We need 1/2 cup (1 whole stick) butter to make our cookies rich and flavorful.
-Cream cheese: With 8 ounces (one brick) of cream cheese we can add in that classic tangy cheesecake flavor.
-Milk: We use 1/4 cup milk for thinning the texture of the cookies.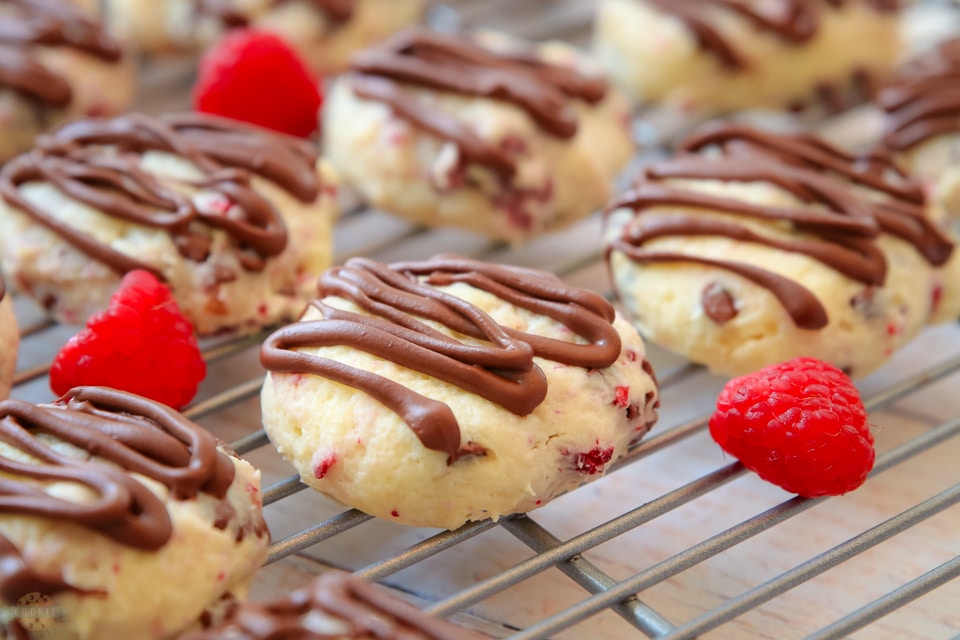 -Sugar: We need 1 cup of granulated sugars to make our cookies the perfect chewy texture and sweet in every bite.
-Eggs: 2 eggs will act as the binder, holding the cookies together wonderfully.
-Flour: The base of our cookie dough recipe is 2 1/4 cups of all-purpose flour.
-Vanilla: One tablespoon of vanilla will make sure our cookies taste fabulous and carry a strong vanilla presence to pair with the rest of the flavors.
-Salt: With just 1/2 tsp salt we can enhance the flavors in this cookie dough recipe that makes it taste great.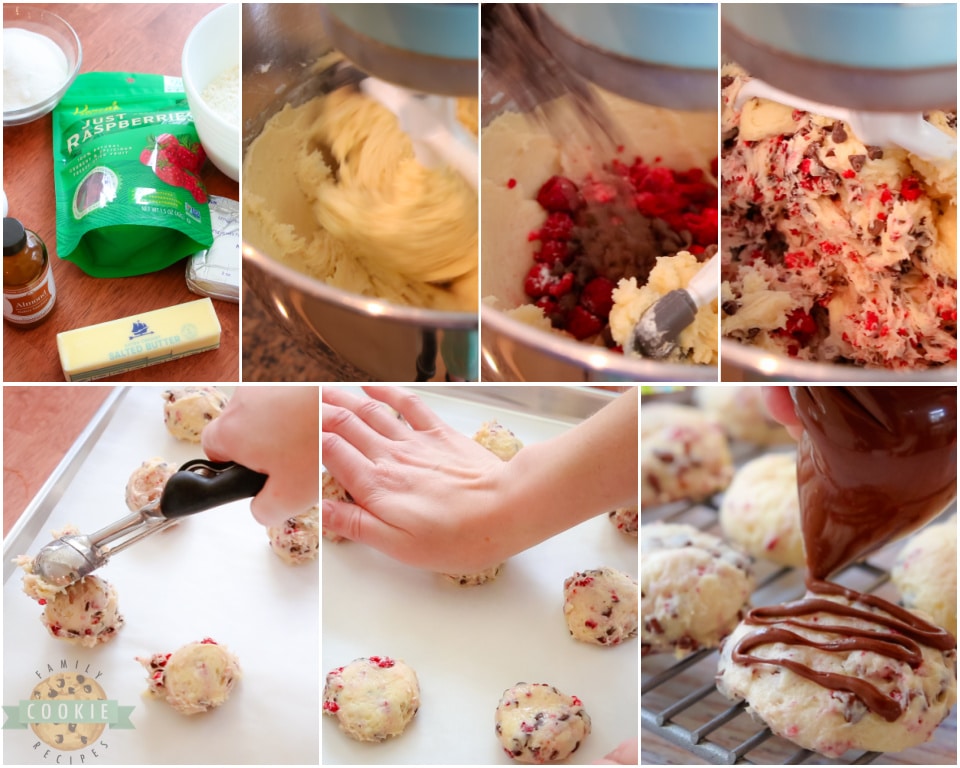 -Baking powder: We need 1 teaspoon of baking powder to help with the leavening in these cookies and make them puff up while baking.
-Mini chocolate chips: 2/3 cup mini chocolate chips will be scattered throughout the dough.
–Dehydrated raspberry: We will need 1/2 cup of dried raspberries. You can usually find these in health sections of stores or in camping sections with other freeze-dried foods.
-Semi-sweet chocolate chips: we melt 1/4 cup semi sweet chocolate chips and drizzle chocolate on top of each cookie!
How to make Cheesecake cookies
Preheat the oven to 350 F degrees. Line a cookie sheet with parchment & set aside.
Combine the butter, cream cheese and milk. Mix well until smooth.
Add sugar and eggs & mix well to combine.
In a separate bowl combine flour, vanilla, salt and baking powder. Whisk dry ingredients together.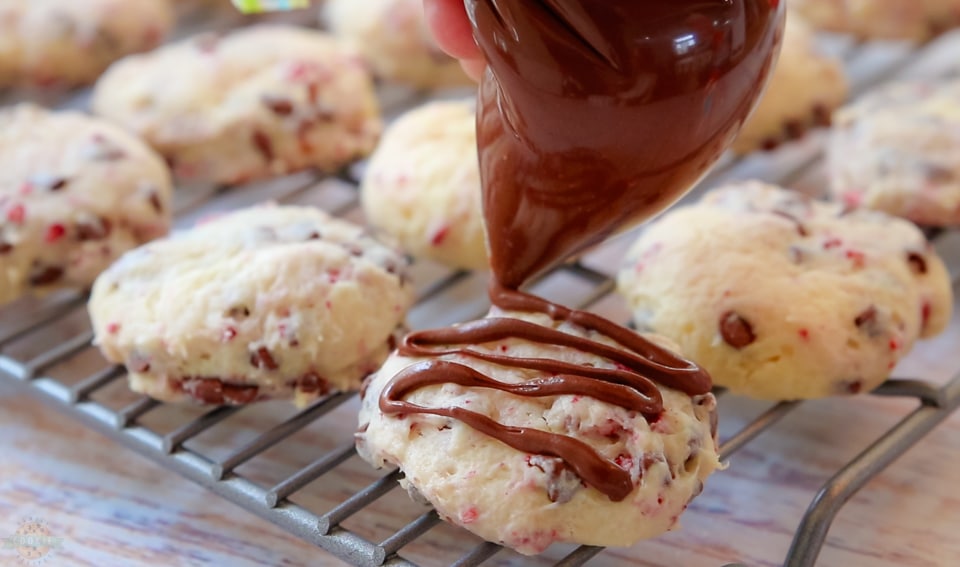 Add dry ingredients to the butter mixture a bit at a time, mixing in between additions, until all is incorporated. Fold in the chocolate chips and raspberry.
Use a medium cookie scoop to make rounded balls of dough. Arrange 12 on a cookie sheet. Wet your hands slightly, then gently press cookies flat and tap around cookie balls with fingers to smooth edges.  Bake in a 350°F oven for 12-14 minutes.
Let cool on the sheet for 5 minutes, then transfer to a cooling rack.
Pour 1/4 cup semi sweet chocolate chips into a small bowl. Melt in microwave for 1 minute. Let sit 3-4 minutes in microwave, then gently stir. Heat additional 10-15 seconds, if necessary. Use a small spoon to drizzle on baked cookies. You can also transfer to a small baggie, snip the corner and pipe chocolate onto cookies. Let cool to set & enjoy!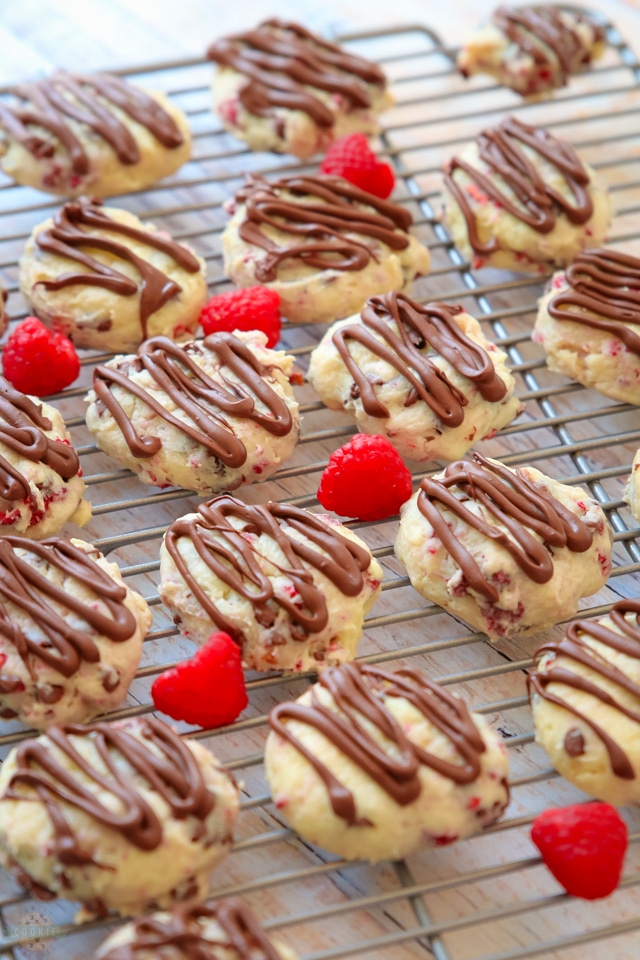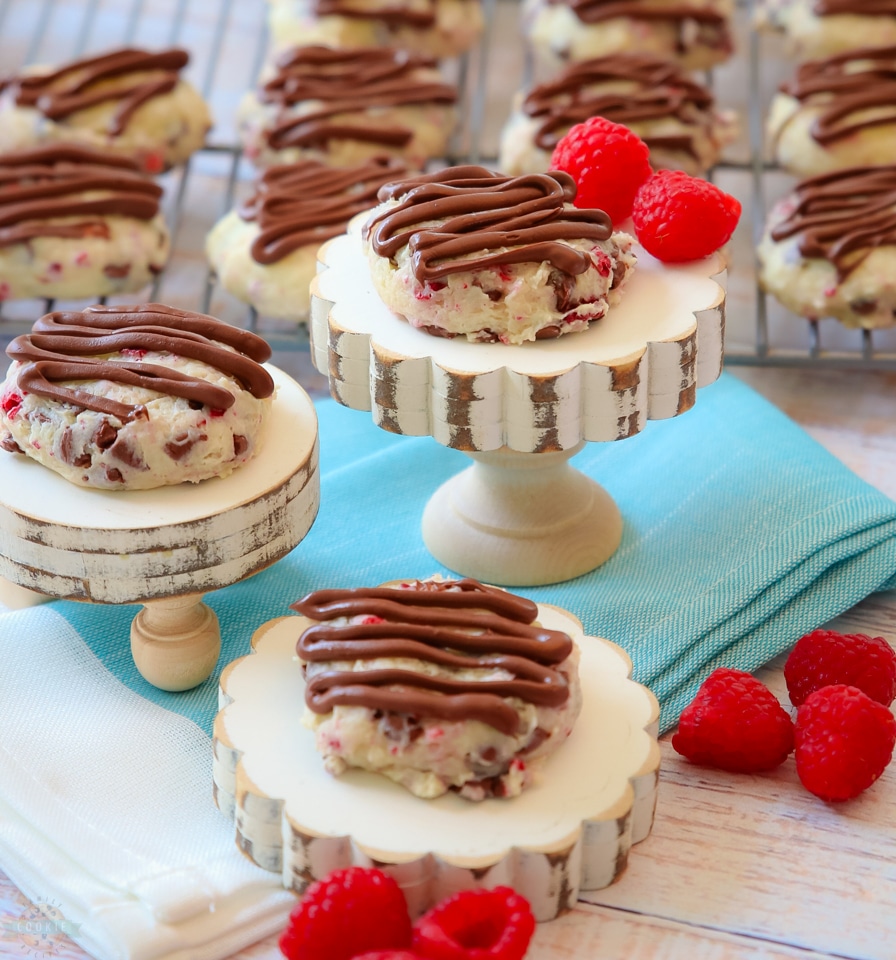 How long are raspberry cheesecake cookies good for?
If stored in an airtight container at room temperature, you can expect these cookies to last up to 5 days and still taste great.
Can I freeze raspberry cheesecake cookies?
These cookies can be frozen after cooling down completely. I recommend storing them in an airtight container with a parchment paper layer between cookies to prevent sticking. You could also freeze unbaked dough balls and bring them to room temperature before baking as directed.


I grew up in a house full of girls, so when I had my first boy, I was a bit unprepared! Then I had 2 more boys and the fun really began! I have to say, I adore all of my children, but dang, boys are SO FUN! I actually love the rough & tumble, endless energy they seem to have. We keep our boys busy so that they stay out of trouble, but even so, they still manage to find it.
Take now for instance- 2 of my 3 boys have broken bones. Different days, different situations, but both in arm casts. Ha! Had to document this one. Does urgent care offer punch cards?!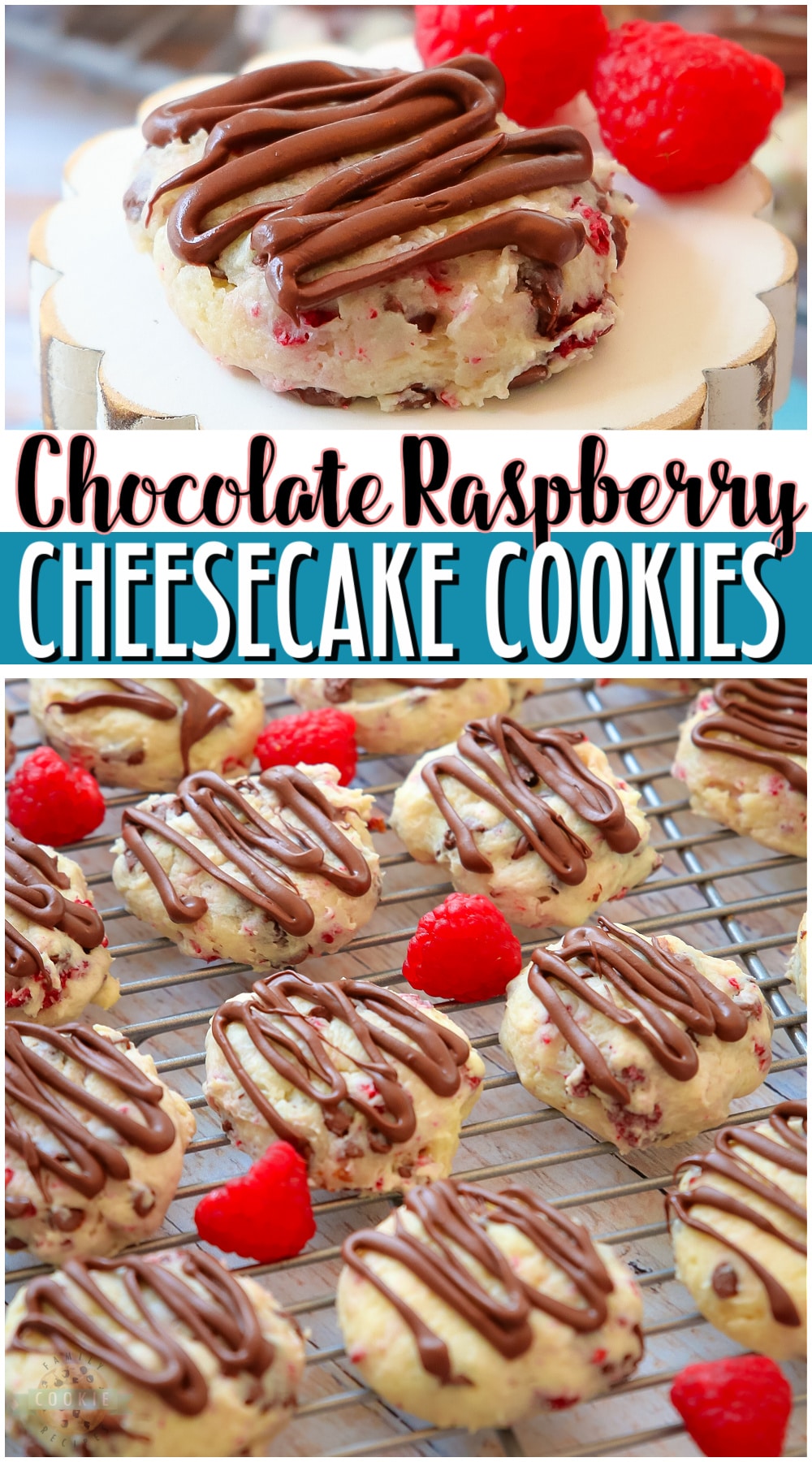 Chocolate Raspberry Cheesecake Cookies are indulgent cookies made with cream cheese, chocolate chips & raspberries! Soft cookies with bright raspberry cheesecake flavor that everyone loves!