Caramel Chocolate Crinkle Cookies are a decadent combination of chewy caramel and soft chocolate cookies rolled in sweet powdered sugar. Fantastic twist on classic crinkle cookies that everyone loves!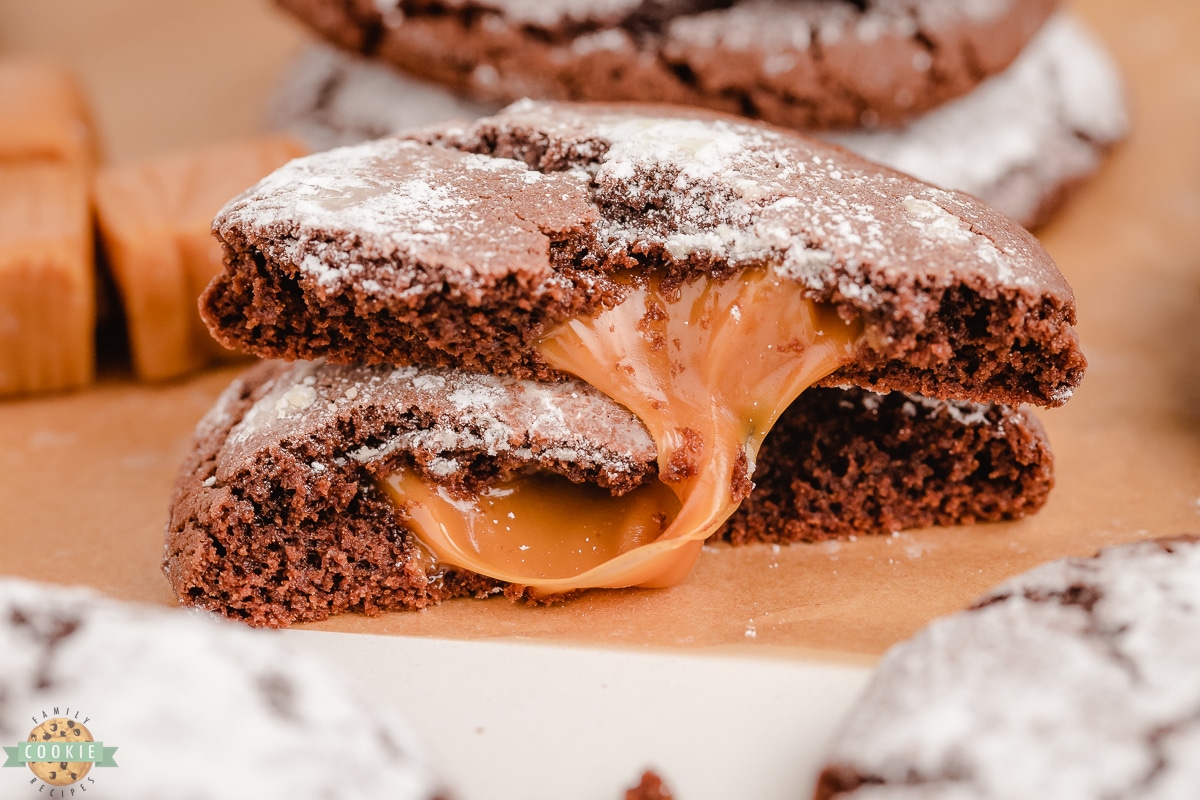 This Chocolate Cookie is a great recipe to enjoy when you are in the mood for something sweet and salty. They are made from scratch with just a few basic pantry staples and some caramel candies. This Chocolate Caramel Cookie is very easy to make. The best part is there is no long wait time for dough to chill, so the recipe is pretty quick to make.
What are Chocolate Crinkle Cookies?
Crinkle Cookies are a type of cookie most often seen around the holidays because of how they look similar to that of a snowball. To achieve the crinkle affect, a cookie dough base is rolled into balls and then rolled in powdered sugar before being baked in the oven.
The powder sugar helps to show off the lines created as the cookie expands and thus, the crinkle appearance. They are extra delicious because the added powder sugar on the outside, truly a cookie that will cure your sweet tooth!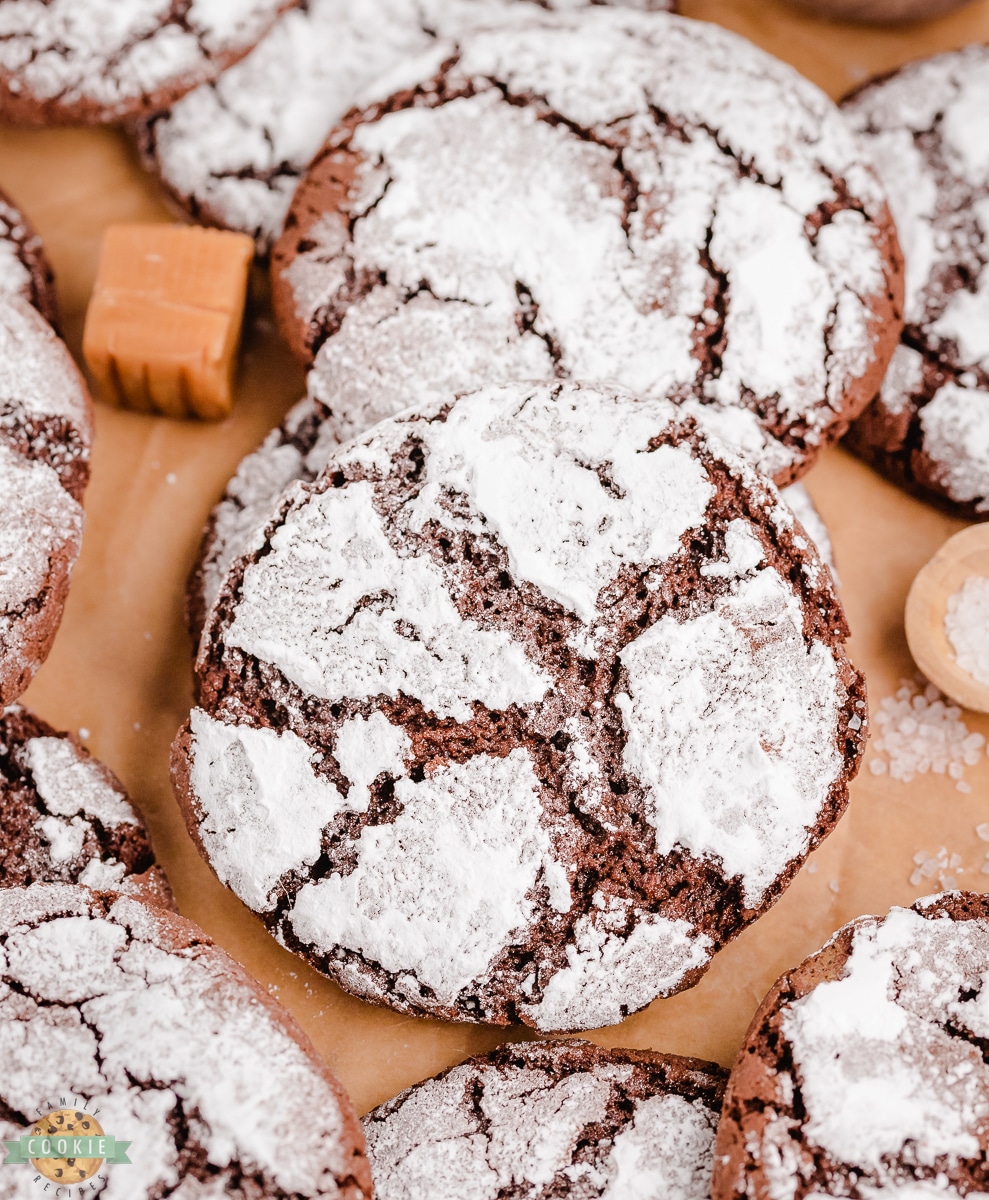 Chocolate Caramel Crinkle Cookies Ingredients
-Flour: You will need 1 ½ cups of all-purpose flour for the base of this cookie dough.
-Cocoa powder: Use ½ cup plus 2 tablespoons of cocoa powder for a rich chocolate flavor in every cookie.
-Baking powder: You will need 1 ½ teaspoons of baking powder to get a good rise out of these cookies.
-Salt: Using ¼ teaspoon of salt will really enhance the flavors in this recipe.
-Butter: You will need 10 tablespoons of softened butter. This is 1 full stick, plus 2 tablespoons from another one.
-Sugars: You will need 1 cup of granulated sugar and ½ cup of packed light brown sugar to make these cookies nice and sweet.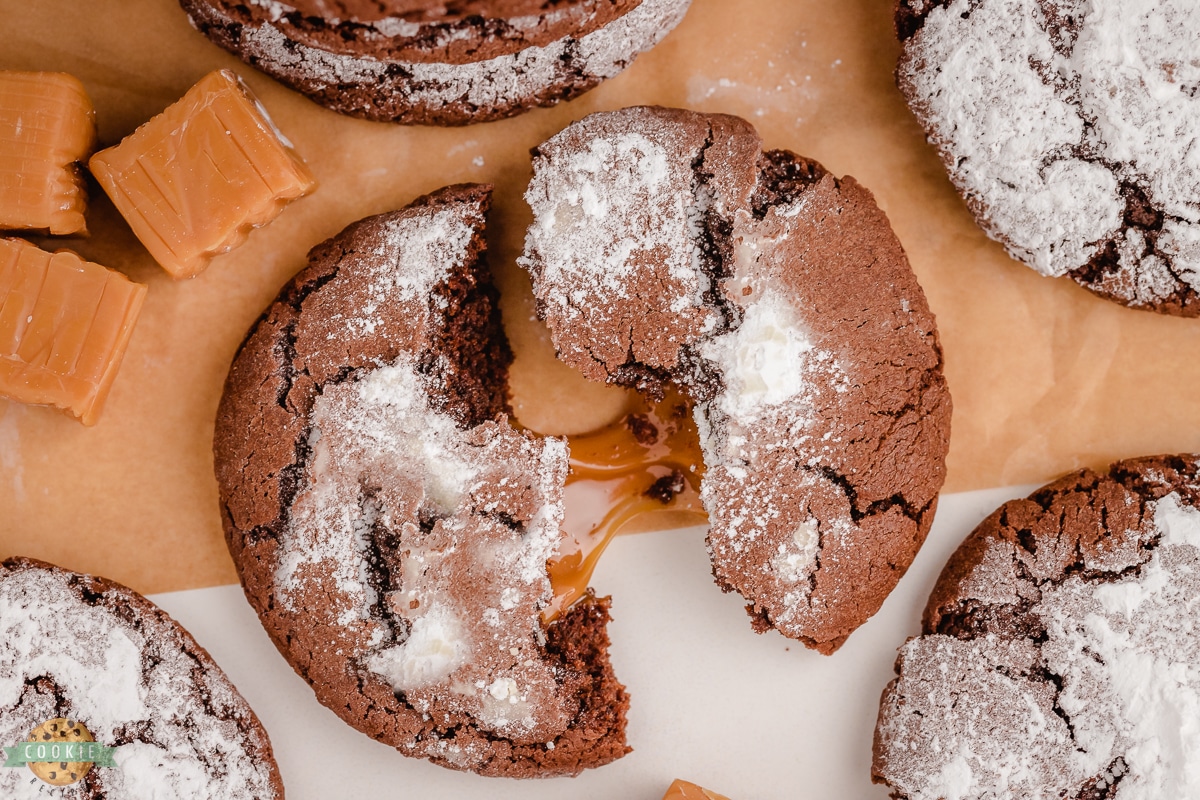 -Eggs: Use 2 large eggs to help bind the dough together well for a great cookie dough texture.
-Vanilla: Use 1 ½ teaspoons of vanilla extract to enhance all the wonderful flavors.
-Caramel: You will need about 2 dozen pieces of unwrapped caramel candies. Another good option is Rollos, chocolate and caramel all wrapped up into one yummy bite.
-Salt: For a nice taste and fun addition, you can use coarse salt to get a fun salted caramel flavor.
-Powdered sugar: To give these cookies their classic crinkled appearance you will need about 1 cup of -powdered sugar. This is to roll the cookies in, not an internal ingredient.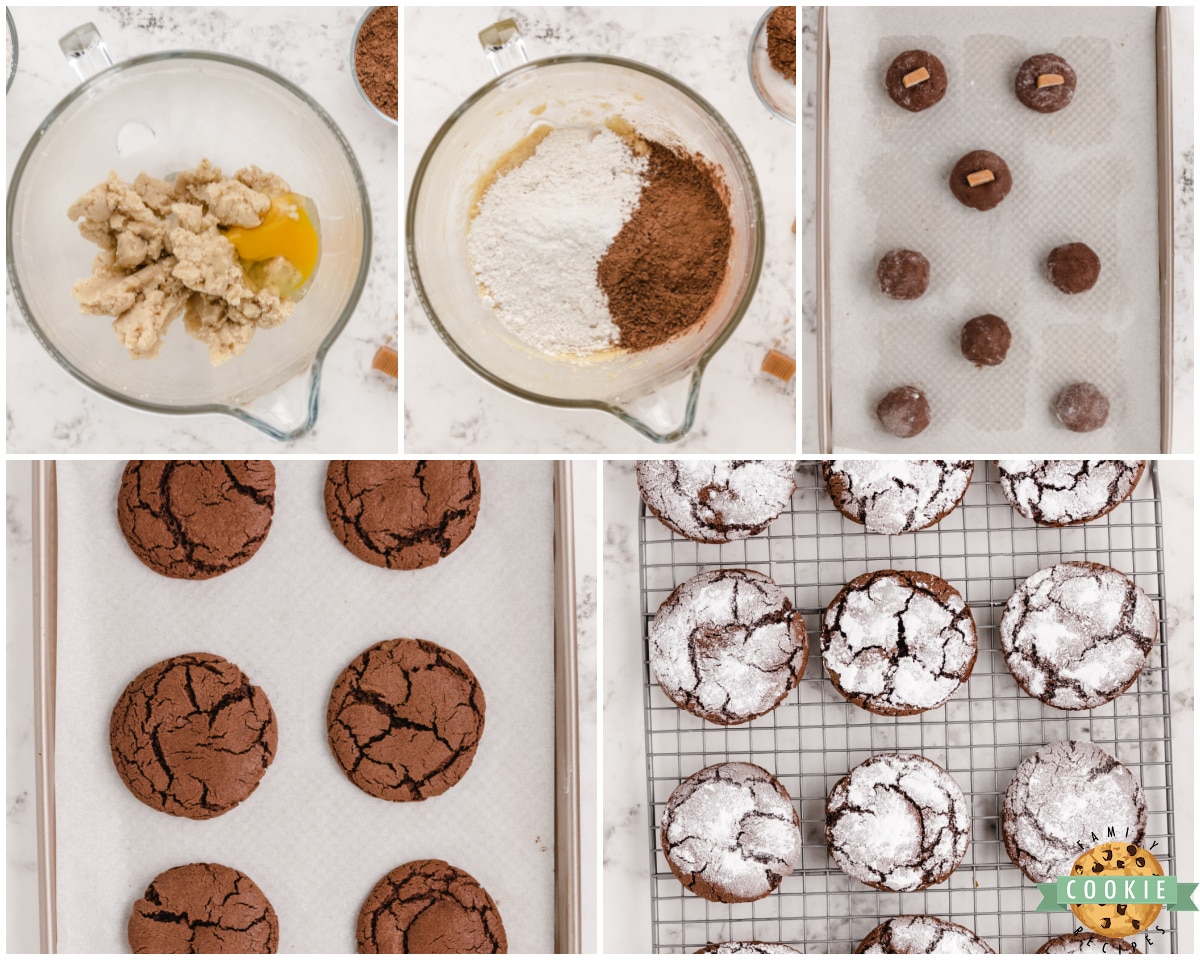 How to Make Caramel Chocolate Crinkle Cookies
Prep
Preheat your oven to 350 degrees F. Then, line a baking sheet with parchment paper and set aside.
Cream the butter and sugars
In a medium sized mixing bowl, cream together the butter and white and brown sugars with a hand held mixer. On medium speed until the mixture is pale and fluffy. This should take about 4 minutes.
Proceed to add in the eggs, one at a time, stirring well after each addition until combined.
Next, add in the vanilla extract and mix again.
Add dry ingredients
Continue to add in the dry ingredients, the flour, cocoa powder, baking powder and salt. Mix until well combined.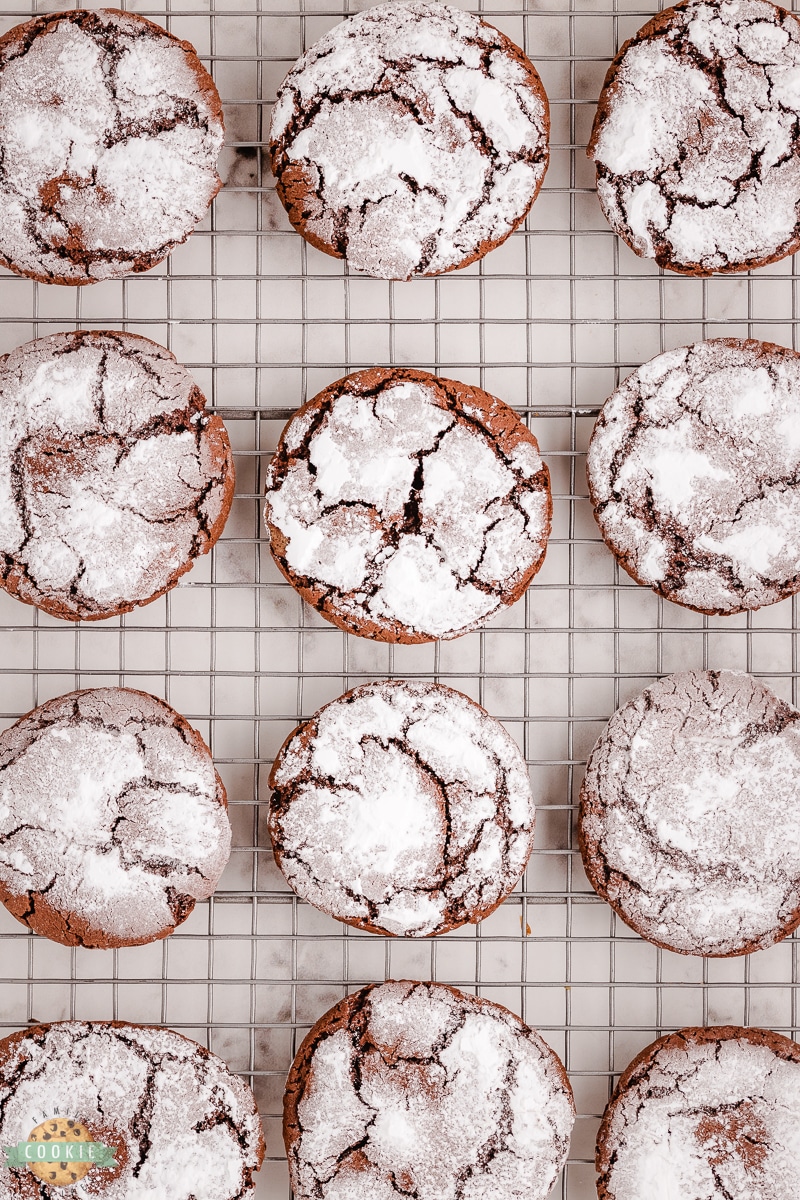 Shape Dough
Proceed to scoop the dough out into 2 tablespoon sized balls, one at a time, and roll into a ball. Make sure that your hands are floured as it will help to keep the dough from sticking to your hands.
Then, press a caramel candy into the center of the dough ball and then add in a pinch of coarse salt with the candy center. Enclose the caramel into the dough by pinching the dough sealed around the caramel.
Shape the dough into a ball again and roll them in the powder sugar, coat the entire outside of the cookie dough ball. Then align them on the prepared parchment paper lined baking sheet.
Bake
Bake in the preheated oven for 11-13 minutes.
Allow the cookies to cool on the baking sheet for at least 5 minutes.
Serve fresh and enjoy!
How long are Salted Caramel Chocolate Crinkle cookies good for?
You can store these chocolate cookies with caramel centers for up to a couple days (about 3 or 4) in an airtight container at room temperature. I do not recommend storing them in the fridge unless necessary as the fridge will cause the caramel to become pretty hard and chewy which could hurt to bite into. If you do chill the cookies, be sure to allow them to rest at room temperature for several minutes before eating.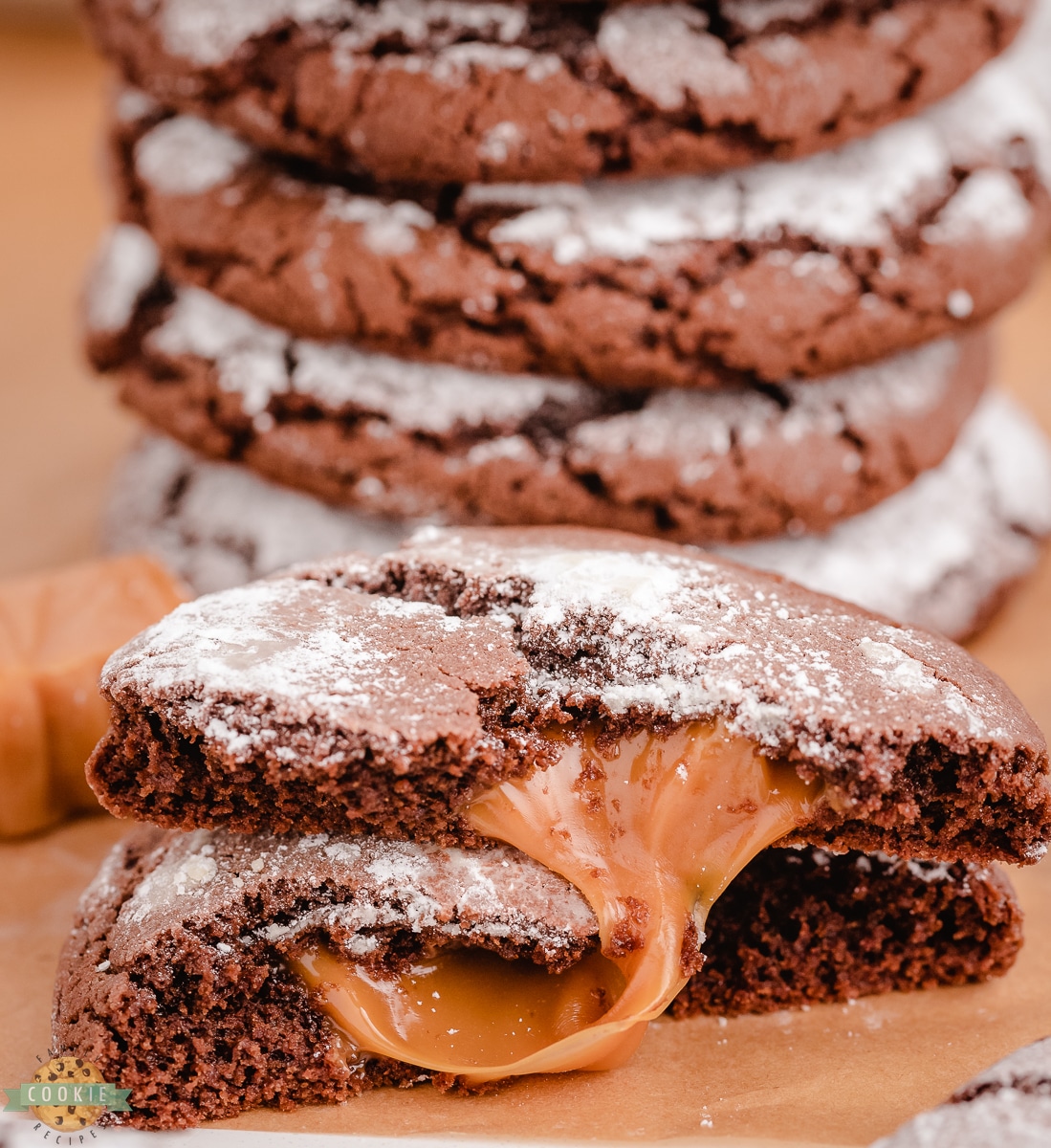 Can I freeze Chocolate Crinkle cookies?
Yes, these cookies can be frozen for up to 3 months in an airtight container. Thaw the cookies well before eating. I recommend sprinkling them with a fresh coating of powdered sugar before serving because the powdered sugar on the cookies will have mostly dissolved as the cookies thaw.
What kind of caramel should I use for caramel filled chocolate cookies?
You can use anything from Rolo candies to the soft squares of wrapped caramel squares. I do not recommend using caramel sauce or hard caramel candies as neither of those will work out well. If you do have to unwrap a lot of caramel squares you can always enlist the help of the kids to help get the tedious job done, just make sure there is enough caramel for them to snack on too.

This picture just makes me smile. Every other week we go over to my in-law's house and have family dinner with extended family. I love that my kids get to spend time with their cousins, I get to chat with my sister-in-law's and we all just take the time to connect. My youngest LOVES playing games and Grandpa is such a good sport, he will play just about anything as many times as a kid wants!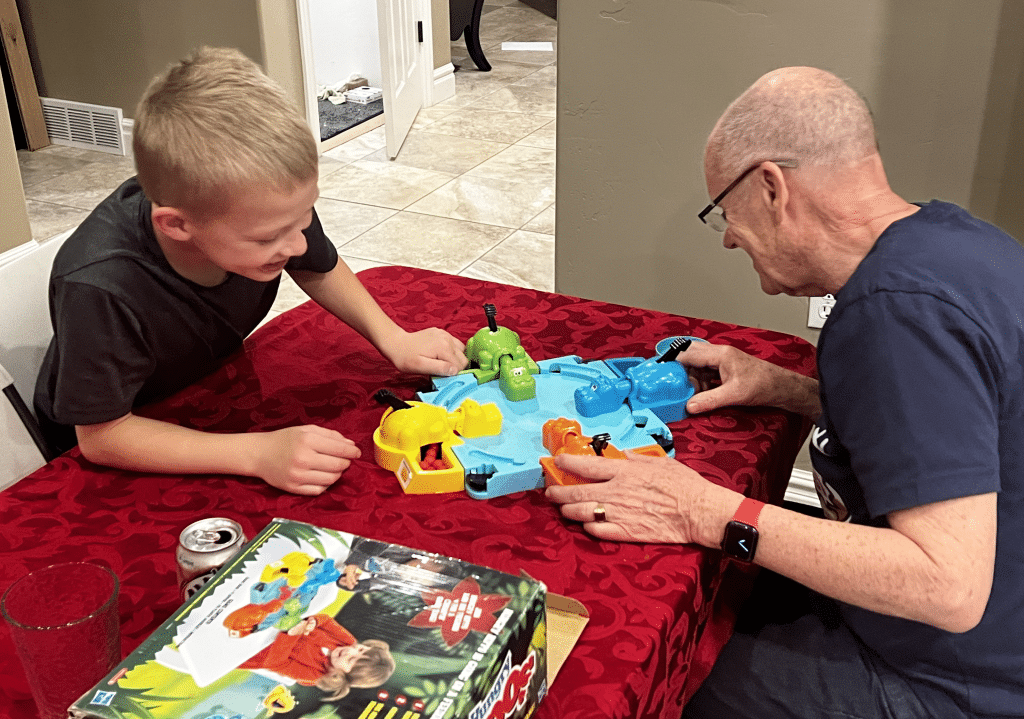 More crinkle cookies recipes:
You may also like these other chocolate caramel cookie recipes
Every bite of these caramel chocolate crinkle cookies is like heavenly bliss. Packed with salted caramel in a chewy chocolate cookie and then rolled in powdered sugar, you know these cookies are going to be great!