Cadbury Mini Egg Chocolate Cookies are soft, chewy and full of your favorite Easter candy! Delicious chocolate cookie recipe made with chocolate pudding mix, chocolate chips and crushed Cadbury Mini Eggs.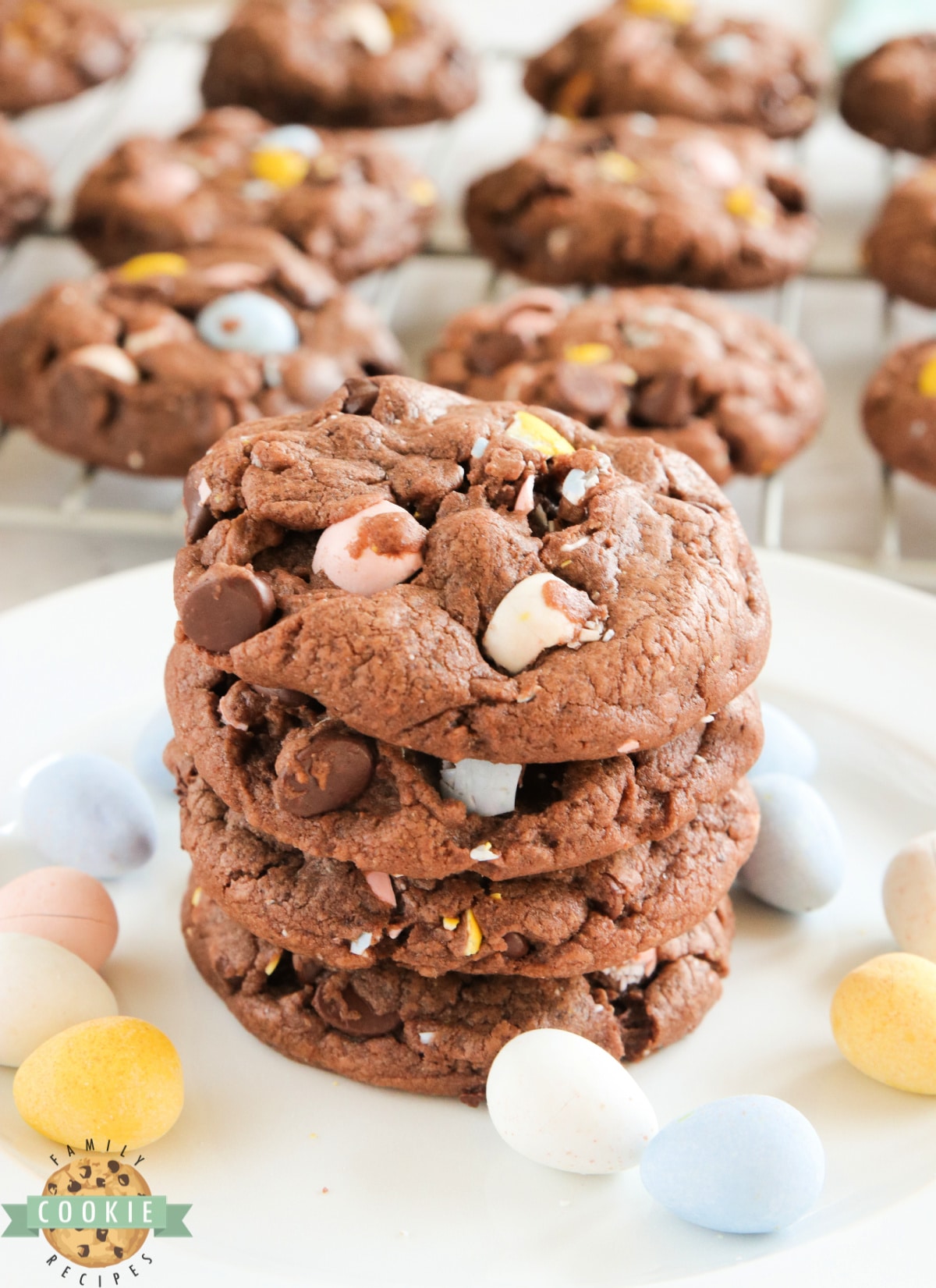 We love Cadbury Mini Eggs. I'm so nervous that they are going to run out of them every spring that I buy up a ton of bags as soon as they hit the stores. We really like them plain, but I love finding new ways to bake with them too! I really love these Cadbury Mini Egg Cookies but I decided that we needed a chocolate version as well. And now I can't decide which version I like better…I guess that's a good problem to have!
What if I can't find Cadbury Mini Eggs?
If your local store has run out of Cadbury Mini Eggs or if it's not the Easter season, no worries. You can just add more chocolate chips in place of the mini eggs, or you can use M&Ms instead. Or add in whatever type of candy you'd like. The chocolate cookie is delicious no matter what you do with it – it's fantastic with peanut butter chips too!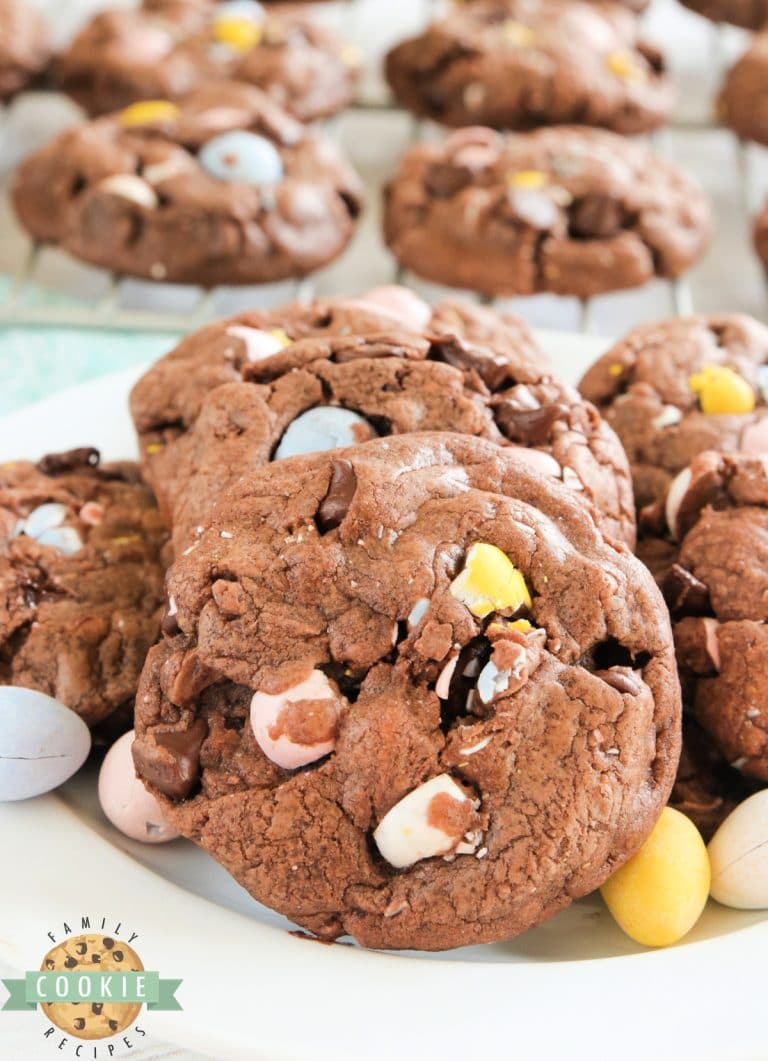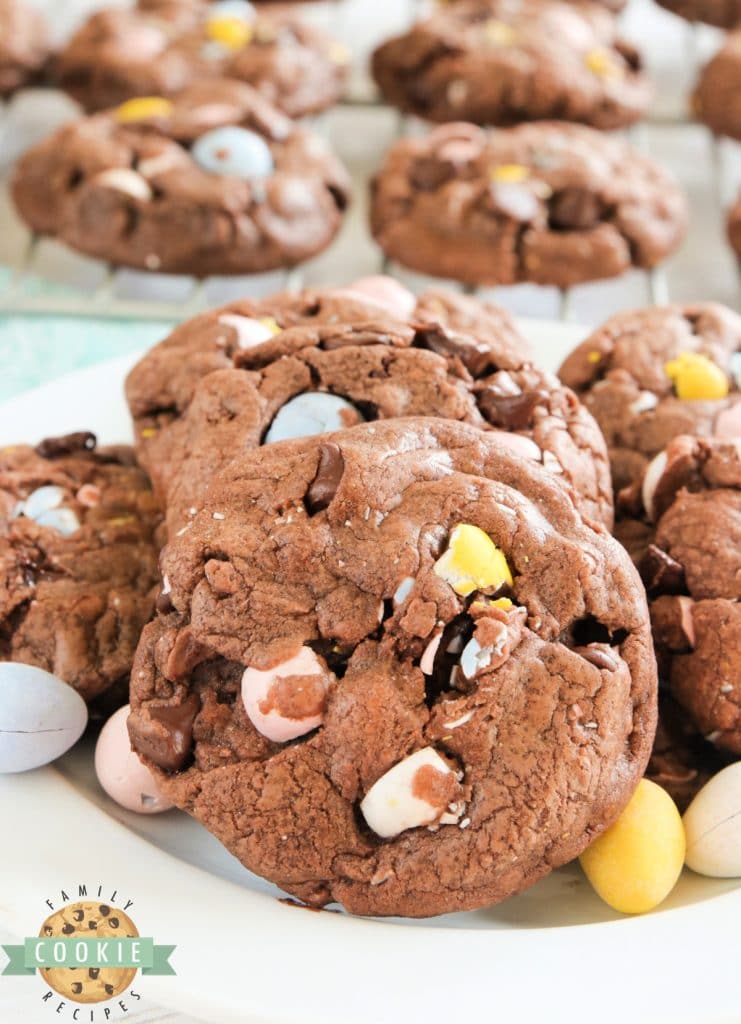 How to crush Cadbury Mini Eggs
Cadbury Mini Eggs are not easy to crush with your bare hands, but it's not very complicated or labor intensive if you know the right way to do it! Just place the eggs in a sealed ziplock bag (make sure to squeeze all the air out first), and then use a rolling pin or small hammer to crush the eggs. You don't want to crush them too much – big chunks are the best!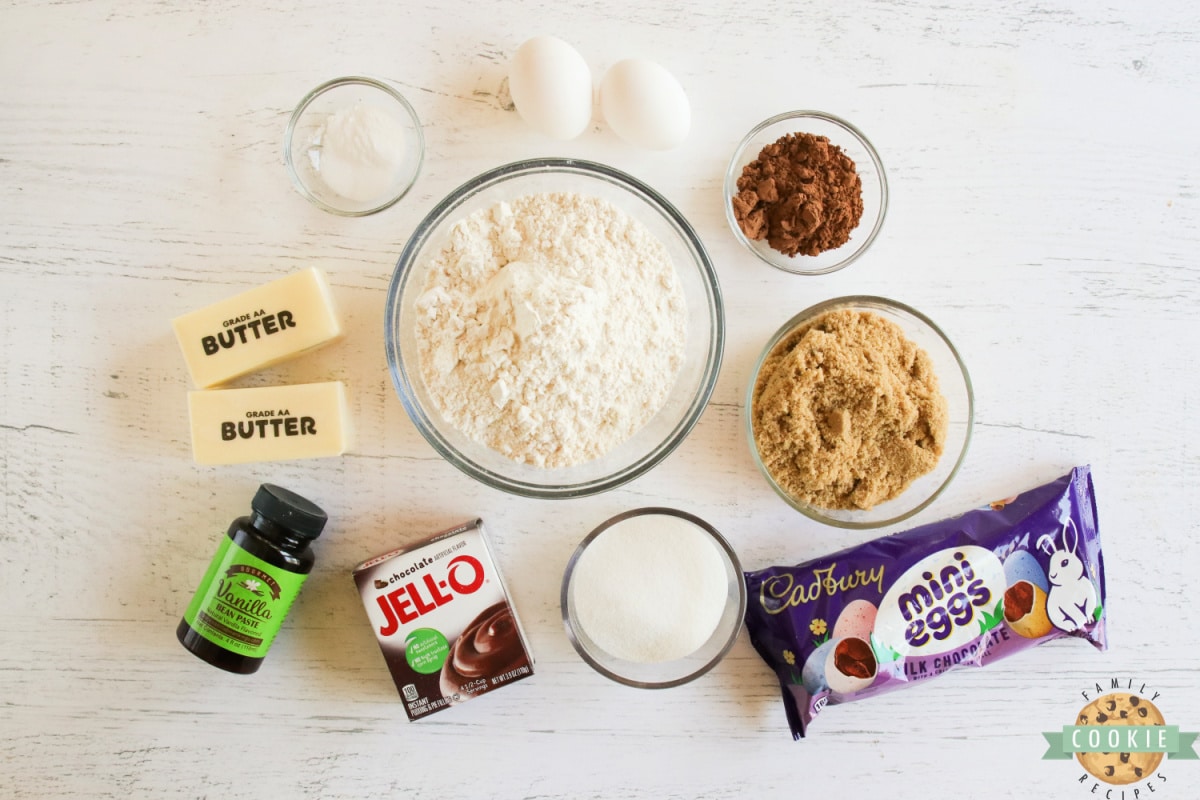 Ingredients in Cadbury Mini Egg Chocolate Cookies
Butter – You will need 1 cup (2 sticks) of butter, softened to room temperature. Real butter definitely works best!
Sugar – You will need 1/2 cup of granulated sugar to add the rest of the sweetness to the cookies.
Brown Sugar – For best results, make sure your brown sugar is fresh.
Eggs – 2 large eggs are needed for the recipe.
Vanilla extract – Two teaspoons of vanilla extract add a delicious flavor to the cookies. The higher the quality of the vanilla, the better.
Chocolate pudding mix – Use a small (3.9 oz) box of chocolate instant pudding mix. Adds a lot of chocolate flavor and softness to the cookies!
Cocoa powder – You will need 2 tablespoons of cocoa powder to add just the right amount of chocolate flavor to the cookie recipe.
Baking soda – One teaspoon of baking soda acts as the leavening agent in the cookies, so make sure that your baking soda isn't expired.
Cornstarch – Just a tablespoon of cornstarch provides the amazingly soft and chewy consistency in the cookies.
Salt – Just a half teaspoon of salt will help all the other flavors to pop.
Flour – All-purpose flour works best in the recipe, but you can use a gluten-free substitute if needed.
Chocolate chips – I love the added chocolate flavor from the semi-sweet chocolate chips, but you can leave them out if you'd like. Or use milk chocolate chips if you prefer. Or swap them out with white chocolate chips. So many options!
Cadbury Mini Eggs – You will need a 10-ounce bag of Cadbury Mini Eggs. You will want to crush them up a little bit since they are pretty large to put into the cookies completely intact. I place them in a Ziplock bag and crush with a meat mallet. Just don't crush them too much because you want fairly large chunks in the cookies – not a fine powder!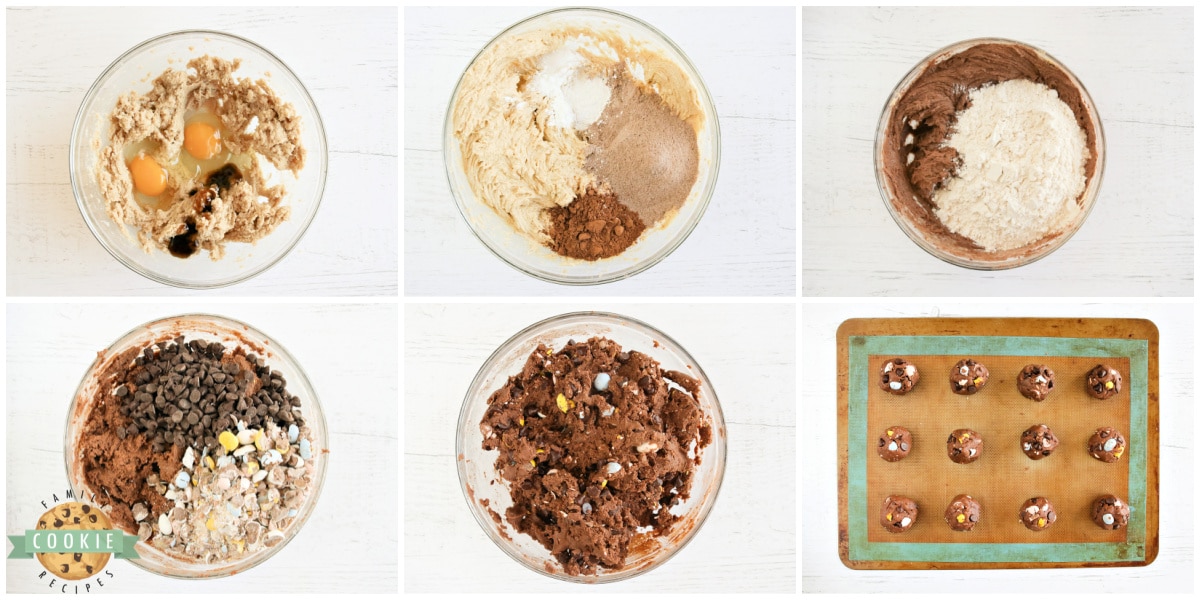 How to make Cadbury Mini Egg Chocolate Cookies
Preheat oven to 350°.
In a large bowl, cream together the butter and sugars for 2 minutes. Add in eggs and vanilla, mix for another 2-3 minutes.
Add the dry pudding mix, cocoa powder, baking soda, cornstarch and salt. Mix until well combined.
Add the flour and mix well. Stir in the chocolate chips and crushed mini eggs.
Use a cookie scoop and place cookies about 2 inches apart on a prepared cookie sheet (lined with parchment paper or a silicone baking mat).
Bake for 9 -10 minutes.
Allow to cool for 2-3 minutes on the cookie sheet before transferring to a wire rack.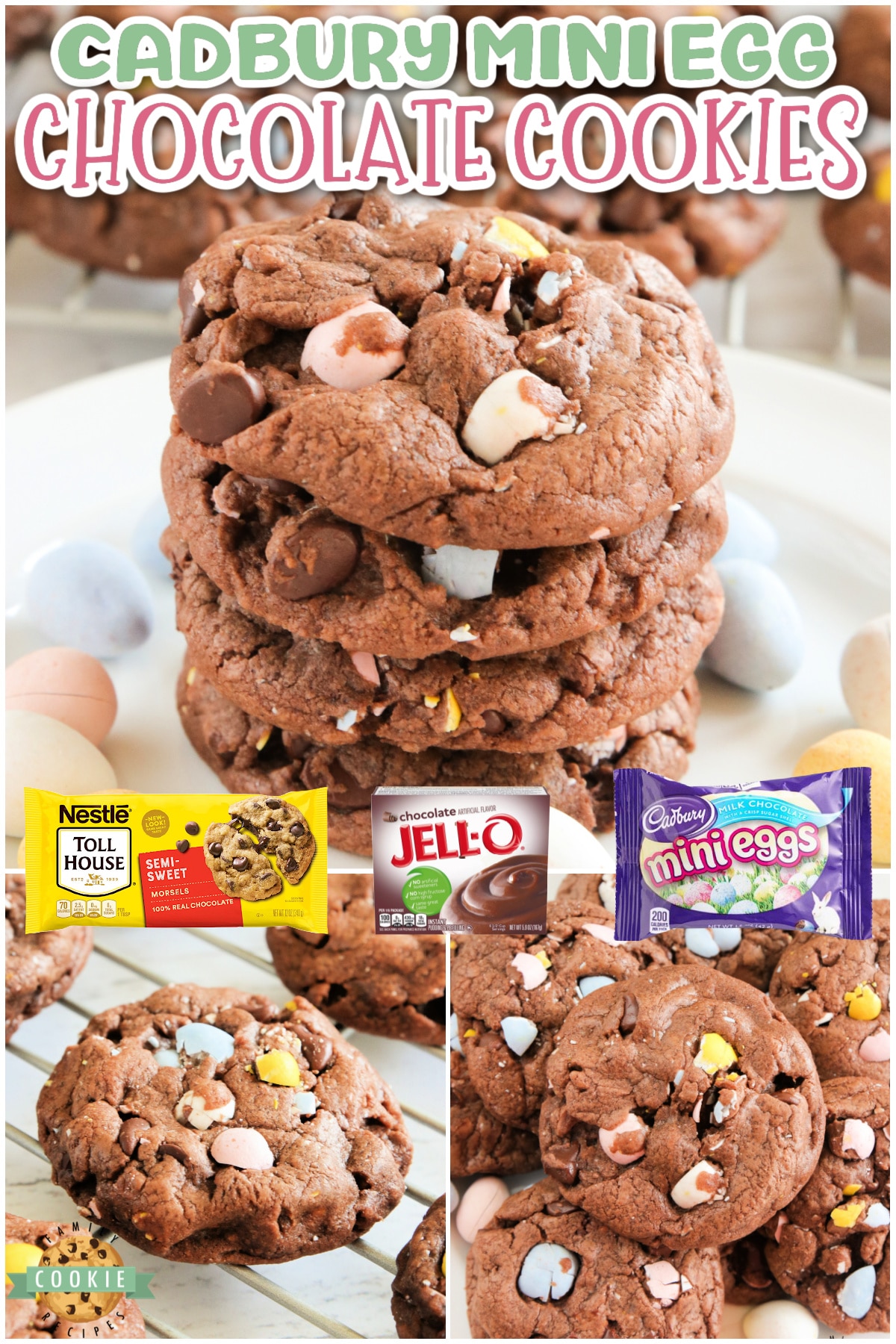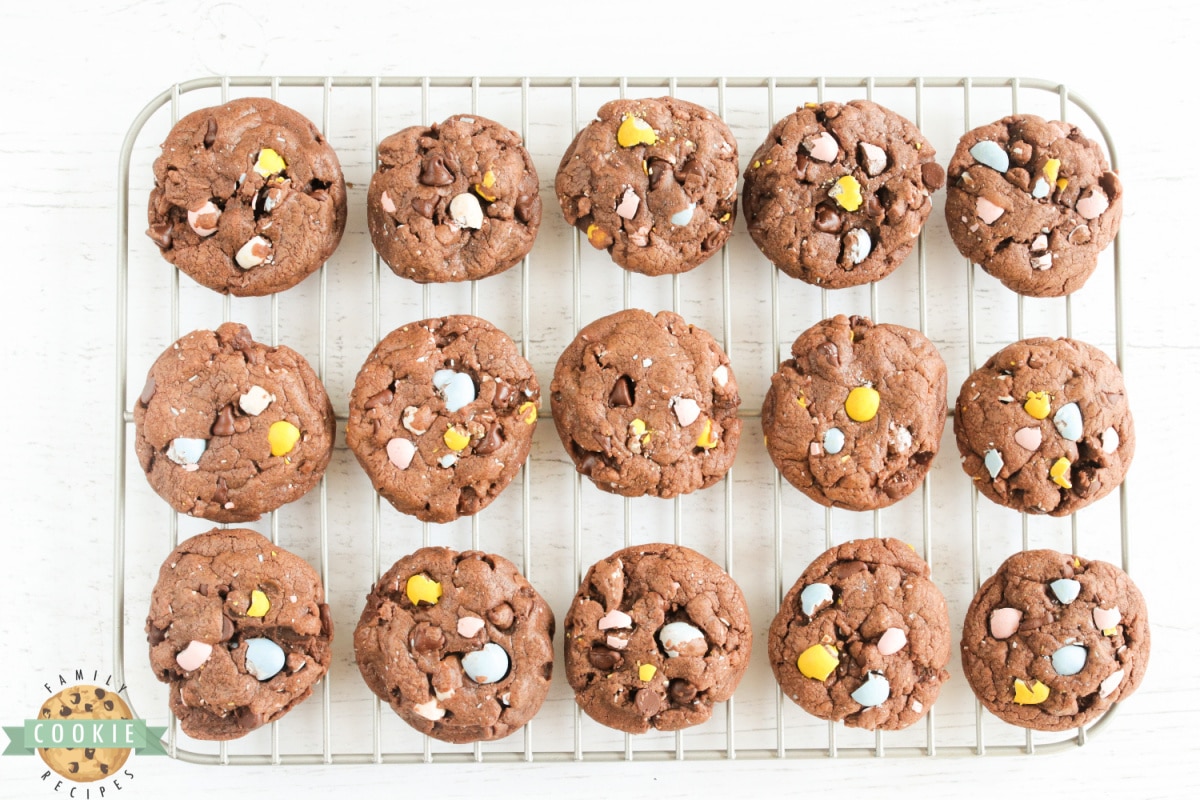 TIPS FOR MAKING AMAZING CADBURY MINI EGG CHOCOLATE COOKIES
Make sure that you have enough flour in the dough. If the dough is too sticky, you may need to add a little bit of flour. (This especially applies to this recipe because you are adding fruit. As long as your cherries are well-drained and patted with a paper towel, there shouldn't be too much extra moisture, but if you find that your first batch of cookies are spreading more than you prefer, just add a few more tablespoons of flour to the dough before baking the rest.)
Do not melt the butter! The butter needs to be softened (at room temperature), but using melted butter will ruin the cookies.
Spend a little extra time when you mix the butter and sugars. Creaming them together for 2-3 minutes will improve the consistency of your cookies.
Preheat the oven. This will help your cookies turn out right every time!
Use a cookie scoop! If you want all your cookies to be perfectly shaped and have them all be the same size, a cookie scoop is the way to go.
Use parchment paper or a silicone baking mat. Doing this will make it really easy to remove the cookies from your cookie sheet so that you don't have to scrape them off the pan – they will just slide right off in perfect shape!
Don't overbake the cookies – when I take mine out of the oven, they still look slightly underbaked but they will continue to bake on the cookie sheet for a couple more minutes so that's ok!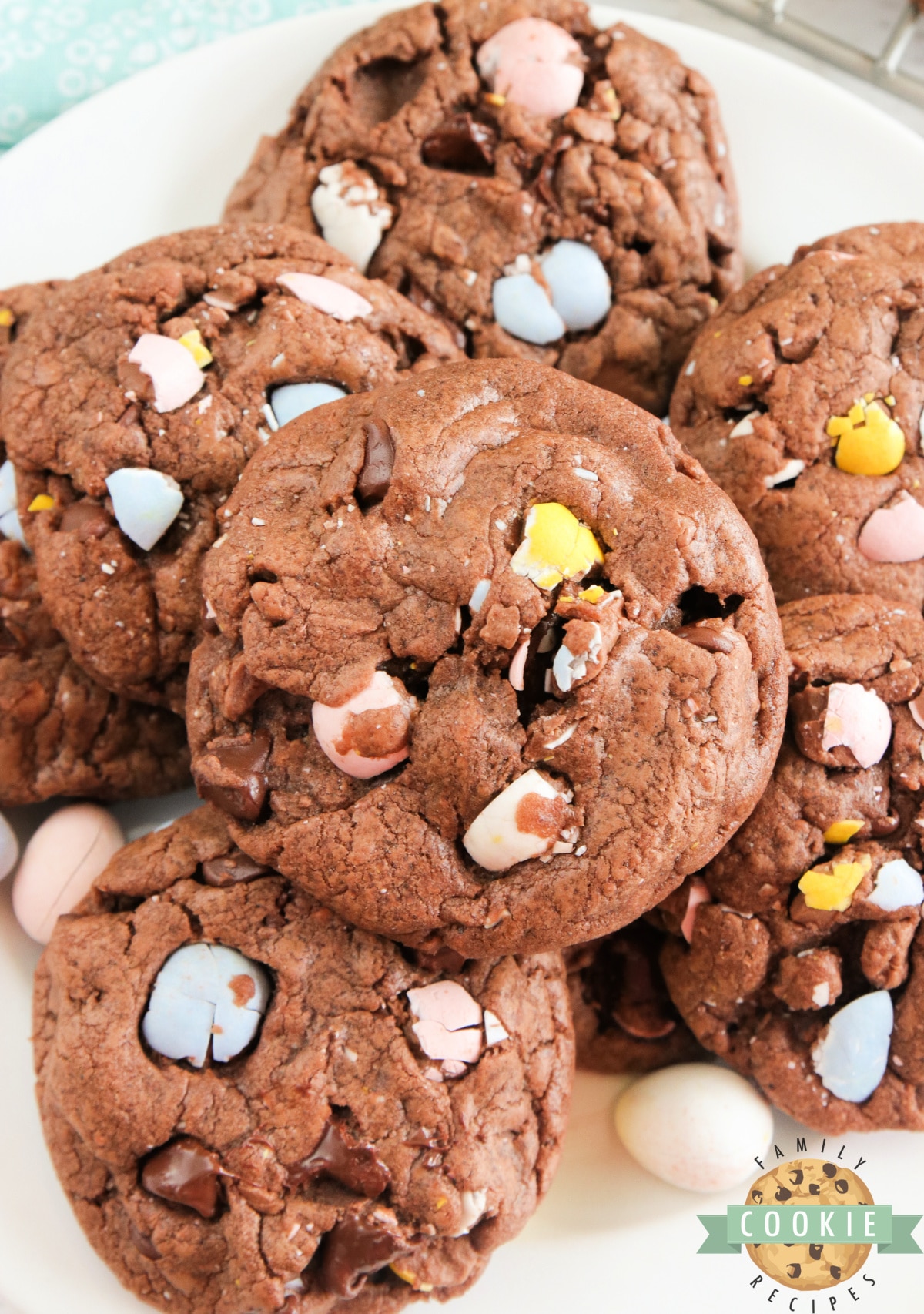 HOW DO YOU SOFTEN BUTTER?
I like to soften butter by using the defrost function on my microwave. If you need the full 1/2 cup cube of butter, you can leave it in the paper wrapper, otherwise, place the amount of butter you need in a glass or porcelain bowl. I use the lowest defrost setting on my microwave and just let it run for 20 seconds. Check the butter and see how soft it is by pressing it with a rubber scraper. If it is still not soft to the touch, meaning it doesn't indent when you press into it, let it warm for another 5-10 seconds. Watch it closely! Butter softens very quickly.
DO I HAVE TO CHILL COOKIE DOUGH?
This cookie dough does not require any chilling because the mixture is a great consistency as-is. While you can chill the dough if desired (like making ahead for a nice occasion or something) you'll want the dough closer to room temperature before actually baking. So take out the chilled dough 30 minutes prior to baking. The dough can chill for up to 24 hours in a covered bowl in the fridge.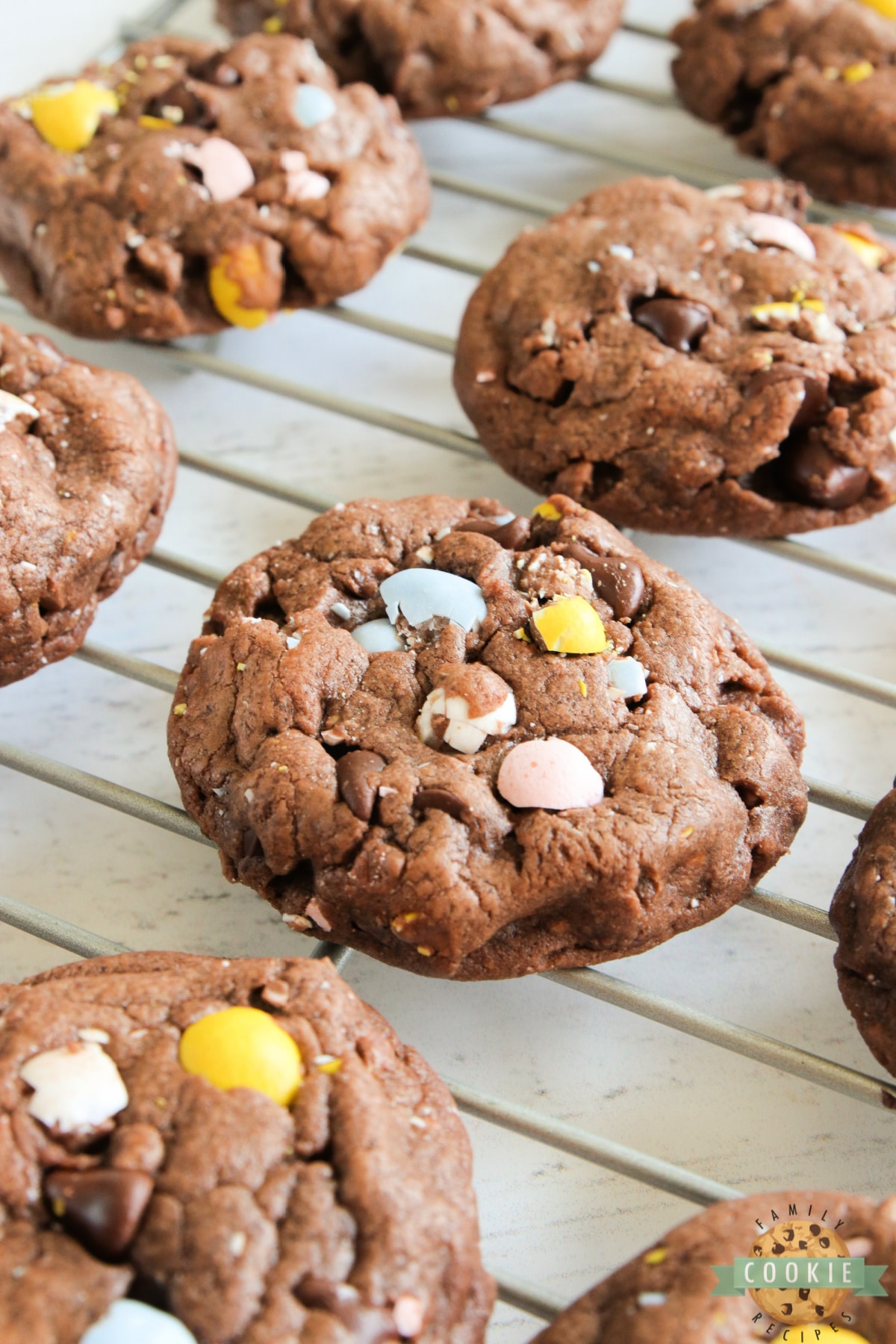 HOW LONG ARE CADBURY MINI EGG CHOCOLATE COOKIES GOOD FOR?
These chocolate cookies will be good for about 3-4 days if kept stored in an airtight container at room temperature.
CAN YOU FREEZE CADBURY MINI EGG CHOCOLATE COOKIES?
Absolutely! You can keep your cookies frozen for up to 6 months in the freezer. Make sure to keep them stored in an airtight container to keep them fresh. If you freeze them flat on a baking sheet before putting them into the container, it will keep them from sticking together.
I prefer to freeze the dough so that I can bake a batch (or just one or two cookies) whenever I want warm, fresh cookies straight out of the oven! Just scoop the dough into balls and then place them on a baking sheet in the freezer for about an hour. Place the frozen balls into an airtight container or Ziplock bag in the freezer and pull out however many cookie dough balls you need when you are ready to bake. No need to thaw them before baking, but you may need to add 1-2 minutes on to the baking time.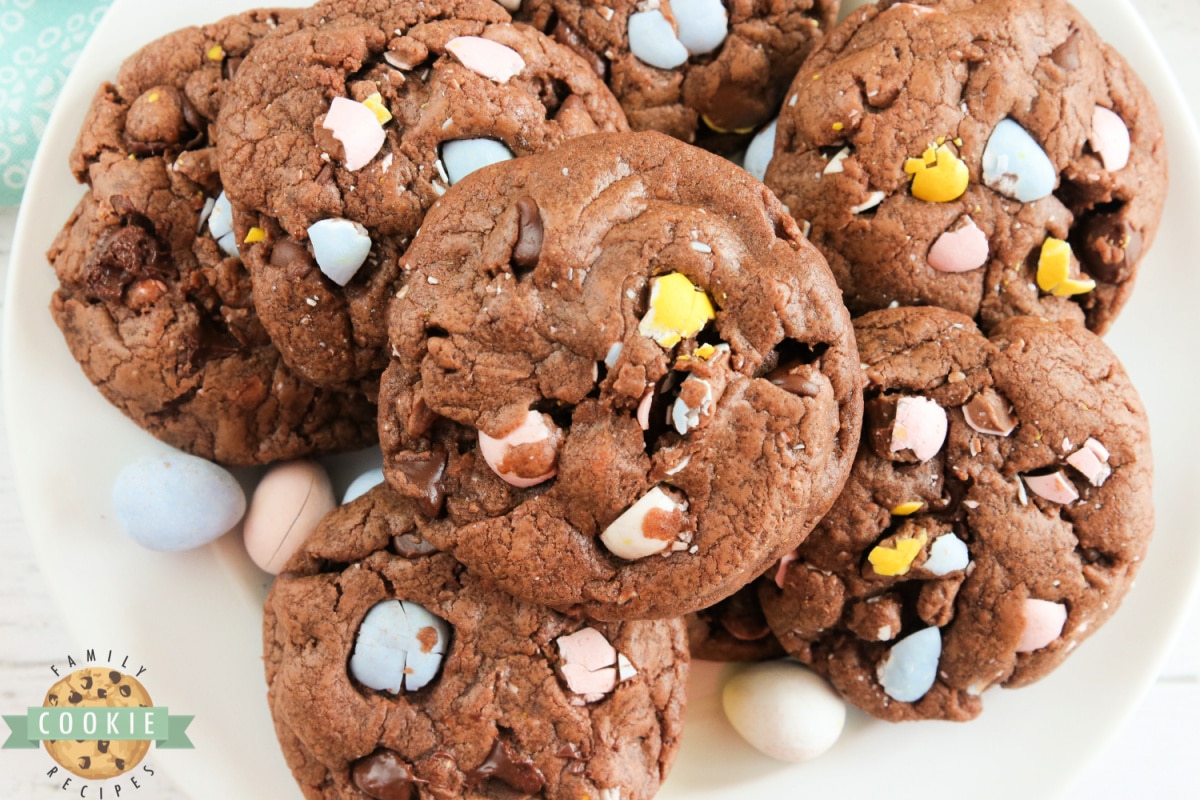 LOVE CHOCOLATE COOKIES? SO DO WE! HERE ARE SOME OF OUR FAVORITE CHOCOLATE COOKIE RECIPES: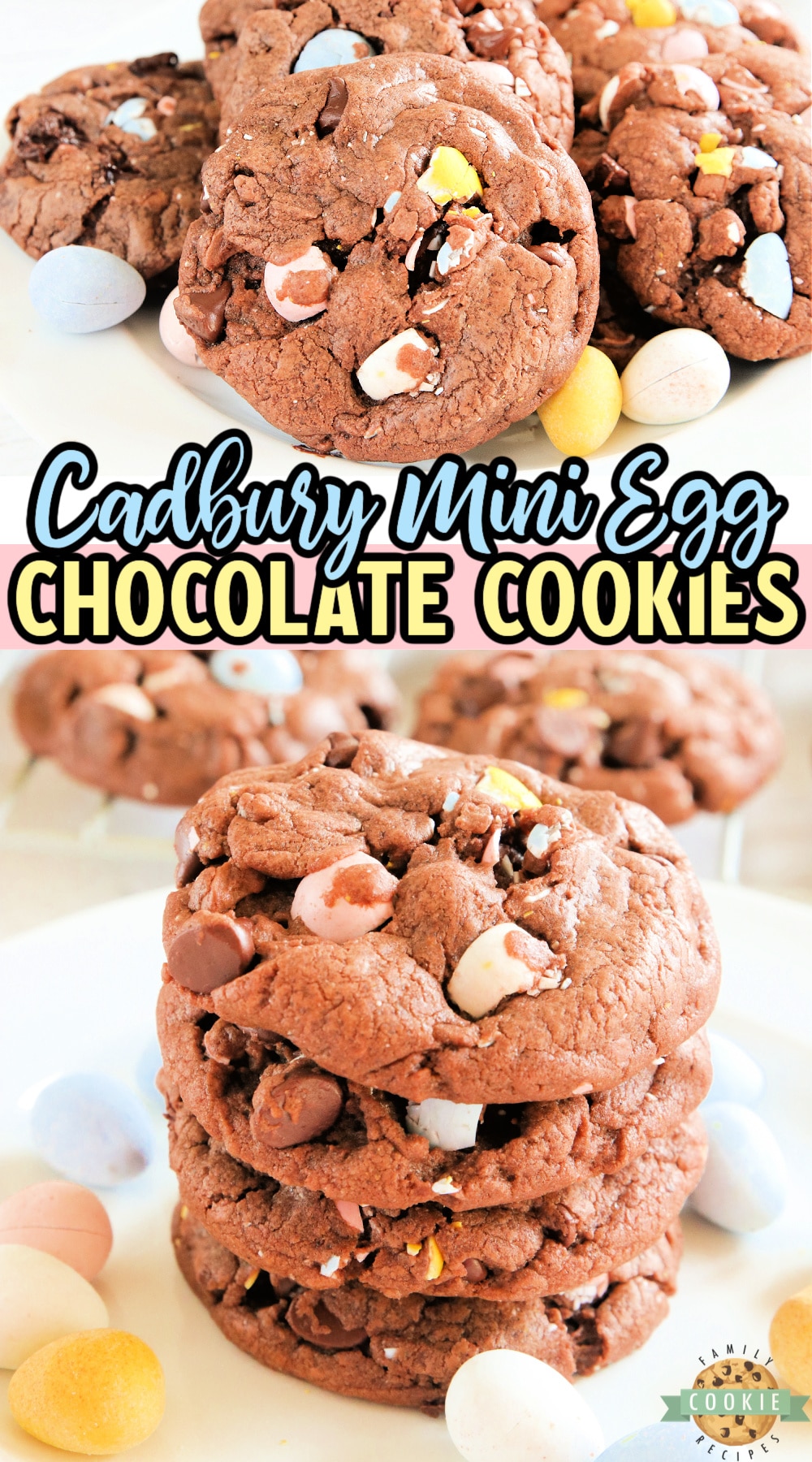 Cadbury Mini Egg Chocolate Cookies are soft, chewy and full of your favorite Easter candy! Delicious chocolate cookie recipe made with chocolate pudding mix, chocolate chips and crushed Cadbury Mini Eggs.



This little one is potty trained! Well, mostly. I'm taking a little bit of a chill approach to the whole process this time around. It's amazing how much more relaxed I am the 5th time around. And our lives are so busy, I just don't have a 3 day window to go the hard core route. But she filled up her sticker chart and earned her Frozen bike after about a week and is doing great already. Still not 100% there, but it's gone better than I thought and her and I are both still happy about life, so I'm calling it a success so far!