Rocky Road Cookies are rich, fudgy chocolate cookies made with chocolate chips, almonds and marshmallows. These easy Rocky Road cookies are absolutely amazing!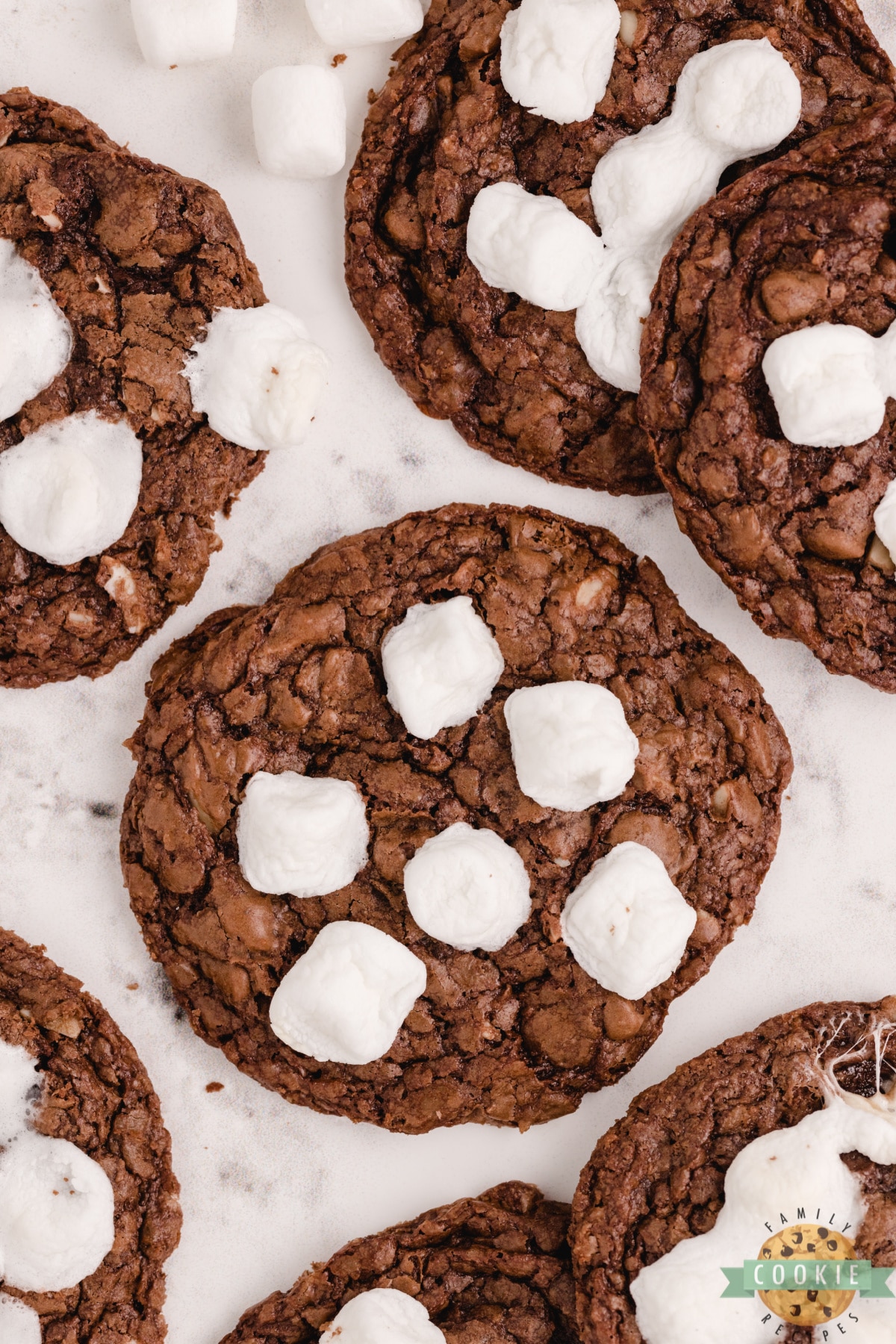 I've always liked cookies and there aren't many that I don't like, but these cookies are on a whole other level than most. I absolutely love how fudgy these cookies are. So much chocolate! And the crunch of the almonds and the sweetness and gooeyness of the marshmallows…yep, pretty much all the elements needed for an absolutely perfect cookie.
What is rocky road?
Rocky Road means a dessert full of chocolate, nuts and marshmallows. The term "rocky road" is probably most common in ice cream, but there are lots of other desserts that have this flavor combination. These cookies call for almonds, but you could definitely swap those out with peanuts or another type of nut if you prefer. We love rocky road, and if you do too, make sure to try our Rocky Road Fudge Bars or Rocky Road Cheesecake!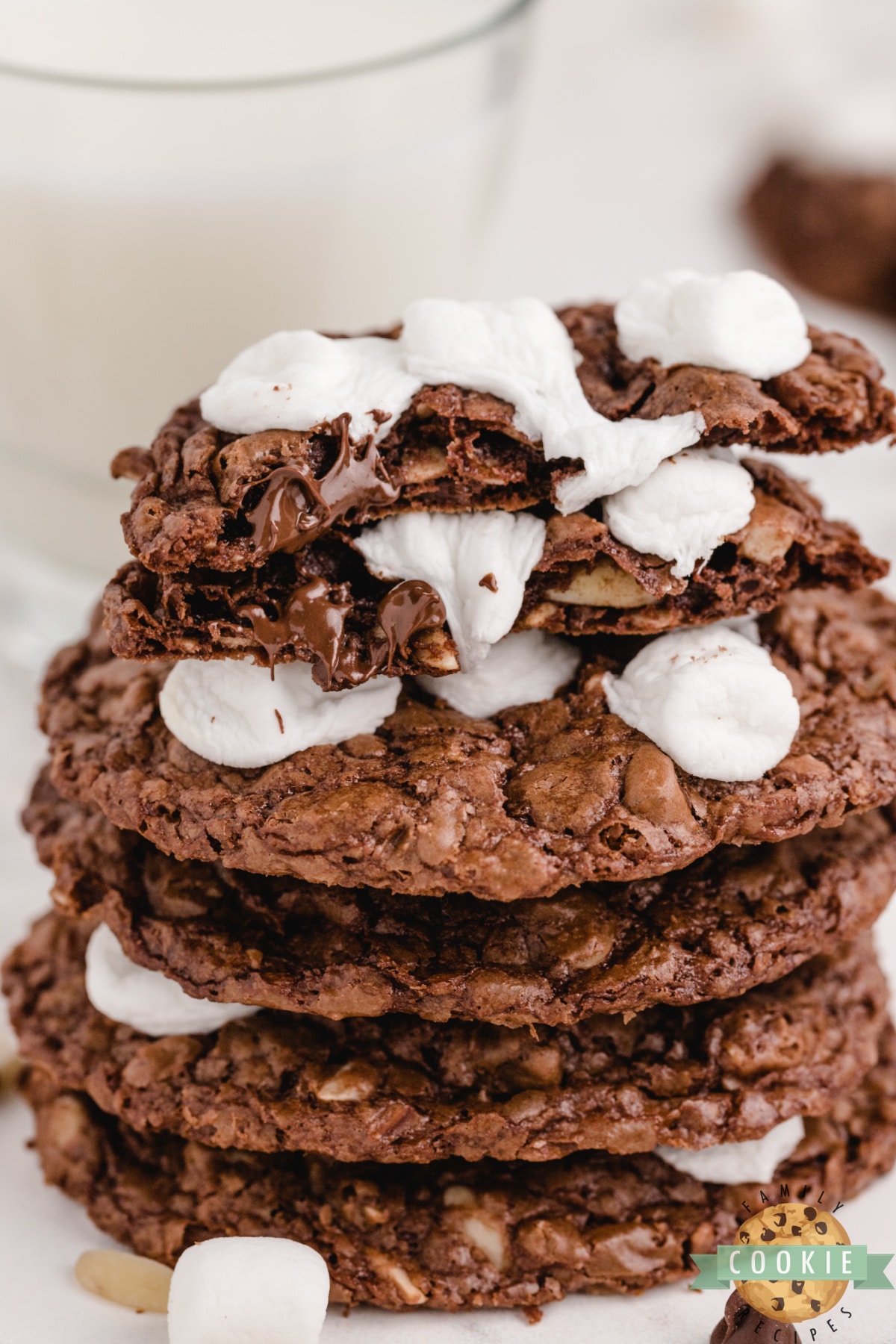 HOW TO MAKE THE BEST COOKIES:
After trying out multiple cookie recipes over many years, I have picked up several important tips for making the absolute BEST cookies!
Make sure that you have enough flour in the dough. If the dough is too sticky, you may need to add a little bit of flour. Keep in mind though that oatmeal cookie dough is a bit stickier than other cookie dough and that's ok!
Spend a little extra time when you mix the wet ingredients. Beat the eggs and sugar for at least 2-3 minutes.
Preheat the oven. This will help your cookies turn out right every time!
Don't over bake the cookies – when I take mine out of the oven, they still look slightly under baked but they will continue to bake on the cookie sheet for a couple more minutes so that's ok!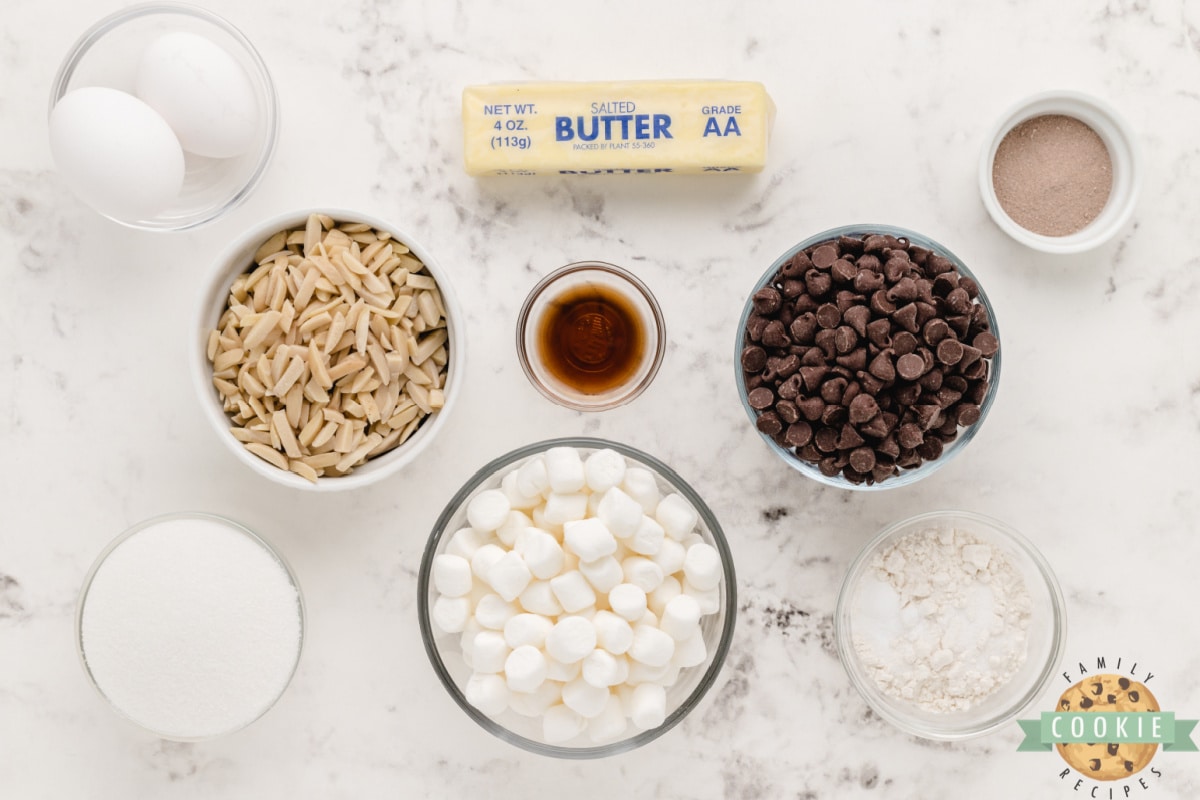 Ingredients in Rocky Road Cookies
Chocolate chips – Semi-sweet chocolate chips are perfect for melting and mixing in with the other ingredients.
Butter – 1 1/2 sticks of butter provides the right amount of fat to the cookies. Real butter works best.
Eggs – 2 eggs help bind everything together.
Sugar -Just 3/4 cup of granulated sugar is needed for these cookies.
Hot chocolate mix – Just adding two teaspoons of hot chocolate mix really helps to add more chocolate flavor, especially if you use dark chocolate cocoa mix.
Vanilla extract – The higher the quality of the vanilla, the better!
Salt – Just a half teaspoon of salt helps to bring out the other flavors in the cookies.
Baking powder – This is the leavening agent in the cookies so make sure your baking powder isn't old or expired.
Flour – You only need 1/4 cup of flour for these cookies.
Chocolate chips – More semi-sweet chocolate chips, but this time don't melt them down. And add more than 1 cup if you'd like – you can't have too much chocolate, right?
Almonds – You will need a cup of slivered or roughly chopped nuts. I like almonds, but you can use peanuts or even walnuts if you prefer.
Marshmallows – You'll need about a cup and a half of mini marshmallows that you will press on top of the cookies just before baking.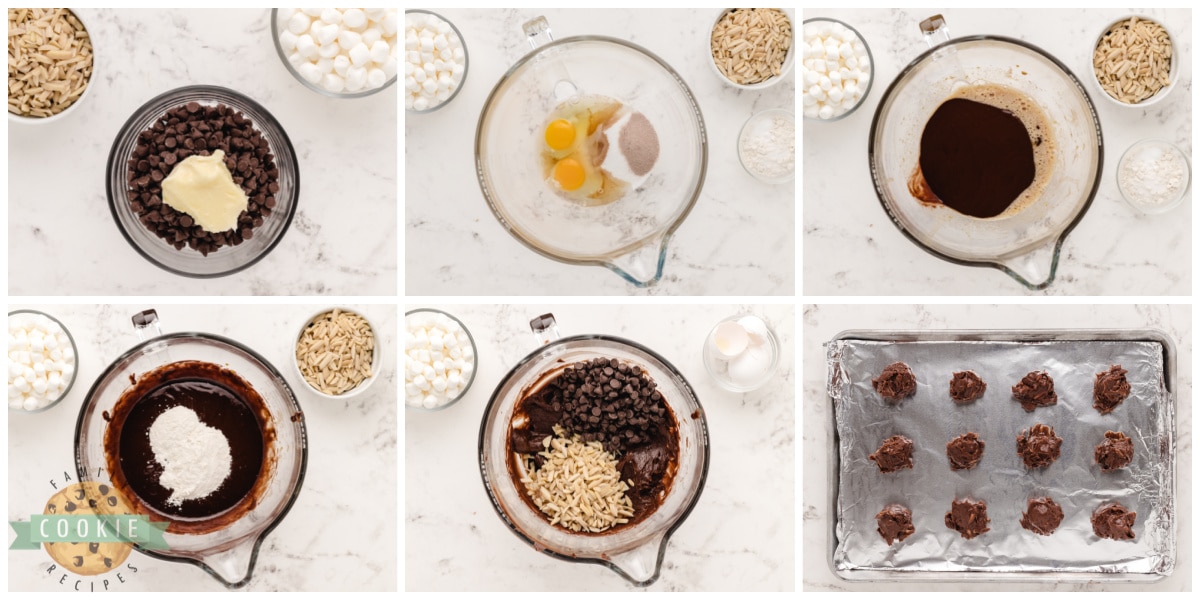 How to make Rocky Road Cookies
Preheat oven to 350°. Line cookie sheets with foil (NOT parchment).
In a small glass bowl, microwave the 1 1/3 cups of chocolate chips and 3/4 cup butter for 1 minute. Stir and then microwave for 30 more seconds. Stir until smooth. If necessary, microwave for another 15 seconds and stir again. Set aside.
In a separate bowl, beat the eggs, sugar, hot chocolate mix and vanilla for 2-3 minutes. Add the chocolate/butter mixture and mix just until well combined.
In a small bowl, mix together the salt, baking powder and flour. Add flour mixture to the chocolate mixture and mix just until combined.
Mix in the cup of chocolate chips and almonds. Use a large cookie/muffin scoop (about 1/4 cup) to scoop cookies onto foil lined cookie sheets. Bake for 10 minutes and then remove from the oven to press about 8-10 marshmallows gently onto the top of each cookie. Return to the oven for about 2-3 minutes. The marshmallows should be slightly toasted but not melted. Place the foil on a wire rack and then when the cookies are completely cooled, use a spatula to get the cookies off of the foil.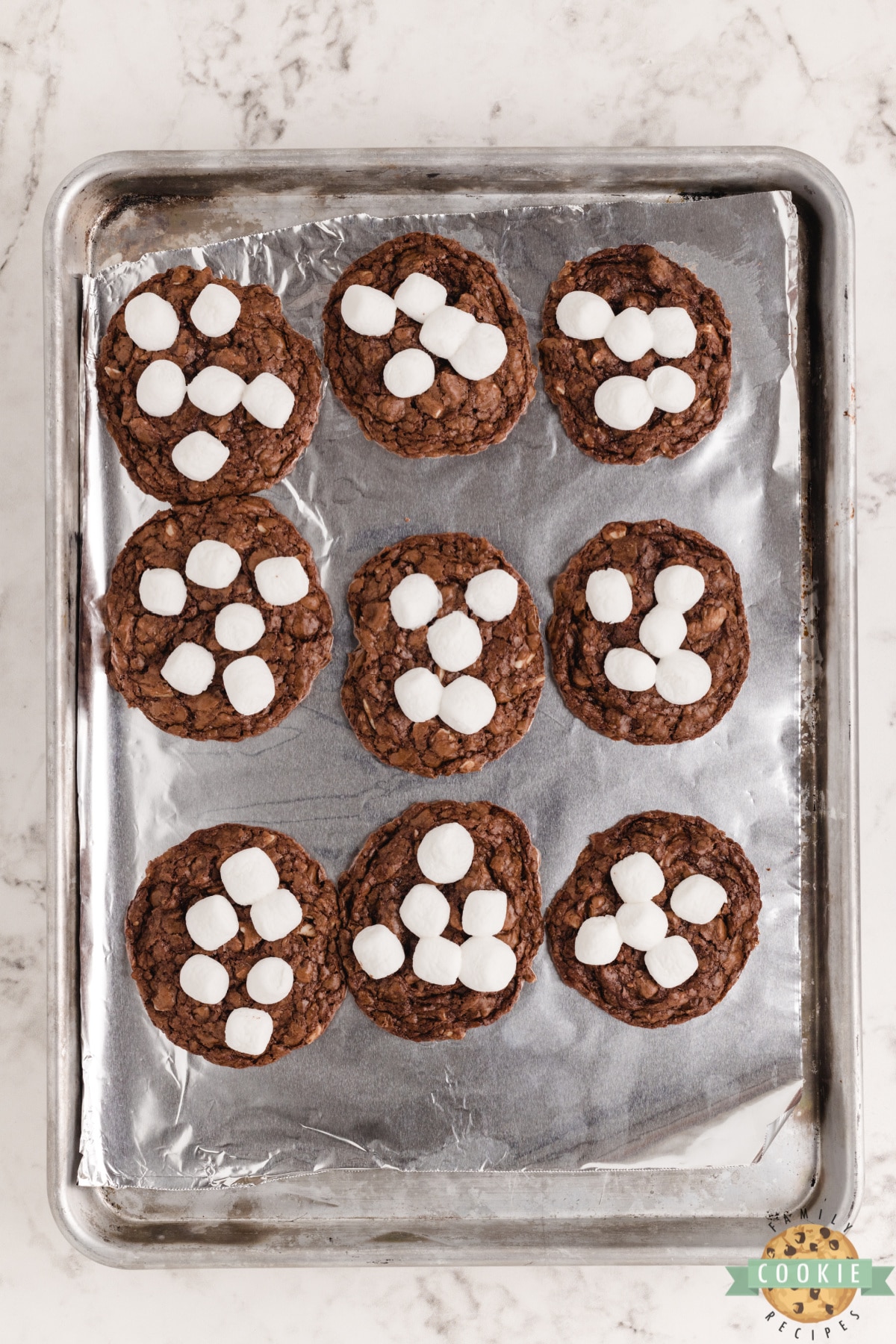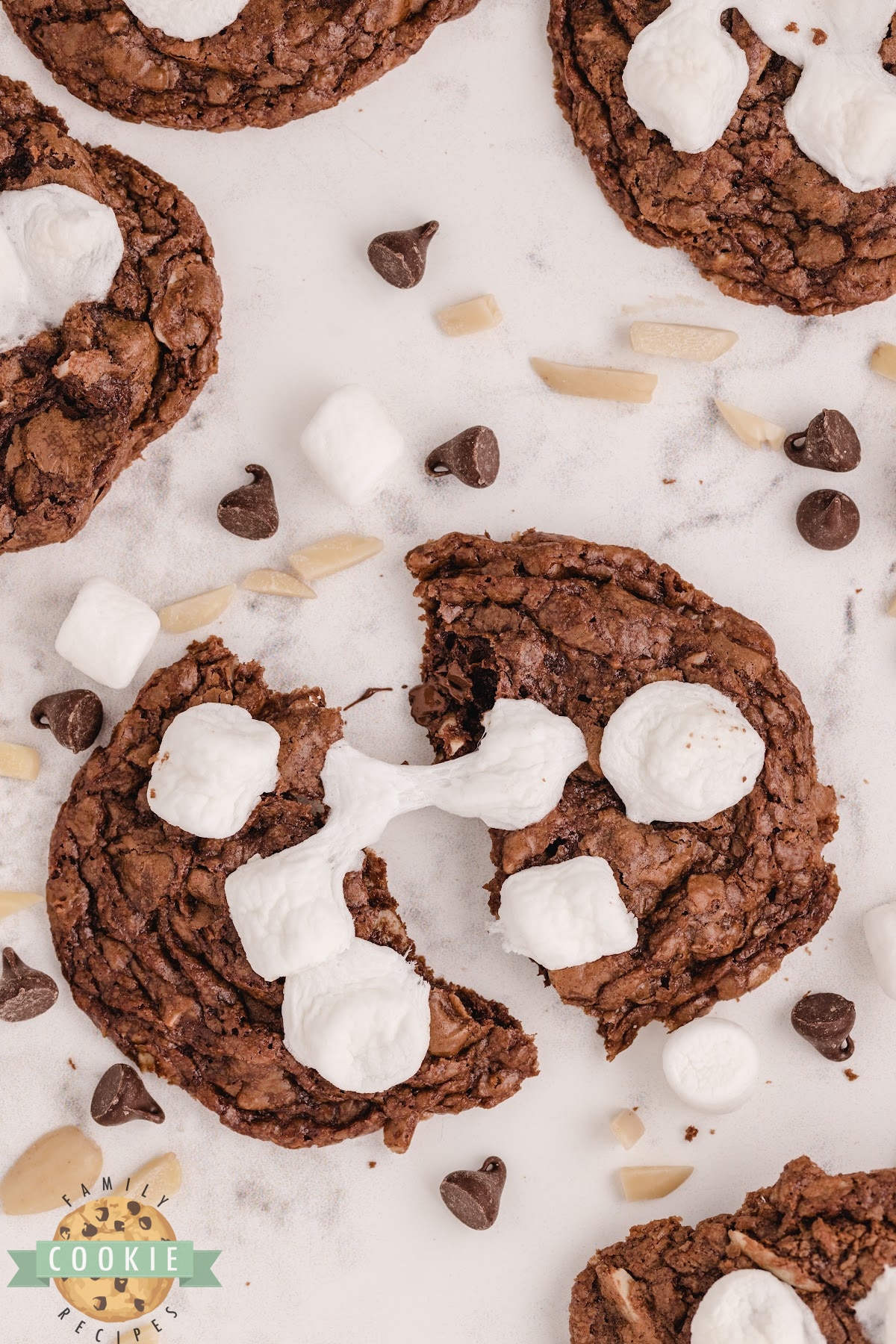 MORE TIPS FOR MAKING THE BEST COOKIES
There are a couple items that really help you make the best cookies ever! I actually use these items in nearly every cookie recipe I make, as well as several other types of recipes, so they're quite versatile.
The first thing I like to use is a KitchenAid mixer. I love mine! I have a Bosch as well but I find I use my KitchenAid for cookies. There is a cookie paddle that comes with every mixer that you attach to the top of the mixer. They're easy to use and help you mix the ingredients uniformly. Add this to your wish list because it's one of my all-time used small appliances ever!
The other item is a cookie scoop! Years and years ago I used to use 2 spoons to measure and scrape cookie dough onto the pans. It wasn't a perfect process and I often ended up with oblong cookies in various sizes. A friend of mine brought cookies to a party and I noticed each and every one of her cookies looked PERFECT. Her secret? A cookie scoop! I usually use one of the smaller ones, but I like to use a big one for these cookies to make them nice and big!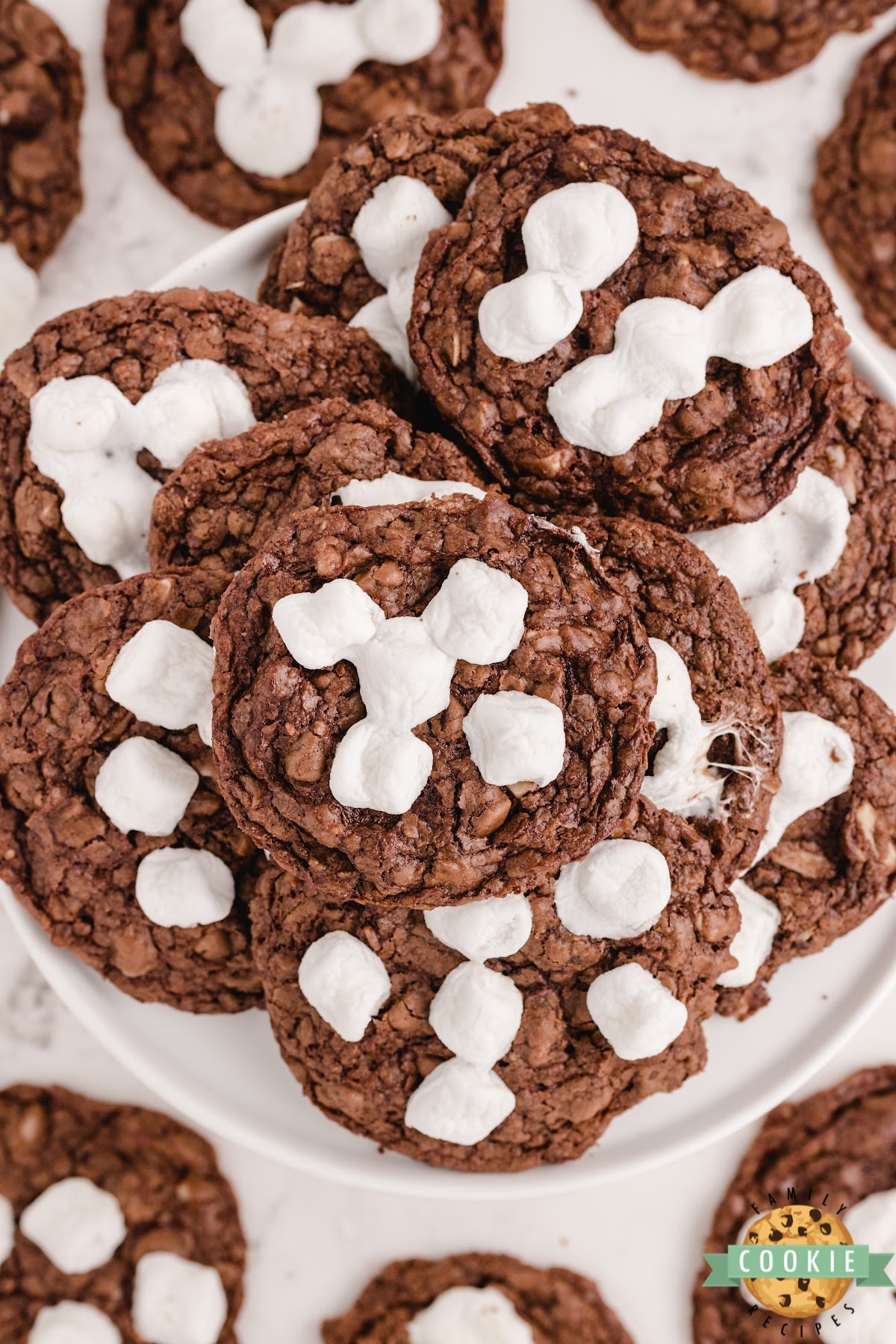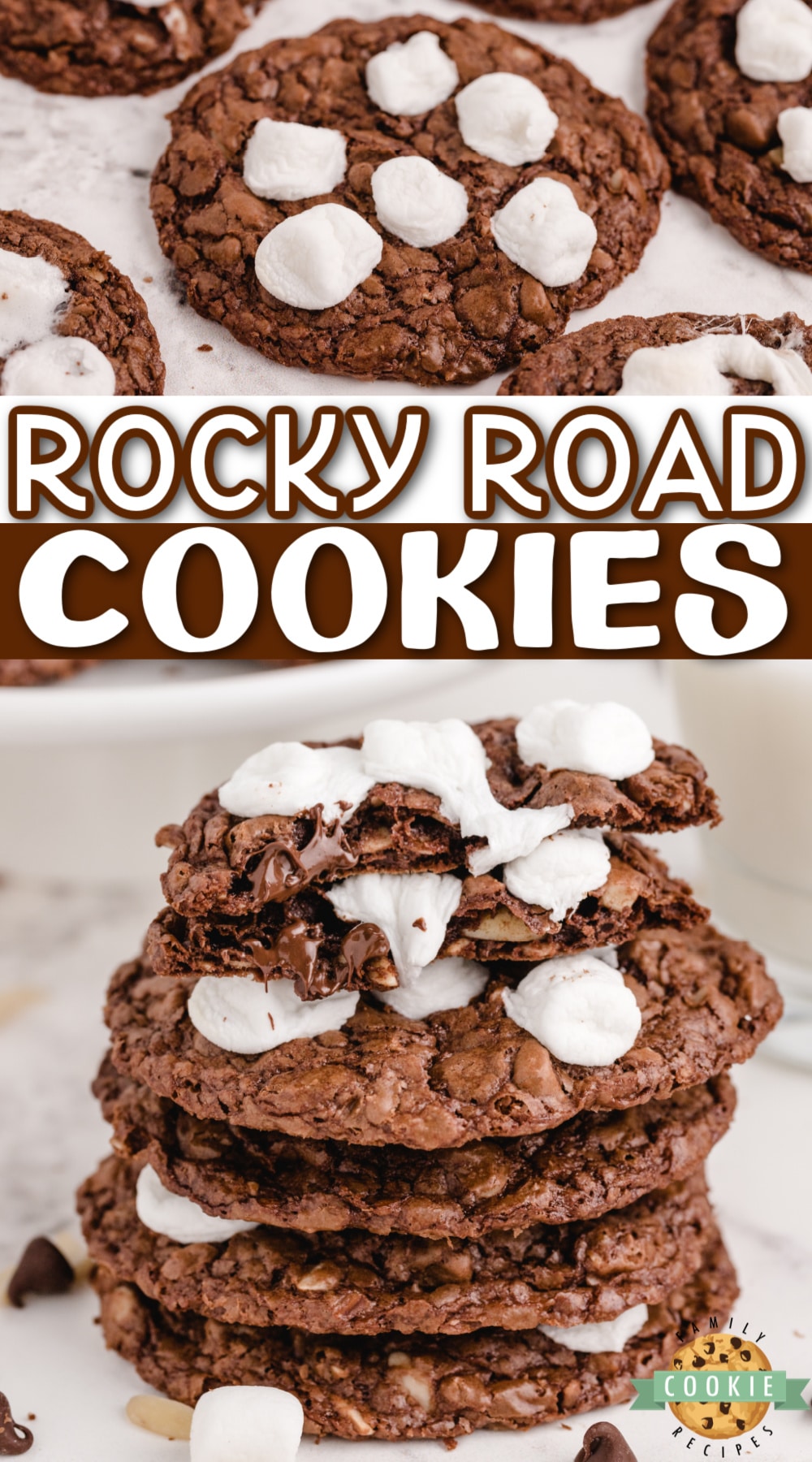 Rocky Road Cookies are rich, fudgy chocolate cookies made with chocolate chips, almonds and marshmallows. These easy Rocky Road cookies are absolutely amazing!



I was recently looking through some pictures and found this one from almost 10 years ago! In some ways it feels like this happened a hundred years ago and in some ways it feels like it was just yesterday. Hard to believe that these kids were all so little. Now they are almost all teenagers and life is very different than it was then. There are a lot of things I miss about those days, but I really like the stage they are in right now too!