Chocolate Marshmallow Cookies are soft and thick chocolate cookies topped with a marshmallow and chocolate icing. Delicious chocolate cookie recipe with marshmallow.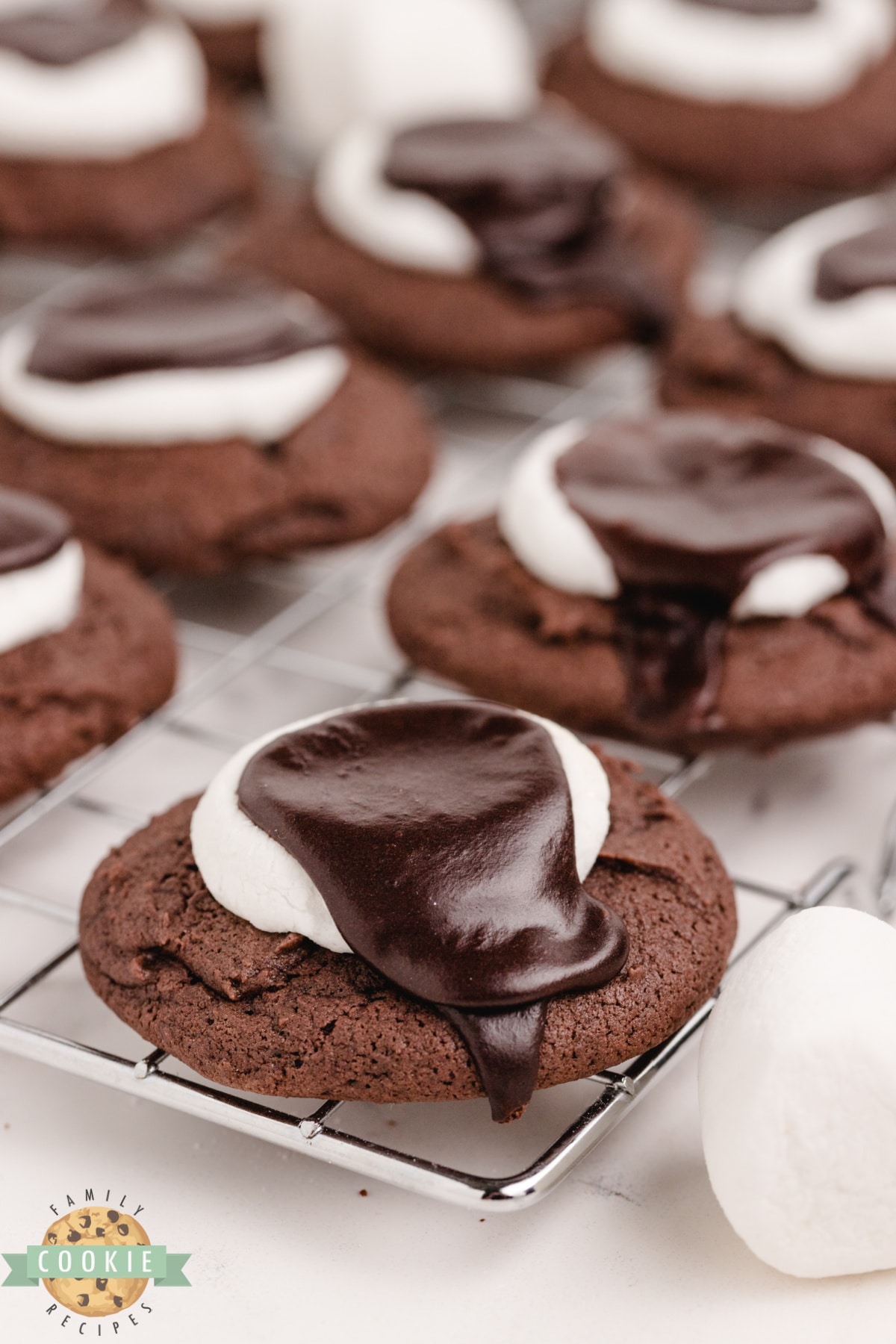 Chocolate Marshmallow Cookies
Homemade chocolate cookie recipe that is baked before adding half of a marshmallow on top. The marshmallows are slightly melted onto the cookies before topping them off with a homemade fudgy chocolate frosting.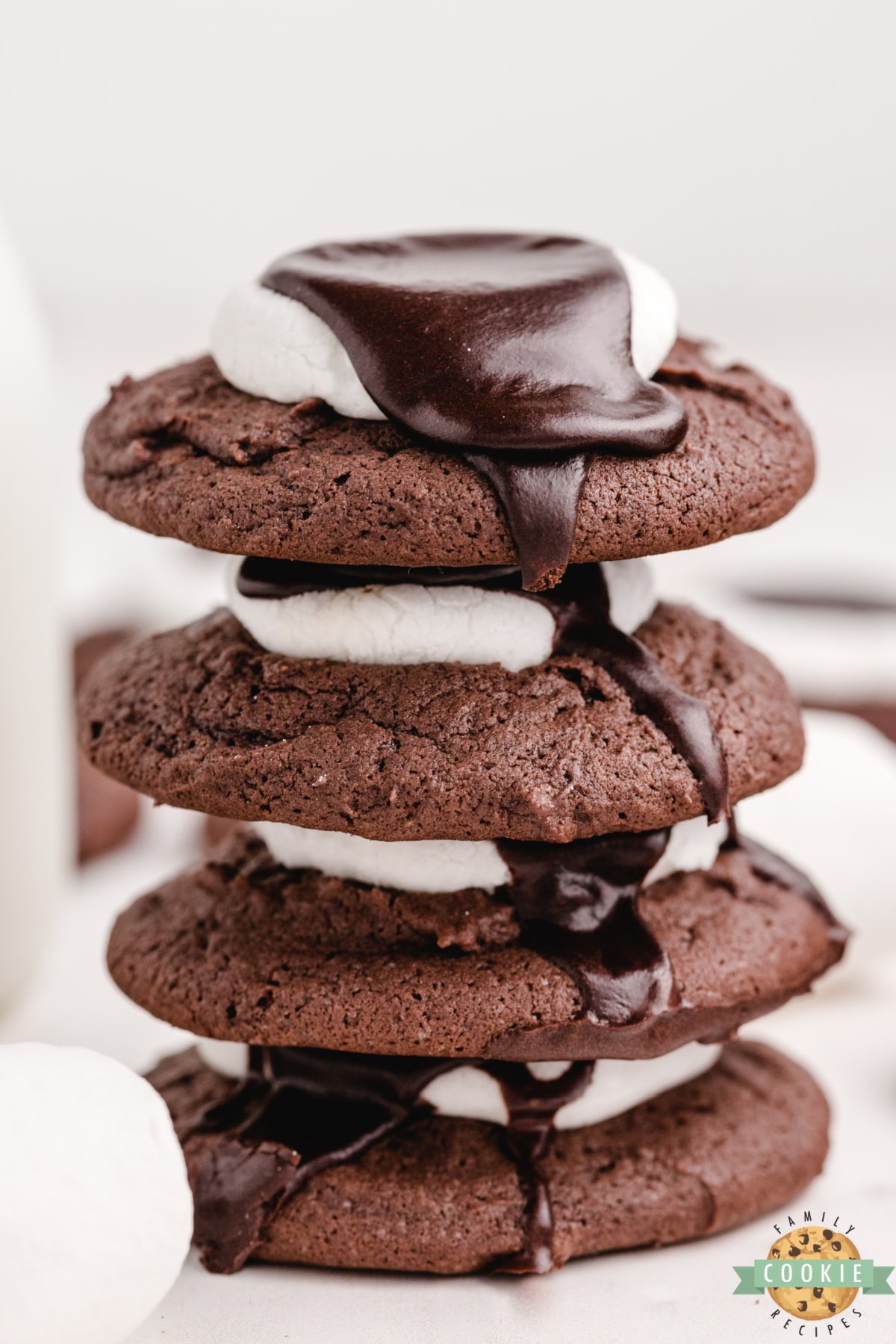 TIPS FOR MAKING THE BEST COOKIES
Three kitchen items really help you make the best cookies ever! I actually use these items in nearly every cookie recipe I make, as well as several other types of recipes, so they're quite versatile.
First, I line my cookie sheets with a piece of parchment paper or a silicone baking mat. They're sold in sizes that fit a 12×16 cookie sheet perfectly and enable to cookies to bake well without sticking- and no mess from spraying oil on the cookie sheets!
The second item is a KitchenAid mixer. I love mine! I have a Bosch as well but I find I use my KitchenAid for cookies. There is a cookie paddle that comes with every mixer that you attach to the top of the mixer. They're easy to use and help you mix the ingredients uniformly. Add this to your wish list because it's one of my all-time used small appliances ever!
The third item is a cookie scoop! Years and years ago I used to use 2 spoons to measure and scrape cookie dough onto the pans. It wasn't a perfect process and I often ended up with oblong cookies in various sizes. A friend of mine brought cookies to a party and I noticed each and every one of her cookies looked PERFECT. Her secret? A cookie scoop! They come in three sizes- 1/2 tablespoon, 1.5 tablespoon and 3 tablespoon scoops.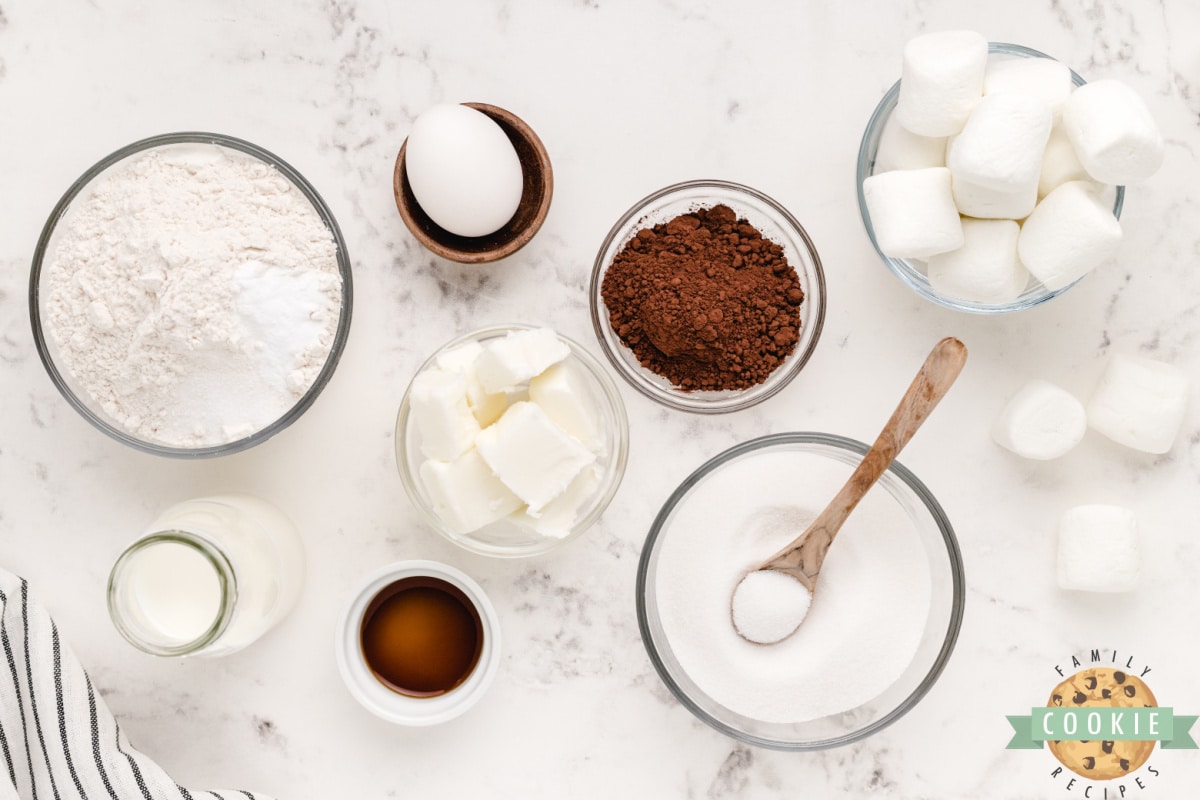 Ingredients in Chocolate Marshmallow Cookies
Flour – All purpose flour works best in these cookies. Cake flour also works well.
Baking soda – This is the leavening agent in the cookies so make sure your baking soda isn't old or expired.
Salt – Just a half teaspoon of salt helps to bring out the other flavors in the cookies.
Cocoa – The unsweetened cocoa powder is what adds the rich chocolate flavor to the cookies.
Shortening – Using shortening helps the cookies to stay chewy and soft. You can use regular shortening or butter-flavored shortening for a slightly different flavor.
Vanilla extract – The higher the quality of the vanilla, the better!
Sugar – A cup of sugar adds the sweetness to the cookies.
Egg – One large egg binds all of the ingredients together.
Milk – A half cup of milk will provide the necessary liquid for the cookies. Any type of milk will work great!
Marshmallows – You will need 20 large marshmallows and they need to be cut in half. I like to use a sharp pair of kitchen shears for this, but you can use a sharp knife you prefer.
ICING
Powdered sugar – 2 cups of powdered sugar will make the icing smooth and sweet.
Cocoa powder – A little bit of cocoa powder gives just the right amount of chocolate flavor to this delicious frosting.
Butter – Butter will help smooth out the icing. Make sure it is fully melted before adding to the other ingredients. Real butter works best!
Cream or milk – Just a couple of tablespoons of cream or milk adds the necessary liquid for the frosting. Cream will make the icing a little more rich, but milk works just fine too!
Vanilla – Adds a little bit of extra flavor to the frosting – it's delicious!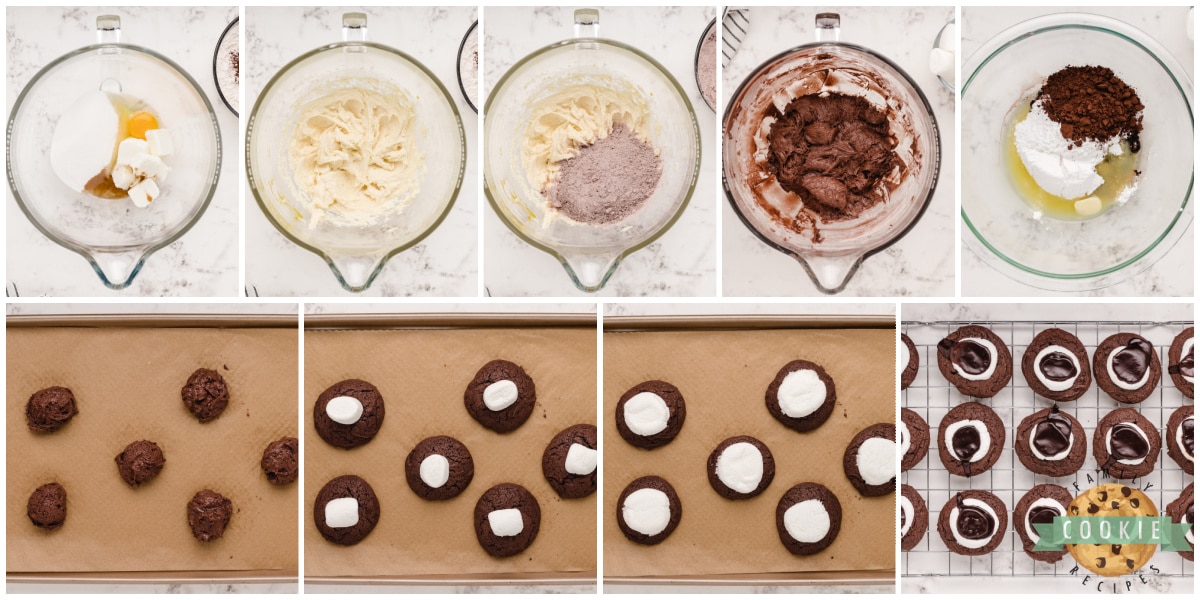 How to make Chocolate Marshmallow Cookies
Preheat oven to 350°.
Stir together flour, baking soda, salt and cocoa.
In a separate bowl, cream together shortening, vanilla, sugar and egg for about 2-3 minutes. Blend in dry ingredients and milk. Use cookie scoop to scoop onto prepared baking sheet.
Bake for 8 minutes. While baking, blend all of the icing ingredients together until smooth.
Remove cookies from oven, set 1 marshmallow half on each cookie and return to oven to bake for 1 more minute. Cool for 1-2 minutes, and then drop a spoonful of chocolate icing on each marshmallow topped cookie, letting it drizzle down the sides.
Let the cookies set up for a few minutes and then transfer to a wire rack to cool completely.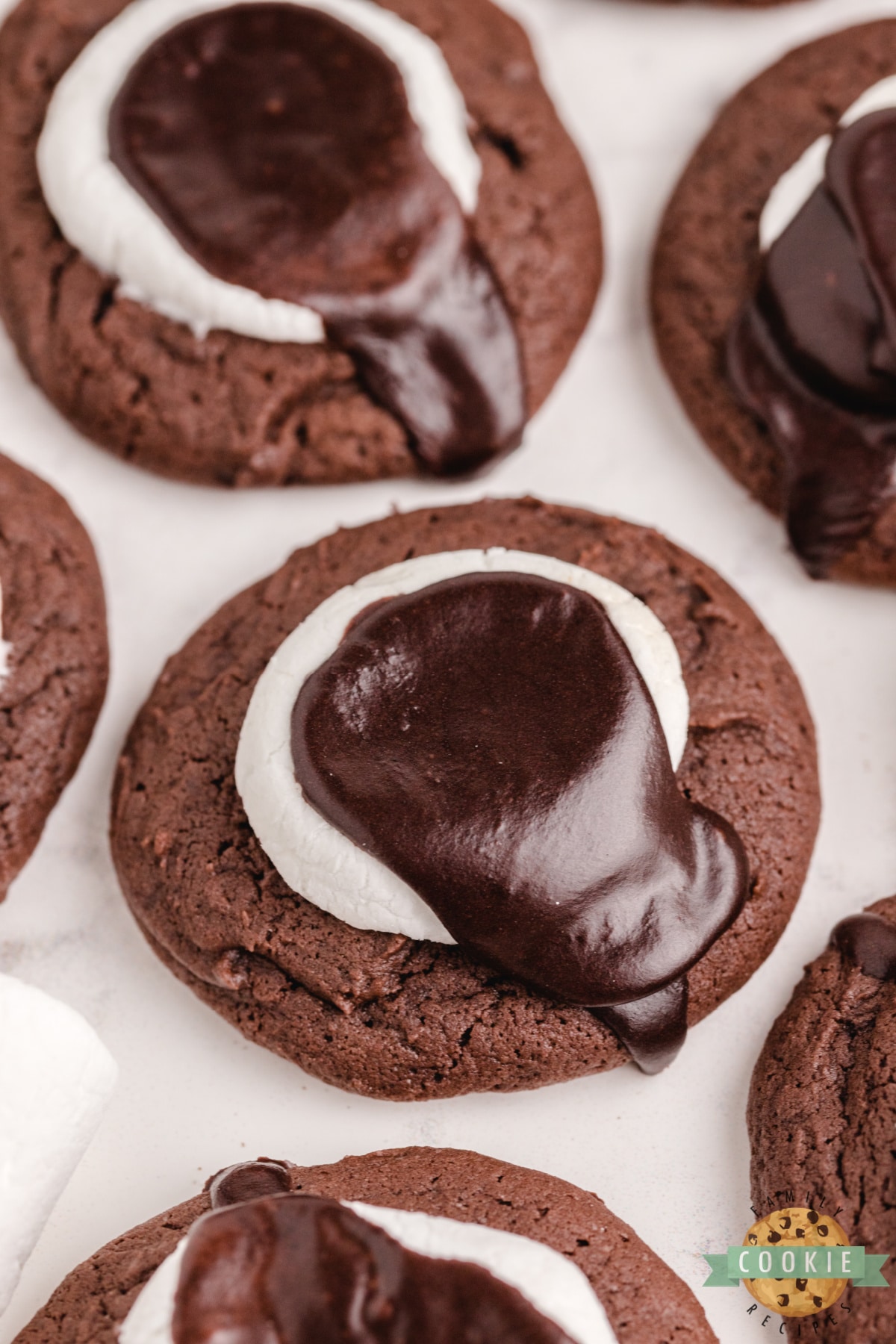 HOW TO MAKE THE BEST CHOCOLATE COOKIES:
After trying out multiple chocolate cookie recipes over many years, I have picked up several important tips for making the absolute BEST Chocolate Cookies!
Make sure that you have enough flour in the dough. If the dough is too sticky, you may need to add a little bit of flour.
Spend a little extra time when you mix the shortening and sugars. Creaming them together for 2-3 minutes will improve the consistency of your cookies.
Preheat the oven. This will help your cookies turn out right every time!
Don't over bake the cookies – when I take mine out of the oven, they still look slightly under baked but they will continue to bake on the cookie sheet for a couple more minutes so that's ok!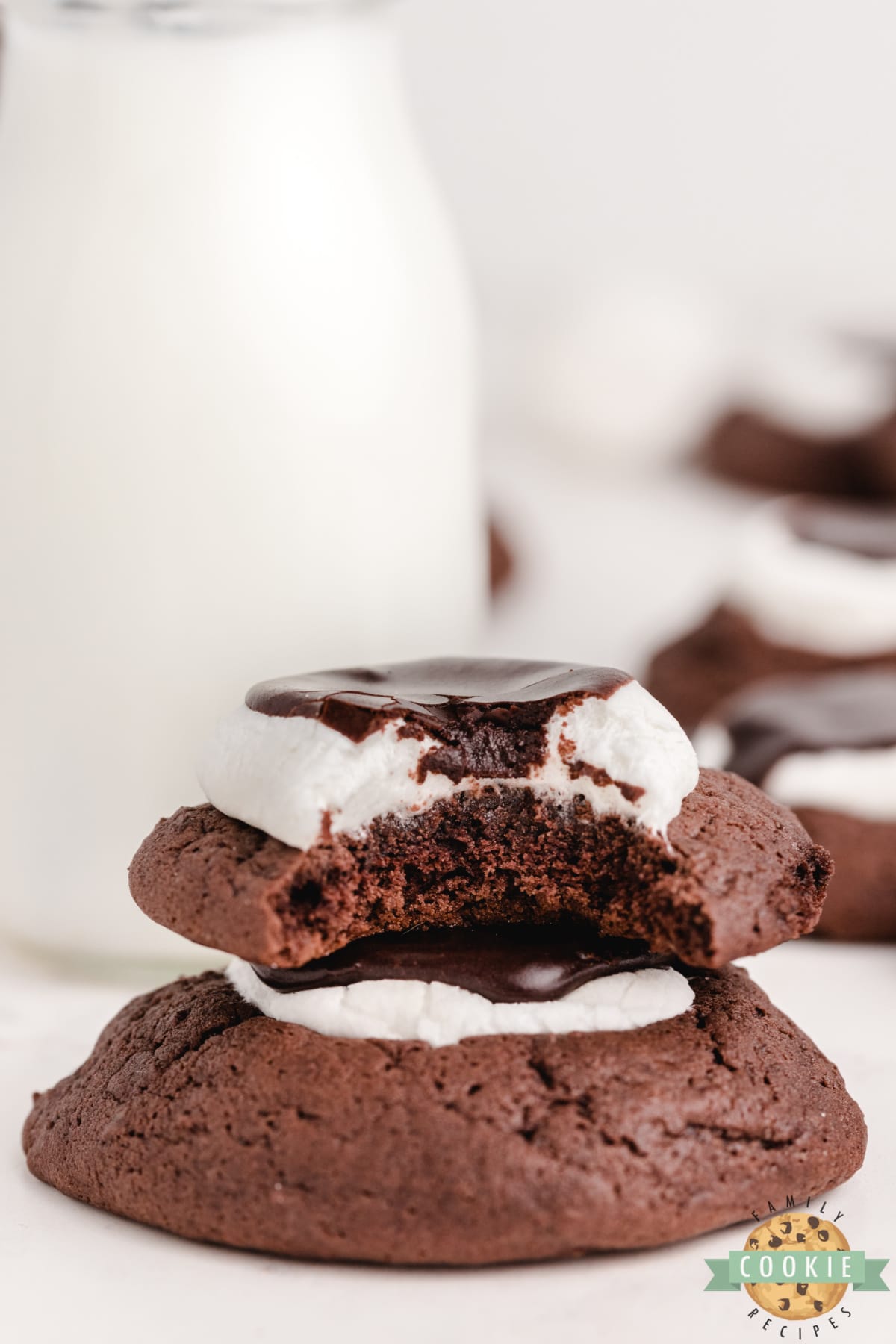 HOW LONG ARE THESE COOKIES GOOD FOR?
These cookies will last about 3-5 days if kept stored in an airtight container. They do best at room temperature!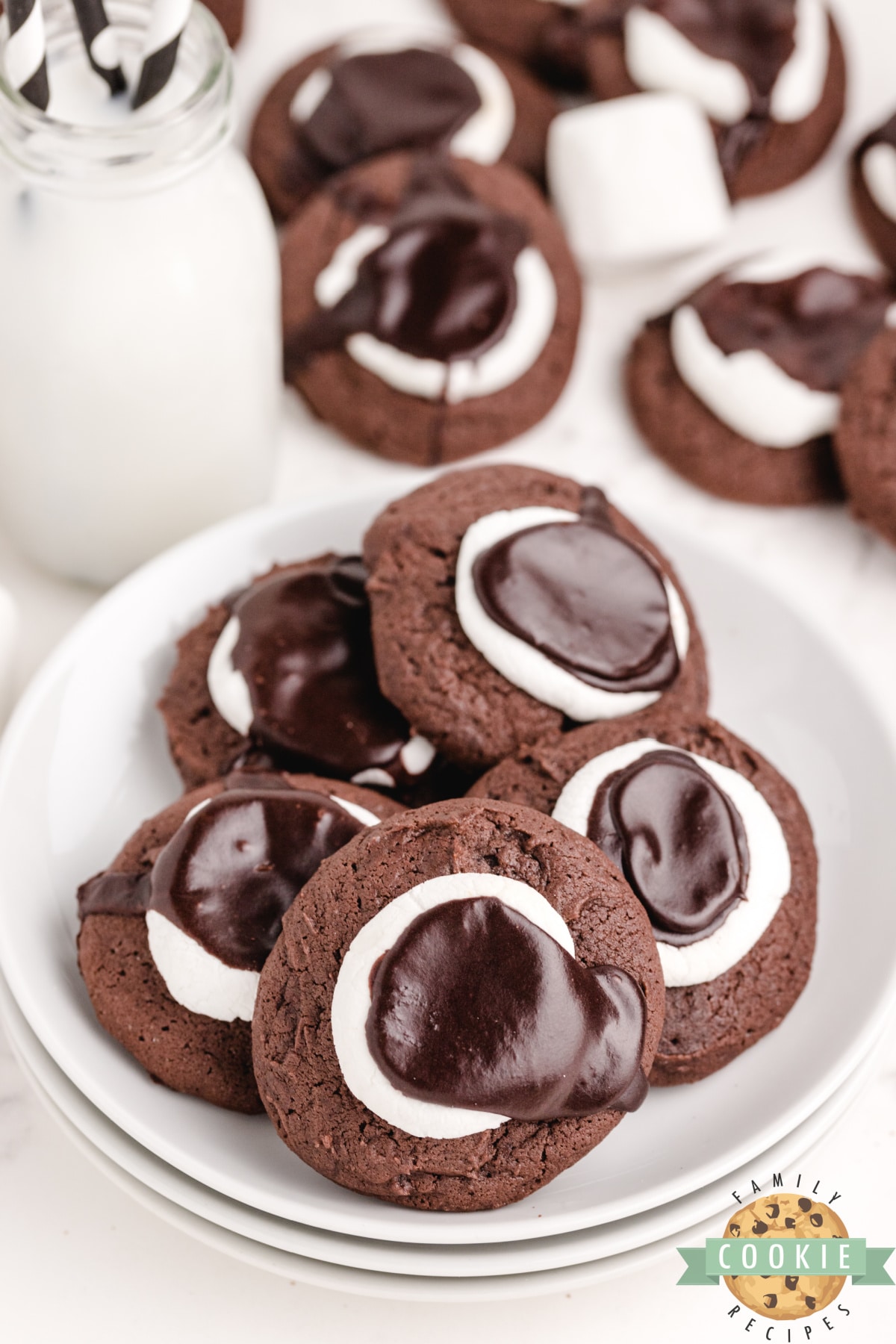 CAN I FREEZE CHERRY THUMBPRINT COOKIES?
Yes. I recommend letting the cookies cool and the chocolate fudge set completely before flash freezing the cookies on a baking sheet and then transferring to an airtight container. Then they can last up to 3 months and should reduce the risk of sticking together. Simply place cookies on the counter to thaw and enjoy.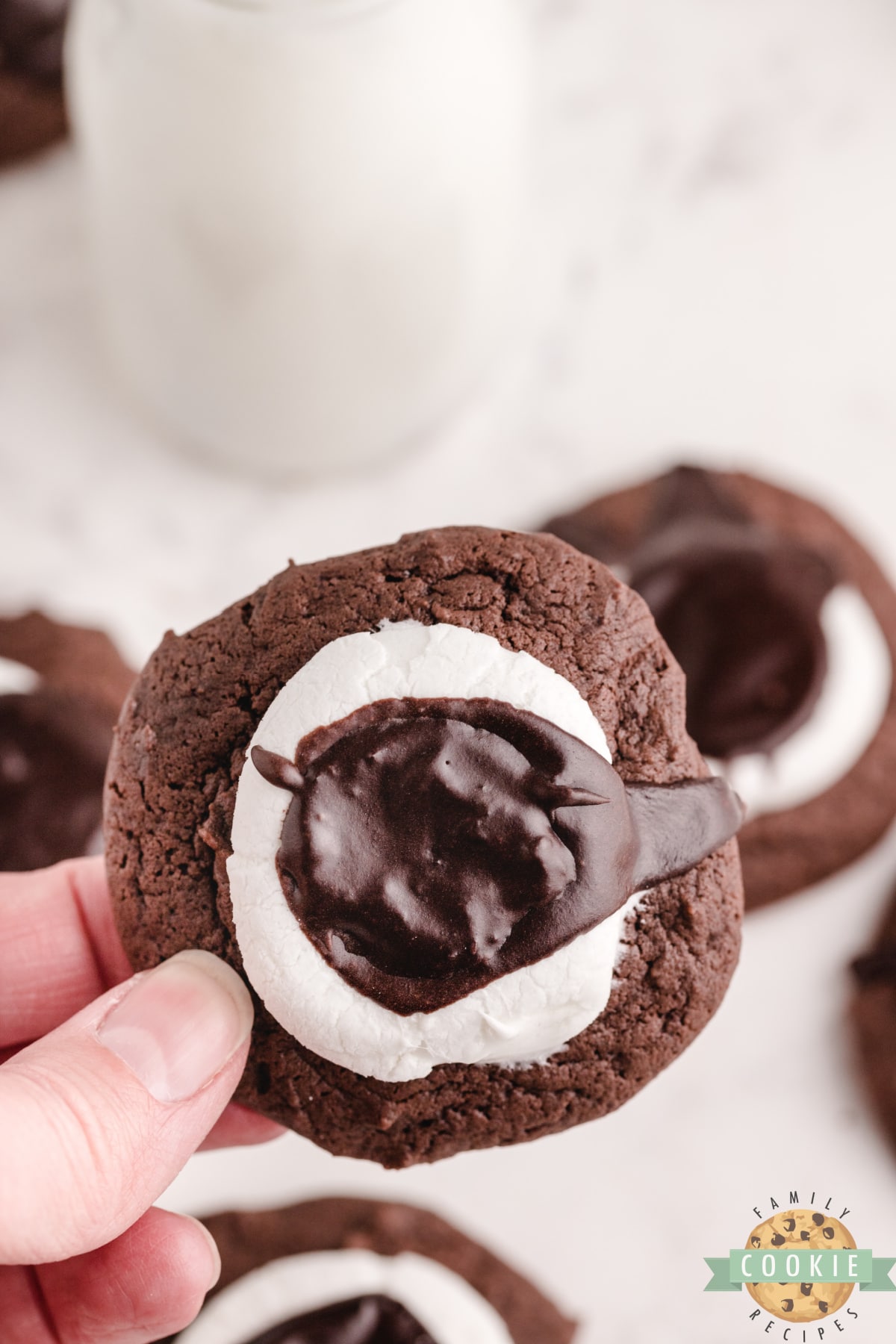 Love chocolate? Here are some of our favorite chocolate cookie recipes!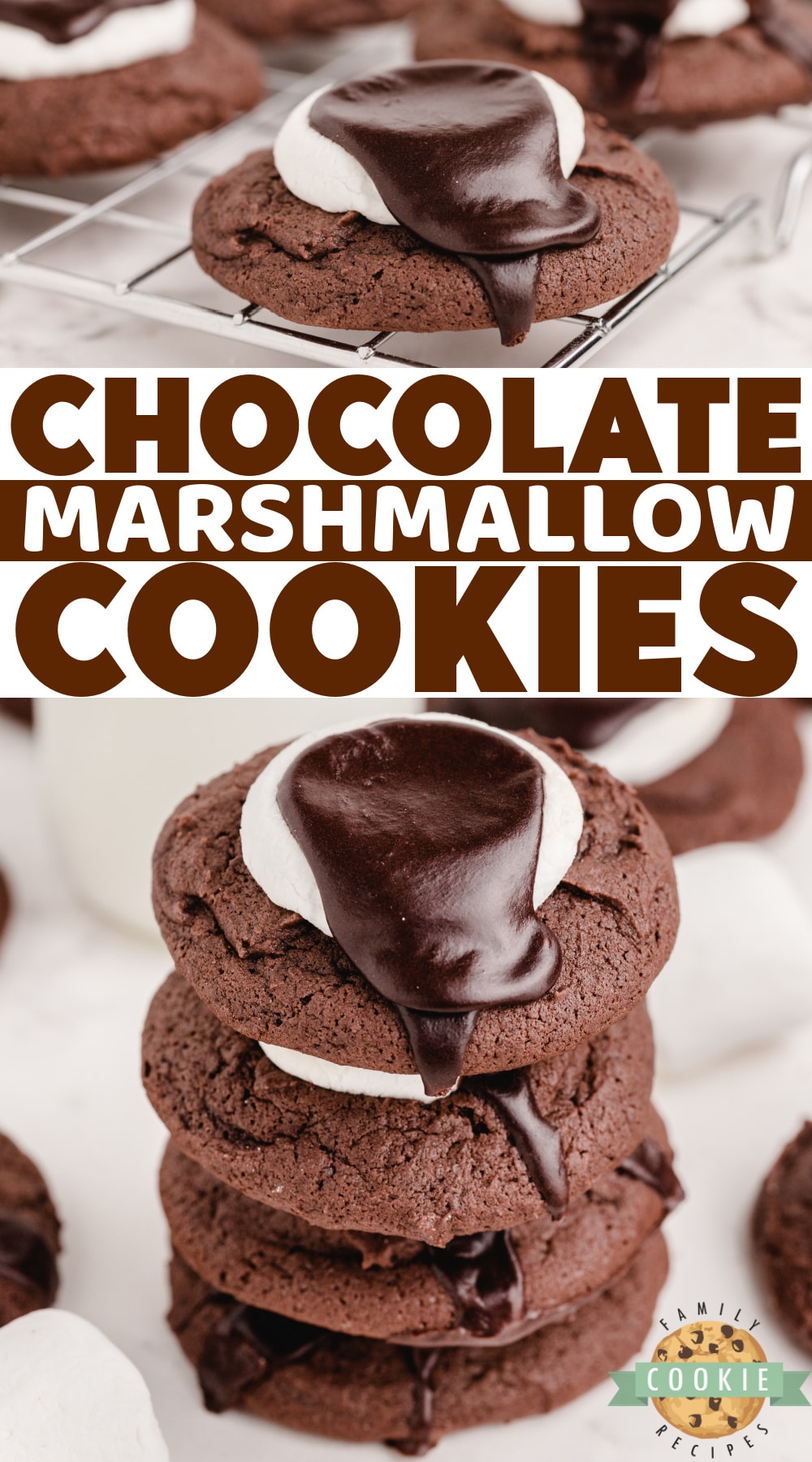 Chocolate Marshmallow Cookies are soft and thick chocolate cookies topped with a marshmallow and chocolate icing. Delicious chocolate cookie recipe with marshmallow.



This little one had another successful dentist appointment. She absolutely loves it – even the x-rays! But notice the shoes. This little girl is absolutely obsessed with her high heels and so I got her a pair that fit her a little better than mine. She won't take them off! She has to wear them everywhere. I'm actually amazed at how fast she can move in these things and I'm also impressed at her tolerance for pain. Those plastic shoes can not be very comfortable but she still wants to wear them everywhere. All day, every day. And she gets so many compliments on them, I'm not sure she'll ever stop!