Chocolate Baseball Cookies are a fun & festive treat that's a big hit with any crowd. These baseball themed cookies are chocolate cookies with a candy center decorated to look like a baseball!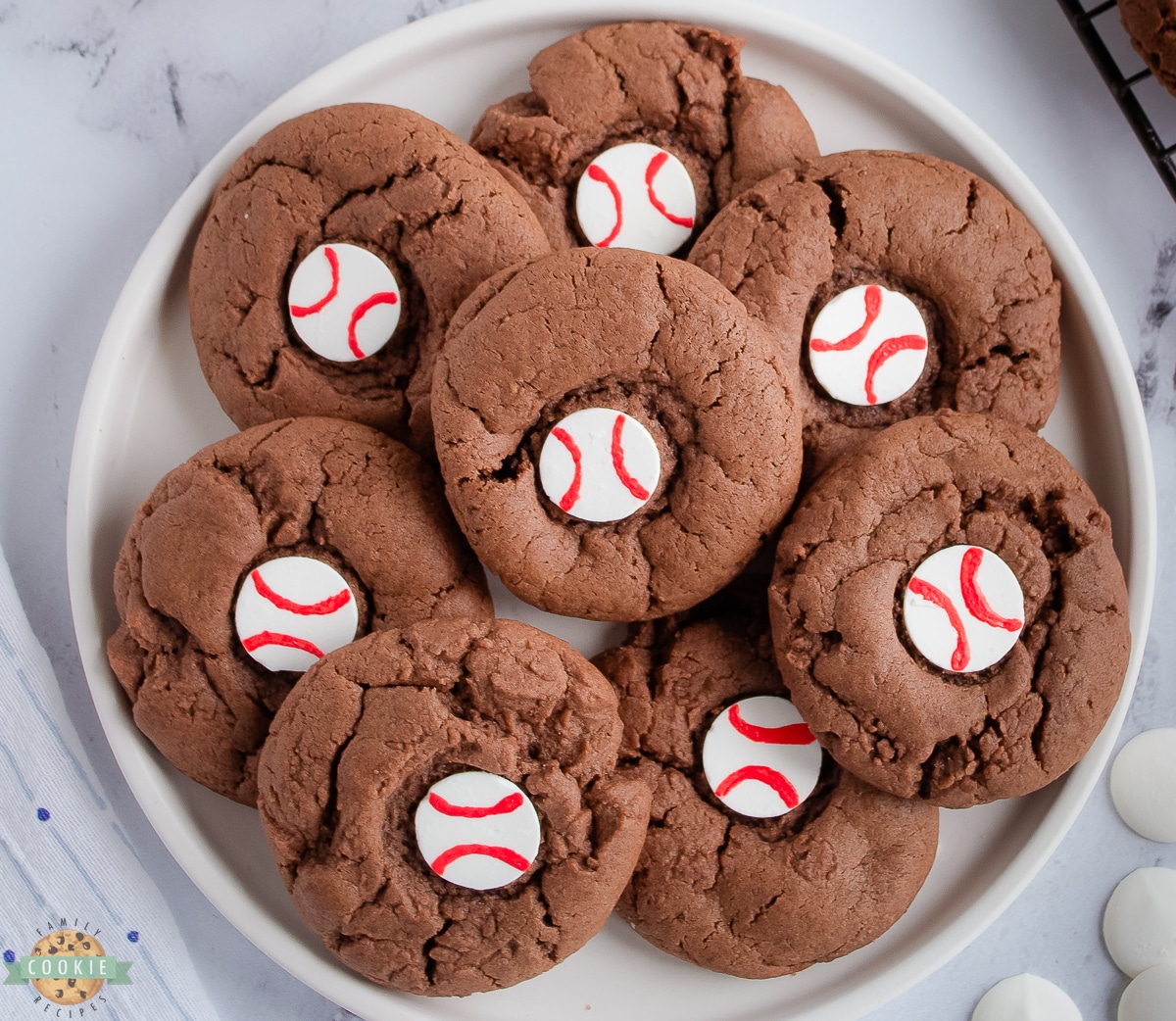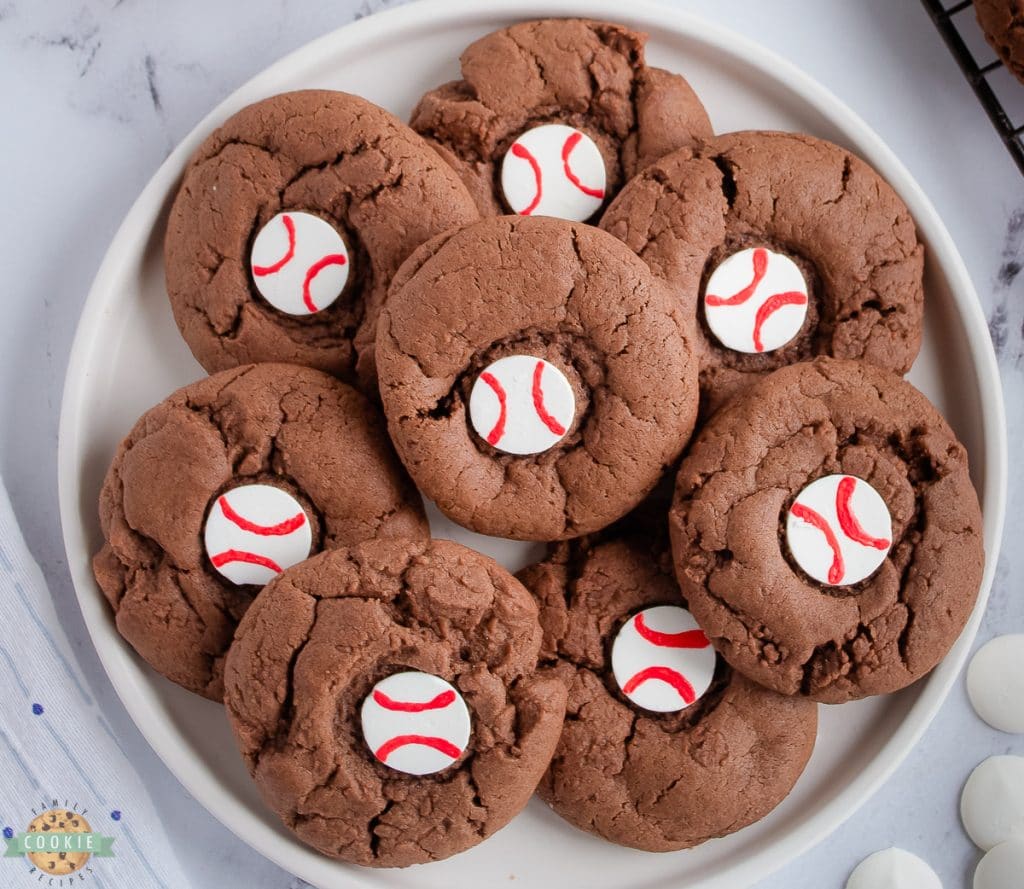 Making these incredibly cute baseball cookies is so simple, you will need a few basic ingredients you probably already have in your kitchen. These chocolate cookies are not only fun and festive but they are equally delicious as well!
Baseball Themed Chocolate Cookies
This is a great cookie treat to make if your family is big baseball lovers or you have a child on a baseball league. These festive cookies are great to take to baseball themed parties, to kick off the season or celebrate the end of it. Or make these for the sports lover in your life as a special treat, no matter when or where you serve them they are sure to be a hit at any party or event.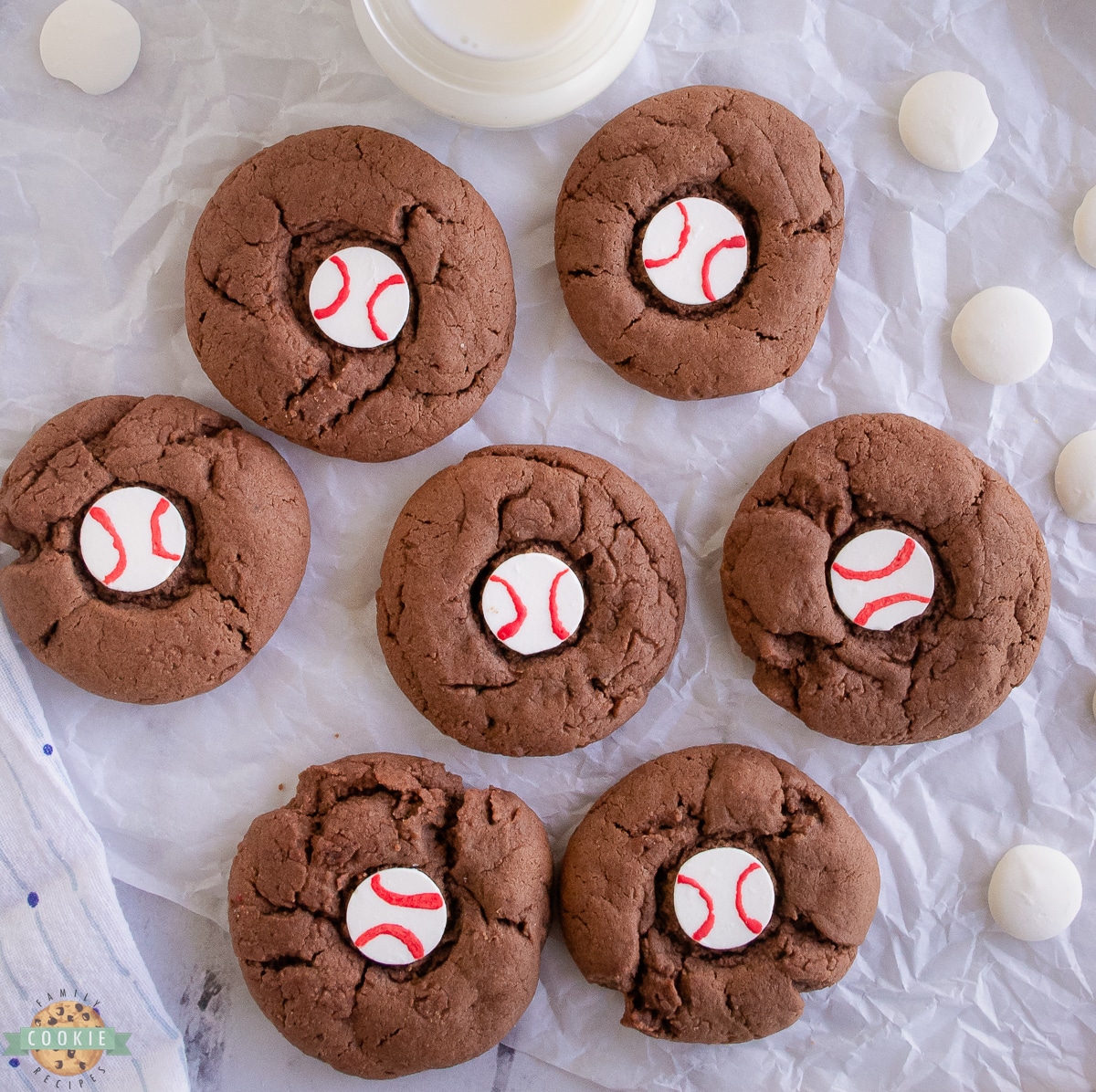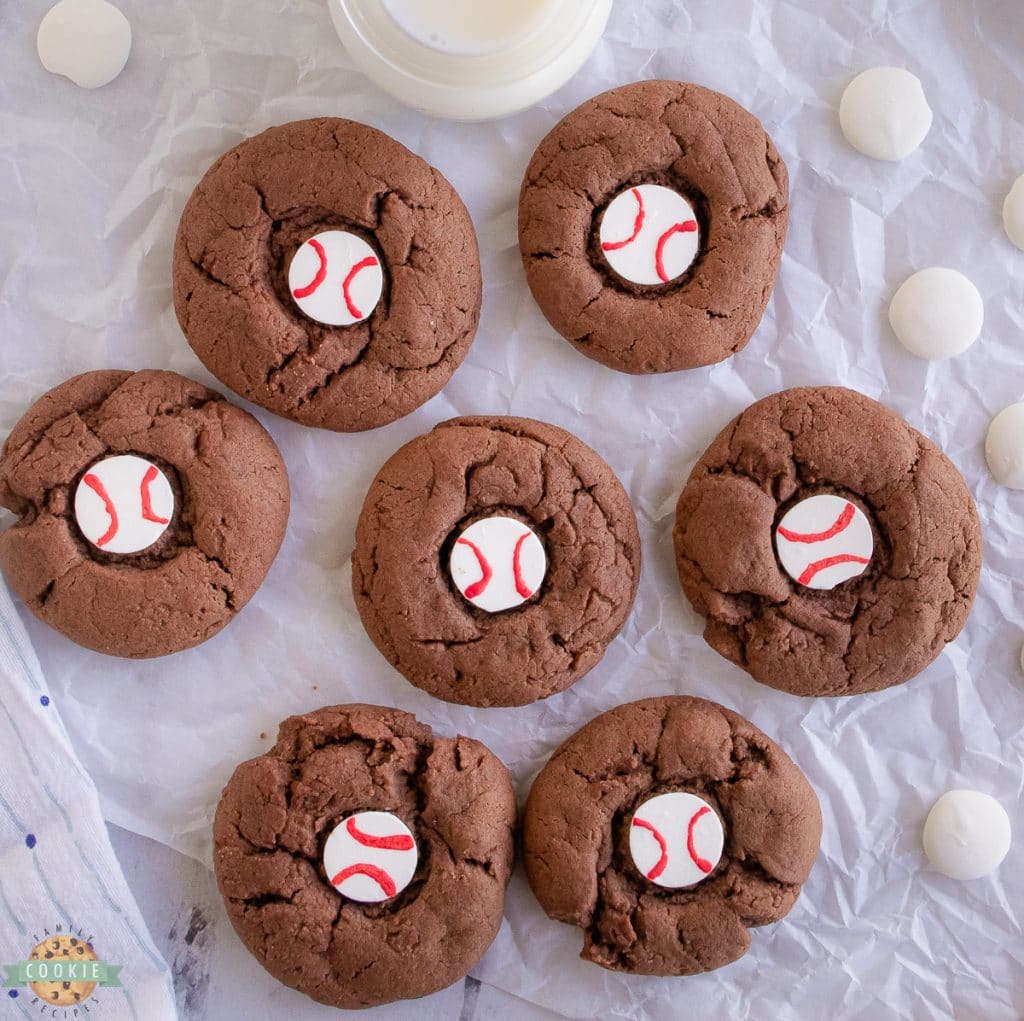 Why we think you should try these tasty cookies today!
In case you were not already convinced to give these cookies a try, here are a few more reasons.
Only 10 ingredients needed. That is for the cookie and the decorating ingredients. Less ingredients, less effort, but loads of great flavor!
Cute and festive. These cookies not only are delicious but they make for a beautiful presentation on any sports themed dessert table as well. They are simple and stunning in flavor and appearance.
Simple to make. Making these cookies may look like they are difficult to make, but they are not at all. The cookie base comes together quickly and the decorating to look like a baseball is much easier than you may think.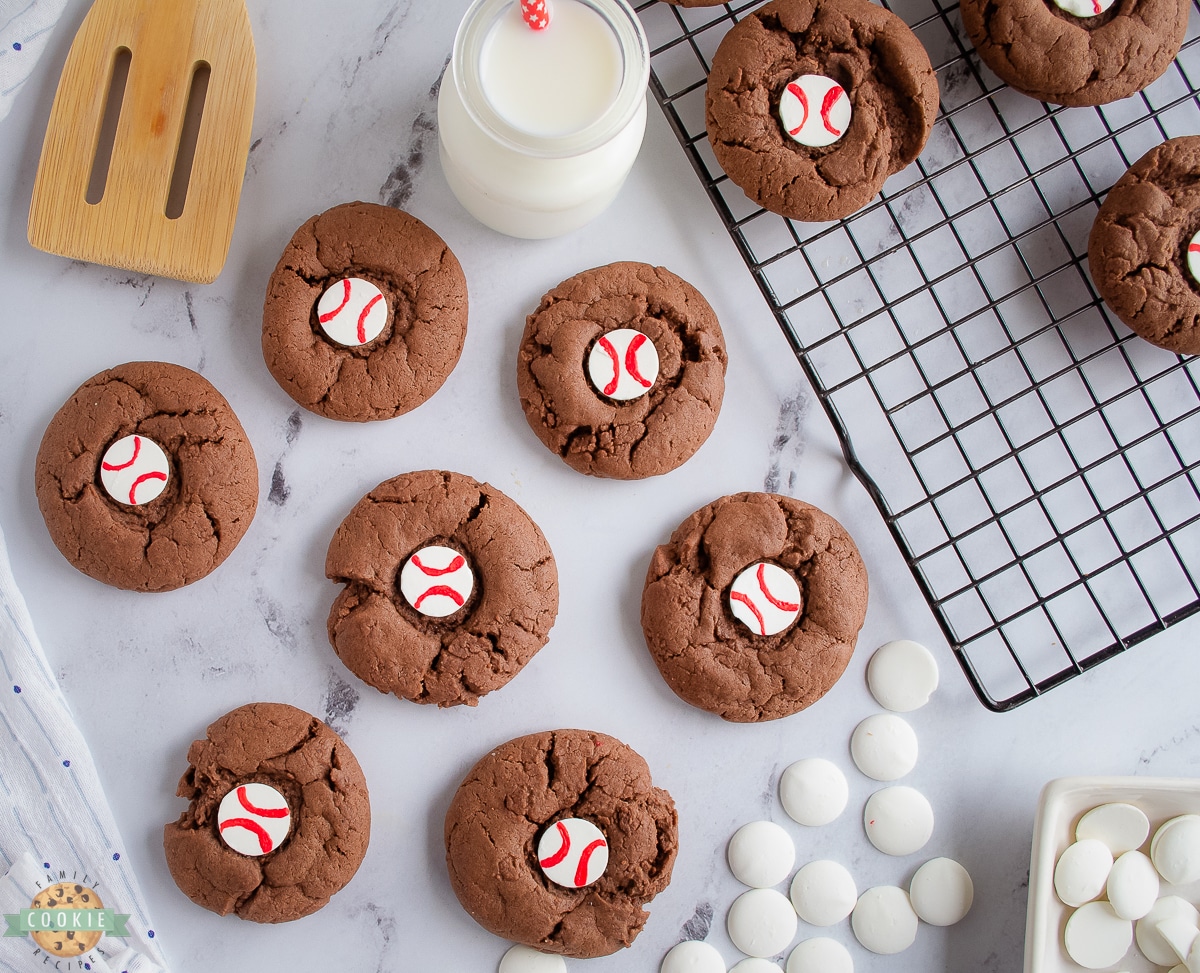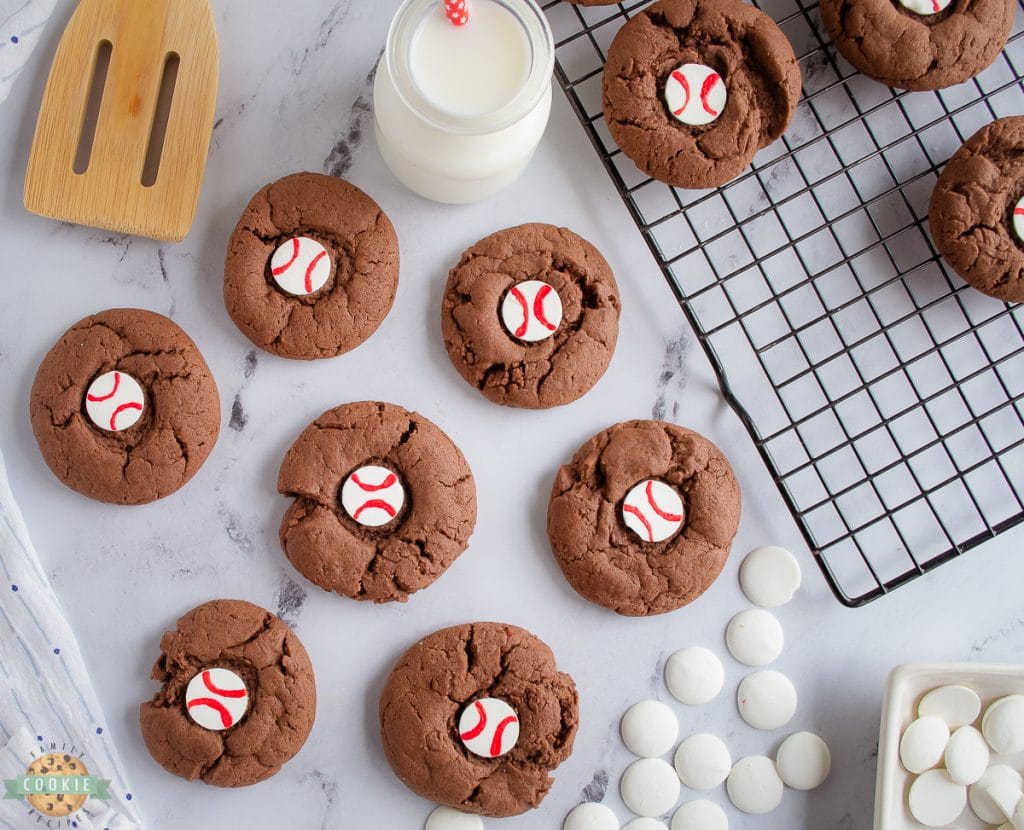 Easy Baseball Cookie Ingredients
Butter: For a lovely rich and tasty cookie, use ½ cup of softened butter.
Vanilla extract: You will need 1 teaspoon of pure vanilla extract to enhance all the wonderful flavors in this treat.
Brown sugar: Use 1 cup of packed brown sugar to give this cookie an amazing depth of flavor.
Egg: To help bind the ingredients together and create great texture, add in 1 egg.
Flour: You need 2 cups of all-purpose flour for the base of this cookie dough.
Cocoa powder: For delicious chocolate flavor in every bite, you will need ⅓ cup of unsweetened cocoa powder.
Salt: Add in ¼ teaspoon of salt to balance the sweetness of this cookie recipe.
Baking powder: Using 1 teaspoon of baking powder will help the cookie rise as it bakes.
Candy melts: You will need 20 white candy melt discs to create the baseball themed cookie.
Icing: To create the lines on the baseball you need 2 tablespoons of red cookie icing or melted candy melt discs with red food coloring.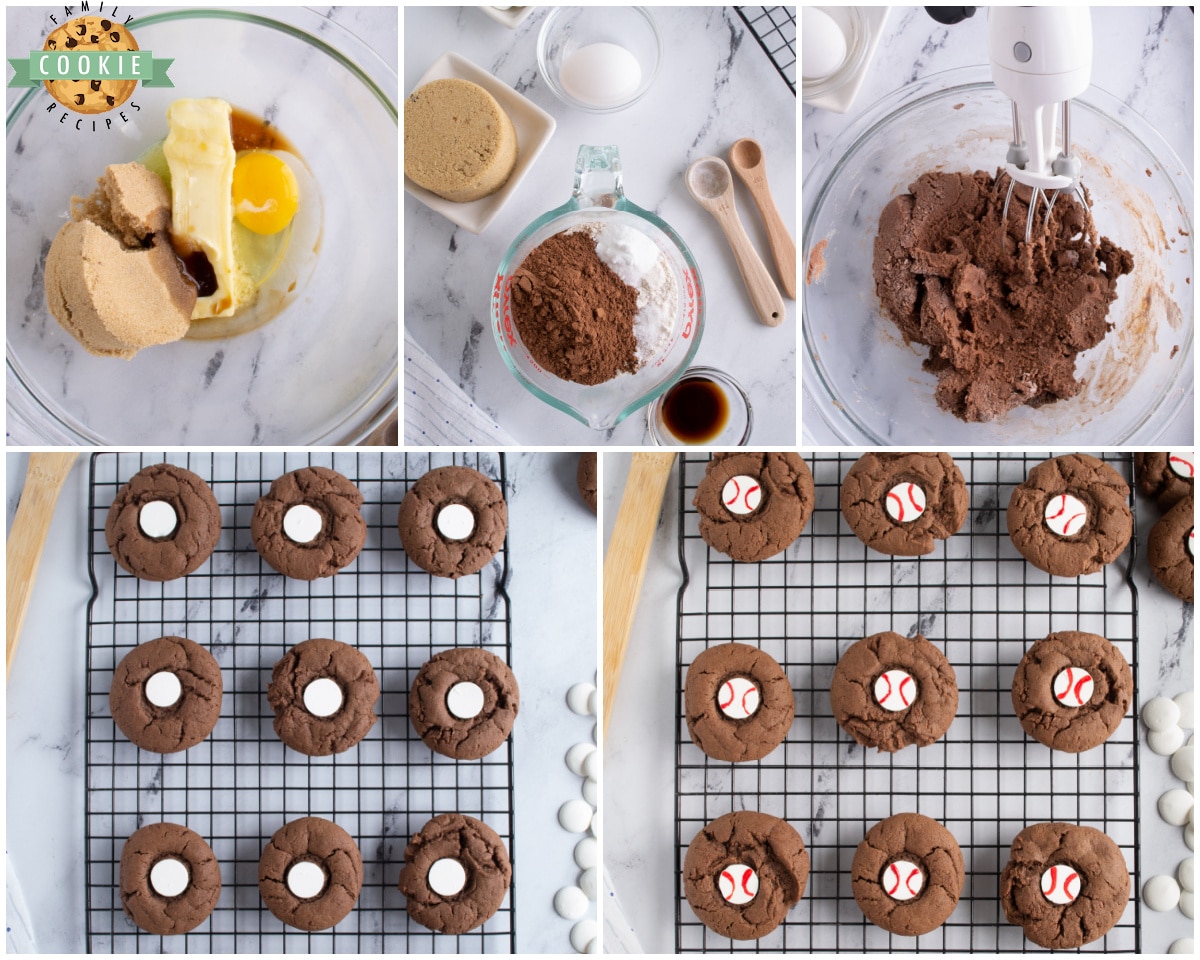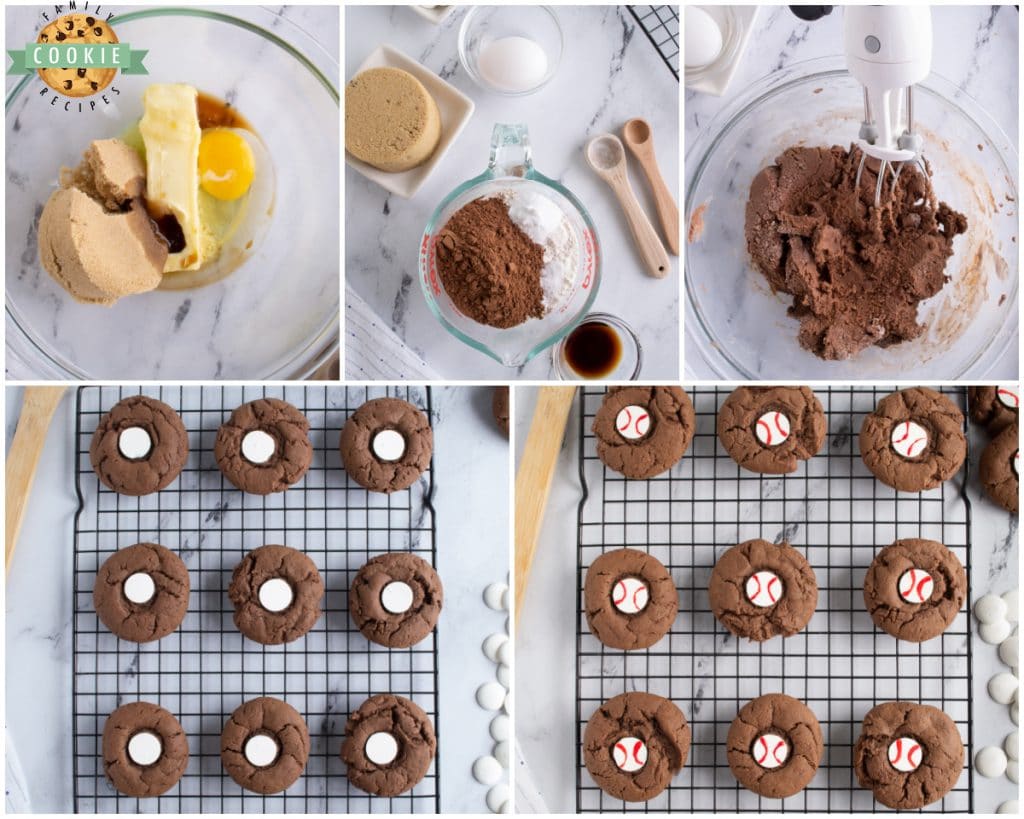 Step by step on how to make Chocolate Baseball Cookies
Prep
Preheat the oven to 350°F. Line baking sheet with parchment paper
Cookie Dough
In a medium size bowl, cream together the softened butter, brown sugar, and vanilla extract.
In a separate small bowl, mix the flour, baking powder, salt, and cocoa powder. Then, add the dry ingredients into the butter mixture and mix until blended.
Begin to form 1-inch balls of dough and place them evenly on a parchment paper lined baking sheet. Next, press 1 white candy melt disc into the center of each cookie dough ball upside down, so that the flat side is on top.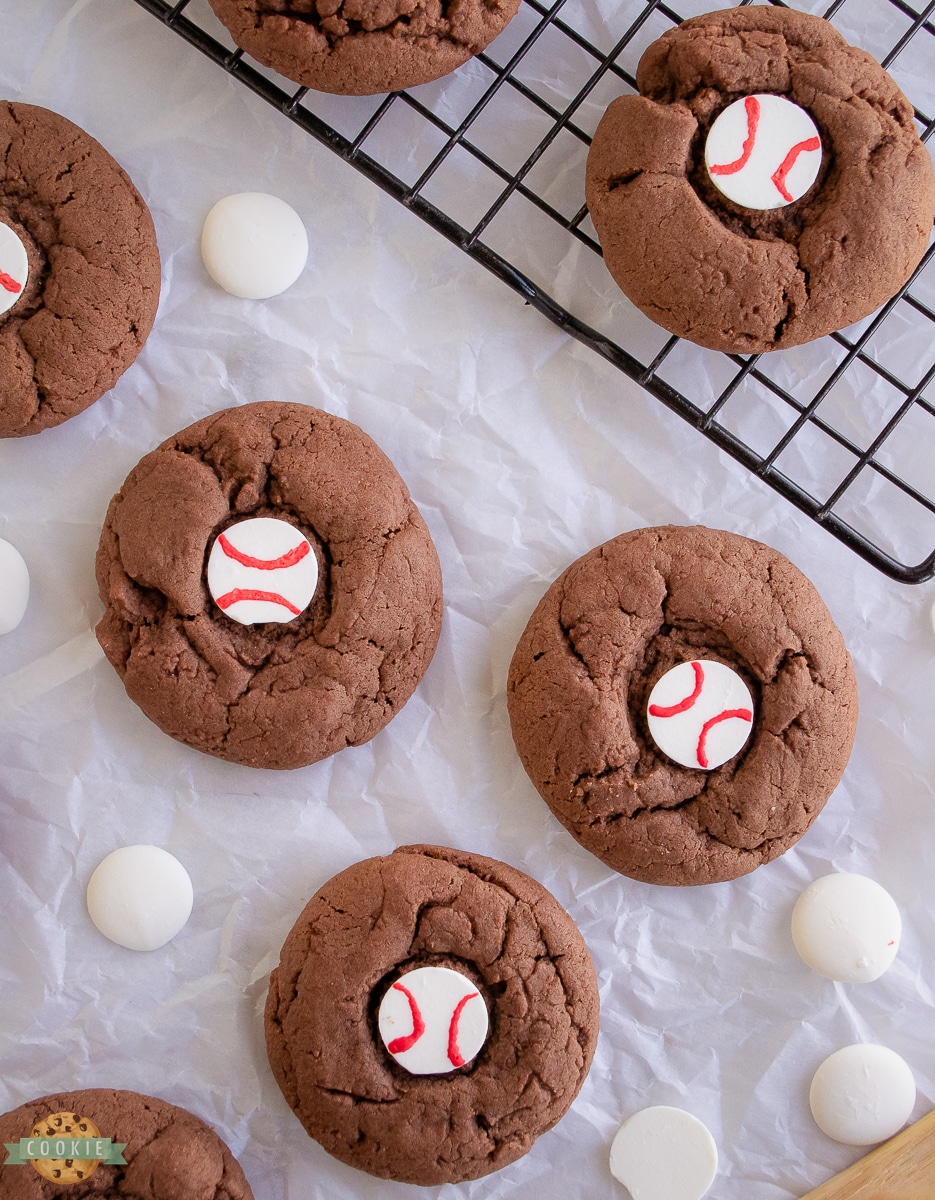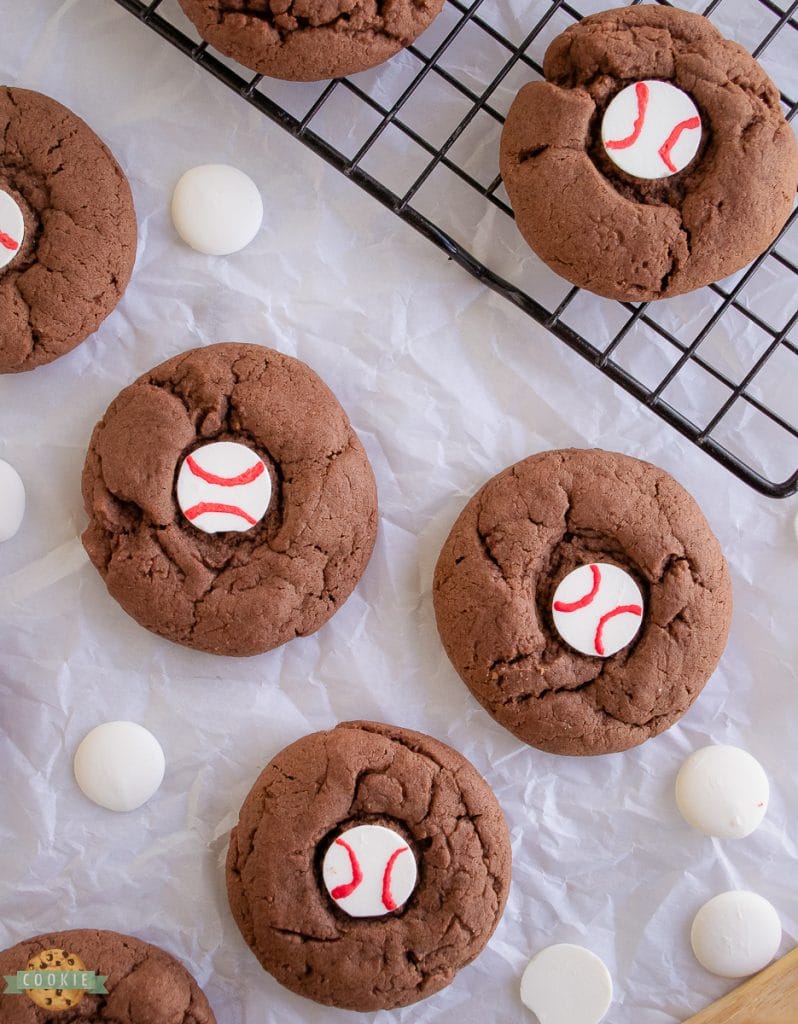 Bake
Then, bake in the preheated oven for 10 minutes.
Remove the cookies from oven and let them cool completely before decorating the white candy melts to look like baseballs.
Edible Baseball Decorations
Faster method: If you are pressed for time and want to make these cookies faster, slightly press the cookie dough balls down, then bake them without the white candy melt. Cool the cookies 10 minutes, then add the candy melt to the center of the cookie and then decorate.
Decorate baseballs using frosting: Once the cookies have completely cooled, you are ready to make the candy melts look like baseballs. Using red store-bought cookie icing with a fine tip, decorate half-circle lines on your cookies to make the candy melts to look like baseballs.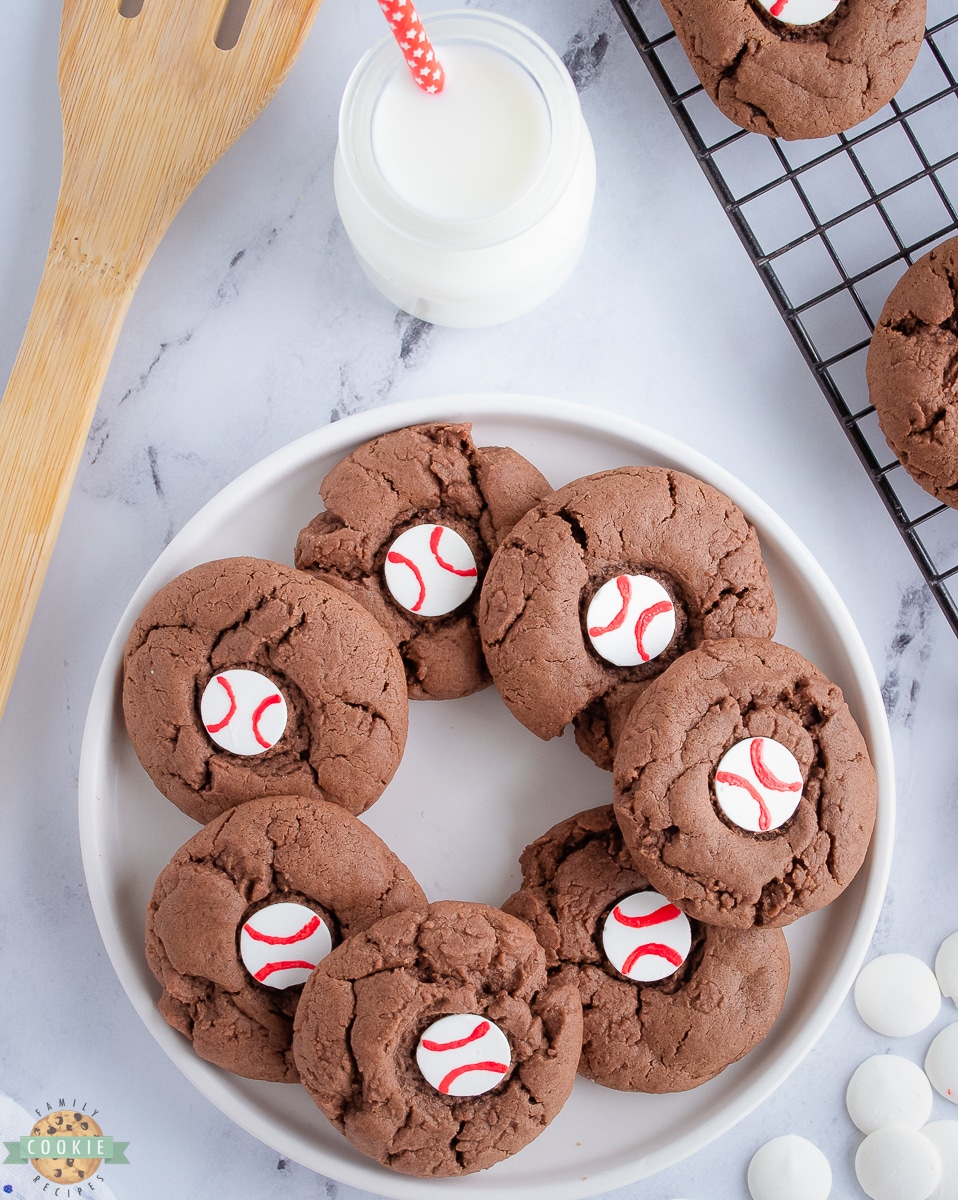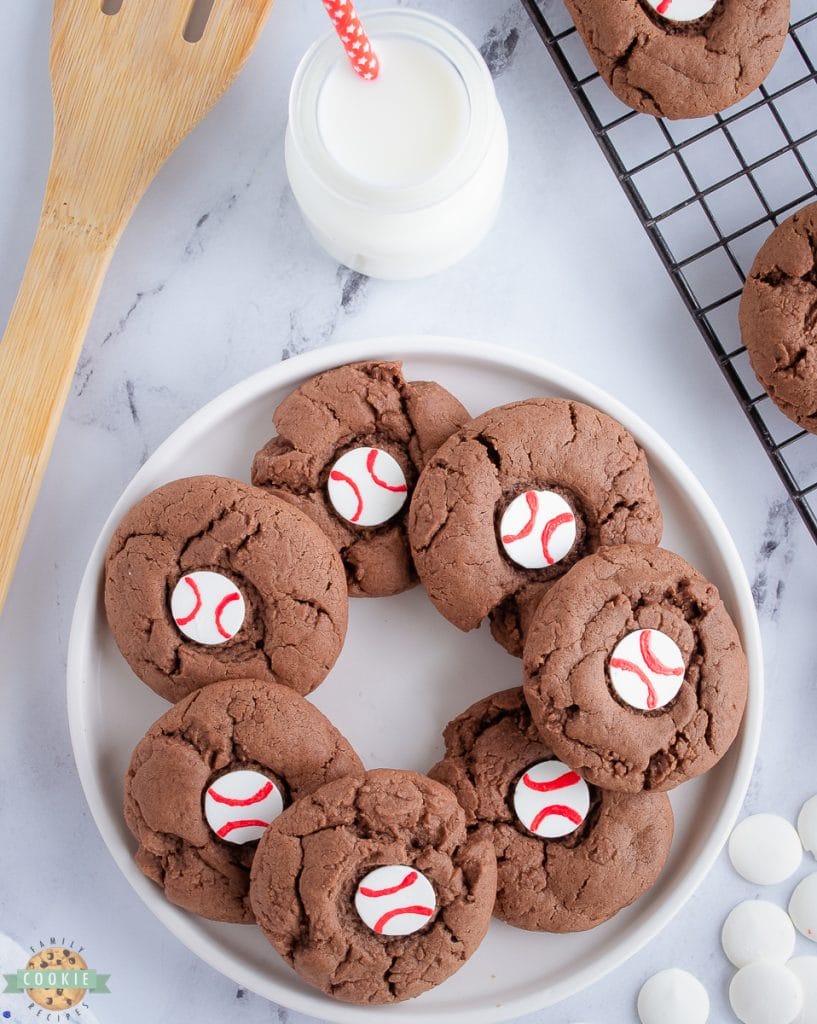 Decorate baseballs using candy melts: Once the cookies have completely cooled, place two tablespoons of red or white candy melts into a microwave-safe bowl, microwave for two 12-second increments, and stir until the candy melts are smooth. Add red food coloring to the white melts. Use a toothpick to scoop up the chocolate and make the half-circle lines to make the candy melts look like baseballs. Alternately, you can transfer mixture to a small baggie, cut a small hole in the corner and pipe the red lines on the baseballs.
Decorate baseballs with a red food marker: Simplest method ever! Use a red food marker to draw the lines on the completely cooled white candy melt disc.
How long are these cookies good for?
These cookies can be kept stored in an airtight container for up to 3-5 days. To keep the cookies nice and chewy I recommend keeping them stored in the fridge.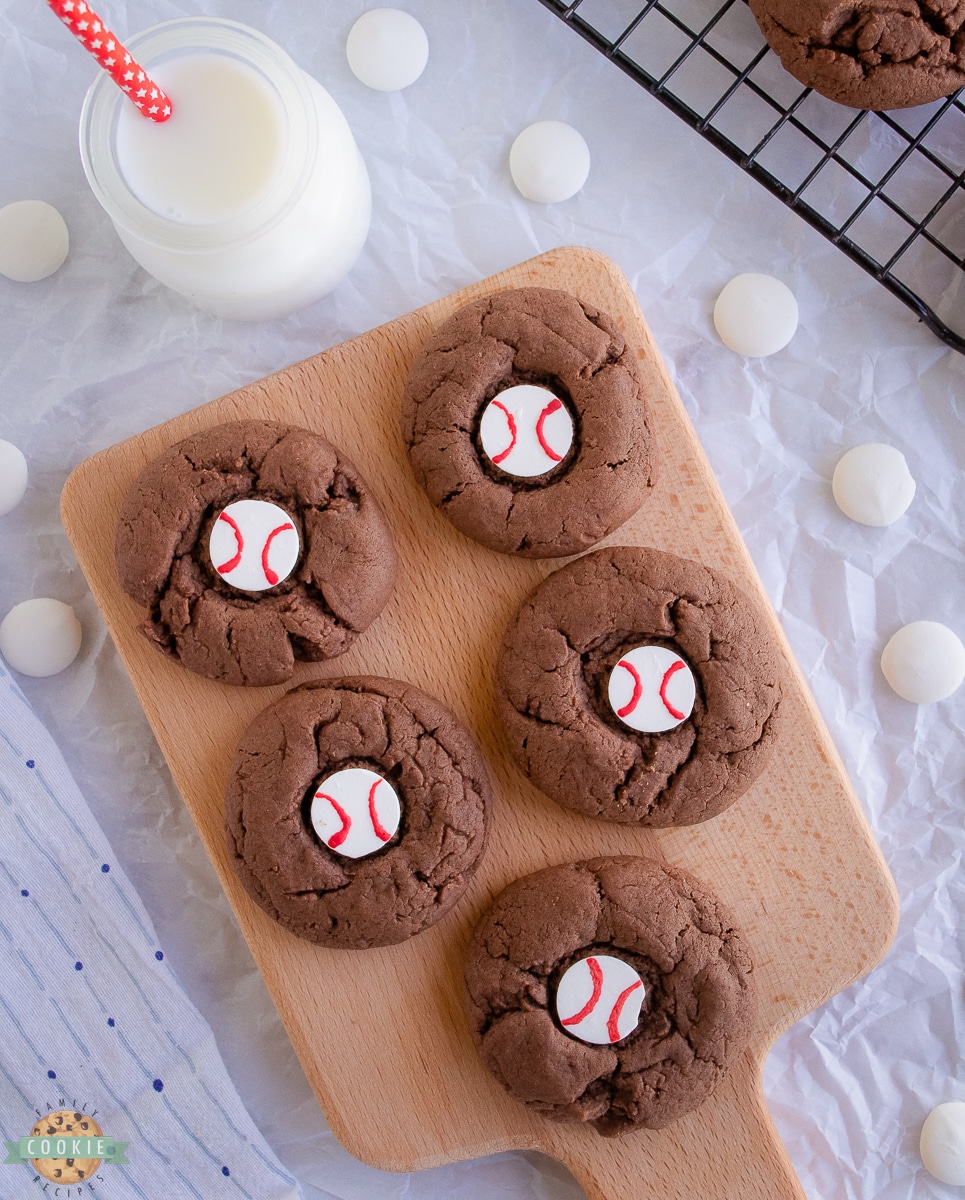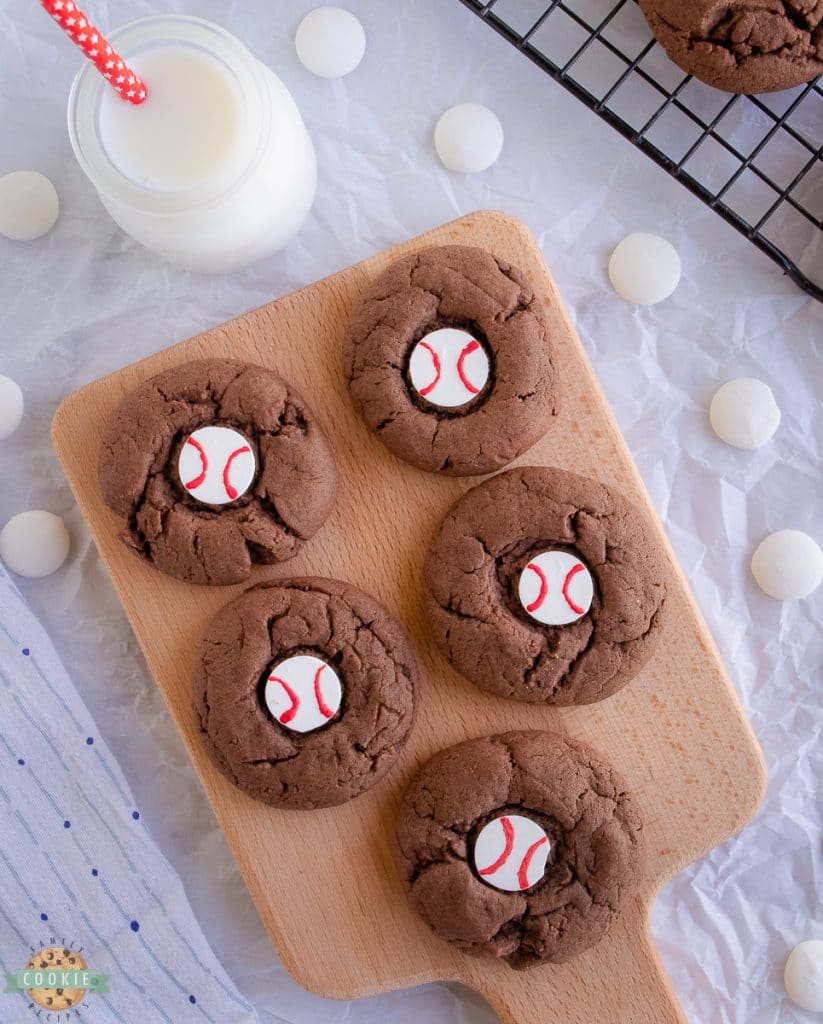 Can I freeze frosted cookies?
You sure can! These will last up to 3 months if stored properly. To freeze them, place your frosted cookies onto a baking sheet and freeze for about 2 hours until the frosting is solid. Then transfer to an airtight container with a piece of parchment paper or wax paper between the cookies to prevent sticking. You can also put them each in individual ziplocked bags after the initial freezing process, for quick access to a sweet treat.


For our family, football is nearly year round. We have flag football, tackle football, then 7 on 7 football tournaments. It's pretty fun! This is our baby… but I think he's more like a baby giraffe! He's 8 and has played QB for the last year and a half. No matter how amazing his game is, his favorite part is still the SNACK afterwards!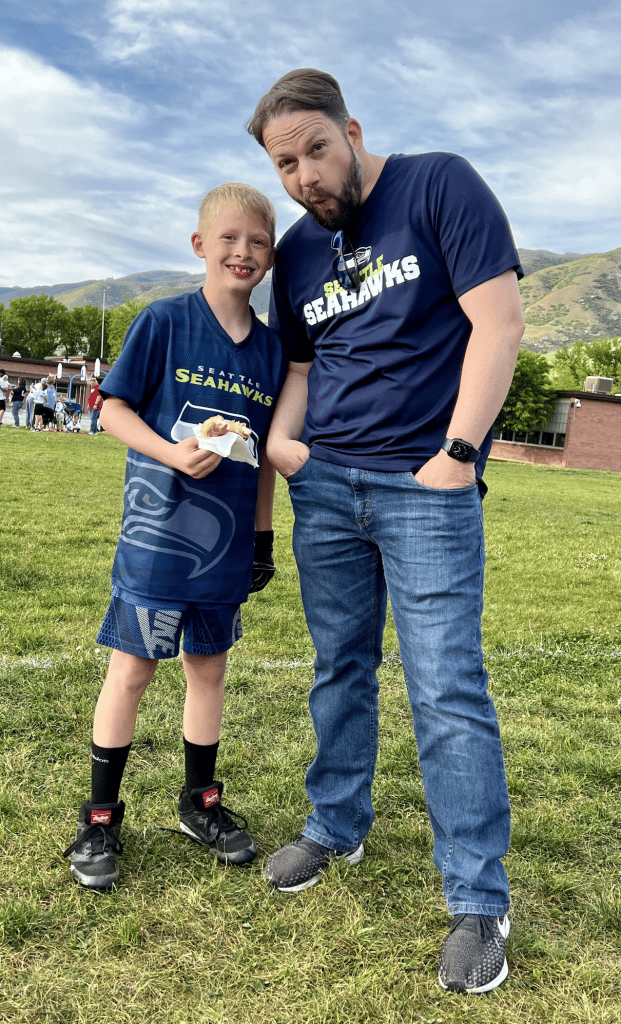 Try more of our favorite chocolate cookie recipes here!
Chocolate Baseball Cookies are a delightful sports themed dessert that is always a huge hit with any crowd. These baseball themed cookies are a tasty chocolate cookie, with a candy melt center, and then decorated to look like a baseball.