I love it when two incredible treats meet! Here are all my favorite cookies that have candy bars baked in them, are made to taste like a popular candy bar, or a mix of the two! Enjoy our most popular candy bar cookies!
Reese's Peanut Butter Pudding Cookies are soft and chewy peanut butter cookies made with vanilla pudding mix and chopped up Reese's peanut butter cups too!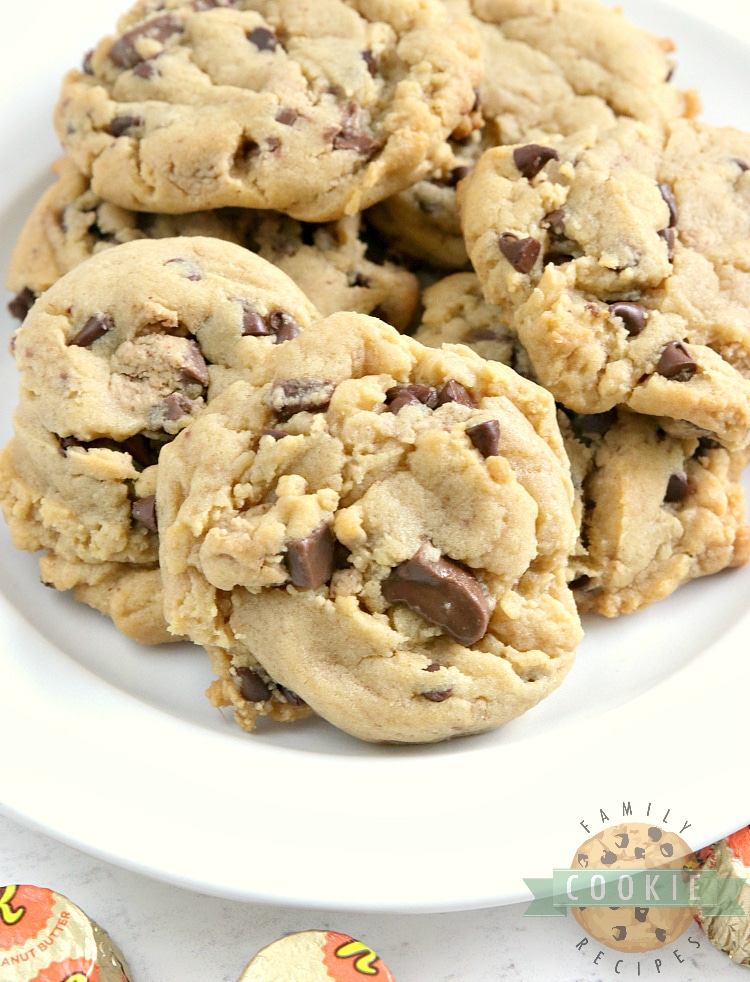 Reese's Peanut Butter Pudding Cookies are one of those recipes you've just got to try. I love peanut butter cookies. One day, I started thinking about how a lot of my other favorite cookies had pudding mix added to them and I began to wonder why I'd never tried to make peanut butter cookies with pudding in them. So I tried it and the results are absolutely delicious!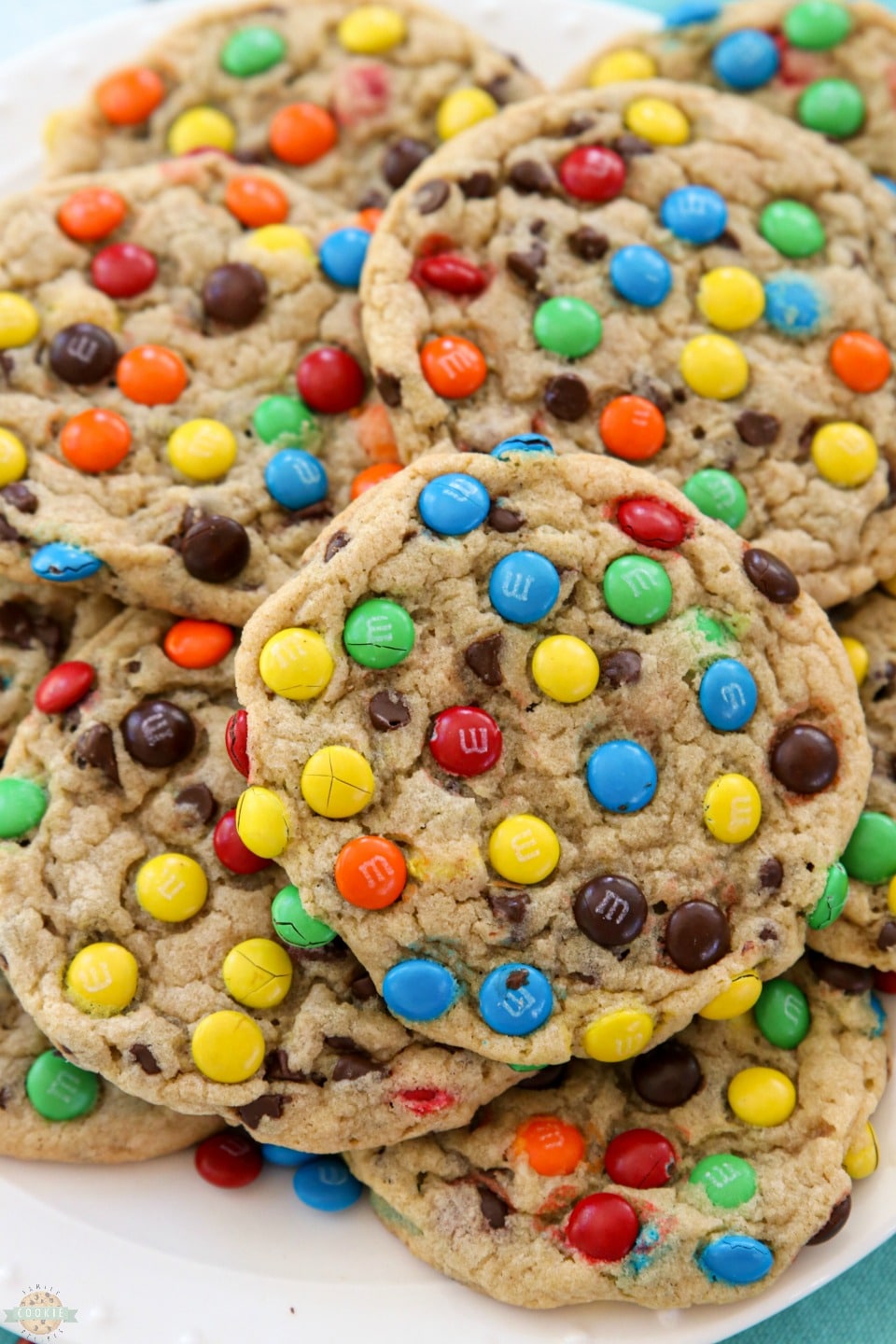 Soft & Chewy M&M Cookies made with butter, sugars, pudding mix & M&M's candy! We also give you an easy tip for coating your cookies PERFECTLY with M&M's!
Homemade M&M cookies are a delicious and sweet treat packed with chocolate and colorful candies. I've been searching for the BEST M&M Cookie recipe for years. Most were okay. A few were fairly awful. One looked like a crime scene- M&M candies melting everywhere! I tried one and knew it had potential. Several tweaks and THIS IS IT. It's the perfect texture with slightly crispy edges and a soft & chewy center. Using mini chocolate chips and mini M&M's is CRITICAL! The final result is very balanced cookie with just the right amount of chocolatey sweetness to cookie dough.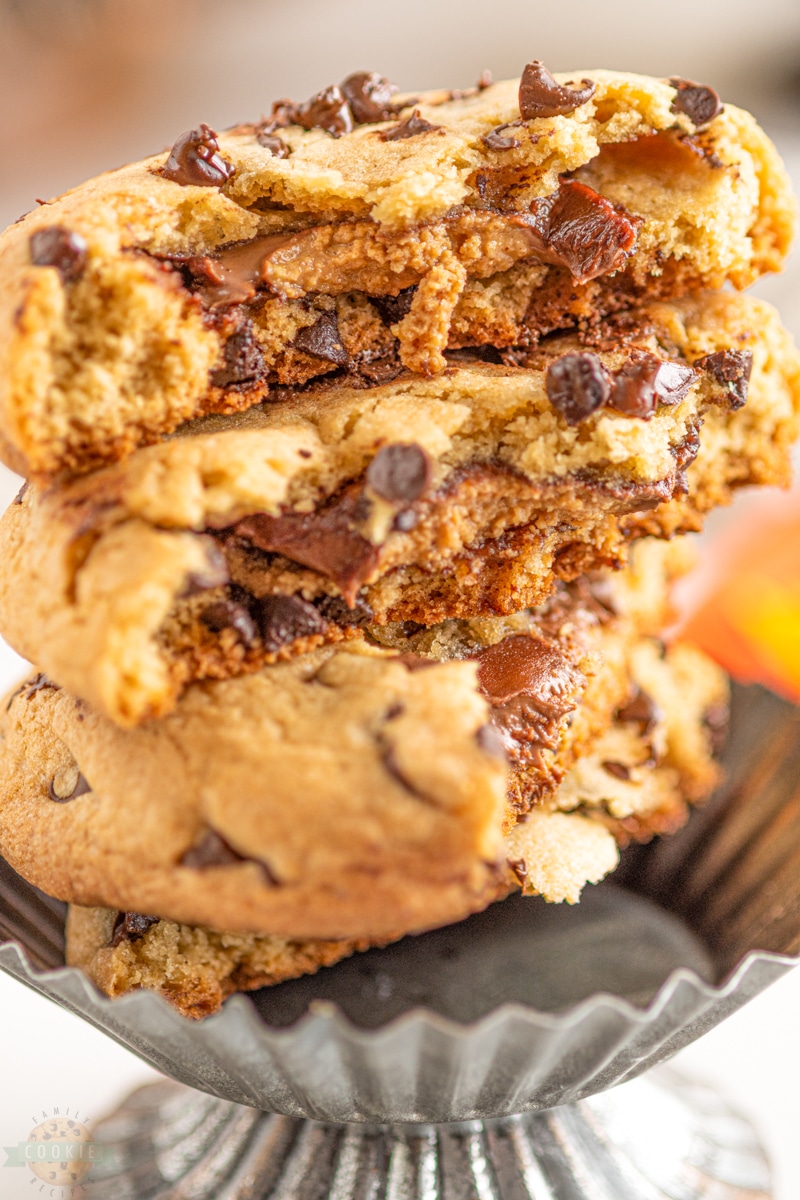 Chocolate Chip Cookies stuffed with a Reese's Peanut Butter Cup for the ultimate cookie treat! Classic cookies with a fun twist for anyone who loves peanut butter + chocolate!
There's no doubt that homemade chocolate chip cookies are great. I mean, they're a classic cookie that's been voted #1 for decades. But, take another fabulous candy like Reese's cups and shove it in the middle, and you've just created something out of this world good.
Cadbury Mini Egg Cookies are soft, chewy and filled with your favorite Easter candy! Delicious cookie recipe made with chocolate chips and crushed Cadbury Mini Eggs.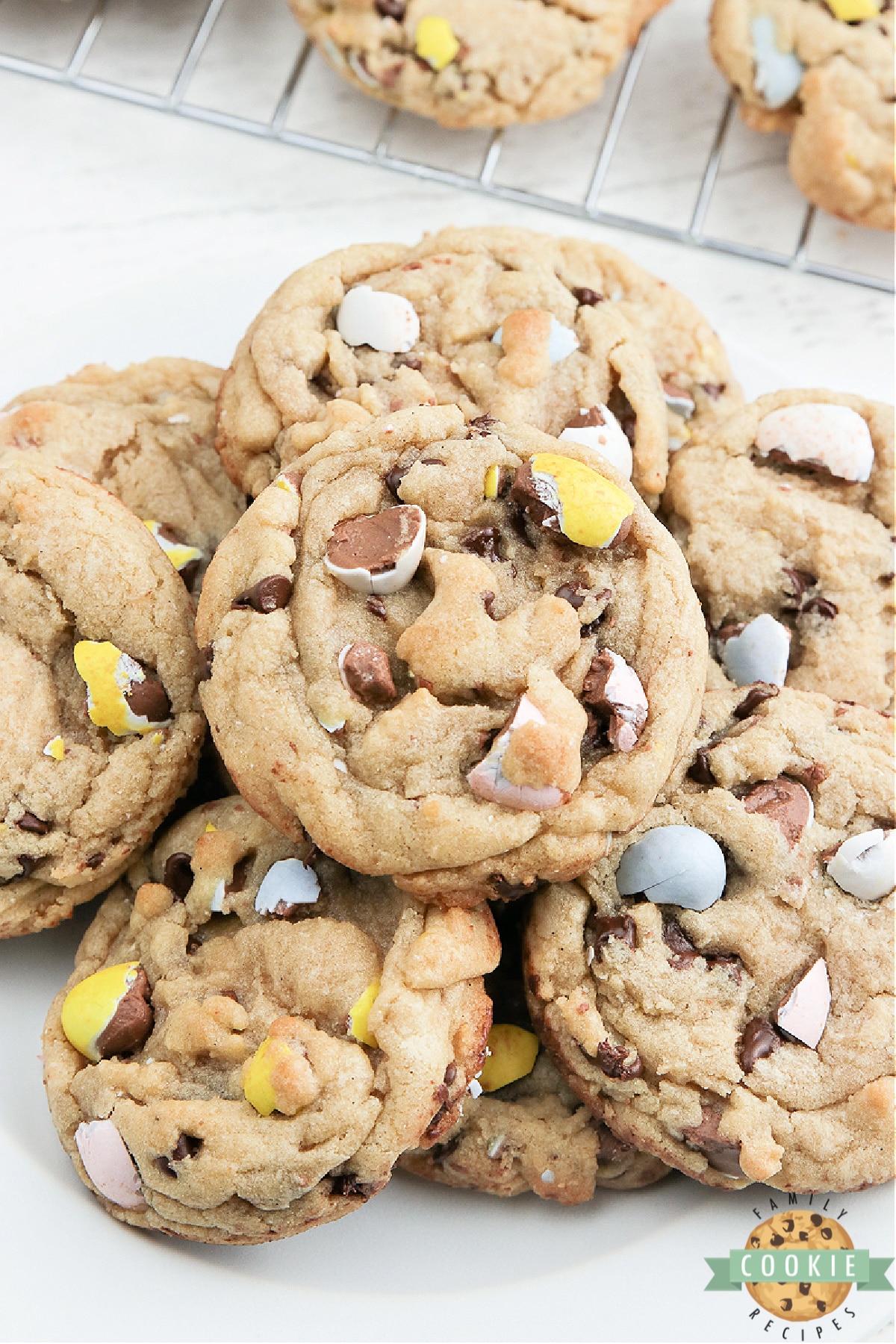 I know these cookies have a pretty specific candy in them, and it's pretty specific to Easter, but they are so good. And recently, I've been able to find Cadbury eggs at other holidays (like Christmas), so you can make these at at least one other time during the year. Or you can just buy several extra bags of Cadbury mini eggs at Easter and hide the bags at the bottom of the freezer so you can make these cookies whenever you want!
Bakery Style Milky Way Cookies made with sweet cookie dough and stuffed with the classic chocolate caramel nougat candies! These stuffed cookies are perfect for anyone who loves Milky Way candy bars!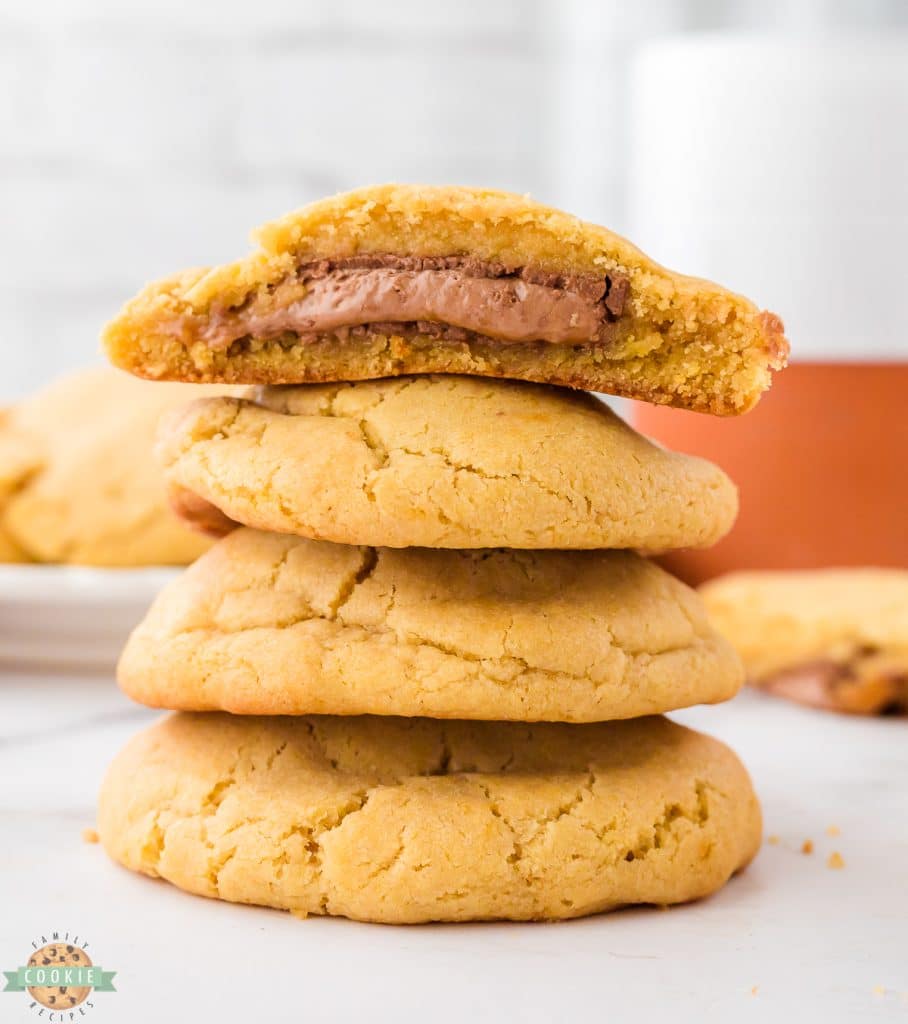 This recipe for stuffed cookies is so simple to make, with staple kitchen ingredients you can whip up a batch quick and easily! Make cookies with candy bars for any occasion, great for birthday parties, family events and any time in between.
We have absolutely fallen head over heels for these Milky Way candy bar cookies. This recipe is incredibly simple and has stolen our hearts and taste buds, they are sure to steal yours too. You can whip up a batch of these sweet, chewy and chocolatey treats so easily. A majority of the ingredients are most likely already in your kitchen, with the exception of the fun size candy bars. This recipe would be a great way to use up left over holiday candy too, you can mix and match the candy bars if you'd like too!
Double Chocolate Junior Mint Cookies are chewy chocolate cookies topped with Junior Mints! Perfect fudge cookie recipe for mint chocolate lovers.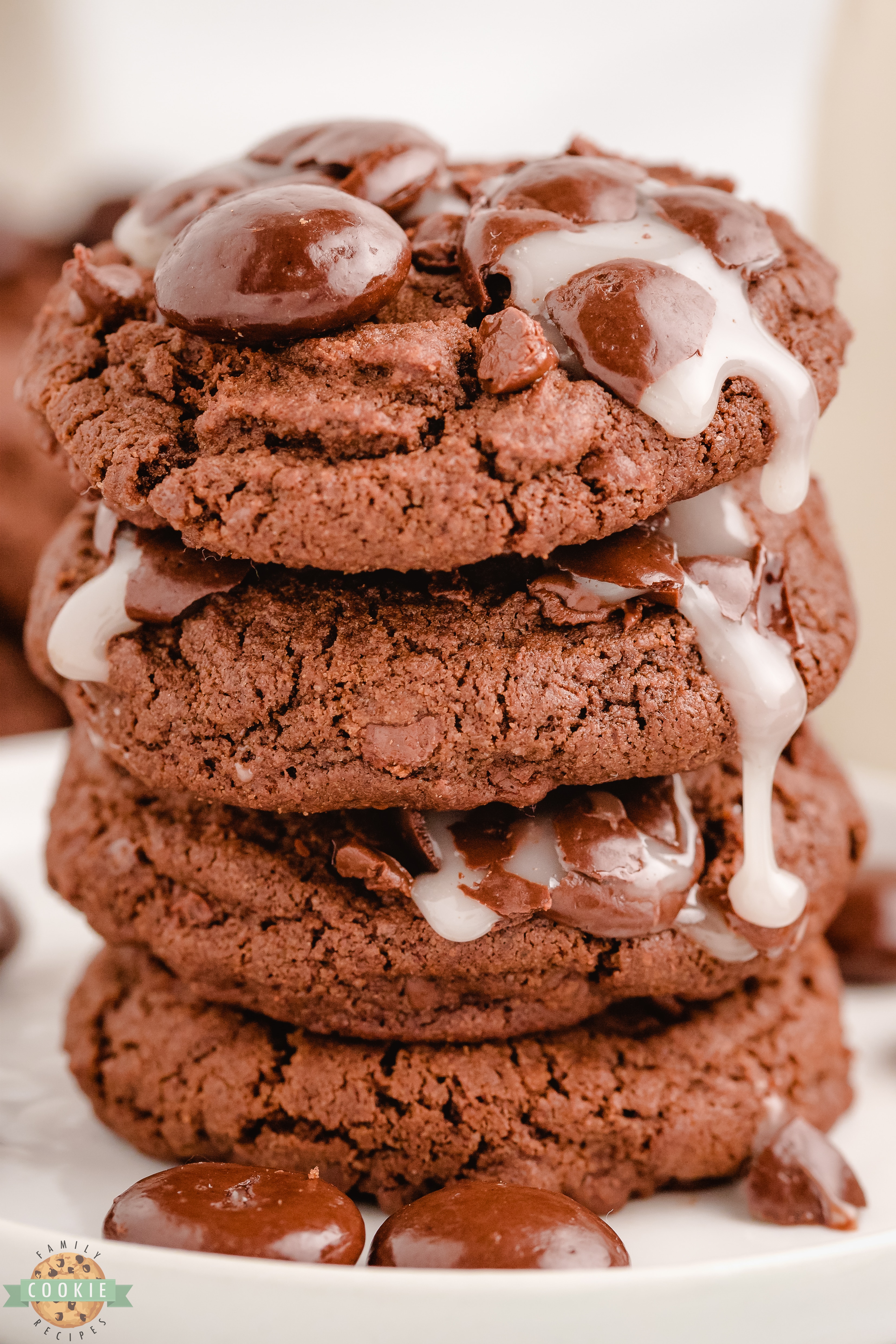 These chocolate cookies are soft and chewy with just the right amount of peppermint to compliment the rich chocolate cookie.
The best part about these cookies is that they are easy to make, just like a regular chocolate chip cookie recipe. They taste fancy, but honestly there is no extra work aside from topping the cookies with the candies! You'll just need a couple boxes of the movie theater size Junior Mints.
Kit Kat Cookies for anyone who LOVES the chocolatey crisp of Kit Kats! These candy bar cookies are loaded with Kit Kats, chocolate Krispies & chocolate swirl!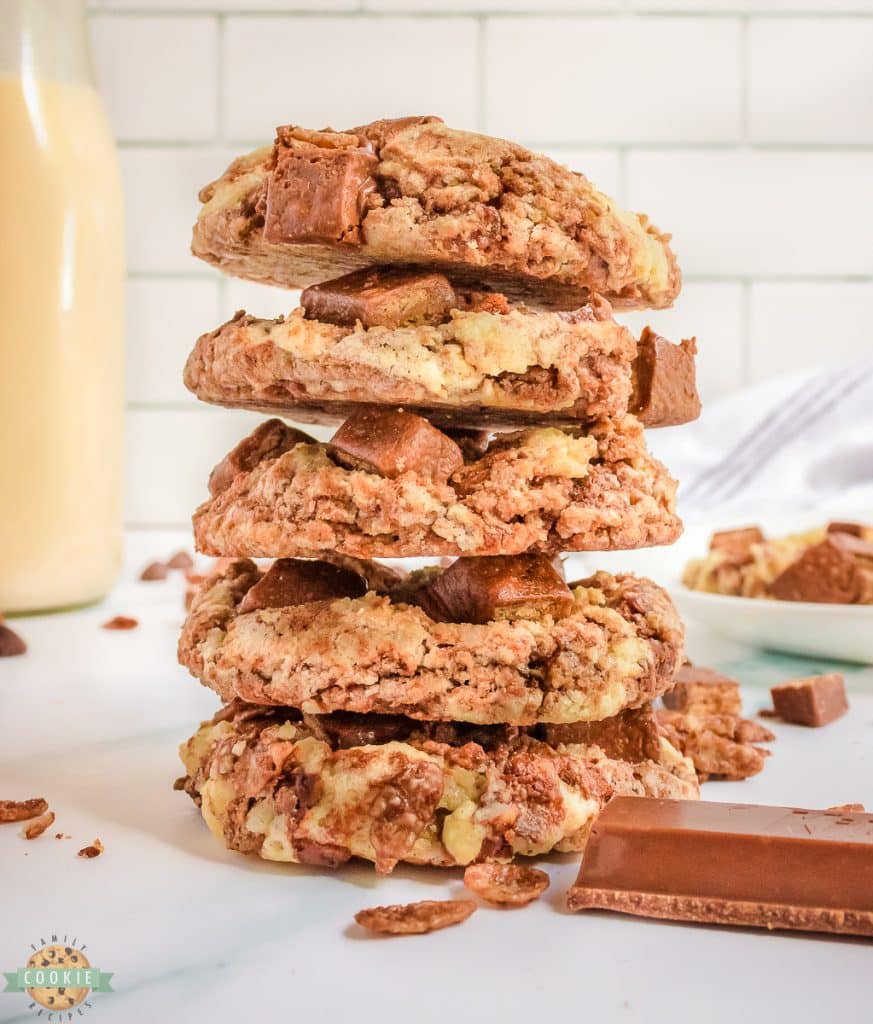 Let's put that Halloween candy to good use! My favorite thing about this candy bar cookie recipe is how uniquely crispy, crunchy, and soft these cookies turn out to be. Making cookies with kit kats has become my newest favorite way to enjoy this candy and have a baked treat as well.
Snickers Peanut Butter Cookies start with an incredible soft and delicious peanut butter cookie recipe, and add a Snickers surprise in the middle!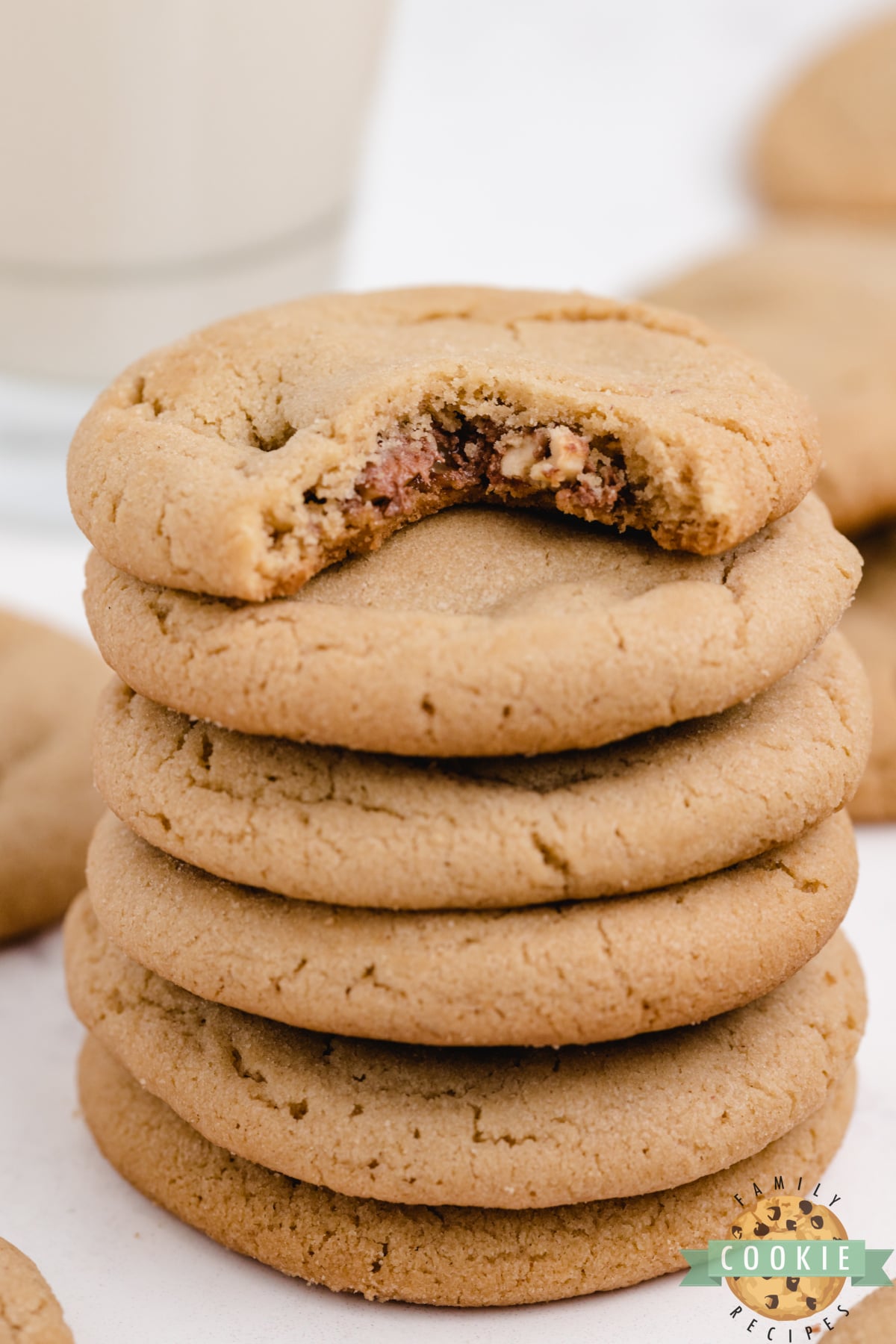 Snickers Peanut Butter Cookies are a favorite at our house, and it's easy to see why! The cookie itself is soft with the perfect hint of peanut butter flavor, and when you bite into it, you get to enjoy a mini snickers hidden inside! Especially when these cookies are warm (I always microwave them for about 10 seconds if I'm eating them later), the soft and gooey combination is to die for. You might want to make an extra batch!
Bakery Style Almond Joy Cookies taste just like your favorite candy bar! Thick, chewy chocolate cookies topped with a creamy coconut mixture, chocolate & almonds; the perfect Crumbl copycat!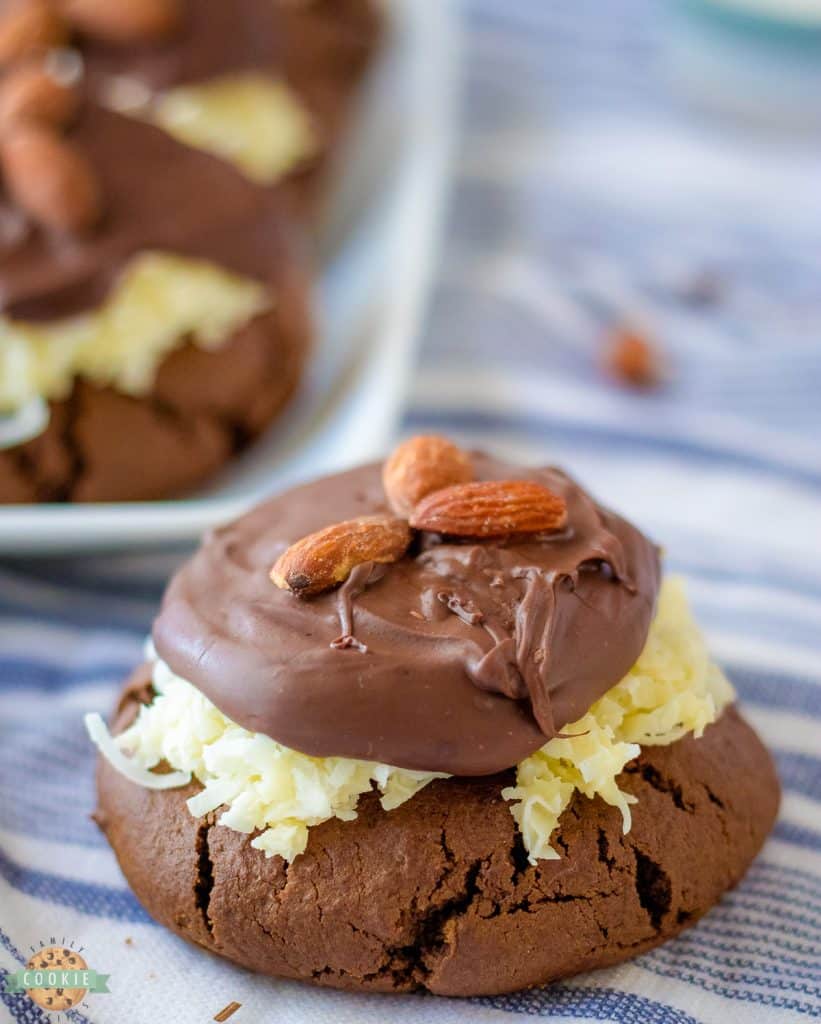 These Almond Joy Crumbl copycat Cookies taste just like the store bought candy! Rich, chocolate cookies are topped with a sweet coconut mixture before getting topped with semi sweet chocolate and roasted almonds. These cookies are a show stopper and perfect for anytime!
Chocolate Caramel Cake Mix Cookies are made with only 4 ingredients – one of which is the Rolo candy tucked in the middle! So easy to make and they are absolutely delicious with the gooey caramel centers!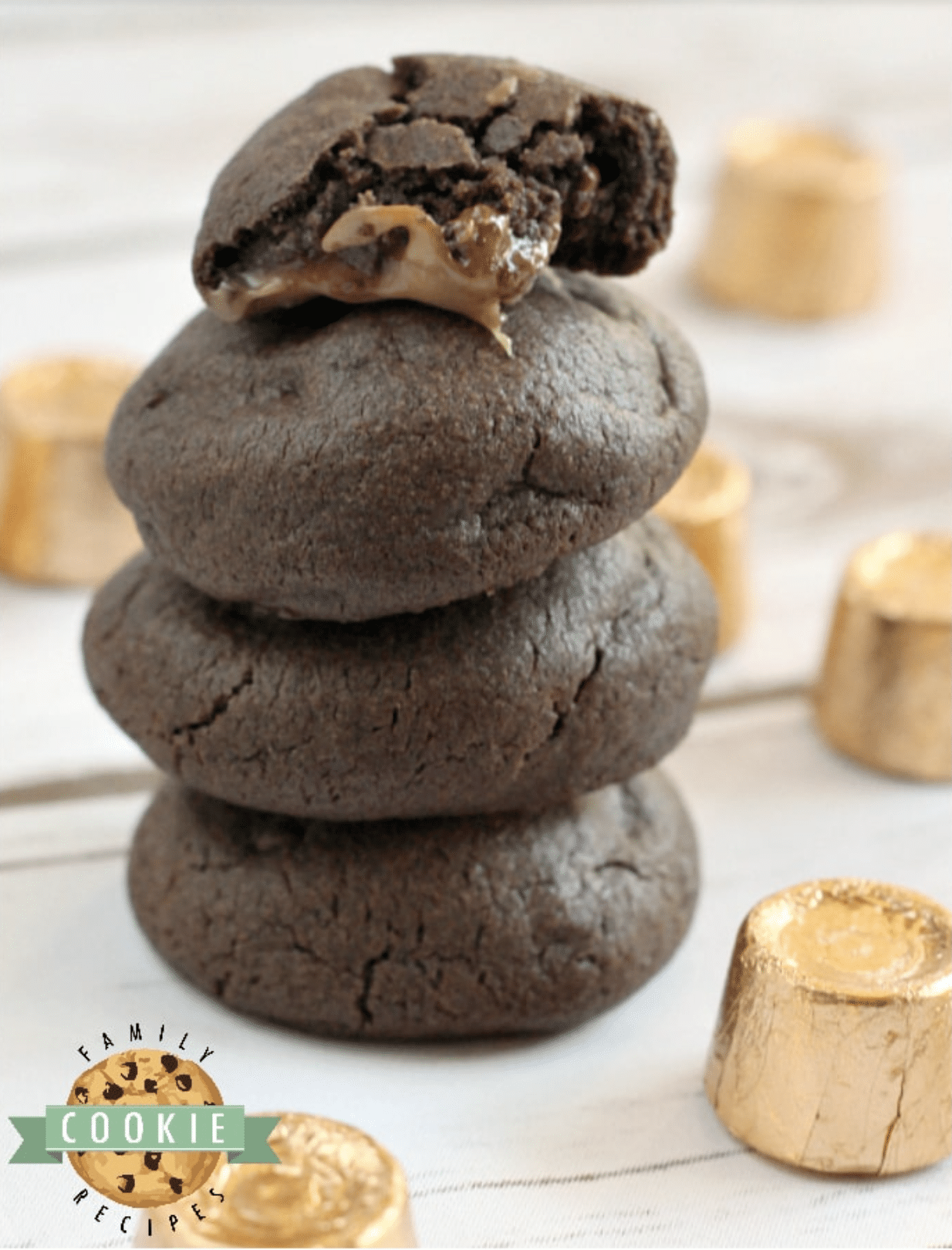 I absolutely love making cookies from scratch and I usually do, but sometimes I just don't have the time and I need a bit of a short-cut. Especially when my kids are all wanting to help out! I discovered this recipe recently and it's become a family favorite- the kids love to help make the cookies with the Rolos inside and they are absolutely delicious. I dare you to try to stop at just eating one, especially when they are warm and fresh out of the oven!
Butterfinger Peanut Butter Cookies are amazingly soft and chewy and full of crunchy peanut butter and chunks of Butterfinger candy bars!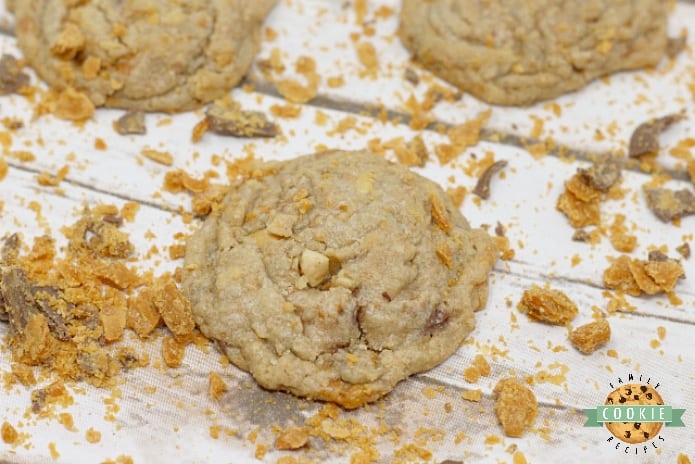 Butterfinger Peanut Butter Cookies take your basic peanut butter cookie to a whole new level! I got this recipe from a friend a long time ago and kept putting it off because I'm not a huge Butterfinger fan. My kids kept asking when I was going to finally try these so I caved and I was amazed at how delicious these cookies are!
The Butterfinger candy bits go so well in the peanut butter cookie – even for those of us who don't typically love this type of candy bar! The recipe calls for crunchy peanut butter which is also incredible – I love the crunch of the nuts and the candy bar bits contrasted with the softness of the cookie. Soft and chewy cookies are my favorite and these have the perfect texture and consistency!
These Twix cookies are rounds of shortbread topped with caramel and milk chocolate. An easy and impressive cookie that tastes even better than the popular candy bar!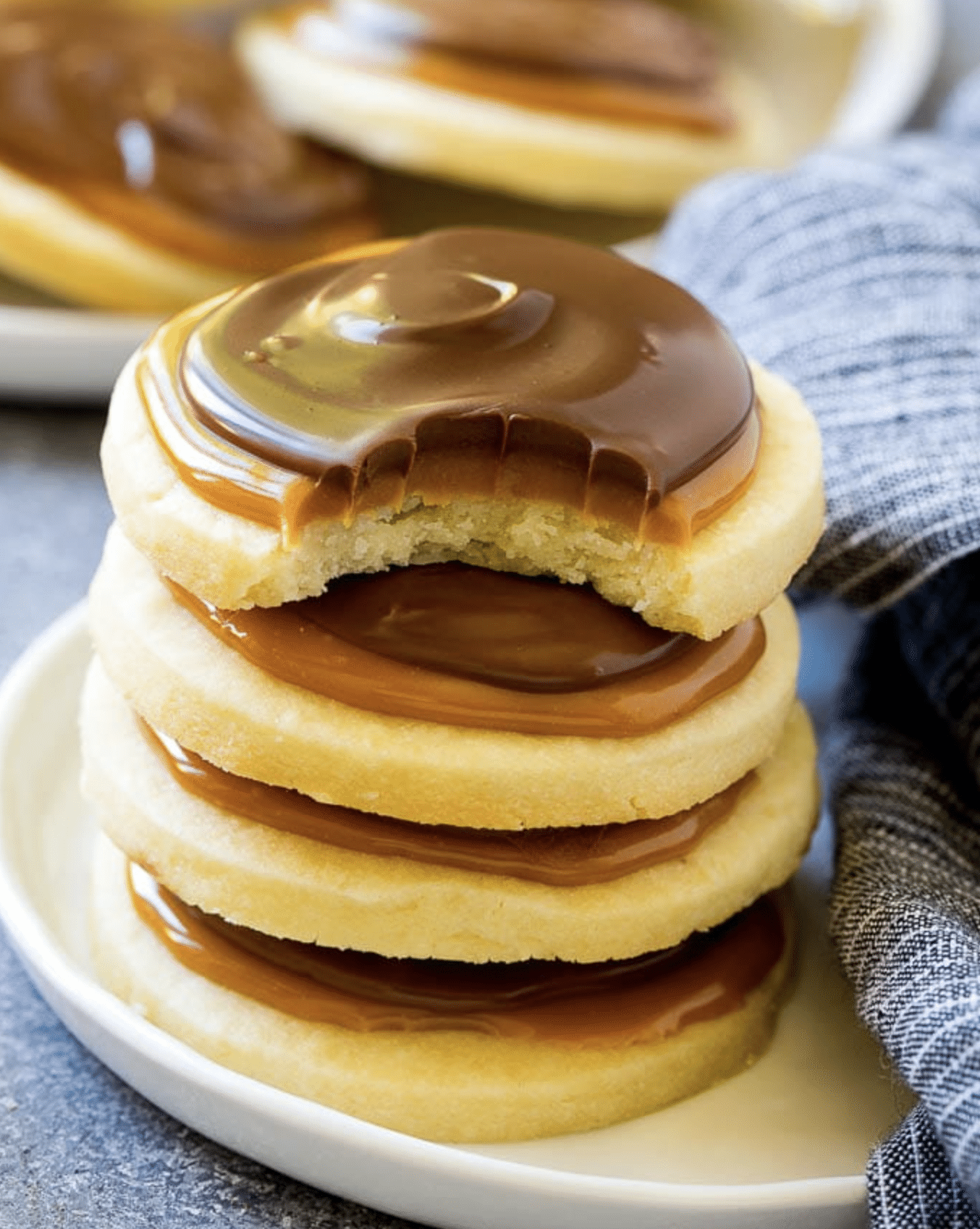 Twix cookies don't have a candy bar in them, but they taste just like the candy bar they are named after! Delicious chocolate caramel cookies with a shortbread base.
Have a bunch of leftover candy you need to use up? These Leftover Candy Cookies can be made with any type of chocolate or caramel candy that you have on hand!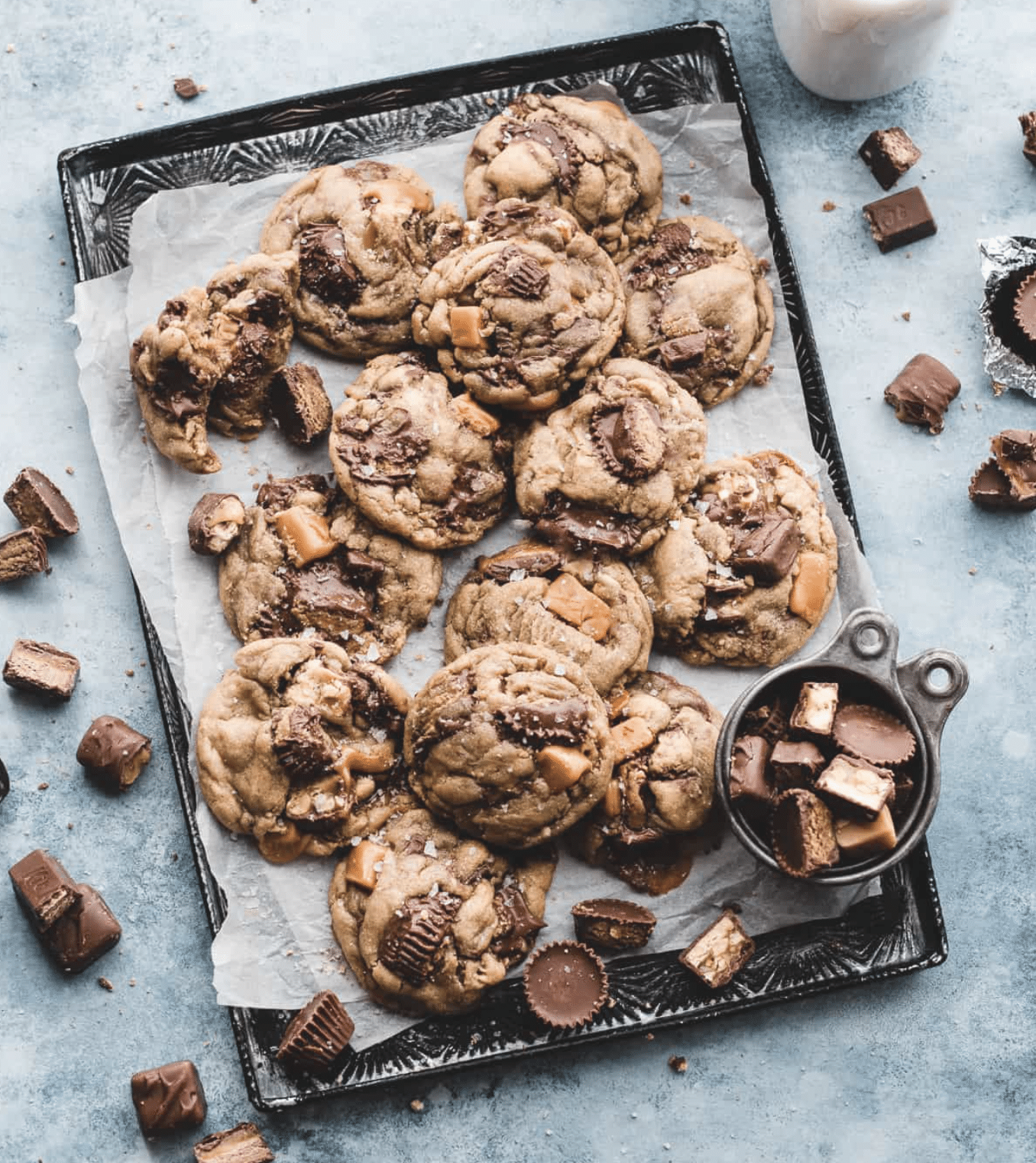 Soft and thick cookies that are the perfect way to use up any extra candy you have from Halloween, Christmas or a party. Just chop up all of the leftover candy and add it to this delicious cookie recipe!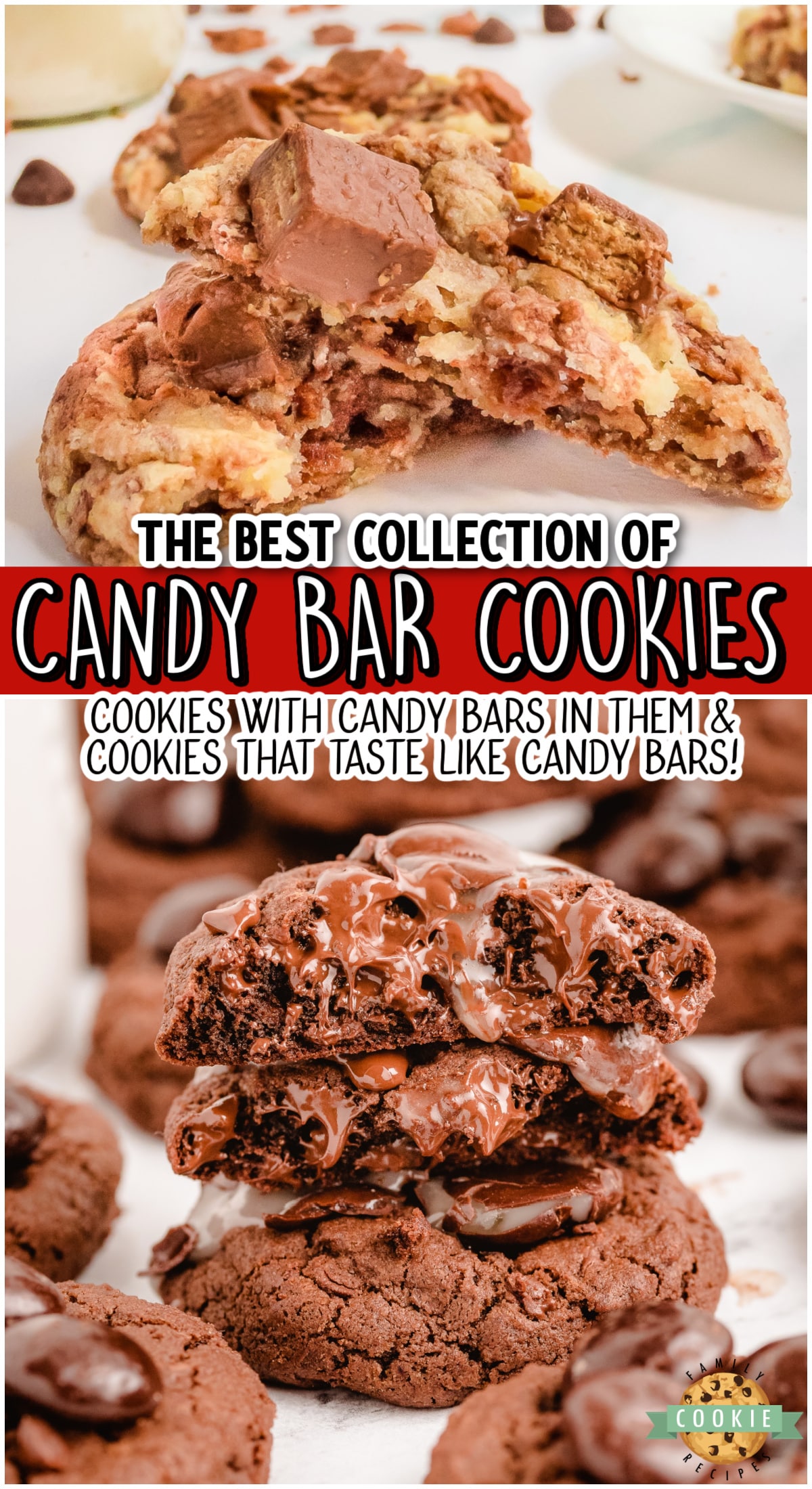 Fun collection of cookies that have candy bars in them or that actually taste like candy bars. Either way, all of these candy bar cookies are absolutely delicious.