Bakery Style Milky Way Cookies made with sweet cookie dough and stuffed with the classic chocolate caramel nougat candies! These stuffed cookies are perfect for anyone who loves Milky Way candy bars!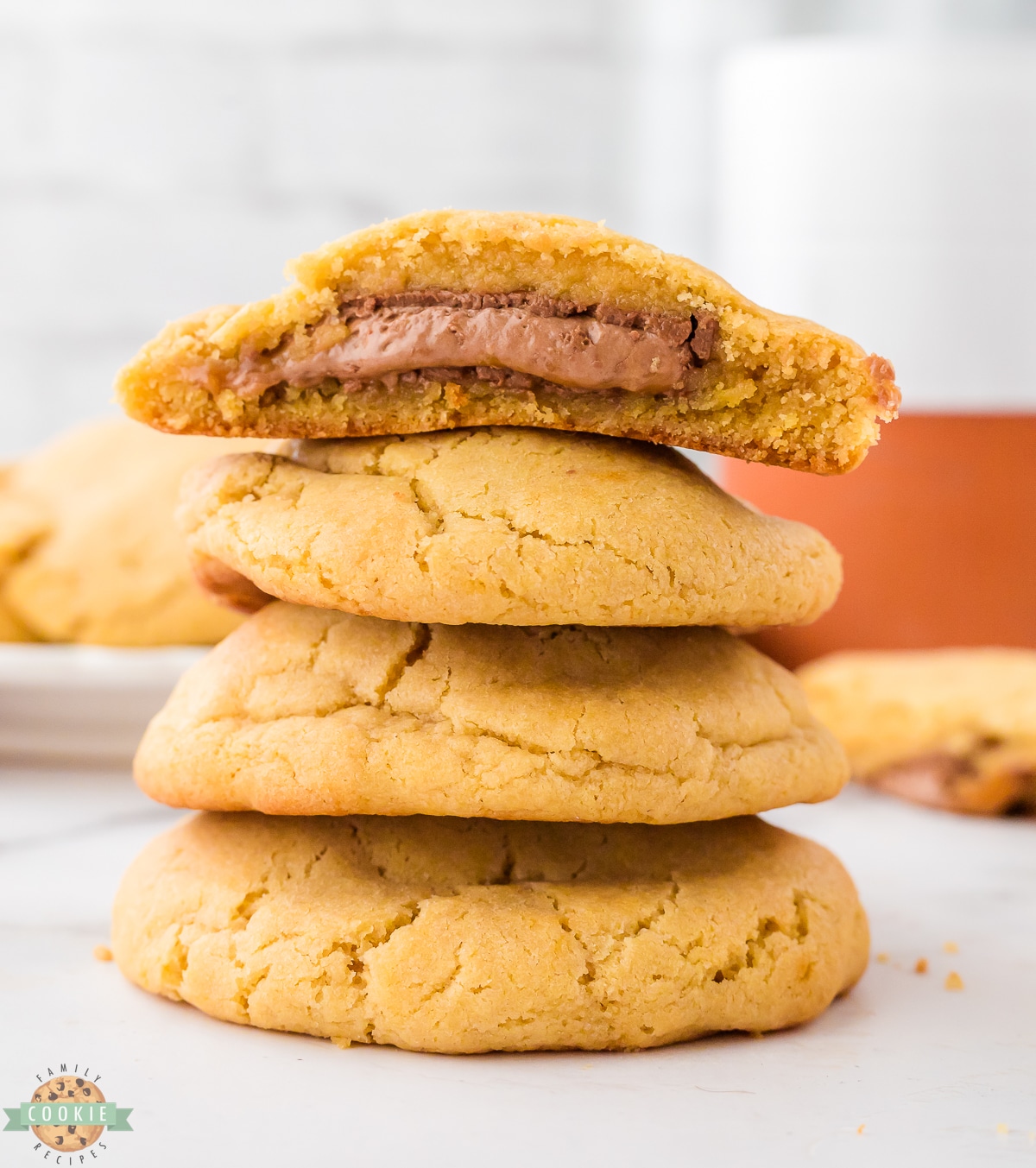 This recipe for stuffed cookies is so simple to make, with staple kitchen ingredients you can whip up a batch quick and easily! Make cookies with candy bars for any occasion, great for birthday parties, family events and any time in between.
Candy Bar Stuffed Cookies
We have absolutely fallen head over heels for these Milky Way candy bar cookies. This recipe is incredibly simple and has stolen our hearts and taste buds, they are sure to steal yours too. You can whip up a batch of these sweet, chewy and chocolatey treats so easily. A majority of the ingredients are most likely already in your kitchen, with the exception of the fun size candy bars. This recipe would be a great way to use up left over holiday candy too, you can mix and match the candy bars if you'd like too!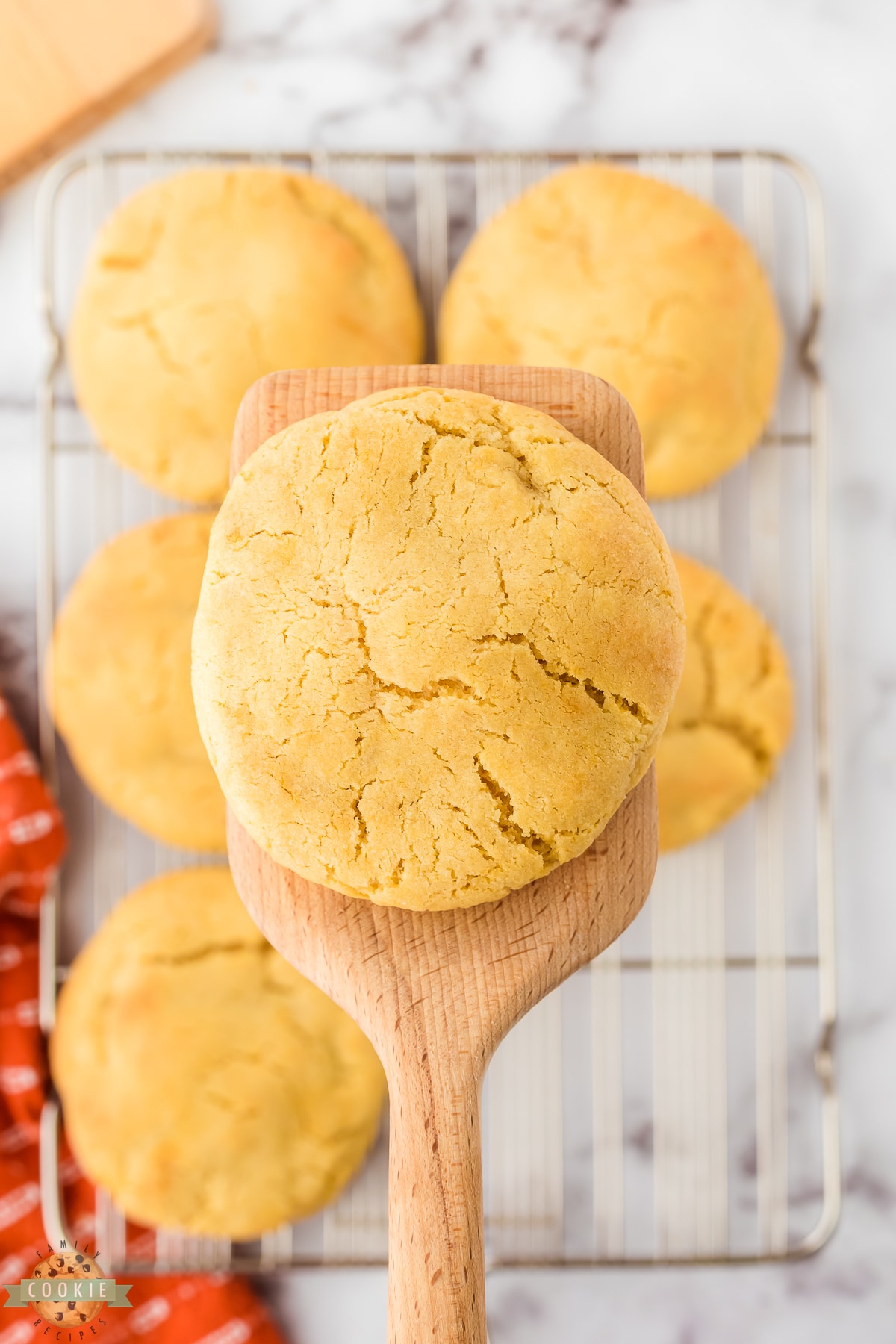 WHY YOU'LL LOVE THIS STUFFED COOKIE RECIPE
Best of two treats! If you are anything like me, deciding between cookies or candy as a dessert is a struggle. But with these candy stuffed cookies you can have the best of both! The cookie and candy combination is simply decadent.
Simple ingredients. What is great about this recipe is that most of the ingredients you will most likely find in your kitchen. You can whip up a batch without having to buy a bunch of extra ingredients, that is a win in my book!
Quick and easy. You can create an amazing dessert in a short amount of time that will impress anyone who tries them.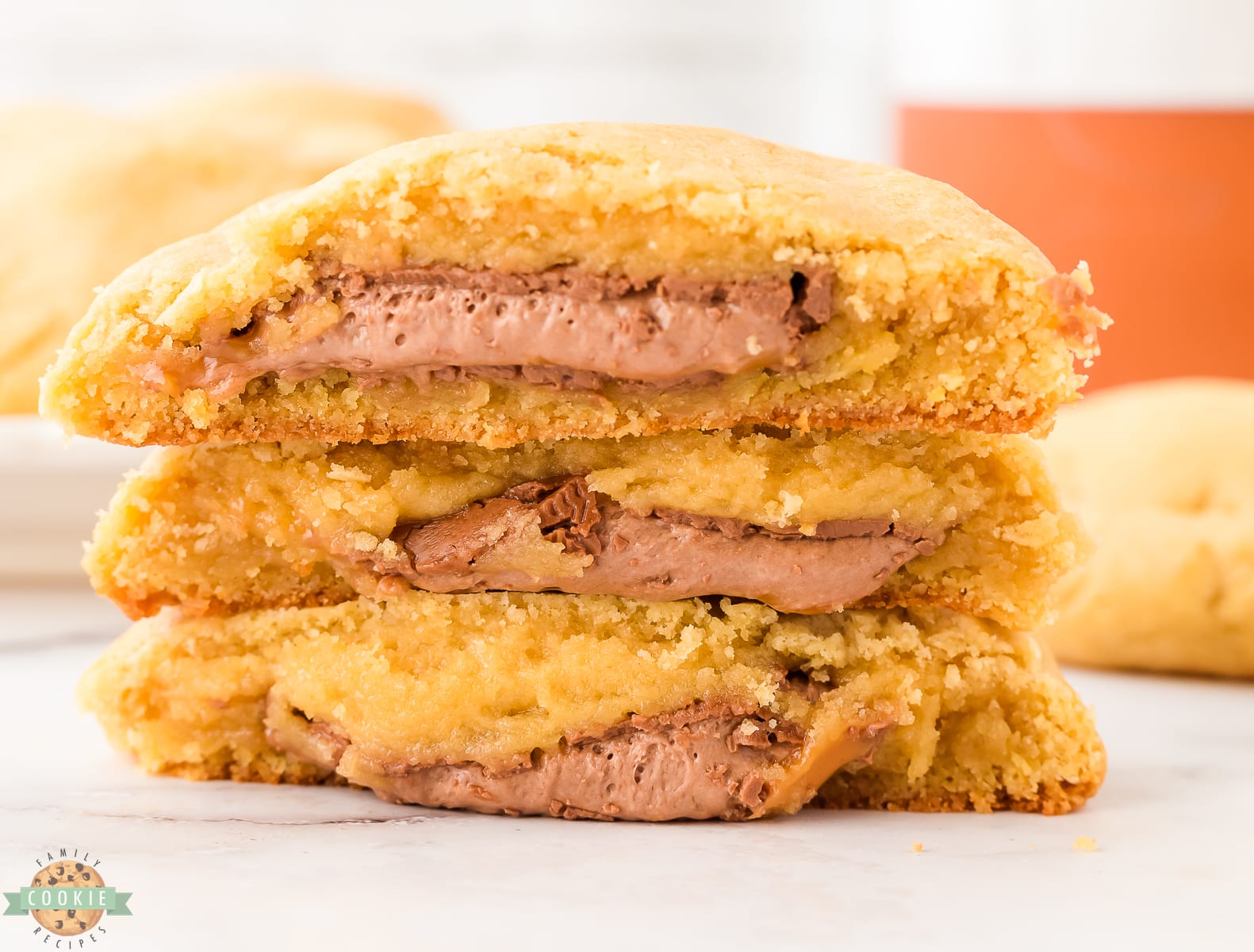 Milky Way Cookie Ingredients
Butter: Use 1 cup of salted butter, room temperature, to create wonderfully rich tasting cookies.
Brown sugar: Adding in 1 ¼ cup of brown sugar gives these cookies a lovely depth of flavor.
Sugar: You will need ⅓ cup of white granulated sugar to make these cookies sweet and chewy.
Eggs: For amazing taste and texture, add in 2 large eggs.
Vanilla extract: To help enhance all the great flavors in these treats, use 1 teaspoon of vanilla extract.
Baking powder: For one of the leavening agents in these cookies, use ½ teaspoon of baking powder.
Baking soda: Add in 1 teaspoon of baking soda to help the cookies puff up as they bake.
Flour: You will need 3 cups of all-purpose flour for the base of this cookie dough.
Candy bars: Use 12 fun size Milky Way bars as the delicious center of these stuffed cookies.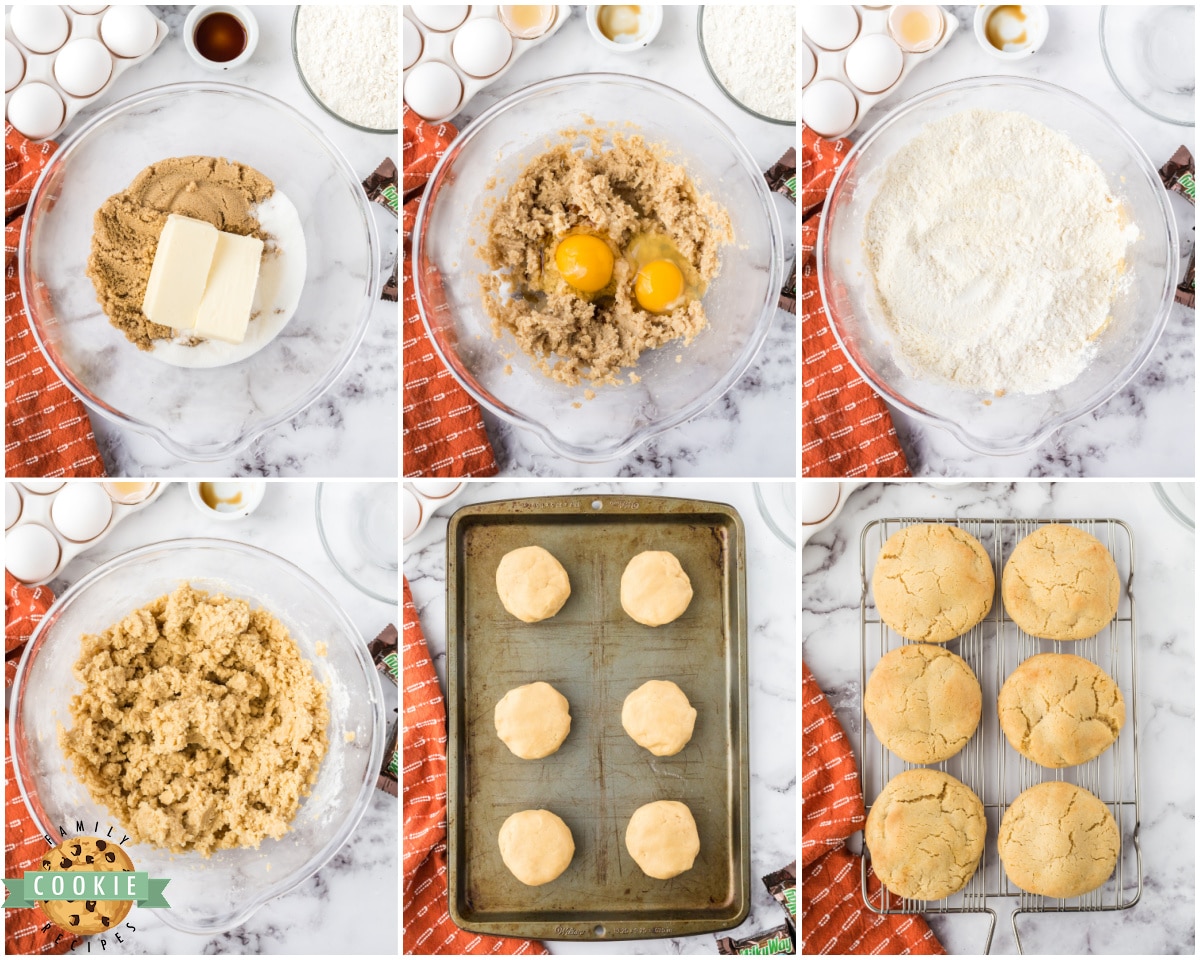 Step by step on how to make Milky Way Cookies
Prep
Get started by preheating the oven to 375°F. Then, line 2 baking sheets with parchment (or silicon mats) and set them aside.
Dough
Next, in a large mixing bowl, beat together the softened butter and both sugars, with an electric hand mixer, until the mixture is smooth and creamy.
Then, whisk in the eggs and vanilla extract until the mixture is smooth and homogenous.
Proceed to add in the baking soda, baking powder, and flour. Whisk the ingredients continuously until the dry ingredients are fully incorporated into the cookie dough.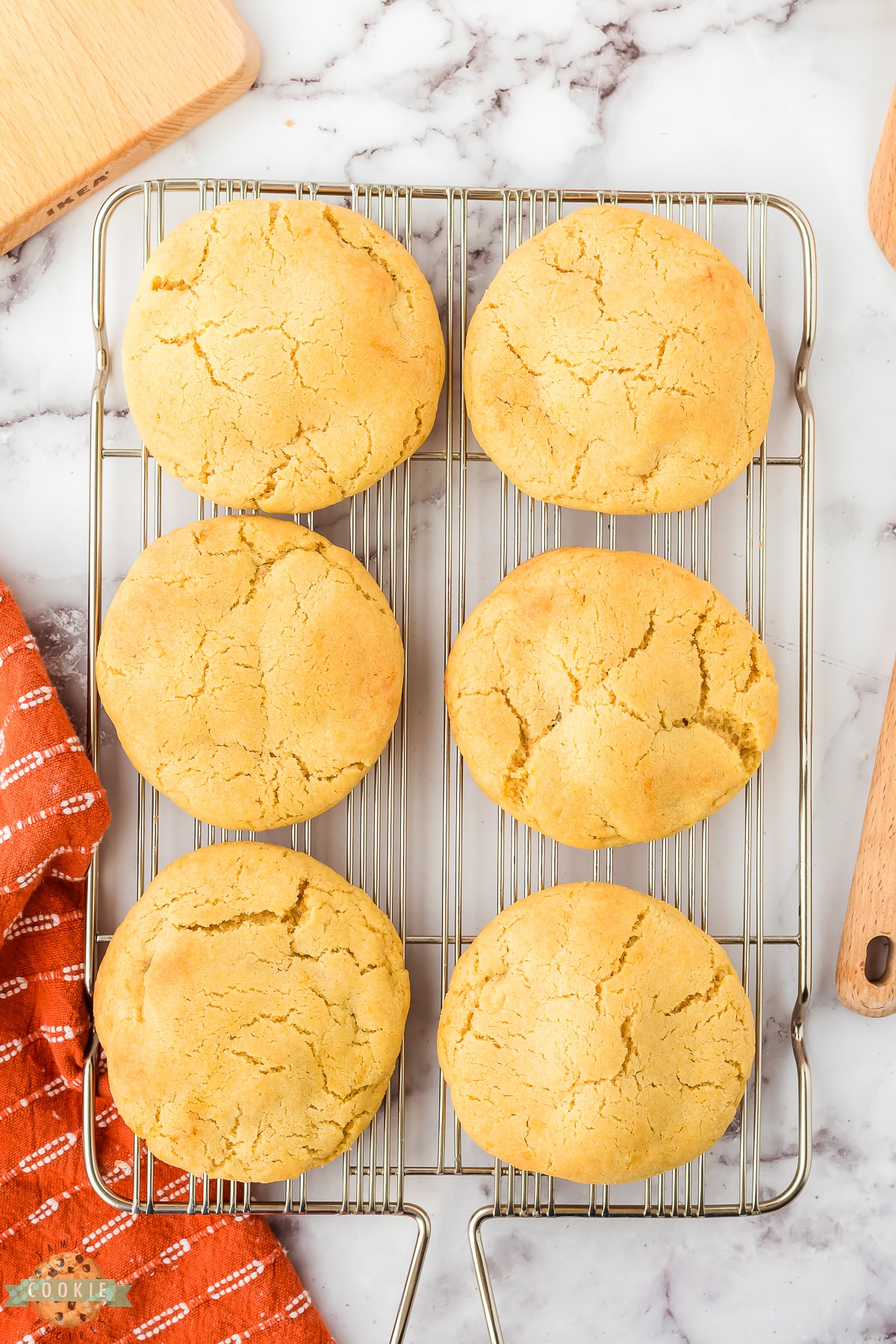 Assemble
Once the dough is ready, unwrap each fun size candy bar and enclose each Milky Way bar with enough cookie dough to cover them entirely. Place each ball of dough on the prepared baking sheet at least 2″ apart, 6 cookies on each baking pan.
Bake
Place one of the baking sheets in the preheated oven and bake the cookies (6 at a time) for 13 minutes. Be sure to allow them to cool before removing them from the pan.
Serve and enjoy!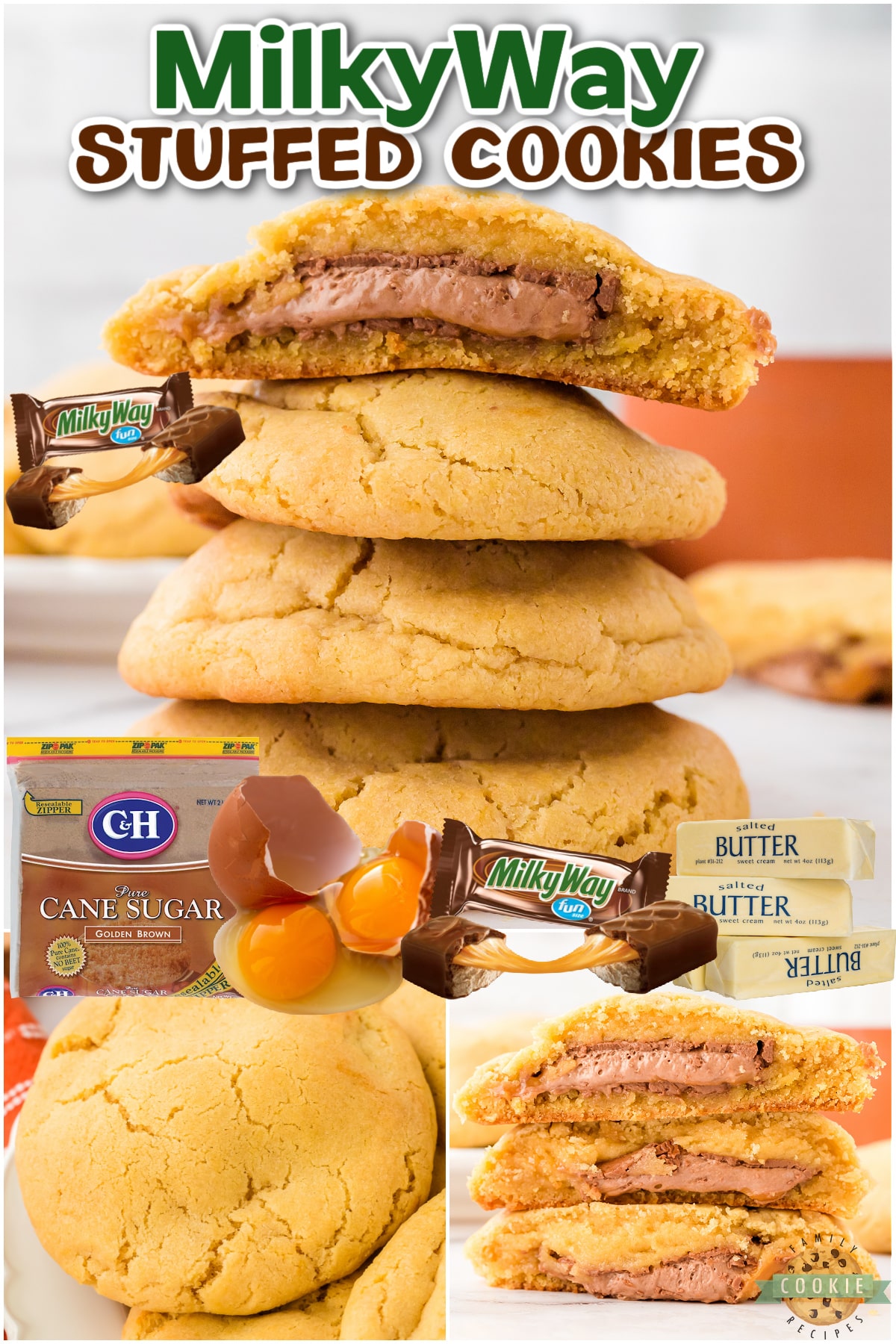 Tip for amazing Milky Way cookies:
The amount of cookie dough for 1 stuffed cookie uses as much dough as 2 conventionally sized cookies.
By allowing the cookies to cool makes them easier to get off the baking sheet. Because the cookies are so big, they can start to fold or crack if you try to move them straight from the oven.
You can use either dark or light brown sugar in this recipe. The only difference is the amount of molasses in the cookies, so if you want a slightly sweeter cookie, you can use dark brown sugar.
To keep these cookies fresh longer, store them in an airtight container for up to 5 days on the counter or in the fridge.
HOW TO STORE CHOCOLATE CANDY BAR COOKIES?
Keep these cookies stored in an airtight container in the fridge or on the counter for up to a couple of days (if they last that long!) For best results, these cookies will last about 3-4 days. If desired you can reheat the cookies in the oven of a microwave to get that warm and fresh from oven taste back into the cookie as these cookies do taste the best when they are warm.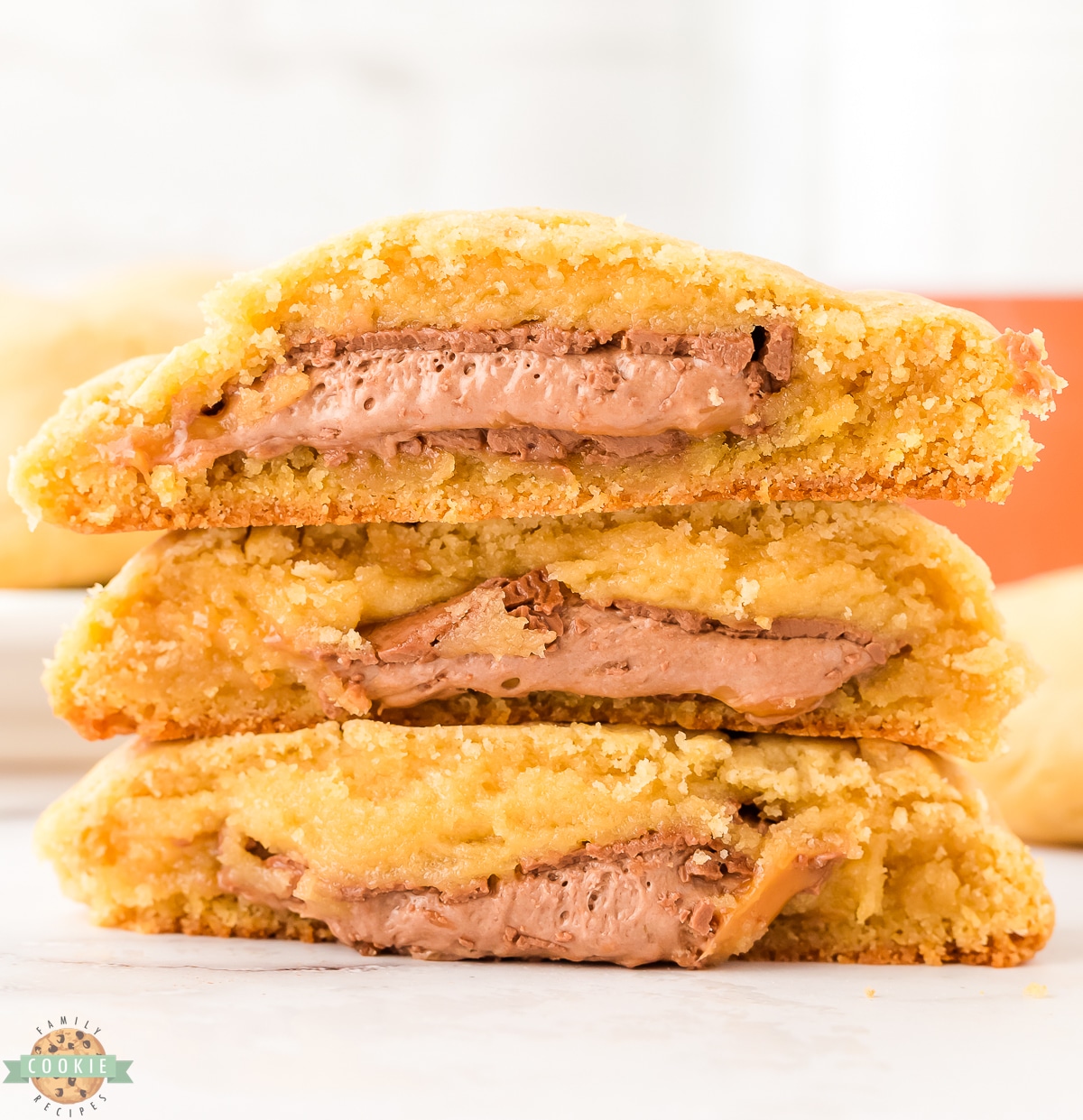 Can I freeze these cookies?
I love freezing cookies! There are 2 ways I prefer to freeze them. The first is by freezing the unbaked cookie dough balls. I scoop & shape the balls round with my hands, then freeze them in 1 layer on a cookie sheet. You can position them as close together as possible without touching. Freeze, then once solid, transfer them to a ziplocked freezer bag. Then you can pull them out and bake them whenever you want! You'll want to either let them thaw on a cookie sheet while preheating the oven, or add a couple minutes to the bake time to compensate for frozen cookie dough.
The second way is to just freeze the baked cookies. My mother in law does this ALL the time. They turn out pretty well, albeit a tiny bit drier and more crumbly once thawed. Oh and you've got to make sure you thaw them. Frozen cookies are pretty hard to eat. Thankfully, they only take about 20 minutes or so to thaw out.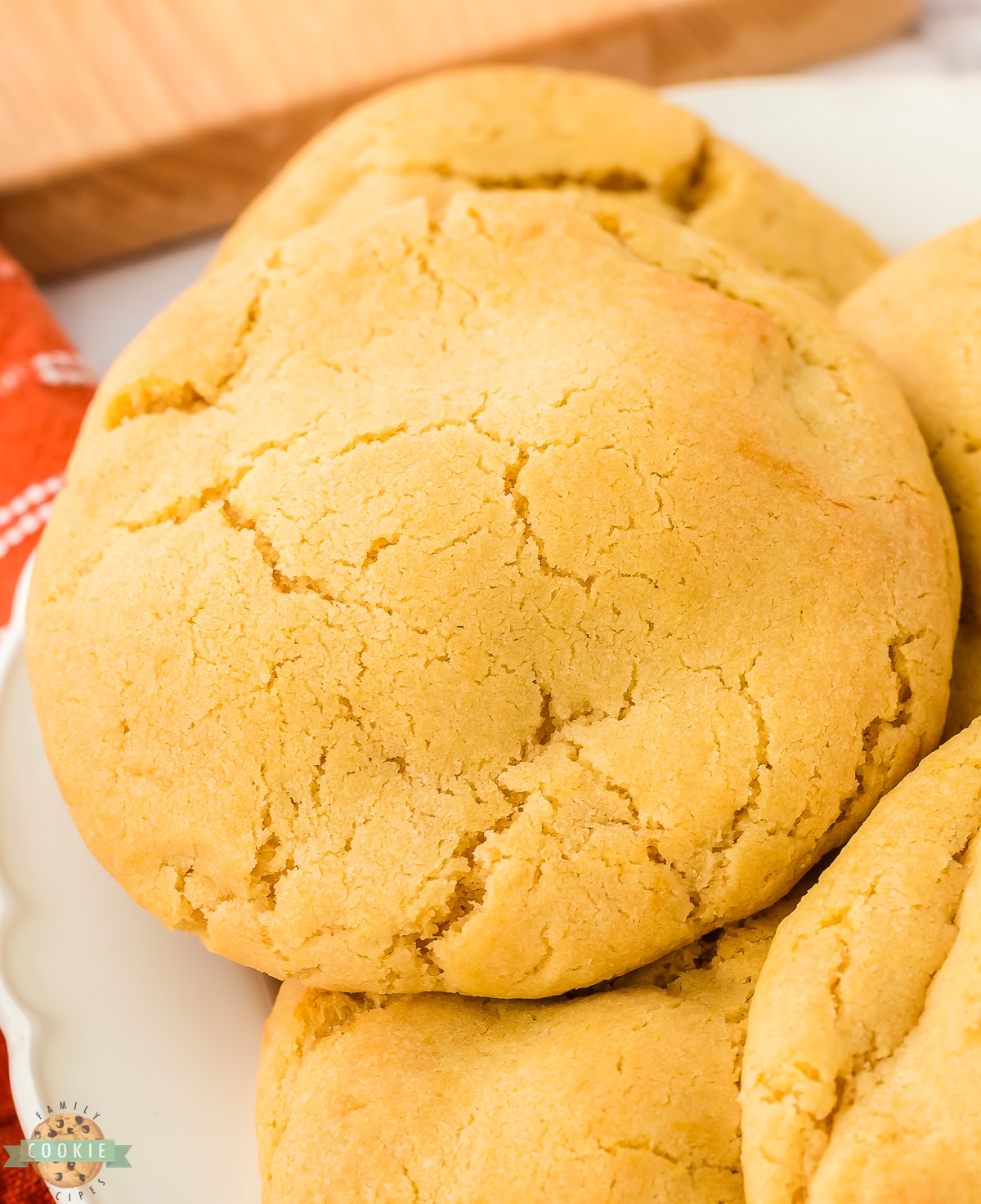 HOW DO YOU SOFTEN BUTTER?
I like to soften butter by using the defrost function on my microwave. If you need the full 1/2 cup cube of butter, you can leave it in the paper wrapper, otherwise, place the amount of butter you need in a glass or porcelain bowl. I use the lowest defrost setting on my microwave and just let it run for 20 seconds. Check the butter and see how soft it is by pressing it with a rubber scraper. If it is still not soft to the touch, meaning it doesn't indent when you press into it, let it warm for another 5-10 seconds. Watch it closely! Butter softens very quickly.


I love that my teenagers still found something fun to do at the pumpkin patch with the family! And bonus, it wore them out as well!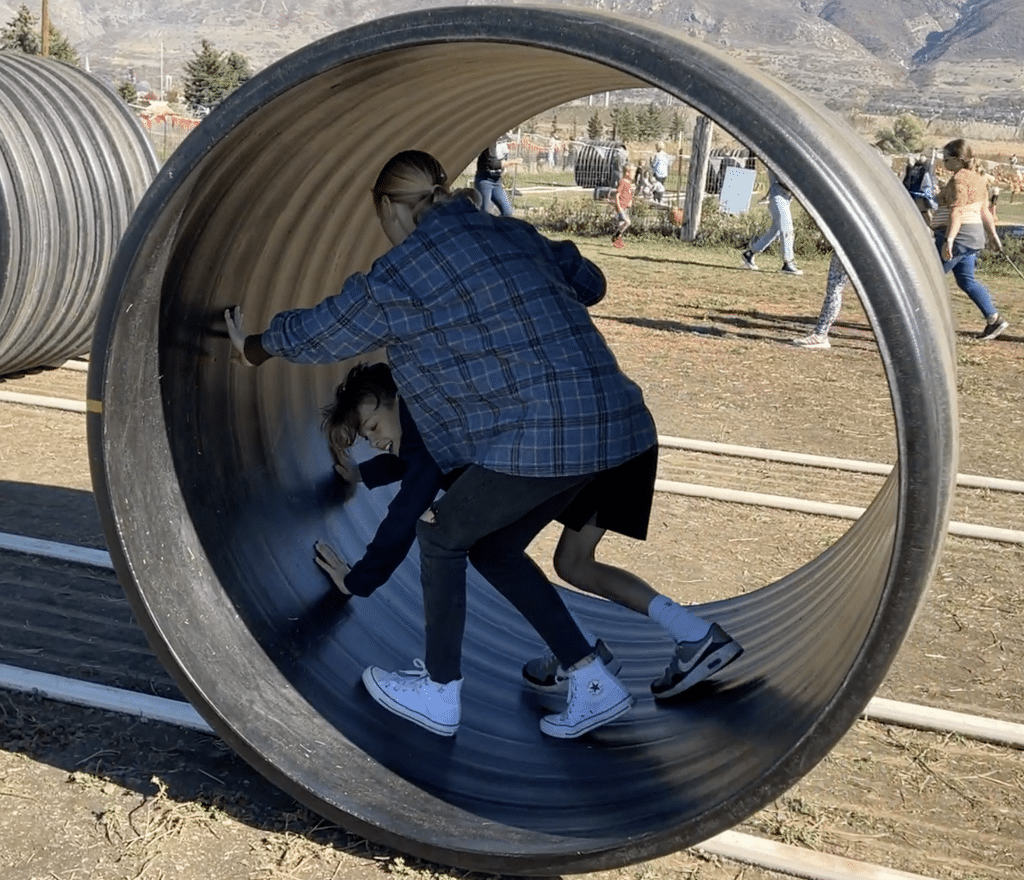 Love cookies? So do we! Try more amazing recipes here:
Milky Way Cookies are made with a soft cookie dough and then stuffed with a delicious chocolate caramel nougat candy bar! These stuffed cookies are an amazing treat for anyone who loves Milky Way candy bars!