Stuffed Rolo Cookies are soft and chewy, with a melted Rolo candy in the center. Simple cookie recipe that is one of my all-time favorites!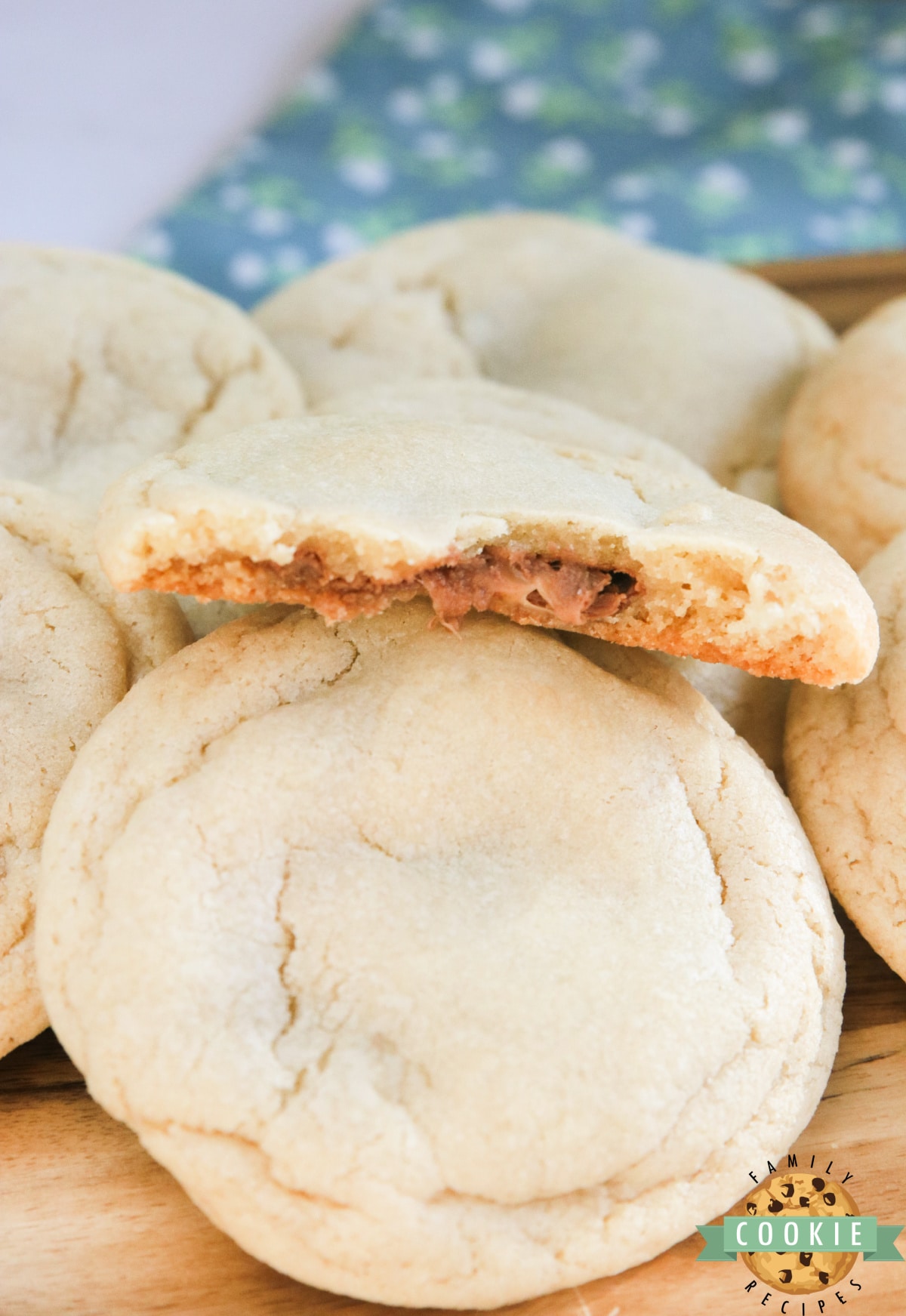 Cookies are pretty delicious, but they are even better with your favorite candy stuffed in the middle. Many of our favorite cookies are made with candy, like Reese's Chocolate Chip Cookies, Snickers Peanut Butter Cookies and Surprise Chocolate Kiss Cookies. It's not a surprise that putting a Rolo in the middle of a cookie is pretty tasty too!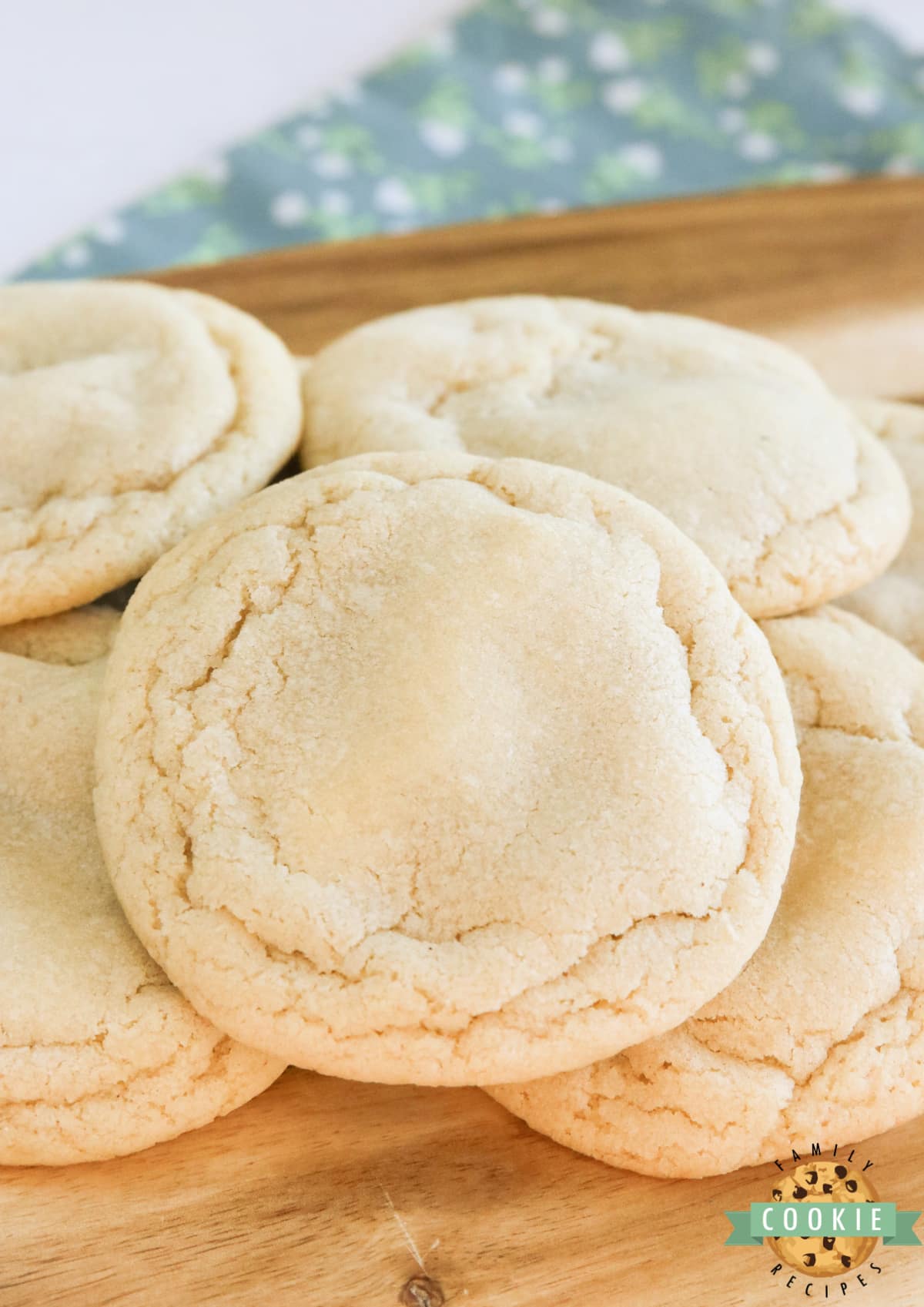 STUFFED ROLO COOKIES
Stuffed Rolo Cookies are made by making a simple cookie dough with flour, brown sugar, sugar, butter, vanilla and eggs. The cookie dough is scooped and wrapped around a Rolo candy and then baked. The Rolo melts a little bit and flattens out perfectly in the center of each cookie so that each bite has is full of chocolate and caramel.
WHY WE THINK YOU WILL LOVE THIS COOKIE RECIPE
If you haven't already started gathering the ingredients, here are a few reasons that will convince you to give these cookies a try.
There is no dough chilling required! The cookies in the pictures show how they will turn out without the cookie dough being refrigerated. If you refrigerate the dough, the cookies may not spread out as much.
You can substitute other candy into this recipe! You could use pretty much any type of candy you'd like. Fun-size Snickers, miniature Milky Ways, chocolate kisses…anything tastes good in the middle of a cookie.
You can fully easily make a chocolate version instead. Swap out some of the flour with cocoa and you can make a chocolate cookie with a Rolo in the middle. This version is absolutely delicious too!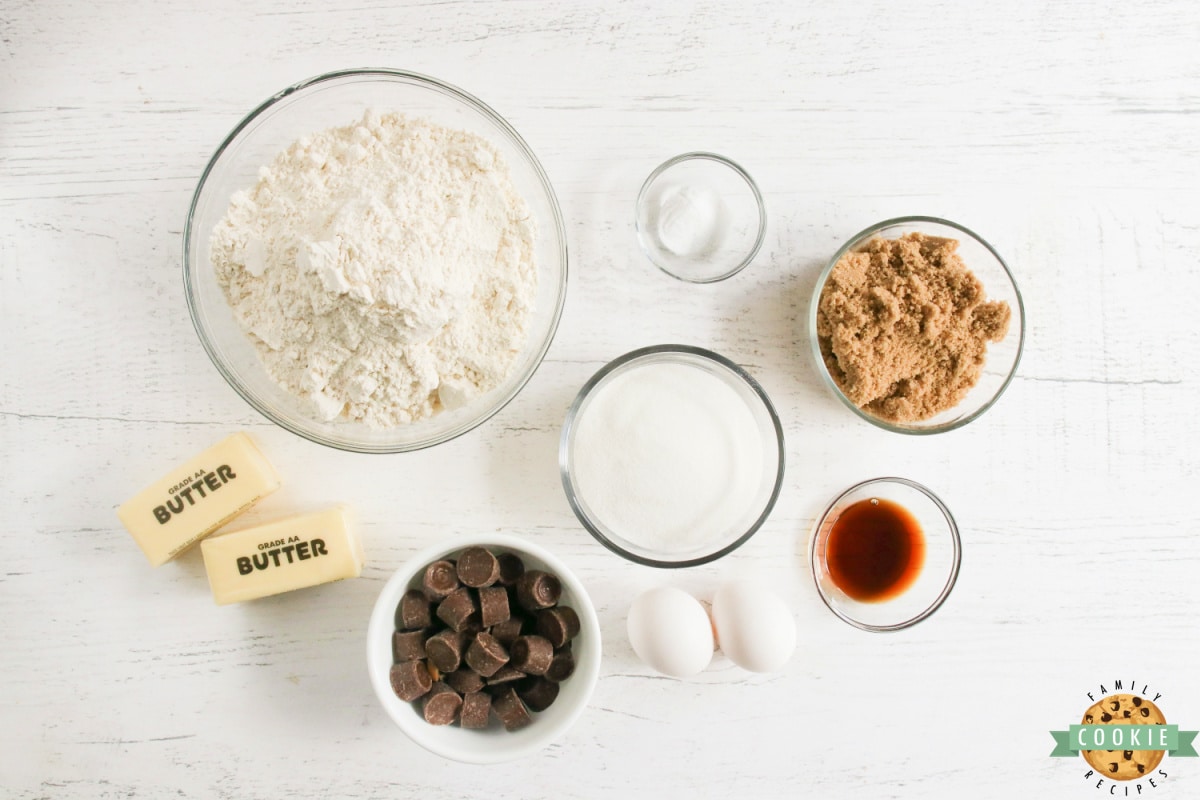 Ingredients in Stuffed Rolo Cookies
Flour: You will need 3 ½ cups of all purpose flour for the base of this dough.
Baking soda: The baking soda acts as the leavening agent in the cookies. For best results, make sure it isn't old or expired.
Sugars: You will need a cup each of sugar and brown sugar for the cookies. It's important to make sure the brown sugar is soft and fresh.
Butter: You'll need a cup (2 sticks) of butter. Make sure that the butter is softened to room temperature before adding to the sugars.
Vanilla extract: Adding in 2 teaspoons of vanilla extract will really help enhance the flavors in this amazing cookie.
Eggs: Two large eggs act as the binding agent in the cookies.
Rolos: You will need 36 Rolo candies. I love to buy the bag of unwrapped Rolos – it saves a lot of time if you don't have to unwrap all of those individual candies!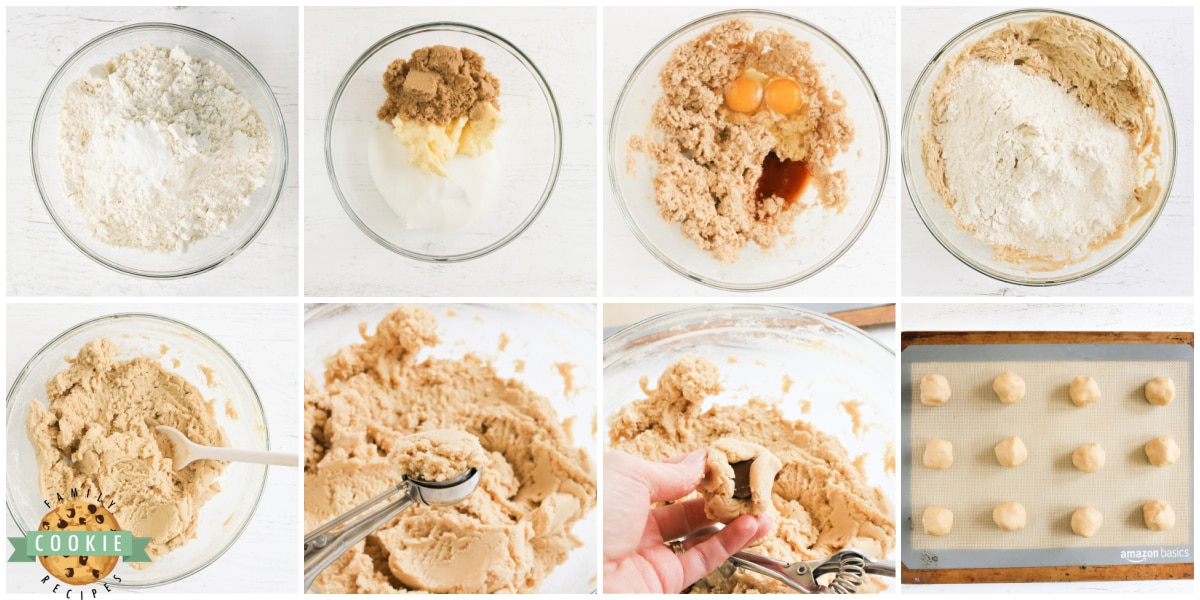 How to make Stuffed Rolo Cookies
Preheat oven to 375°.
Combine flour and baking soda in a mixing bowl.
In a separate bowl, beat the butter and sugars together for about 2-3 minutes with an electric mixer. Add the vanilla and the eggs and beat for another 2-3 minutes.
Add the flour mixture to the butter mixture and mix just until combined.
Use a cookie scoop to scoop out a tablespoon of dough and shape it into a ball. Flatten it out and place a Rolo in the center. Wrap the dough around the Rolo and roll in your hands to form a ball that completely covers the candy.
Place the cookie dough balls about 2″ apart on a greased cookie sheet or a cookie sheet lined with parchment paper or a silicone baking mat. Bake for 8-10 minutes or until the tops barely begin to turn a light golden brown. The tops should be slightly cracked.
NOTE: If you would like to make chocolate cookies instead of regular ones, you can use 2 3/4 cups of flour and 3/4 cup cocoa instead of the 3 1/2 cups of flour. We love this version too!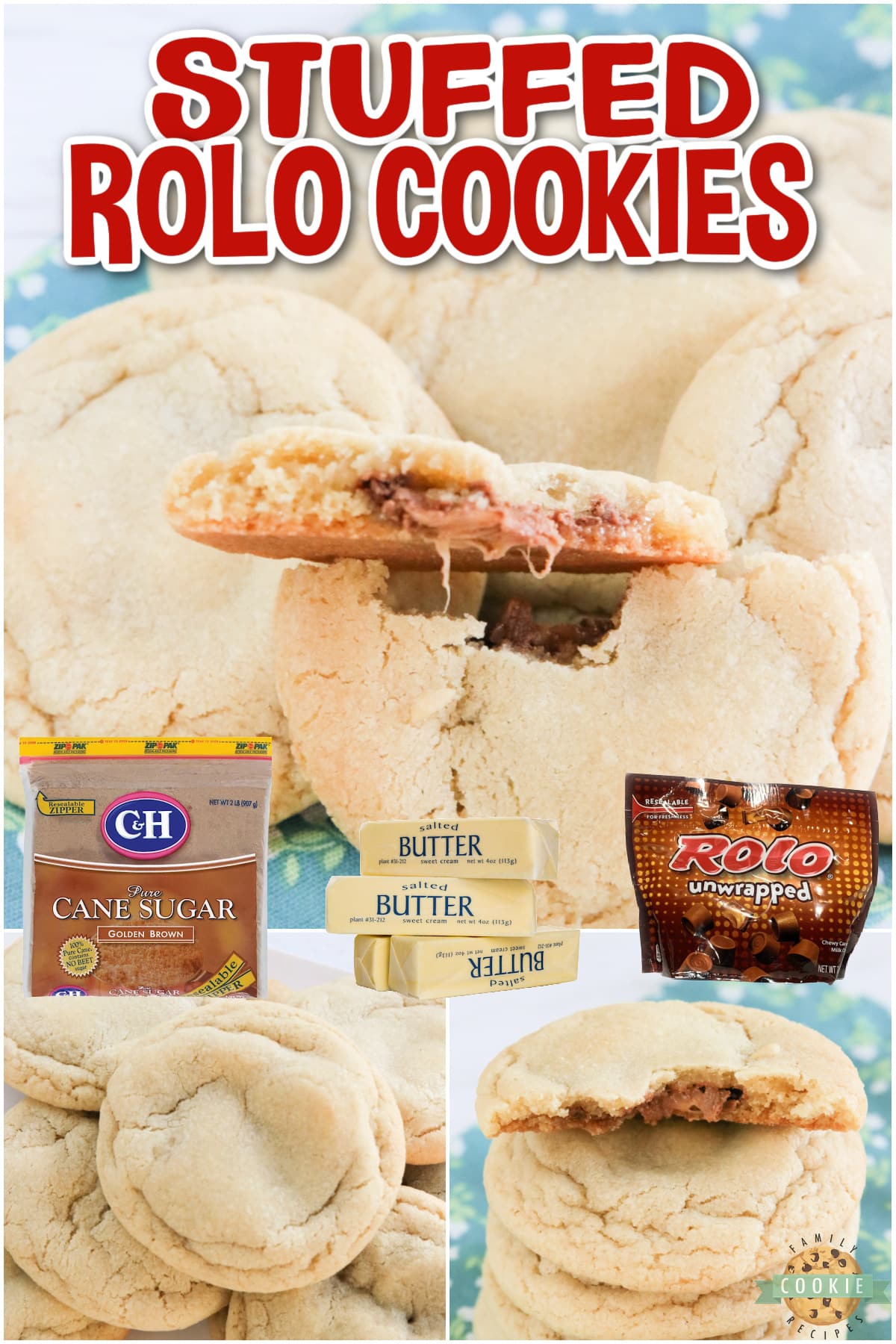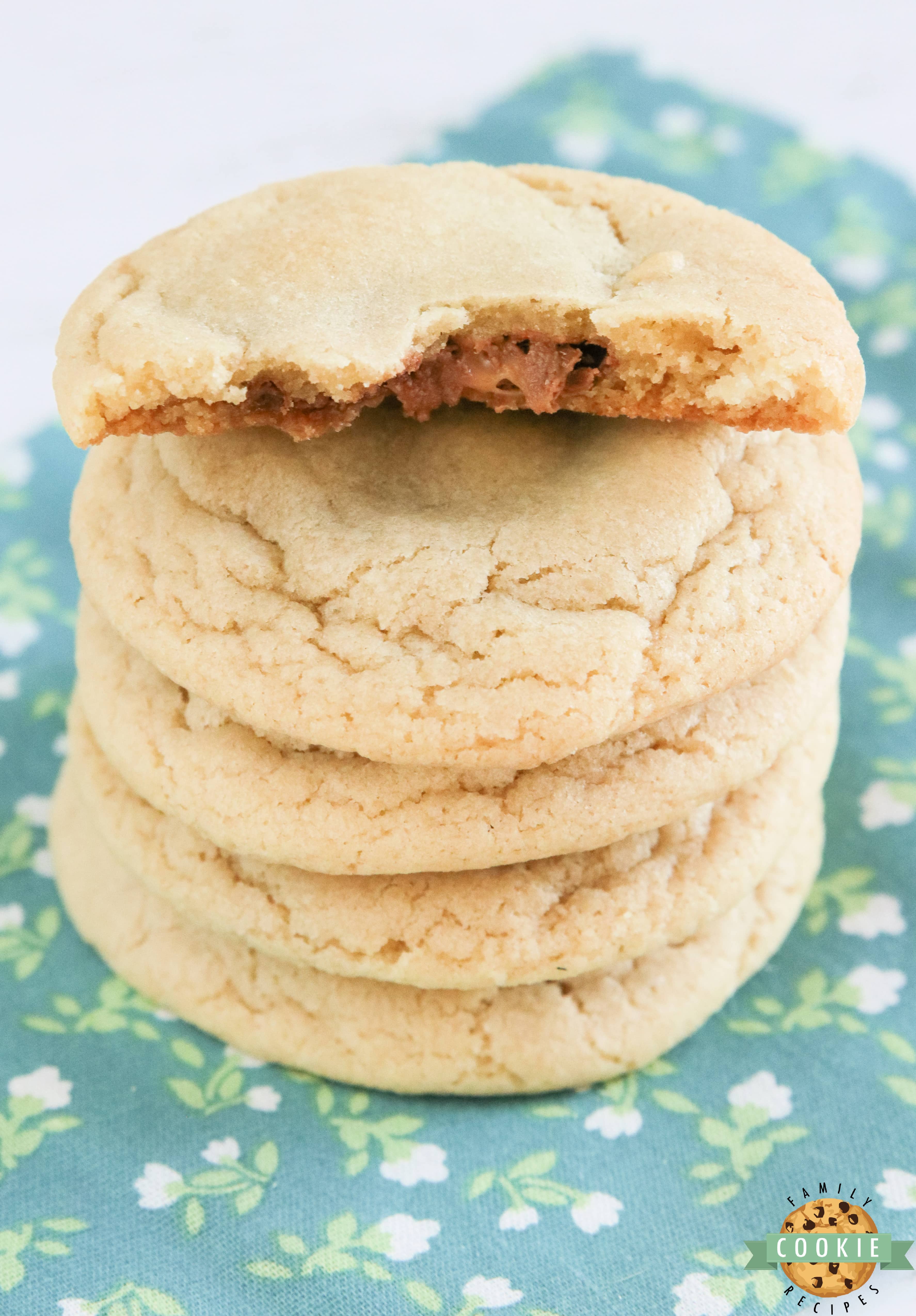 TIPS FOR MAKING THE BEST COOKIES
Do not melt the butter! The butter needs to be softened (at room temperature). Using melted butter will ruin the cookies. If you have time, just leave butter out on the counter for about 1-2 hours before making your cookies. If you are like me and don't plan your cookie cravings that far in advance, just place the butter in your microwave and soften in 5 second intervals, being very careful to pull it out before it melts. I actually like to use the defrost setting on my microwave to soften butter- I don't know the technical reasons behind it, but it seems to soften the butter more evenly and takes a little bit longer so I'm less likely to start melting it! 
Spend a little extra time when you mix the butter and sugars. Creaming them together for 2-3 minutes will improve the consistency of your cookies.
Preheat the oven. This will help your cookies turn out right every time!
Use parchment paper or a silicone baking mat. Doing this will make it really easy to remove the cookies from your cookie sheet so that you don't have to scrape them off the pan. They will just slide right off in perfect shape!
Make sure that you don't press the dough too thin. your sugar cookies out. You want the dough to be about 1/2″ thick after pressing it down.
Make sure not to over bake your cookies. They may not even look totally done on the tops, but if the bottoms barely start to brown, I take mine out and they are perfect!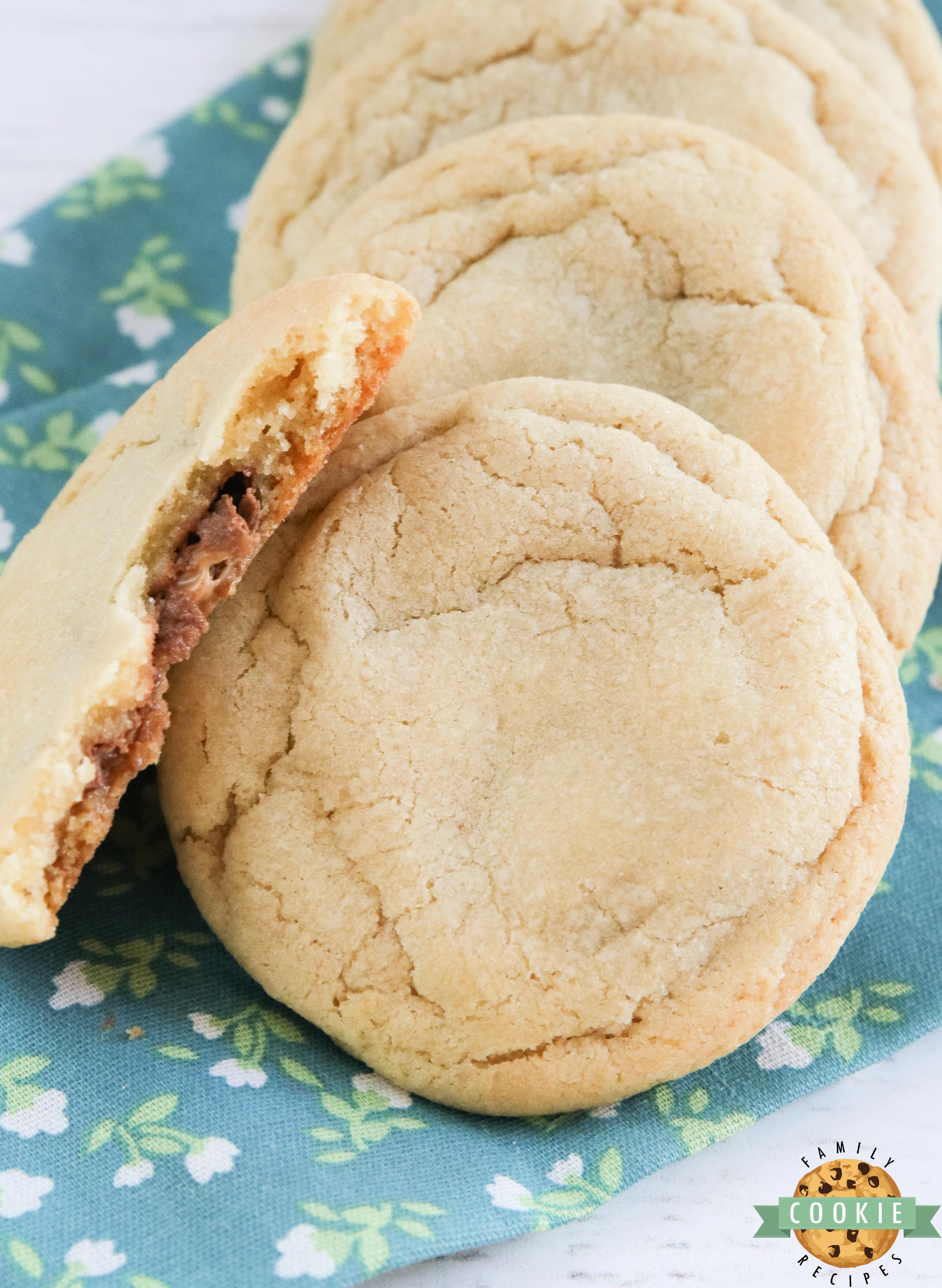 HOW LONG ARE STUFFED ROLO COOKIES GOOD FOR?
These cookies taste best the same day they are made but can last in an airtight container at room temperature for up to 2-3 days. After that, the cookies will begin to go stale.
WE'VE GOT PLENTY OF CANDY COOKIE RECIPES IF YOU NEED MORE IDEAS!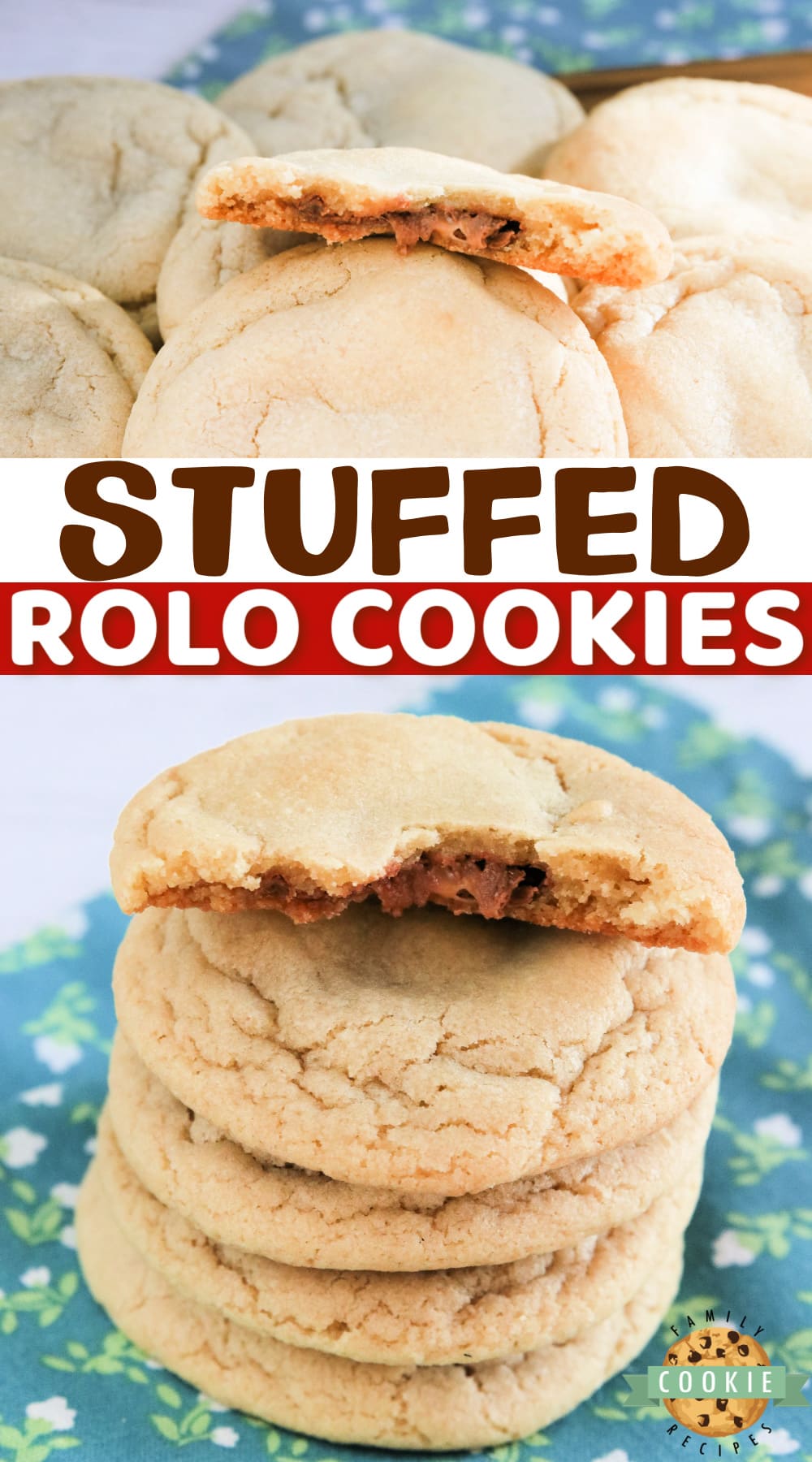 Stuffed Rolo Cookies are soft and chewy, with a melted Rolo candy in the center. Simple cookie recipe that is one of my all-time favorites!



Had to post this picture of my little Miss P today since it's her birthday. Can't believe this girl is 16!!! How in the heck did that happen? It's amazing to me to think back over the last 16 years…it's flown by but it also seems like she has been in my life forever and I can't even remember what life was like without her. She is so kind and talented and determined and it's been amazing to see her learn and grow and do so many awesome things. She is an excellent student, a fantastic athlete and an amazing musician as well – and no, I'm not just biased because I'm her mom! Happy Birthday kiddo!