Kit Kat Cookies for anyone who LOVES the chocolatey crisp of Kit Kats! These candy bar cookies are loaded with Kit Kats, chocolate Krispies & chocolate swirl!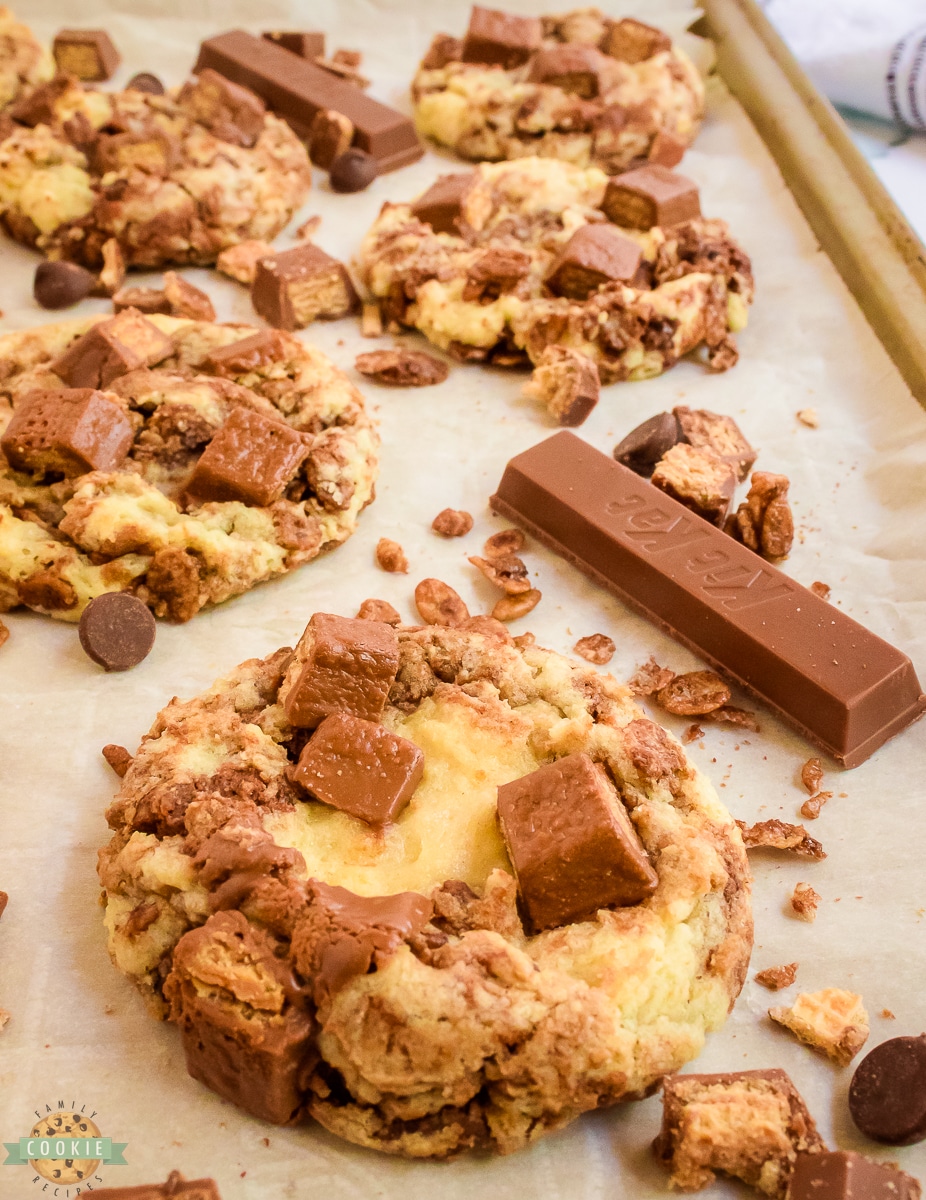 Let's put that Halloween candy to good use! My favorite thing about this candy bar cookie recipe is how uniquely crispy, crunchy, and soft these cookies turn out to be. Making cookies with kit kats has become my newest favorite way to enjoy this candy and have a baked treat as well.
Kit Kat Cookie Recipe
If you have never had cookies packed with kit kats then you are missing out! This recipe is pretty unique, which means it is extra special and worth giving a try. These cookies have a fudgy chocolate swirl, cocoa Krispies, and chunks of kit kat in every bite. This is a great way to use up leftover Halloween candy, Christmas stocking candies, or birthday piñata candy. You and your family will absolutely enjoy this sweet treat, the amazing combination of texture is swoon worthy.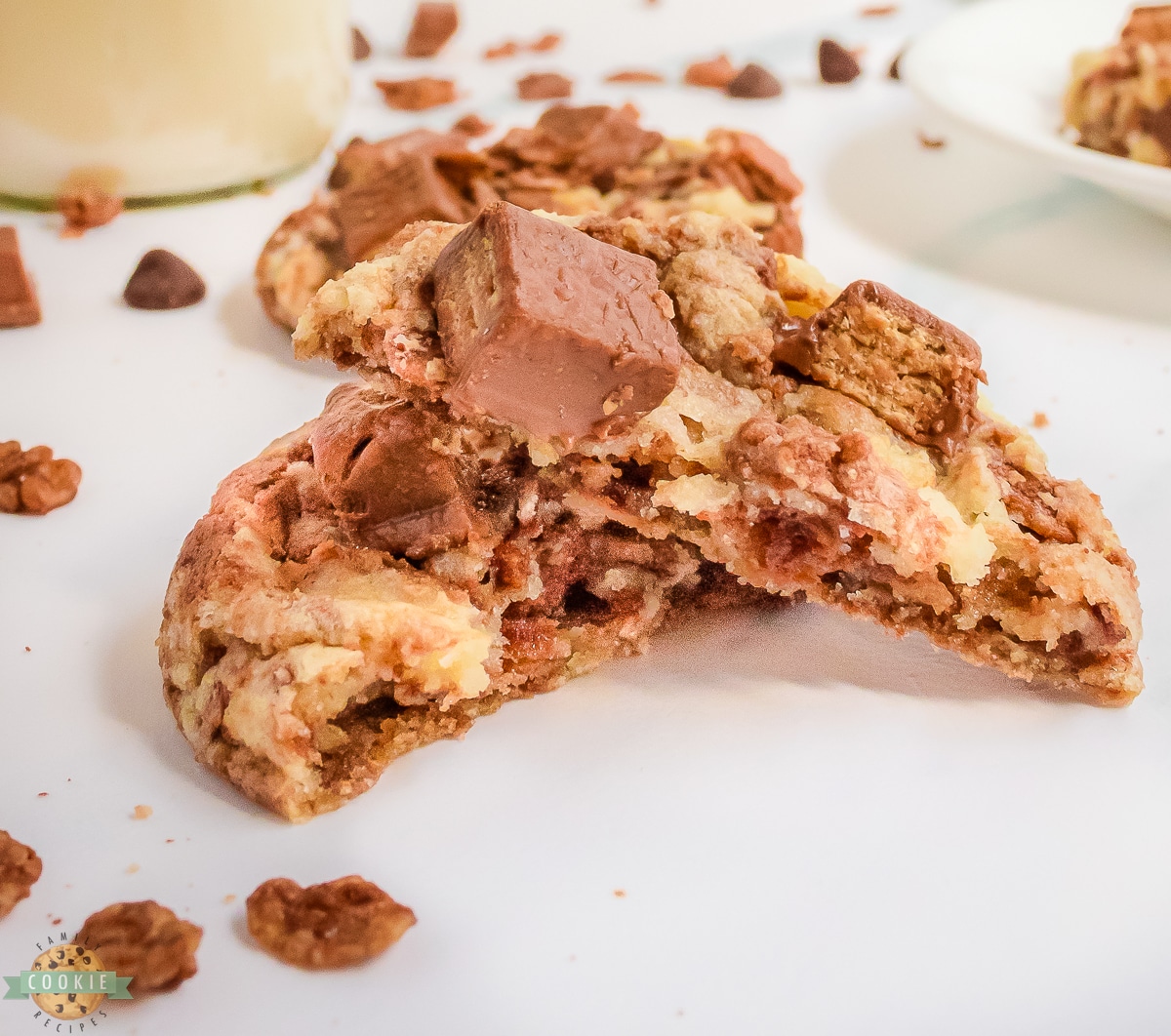 Why we think you will love this candy bar cookie
If you haven't already started gathering the ingredients, here are a few reasons that will convince you to give these cookies a try.
There is no dough chilling required! The cookies in the pictures show how they will turn out without the cookie dough being refrigerated. If you refrigerate the dough, the cookies may not spread out as much.
You can substitute other candy into this recipe! You could even add multiple different types of chocolate candy on top of the cookies, as you don't add the candy until the end, right before baking!
You can fully mix the melted chocolate into the dough for a chocolate Kit Kat Cookie instead of a chocolate spiral Kit Kat cookie. So they won't look like they do in the pictures, and they will taste more chocolatey all throughout the cookie than the recipe makes them. With slightly stirring in the melted chocolate, you get a chocolate swirl instead.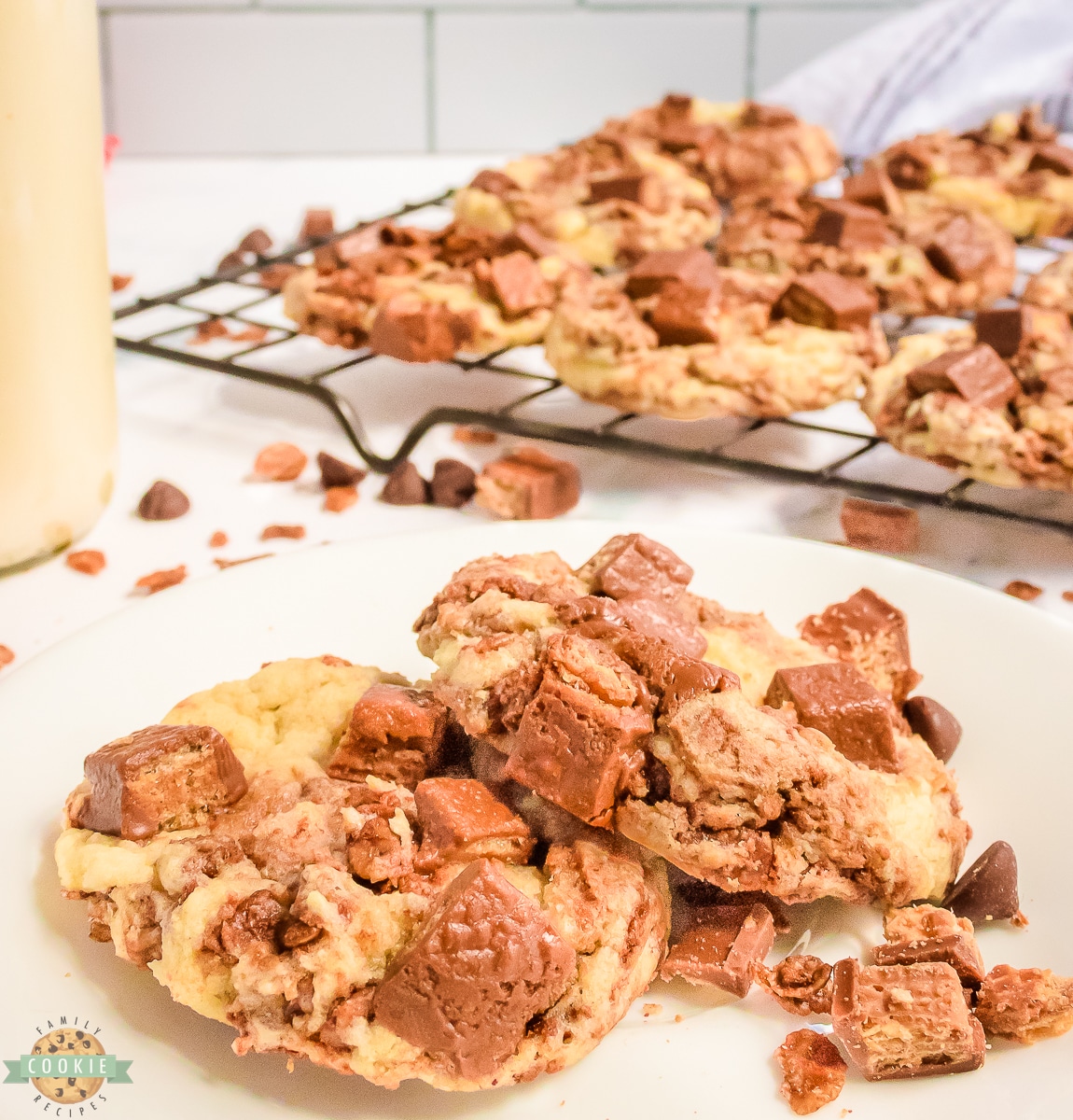 Ingredients
Butter: You will need ½ cup of softened butter for a nice rich cookie dough.
Sugar: Use ¾ cups of white granulated sugar to make the cookies chewy and sweet.
Vanilla extract: Adding in 2 teaspoons of vanilla extract will really help enhance the flavors in this amazing cookie.
Flour: You will need 1 ½ cups of all purpose flour for the base of this dough.
Leavening agents: Use 1 teaspoon of baking powder and ½ teaspoon of baking soda to make the cookies puff up nicely as they bake.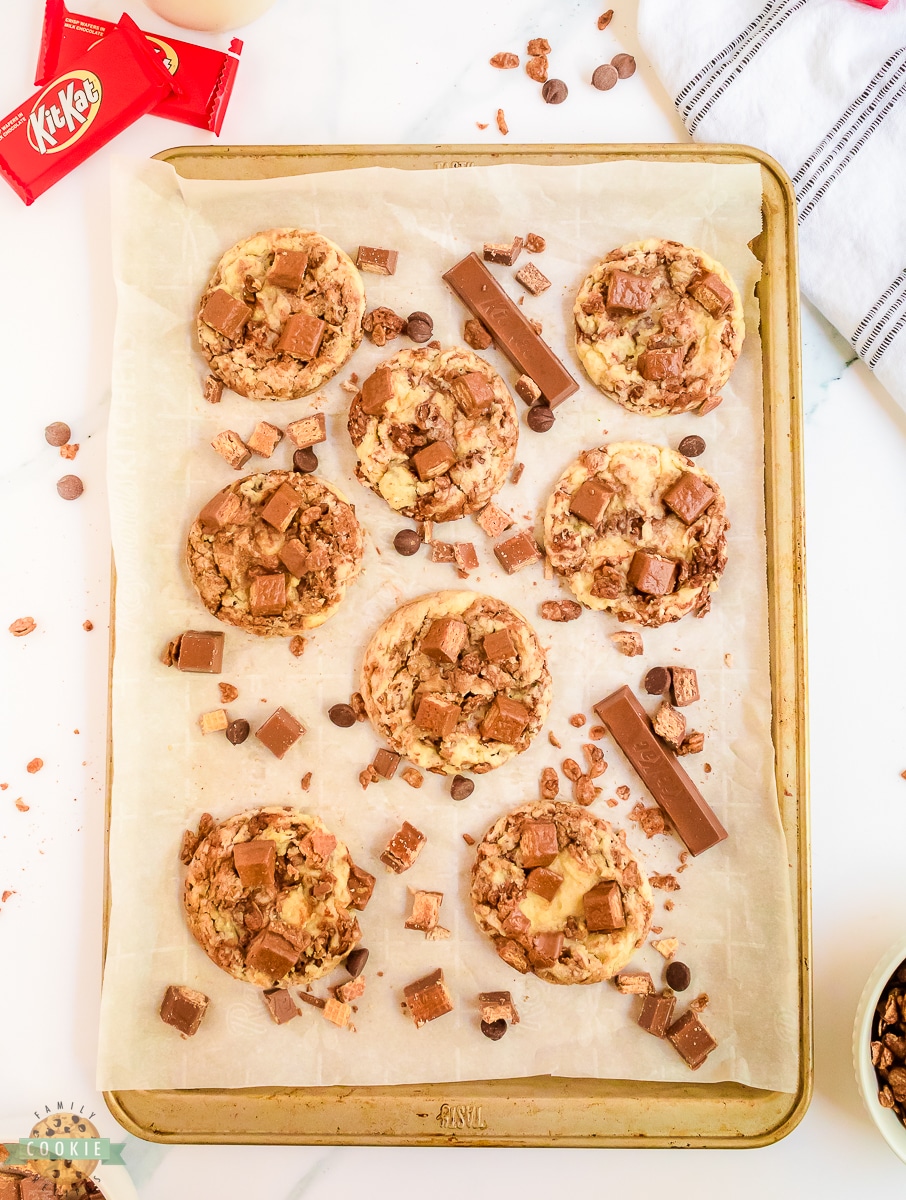 Salt: You will need ½ teaspoon of salt to balance the flavors in the cookies.
Chocolate chips: ⅓ cups of melted chocolate chips are needed for the rich chocolate swirl in the dough.
Cocoa Krispies: Use ⅔ cups of cocoa flavored rice krispies, this will add a nice subtle crunch in every bite.
Kit Kats: To ensure that there is enough candy to go around you, you will need 1 cup of chopped Kit Kat candy bars.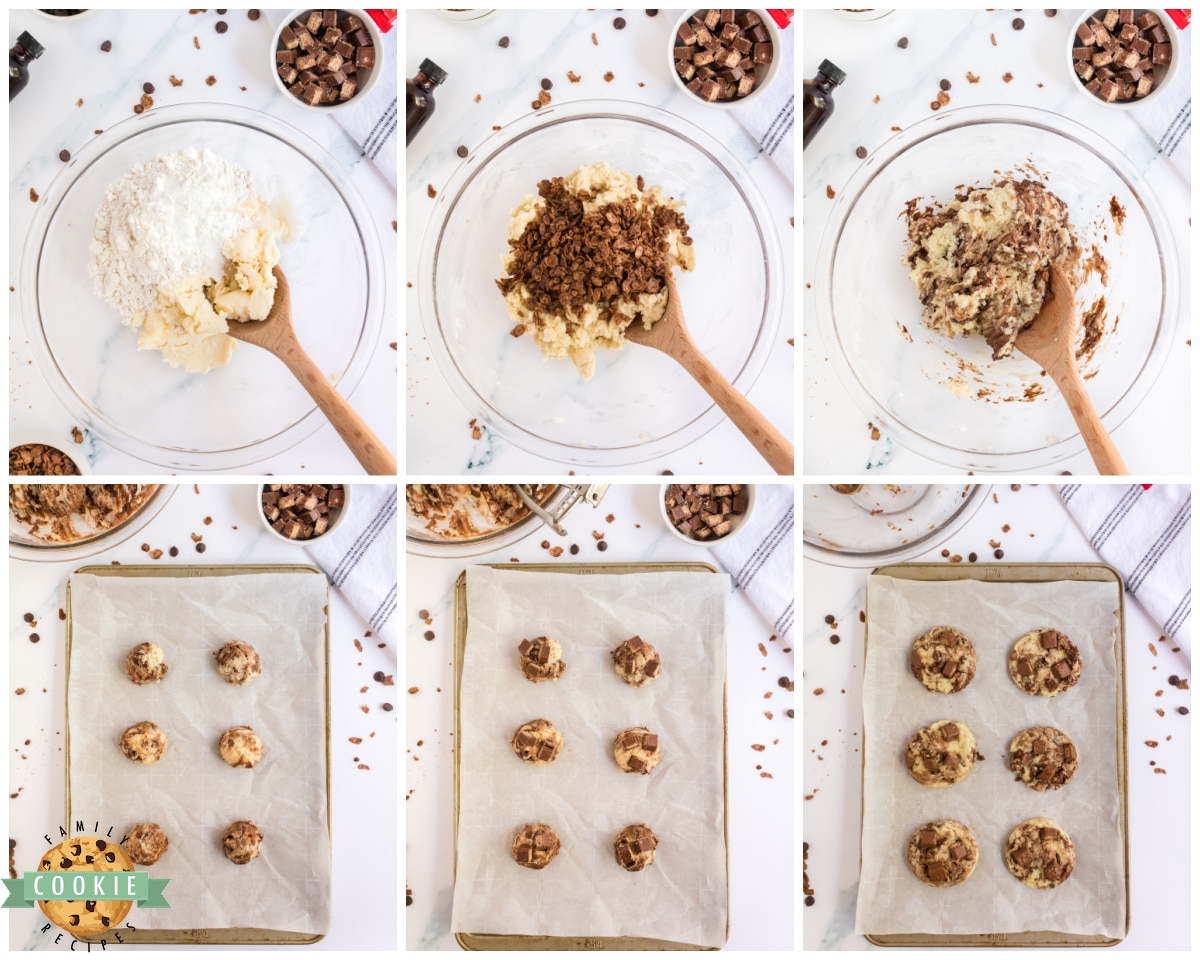 How to Make Kit Kat Cookies
Prep
Start by preheating the oven to 350 degrees F. Then line a baking sheet with parchment paper, a silicon mat, or spray with non-stick cooking spray.
Dough
In a mixing bowl, using an electric mixer, cream together the sugar and butter until well mixed. Then, stir in the vanilla extract until incorporated.
Next, add in the flour, baking powder, baking soda, and salt, mix just until combined.
After that, gently mix in the cocoa krispies.
In a separate small bowl, melt the chocolate chips in the microwave and then stir the melted chocolate into the dough slightly, but do not fully incorporate them. Stir just enough to create a swirl pattern.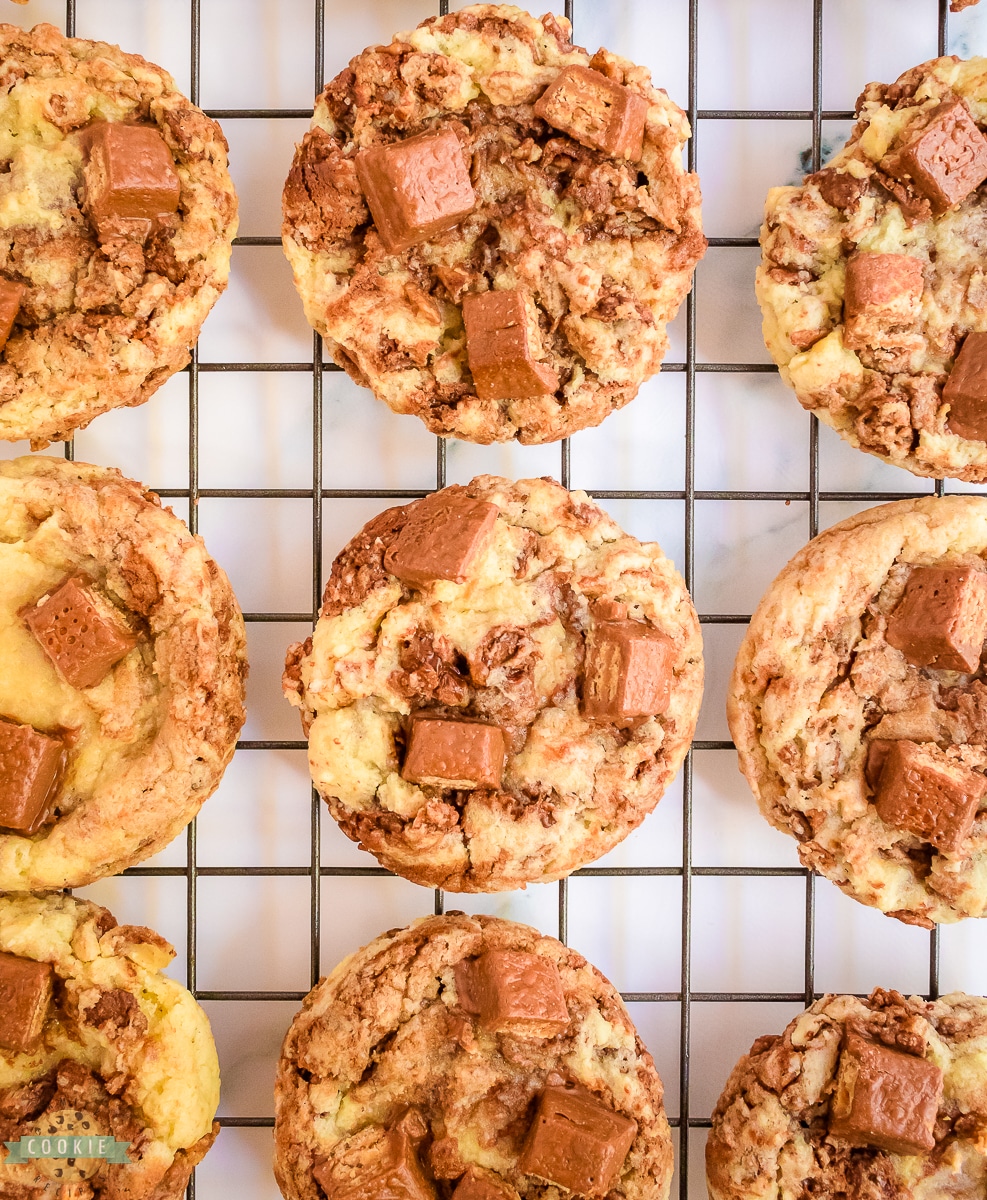 Proceed to use a cookie scoop and scoop the dough out onto the prepared baking sheet. The cookies will spread as they bake, so leave space between each scoop.
Lastly, top each cookie scoop with 4 to 5 pieces of Kit Kats. Just break each bar into small bite sized pieces that will fit nicely on top of the uncooked dough.
Bake
Place the baking sheet in the preheated oven and bake for 10 minutes.
Let the cookies cool for about 5 minutes before transferring to a wire rack to cool completely.
Serve immediately and enjoy!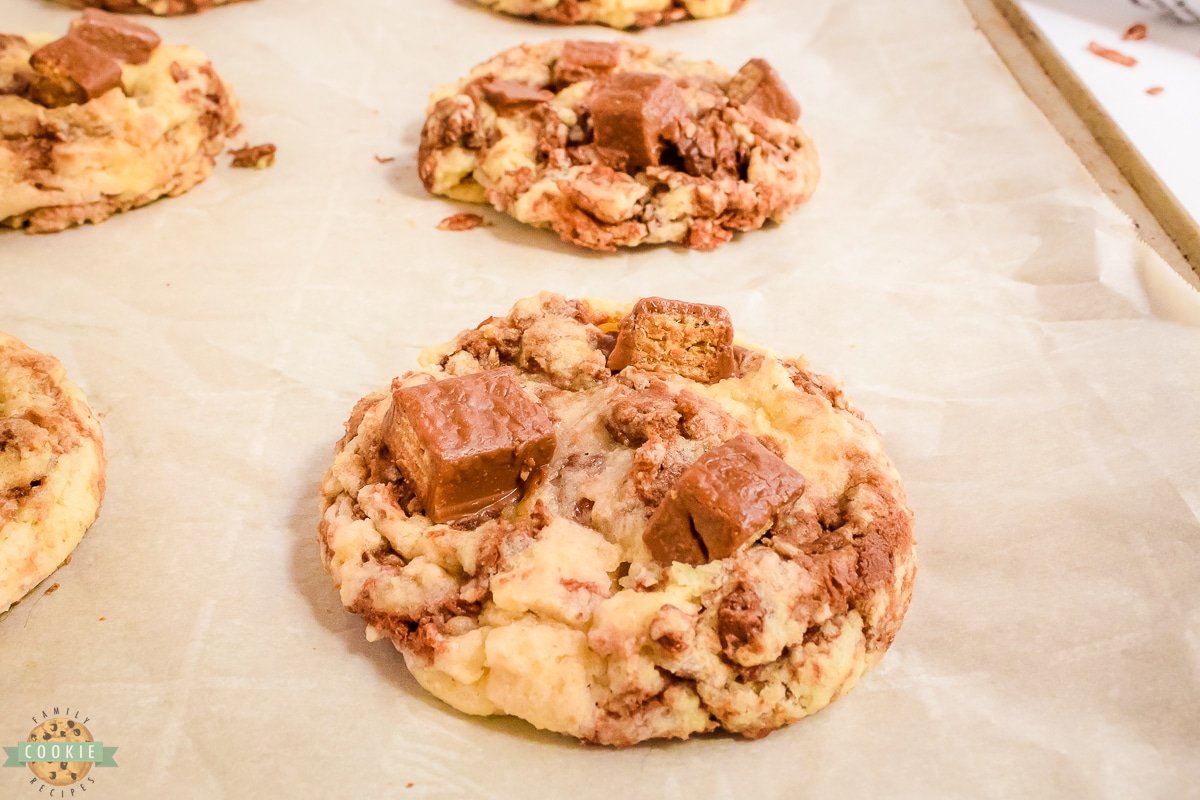 How to Melt Chocolate Chips
The easiest way to melt chocolate chips is to place them into a microwave safe bowl and to microwave in 30 second intervals. Stir well between each until the chocolate chips are smooth. This usually takes less than 2 minutes, but can be faster for smaller batches of chocolate.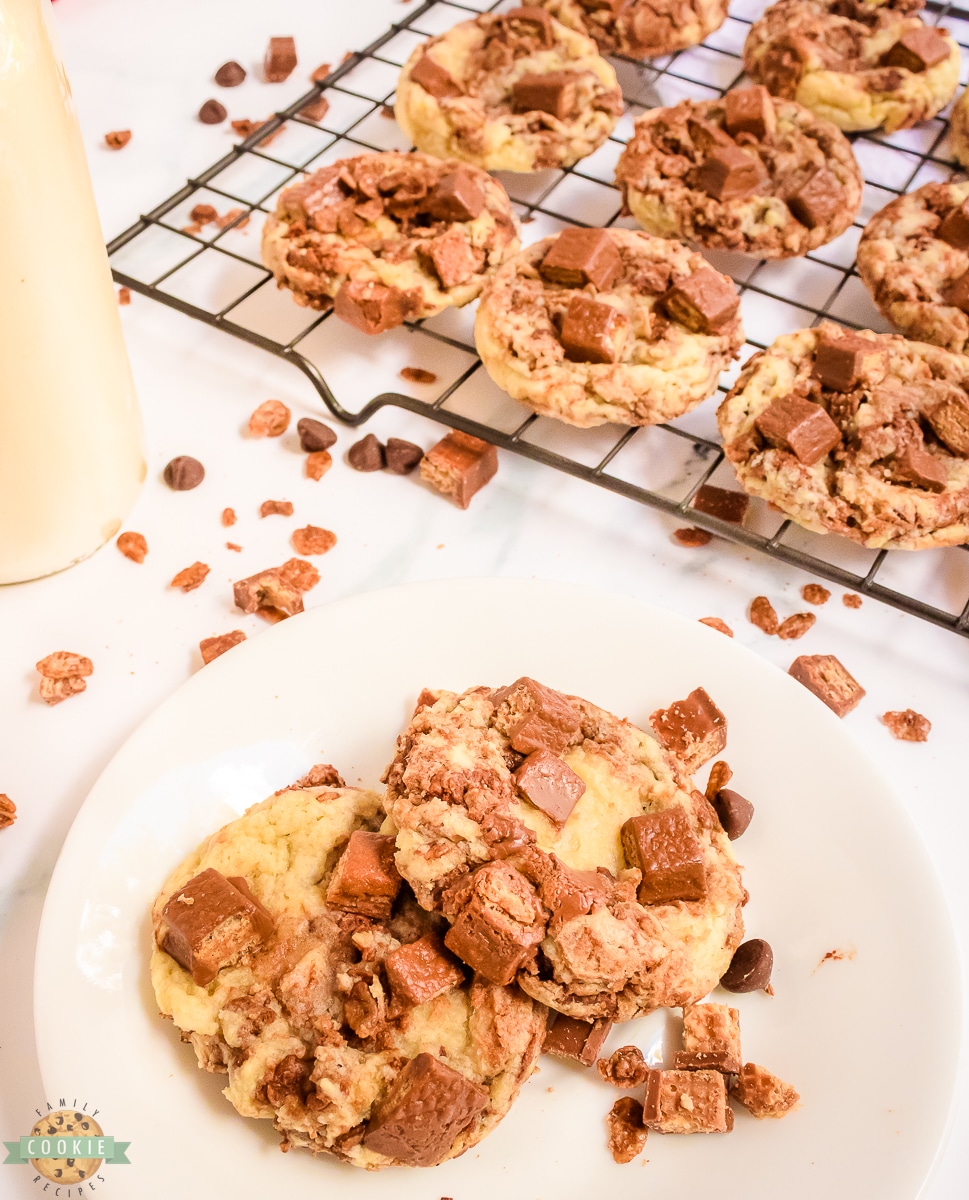 Baking Tips for Success
Do not overbake your cookies. When you pull your cookies from the oven, they may look soft and puffy, but they are finished cooking when the tops are no longer glossy. The cookies will set and finish cooking as they cool on the baking sheet.
Reheating the cookies. If you place your cookies on a plate in the microwave for about 10-15 seconds, you can recreate that fresh from oven taste the following day!
How long are kit kat cookies good for?
These cookies taste best the same day they are made but can last in an airtight container at room temperature for up to 2 days. After that, the cookies will begin to go stale.
Which cookie scoop do you use for these?
The cookie scoop used for this recipe holds about 2 tablespoons and makes 18 cookies. You can certainly use a different size cookie scoop or no scoop at all, but the size of the cookies and the number of cookies will vary.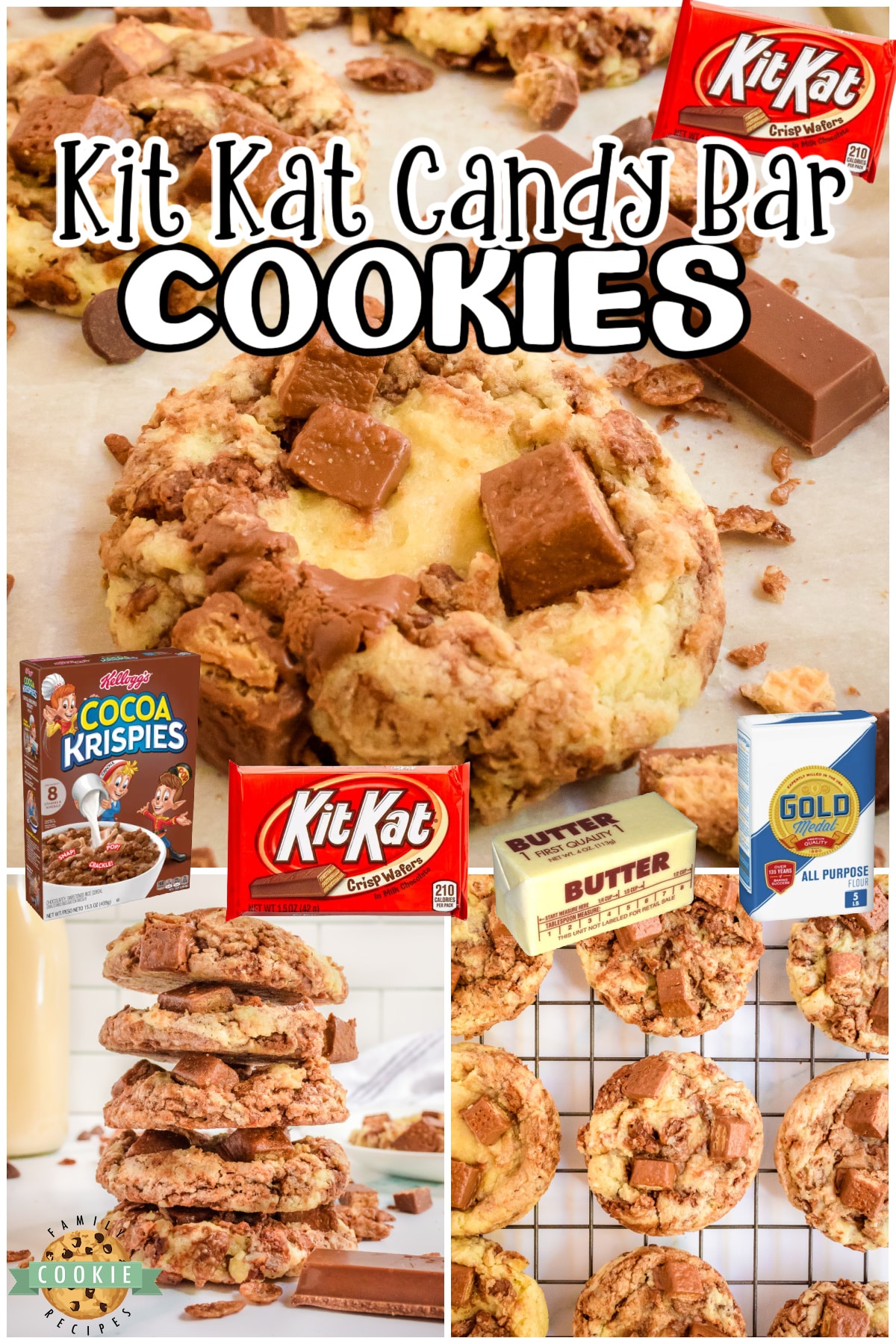 How to Make Better cookies
A few tips and tricks to making better cookies every time!
Use an Electric Mixer for Even Mixing
It's worth it to use an electric mixer! You can use a handheld one or a stand mixer; I prefer a stand mixer, but use what you have on hand.
Cream the Butter & Sugars for Longer
Spend a little extra time when you mix the butter and sugars. Creaming them together for 2-3 minutes will improve the consistency of your cookies.
Preheat the oven. This will help your cookies turn out right every time!
Cookie Scoops for Perfect Cookies
Use a cookie scoop! If you want all your cookies to be perfectly shaped and have them all be the same size, a cookie scoop is the way to go.
Make Sure your Cookies don't Stick to the Pan!
Use parchment paper or a silicone baking mat. Doing this will make it really easy to remove the cookies from your cookie sheet so that you don't have to scrape them off the pan – they will just slide right off in perfect shape!
Take them out of the oven Earlier
Make sure not to overbake your cookies. They may not even look totally done on the tops, but if the bottoms start to brown, I take mine out and they are perfect!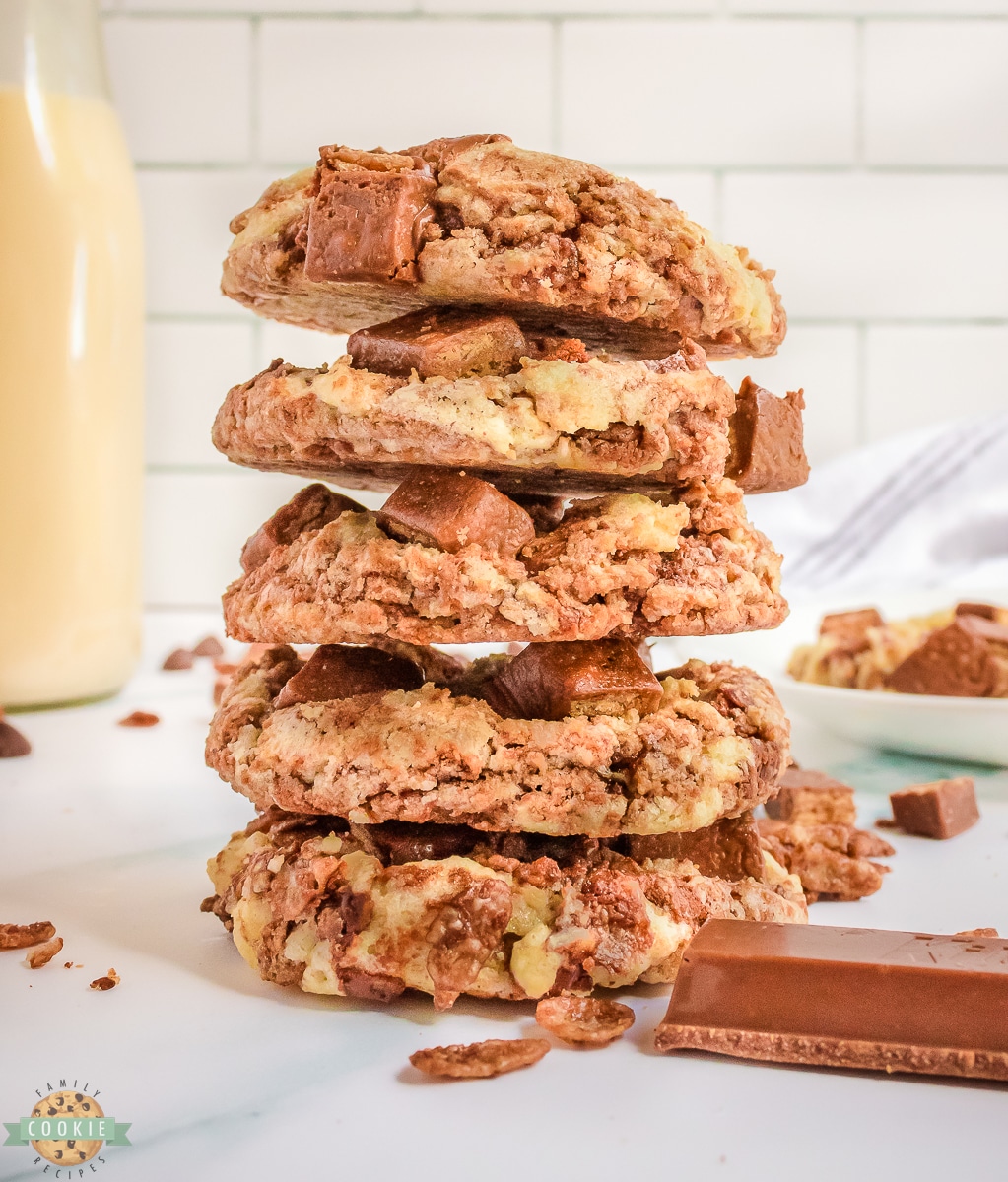 We've got plenty of candy cookie recipes if you need more ideas!


My son is serving a religious mission right now oh about 6,000 miles away in Argentina! I miss him. But each time I get a letter or a picture, I'm just so thrilled for him and what he's doing! But I still miss him. (He's the one on the right.)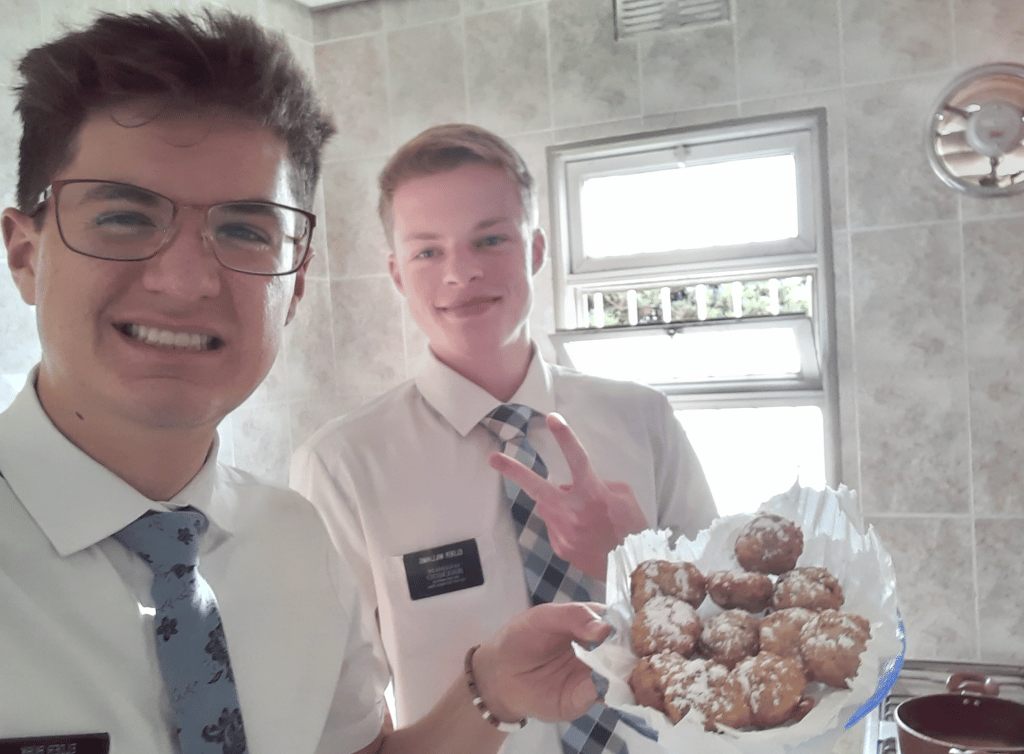 Kit Kat Cookies are loaded with crunchy bits, chocolate swirl, and chunks of this amazing candy bar! These candy bar cookies are great for many occasions, are delicious, and you are sure to enjoy them to the last crumb.