M&M Cookie Pizza is soft, chewy and covered in chocolate. This skillet cookie recipe is easy to make completely from scratch and everyone will love it!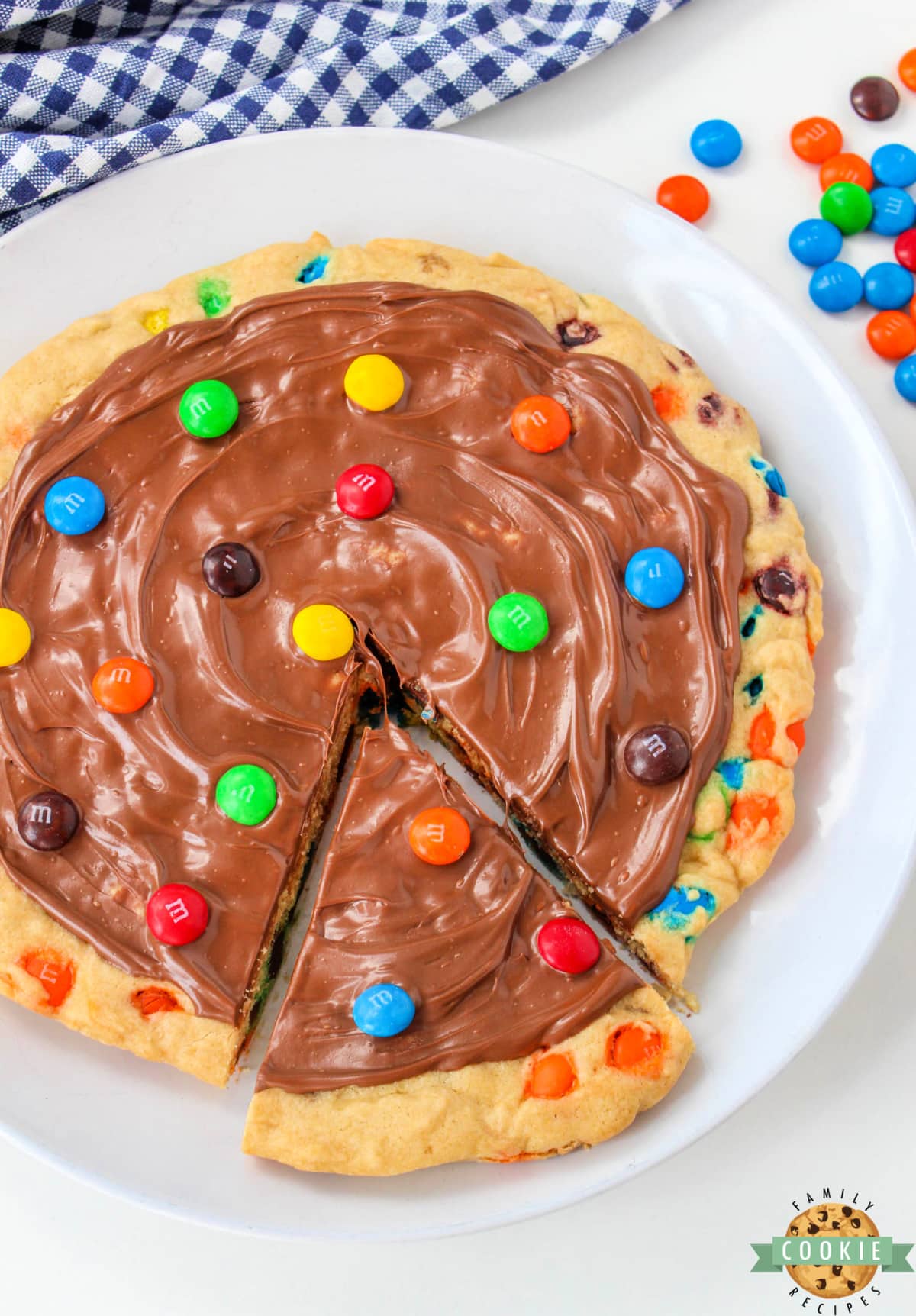 Dessert pizzas are typically made with cookie dough that is baked and covered with some type of frosting and toppings. Cookie pizzas are made with minimal ingredients and little prep work – they come together quickly and get devoured just as fast. This dessert pizza is a great recipe to make when you are entertaining, you can cut it into slices and everyone can grab a slice to enjoy!
M&M Cookie Pizza
This skillet cookie pizza is made with a homemade cookie dough that is mixed with M&Ms. Once the cookie is baked, it is coated with melted milk chocolate and then more M&Ms are sprinkled on top. Slice and serve the dessert pizza with a glass of milk…or a scoop of vanilla ice cream.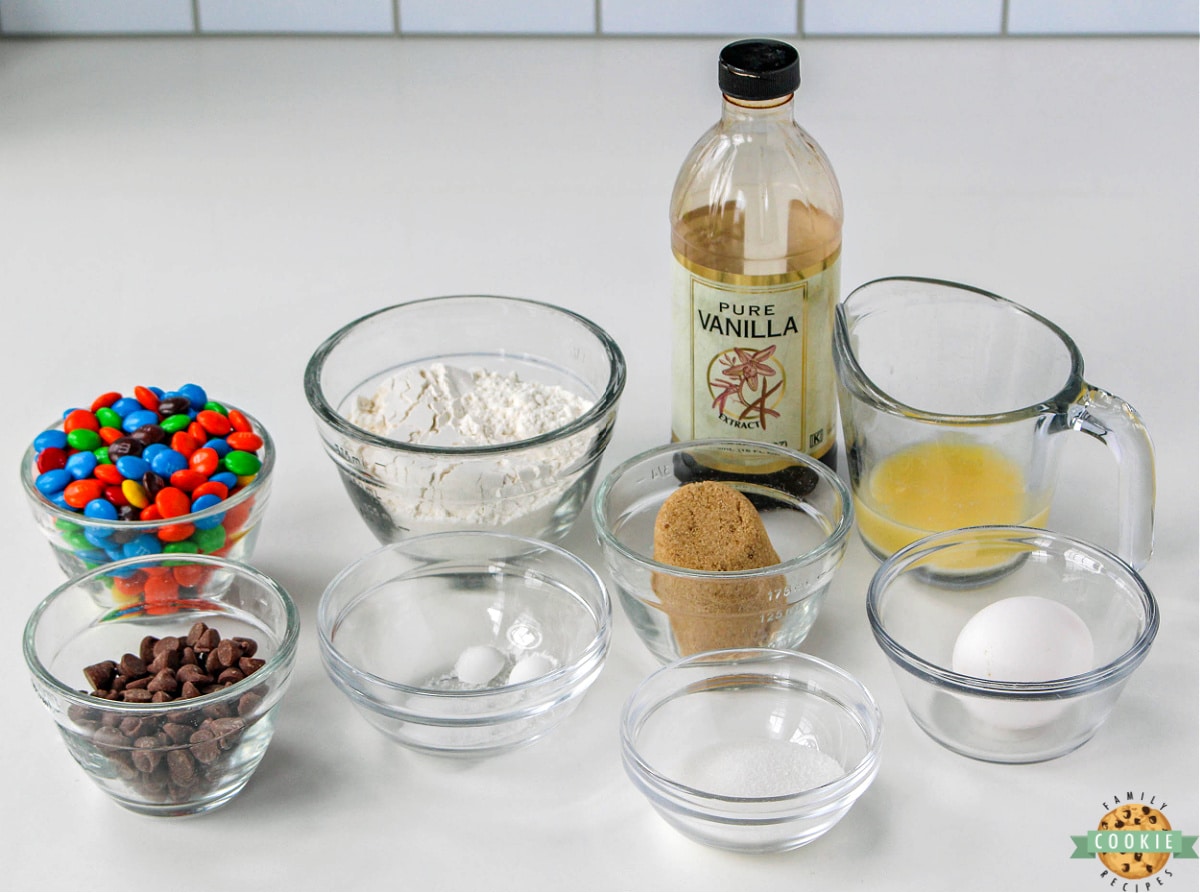 Ingredients in M&M Cookie Pizza
Flour – All-purpose flour works best.
Baking powder – Just 1/2 teaspoon of baking powder acts as the leavening agent in the cookie pizza, so for best results, make sure it isn't old or expired.
Salt – Just a little bit of salt will help all of the other flavors to pop.
Butter – You will need 1/4 cup of melted butter for the cookie dough. Real butter definitely works best!
Brown sugar – For best results, make sure that your brown sugar is soft and fresh.
Sugar – You only need 2 tablespoons of granulated sugar to add a little bit of extra sweetness to the cookie.
Egg – One large egg will help to bind everything together.
Vanilla extract – The higher the quality of the vanilla, the better.
M&Ms – You will need about a cup of M&Ms, but only about 3/4 of them will be mixed into the dough. Make sure to reserve the rest to sprinkle on top. You can use regular M&Ms or any of the dozens of variations there are. I actually love to use mini M&Ms!
Milk chocolate morsels – You only need about 1/4 cup of milk chocolate chips to melt down to spread on the top of the cookie pizza. Milk chocolate pairs so well with the M&Ms, but if you prefer, you can swap them out with any other type of chocolate.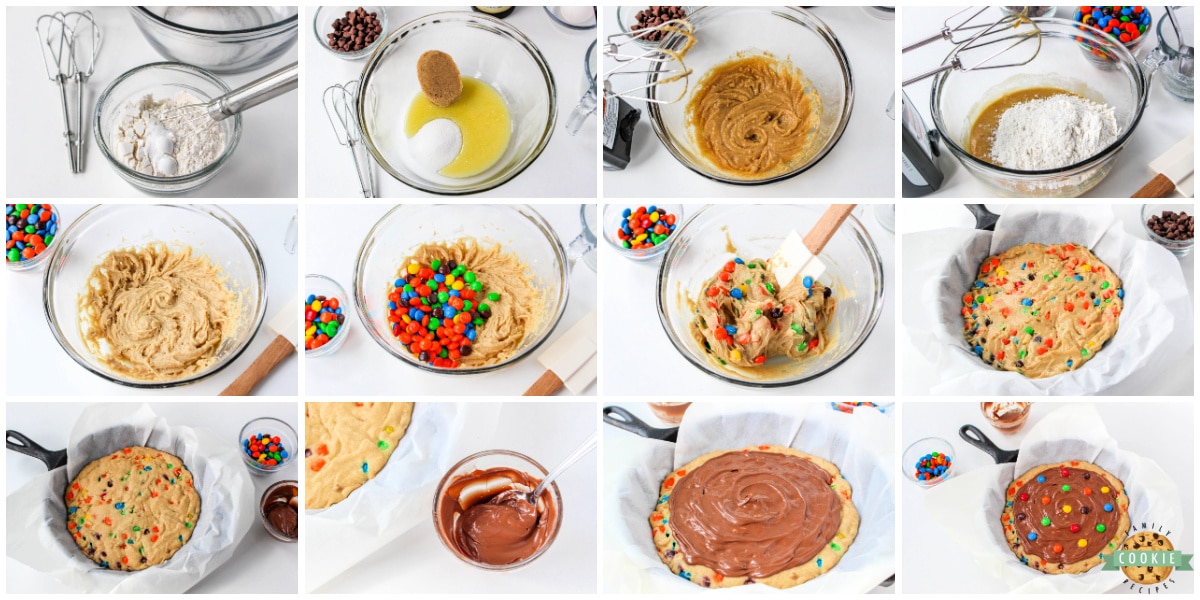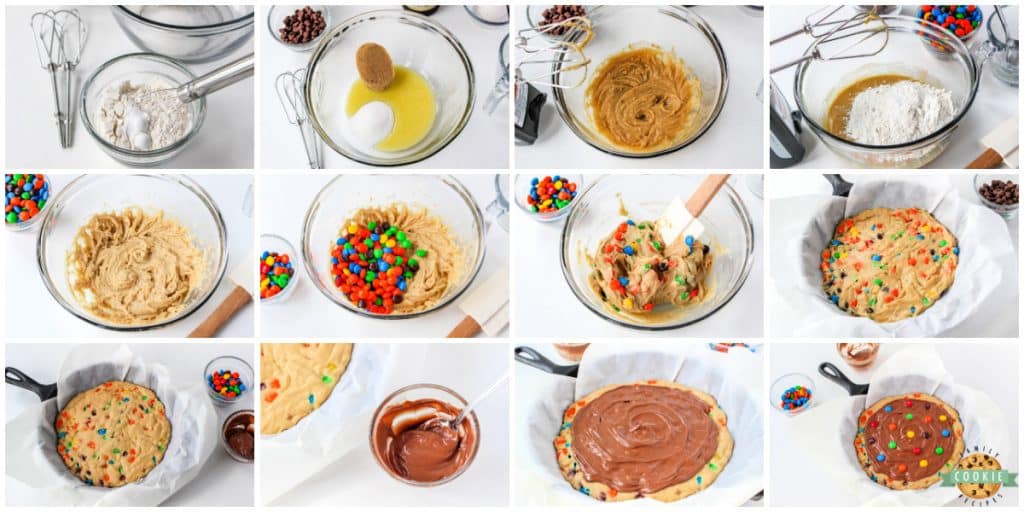 How to make M&M Cookie Pizza
Preheat the oven to 350°. Prepare an 8 inch cast-iron skillet with parchment paper.
In a small bowl, whisk together the flour, baking powder, and salt.
In a mixing bowl, beat together the melted butter and sugars. Add the egg and vanilla, beating until well blended.
Add the flour to the sugar mixture and mix until combined.
To the batter, stir in ¾ cup of the candies.
Press the dough into the prepared skillet.
Bake the cookie for 15 to 20 minutes or until the edges are lightly golden brown and the top of the cookie is set. Place the skillet on a wire rack and let it cool for 10 minutes.
To melt the chocolate, place the milk chocolate morsels into a microwave-safe bowl. Heat on high for 30 seconds. Stir well and repeat for 15 seconds, stirring after each heating cycle, until the chocolate is melted.
Spread the melted chocolate over the cookie and press the remaining M&Ms into the chocolate.
Let the cookie pizza rest for 15 to 20 minutes or until the cookie is completely cooled and the chocolate is set.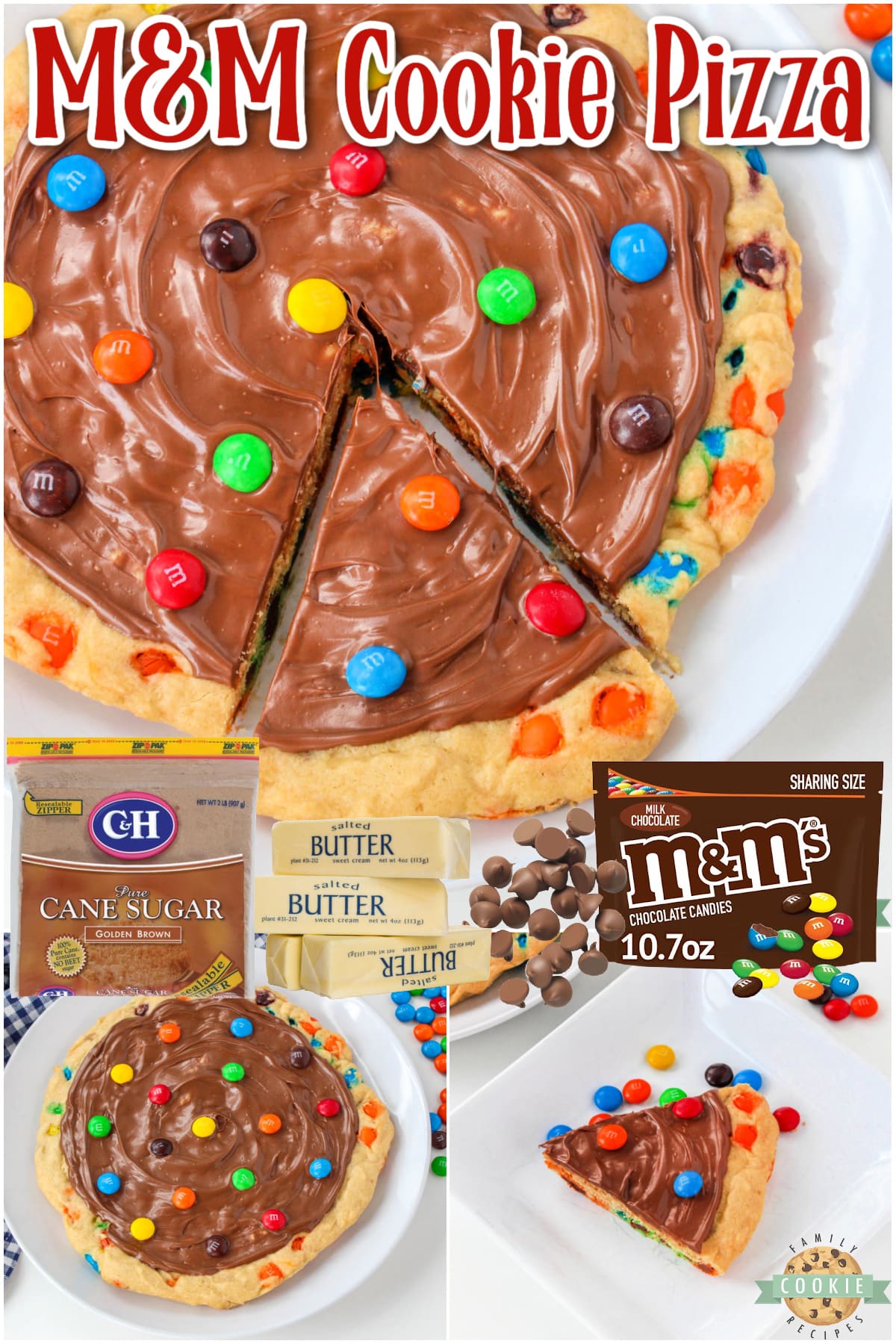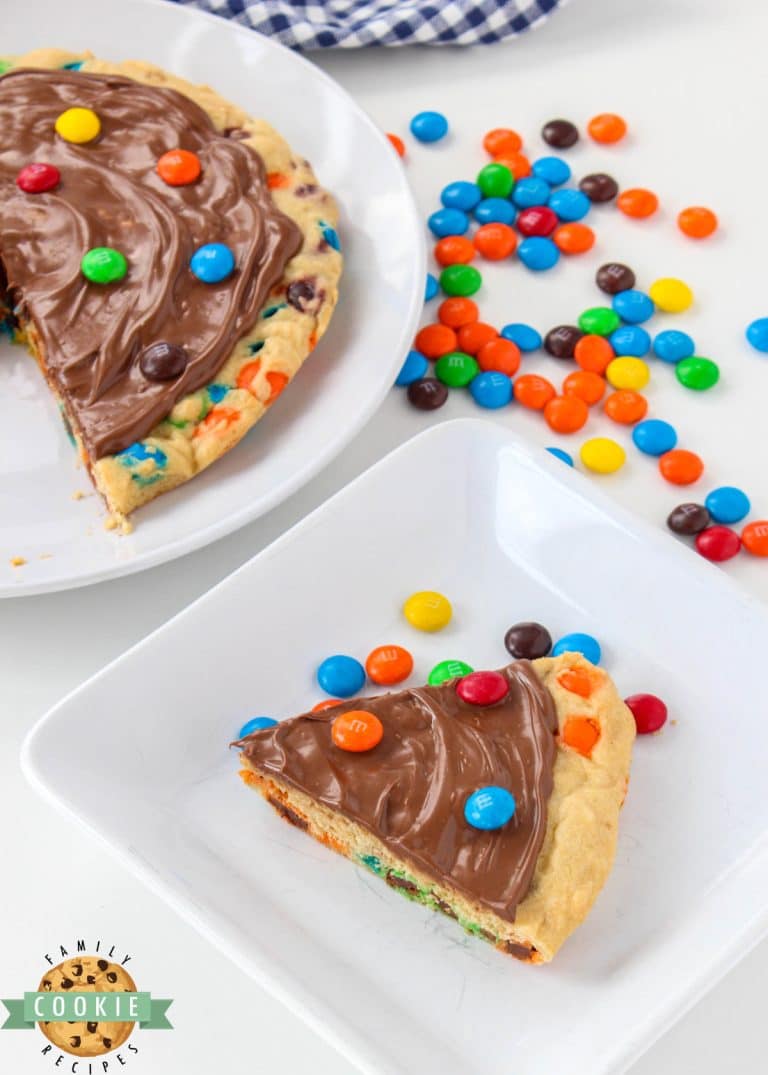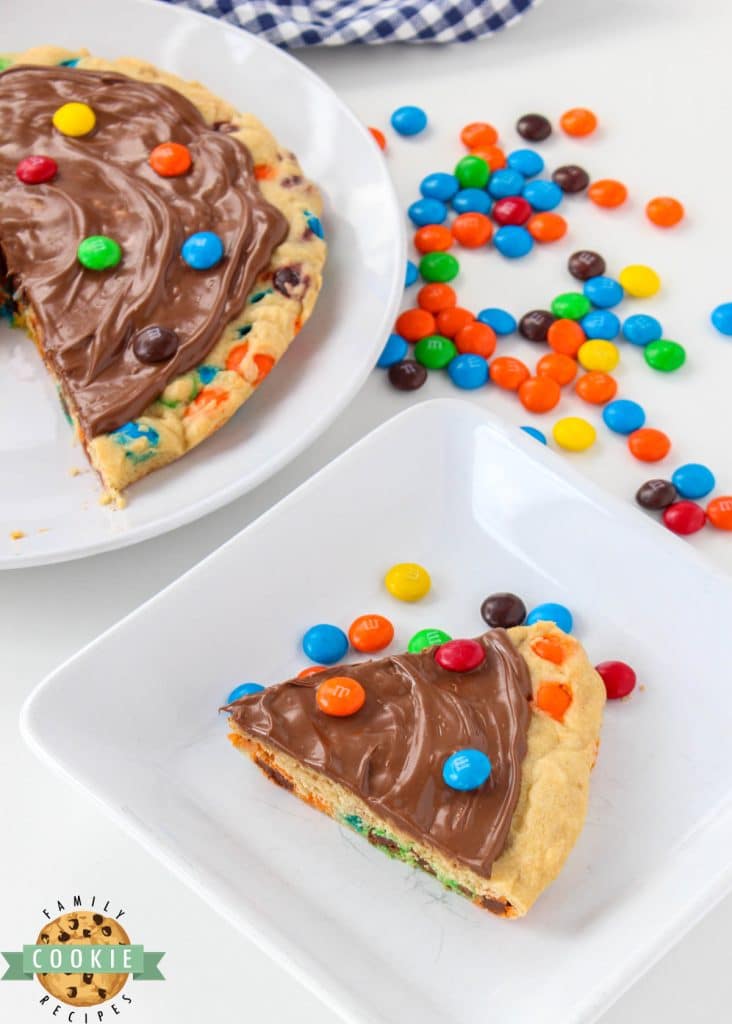 MORE DESSERT PIZZA IDEAS
Dessert pizzas are easy to switch up and there are so many variations to try!
–Change the crust: You can use any type of cookie dough for the crust. Peanut butter, chocolate, sugar cookie…they all work great! You can also use pre-made dough from the store to save some time.
–Change the candy: We love M&Ms, but you can use any type of candy! Snickers, Reese's, chopped Kit-Kats, diced Rolos, Oreos…the possibilities are endless!
–Change the chocolate: The recipe calls for milk chocolate, but you could use semi-sweet chocolate, white chocolate, chocolate mixed with peanut butter, dark chocolate…pretty much anything you could melt would work.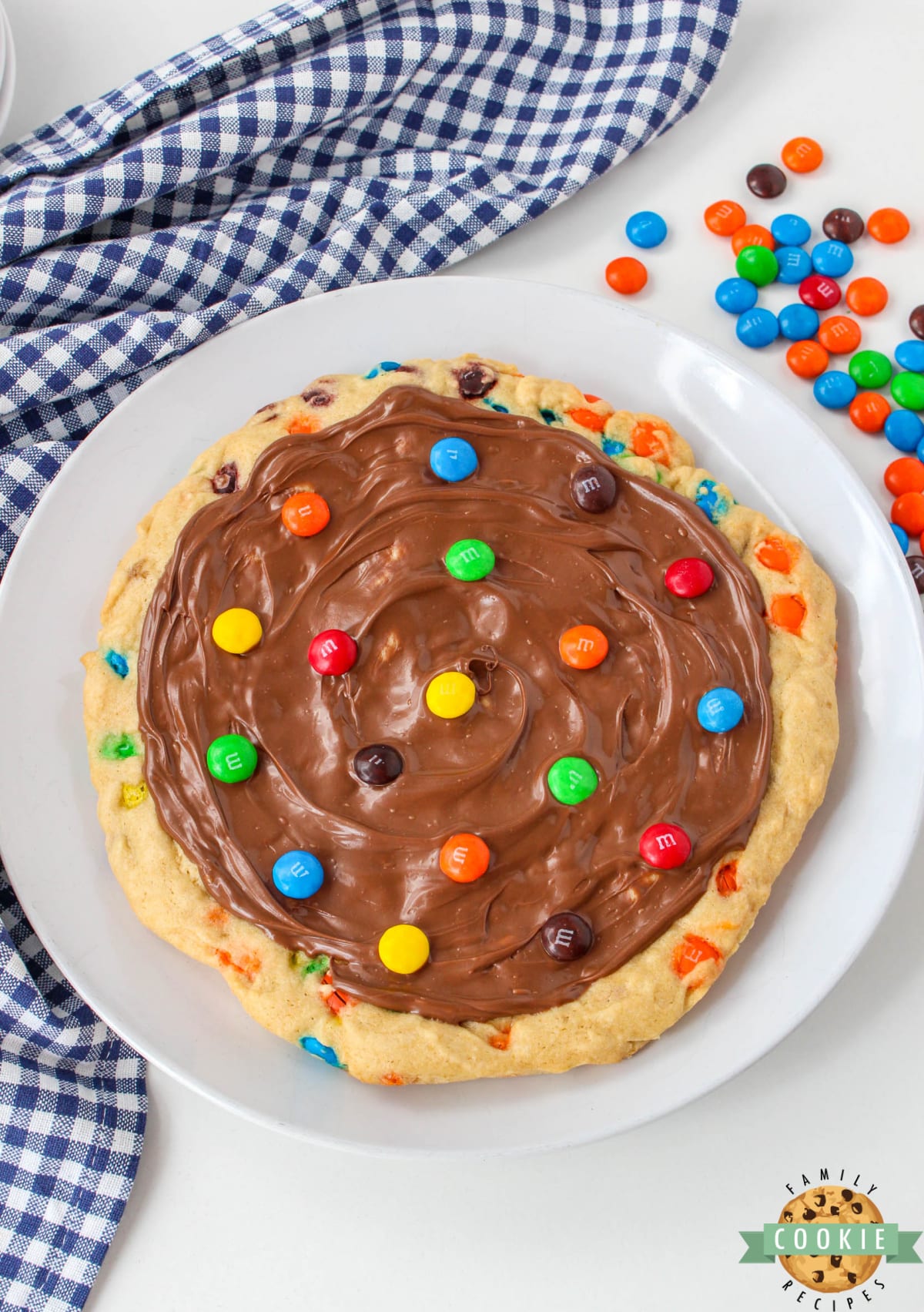 TIPS FOR RECIPE SUCCESS
Here are a few tips to create the most amazing dessert pizza ever.
You can substitute the homemade cookie dough with store-bought chocolate chip cookie dough. Just let it warm up enough to be able to mix the M&Ms into the dough before baking and make sure to monitor the timing for baking as it may need more or less time.
This pizza will keep well up to 3-4 days at room temperature if wrapped in a double layer of Saran wrap.
If you are making this recipe with kids, they can help press the dough in the pan and sprinkle the M&Ms on top too. My kids love making "treat pizzas" and we often have them as a dessert on the nights we have regular pizza for dinner!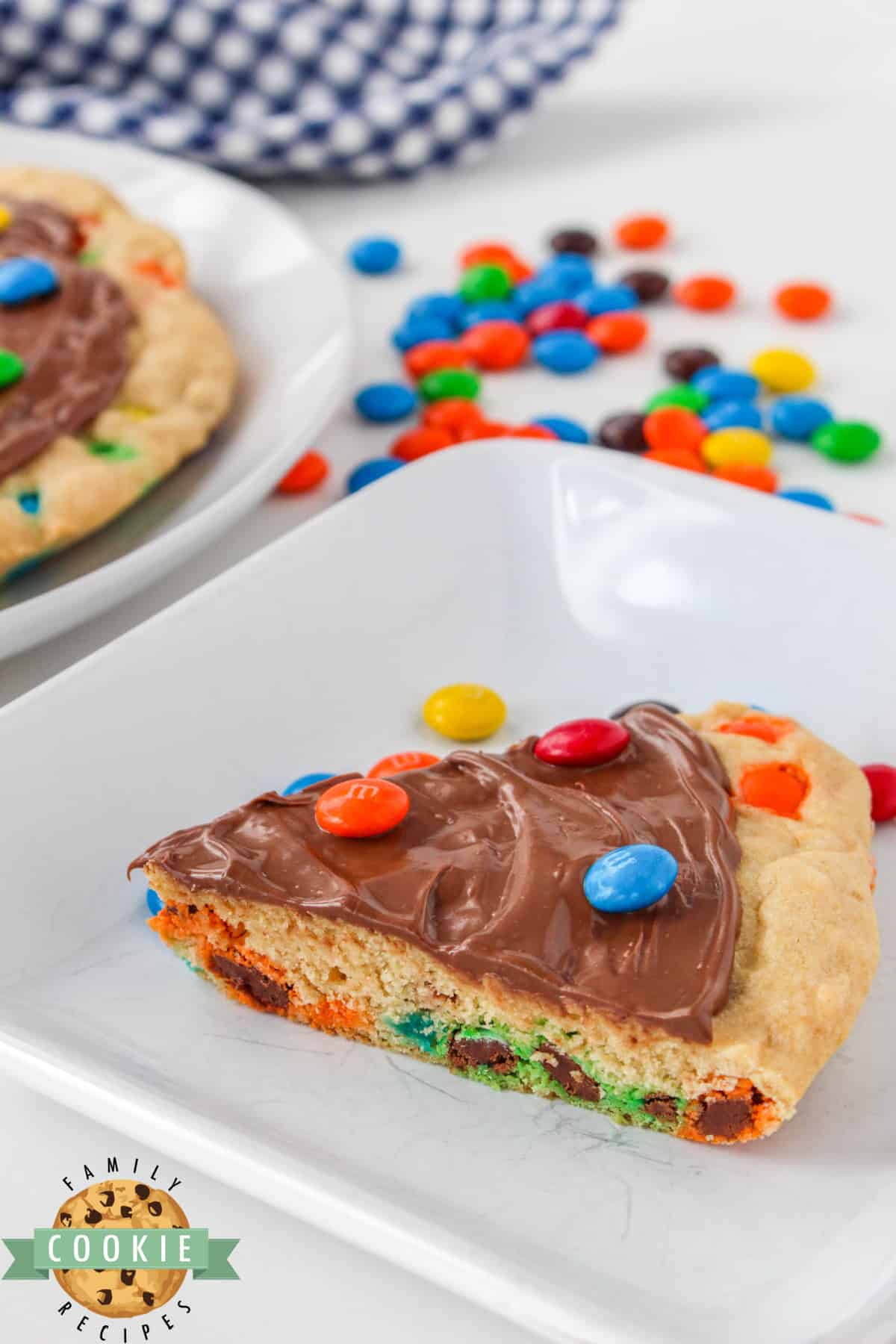 HOW DO YOU STORE DESSERT PIZZA?
This cookie pizza keeps well at room temperature in an airtight container. It is best when served the same day it is made, but should stay soft and fresh for at least a couple of days.
CAN I FREEZE THIS FROSTED COOKIE PIZZA?
Yes and no. You can freeze the actual cookie itself, but I would hold off on adding the milk chocolate and M&Ms on top. The cookie will freeze well and be good for up to three months. When you are ready to create the pizza cookie, melt the chocolate and then sprinkle the M&Ms on top.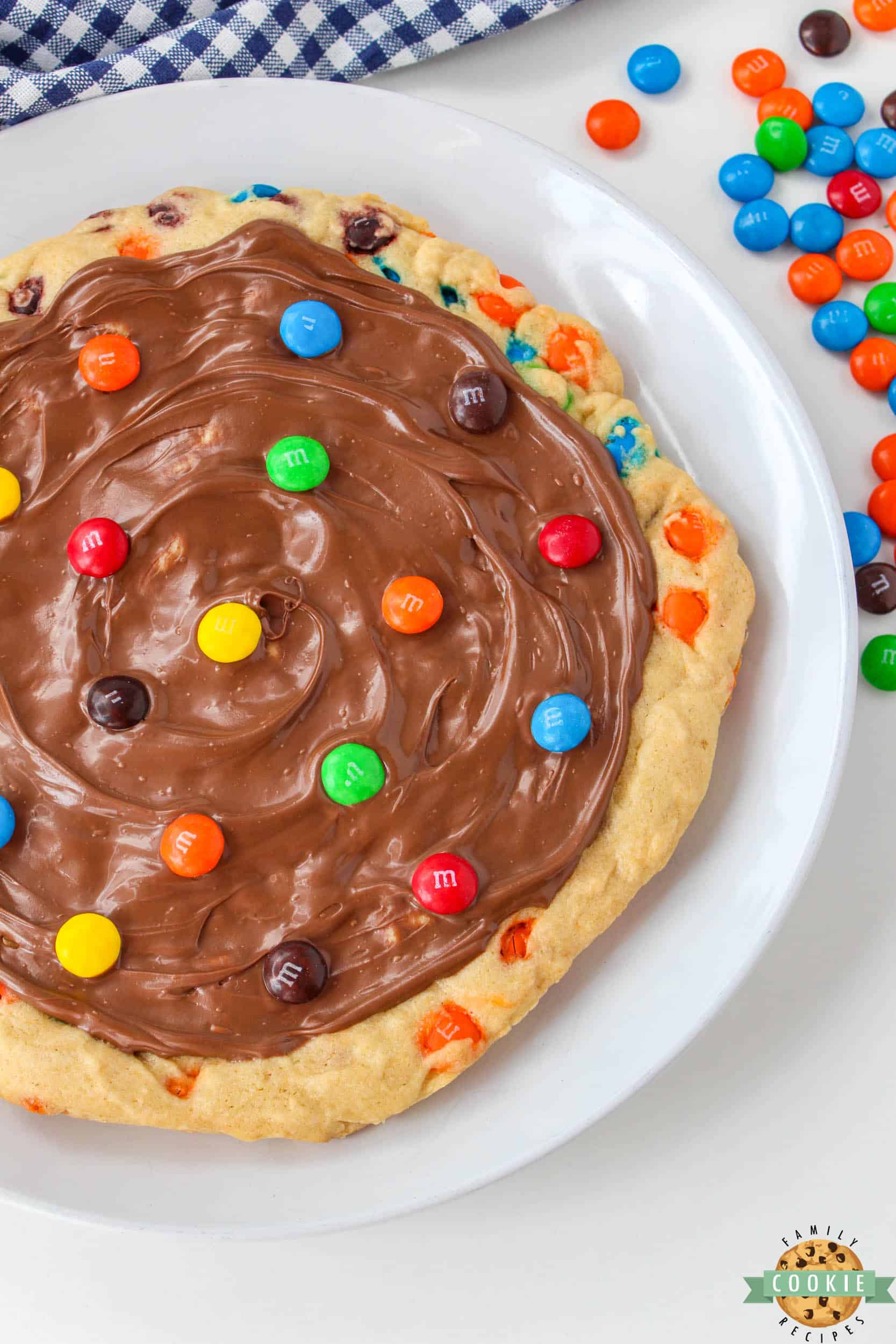 MORE OF OUR FAVORITE COOKIE RECIPES: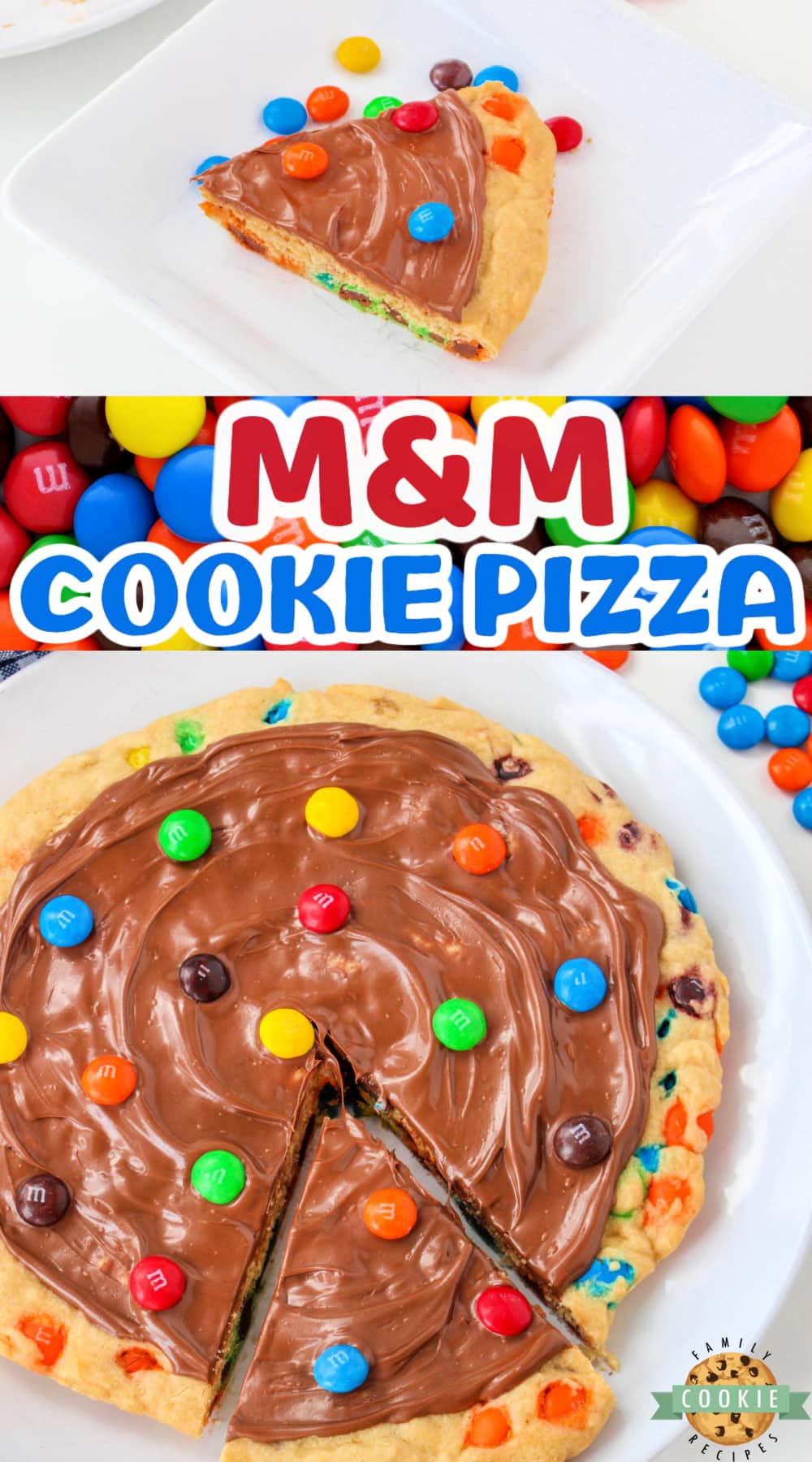 M&M Cookie Pizza is soft, chewy and covered in chocolate. This skillet cookie recipe is easy to make completely from scratch and everyone will love it!



Our local grocery store recently began carrying these massive balloons and little Miss B loves them! Of course she really loved this Elsa one…personally, I think it's a little creepy. 😳 And I'm really trying to understand why someone would spend like $30-$40 on a balloon?!?! At least they give my child something to look forward to every time we go to the grocery store.