Gingerbread House Cookies made with gingerbread cookies, gum drops, and peppermint candies. If you can use it to decorate a gingerbread house with, you can put it in these cookies!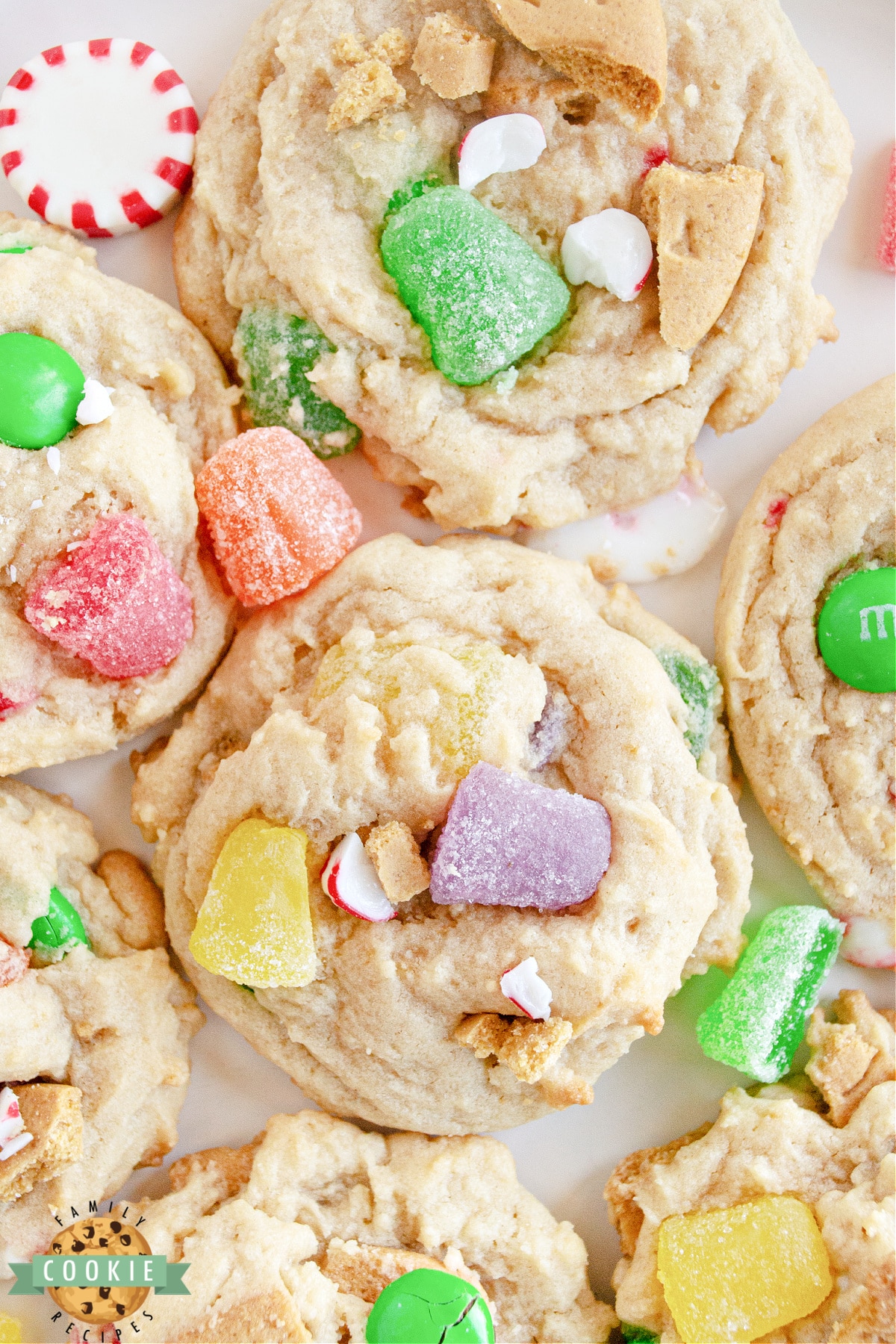 Our family makes gingerbread houses every year around Christmas, and it is a tradition that we all love. Don't get too impressed – we usually cheat and make the kind with graham crackers instead of real gingerbread. The problem is that the kids want to eat the houses, sometimes even before they are done. I like to keep the completed gingerbread houses out for decorations, and usually the glue-strength icing that we use is functional, but not the tastiest.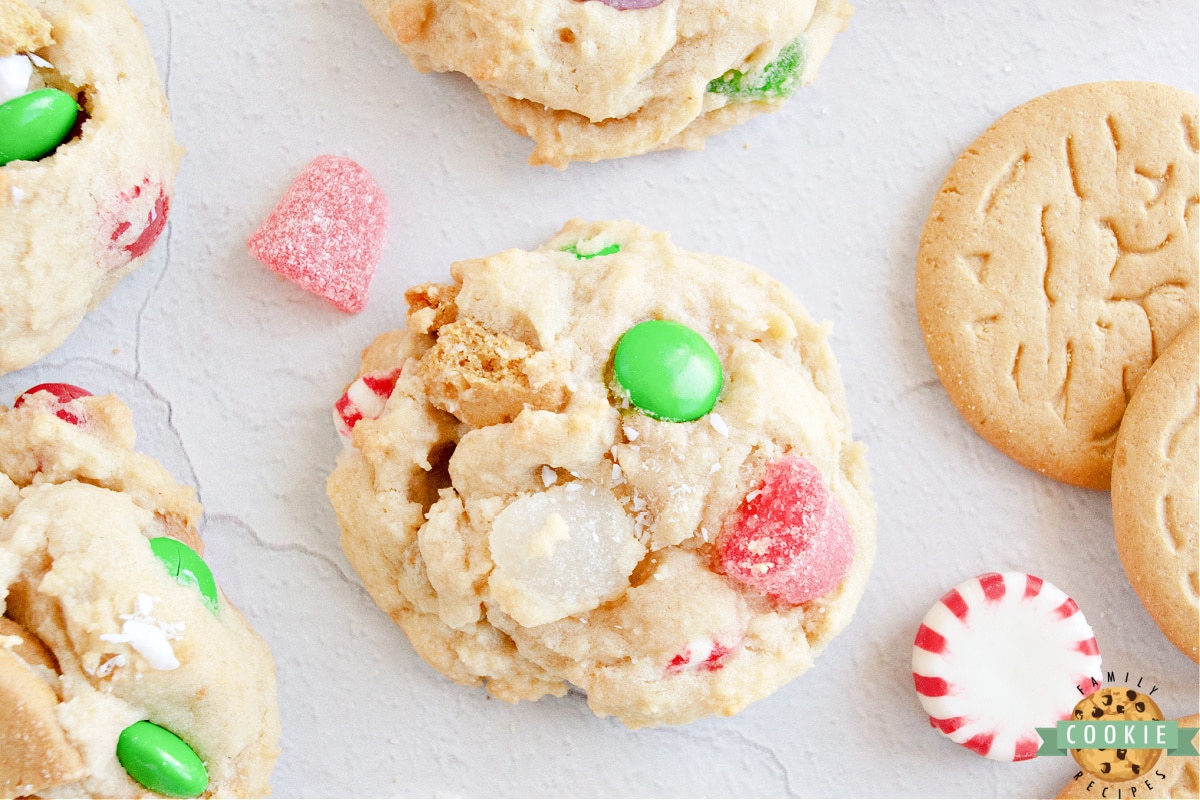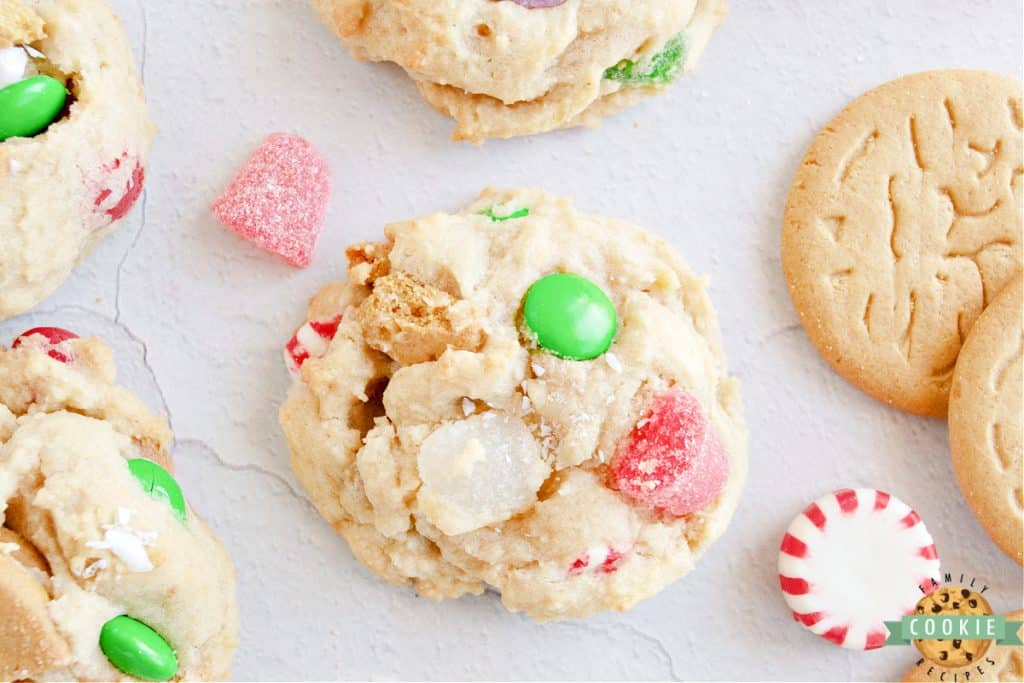 GINGERBREAD HOUSE COOKIES
These Gingerbread House cookies are perfect for using up all the leftover candy when your gingerbread houses and the kids are easily convinced to eat these cookies instead of their masterpieces. Enjoy all of your favorite gingerbread house toppings baked into this unique and fun Christmas Cookie!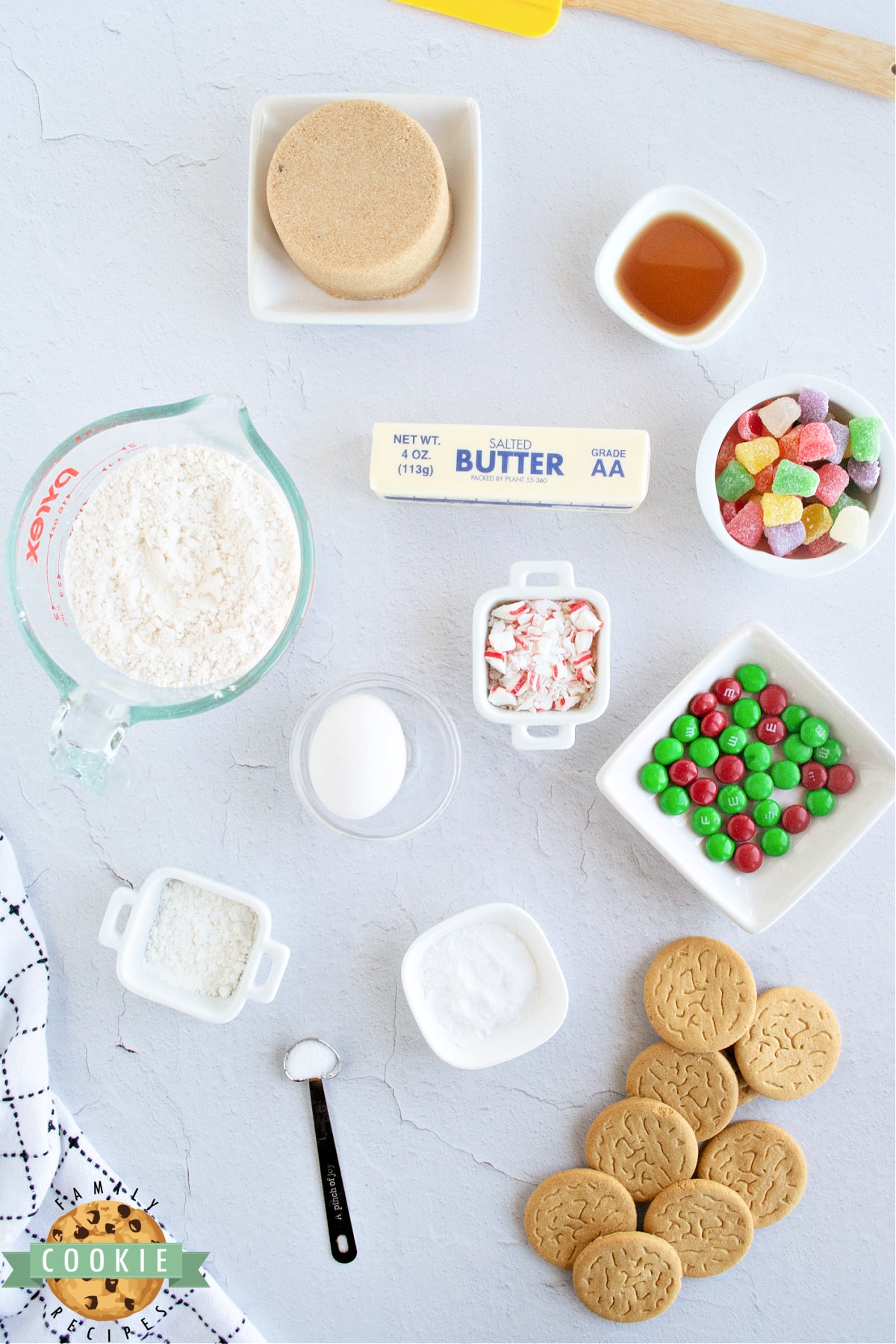 Ingredients in Gingerbread House Cookies 
Butter – You will need one stick (½ cup) of softened butter. Make sure the butter is at room temperature before mixing with the other ingredients.
Brown sugar – I prefer light brown sugar, but for a richer taste, you can use dark brown sugar. For best results, make sure the brown sugar is fresh and soft.
Egg – Just one large egg will help bind everything together.
Vanilla extract – The higher the quality of the vanilla, the better.
Flour – You will need 1 1/2 cups of all-purpose flour.
Cornstarch – Cornstarch really helps cookies to stay soft and chewy and really improves the consistency of the cookies.
Baking soda – This is the leavening agent in the cookies, so make sure it is not old or expired.
Salt  – Just a little bit of salt helps all of the other flavors to pop.
Gingerbread house toppings – broken ginger snap or gingerbread cookies, gum drops, crushed peppermint candies, M&Ms, licorice, sprinkles, red hots, Skittles, marshmallows, etc.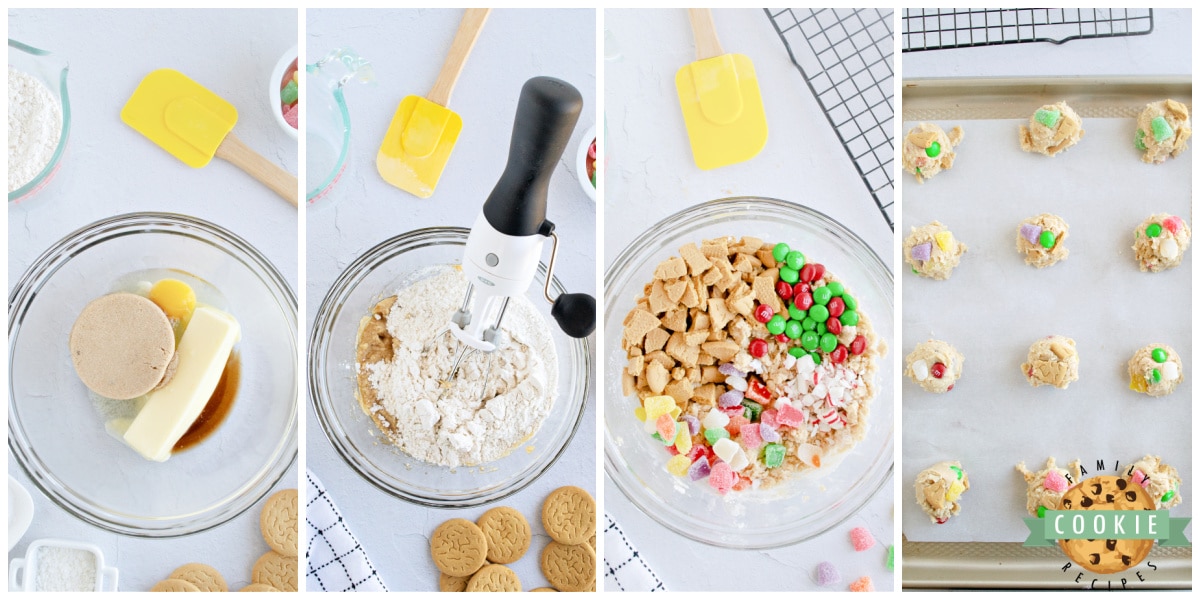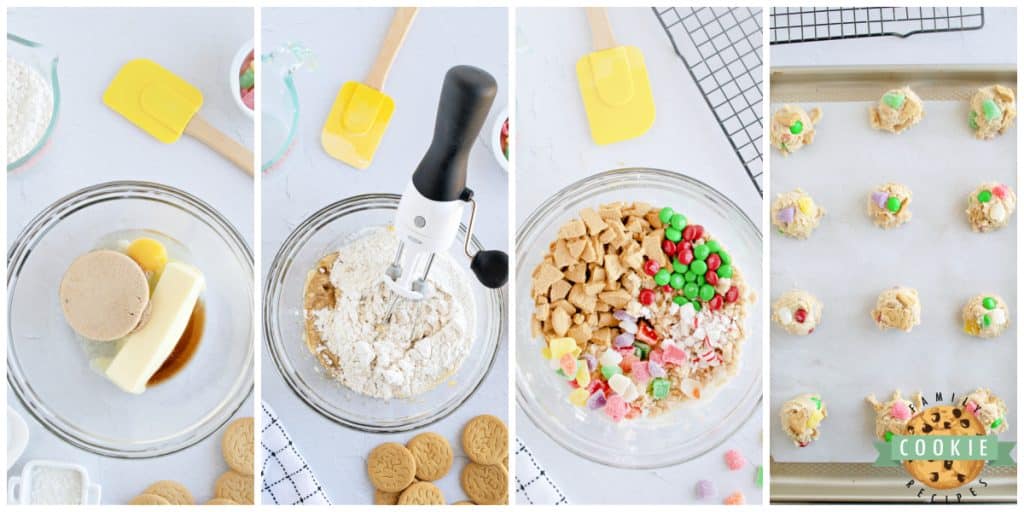 How to make Gingerbread House Cookies
Preheat oven to 350°.
Sift flour, cornstarch,  baking soda, and salt in a medium mixing bowl. Set aside. 
In another large bowl, cream butter, brown sugar, egg, and vanilla extract. Beat for at least 2-3 minutes.  
Add the dry ingredients to the butter mixture and mix just until combined.
Fold in broken gingersnap cookies, gumdrops, crushed peppermint candies, M&Ms and any other gingerbread house candies to the dough. 
Using a cookie scoop, drop 1-inch cookie dough balls onto a lined baking sheet 1-2 inches apart. 
Bake for 10-12 minutes. Remove from the oven and cool on the cookie sheets for a few minutes before transferring to a wire rack to cool completely.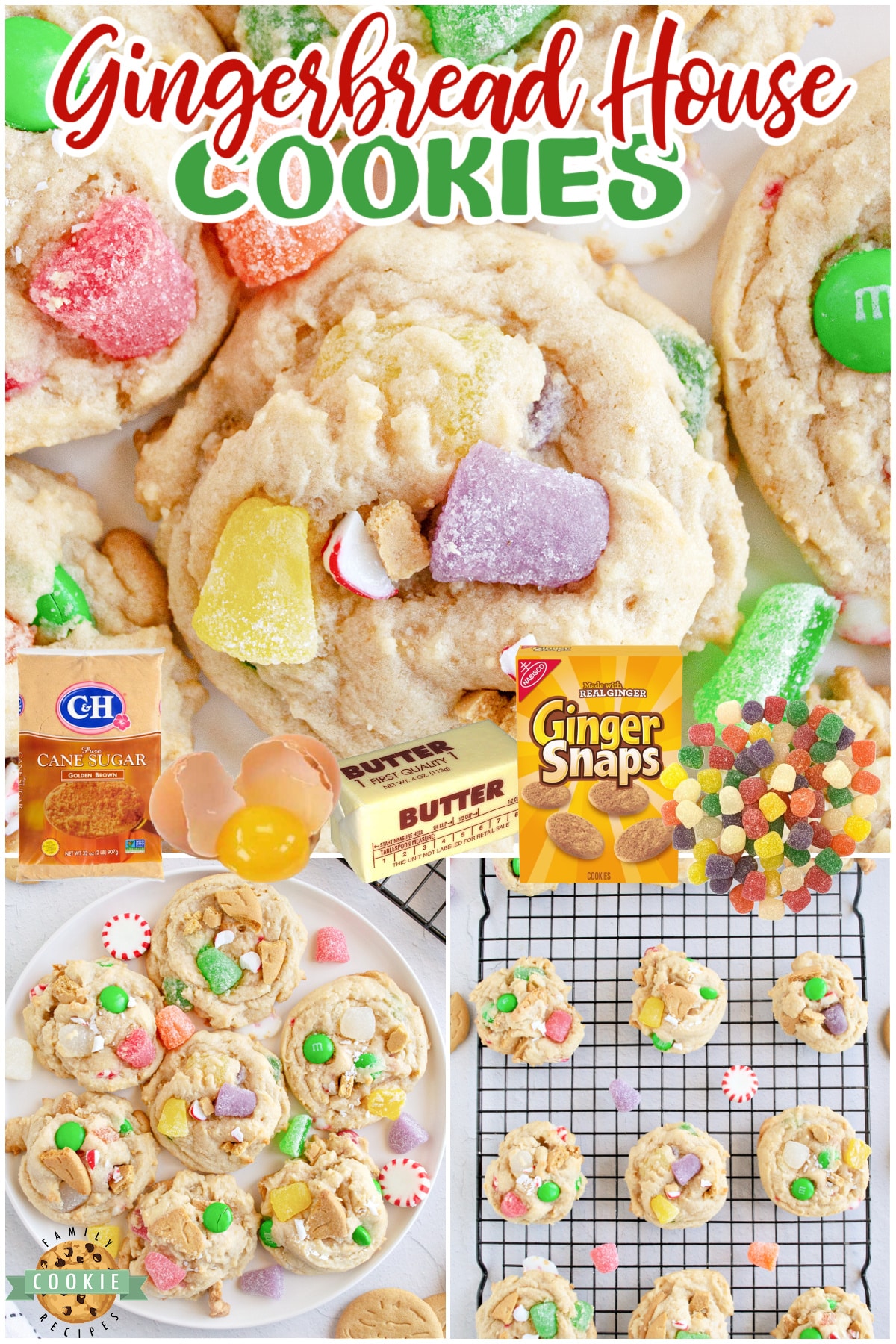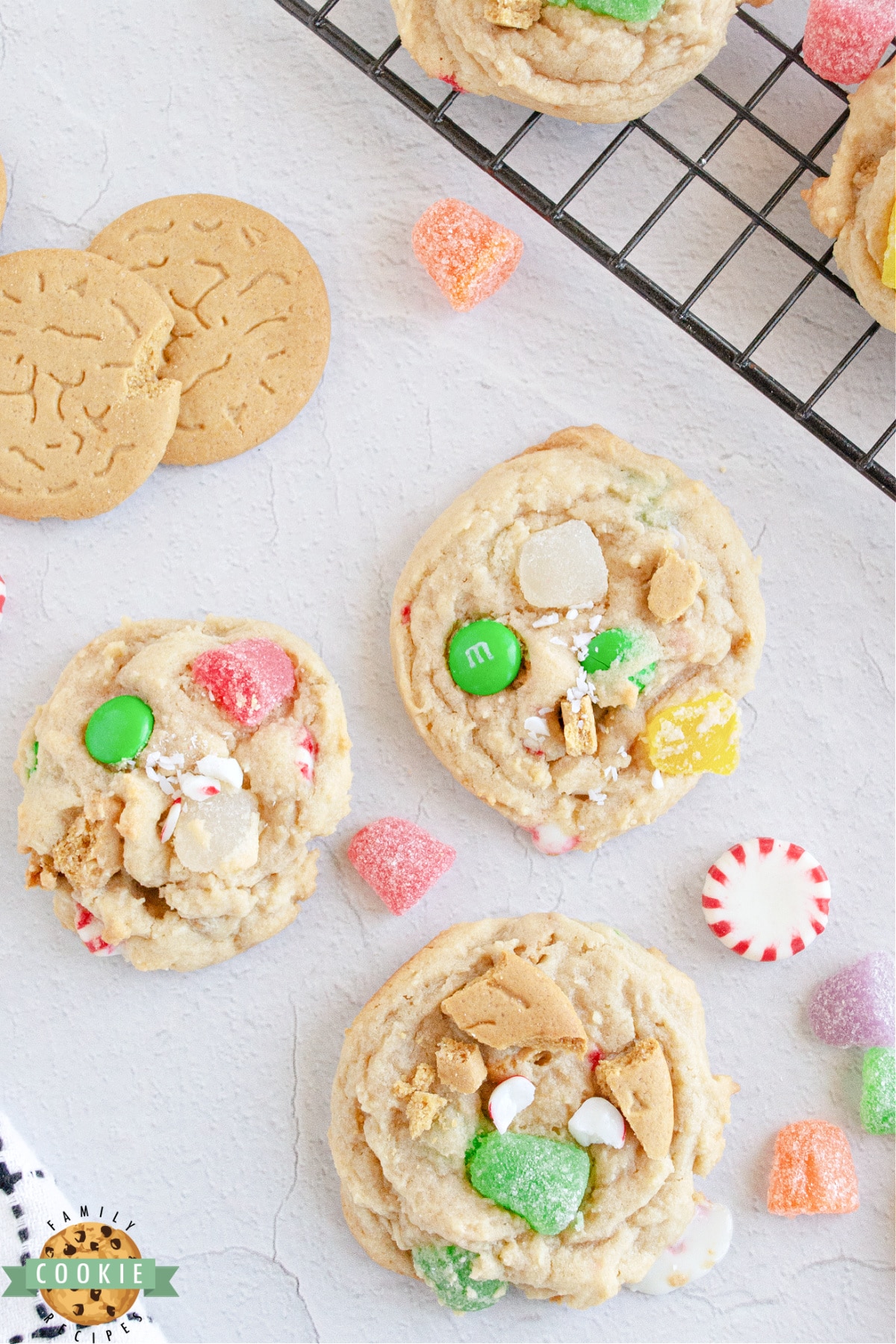 TIPS FOR MAKING THE BEST COOKIES?
Making homemade cookies is easy! Here are a few tips to getting perfect cookies every time!
Make sure that you have enough flour in the dough. If the dough is too sticky, you may need to add a little bit of flour.
Spend a little extra time when you mix the shortening and sugars. Creaming them together for 2-3 minutes will improve the consistency of your cookies.
Preheat the oven. This will help your cookies turn out right every time!
Use a cookie scoop! If you want all your cookies to be perfectly shaped and have them all be the same size, a cookie scoop is the way to go.
Make sure you use softened butter – DON'T melt it! One of the most common errors in cookie making is using butter that is either really cold and hard, or using butter that is too warm and melted.
Use parchment paper or a silicone baking mat. Doing this will make it really easy to remove the cookies from your cookie sheet so that you don't have to scrape them off the pan – they will just slide right off in perfect shape!
Don't over bake the cookies – when I take mine out of the oven, they still look slightly under baked but they will continue to bake on the cookie sheet for a couple more minutes so that's ok!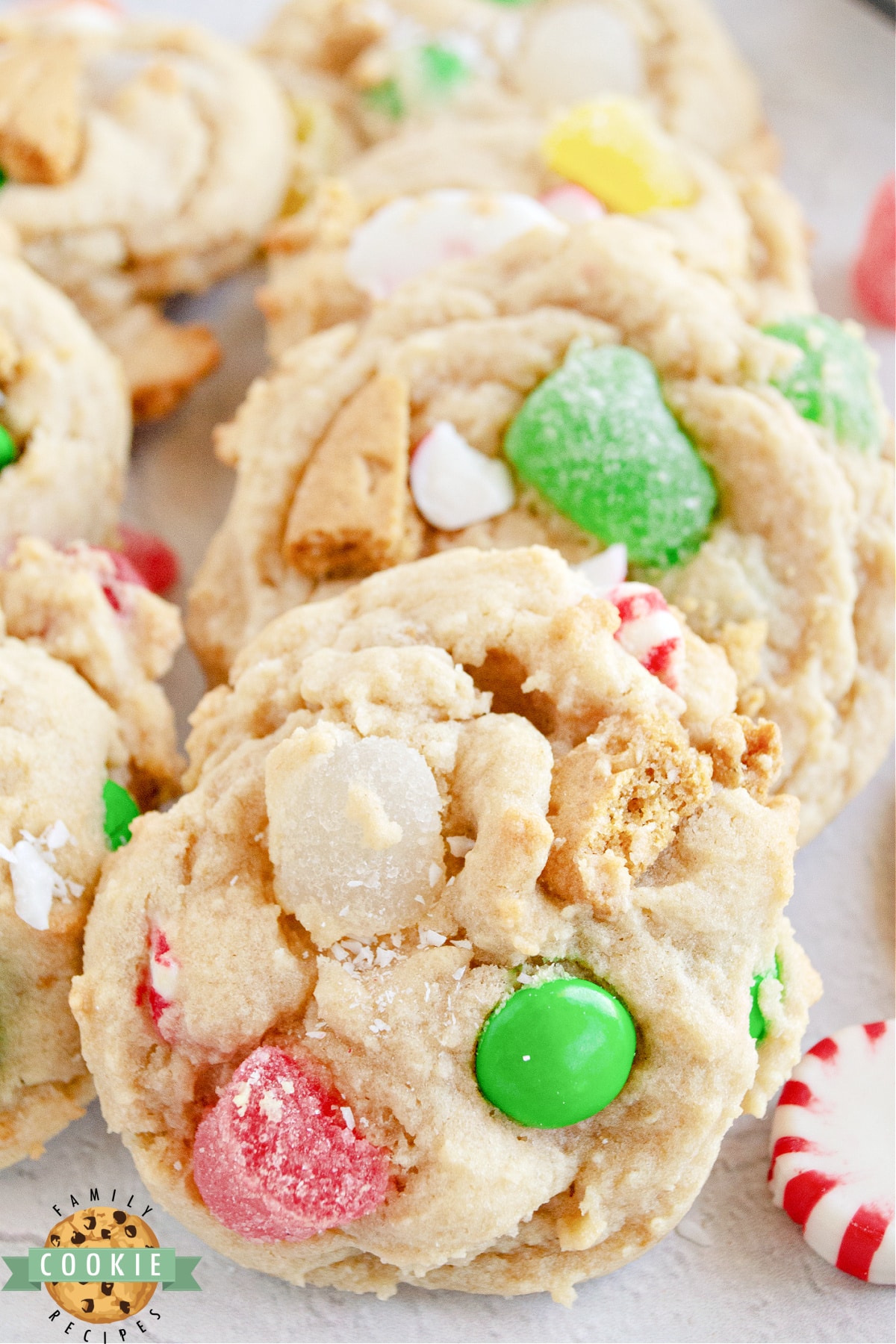 WHAT IS THE BEST WAY TO SOFTEN BUTTER?
Make sure your butter is softened, NOT melted! One of the most common errors in cookie making is using butter that is either really cold and hard, or using butter that is too warm and melted. If you have time, just leave butter out on the counter for about 1-2 hours before making your cookies. If you are like me and don't plan your cookie cravings that far in advance, just place the butter in your microwave and soften in 5 second intervals, being very careful to pull it out before it melts. 
I actually like to use the defrost setting on my microwave to soften butter- I don't know the technical reasons behind it, but it seems to soften the butter more evenly and takes a little bit longer so I'm less likely to start melting it!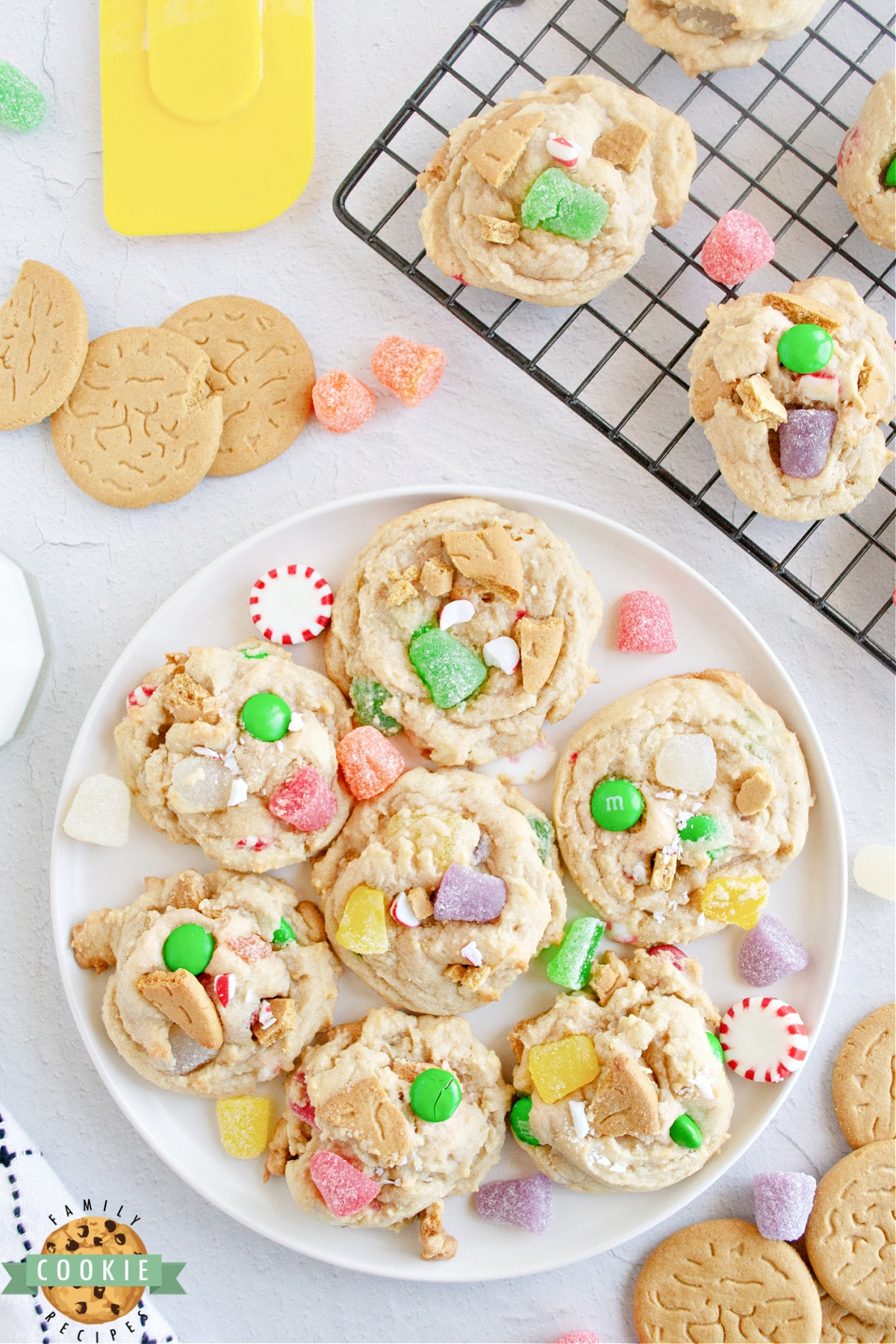 CAN YOU FREEZE THESE COOKIES?
I love freezing cookies! There are 2 ways I prefer to freeze them. The first is by freezing the unbaked cookie dough balls. I scoop and shape the balls round with my hands, then freeze them in 1 layer on a cookie sheet. You can position them as close together as possible without touching. Freeze, then once solid, transfer them to a ziplocked freezer bag. Then you can pull them out and bake them whenever you want! You'll want to either let them thaw on a cookie sheet while preheating the oven, or add a couple minutes to the bake time to compensate for frozen cookie dough.
The second way is to just freeze the baked cookies. Make sure they are completely cooled before freezing in a Ziplock bag or airtight container. Sometimes cookies that have been frozen are a little bit drier and more crumbly when thawed, but most people can't even taste a difference! Cookies only take about 20 minutes or so to thaw out.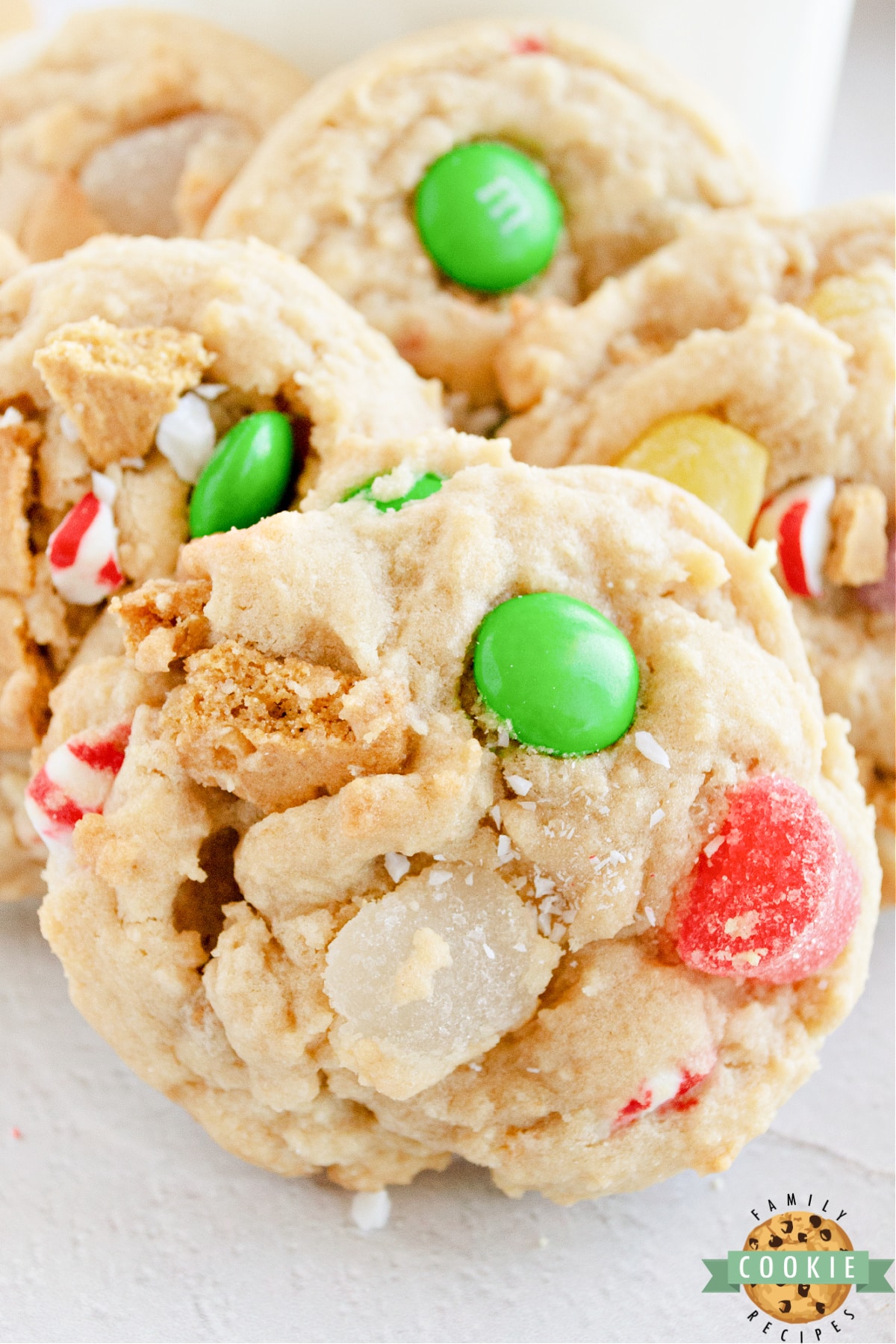 HOW TO GET A PERFECTLY ROUND COOKIE SHAPE
Want to know a neat little trick? After your cookies have been baked, while they are still hot and cooling on the pan, take a medium-sized round cookie cutter or a round glass/drinking mug and place it over the top of the cookie. The round shape should be slightly bigger than the cookie for this trick to work.
Swirl the round cutter/object around the cookie, knocking it into the sides a bit as you go. The more you swirl, the smaller and thicker the cookie will become. Then let the cookies cool. This is how you can get homemade cookies to look perfectly rounded. This trick won't work with cutout cookies, but it works fine with drop cookies and rolled cookies.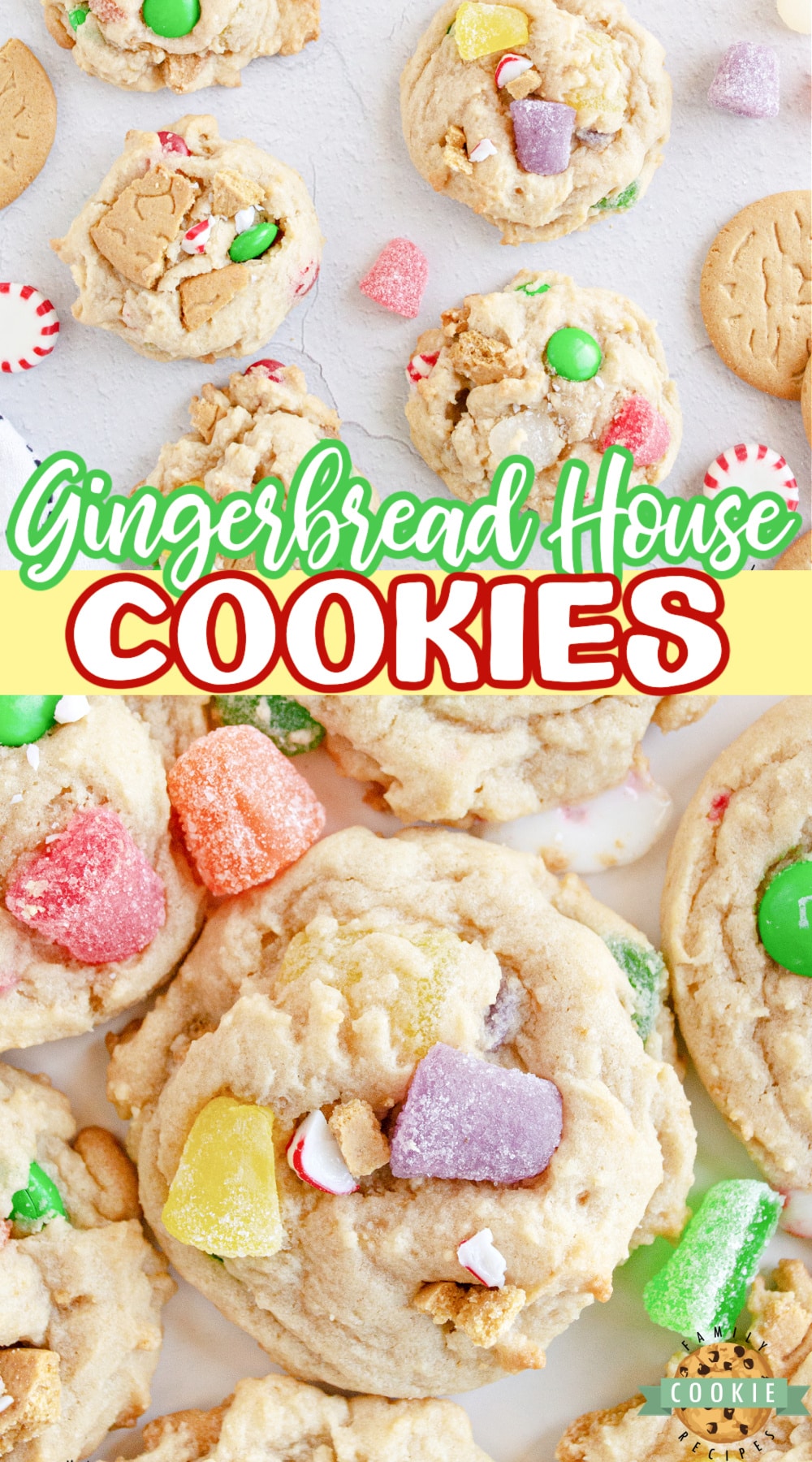 Gingerbread House Cookies made with gingerbread cookies, gum drops, and peppermint candies. If you can use it to decorate a gingerbread house with, you can put it in these cookies!



Love this little girl. She's pretty much always adorable, but doesn't she just make the perfect Anna? She loves everything girly and twirly and shiny and sparkly and I can't believe that she is almost 4!