Gingersnap Cookies are a crisp, spicy & iconic holiday favorite! Make some gingersnap cookies at home and enjoy this classic recipe.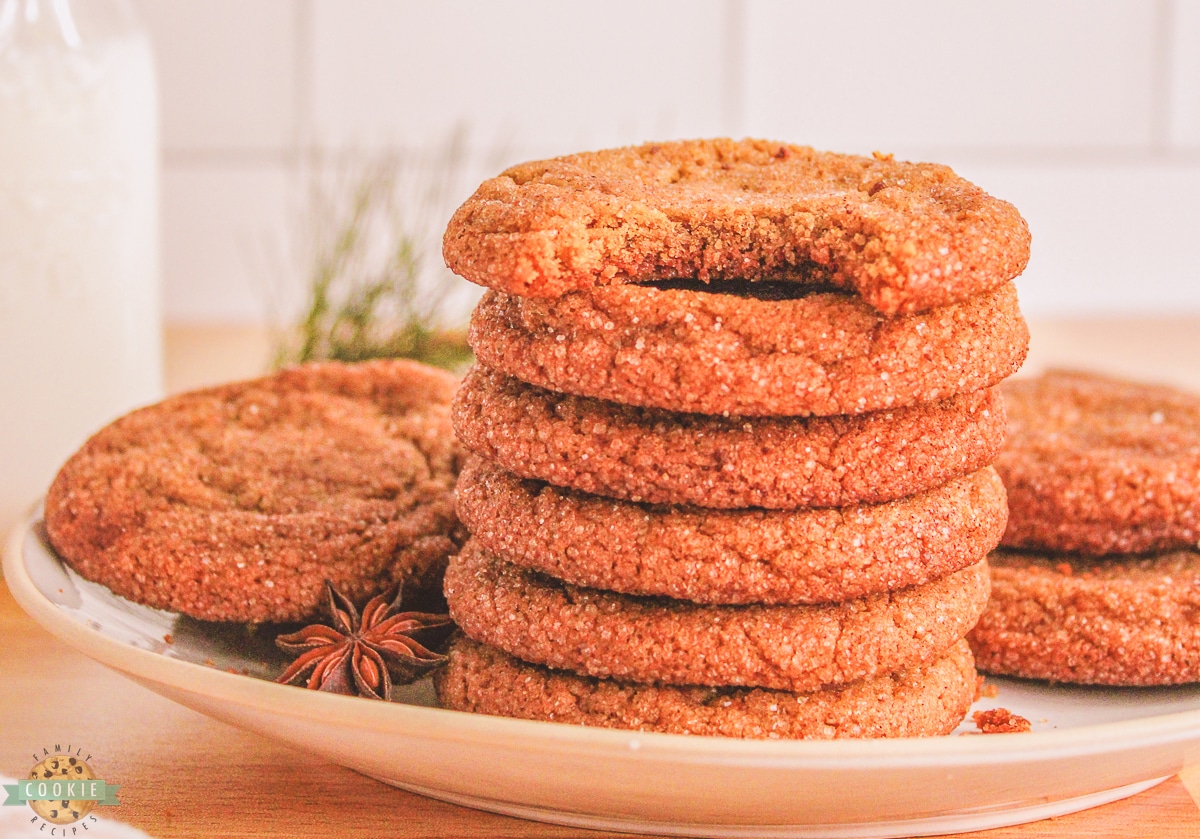 Although we love a unique treats like pumpkin gingersnap cookies, these soft gingersnap cookies are more in line with a traditional recipe. While fun and delicious variations are always welcomed here, we understand that a classic gingersnap cookie recipe is amazing too.
Old Fashioned Gingersnap Cookies
These gingersnaps may not be as crispy and crunchy as the store-bought variety, but they will be nice and chewy with a slight crispy cookie edge. This cookie is baked in a cinnamon sugar coating, they are the ideal addition to any holiday table or cookie exchange. We make these sensational cookies with a sweet sugar on coating, but if desired, you can leave that off. Although it is an incredible addition to these cookies, they do not disappoint and your family and friends are sure to love them too.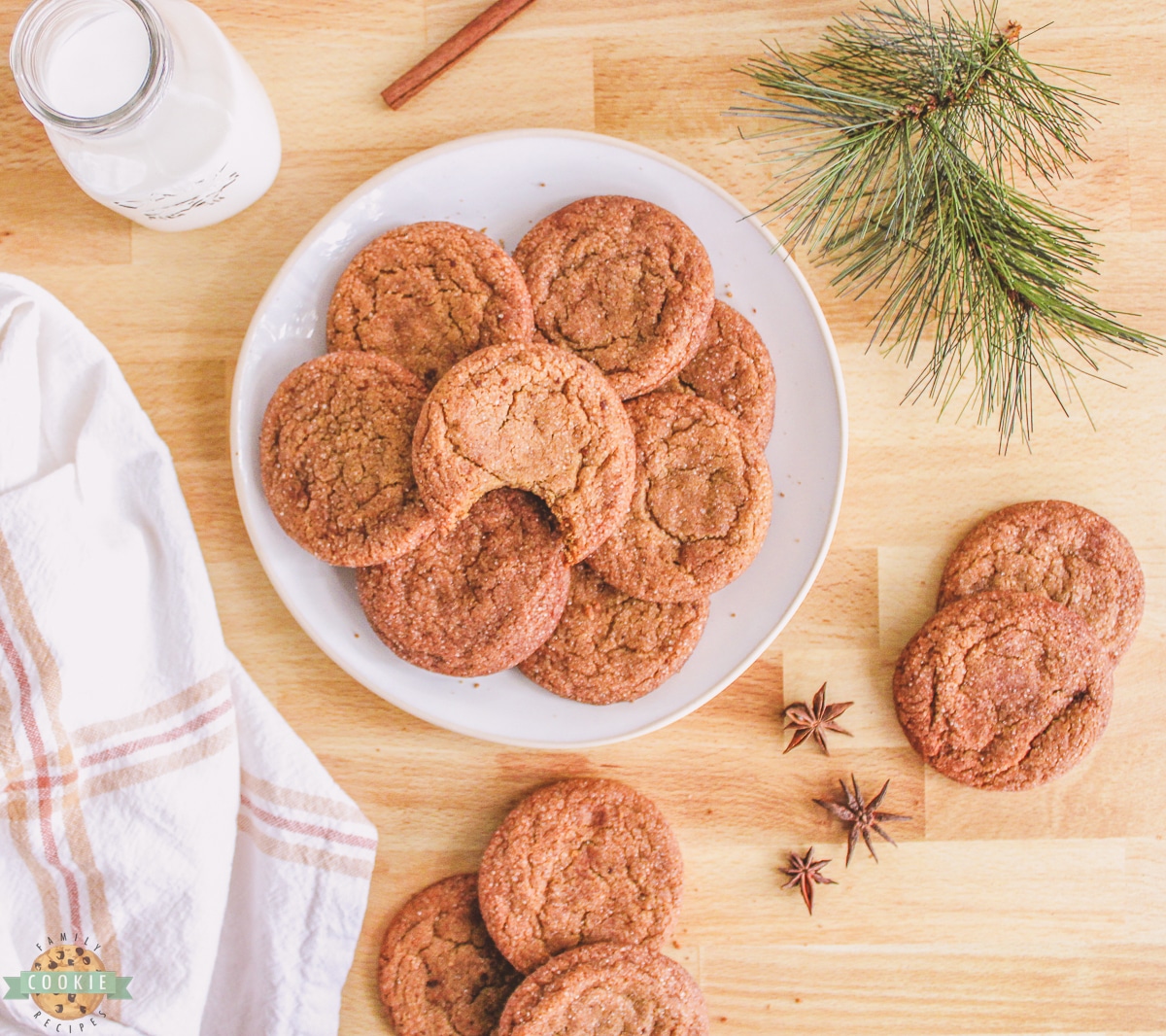 Why you'll love these Gingersnaps
In case you need more convincing, but I am not sure you will, read on for a few of our top reasons why we think you will absolutely love these cookies.
Simple ingredients. This recipe uses very basic cooking ingredients, which makes it perfect for a frugal recipe where a trip to the grocery store may not be needed.
Another reason to use molasses. If you have ever made gingerbread cookies from scratch, then you may have some molasses left over. This is not an ingredient that gets used a lot, but I think it should. Either way, this is another great reason to break out that jar and grab some of that dark syrup.
Make a few dozen with every batch. One recipe makes about 26 cookies which is great because that should mean that everyone can enjoy a couple of cookies each. If making this for a party, you may wish to double or triple the recipe.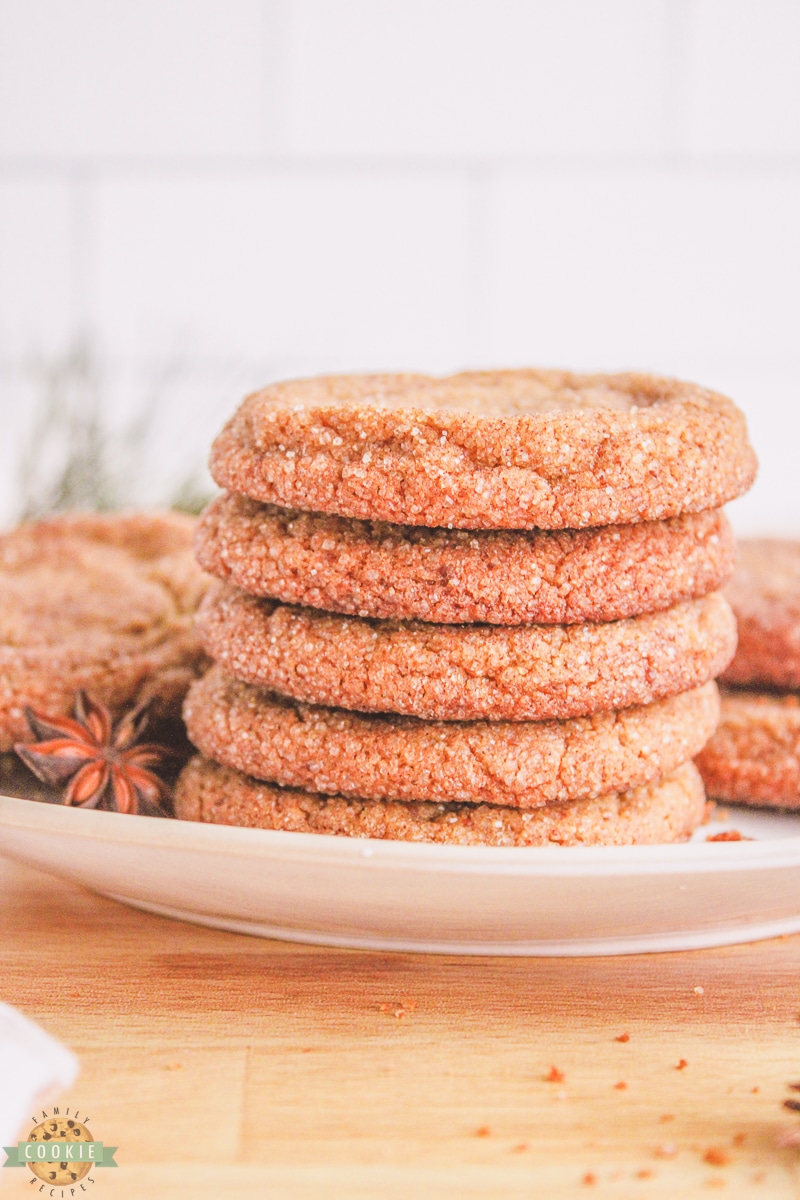 Gingersnap Cookies Ingredients
Cookie dough
Flour: You will need 2 cups of all-purpose flour for the base of the cookies. This will provide the much-needed structure.
Ground ginger: Add in 1 tablespoon of ground ginger for the strong flavor we are craving.
Salt: Use ½ teaspoon of salt to bring out the flavors in the cookies.
Baking soda: Adding 2 teaspoons of baking soda will help these cookies puff up nicely as they bake.
Cinnamon: You will need 1 teaspoon of ground cinnamon to make the cookies warm in spice.
Butter: To keep the cookies nice and moist, you will need the fats from ¾ cups of softened butter.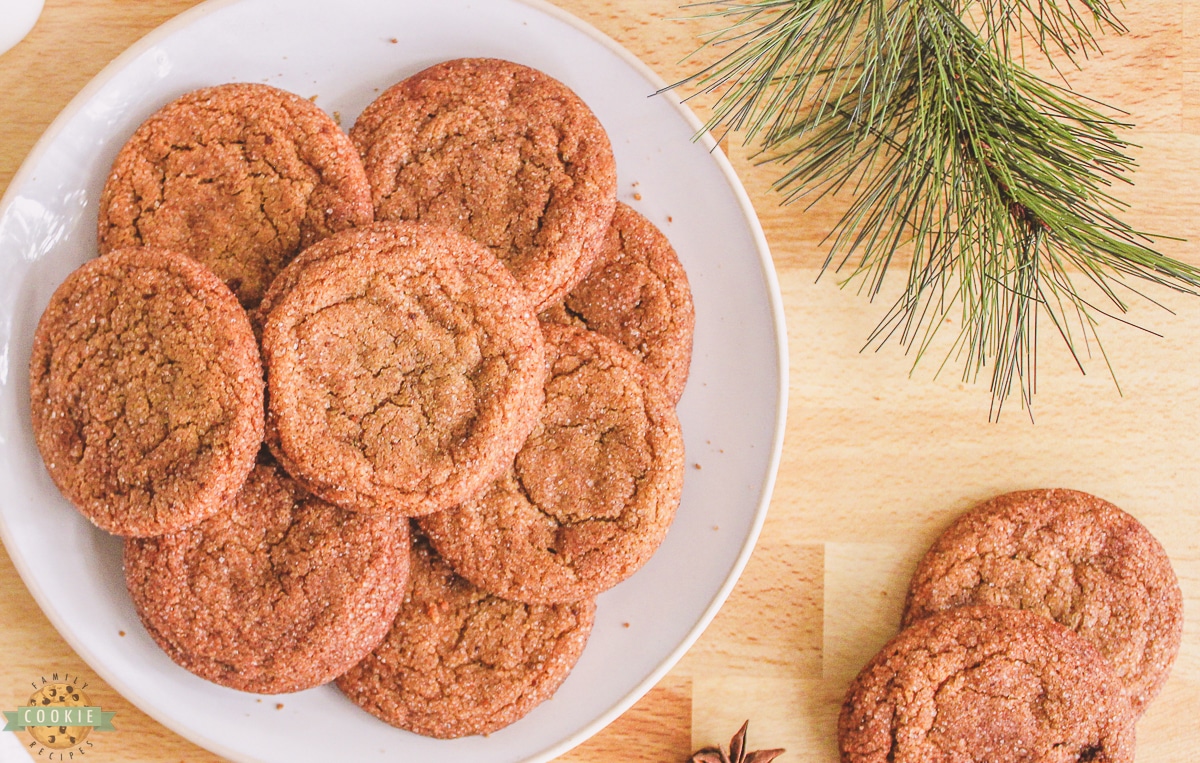 Sugar: Use 1 cup of granulated sugar to make the cookies nice and sweet.
Egg: Adding in 1 egg will bind the dough together well.
Molasses: For added flavor, color, and chewy goodness, you will want to use ¼ cup of dark molasses.
Cookie coating
Sugar: Rolling the cookie dough balls in ⅓ cup of granulated sugar will give us a sweet experience the moment the cookies touch our tongues.
Cinnamon: Add 1 tablespoon of ground cinnamon to the sugar so that the cookies are fabulously spiced and ready for the holiday season.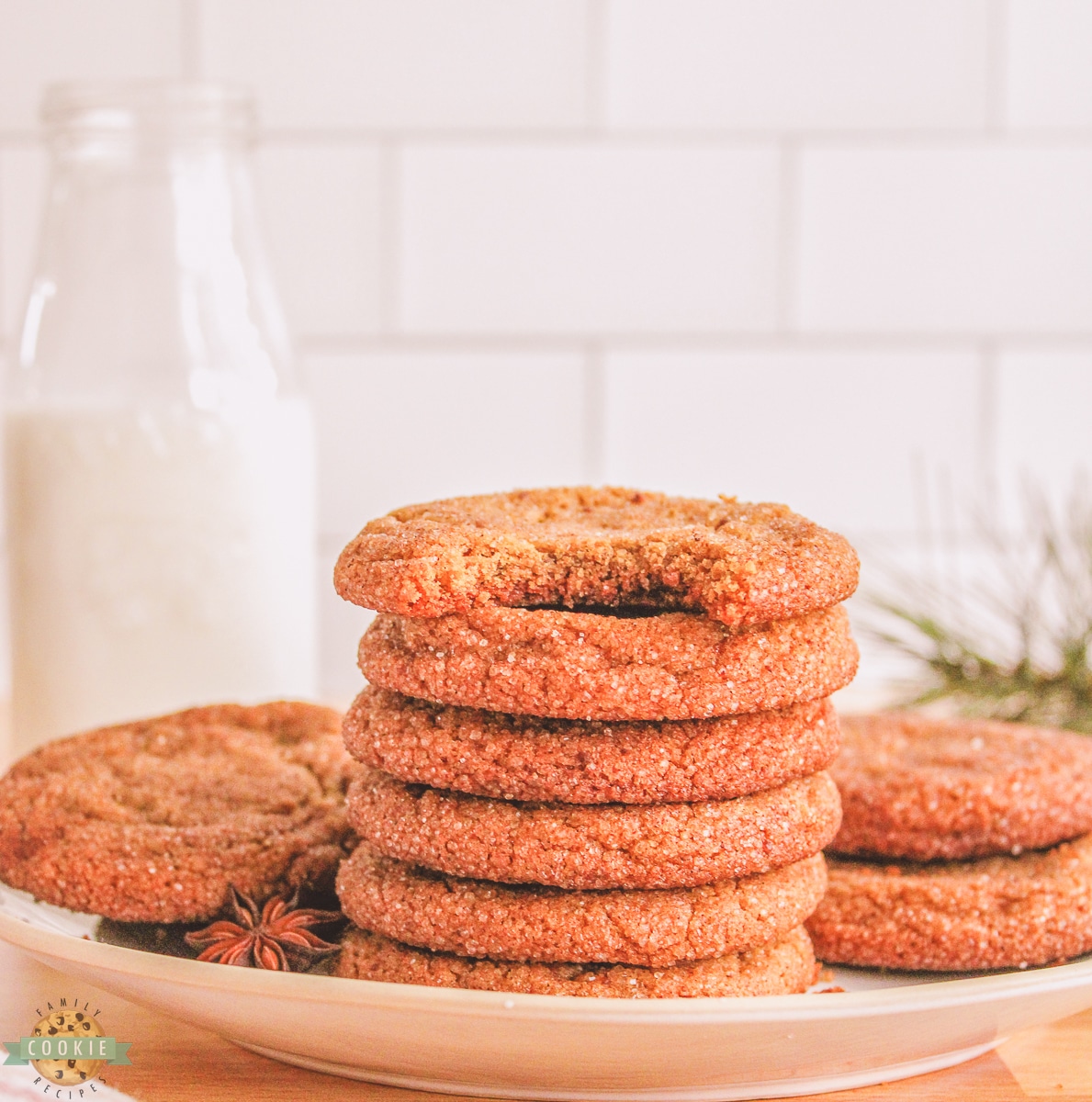 How to Make Gingersnap Cookies
Prep
Start by preheating your oven to 350 degrees F. Then, line a cookie sheet with parchment paper and set it aside.
In a small bowl, prepare the sugar and cinnamon coating and set it aside for later use.
Make dough
In a small mixing bowl, whisk together the flour, ground ginger, baking soda, cinnamon, and salt, set it aside.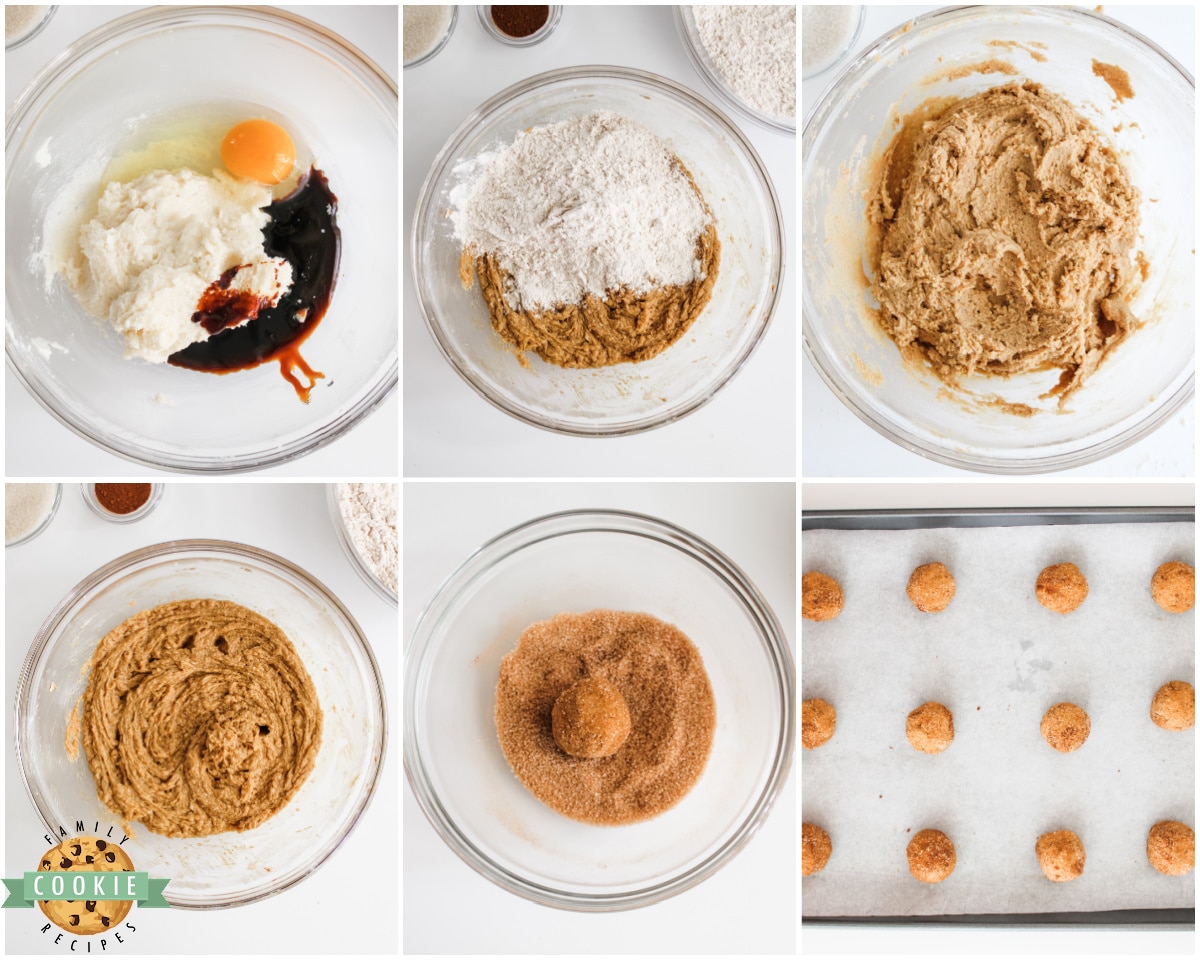 Next, in a separate large bowl, beat together the butter and sugar. Then add in the egg and molasses, stir until combined.
Proceed to stir in 1/2 of the flour mixture into the wet mixture. Add in the remaining half of the flour and mix again until a soft dough forms.
Assemble
Roll the dough into 1-inch-sized balls. Then roll each ball into the sugar and cinnamon coating, place each dough ball 2 inches apart on the baking sheets.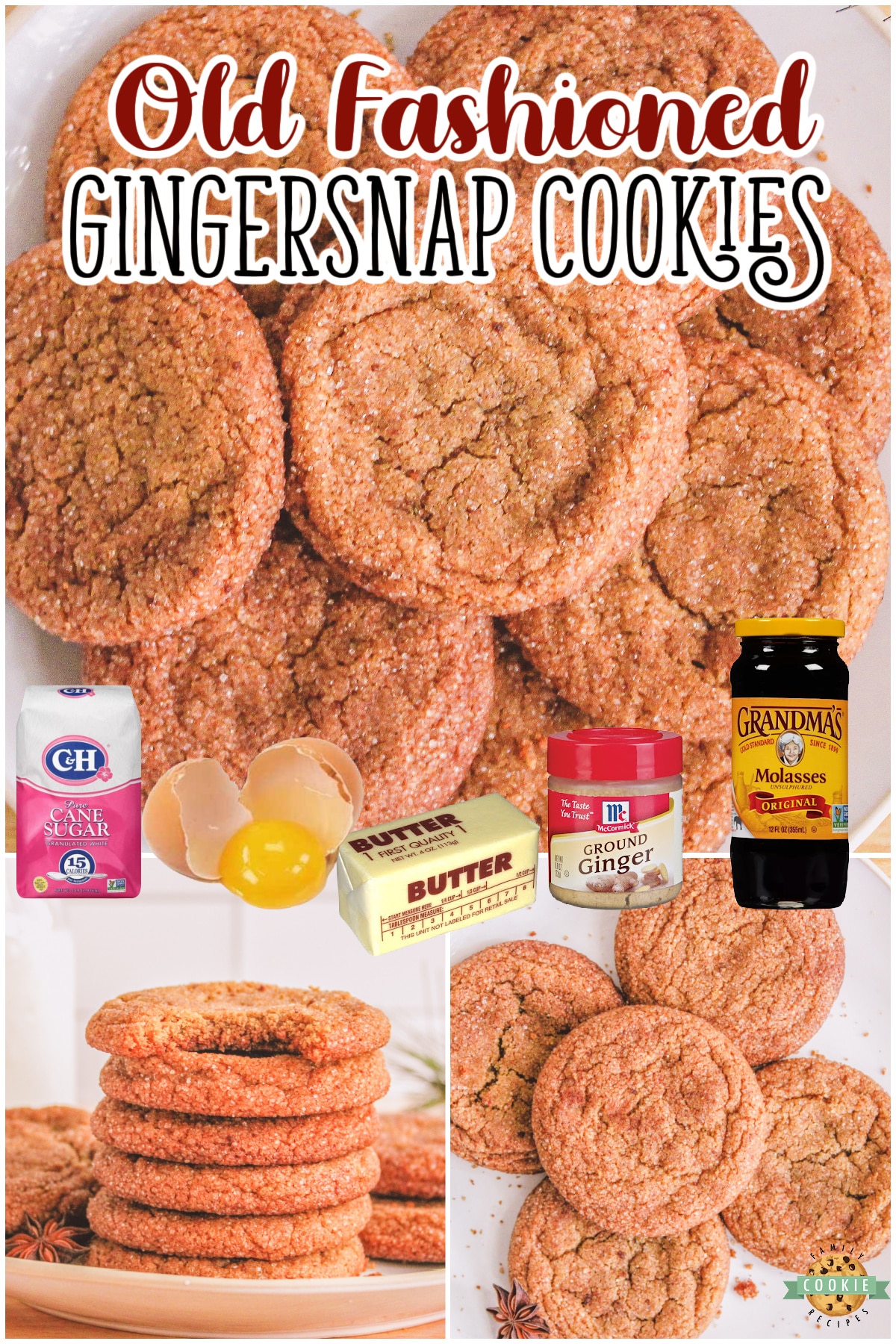 Bake
Place the cookie sheet in the preheated oven and bake for 10 minutes or until the tops are rounded and slightly cracked.
Be sure to allow the cookies to cool, then serve and enjoy!
Baking Tip
Be sure to space cookie dough balls apart enough on the baking sheet as they flatten more than other cookies while baking! Overcrowding the pan will cause the cookies to join together into one large cookie instead of separate ones.
How long are gingersnap cookies good for?
These cookies can be held in an airtight container at room temperature for up to 1 week. They will taste best when enjoyed within a few short days because fresher is better, so please keep that in mind.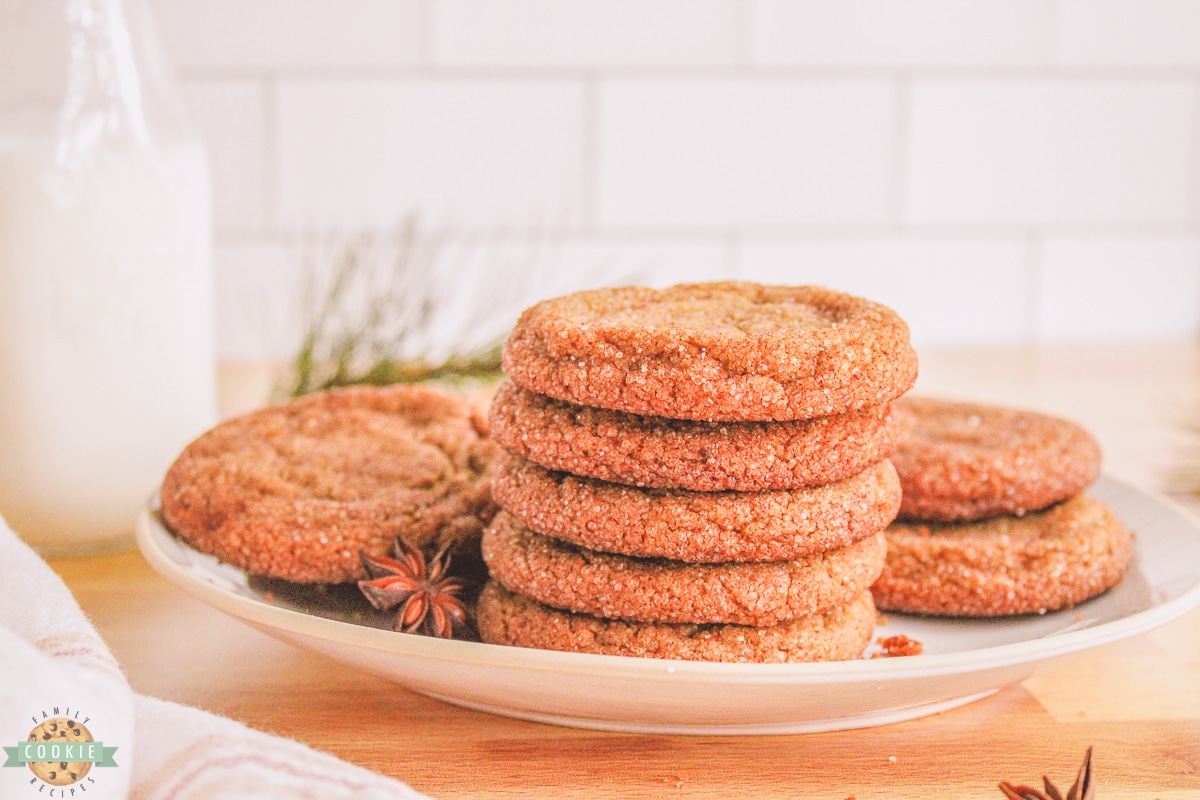 Can I freeze gingersnap cookies?
After the cookies have been properly cooled, you can place them into an airtight container and freeze them for up to 3 months. Let the cookies thaw before biting into them so that they aren't too hard for your teeth. Keep in mind that they may not be as crispy once thawed, but they should still be nice and chewy.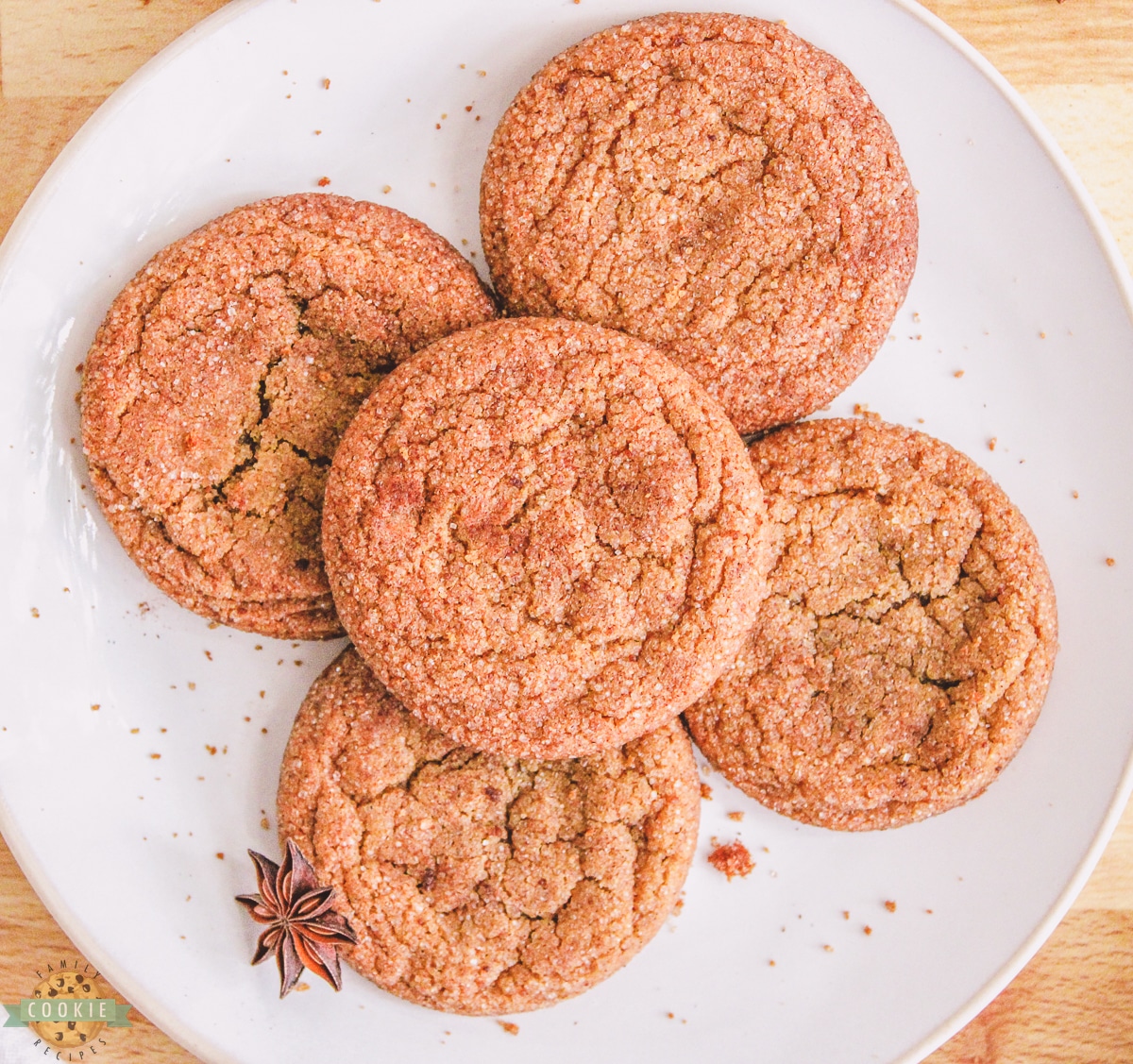 What is the best way to soften butter?
When you want softened or room temperature butter (65 degrees F) and don't have any on hand, follow these simple tips for warming it up quickly without overheating and melting the butter. Softened butter is needed to incorporate with the dough for a seamless smooth consistency so getting your butter to the proper temp is important.
Here are some ways to warm up your cold stick of butter:
Let it sit on the counter for 1 hour prior to making your cookie recipe.
Slice the butter into tablespoon sized pieces and place into a warmed glass for 10-15 minutes. A glass right out of the dishwasher or a measuring glass warmed with water in the microwave (before disposing of the water) are both great options.
Warm a small clean kitchen towel and wrap your sticks of butter (in the wrappers) for a few minutes.
I like to use a warmed tall drinking glass and place the wrapped sticks of butter in the cup before turning it over on the counter for several minutes.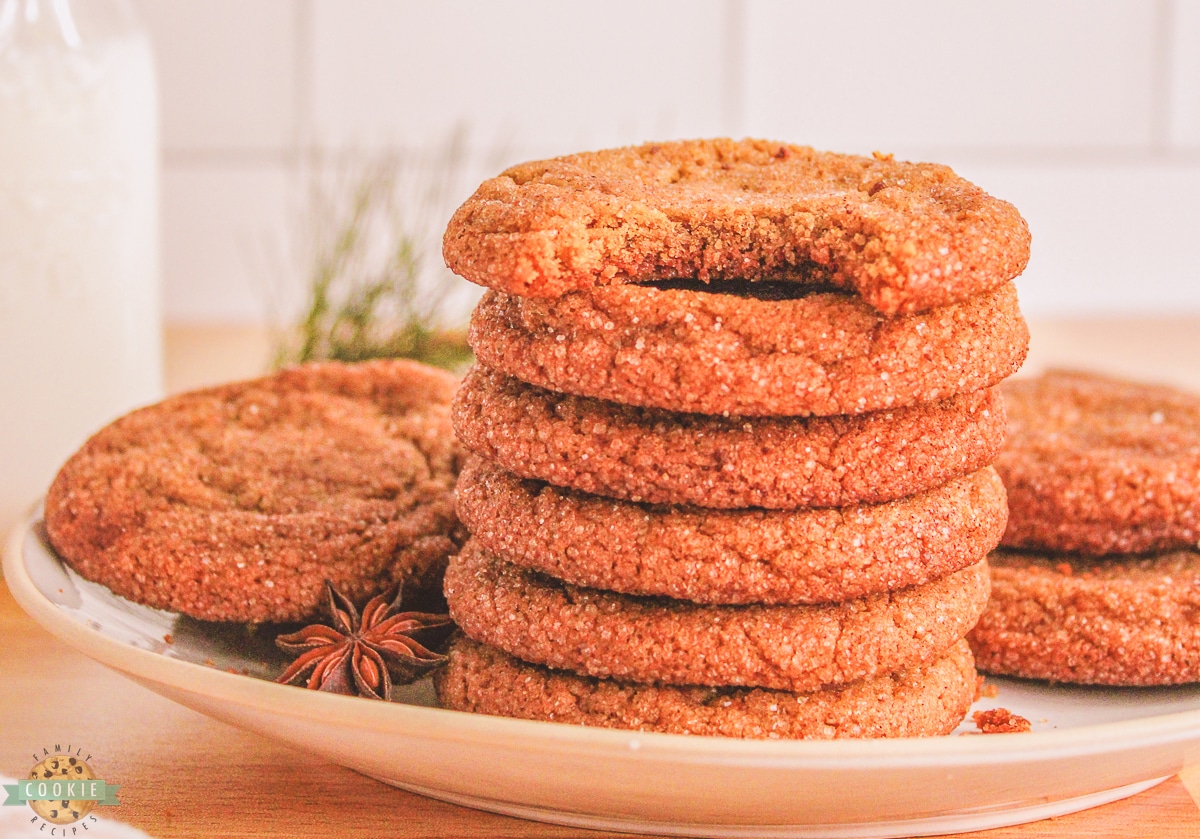 How to Get a Perfectly Round Cookie Shape
Want to know a neat little trick? After your cookies have been baked, while they are still hot and cooling on the pan, take a medium-sized round cookie cutter or a round glass/drinking mug and place it over the top of the cookie. The round shape should be slightly bigger than the cookie for this trick to work.
Swirl the round cutter/object around the cookie, knocking it into the sides a bit as you go. The more you swirl, the smaller and thicker the cookie will become. Then let the cookies cool. This is how you can get homemade cookies to look perfectly rounded. This trick won't work with cutout cookies, but it works fine with drop cookies and rolled cookies.


This is what happens when you're remodeling the house, but still want to watch the game! You improvise and pull in patio furniture! HA!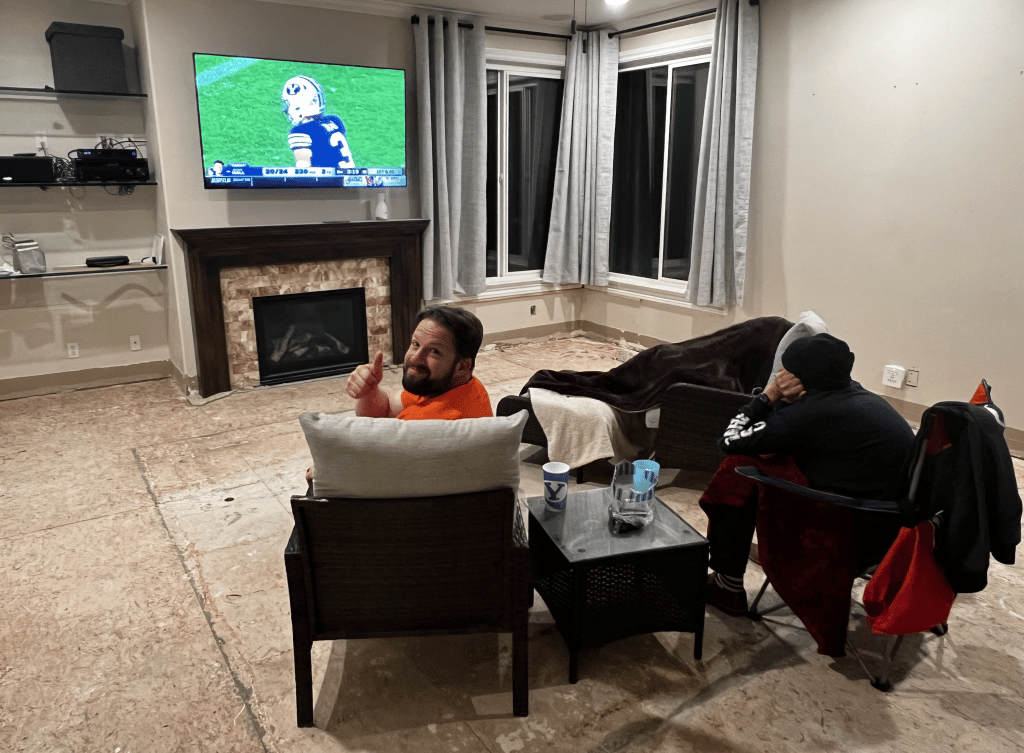 Gingersnap Cookies are a chewy, spicy, and so flavorful, a treat that has been a winter favorite for ages. This easy gingersnap cookie recipe is a great holiday dessert and perfect for dunking in a cold glass of milk!