No Bake Gingerbread Cookies made easy with pudding mix, molasses, oats & a blend of warm spices to give these cookies the perfect gingerbread flavor!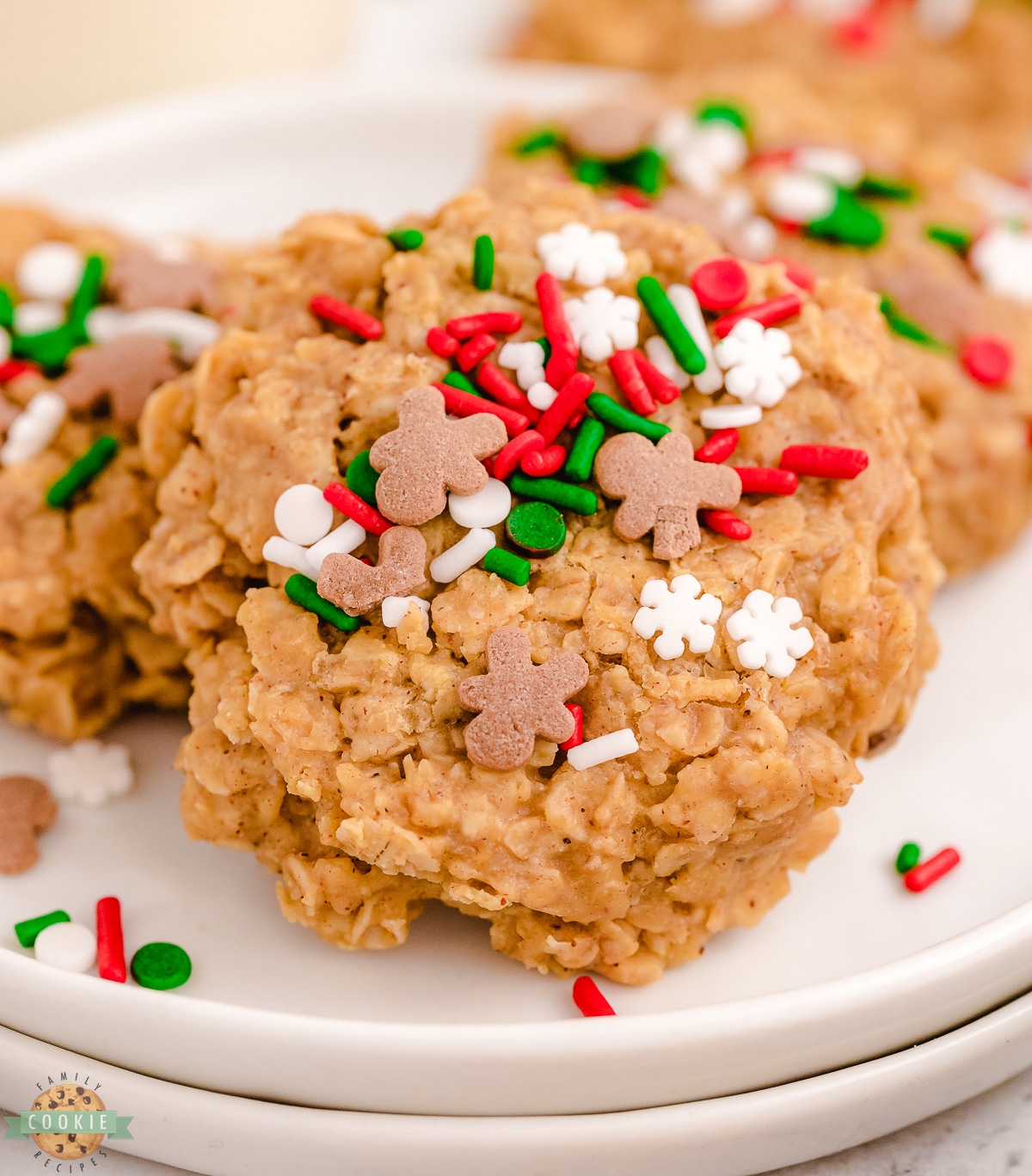 Gingerbread cookies are a favorite during the holidays, but with all the baking, holiday events and present wrapping, sometimes no bake cookies are exactly what you need. With this soft gingerbread cookie recipe, you will get all the amazing taste, but without all the effort, there is no dough chilling, rolling, or cutting needed to make this tasty treat!
No Oven? No Worries!
We make these gingerbread cookies without an oven! These gingerbread no bake cookies are made using a pot on the stove (similar to our PEANUT BUTTER NO BAKE COOKIES) but with a festive spin. You are going to love how simple this recipe truly is, but don't be surprised if it becomes your new holiday go-to cookie recipe! No bake cookies are always popular, but you have never had them like this before!
Which oats are best for no bake cookies?
Different recipes will call for different kinds of oats, but to make the best No Bake Cookies, you should use quick cooking oats. Using different kinds of oats will change the texture of the cookies, and they may not set up quite right. As this recipe's main ingredient, it's important to get the right kind of oats.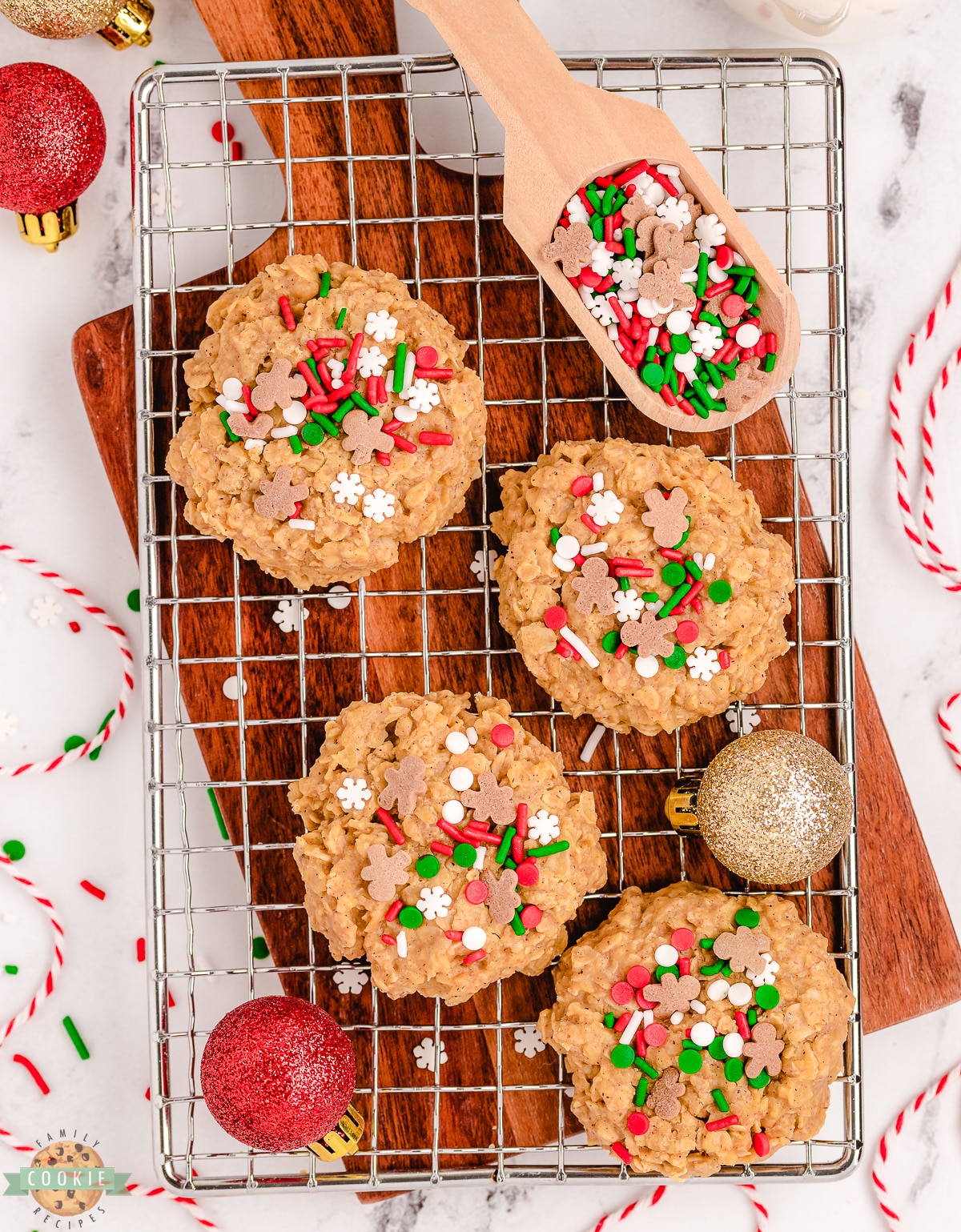 Why you'll love this no-bake cookie recipe
Simple ingredients. This recipe calls for several warm spices, molasses, and sugar like regular gingerbread cookies. What this recipe doesn't have is eggs. Instead, it calls for a box of instant pudding as a binding agent.
The steps are quick to follow. The cookies come together from start to finish within 30 minutes. But it will require a little patience as the cookies cool and set. But the wait is totally worth it, you will see!
Great dessert for parties. Bring a tray of these cookies to the winter parties at your office, or bag them up for the next Christmas cookie exchange. They are sure to be a unique addition to any dessert table.
No Bake Gingerbread Ingredients
Sugar: You will need 1 ½ cups of granulated sugar for this cookie recipe.
Butter: Adding in ¾ cup of butter (1 ½ sticks) is needed to make the cookies rich in taste.
Milk: Add in ⅔ cups of milk to help create wonderfully moist cookies.
Instant pudding: You will need one 3.4-ounce-sized box of vanilla flavored instant pudding to bind the cookie mixture together. Do not prepare the pudding, we only want the dry mix.
Oats: To help bind the cookies and to give the traditional "no bake" cookie texture, you will need 3 cups of quick cooking oats.
Molasses: This is what gives these cookies the classic flavor and color, use 1 tablespoon of molasses.
Spices: You will need ¼ teaspoon of ground ginger, 2 teaspoons of ground cinnamon, and a dash of ground cloves to make these cookies well spiced and flavorful.
Vanilla extract: Adding in 1 ½ teaspoons of vanilla extract will help to enhance all the flavors well.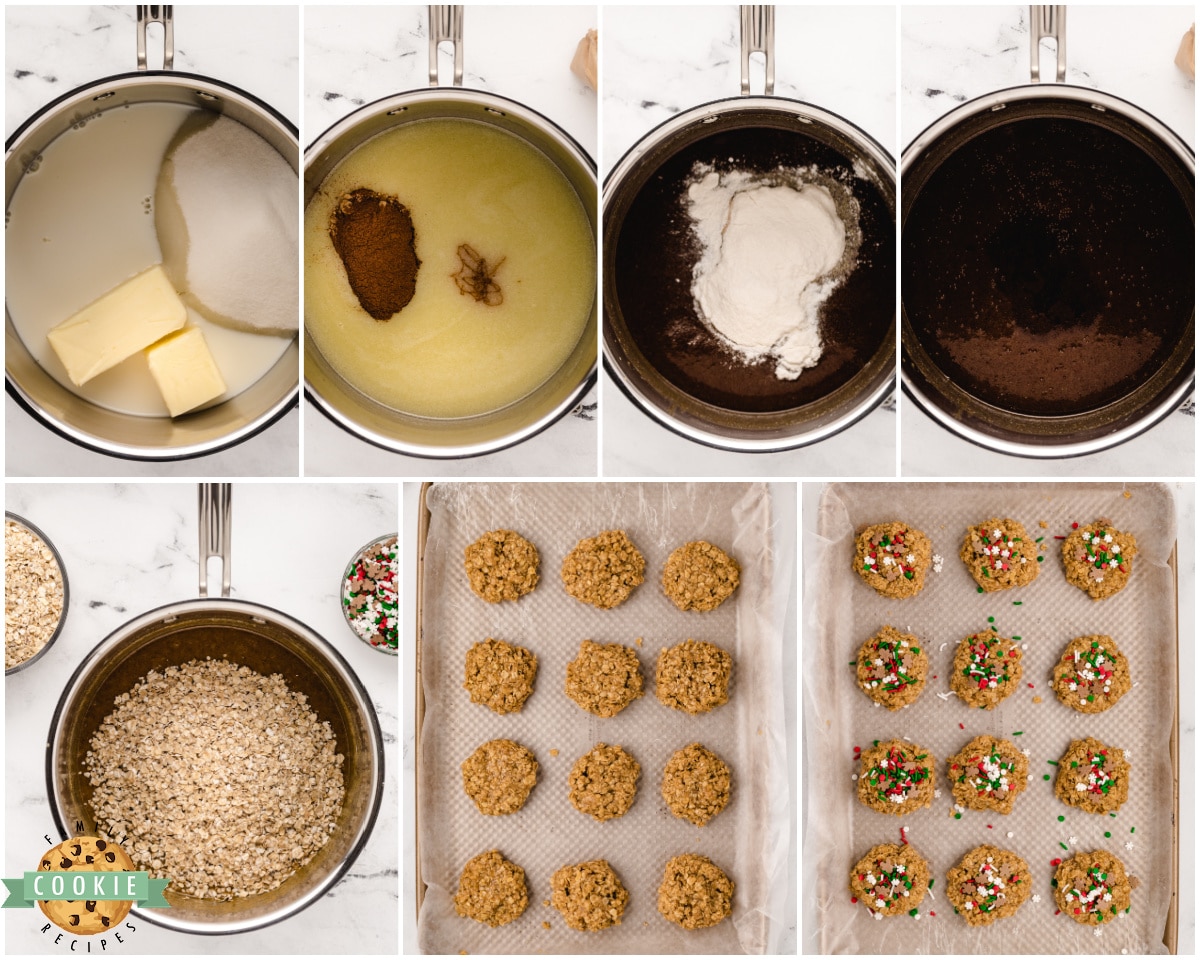 How to make No Bake Gingerbread Cookies
Cookie batter
Over medium heat, combine the sugar, butter, and milk in a saucepan. Then, add in the ginger, cinnamon, and cloves and stir together to combine.
Proceed to bring the mixture to a boil and continue to stir occasionally. Let the mixture boil for 5 minutes.
Then remove the pot from the heat and whisk in the vanilla extract and dry pudding mix until smooth. After that, stir in the oats and stir well to combine all of the ingredients.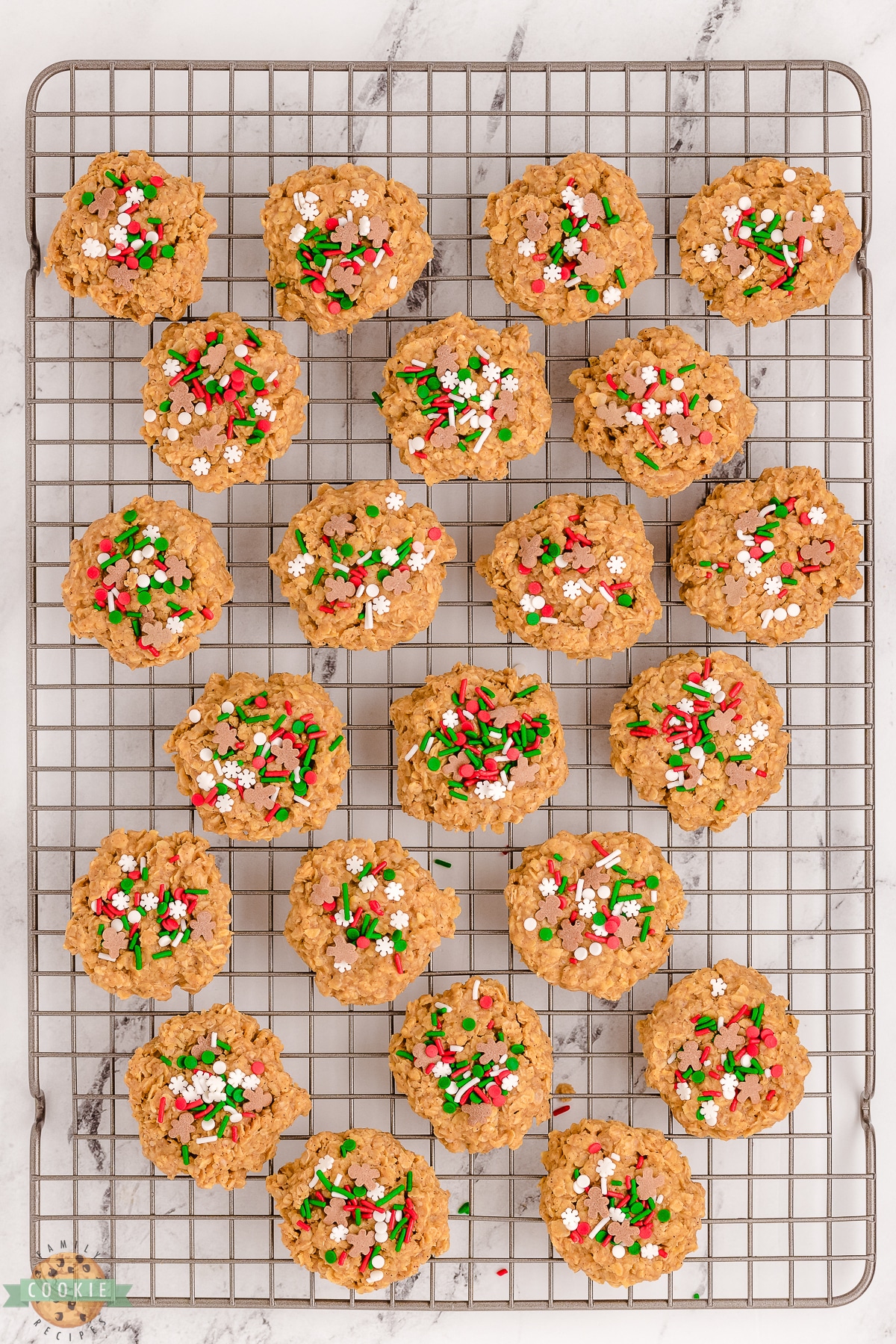 Shape
Continue to drop the cookie mixture, by the spoonful, onto a lined cookie sheet with wax paper.
If desired, top with festive holiday sprinkles.
Cool
Let the cookies cool for about 10-15 minutes before removing them from the wax paper.
Store for later, or serve and eat immediately. Enjoy!
How do you store gingerbread no bake cookies?
You can keep these cookies stored in an airtight container, at room temperature, for 3-5 days or in the fridge for up to 1 week. This should give you plenty of time to share or enjoy them throughout the week.
Can you freeze these no bake gingerbread cookies?
You sure can! Start by positioning them as close together as possible without them touching on a baking sheet. Freeze for one to two hours. Then, once solid, transfer them to a zip loc freezer bag. Then you can pull them out and defrost them whenever you want.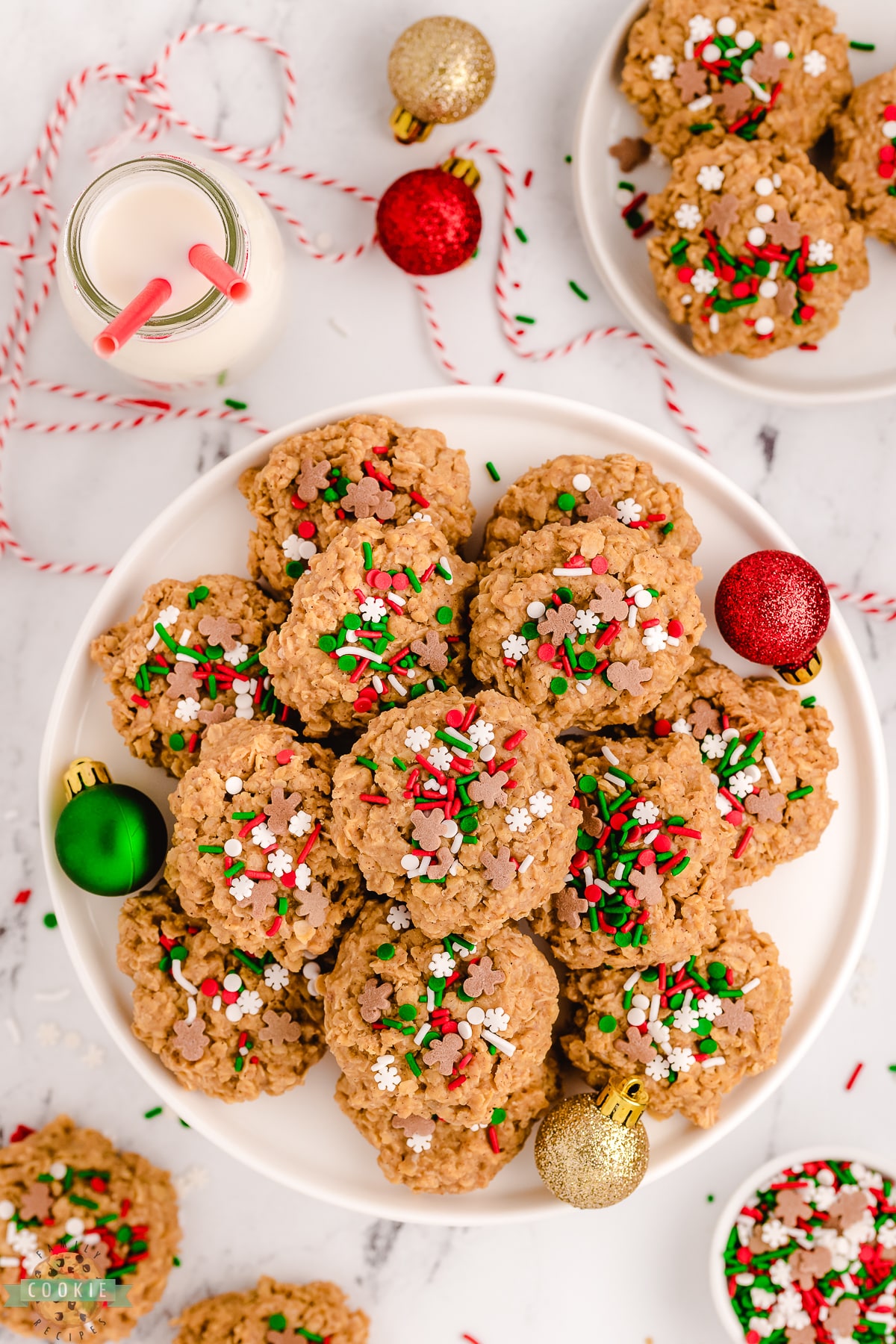 Why are my no bake cookies dry and hard?
If you overcook the cookie mixture on the stove, you will find that the cookies turn out more firm and crumbly than desired. It is important to keep a close eye on it to avoid having this happen.
Why do I need quick oats?
As you may have already noticed or guessed, there is a big difference between quick-cooking oats and regular oats. Quick-cooking oats will produce a softer texture while still giving you a chewy cookie while whole oats like steel cut will produce a very chewy cookie with a firmer texture. This is because the quick cook oats have been processed more so they can absorb more liquids and act as a binder too.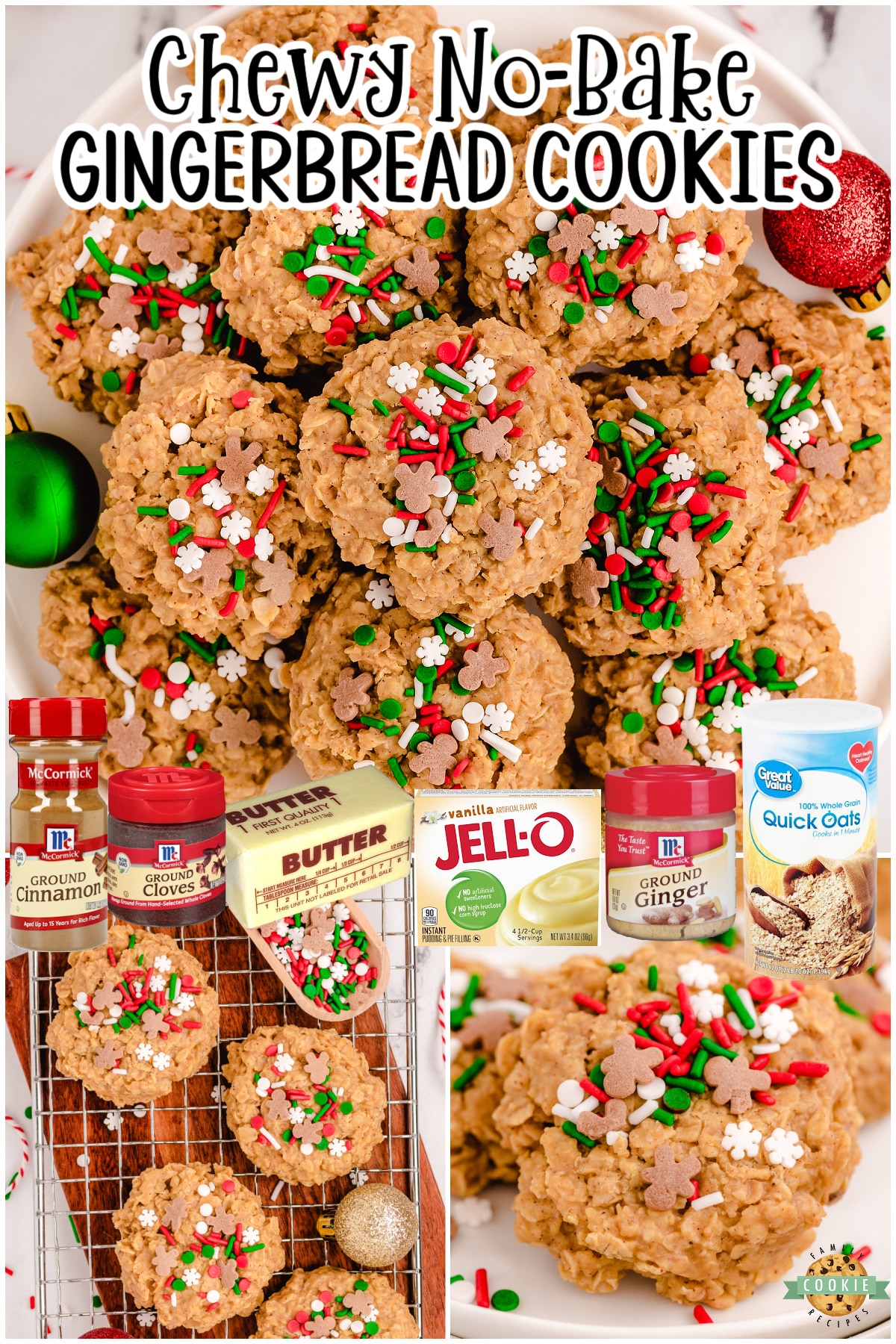 No Bake Gingerbread Cookies are an altered recipe on the classic holiday favorite cookie to create a unique treat! These easy gingerbread cookies are a great seasonal dessert that are perfect for holiday parties, cookie exchanges, or to enjoy with your family during the week.