No Bake Muddy Buddy Protein Cookies are made with just 6 ingredients in less than 5 minutes. These delicious cookie have 6 grams of protein each!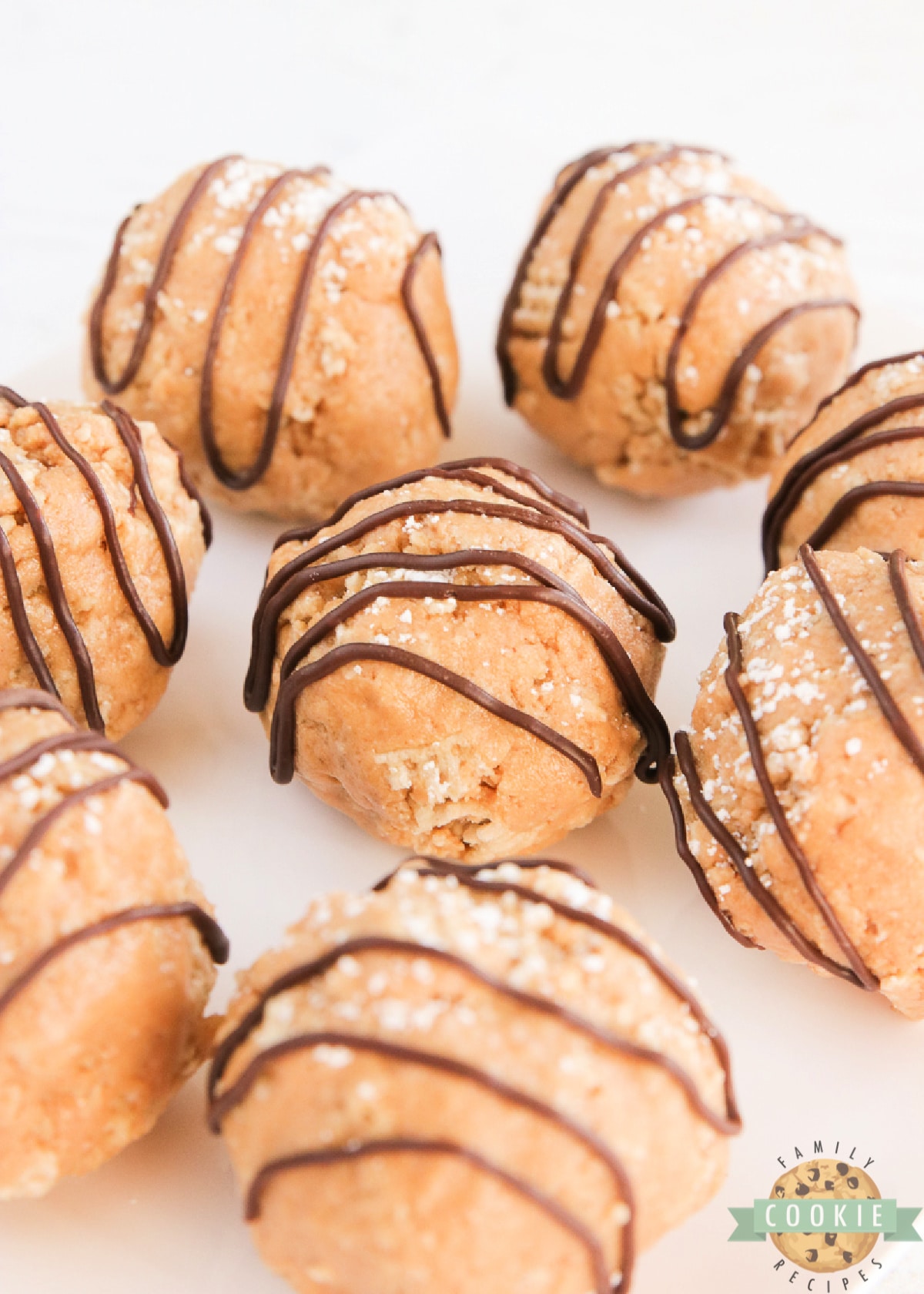 What are No Bake Muddy Buddy Protein Cookies?
These little treats might be a little more like a protein ball, but they taste a little more like a cookie. These cookies taste like Muddy Buddies – one of my favorite dessert snack mixes made with peanut butter, chocolate, powdered sugar and Rice Chex. These cookies have protein powder in them to increase the protein and make them a little healthier without sacrificing any taste!
How much protein are in these cookies?
These No Bake Muddy Buddy Protein Cookies have 6 grams of protein each. They each have 12 grams of carbs and 9 grams of fat, so these cookies have more balanced macros than most cookies. Each cookie has about 150 calories.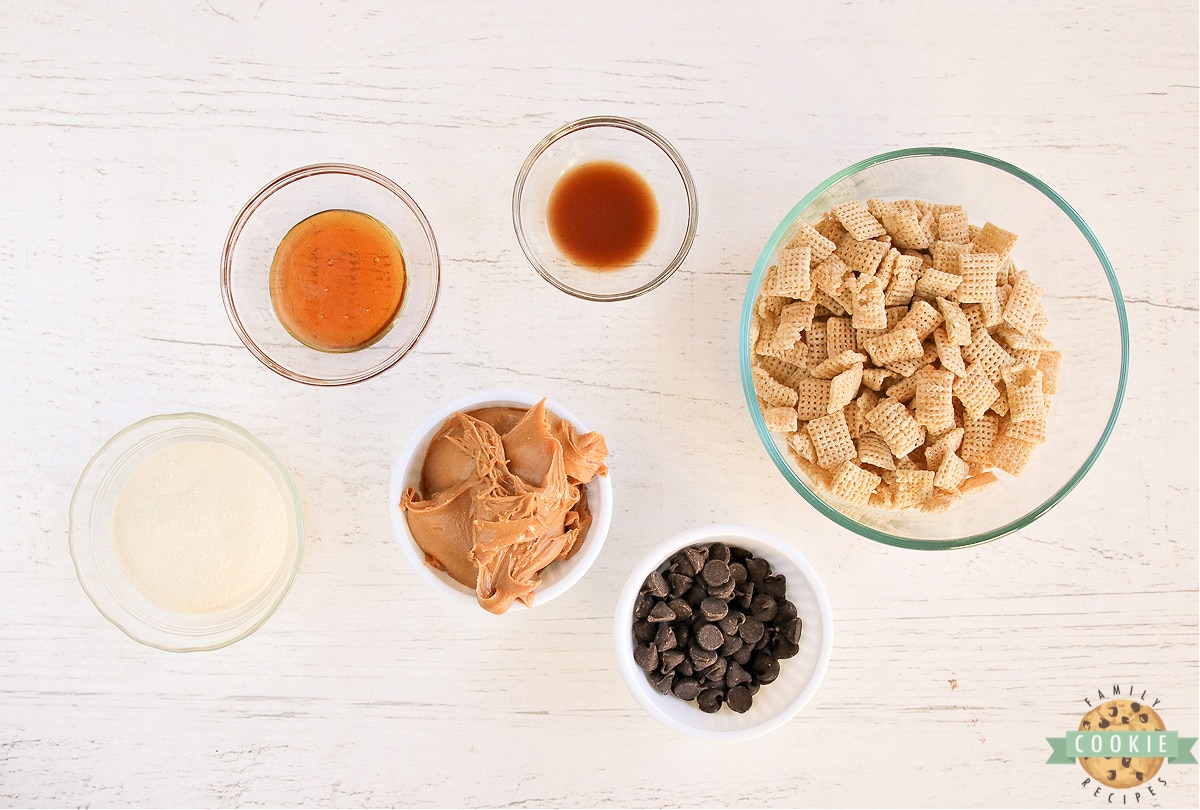 Ingredients in No Bake Muddy Buddy Protein Cookies
Rice Chex cereal – Rice Chex is typically used in Muddy Buddies, and definitely works the best, but you can use another variety of Chex if you prefer. You can use another type of rice cereal like Rice Krispies or Special K if that's what you have on hand.
Peanut butter – You will need 1/2 cup of peanut butter. Any type of peanut butter will work great, but I usually use a regular creamy peanut butter like Jif or Skippy.
Vanilla protein powder – You can leave the protein powder out, but it really adds quite a bit of protein to each cookie and even if you don't normally like the taste of protein powder, you won't really be able to taste it…I promise! My favorite protein powder is the one from Clean Simple Eats – I've tried so many and this is absolutely the best tasting one ever! Tastes delicious even when you just mix it with water.
Honey – You just need 1 tablespoon of honey to add a little extra moisture and sweetness to the cookies.
Vanilla extract – The higher the quality of vanilla, the better. I like to use a vanilla bean paste – the flavor is incredible.
Semi-sweet chocolate chips – You just need 1/4 cup of chocolate chips to melt down and drizzle on the top of the cookies. You can use milk chocolate or dark chocolate if you prefer. Or you can even leave off the drizzle – the cookies are still delicious.
Powdered sugar – This is optional but makes the cookies even prettier and makes them taste (and look) even more like traditional Muddy Buddies.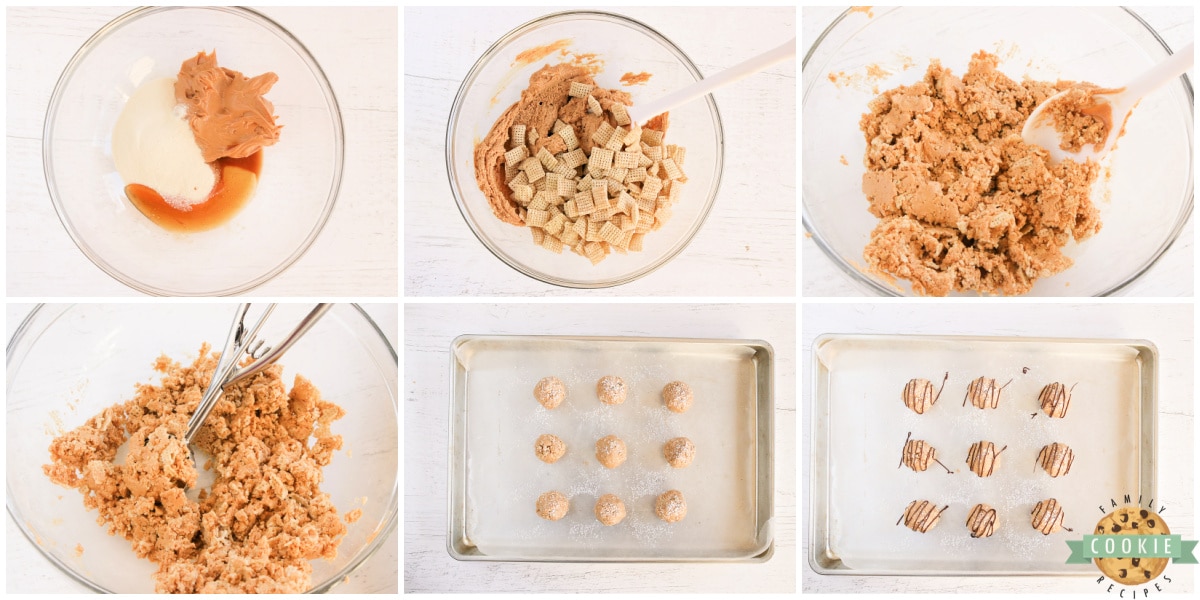 How to make No Bake Muddy Buddy Protein Cookies
Mix the peanut butter, protein powder, honey and vanilla together until smooth. Add the Rice Chex and smash with a spoon, stirring and smashing until most of the cereal is broken and everything is mixed well.
Use a cookie scoop to scoop out tablespoonfuls of the mixture and roll them between your hands to form balls. Sprinkle a little powdered sugar on top if desired.
Place the chocolate chips in a small glass bowl and microwave for 45 seconds. Stir and then microwave for another 30 seconds. Stir until smooth. If the chocolate isn't fully melted, microwave for another 15 seconds and then continue stirring. Place the melted chocolate in a small ziplock bag and snip a tiny hole in the corner. Squeeze the chocolate out as a drizzle over each cookie ball. Eat immediately, or store in the refrigerator or store at room temperature until ready to eat.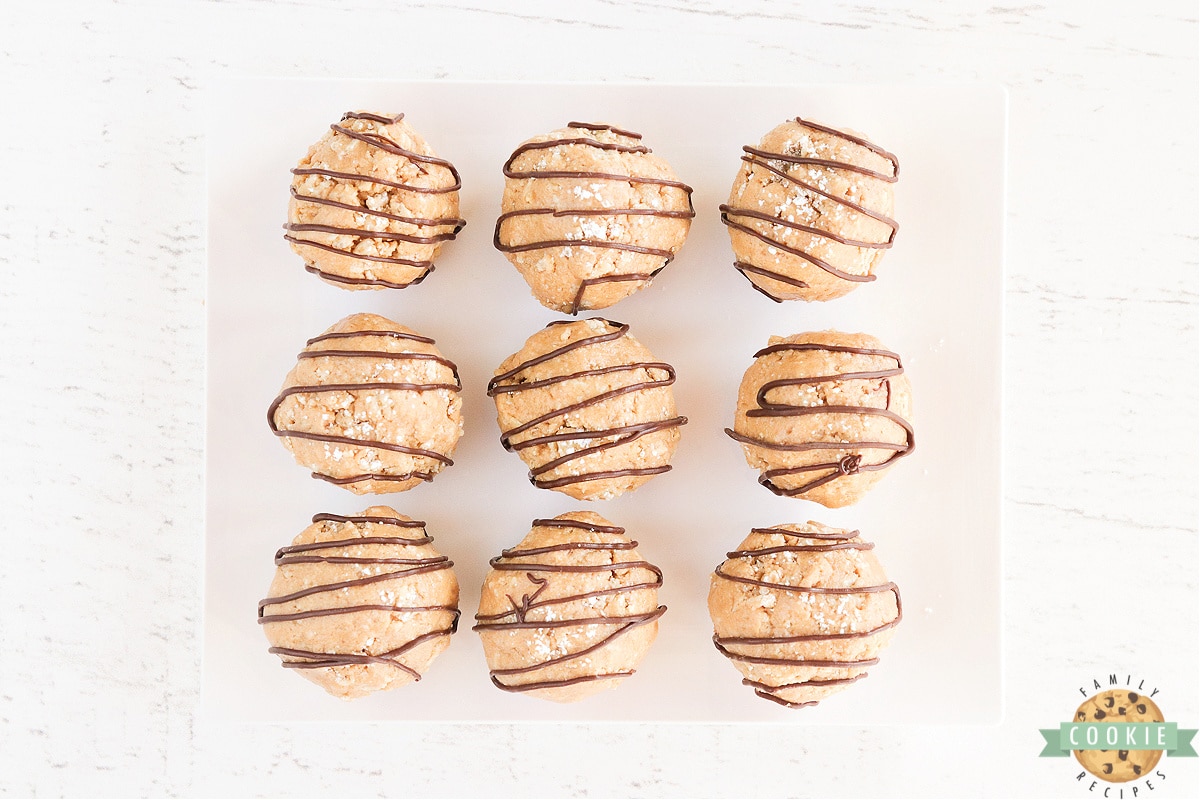 What kind of peanut butter to use in Muddy Buddy Protein Cookies?
You can use any type of peanut butter that you'd like. Creamy, crunch, all-natural, regular…it all works. You can even use almond butter or another type of nut butter if you'd rather. You can also reduce the fat in each cookie if you use a reduced-fat peanut butter.
HOW LONG ARE NO BAKE COOKIES GOOD FOR?
These no bake cookies can last up to a week if stored properly in an airtight container at room temperature. That said, I doubt they'll last that long because mine hardly ever last an entire day around here. They can be stored in the freezer for up to 2 months. I like to keep mine in the refrigerator and they are good for up to several weeks that way. I like to make a double or triple batch and then we eat them throughout the week.
CAN I FREEZE NO BAKE SMORES COOKIES?
Absolutely! Just set the cookies out on a baking sheet and flash freeze for an hour or two in the freezer. Then move to an airtight container and freeze for up to 4 months. When you're ready to eat, just take them out and allow them to come to room temp so that they are easier to bite.
HOW DO YOU MELT CHOCOLATE IN THE MICROWAVE?
Melting chocolate in the microwave is easy if you go slowly. Always use a glass or ceramic bowl and chocolate that's not old. Start by microwaving the chocolate for about 45 seconds. Then, gently stir and see if chocolate begins to melt smooth. If it's still really solid, add 20-30 seconds in the microwave, then let it sit again. Often chocolate looks like it's not melted when it really is, so make sure to stir it up a little bit and see if it melts. You just want to be careful not to microwave the chocolate too long or it will seize up.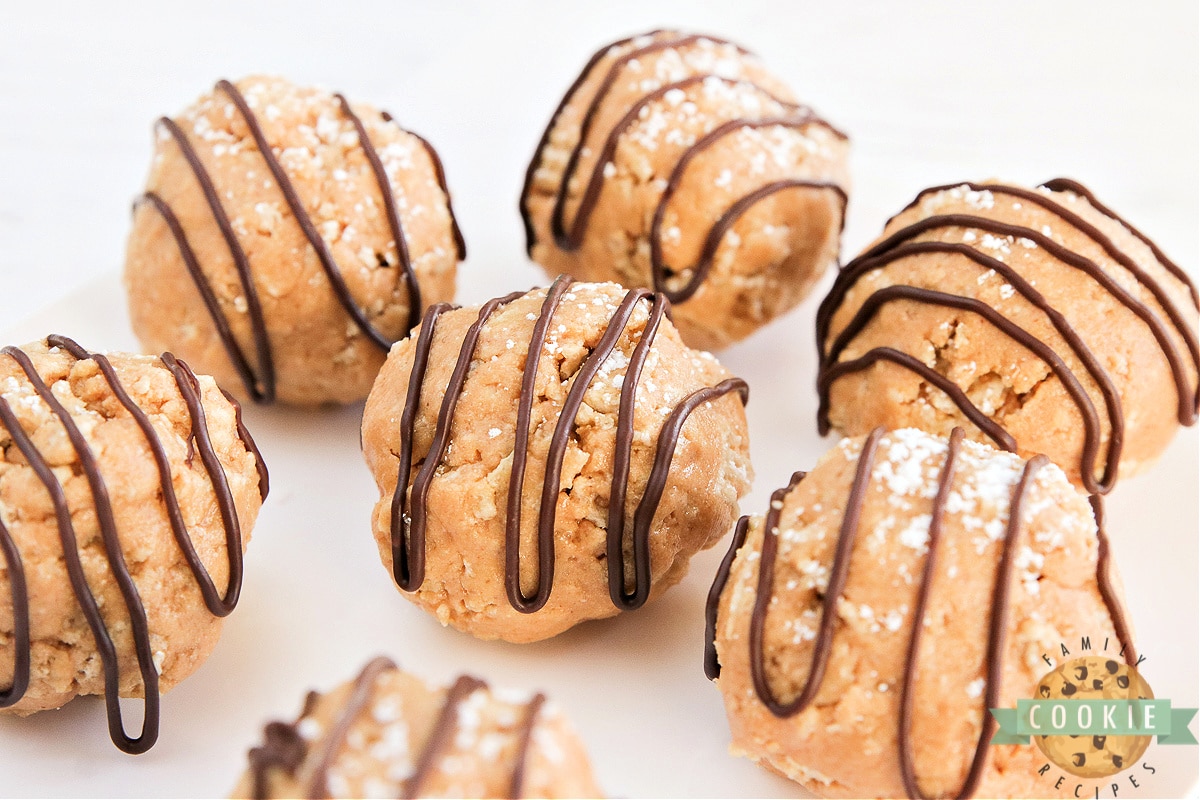 No Bake Muddy Buddy Protein Cookies are made with just 6 ingredients in less than 5 minutes. These delicious cookie have 6 grams of protein each!



This little girl of mine is daughter #3…the middle child. Throughout her life, she has definitely found ways to stand out and not get lost in the mix. Found this picture from her 3rd birthday, which was almost exactly 9 years ago since her 12th birthday is in a couple weeks. I still see her in my mind as one of my "younger" kids, so it is really strange to realize that she's definitely not a little kid anymore! She is so smart, organized, persistent, stubborn and helpful. Has more personality than most and definitely has taught me a lot over the years.