No-Bake S'mores Cookies made with oats, peanut butter, marshmallows & graham crackers! Simple recipe for s'mores fans that's a fun twist on classic no-bake cookies.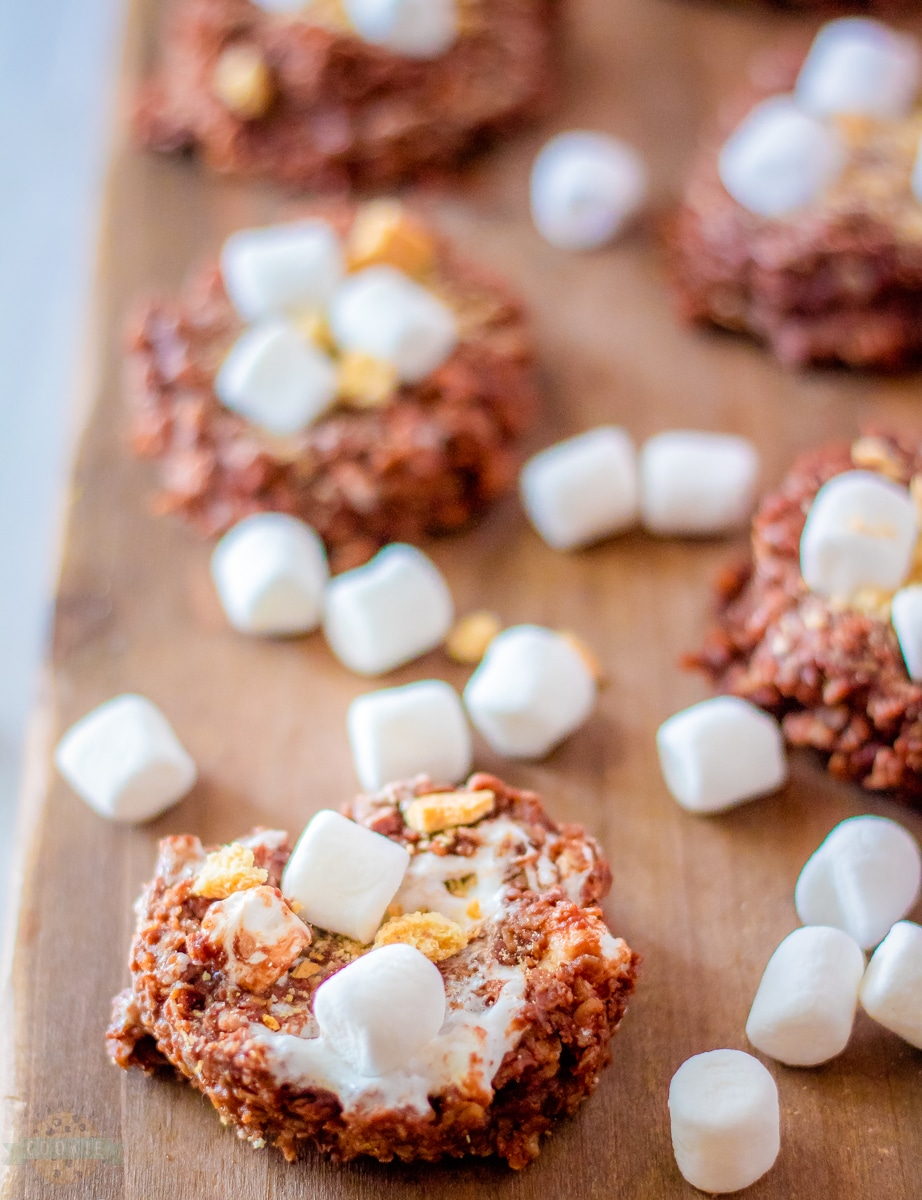 Made with oats, peanut butter, and your smore favorites like chocolate, graham crackers, and marshmallows, these cookies are packed with delicious flavors. You're going to love these simple oatmeal smore cookies because they take minutes to prep and won't heat up the house with long bake times and preheating ovens- perfect for those of us not wanting to heat up the house on an already hot summer's day.
Peanut butter smores cookies
While your traditional smores are just graham crackers, chocolate, and marshmallows, we bring a collision of flavors by combining them with our favorite no bake cookie recipe. Together with the flavors and textures of chocolate, peanut butter, oats, and soft squishy marshmallows, all rolled into one fabulous cookie combination that is sure to delight.
This no bake smores recipe is fabulous and we cannot say enough good things about it. Make a batch and enjoy it now or store it away for later. Burn bans and rainy weather can't keep you from enjoying this no bake smores dessert!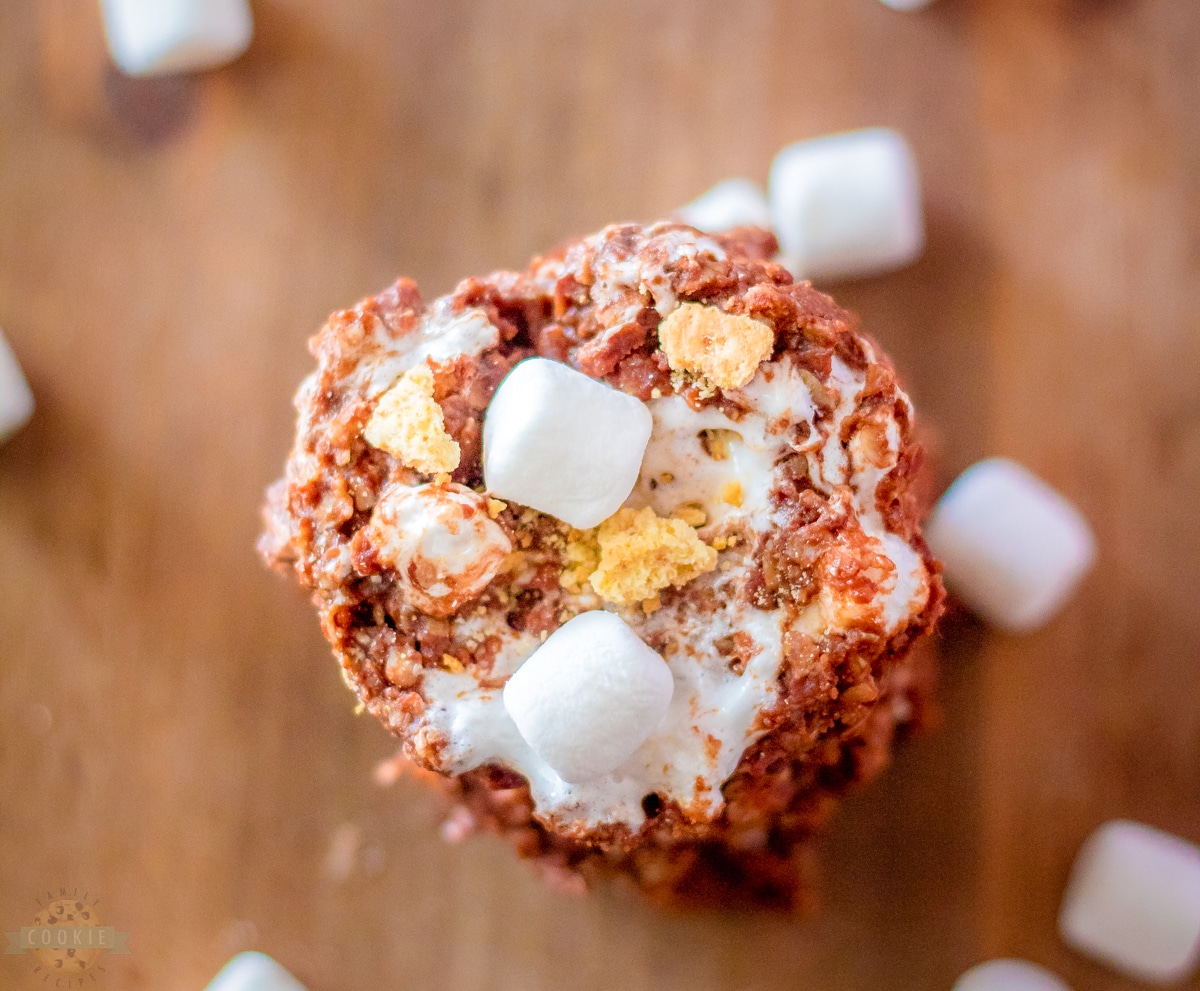 No bake smores cookie ingredients
-Butter: You will need ½ cup of butter for the cookies (this is one stick).
-Cocoa powder: To give us our chocolate cookies we need 4 tablespoons of unsweetened cocoa powder.
-Sugar: We want our cookies nice and sweet so use 2 cups of granulated sugar per batch.
-Milk: Adding in ½ cup of milk will help to soften the oats and give us a great texture.
-Salt: This will help to naturally enhance the flavors in the recipe making these cookies taste even better. Use ⅛ teaspoon (about a pinch).
-Oats: You will need 3 cups of quick cooking oats for the base of theses for the base of this cookie recipe.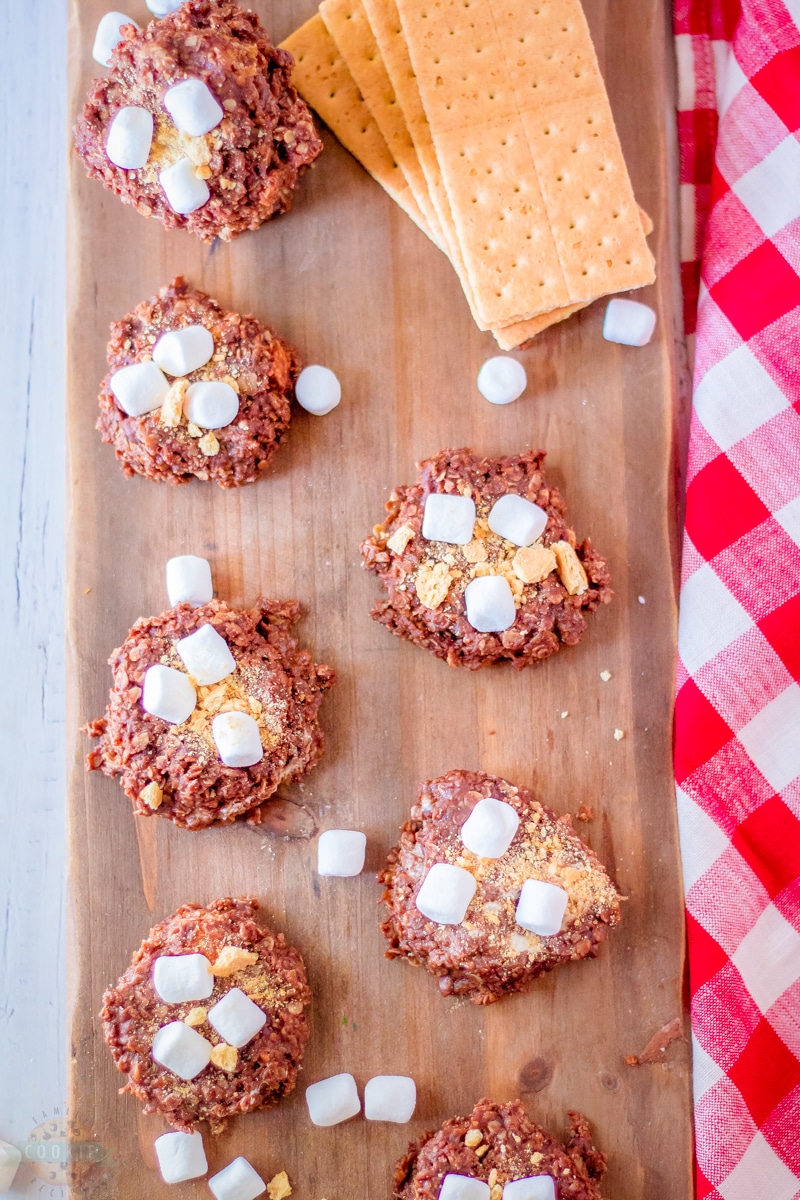 -Peanut butter: This will give us a great depth of flavor and help to hold the cookies together as well! Use ½ cup of creamy peanut butter.
-Vanilla: Another great flavor enhancer is vanilla. Use 1 teaspoon of vanilla to give our flavors a great base to branch off of.
-Marshmallows: A staple ingredient in any smores recipe is marshmallows so we will need 1 cup of mini marshmallows, plus another ½ cup for topping the cookies later.
-Graham crackers: To give us a great graham cracker flavor we will need 1/2 cup of graham cracker crumbs. You can mash up your graham cookies in a Ziploc with a rolling pin by rolling over it a few times. Super easy and fun.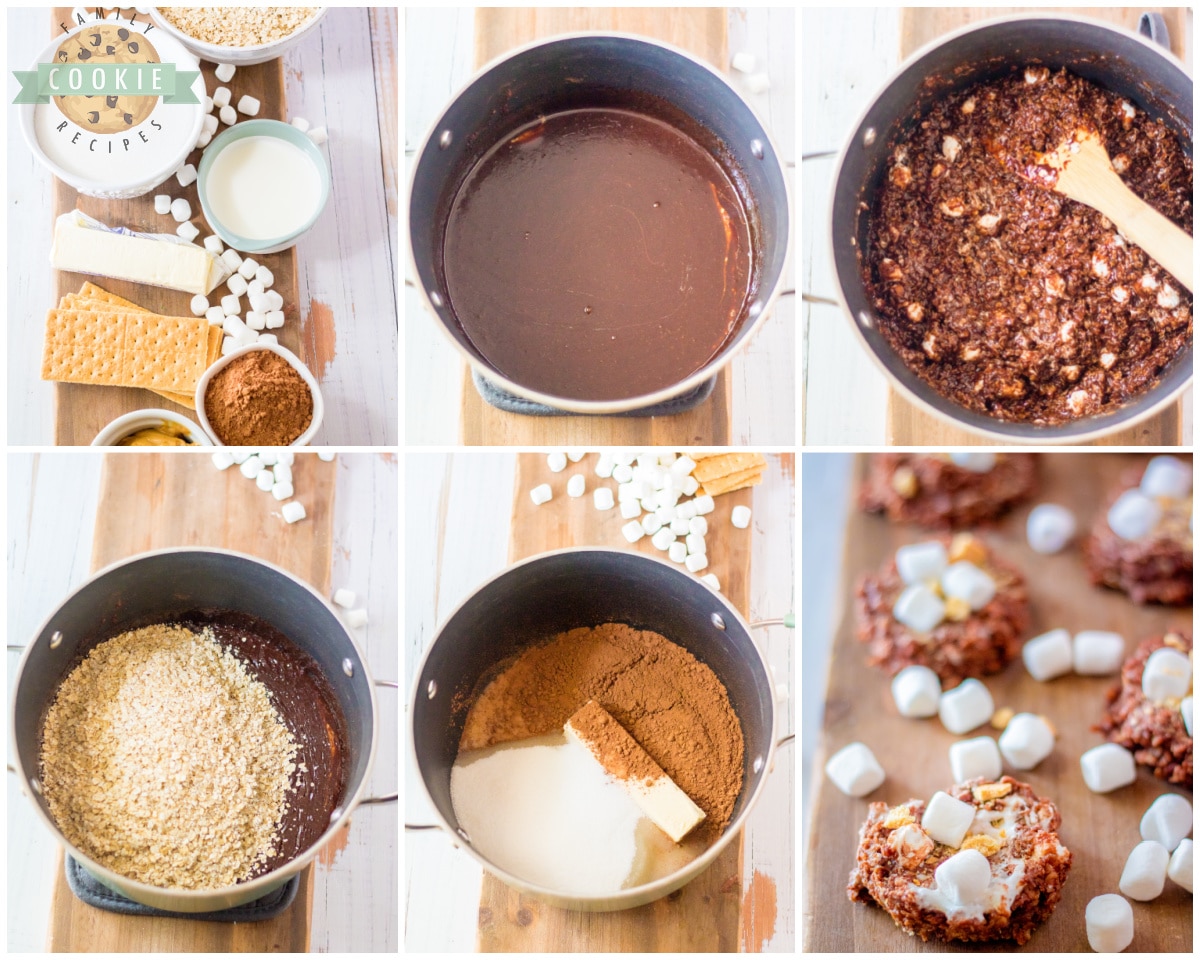 How to make smores cookies
In a large pot over medium high heat, mix together the butter, cocoa, sugar, milk, and salt.
Bring the mixture to a boil, and allow to boil for 1 minute.
Remove from the heat and stir in the peanut butter and vanilla until melted.
Stir in the oats and ¼ cup of the graham crumbs until combined.
Gently mix in 1 cup of mini marshmallows.
Drop the cookie mixture by the tablespoonfuls onto wax paper.
Immediately top the cookies with more marshmallows and the remaining graham cracker crumbs.
Allow the cookies to cool and set completely before eating. Enjoy!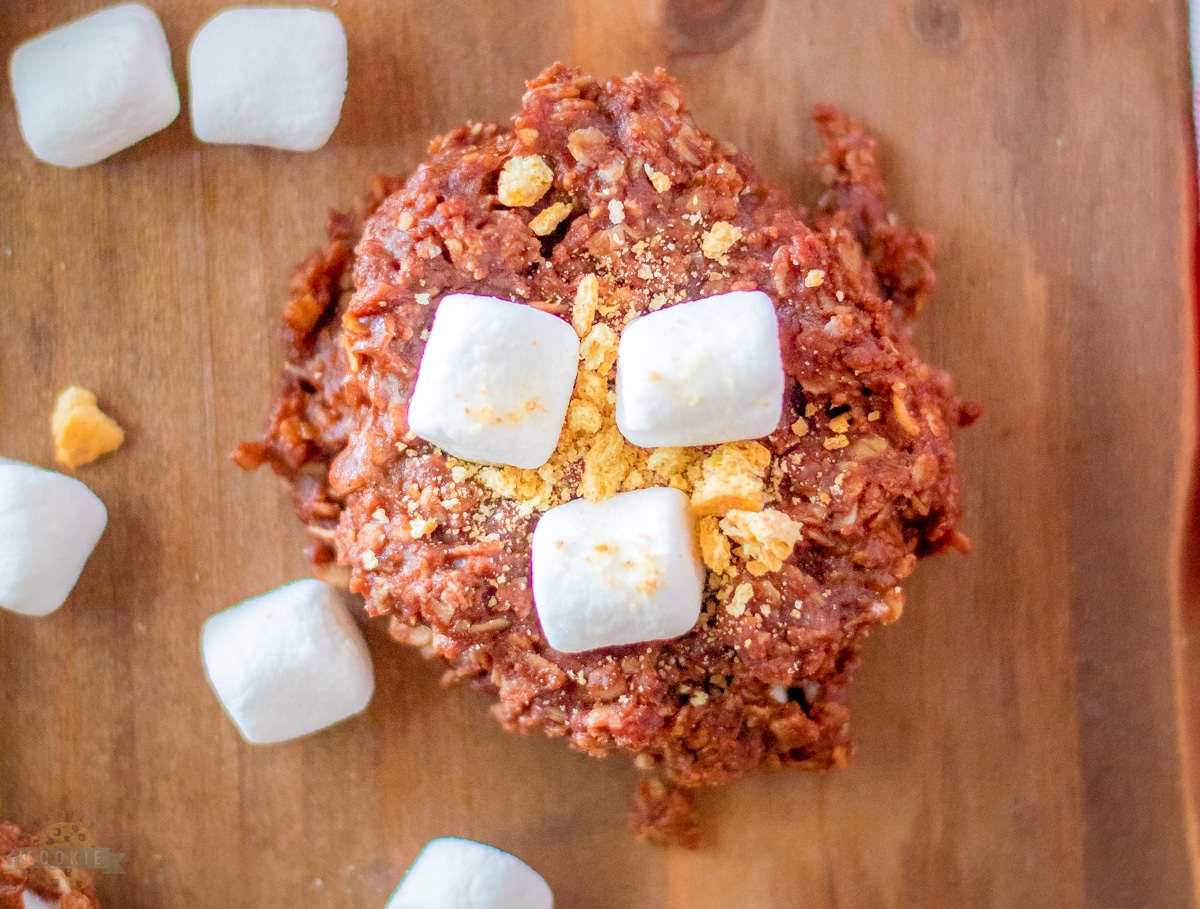 How long are no bake cookies good for?
These no bake cookies can last up to a week if stored properly in an airtight container at room temperature. That said, I doubt they'll last that long because mine hardly ever last an entire day around here. They're irresistibly good!
Can I freeze no bake smores cookies?
Absolutely! Just allow the cookies to cool and set before laying them on a baking sheet and flash freezing for an hour or two in the freezer. Then move to an airtight container and freeze for up to 4 months. When you're ready to eat, just take them out and allow them to come to room temp so that they are easier to bite.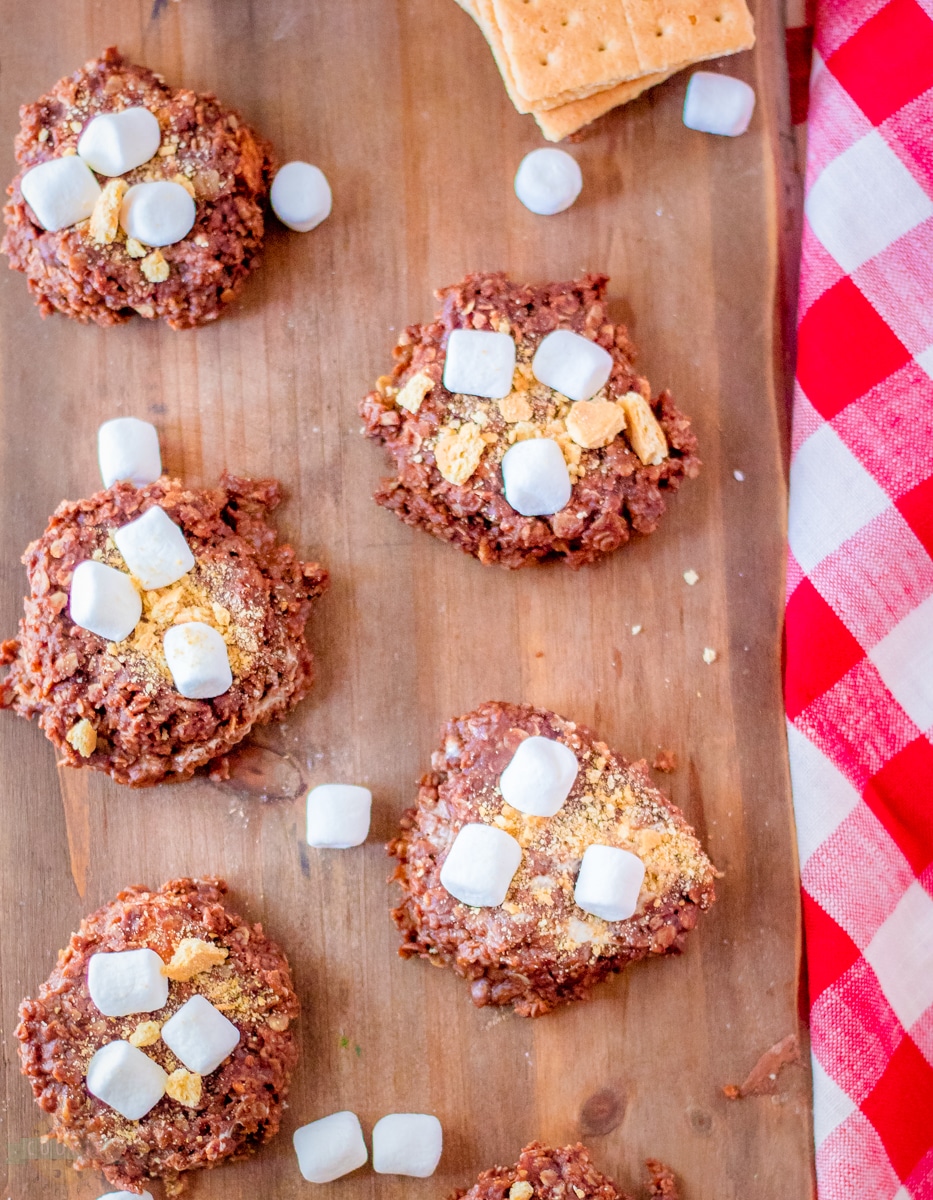 More delicious no bake cookie recipes
S'more cookies to love (see what I did there?)
You're going to love these easy smore cookies. With a no bake smores cookie recipe like this on hand, you'll always be summer-ready!

We recently took our family on a road trip for an unofficial family reunion. It was my grandfather's 90th birthday and my sisters and I had been planning a big party for months. It was amazing! So cool to have 4 generations of family there, reacquainting with each other, meeting each other, etc.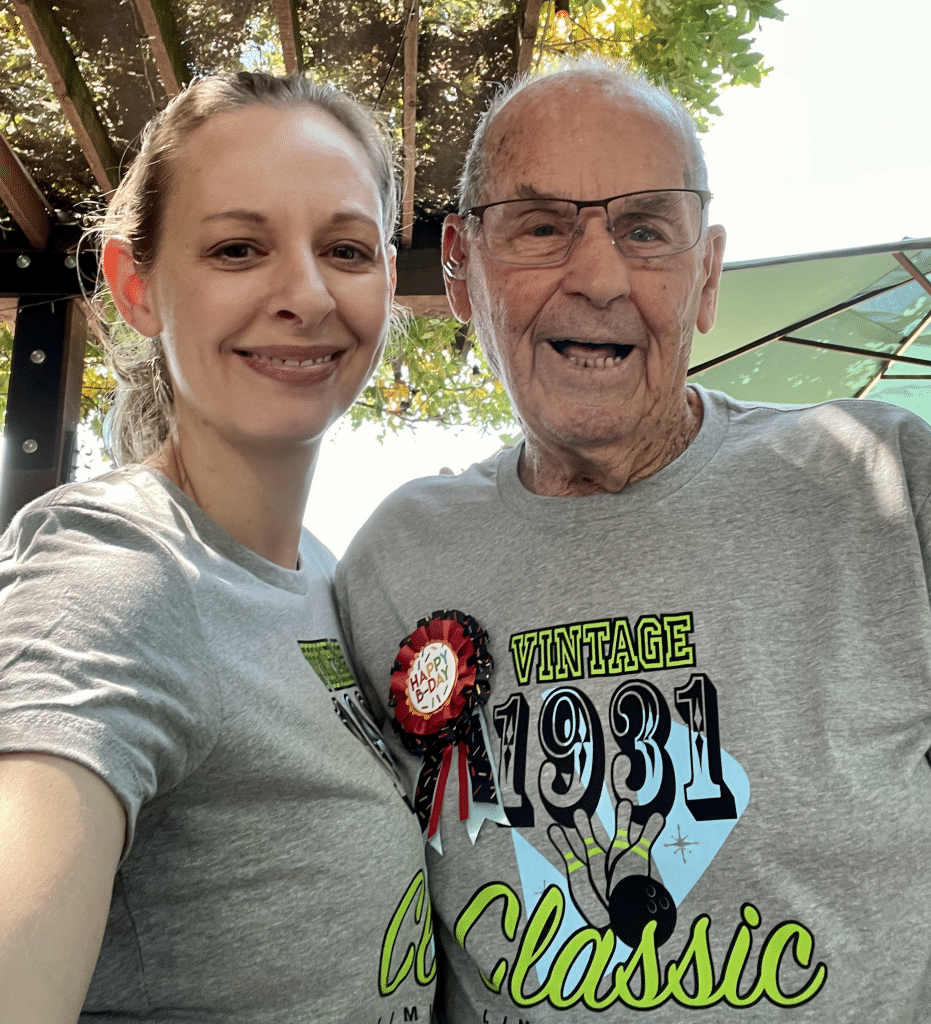 Here's me and my grandpa! I remember visiting him and my grandma growing up- helping get rid of gophers in the fields, building stuff out of wood scraps in the garage & finding frogs in the sink! I love that my kids have gotten to know him!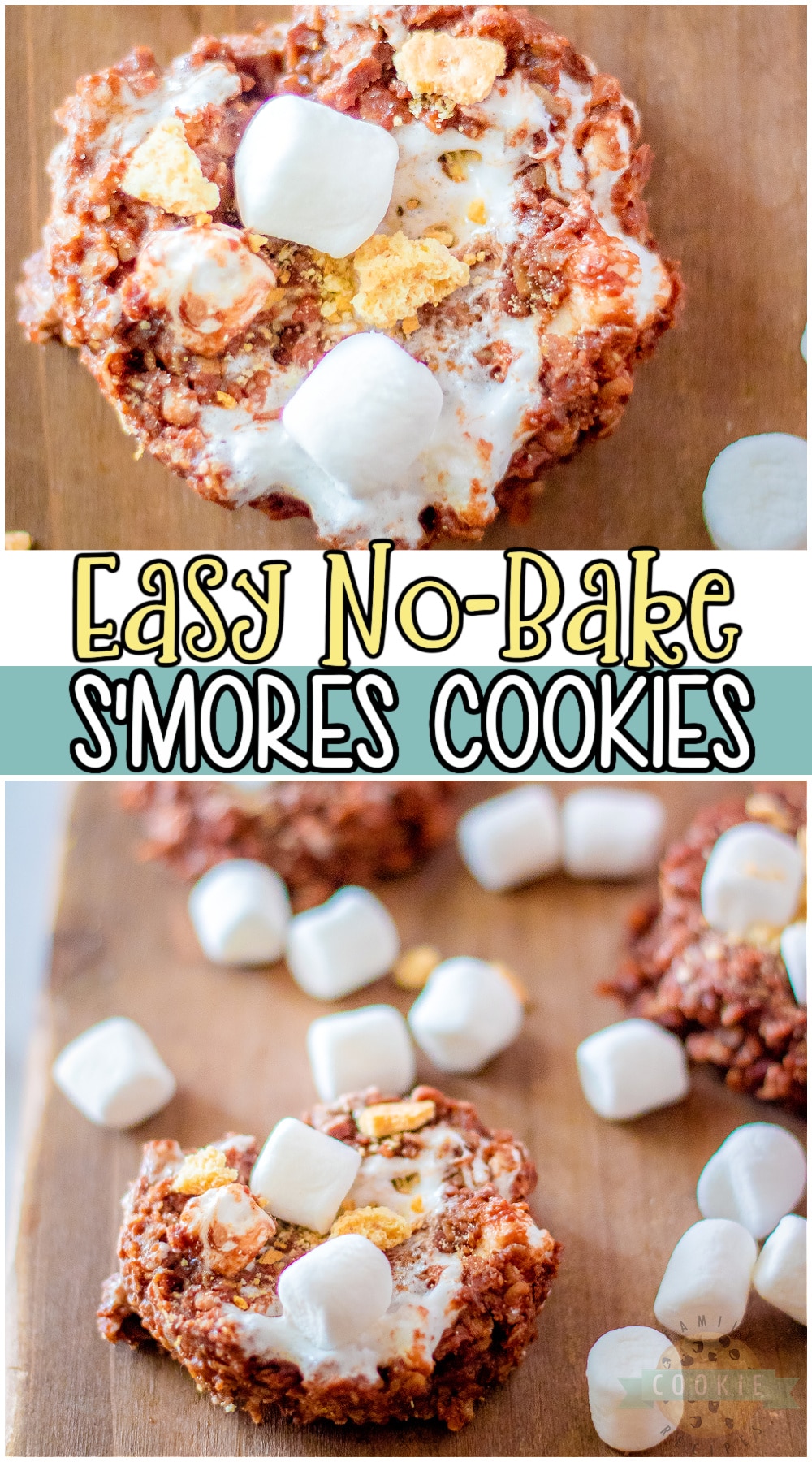 No-Bake S'mores Cookies made with oats, peanut butter, marshmallows & graham crackers! Simple recipe for s'mores fans that's a fun twist on classic no-bake cookies.