No-Bake Caramel Crunch Cookies combine cornflakes, rice krispies & coconut with soft caramel for a sweet & crunchy cookie that's made in minutes!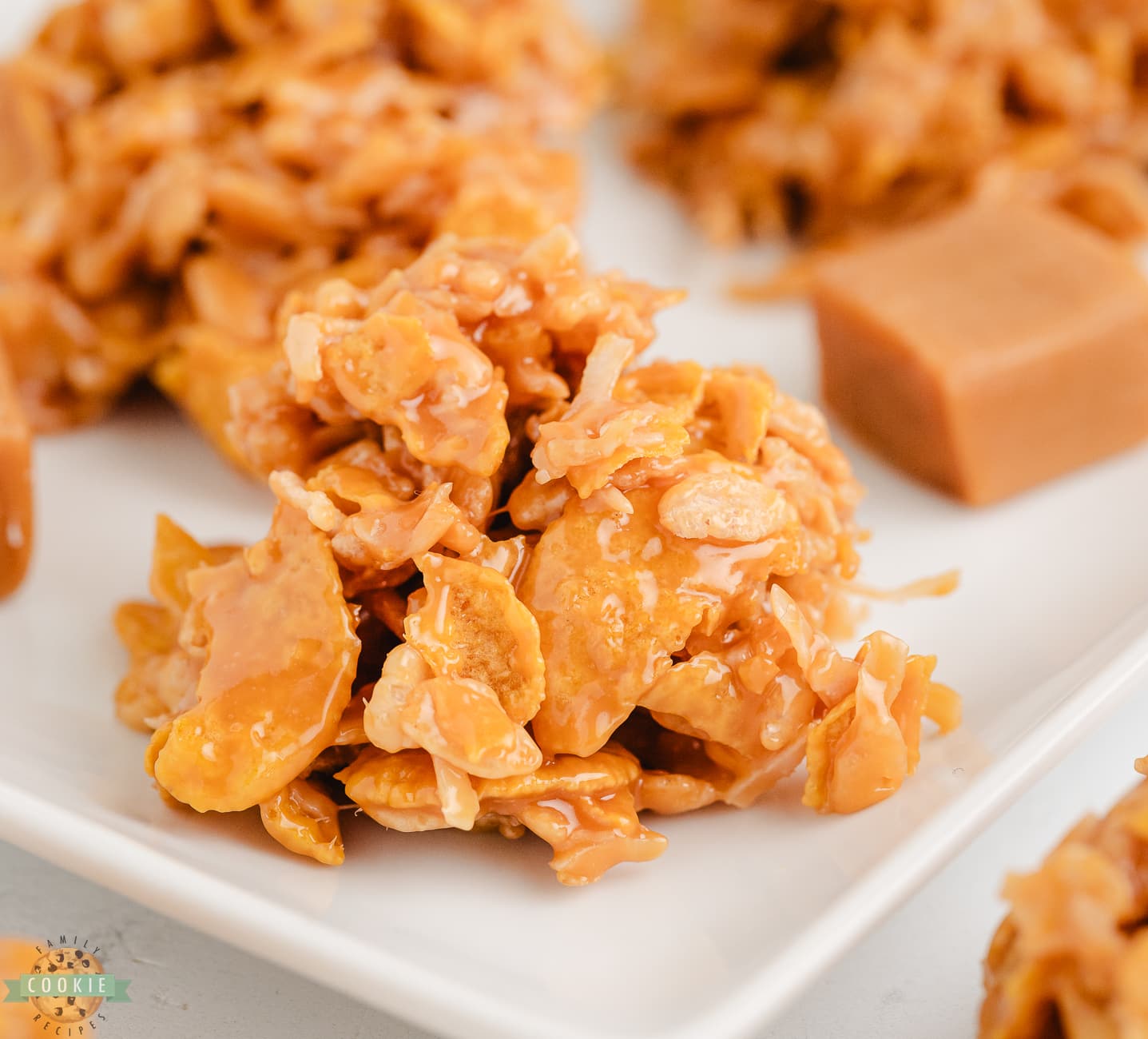 To make rise krispie cookies, all you need is some caramel sauce, rice cereal, and shredded coconut. Read on for how to make no-bake cookies for a crunchy, sweet, and satisfying treat that is sure to please.
What are No-Bake Caramel Cookies?
No-bake caramel crunch cookies are a delicious and easy-to-make dessert that requires no baking time. These cookies are perfect for those who want a sweet treat but don't have the time or energy to bake. The cookies are made with a combination of crunchy cereal, sweet caramel, and coconut flakes, making them a perfect blend of flavors and textures.
No-bake caramel crunch cookies are a great dessert for any occasion. They are perfect for potlucks, parties, or even as a quick and easy treat for yourself. These cookies are also a great option for those who are looking for a gluten-free dessert option, as many cereal brands are gluten-free. Whether you're looking for a quick and easy dessert to serve at a party or just want something sweet to snack on, No-Bake Caramel Crunch Cookies are a great choice.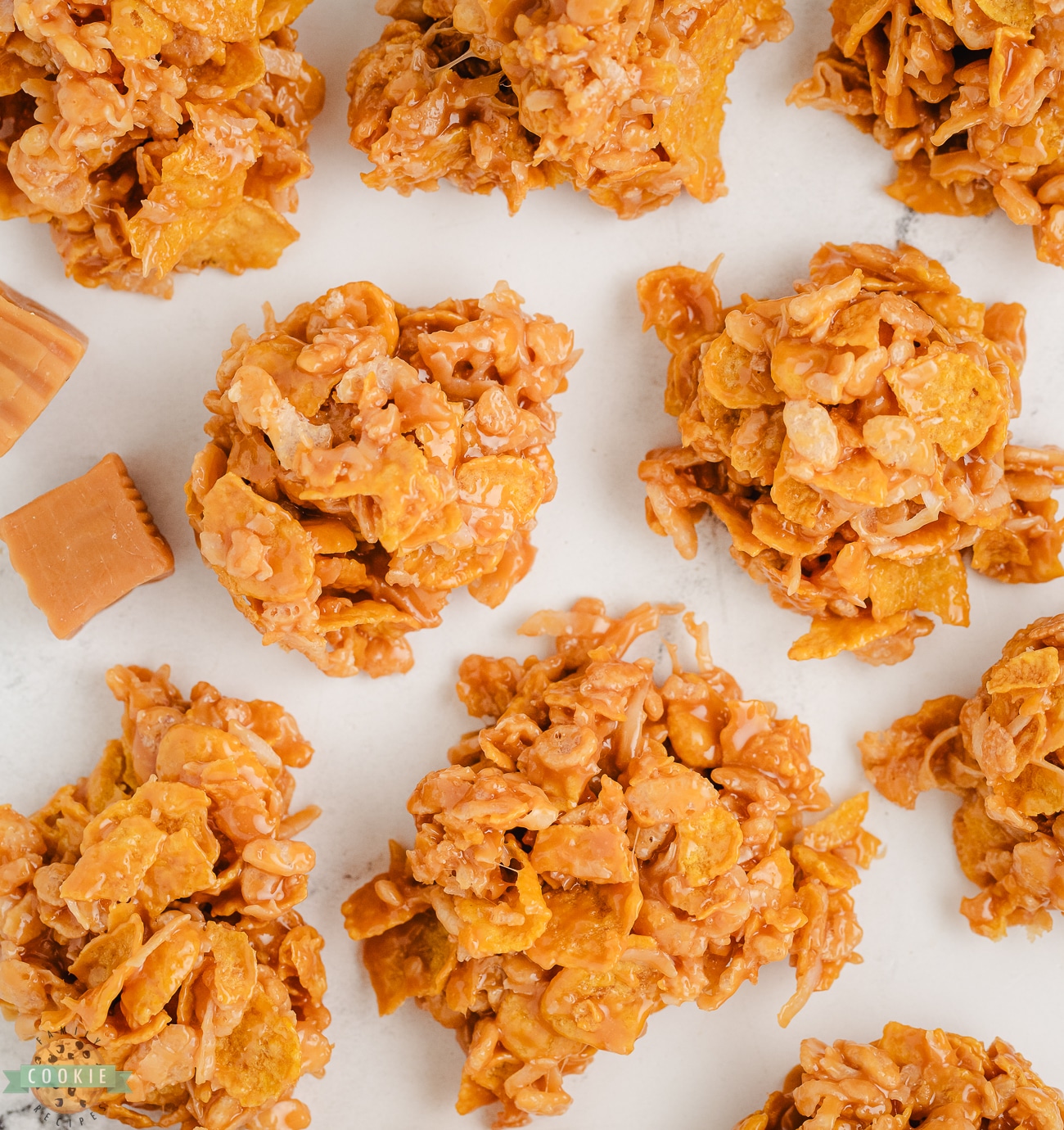 Why You Will Love This No-Bake Cookie Recipe
Quick and Easy: This recipe requires only 10 minutes of preparation time, making it a great option for busy individuals who want a quick and easy dessert.
No-Bake Required: No need to heat up your kitchen with a hot oven. These cookies can be made without any baking, making them perfect for hot summer days.
Kid-Friendly: Children will love these cookies as they are fun to make and eat. They can also be a great activity for a family night in.
Ingredients for No-Bake Caramel Cookies
Caramels: You will need one 11-ounce bag of caramels, unwrapped, for the delicious binding ingredient in this no-bake cookie recipe.
Half & half: Use 3 TBSP of half & half cream to give the caramel sauce a lovely cream taste and consistency.
Cornflakes cereal: The base of this cookie recipe is 2 cups of cornflake cereal.
Krispies cereal: Add in 1 cup of rice krispie cereal for even more amazing texture to these treats.
Coconut: You will want to add in ½ cup of unsweetened shredded coconut for a wonderful milky and nutty flavor.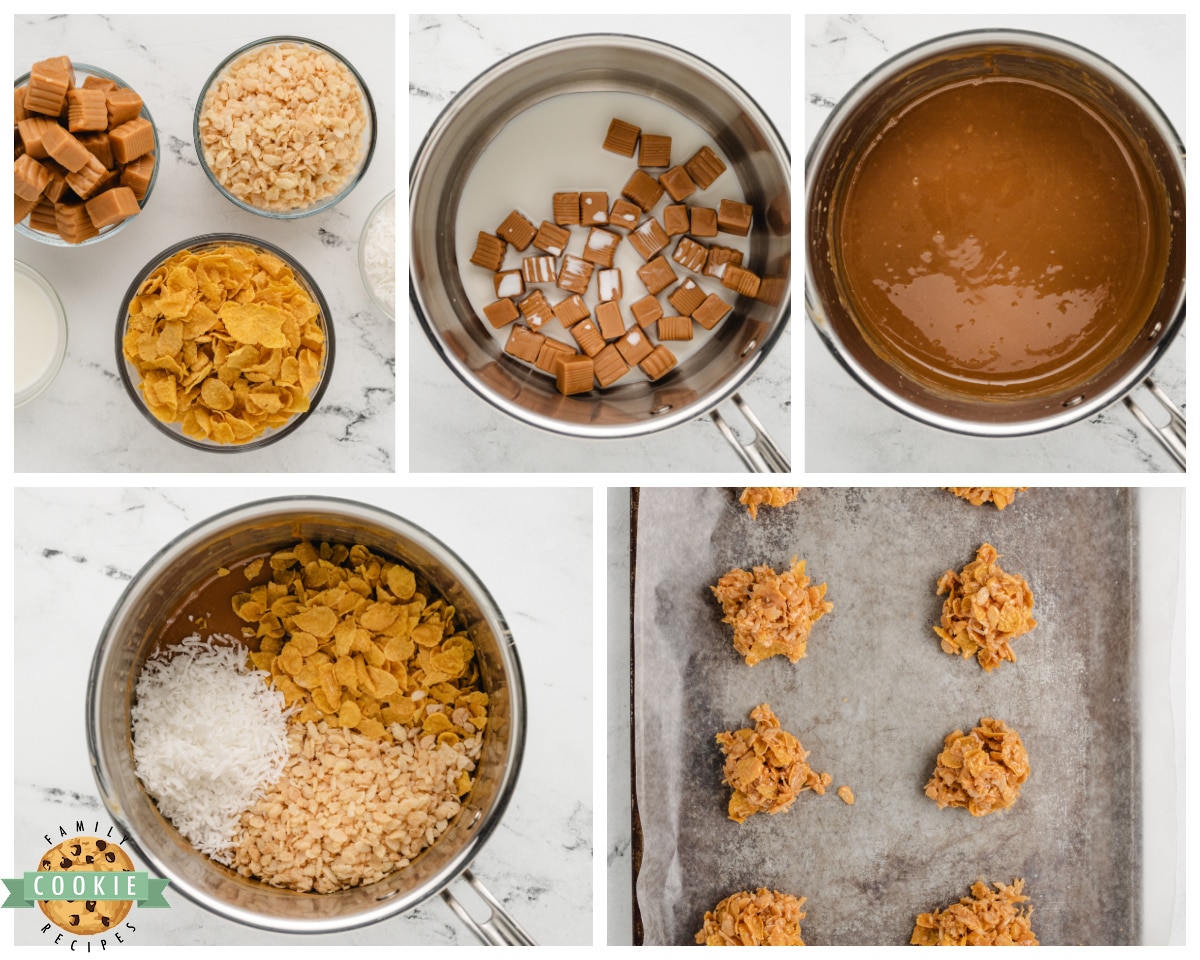 Easy how to on how to make No-bake Caramel Crunch Cookies
Caramel sauce
In a large saucepan, heat and stir the caramels and half & half cream on low for about 20 minutes, until smooth and the caramels are completely melted. Then remove the mixture from the heat.
Combine
Proceed to add in the cornflakes, rice krispies and shredded coconut, stir to coat all the cereal well.
Assemble & chill
Next, use a medium sized cookie scoop to portion out about 1.5 TBSP portions of batter onto parchment or wax paper. Let the cookies cool until set, you can put them in the fridge to speed up this process if you'd like!
Serve and enjoy!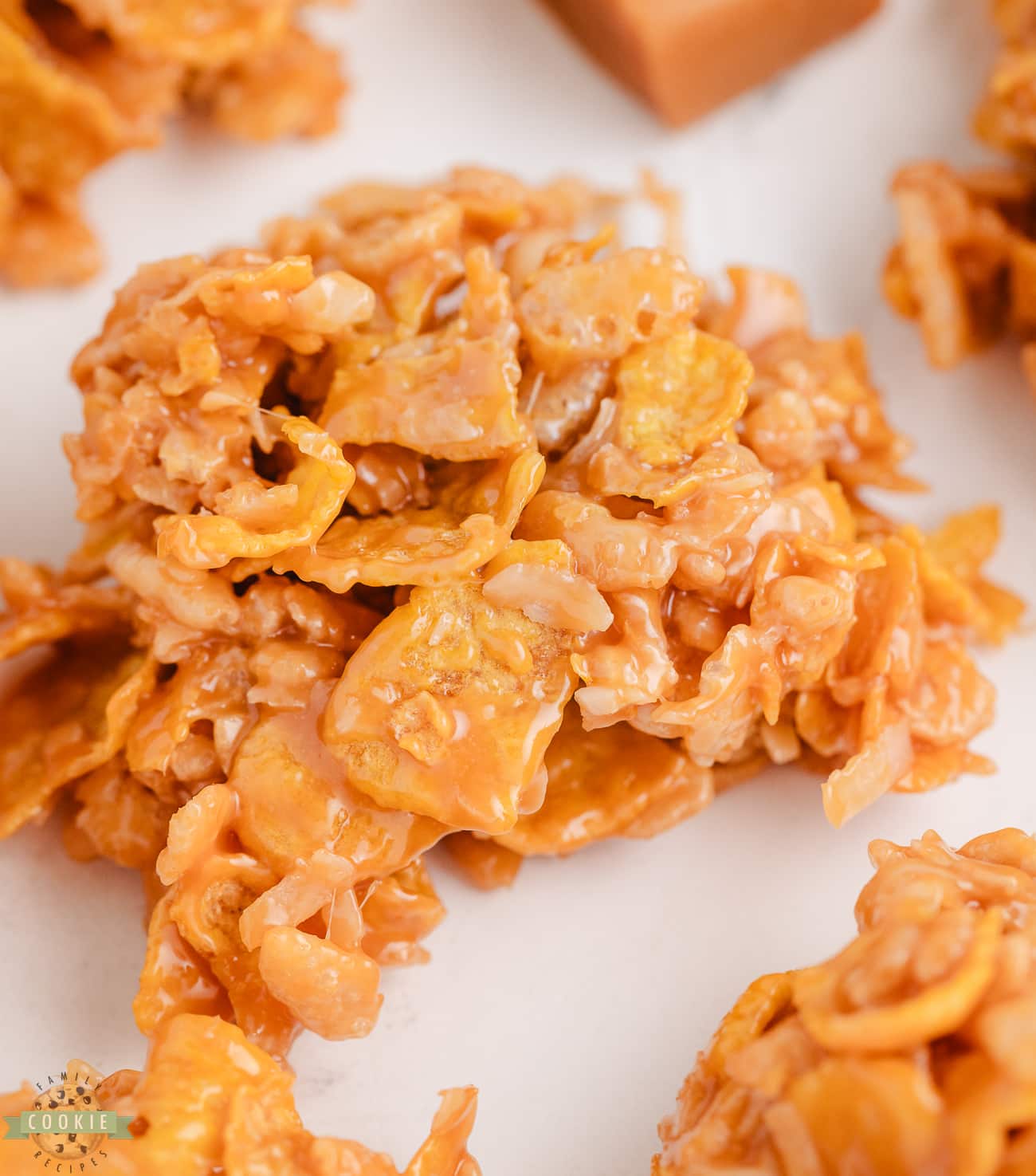 Possible Variations for No-Bake Caramel Cookies
Vegan Option: For those who follow a vegan diet, replace the half & half cream with coconut milk or even consider adding vegan chocolate chips. These substitutions will not affect the taste or texture of the cookies, making them the perfect vegan-friendly treat.
Gluten-Free Option: For those with gluten sensitivities or celiac disease, the No-Bake Caramel Crunch Cookies can be made gluten-free. Simply use gluten-free corn flakes and rice krispies and ensure that all other ingredients are certified gluten-free.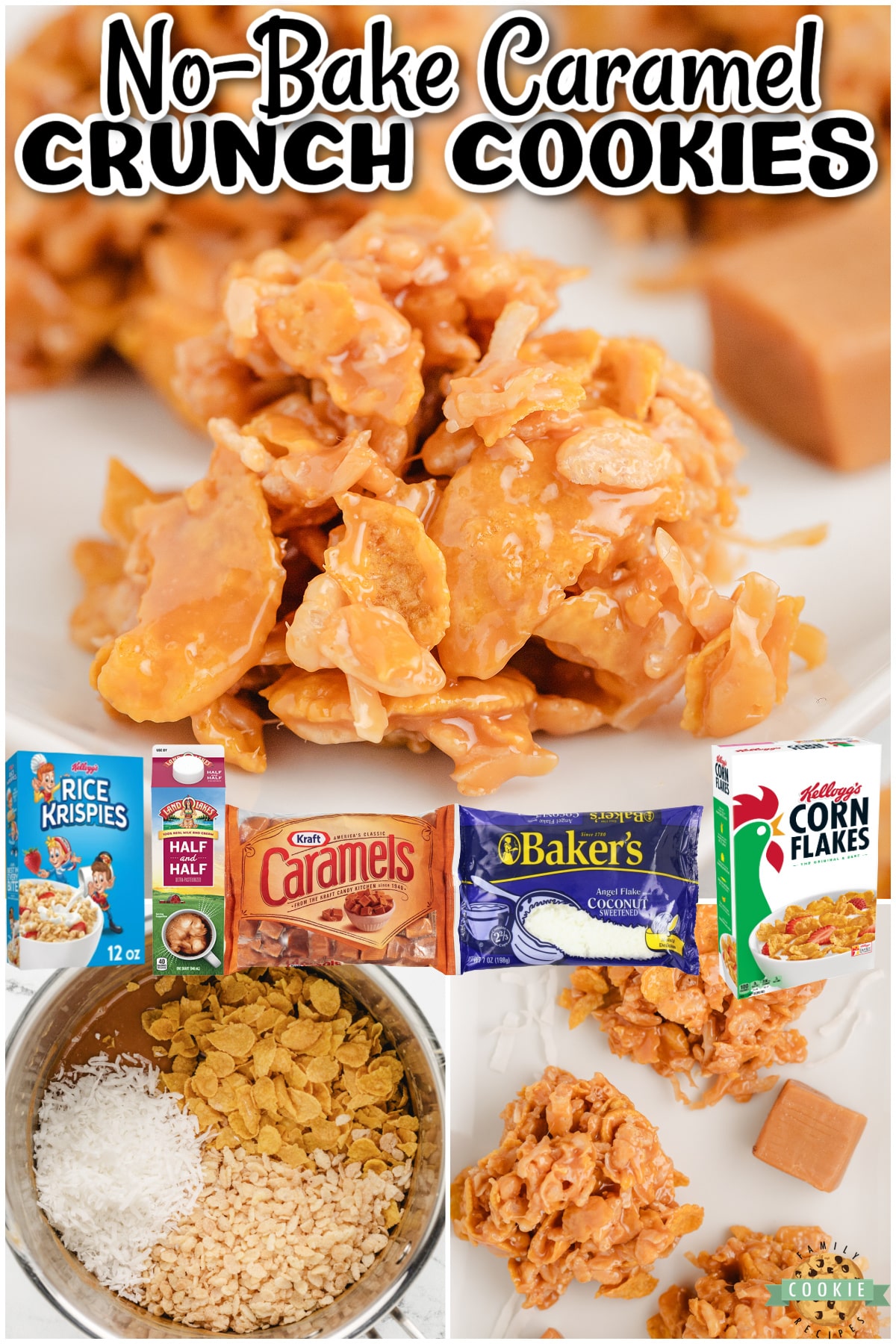 What are ways to fix no-bake cookies that won't harden?
First, you can try chilling the cookies in the refrigerator for a longer period of time. This will help them set and become firmer. If that doesn't work, you can try adding more dry ingredients such as corn flakes or rise krispies to the mixture. This will absorb some of the excess moisture and help the cookies firm up.
It's important to remember that no-bake cookies can be a bit finicky and may require some trial and error to get just right. But with a little patience and experimentation, you can create delicious and perfectly textured cookies every time.
HOW LONG DOES IT TAKE FOR NO BAKE COOKIES TO SET UP?
These cookies only take about 15-20 minutes to cool and set up at room temperature, but you can reduce that time by at least half if you let them set up in the refrigerator. If you prefer the taste and texture of these cookies at room temperature just make sure to remove them from the refrigerator once set. You can definitely eat them while cold though too!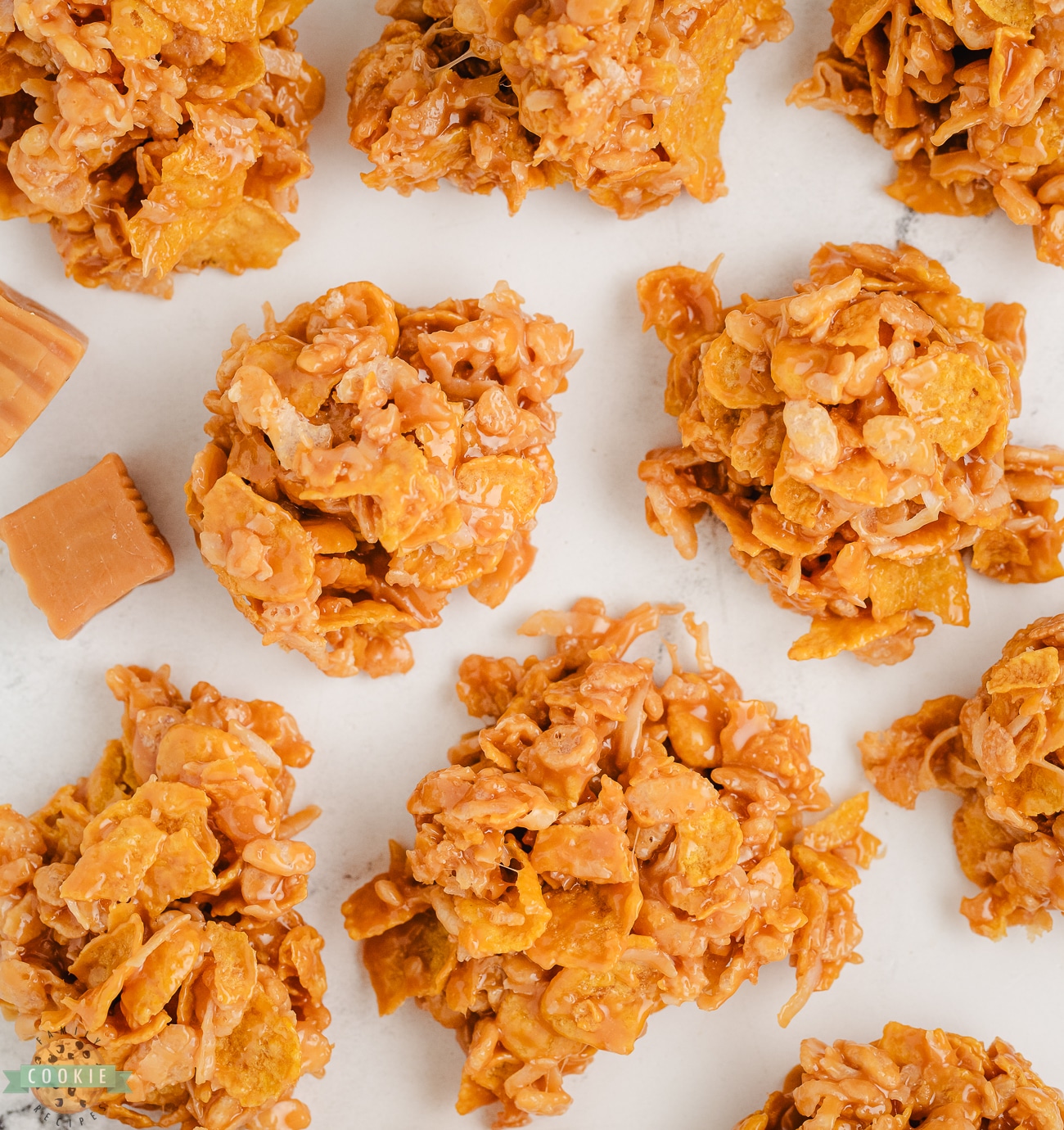 Storage and Shelf Life for No-Bake Cookies
No-Bake Caramel Crunch Cookies are a delicious treat that can be enjoyed for several days if stored properly. These cookies should be stored in an airtight container to keep them fresh. If stored at room temperature, these cookies will last for up to 5 days. However, if you want to extend their shelf life, you can store them in the refrigerator for up to 2 weeks. It is important to note that these cookies may become slightly softer if stored in the refrigerator. However, they will still be just as tasty.
If you want to freeze No-Bake Caramel Crunch Cookies, you can do so for up to 3 months. Simply place the cookies in an airtight container or freezer bag and store them in the freezer. When it comes time to enjoy your frozen cookies, simply remove them from the freezer and allow them to come to room temperature before serving.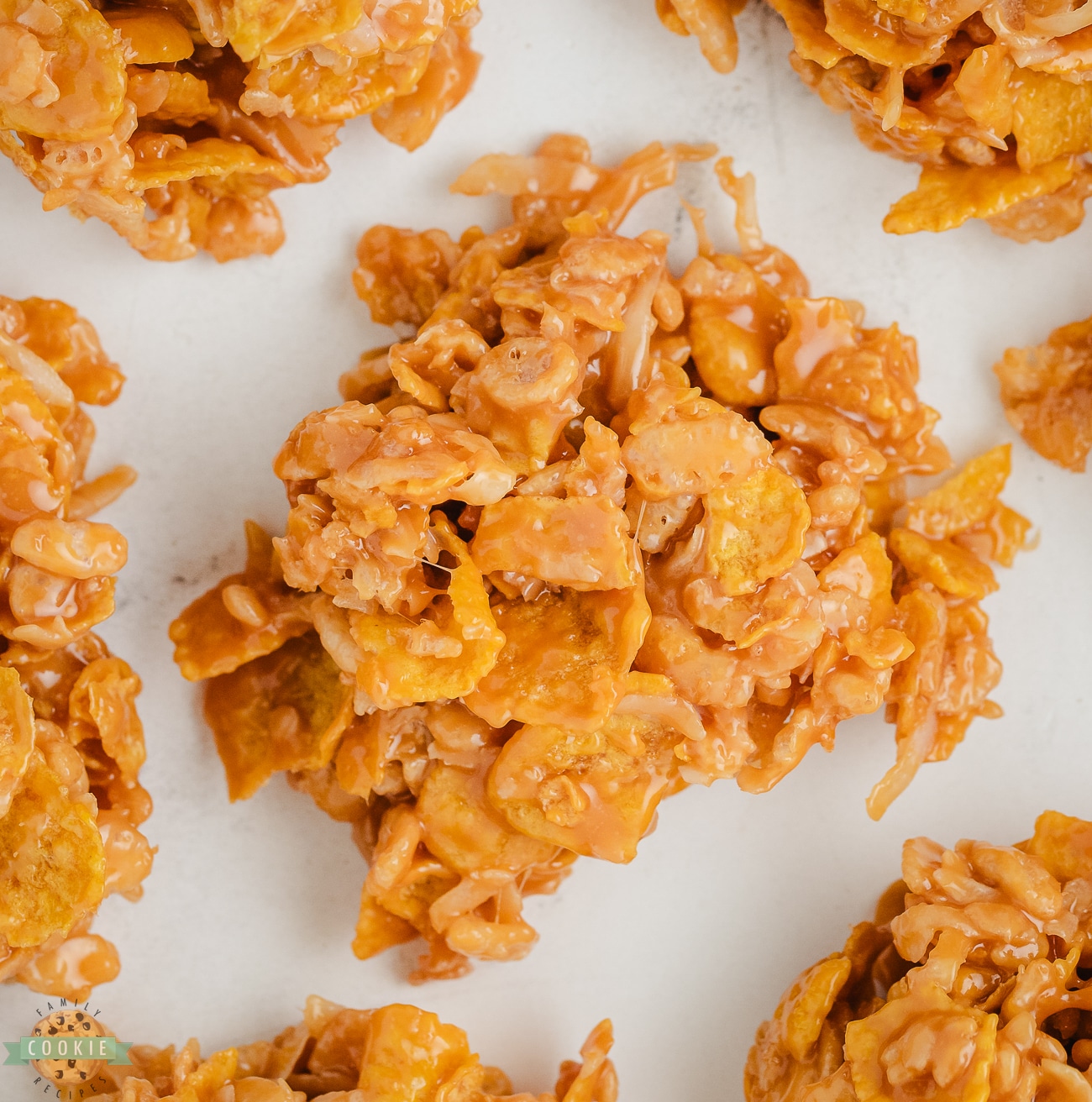 Want more incredible No-Bake Cookie recipes? Try more here!
No-Bake Caramel Crunch Cookies are a delightful tasting and easy to make treat that doesn't require any baking! This recipe for no bake cookies only calls for 5 ingredients, making it a great inexpensive treat to make for parties, potlucks or just to enjoy at home.