No Bake M&M Cookies are loaded with chocolate, oats, coconut & topped with M&M candies! These easy no-bake cookies are so simple to make and they have the best flavor!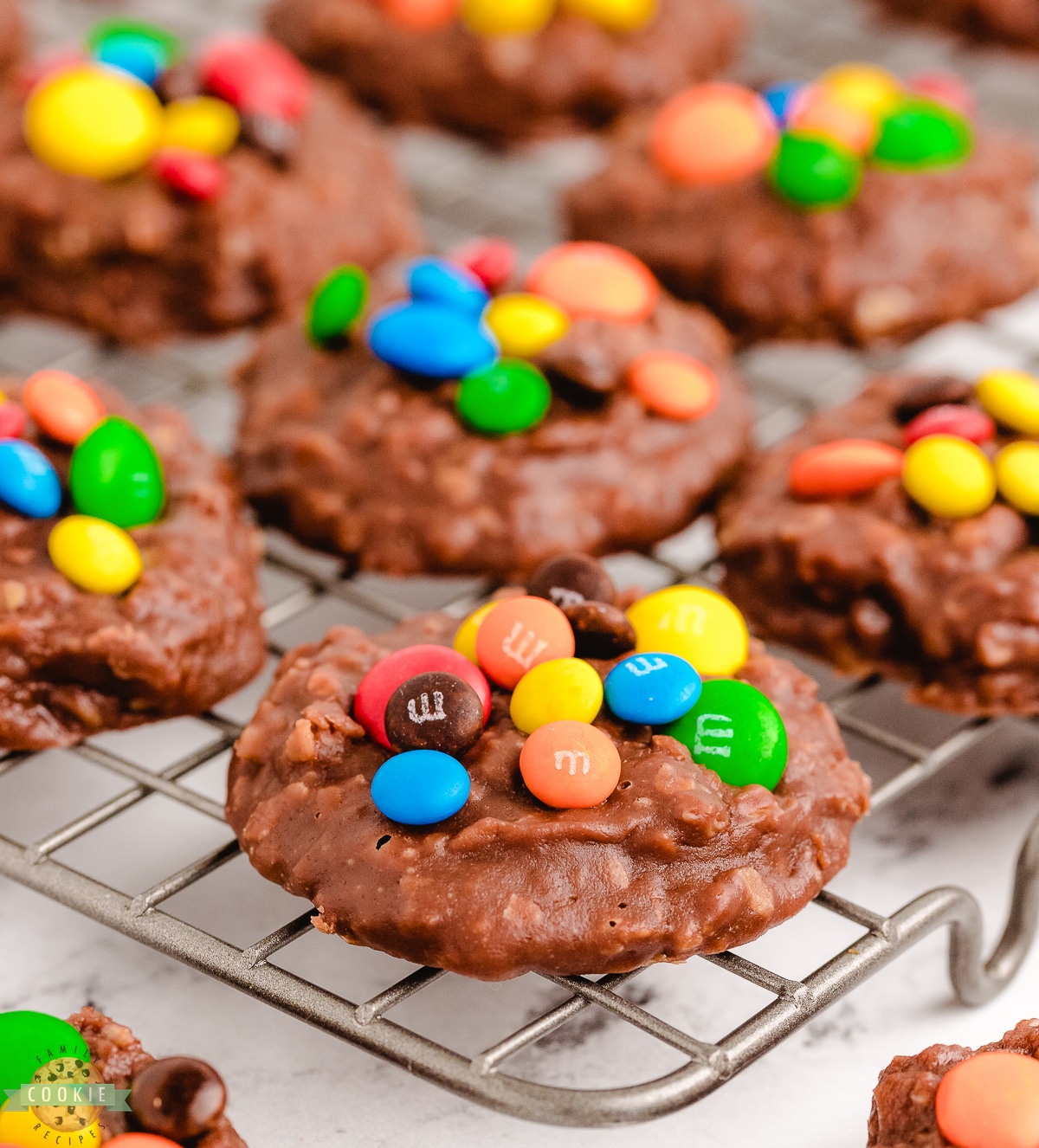 Serve up these coconut no bake cookies for any occasion, or keep them close by for those late night sweets craving. This no bake recipe is so versatile too, you can easily switch up ingredients to accommodate your families taste.
The BEST No Bake Cookies
While we have a lot of no- bake cookies on this site, none of them are quite like this. Melting down the butter, sugar, using melted chocolate instead of cocoa powder and then loading them up with M&Ms. They're honestly the best no-bake cookies I've ever had!
This is a fantastic recipe to make during the warmer months of the year. You can whip up some tasty treats without turning the oven on and heating the house up any more than it already is. Give them a try today and see just how amazing they taste!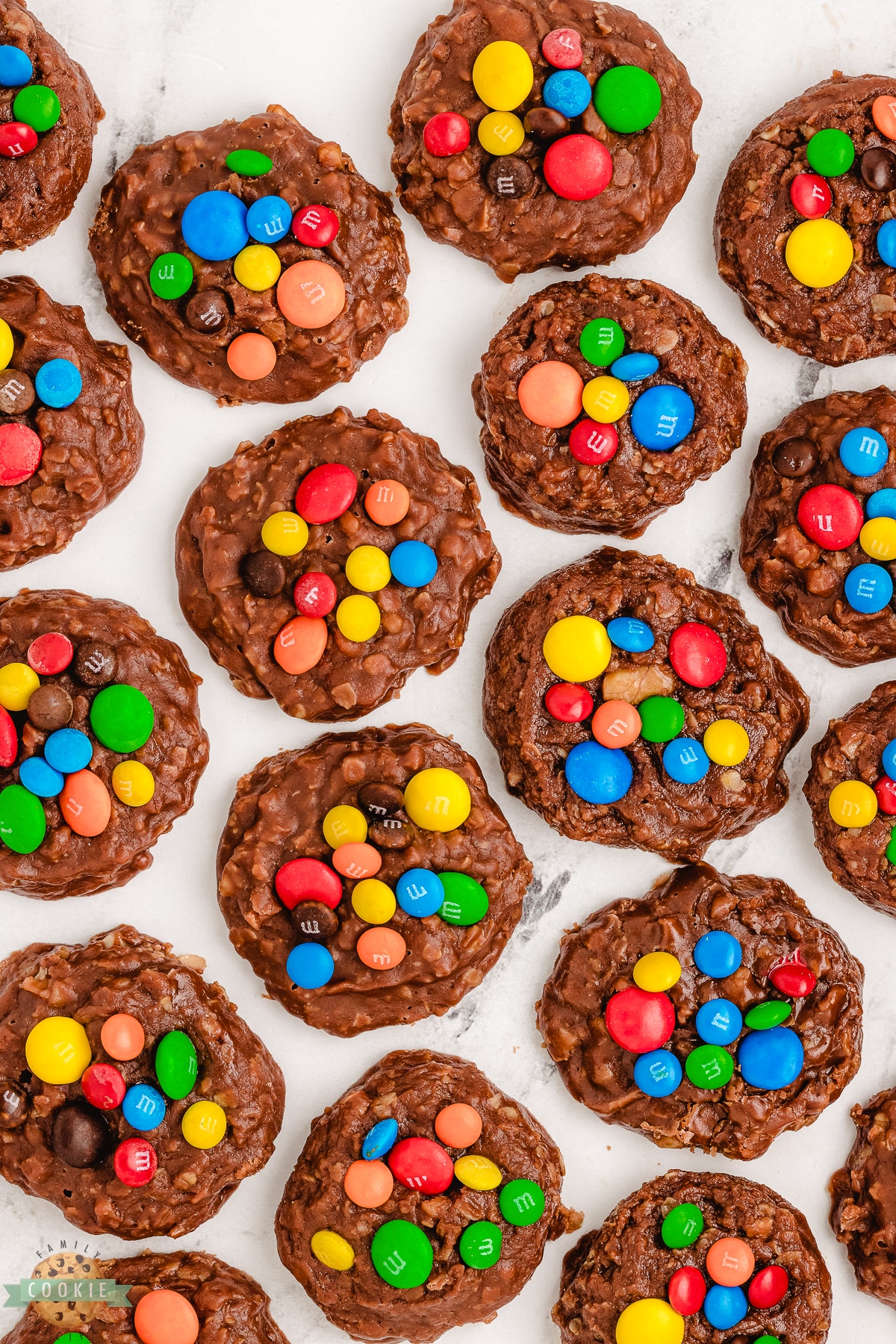 WHY You'll LOVE THESE NO BAKE COOKIES
Read on for our top reasons why we love this recipe and think you will too.
No bake= no heat. You can create some delicious treats but not add any more heat to your house. Make this a fantastic dessert option when it is hot outside, but you a craving a sweet snack.
Simple ingredients. I love few things more than a recipe with very limited and simple ingredients. This one has about 9 ingredients and most of them are staple kitchen and pantry items. Chances are you can whip up this cookie recipe quickly when the mood strikes.
Chewy chocolatey goodness. These have nuts, oats, chocolate, and two sizes of M&Ms. There is so much going on in these cookies, and they all working together to create a perfect treat.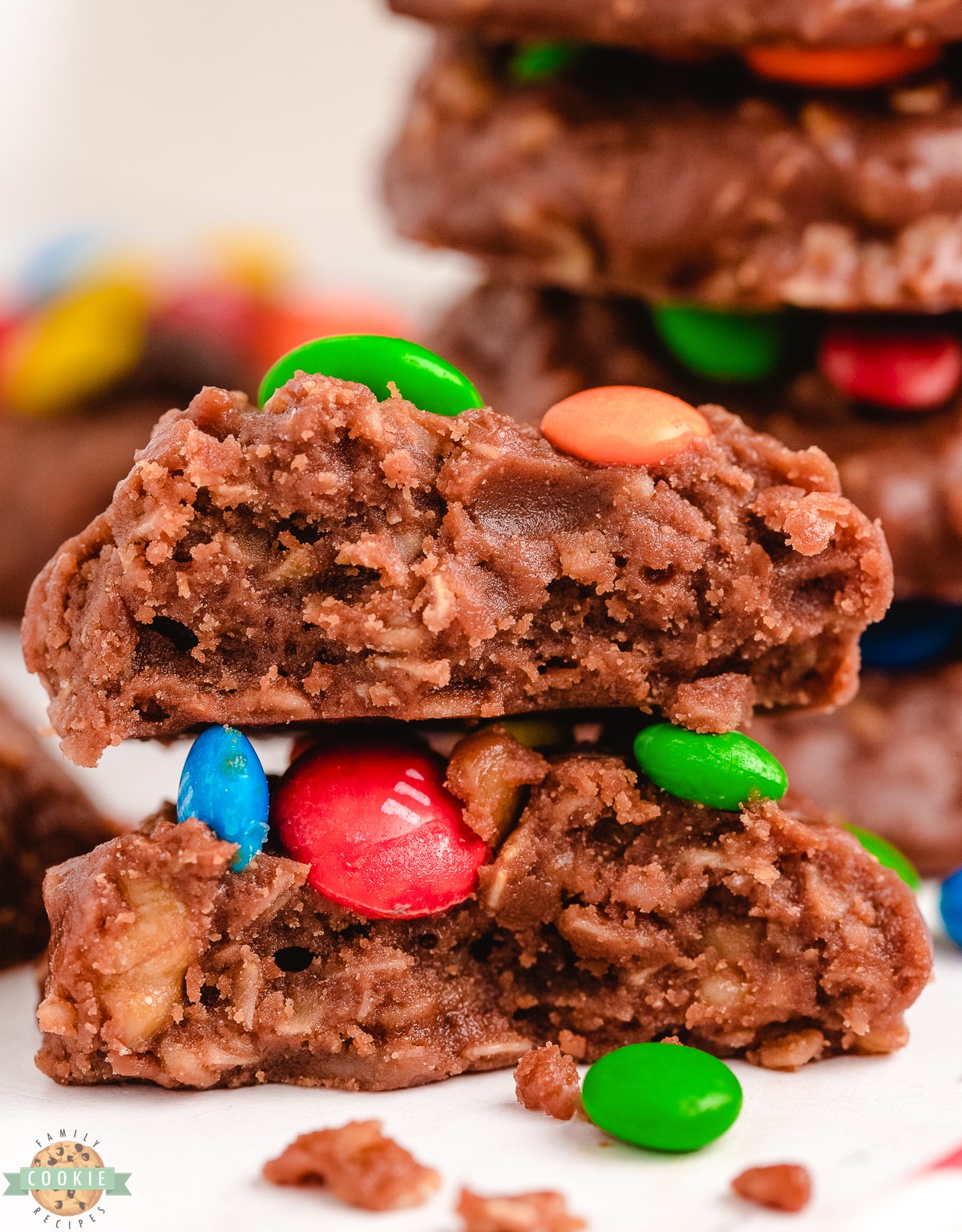 No Bake M&M Cookies Ingredients
Butter: You will need 1 cup of butter, this is equal to two sticks.
Sugar: Use 2 cups of granulated sugar to help make these cookies nice and sweet.
Milk: Adding in ½ cup of milk is necessary for added moisture in these no-bake treats.
Coconut flakes: You will want to use ¾ cups of coconut flakes for added flavor and amazing texture.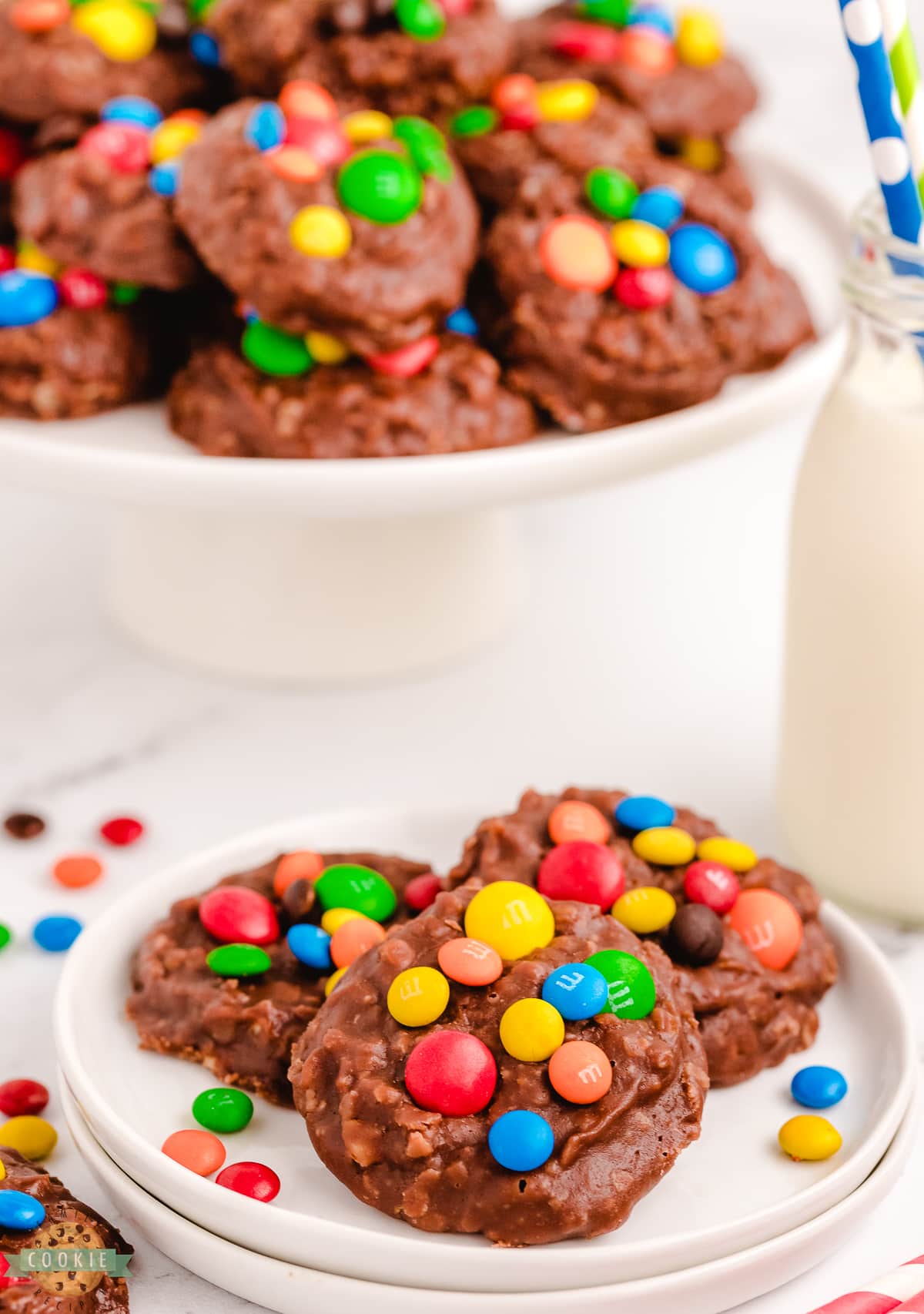 Chocolate chips: Using 1 cup of semi sweet chocolate chips will create rich and chocolatey cookies.
Walnuts: For added texture and crunch, use ½ cup of chopped walnuts.
Oats: You need ¾ cups of quick cooking oats to help bind the cookies together.
Vanilla extract: Adding in 1 teaspoon of vanilla extract will help to enhance the flavors in the cookies well.
M&Ms: You will need ½ cup of regular sized M&Ms as well as mini M&Ms for added color and fun.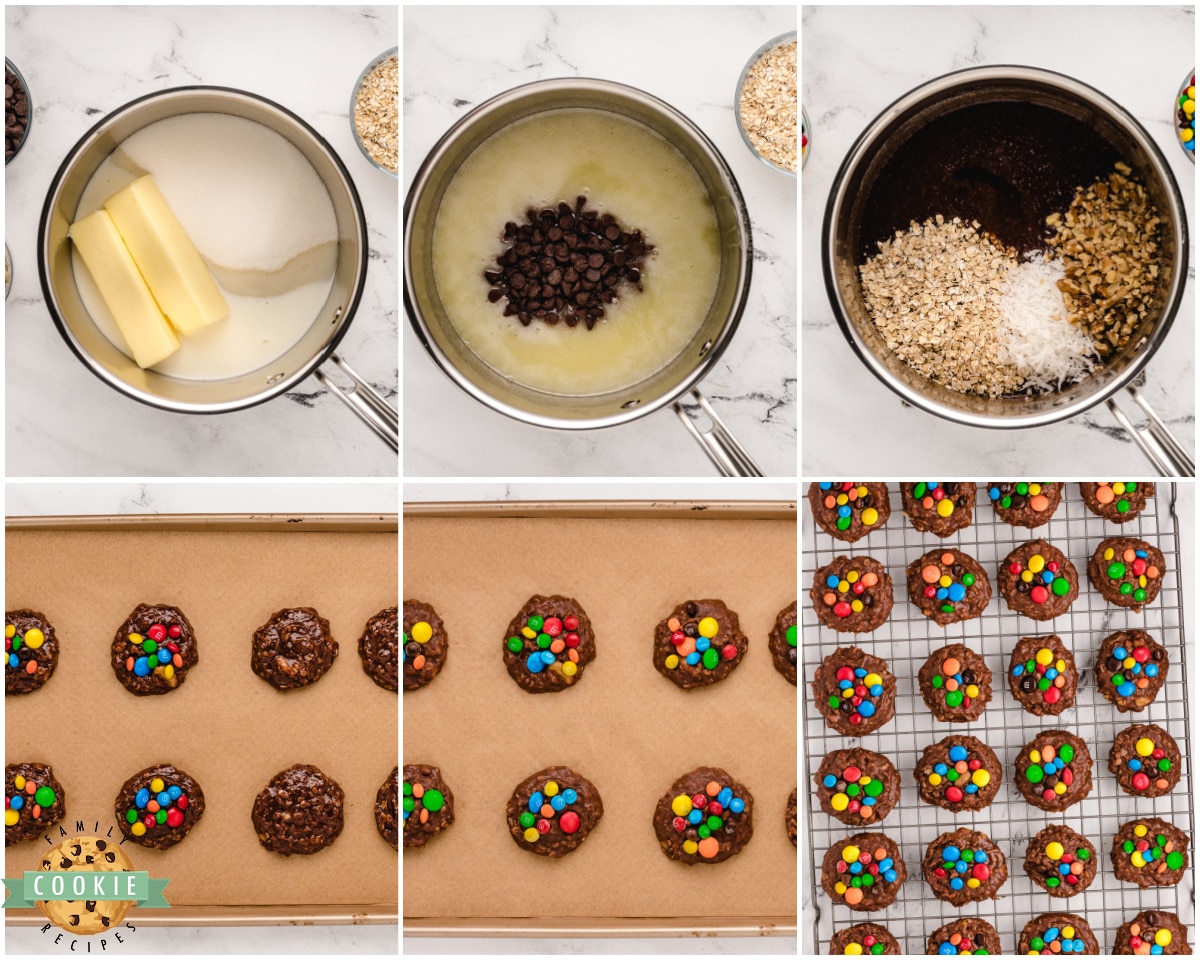 How to Make No Bake M&M Cookies
Prep
First, prepare a cookie sheet by lining it with wax paper or parchment paper. Set aside.
Batter
Next, in a medium size saucepan, combine the butter, sugar, and milk. Proceed to bring the mixture to a boil and let it boil for 1 minute. Be careful to only let it boil for 1 minute, or else the cookies could turn out to be dry and crumbly.
Once removed from the heat, add the semi-sweet chocolate chips to the pan and stir until they have all melted completely. Mix well to combine all ingredients.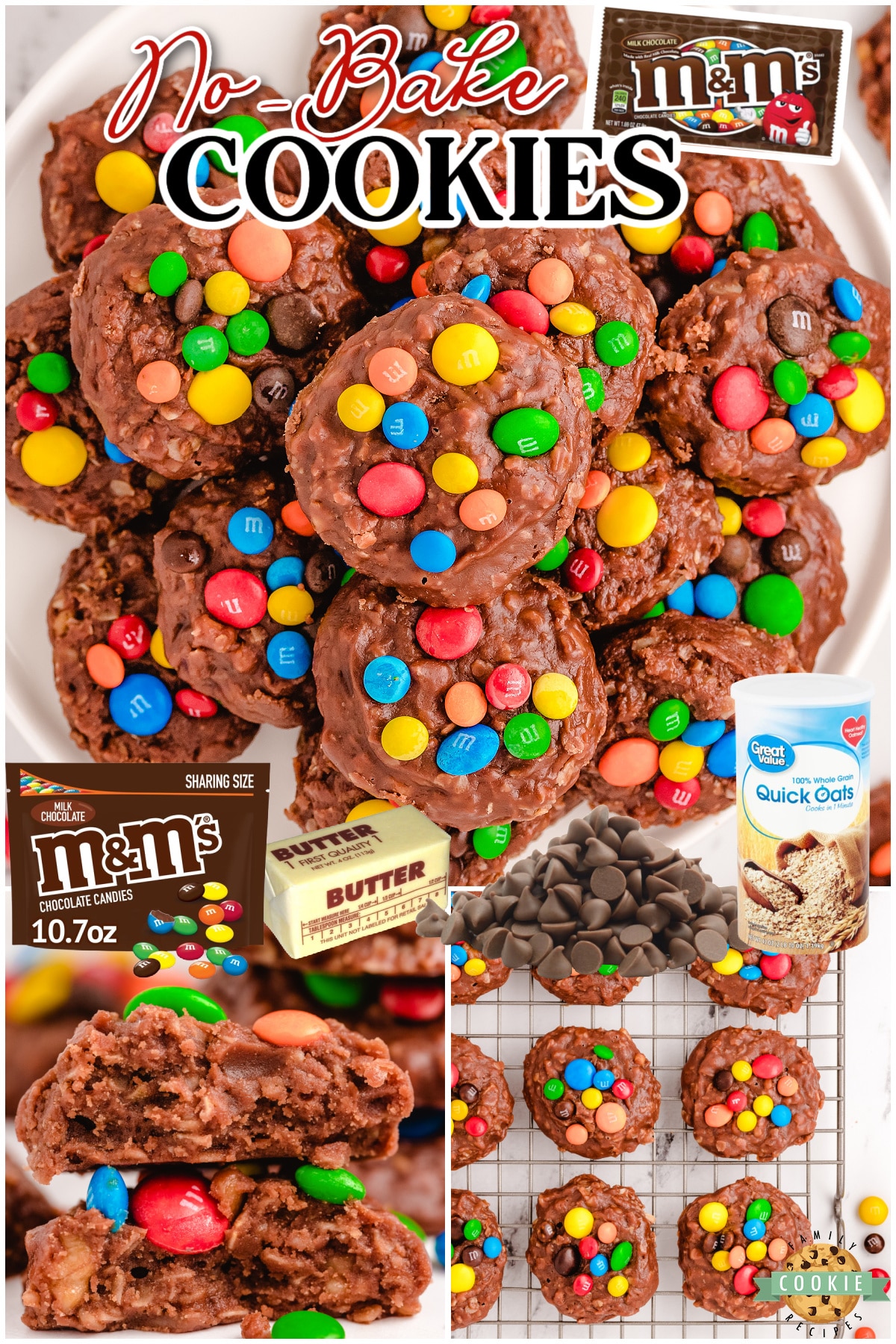 After that, add in the coconut, walnuts, oats, and vanilla extract. Mix everything until it is thoroughly combined.
Scoop & cool
Continue to scoop about 1 tablespoon of the cookie dough and place them onto the prepared cookie sheet. Then top with 2-3 M&M candies, using a mix of regular-sized and mini M&M's.
Let the cookies cool on the baking sheet for 1-2 hours until set.
Serve and enjoy!
Can I freeze chocolate no bake cookies?
Yes, these cookies can be frozen. This is great for pacing yourself on the sweets and getting them to last longer. Just freeze them in an airtight container for up to 2 months after they have set.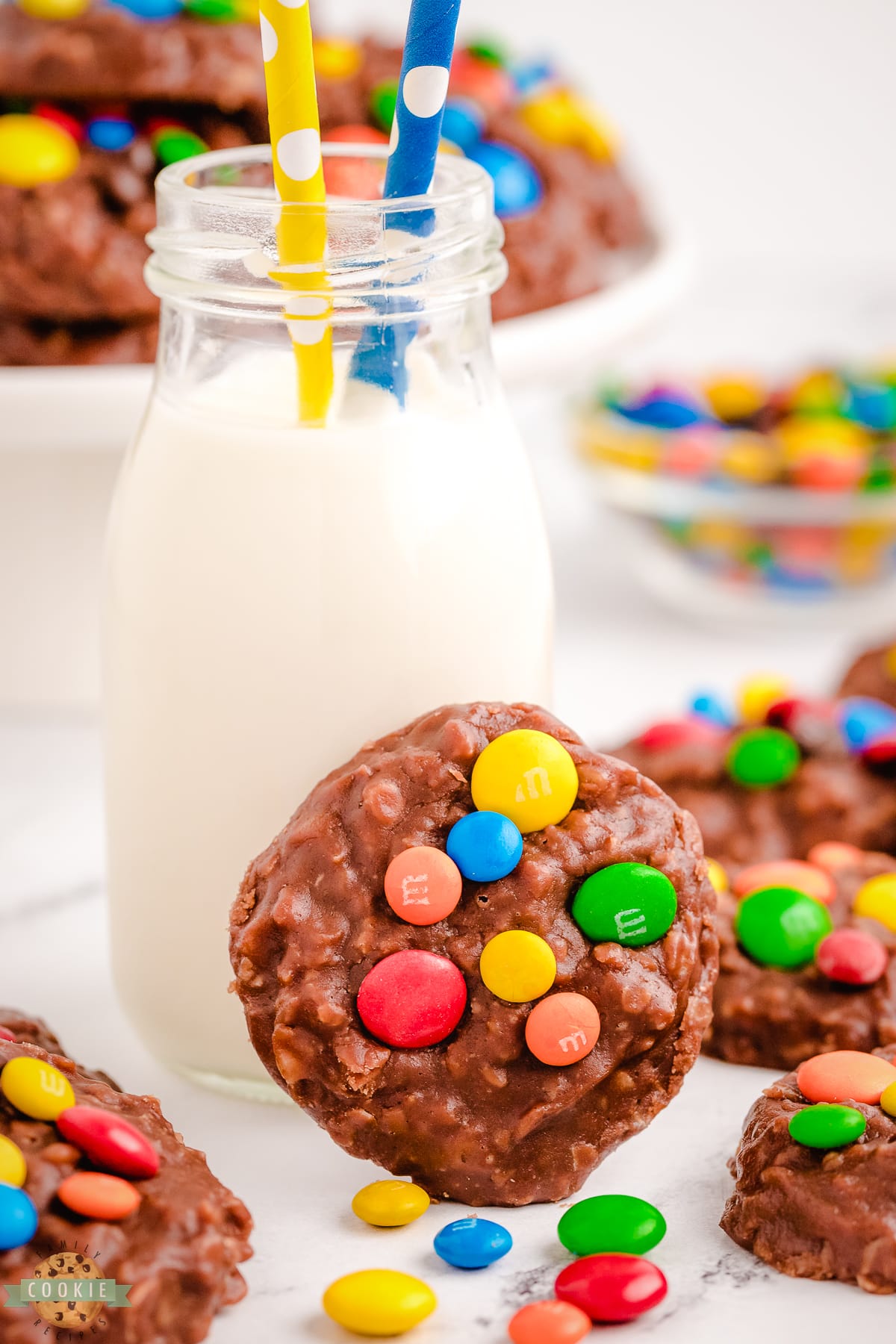 Which oats are best for no bake cookies?
Different recipes will call for different kinds of oats, but to make the best No Bake Cookies, you should use quick cooking oats. Using different kinds of oats will change the texture of the cookies, and they may be more dry than you'd like. As this recipe's main ingredient, it's important to get the right kind of oats.
How do you store no bake cookies?
These cookies can be left at room temperature for 4-5 days in an airtight container, or if desired, you can keep them in the fridge. This is optional as they do not NEED to be refrigerated, but it will help them to hold a firmer shape if you choose this route.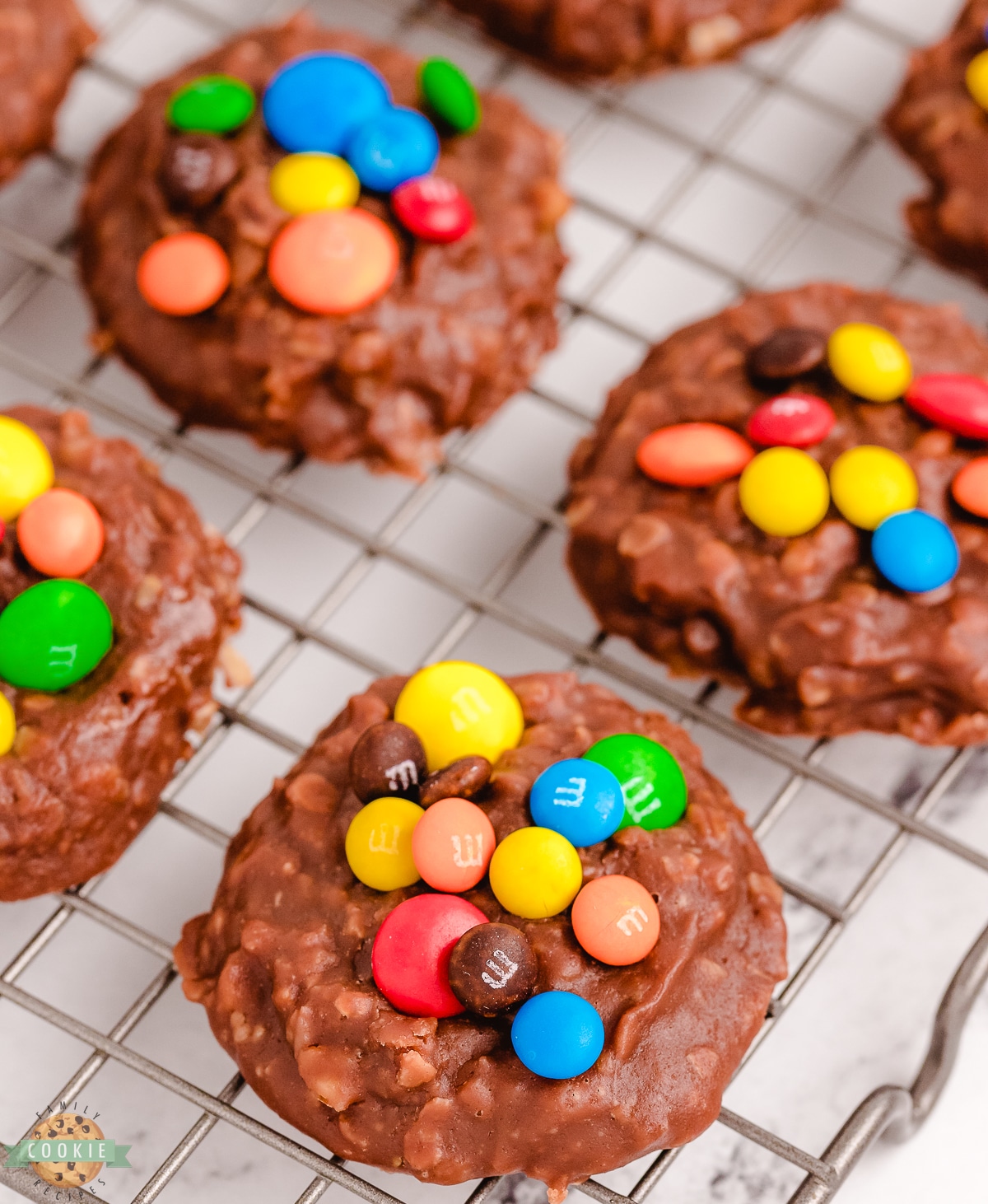 How long do M&M no bake cookies take to set?
These cookies should be fully set in about 15-20 minutes after shaping on a baking sheet. The time really will depend upon how hot the mixture was, how warm the room is, etc. You can move the baking sheet to the fridge to chill and set the cookies more quickly if desired.


It was snowing so hard, this is what accumulated on my daughter as she ran from the car in the driveway to the front door. Laughing all the way of course! I love pictures like this because by just looking at it, I can hear her laughter.
And hello, what's with kids never wanting to wear a jacket?! It's a blizzard outside! Put on a coat!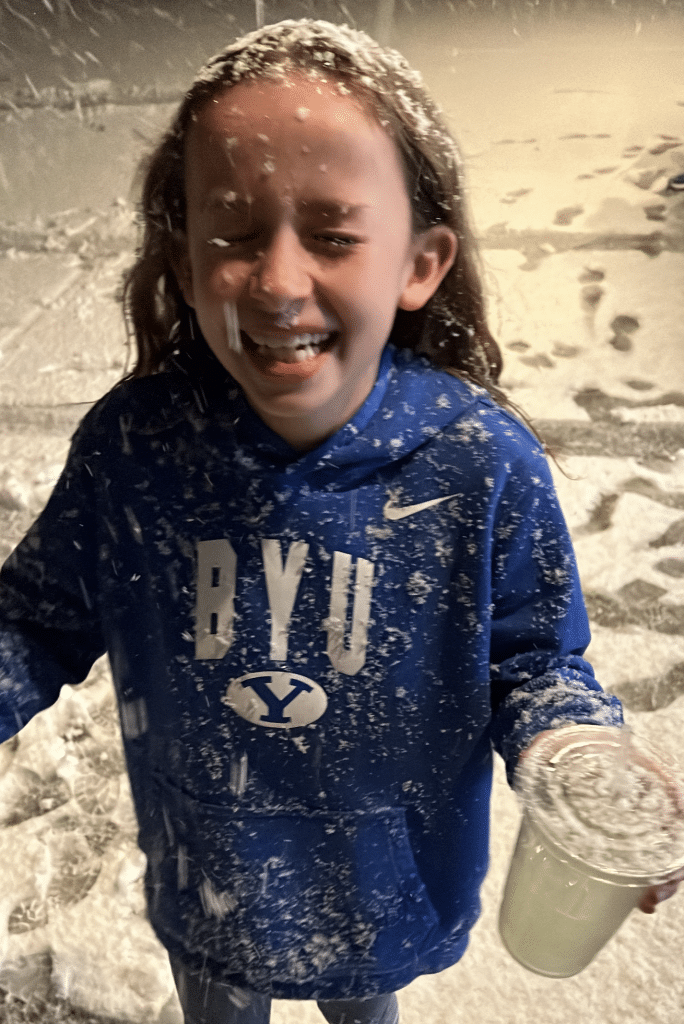 No Bake M&M Cookies are packed with coconut, chocolate and walnuts, they are unlike any other no-bake cookie you have had! These easy no-bake cookies are so easy to make, the results are chewy, sweet and simply incredible treats.