Oatmeal Craisin Cookies soft & chewy with fantastic cranberry flavor! Oatmeal cookies with buttery crisp edges & a soft center bursting with Craisins!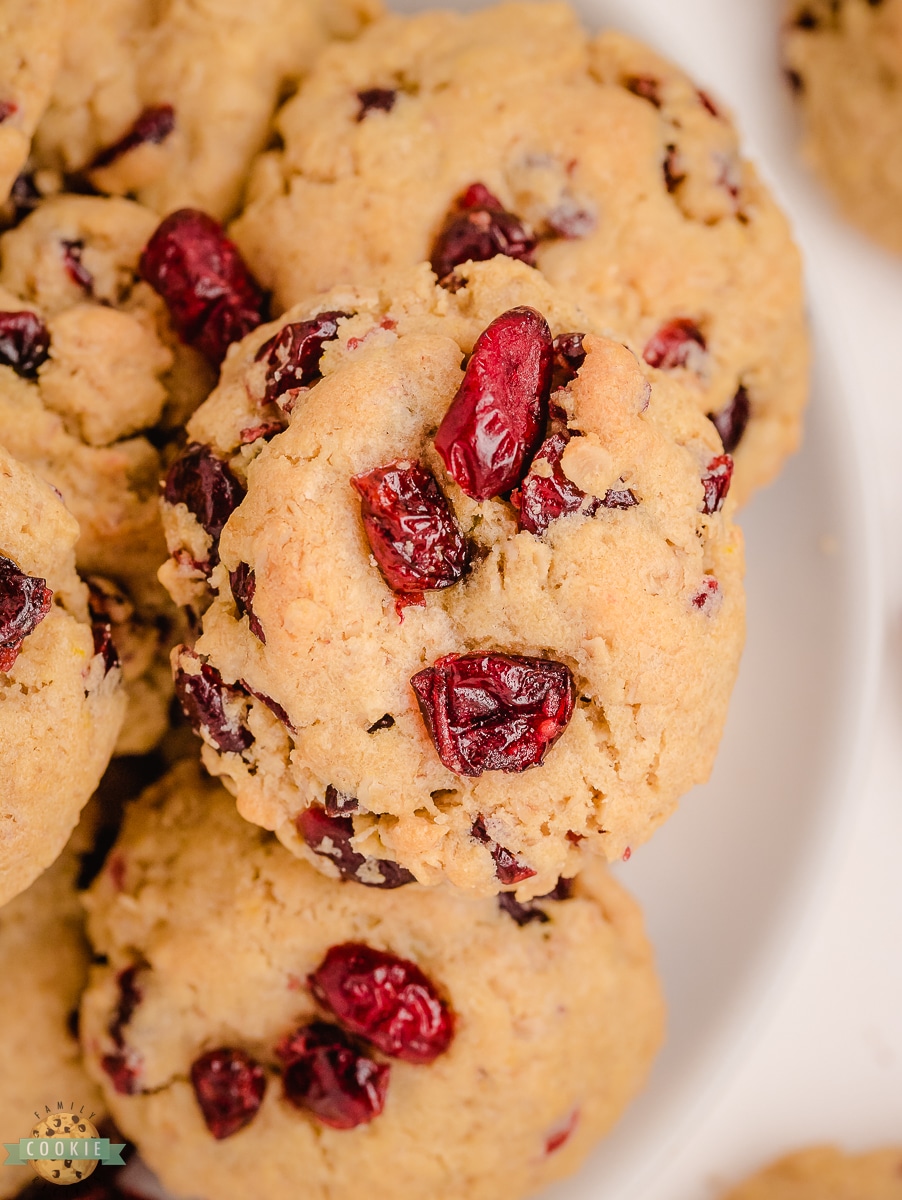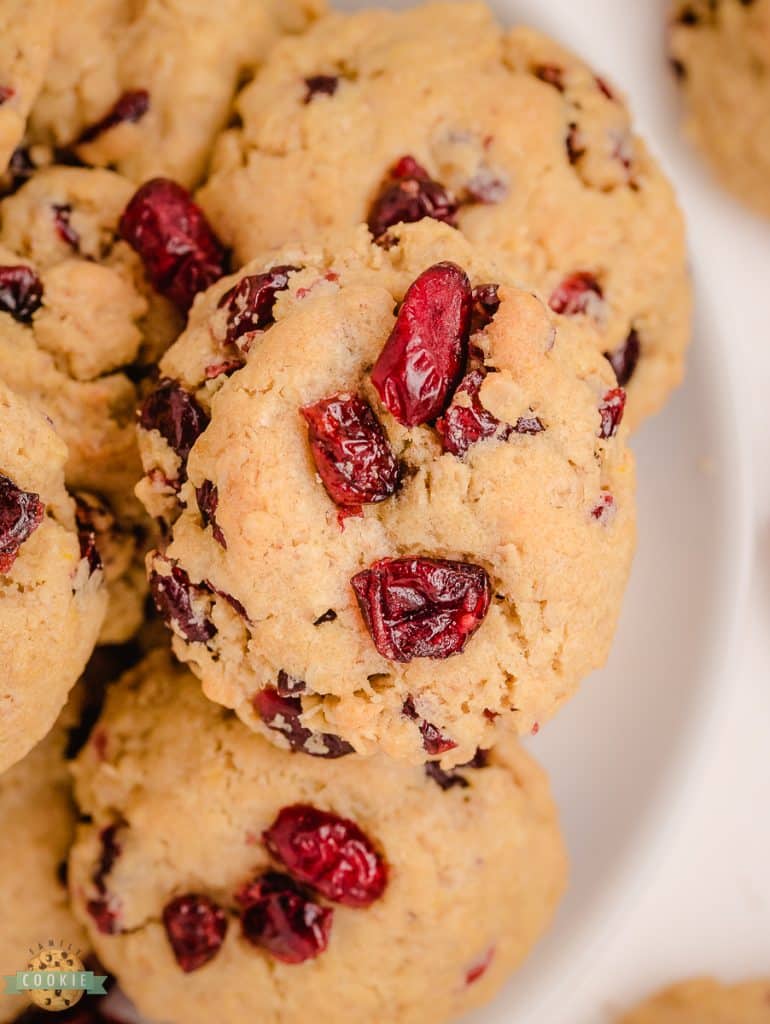 These oatmeal cranberry cookies are packed with so much yummy flavor, between the sweet dough, salty oats and tart cranberries, you cannot go wrong with this cookie! Change up a classic oatmeal cookie recipe with a tart blast of cranberry flavor in every bite.
Dried Cranberry Oatmeal Cookies
This wonderful dried fruit is located in your grocery store right next to their raisins cousin, the tart and tasty craisins! Craisins are dried cranberries that are a sweet and tart experience in every bite. When we add them to these oatmeal cookies it gives a perfect flavor balance and cookie experience. They are sweet, chewy, flavorful, and always a huge hit with your family or guests! You are going to love this recipe for oatmeal craisin cookies.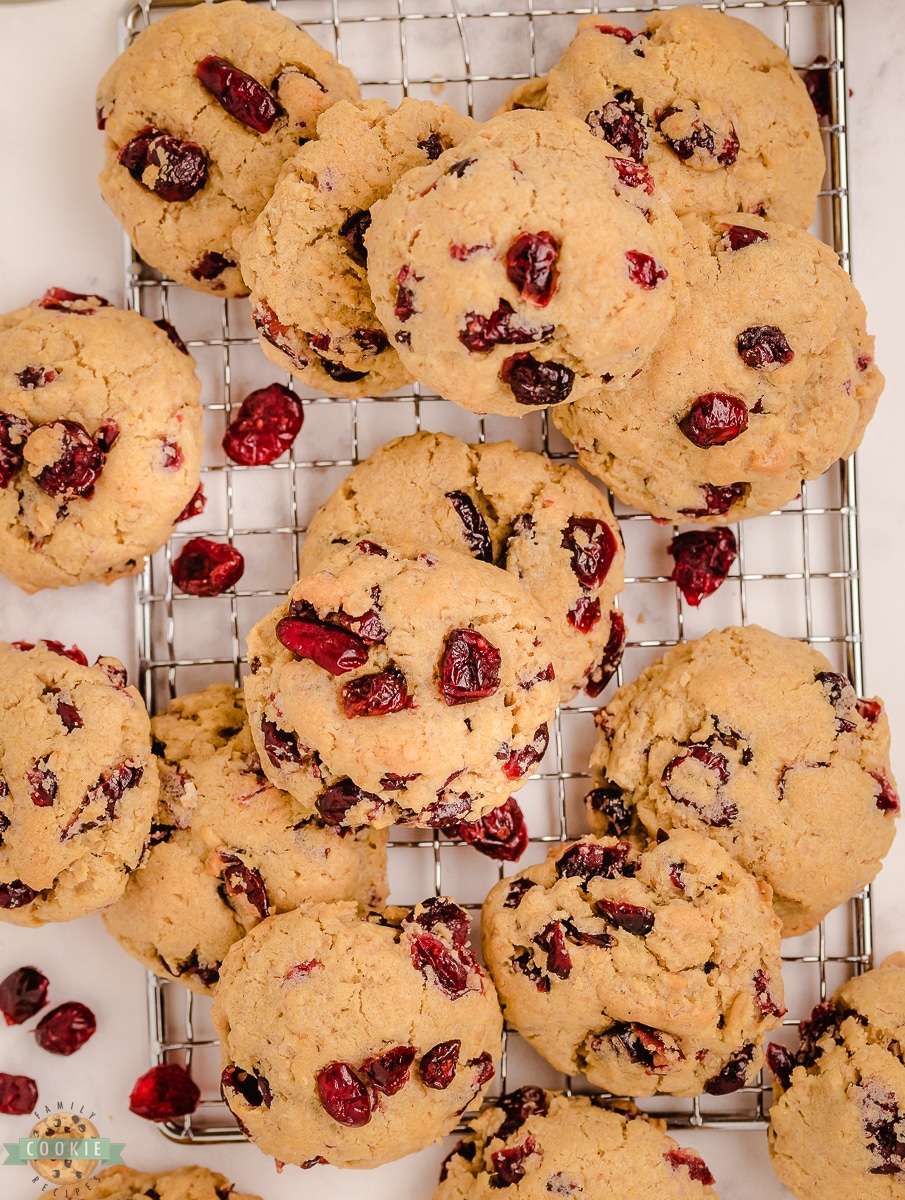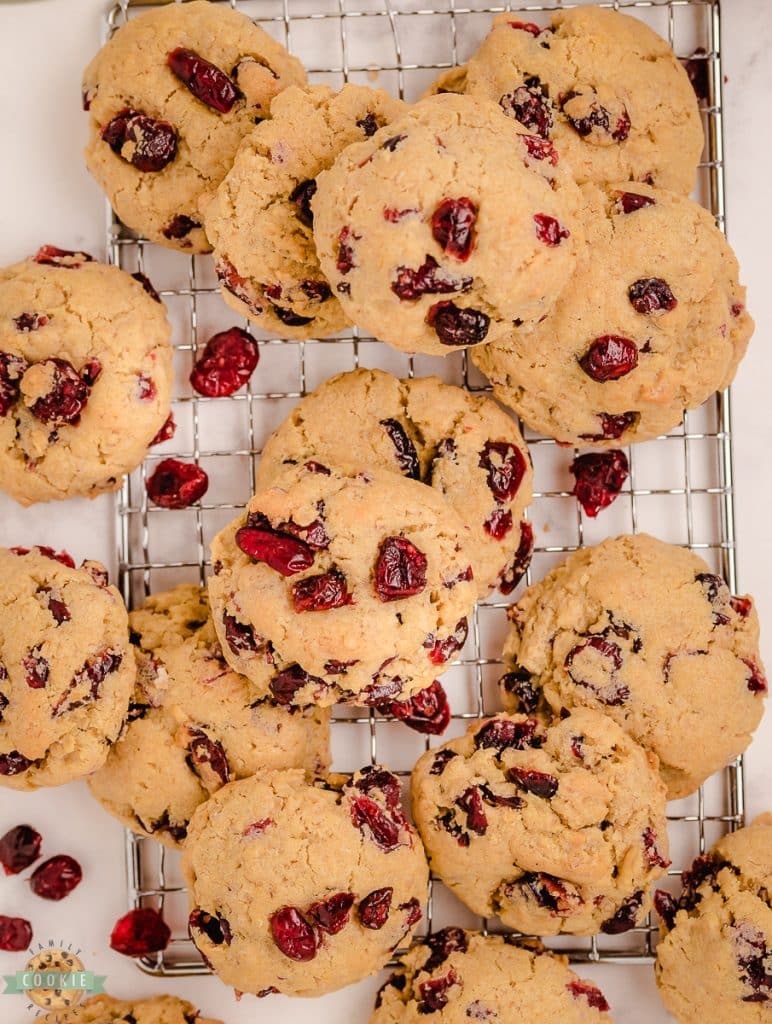 Oatmeal Craisin Cookies ingredients
Butter: You will need ½ cup of softened butter, this is equal to one stick, for this recipe.
Shortening: Use ½ cup of butter-flavored shortening to give these cookies more fats to stay moist.
Brown sugar: Adding in 1 cup of packed light brown sugar will give the cookies a nice depth of flavor.
Sugar: To add in even more sweetness, you will need to use ½ cup of white granulated sugar.
Eggs: You will need 2 large eggs to bind the dough together well.
Vanilla extract: Add in 1 teaspoon of vanilla extract to help enhance the flavors in the dough.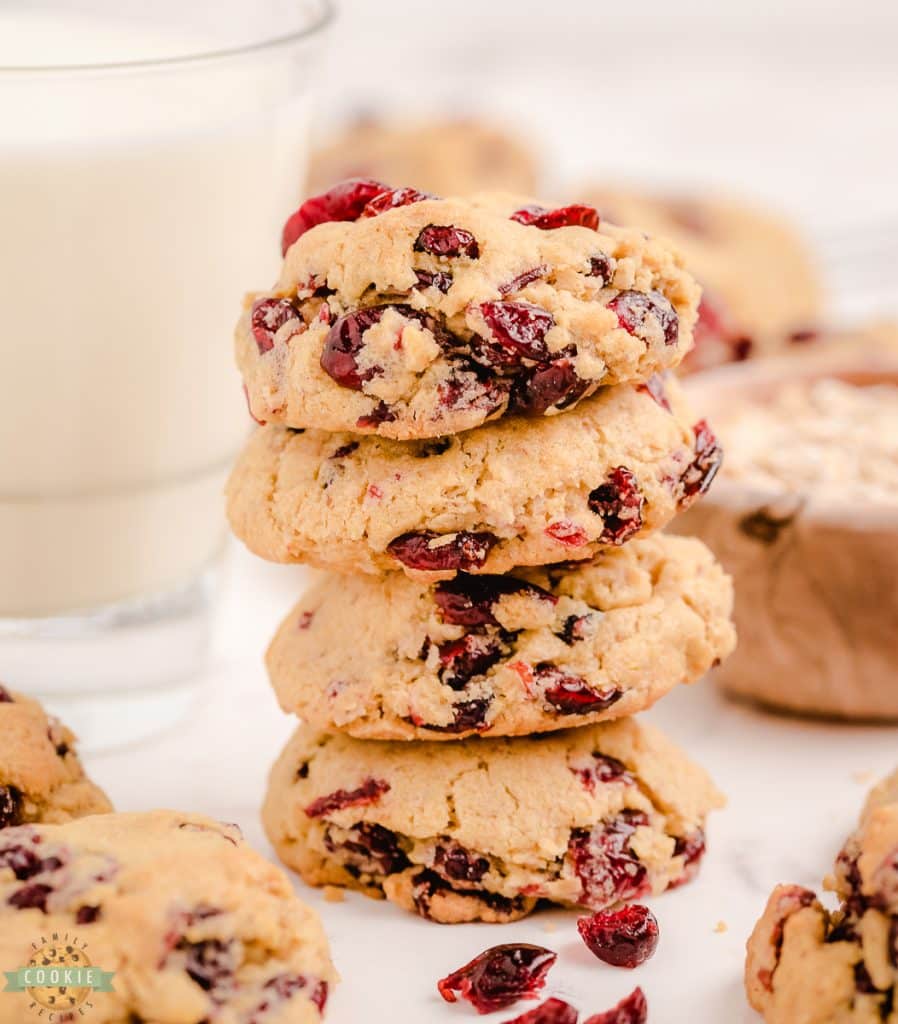 Pudding mix: You will need one small (3.4-ounce) sized box of vanilla-flavored pudding mix.
Flour: For the structural base of the cookies you will need 1 ½ cups of all-purpose flour.
Baking soda: Use 1 teaspoon of baking soda to help leaven the cookies so that they puff up as they bake.
Salt: You will need ½ teaspoon of salt to help enhance the flavors in the cookies.
Oats: Use 3 cups of rolled oats to make these cookies a perfect chewy texture.
Craisins: You need 1 ¾ cups of craisins so that there is plenty for every cookie.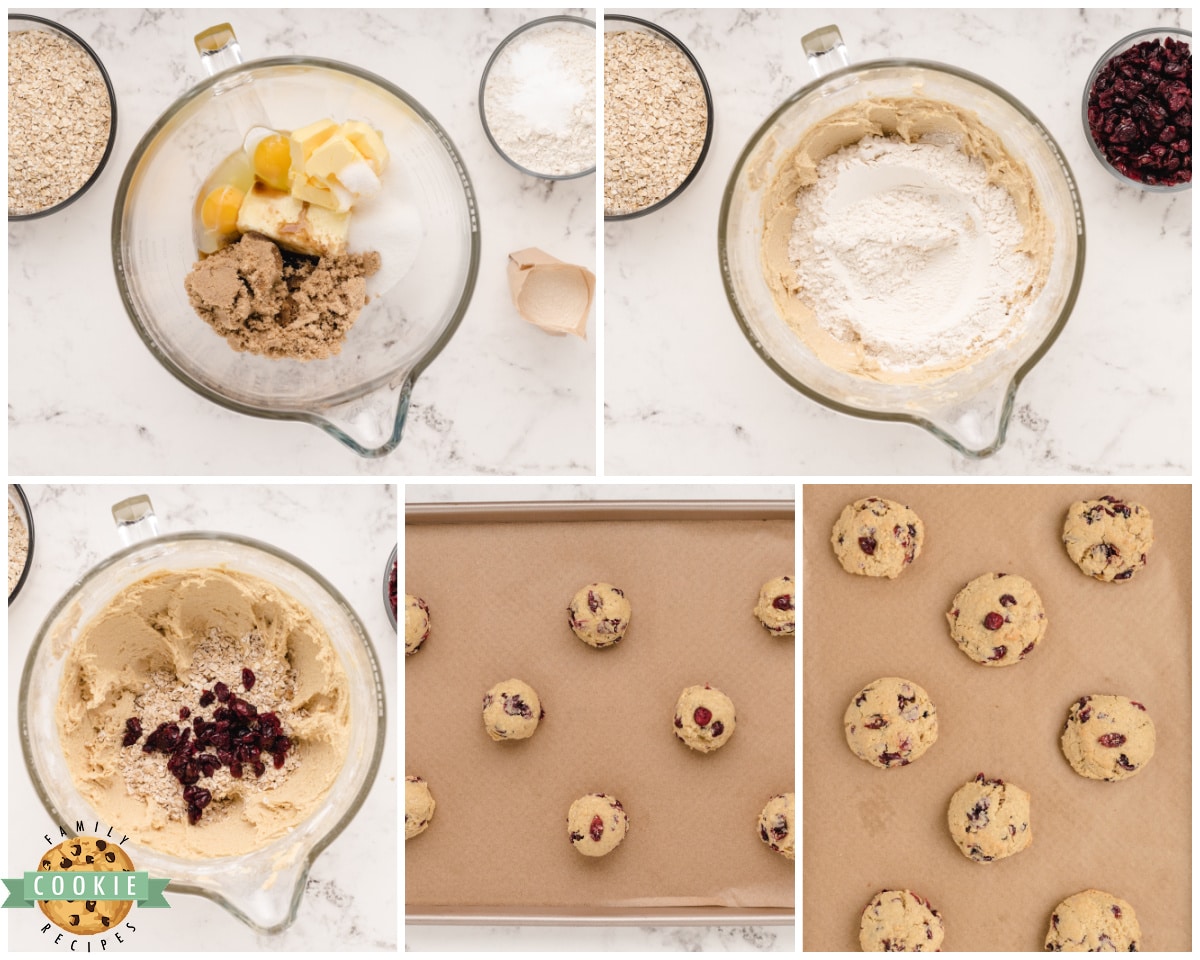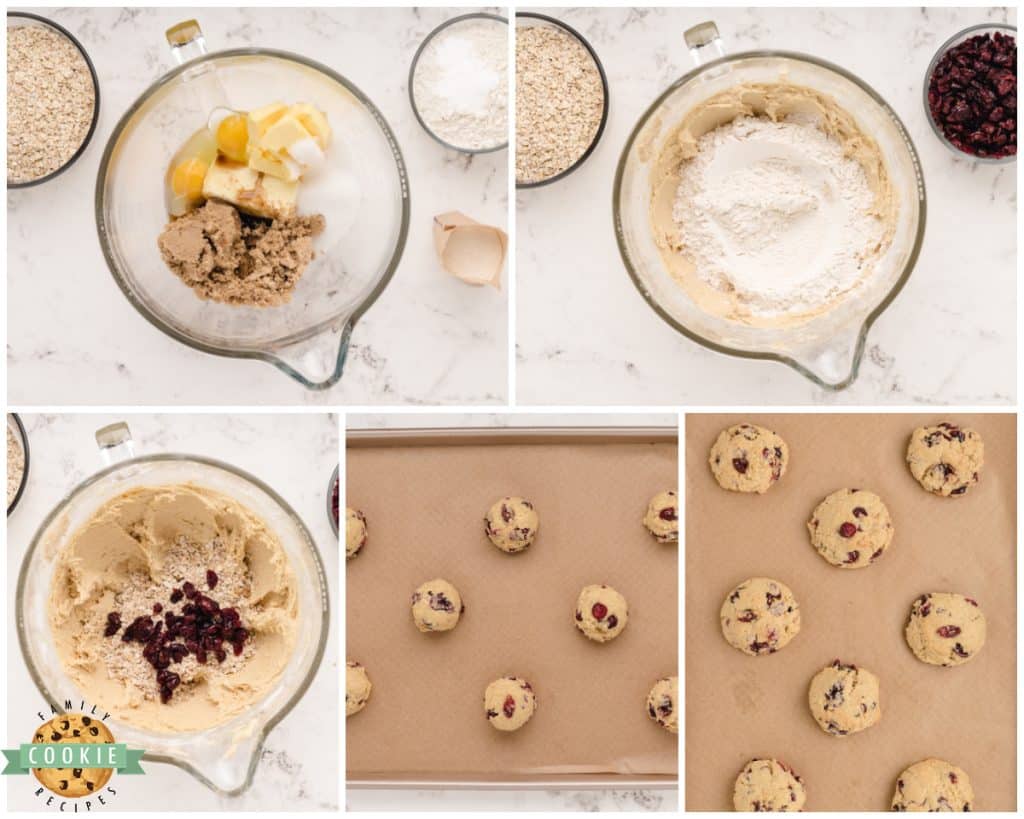 How to Make Oatmeal Craisin Cookies
Prep
Start by preheating your oven to 350 degrees F. Then, line baking sheets with parchment paper or silicon mats. Set aside.
Make dough
Next, in a large bowl, cream together the softened butter, shortening, brown sugar, white sugar, eggs, and vanilla extract until smooth.
After that, add in the dry pudding mix and then stir again to combine.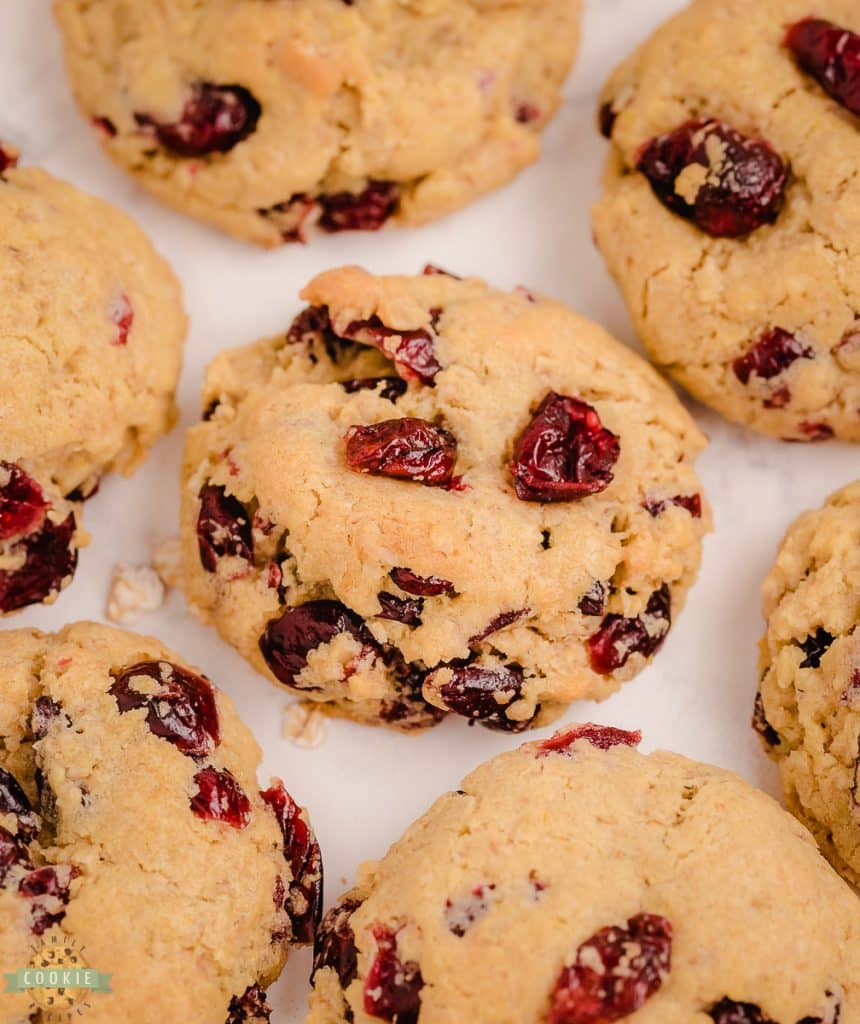 In a separate small bowl, combine the flour, baking soda, and salt. Then, stir the flour mixture into the sugar mixture until just incorporated.
Lastly, fold in the oats and craisins until all is well blended.
Bake
Proceed to scoop the dough out by the rounded tablespoons and place onto your prepared cookie sheets.
Bake in the preheated oven for 9-11 minutes. Be careful not to overbake, you want the cookies a light golden color.
When done baking, let cool for a few minutes. Serve slightly warm and enjoy!
How long do oatmeal craisin cookies last?
These cookies can last up to a week if kept stored in an airtight container at room temperature. If you want a trick to keep them soft, add a piece of bread to the container. The cookies absorb the moisture from the bread stay soft and chewy longer.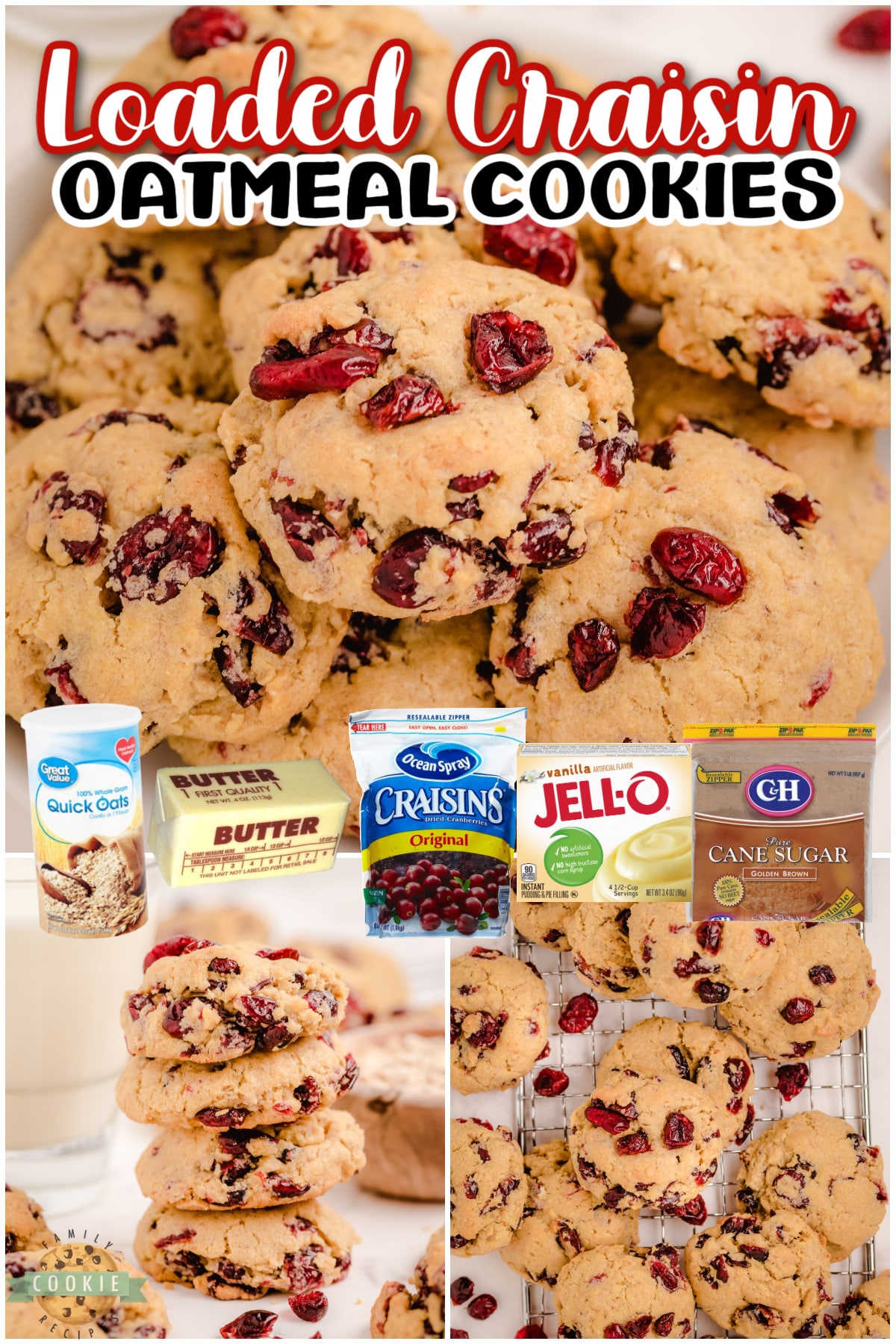 Can you freeze oatmeal craisin cookies?
Yes, these cookies can be frozen! Simply let the cool completely before storing in an airtight container in the freezer. Then when you want a cookie, place it on the counter for a few minutes to thaw and soften before enjoying!
Can I make oatmeal craisin cookies with quick oats?
Yes, these cookies can be made using quick oats instead of rolled oats but you should note that the texture of the cookie will change. Using a quick cook oat will cause the cookies to be softer and less chewy than if you used rolled oats as directed. Use whichever you have on hand and the recipe is sure to still be delicious.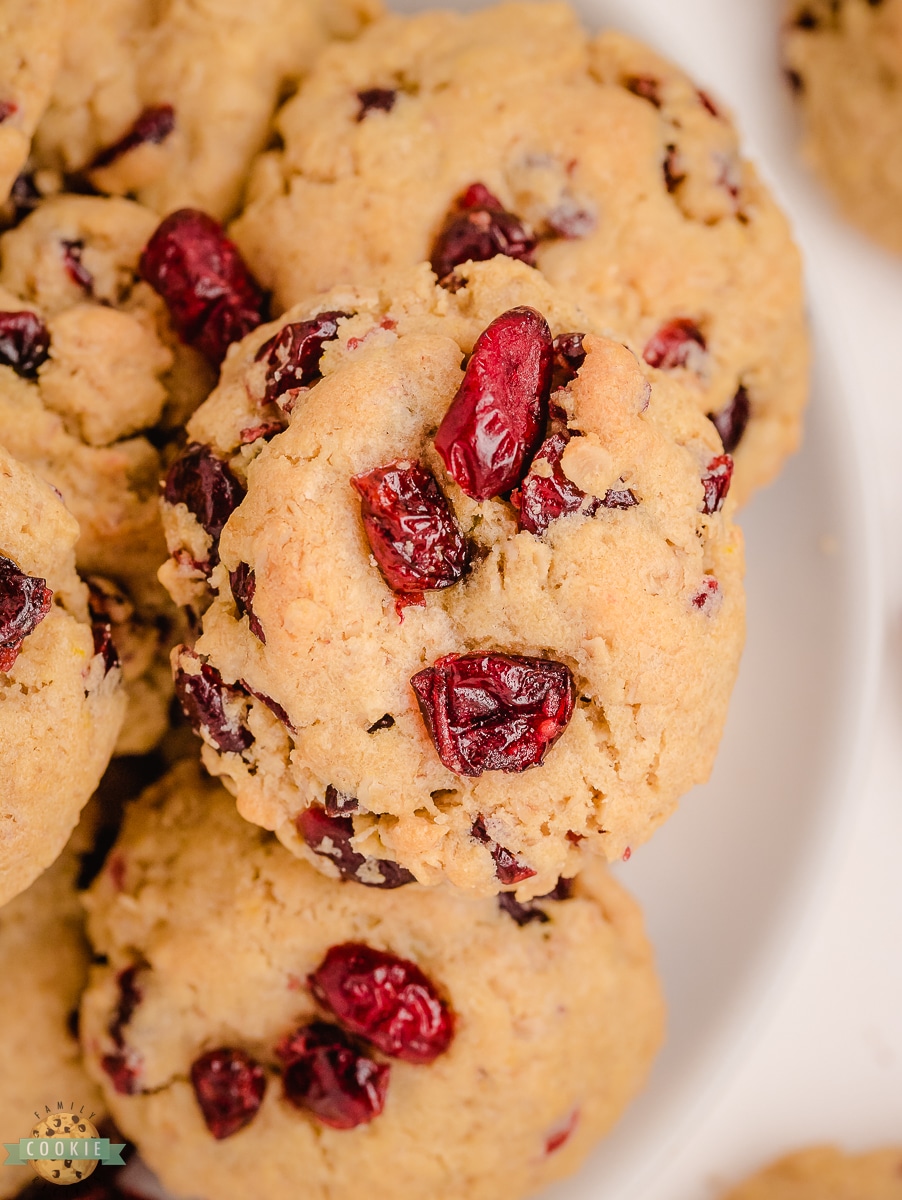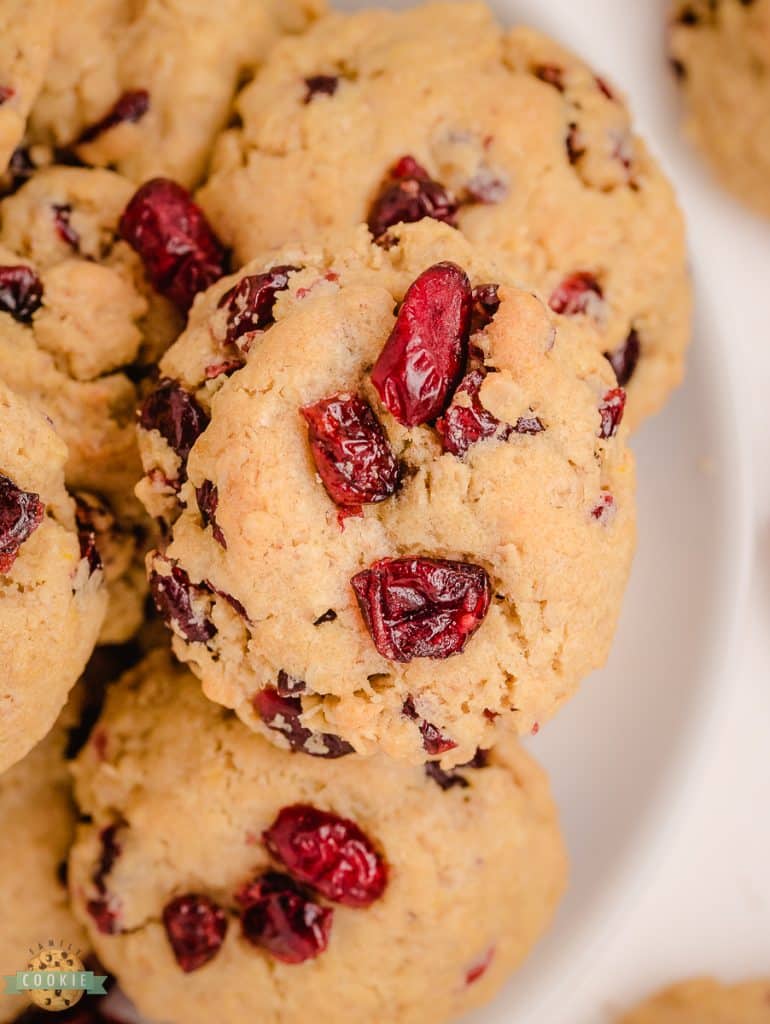 Why do my cookies burn on the bottom but aren't done in the middle?
If your cookies are always burning on the bottom, it is probably a cookie sheet issue! Also, if you are using really dark cookie sheets, the bottoms of your baked goods will tend to burn before they are actually cooked all the way through. If you use a lot of cooking spray, the same result can happen. I prefer to use lighter colored non-stick pans so that I don't have to use cooking spray at all. As mentioned above, I have been converted to silicone baking mats over the last couple of years and I love how easy it is for cookies to come off the tray – no sticking ever!


This is Nana, she lives 4 minutes from us and is about to turn 95! Last year I got her a pebble ice machine for mother's day and you would have thought I bought her diamonds! It was awesome and pretty funny seeing her reaction. It's the little things, right?!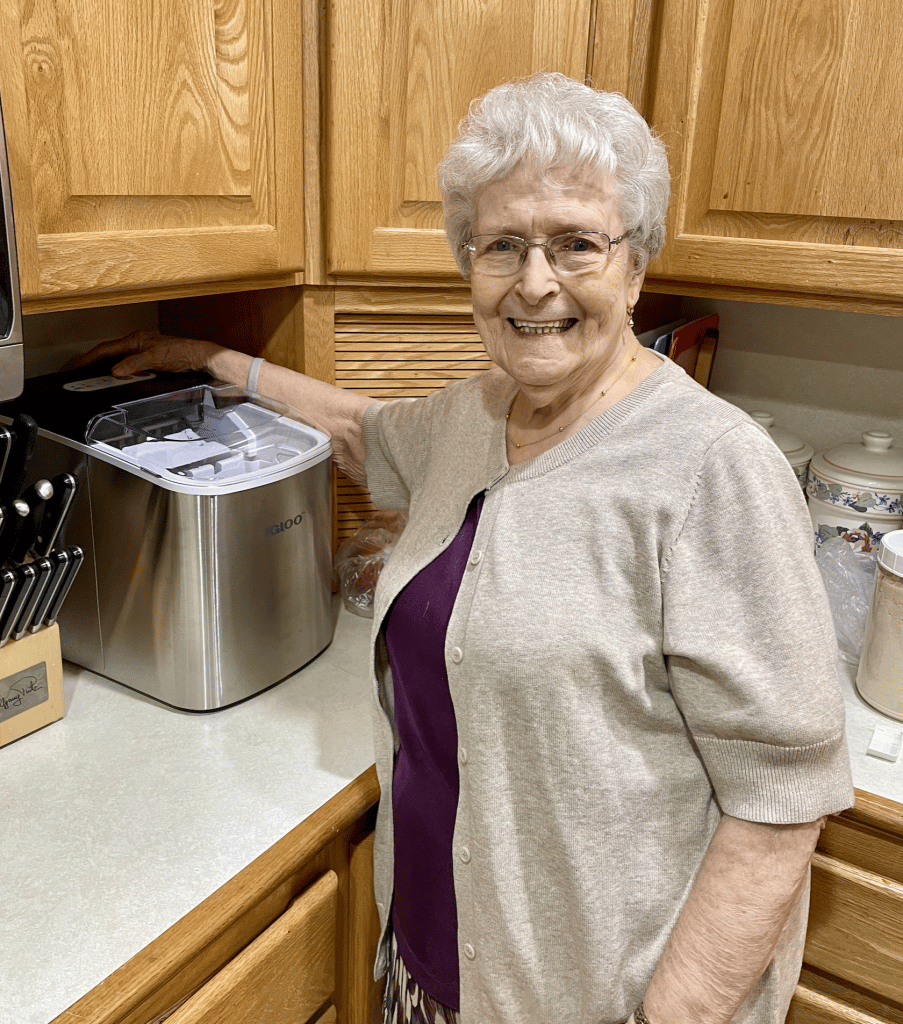 Looking for more oatmeal cookie recipes? We've got you covered!
Oatmeal Craisin Cookies are the most tender and chewy treats with amazing cranberry flavor in every bite! Oatmeal cookies have wonderful crisp edges and a soft center bursting with Craisins!