Pool Party Cookies are a fun, festive cookie that perfect for summer! Chewy creamsicle cookies topped with blue icing and a swimming gummy bear!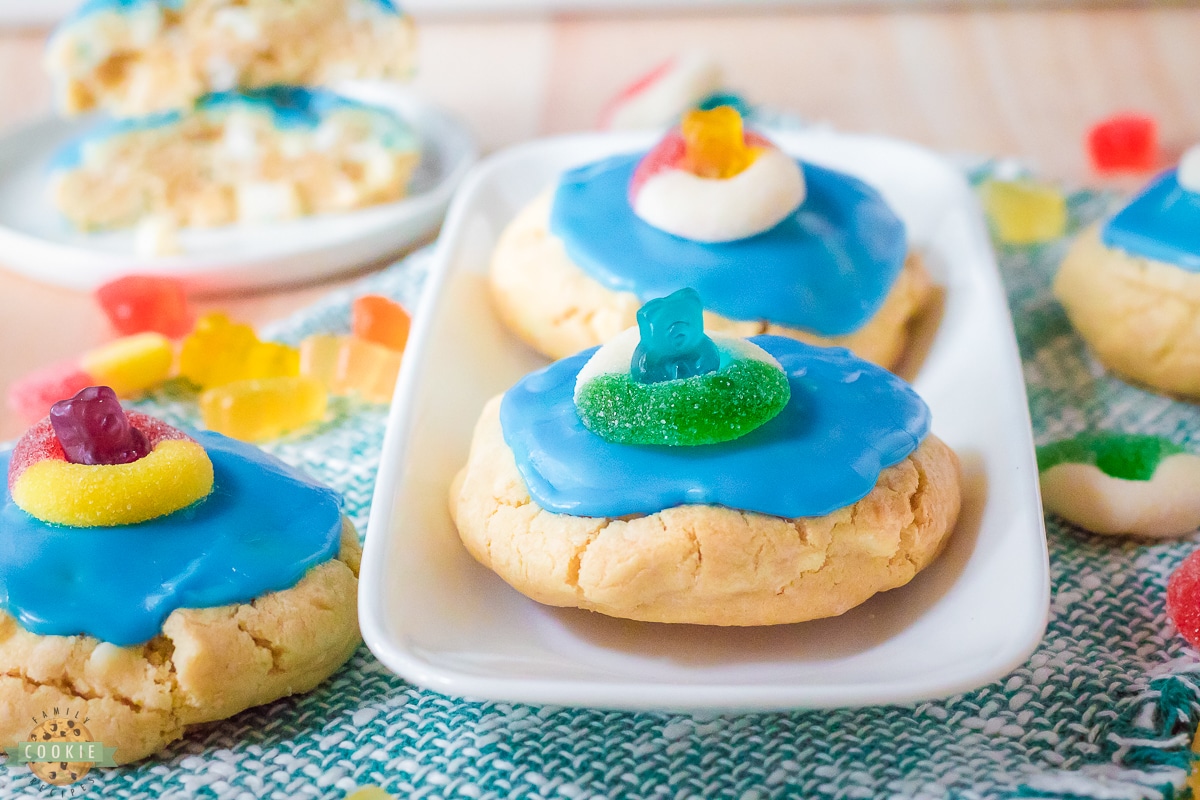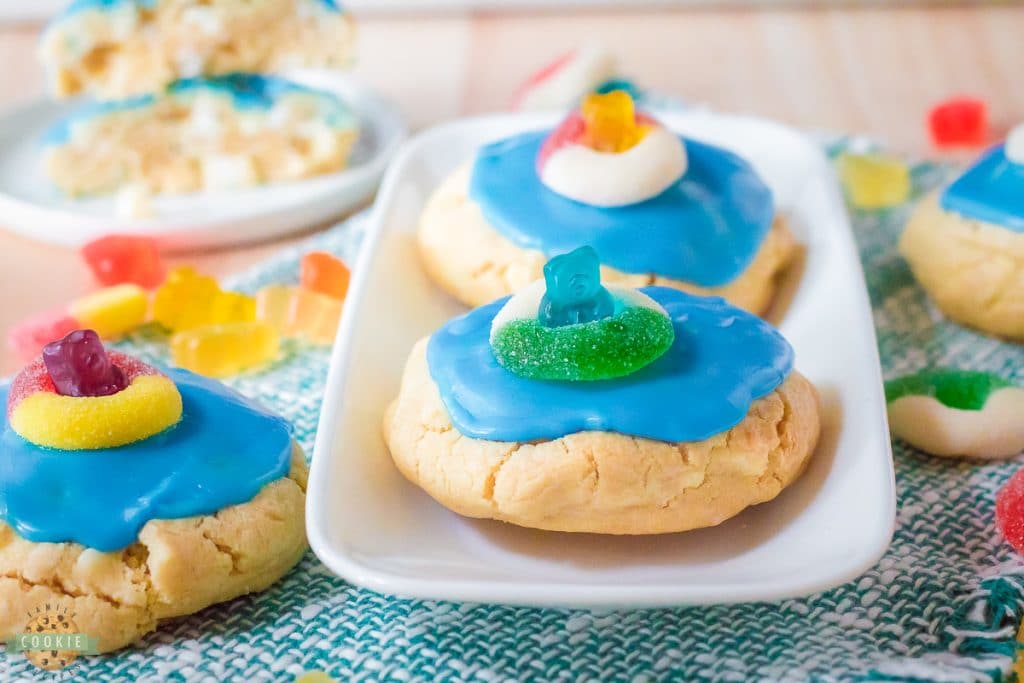 This orange creamsicle cookies recipe is one that you have not seen before, we take a classic flavor and turn it into a cookie that everyone will adore. Everyone will love these enjoyable pool party cookies, not only do they taste dreamy but the toppings make for a fun eating experience too!
Pool Party Cookies
Pool Party Creamsicle Cookies are the perfect summer cookie! These soft and sensational cookies are flavored with orange and vanilla extract to give them a creamsicle flavor. Next, white chocolate chips add a creamy flavor. Topped with a quick royal icing makes the pool for these cute gummy bears! Everyone will love these adorable cookies!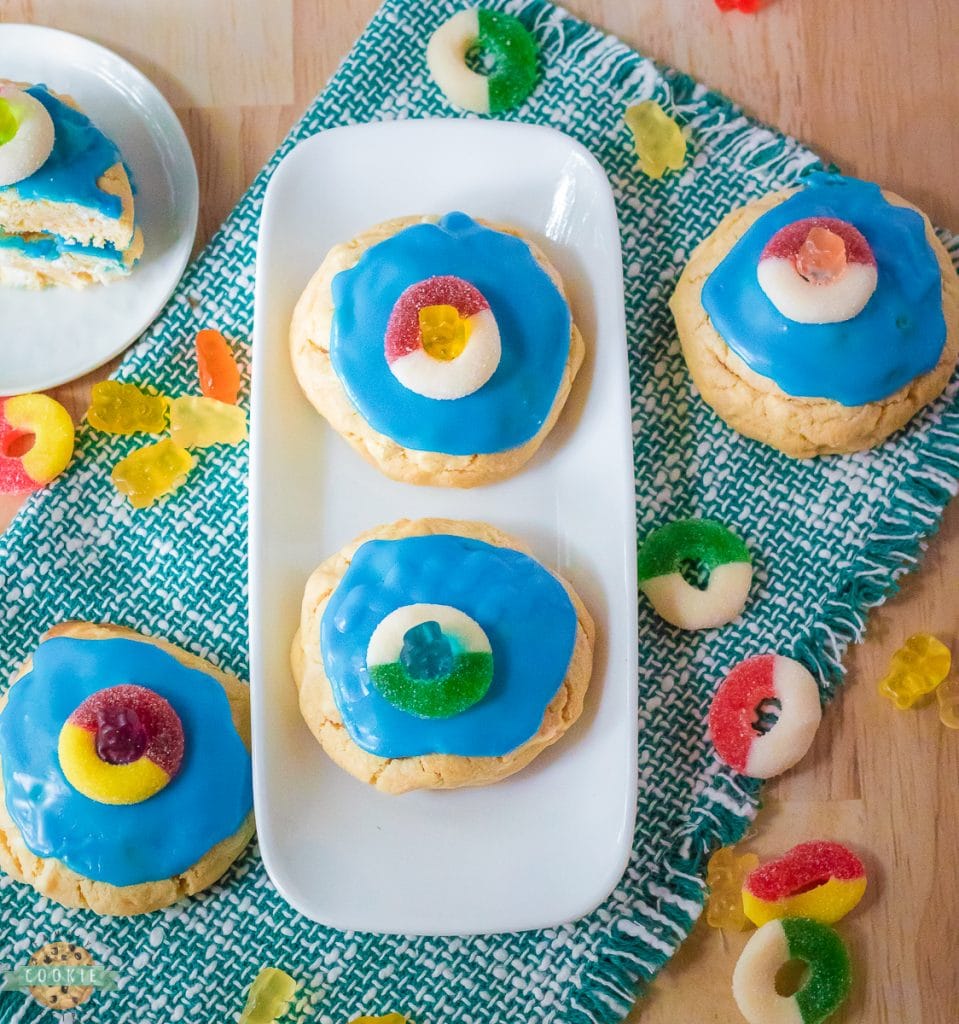 Why we think you should try these Creamsicle Cookies today!
Just in case you need some convincing to try these amazing cookies, here are a few more reasons.
No rolling pin or hassle. These cookies come together easily and without a lot of equipment. You do not need to roll out the dough or cut shapes. Just mix together and roll into balls. They do require a little patience, but they are totally worth it!
They are SO fun to make and eat. I love a good cookie recipe that my kids will enjoy helping with, this is that recipe! Once we are making the icing and putting together the "pool party" on the cookie, all my kids are having fun and involved in the baking process. It is my favorite part of this cookie recipe.
One cookie is satisfying. While it can usually be hard to stop at "just one" cookie, these cookies are larger than life so one cookie can really satisfy that craving for sweets.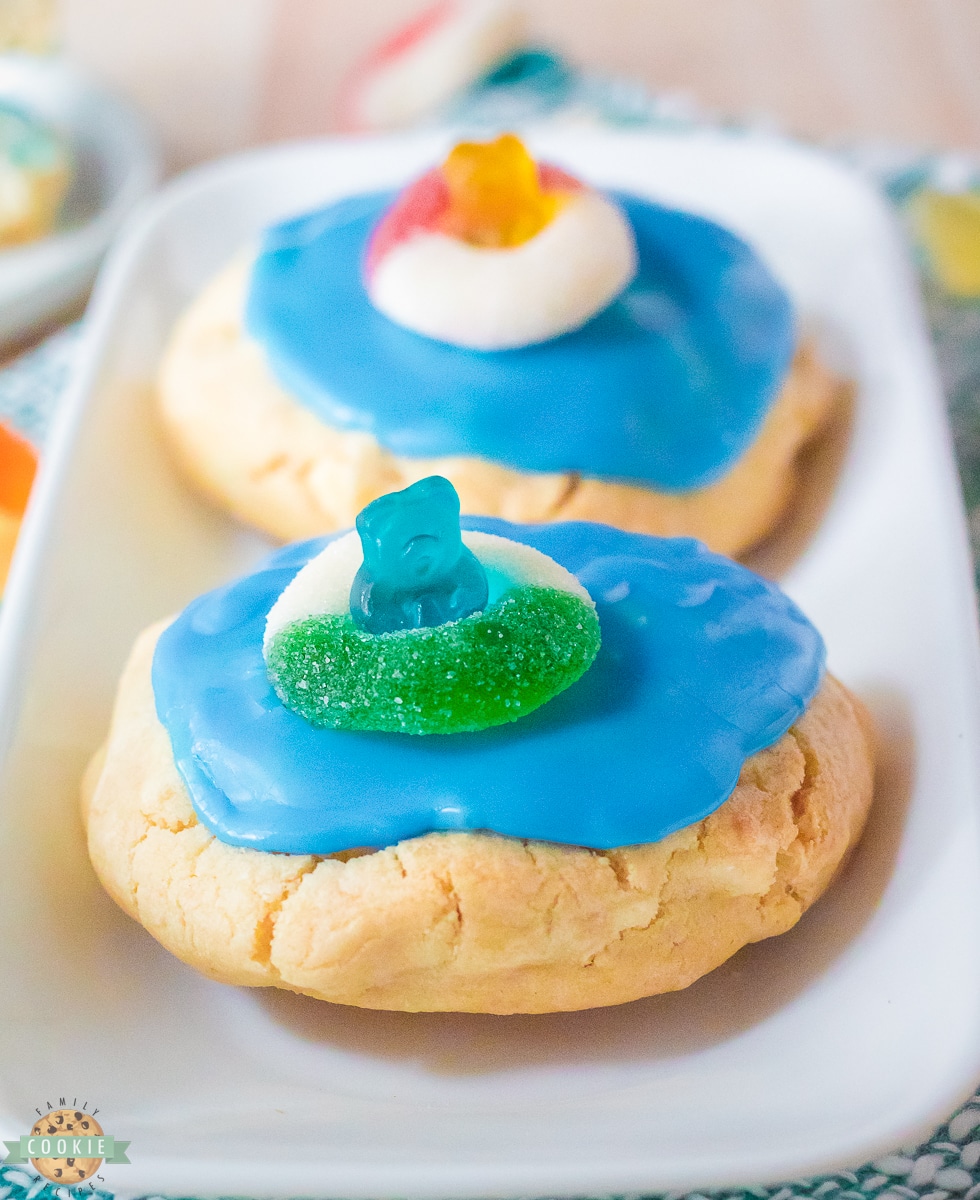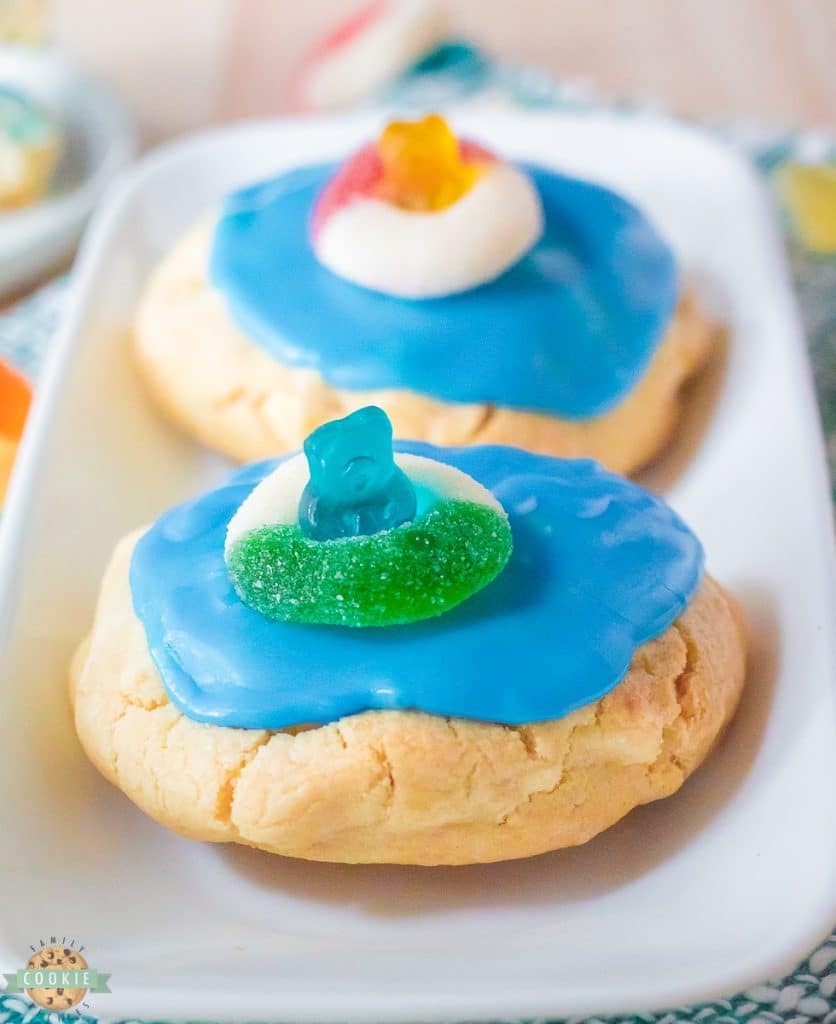 Pool Party Creamsicle Cookie Ingredients
Cookie Dough
Butter: You will need ½ cup (one stick) of softened unsalted butter for the cookie dough. This will make the cookies taste nice and rich.
Brown sugar: Using ¾ cups of brown sugar will give us a chewy cookie edge and a great depth of flavor.
Granulated sugar: You will need ¼ cup of granulated sugar to help flatten the cookies out a bit.
Egg: Use 1 large egg to help bind the dough together well.
Vanilla extract: You will need 1 teaspoon of vanilla extract to pair perfectly with the orange flavor and create the incredible taste we want.
Orange extract: Adding in ½ teaspoon orange extract will give the cookies a creamsicle taste that we are looking for.
Flour: You will need 2 cups of all-purpose flour for the base of this cookie dough.
Salt: Use ½ teaspoon of salt to help bring out the flavors in these cookies.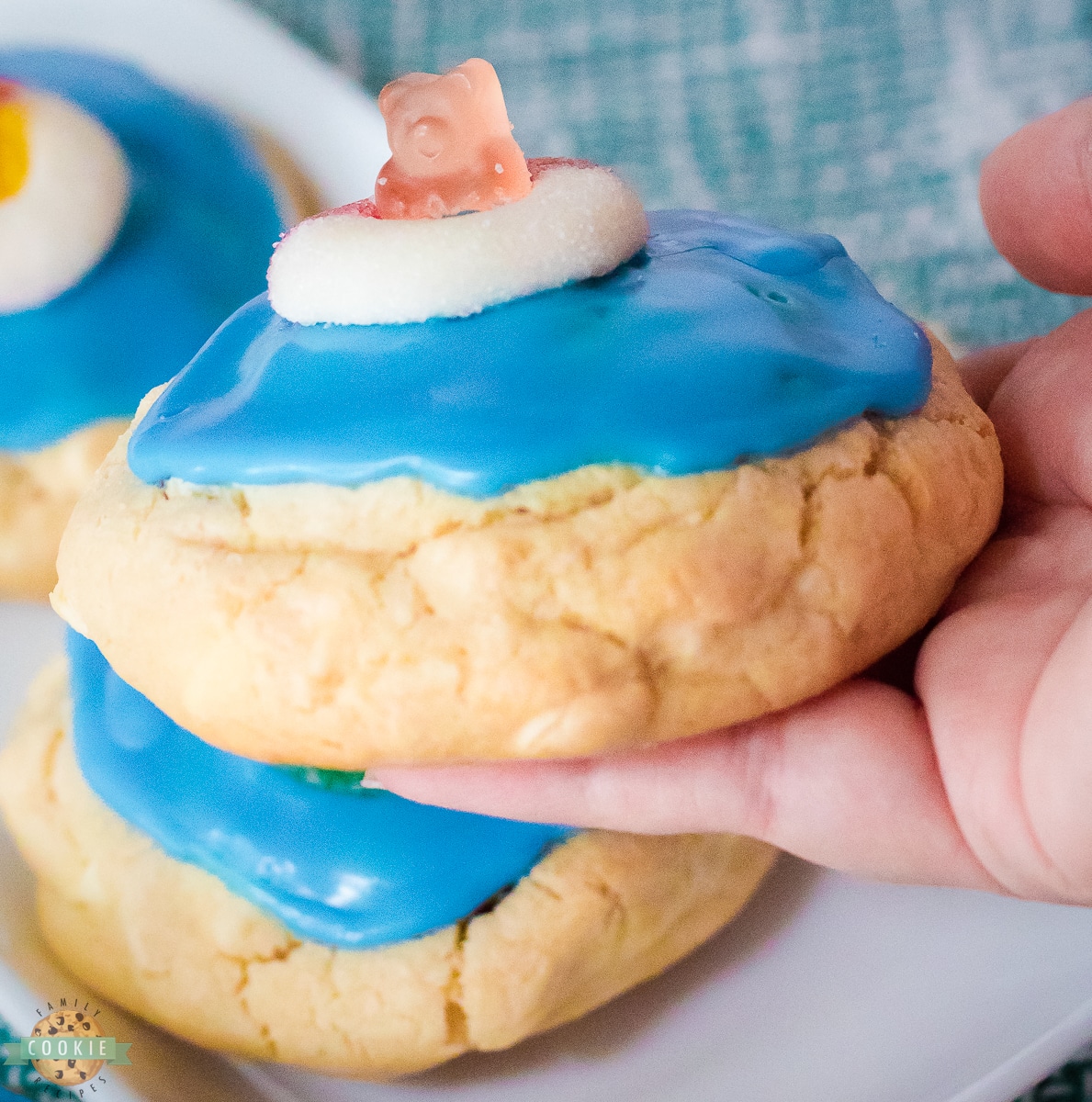 Baking powder: Adding in ½ teaspoon of baking powder will help the cookies to spread up and out as they bake resulting in a soft and thick cookie.
White chocolate chips: Use ¾ cup white chocolate chips for the perfect amount of creamy bites in this amazing cookie.
Icing and Topping
Powdered sugar: Use 6 cups of powdered sugar for the frosting. The actual amount of sugar needed will vary based on the desired consistency of the frosting.
Water: You need to add ¼ cup water to give this icing some moisture and smooth texture.
Corn syrup: Adding in 3 tablespoons light corn syrup will give the icing a smooth and shiny finish.
Blue food coloring: Using blue food coloring for the icing creates the "pool" part of this cookie.
Gummi rings: The candy gummi ring is part of the theme, this is the pool raft on top of the cookies.
Gummi bears: Adding in the final touch with the gummi bear inside the ring, to complete the pool party topping.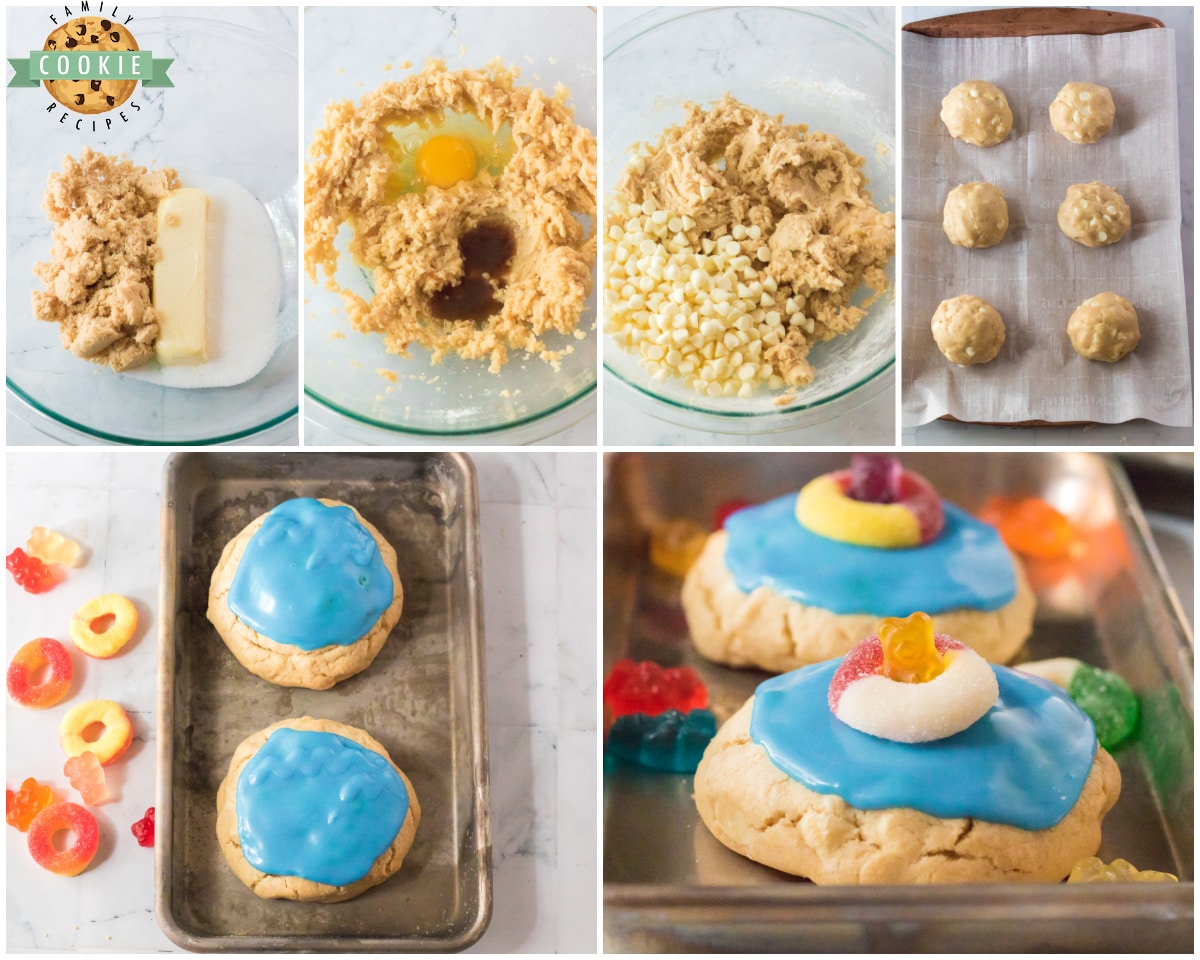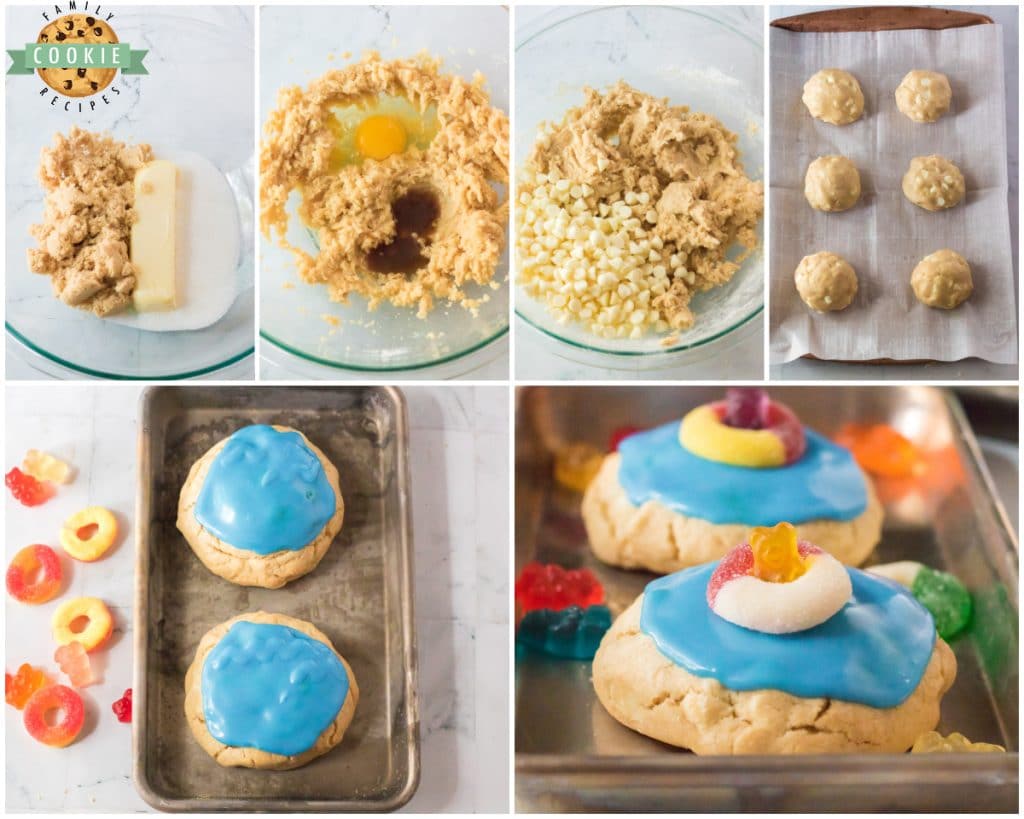 Step by step on how to make Creamsicle Pool Party Cookies
Prep
Start by preheating the oven to 350 degrees F.
Next, line a baking sheet with parchment paper and set aside.
Dough
Then, in a large bowl, cream together the softened butter and both the brown and white sugar, until fluffy.
After that, add in the egg, vanilla and orange extract and stir to combine.
Continue to add in the flour, baking powder and salt. Mix until just combined.
Next, fold in the white chocolate chips.
Proceed to divide the dough into 6 equal portions and form each portion into a ball, pressing just until it comes together.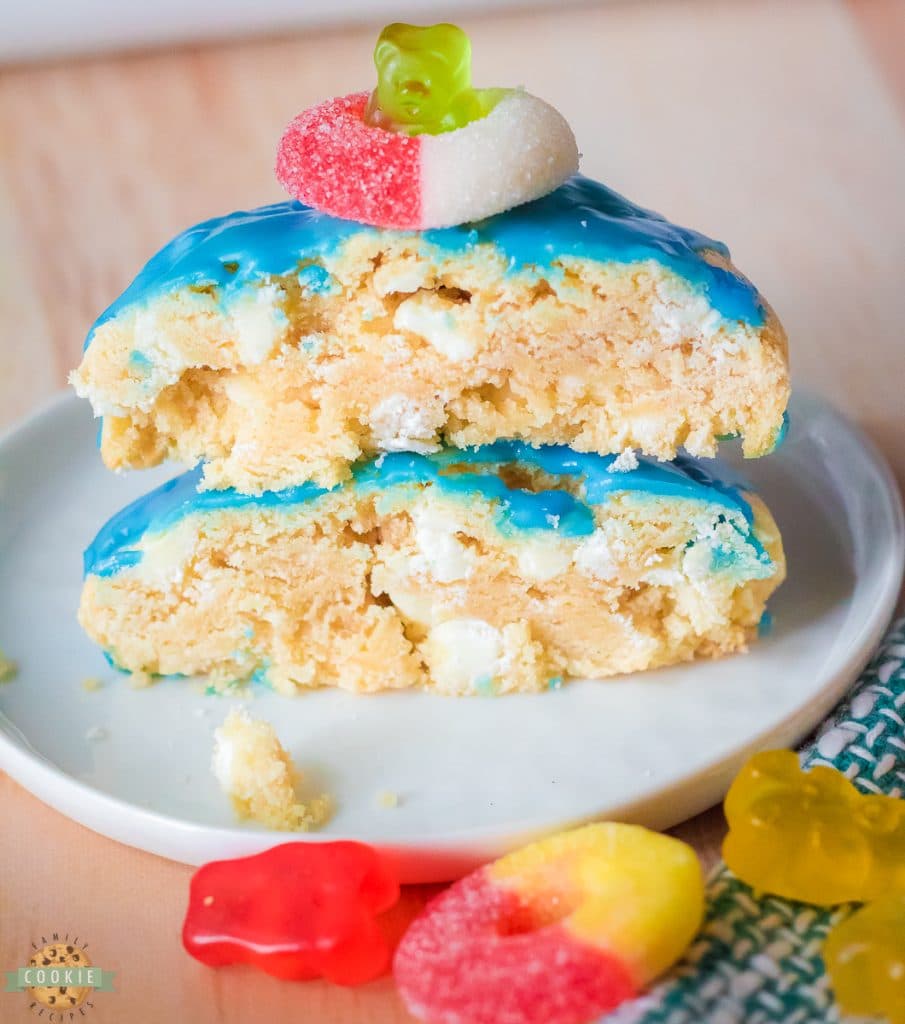 Chilling
Place the dough balls on the prepared baking sheet and refrigerate for at least 30 minutes.
Bake
While the cookie dough is chilling, get the oven preheating to 350 degrees F.
Put the cookie dough into the preheated oven and bake for 15-18 minutes. The edges should be golden brown; we want the cookies to stay chewy!
Let the cookies cool for 5 minutes and then transfer to a rack to cool completely.
Icing
While the cookies are cooking, start making the icing.
In a large bowl, whisk the powdered sugar, corn syrup, water and a few drops of blue food coloring until combined. This blue icing is our "pool" on top of the cookie, make it as dark or light blue as you would like.
Next, place the icing into a corner of a ziplocked bag and snip off a corner.
Proceed to outline the edge of the cookie with the icing and let set for 5 minutes. Then, fill in the circle with more icing.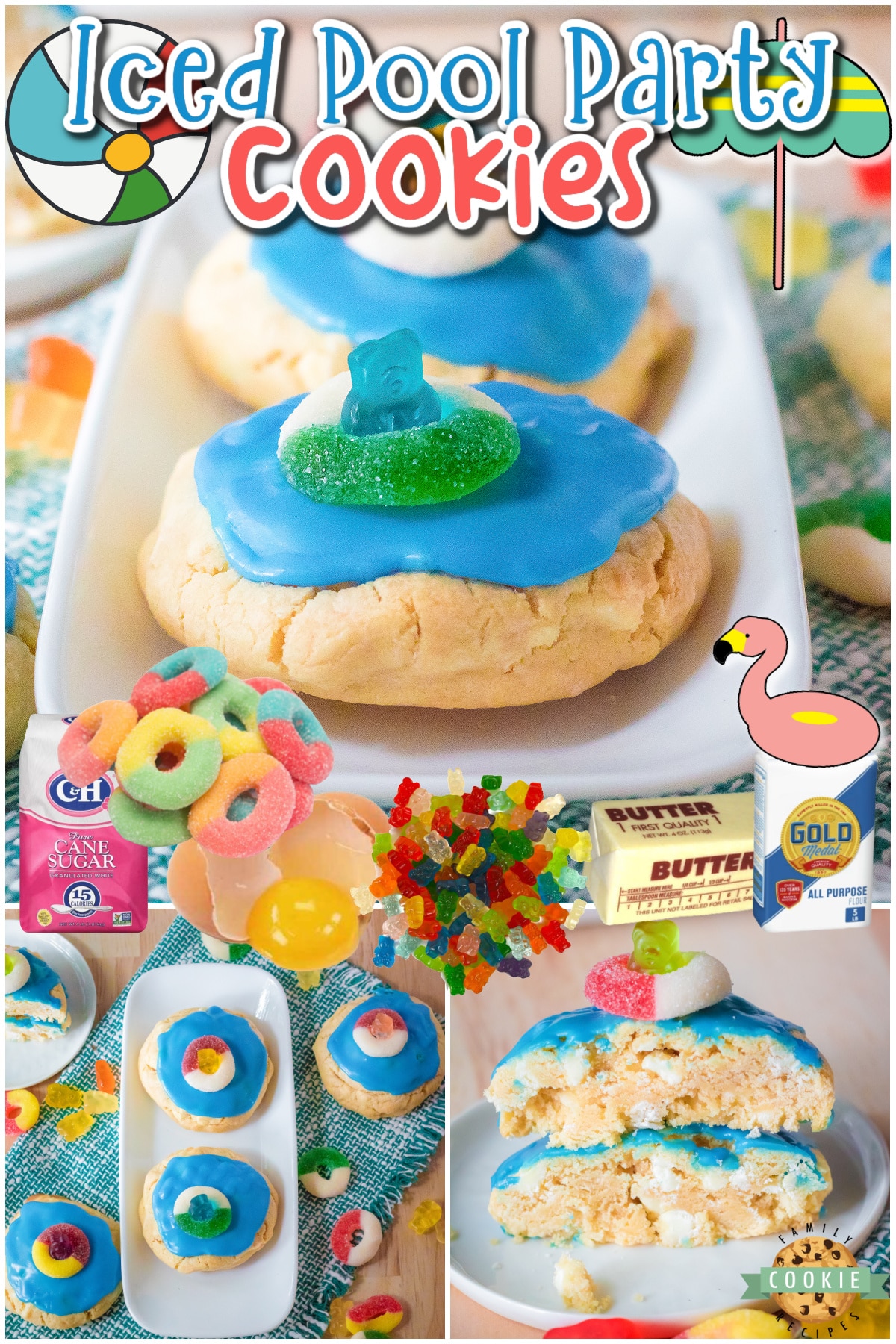 Pool Party Topping
Then, add a gummi ring to the top of each cookie for the little pool floaty.
Next, cut the feet off a gummy bear and place it inside the ring.
Serve the cookies immediately and enjoy!
Pool Party Cookie Tips and Tricks
These cookies are so fun to make and your family and guests will absolutely love them. There are a few things you can switch up or try, when making this fun cookie. If you want, you can add orange dye to cookies to give them a creamsicle appearance. If you are not a fan of gummi bears, you can use graham cracker cookies instead for the little person in the pool ring. You can use store bought blue icing if you want to save a bit of time as well.
Also, if you want more than 6 jumbo cookies you can make 12- 18 smaller cookies if desired. Just divide the cookie dough into smaller portions. If you decide to make the cookies smaller, reduce baking time to 11-12 minutes for 12 cookies and 9-11 minutes for 18 cookies. Make sure to get a bit smaller gummi ring for the "pool" topping.
How long are frosted cookies good for?
These cookies can be kept stored in an airtight container for up to 3 days. They can be stored at room temperature or in the fridge but I like keeping them in the fridge because it keeps the cookies nice and chewy.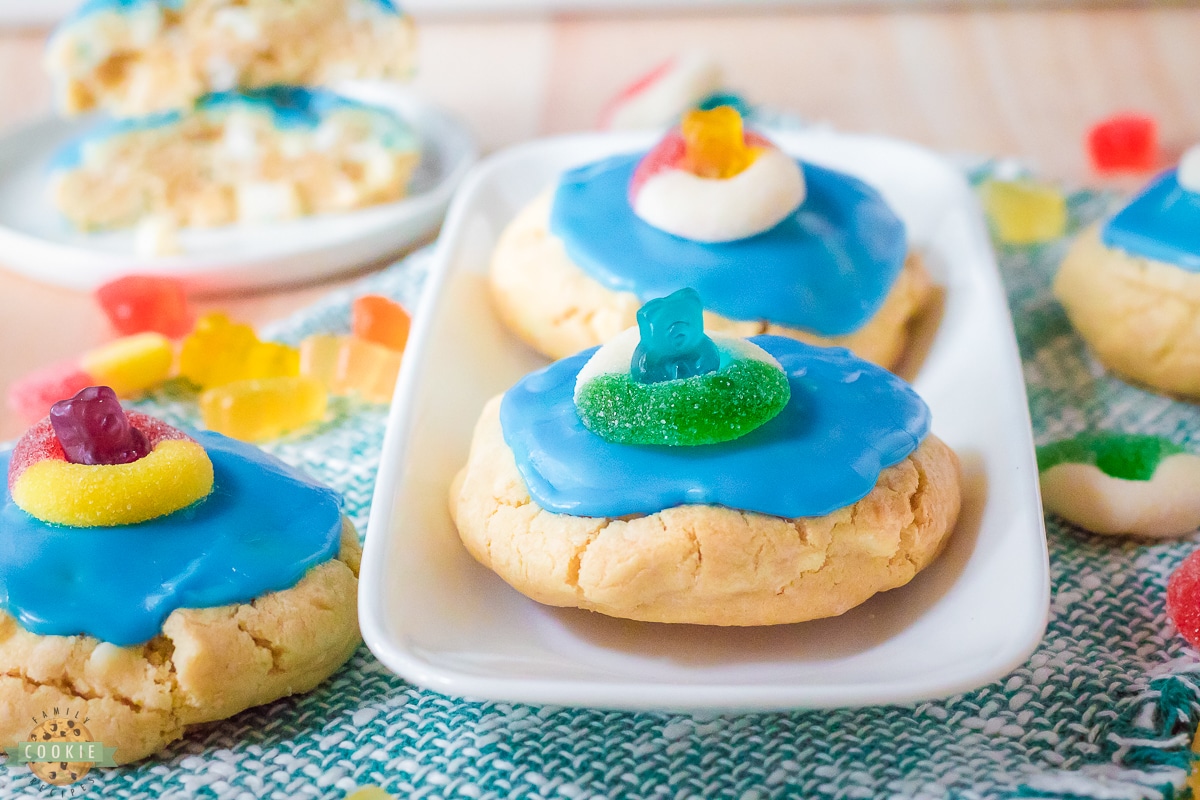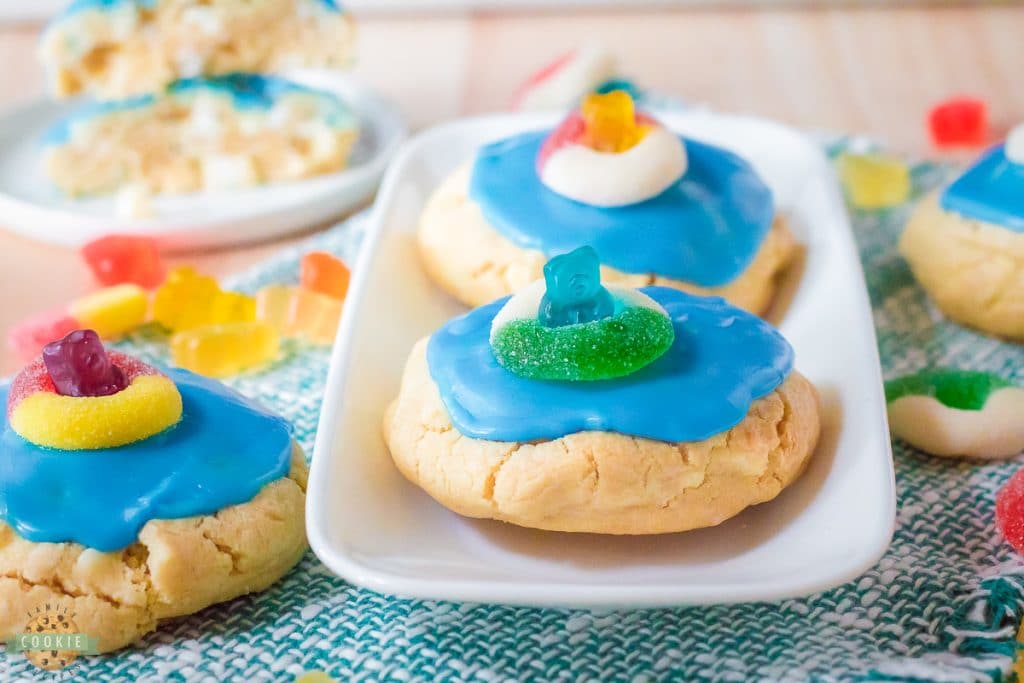 Do I have to chill the cookie dough?
When recipes request that you chill your cookie dough it is usually for a good reason. That reason is that the flavor gets a bit more time to develop and the cookies taste even more incredible. But the biggest reason is because of the butter/fats in the dough. By chilling the dough we allow the fats to solidify which means your cookies will not spread out as much while baking, so the texture turns out perfectly. This is especially important on warmer days or when your butter is warm or softened.
Can I freeze frosted cookies?
Yes, you can freeze these cookies. They will last up to 3 months if store properly. To freeze them, place your frosted cookies onto a baking sheet and freeze for about 2 hours until the frosting is solid. Then transfer to an airtight container with a piece of parchment paper or wax paper between the cookies to prevent sticking. You can also put them each in individual ziplocked bags after the initial freezing process, for quick access to a sweet treat.


A quick stop on the way home from a road trip yielded some pretty fun memories! Here's my cute monkey enjoying the outdoors at the bird sanctuary.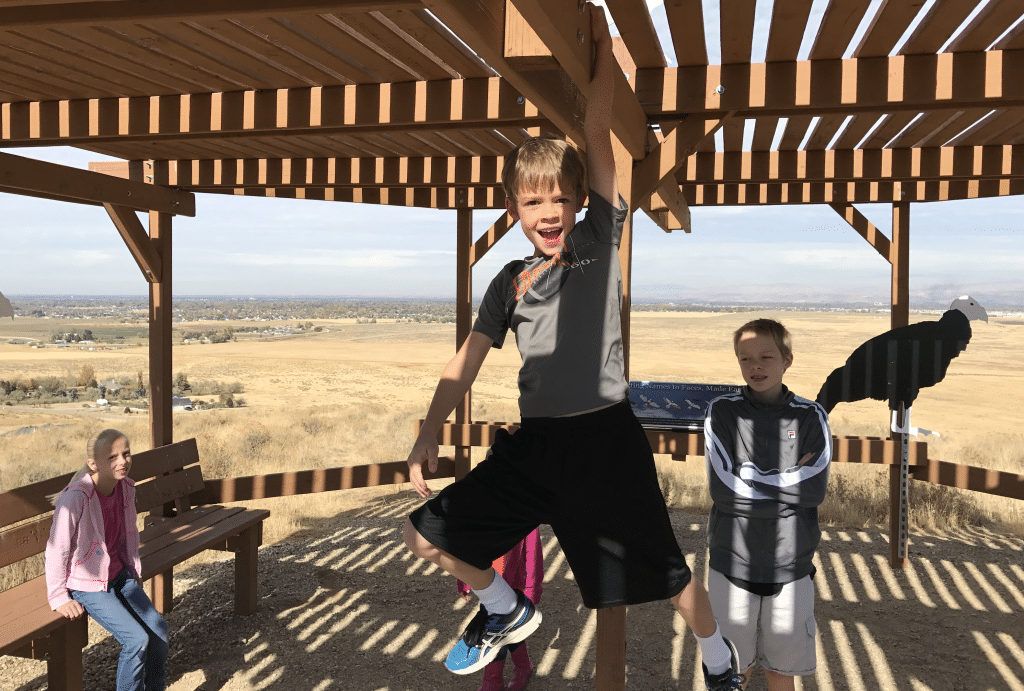 If you loved these frosted cookies, try more of our favorites here!
Pool Party Cookies are a festive cookie that look adorable and taste amazing! These orange creamsicle cookies are soft and speckled with sweet white chocolate chips to create a delightful treat.