Easter Sprinkle Cookies are a great way to celebrate the holiday with a sweet treat. The colorful sprinkles on a soft and chewy sugar cookie make for a delicious snack that looks as good as it tastes!
These Easter Sugar Cookies are a very simple sugar cookie recipe that anyone can make. There's no need to chill the dough or bring out any cookie cutters, meaning less time to wait and less stuff to clean when you're done!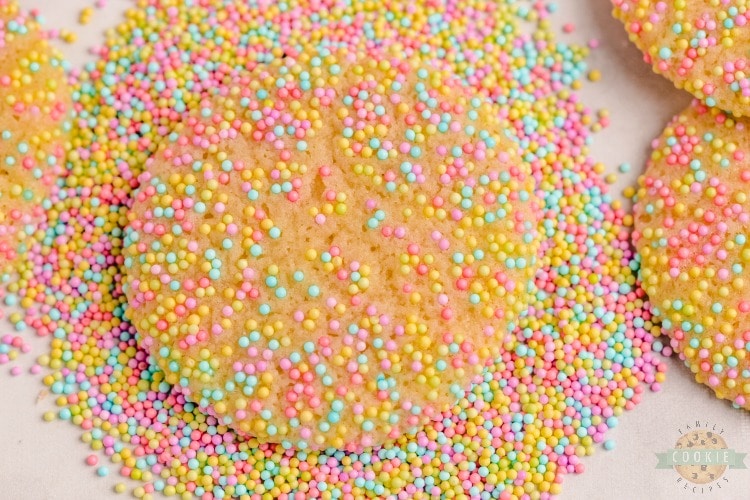 Making the Easter Sugar Cookies
As I stated, these cookies are fairly simple to make. The dough is creamed together with a mixer and the dough is scooped and rolled into little balls. I recommend using a measured cookie scoop for equal sized balls.
After making little dough balls, you roll them in the Easter sprinkles and bake them. This is something that kids would enjoy helping with if you want to turn these cookies into a fun family activity in the kitchen.
How do you get sprinkles to stick to cookies?
Your dough should be wet enough that when rolled in the Easter sprinkles, they stick on their own. If by chance your dough is too dry and you're having difficulty getting sprinkles to stick, slightly dampen the dough with a little water first. I recommend running your hands under water and getting them wet, then rolling the dough by hand so the water transfers from your hands to the dough without getting the dough too wet.
Do sprinkles melt in the oven?
While sprinkles may melt a little bit while in the oven and cause some color bleeding, they won't completely dissolve. Candy sprinkles are designed to be thick enough to bake for several minutes before melting. The perfect amount of time for baking a sprinkle covered cookie.
Easter Sugar Cookie Ingredients
-1 cup butter room temperature
-1 cup granulated sugar
-2 eggs
-3 tsp vanilla
-2 1/4 cups all-purpose flour
-2 tsp baking powder
-1/2 tsp salt
-1 cup Easter colored sprinkles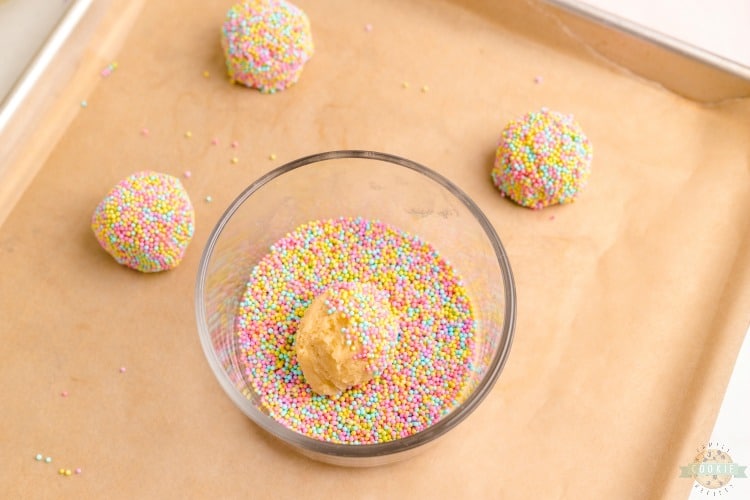 How to Make Easter Sugar Cookies
Preheat the oven to 350°.
Either using a stand mixer or a hand mixer, cream together the butter and sugar for about two minutes or until it's light and fluffy. Scrape down the sides of the bowl as needed.
Add in the eggs and the vanilla and then mix until well combined.
Add in the flour, baking powder, and salt. Mix until fully incorporated. The dough will be sticky.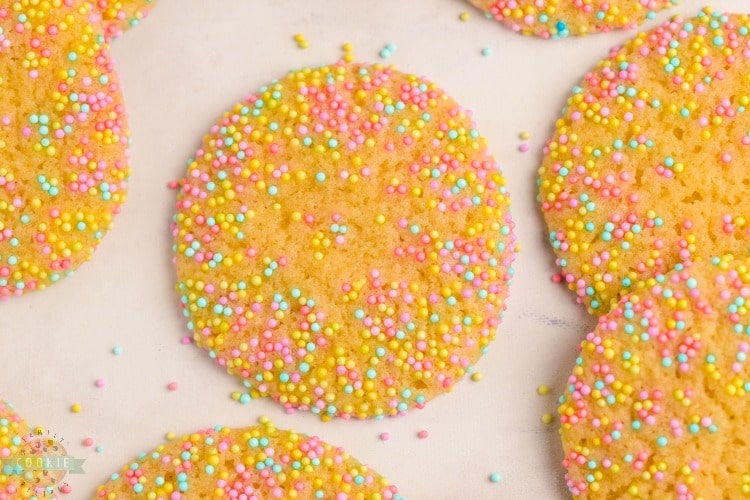 Pour your sprinkles into a bowl. Scoop the cookie dough out of the mixing bowl and place it in the sprinkles. Roll the dough around in the sprinkles until it is fully covered. Reshaped the dough into a ball before placing on a parchment paper lined cookie sheet.
The cookies will spread quite a bit while baking, so I suggest limiting each cookie sheet to about eight cookies.
Bake at 350° for 10 minutes. Cool completely on the pan. The cookies will stay fresh in an airtight container for 2 to 3 days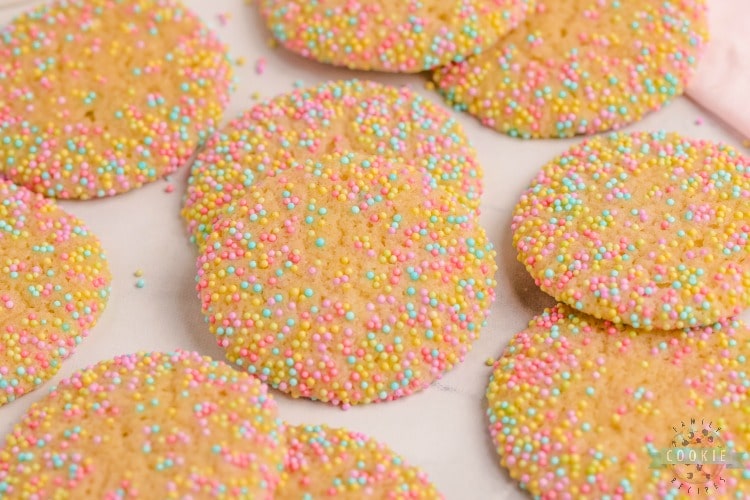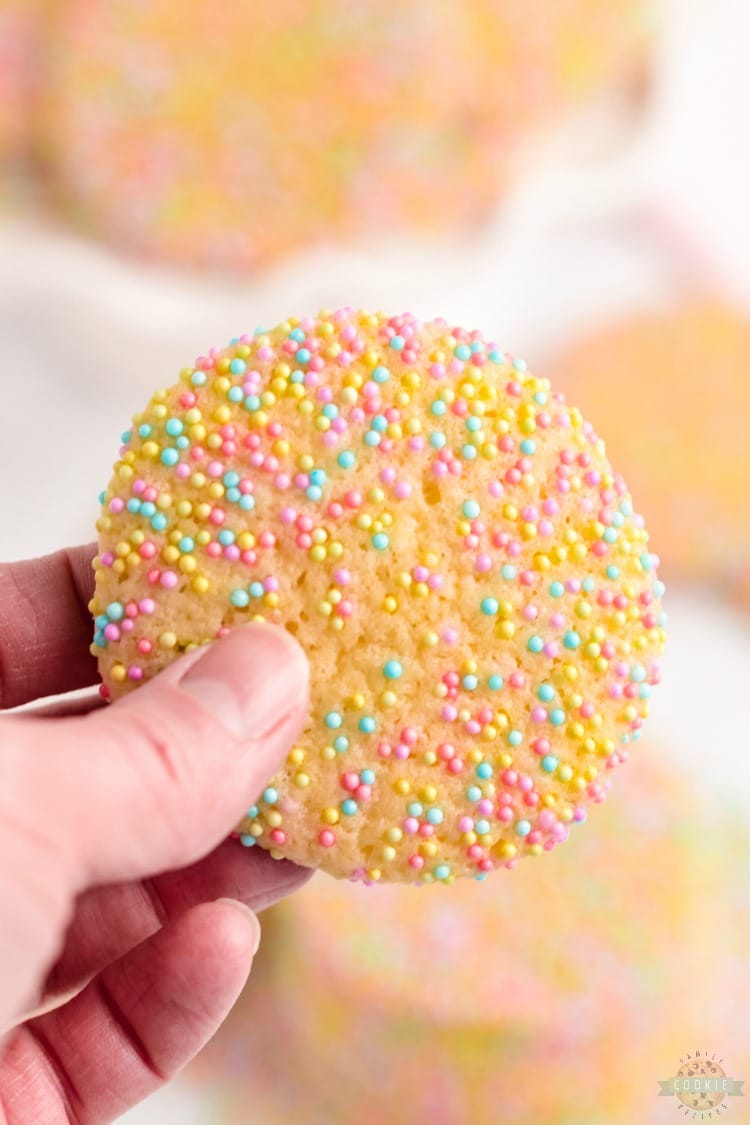 More Easter Cookies:
Can you freeze sprinkle cookies?
Yes. After your cookies have cooled completely, you can place them in a freezer-friendly Ziploc style bag or in an airtight container and freeze for up to a few months. Depending on the type of sprinkle that you use, you may notice that the color rubs off or bleeds as it thaws.
Where to find Easter sprinkles?
You can find Easter colored sprinkles in your local grocery stores, online or even inside of a craft store with a dedicated cake decorating section. I find the best selection at Walmart in the Seasonal/ Holiday areas. Wilton cake company makes nice Easter colored sprinkle assortment packs, and Etsy has a ton of incredible sprinkles you won't find anywhere else.


We're right in the middle of Covid-19 so our family of 7 have been at home, sheltering in place for WEEKS now. Hope all are well. We are doing just fine. It's so interesting how little things seem to entertain us for hours these days. We discovered Google 3D Animals the other day and it kept us busy for a while. Have you tried it? I'm so amazed at how realistic it is! Here we are trying to save our little doggie from the crocodile that suddenly appeared in our living room!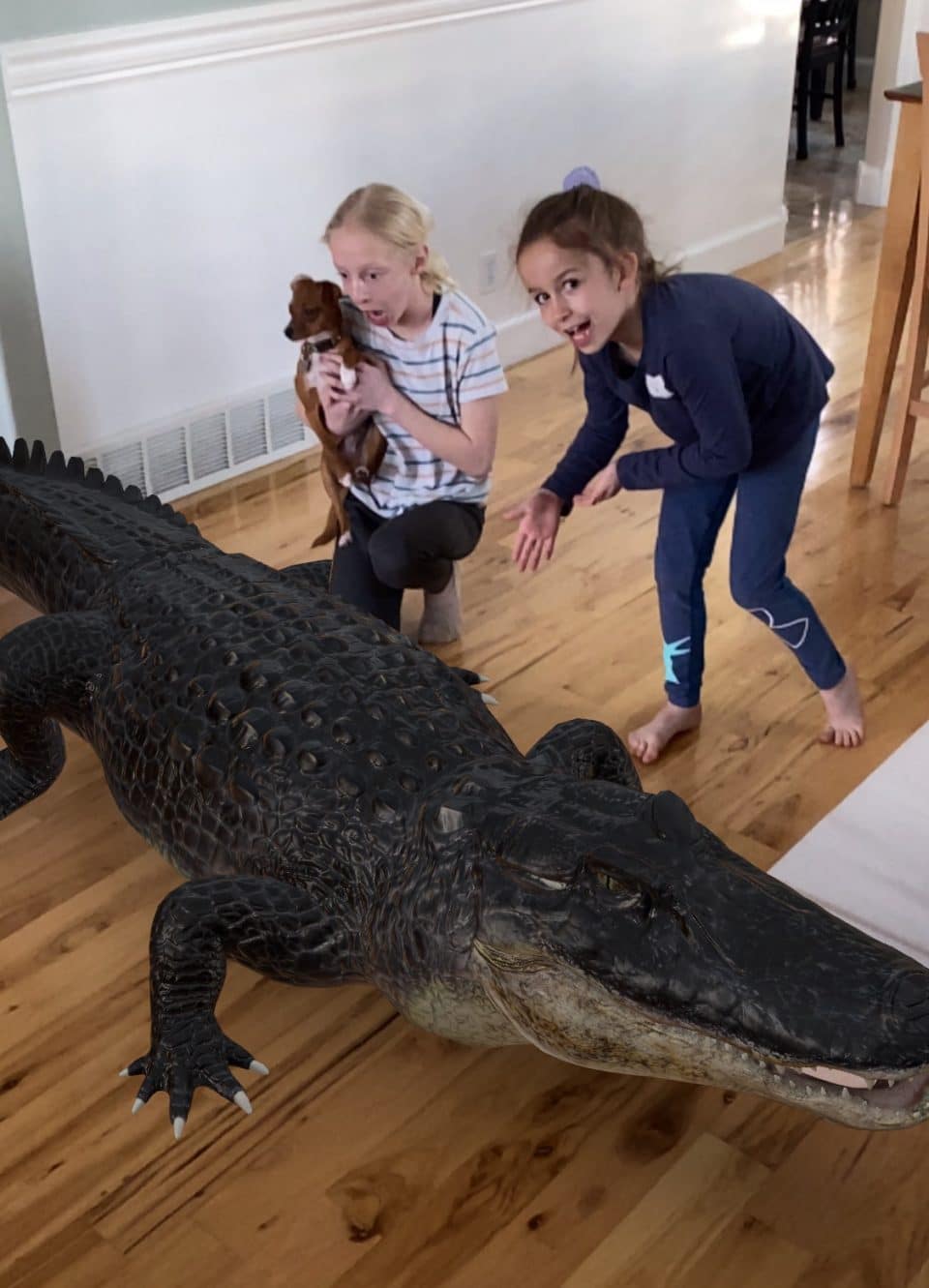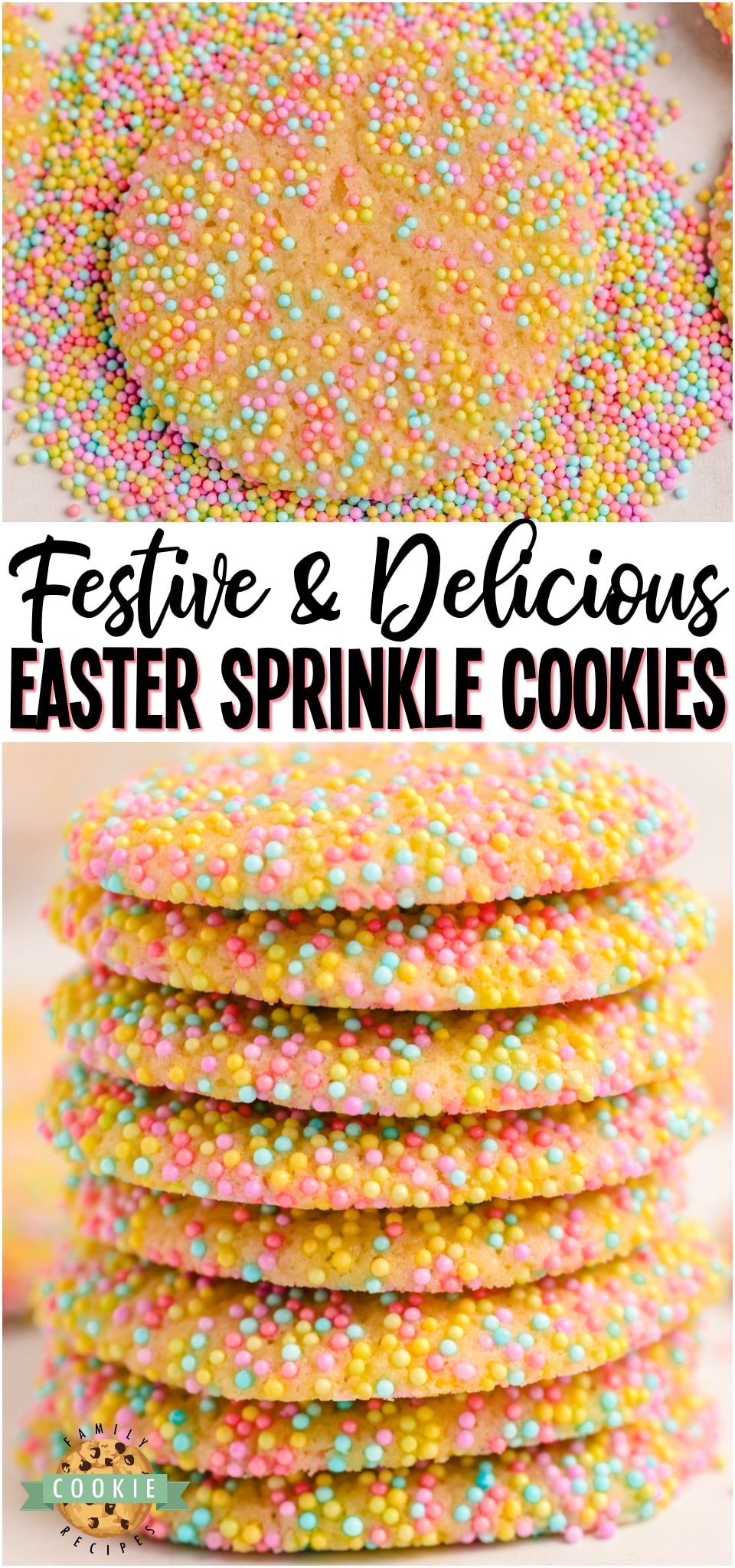 With such an easy Easter sugar cookie recipe you're going to love having them at your celebration. Everyone will love how pretty they look and how great they taste!