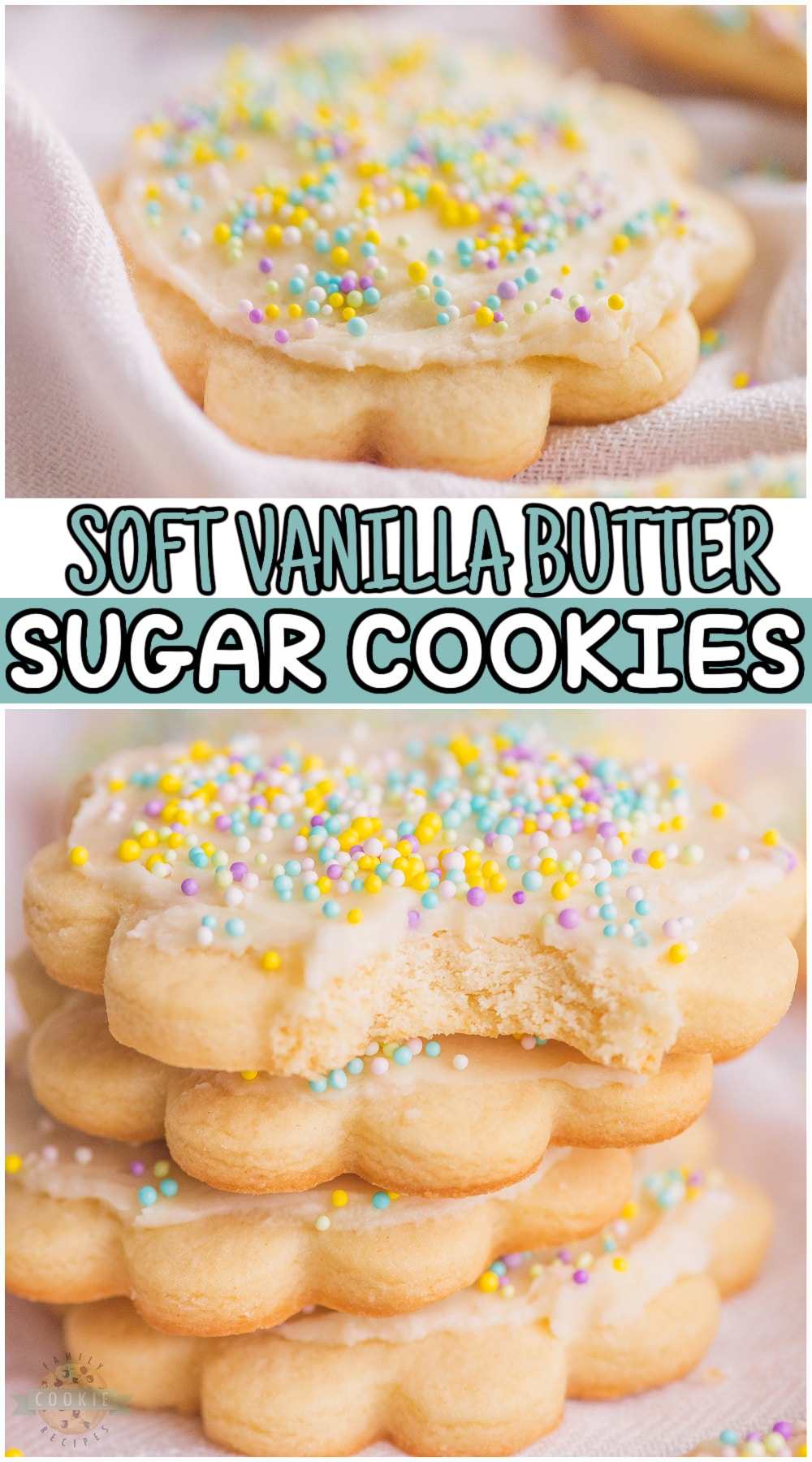 All Butter Sugar Cookies are soft & sweet cookies topped with a buttery vanilla frosting. Easy sugar cookie recipe made with simple pantry ingredients that yields about a dozen cookies.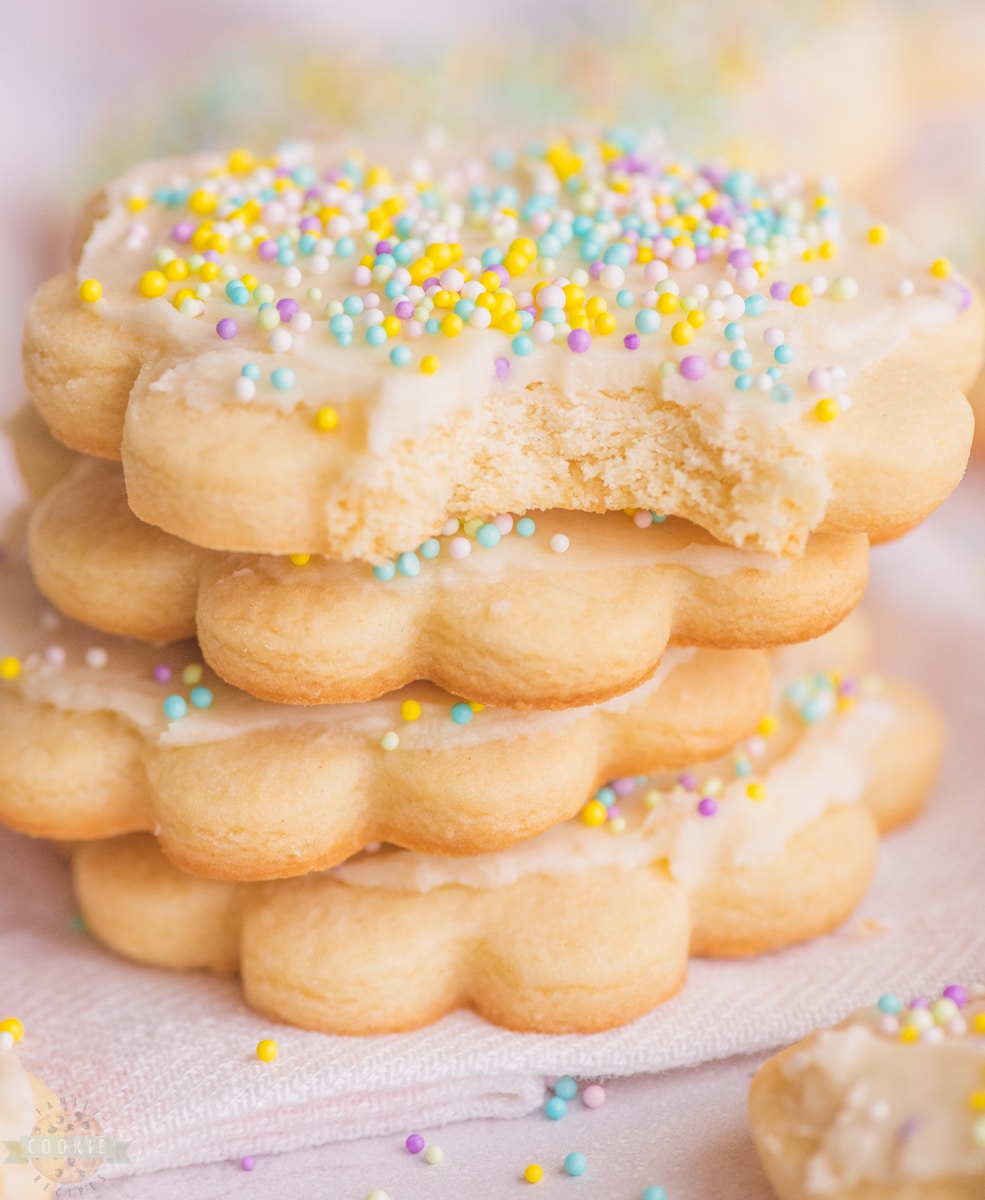 These butter sugar cookies are a rich tasting soft and chewy cookie you're going to want for every occasion. Topped with a simple icing on top (and maybe sprinkles) and every bite will be as sweet as it looks.
You'll be looking for excuses to make these soft butter sugar cookies, and we can't blame you. With an easy recipe like this, you can whip up a batch or two with little effort. Each batch makes about 1 dozen cookies, depending on how big your cookie cutters are. I love that it's a relatively small batch!
The Best Butter Sugar Cookies
These cut out butter sugar cookies are perfect for any occasion. With a dough that holds shape, you can enjoy using your favorite festive cookie cutters and switch up this recipe for any holiday, event, or party. Just make sure to chill the dough so that the cookies don't spread while baking. A chilled dough is a happy dough.
Ingredients for iced butter sugar cookies
For the cookies, you will need:
-Flour: The base of this cookie dough recipe is 1 ½ cups of all-purpose flour.
-Baking powder: We want our cookies to puff up as they bake so 1 ½ teaspoons of baking powder will do the trick.
-Salt: To enhance the flavors of the cookie we need ¼ teaspoon of salt.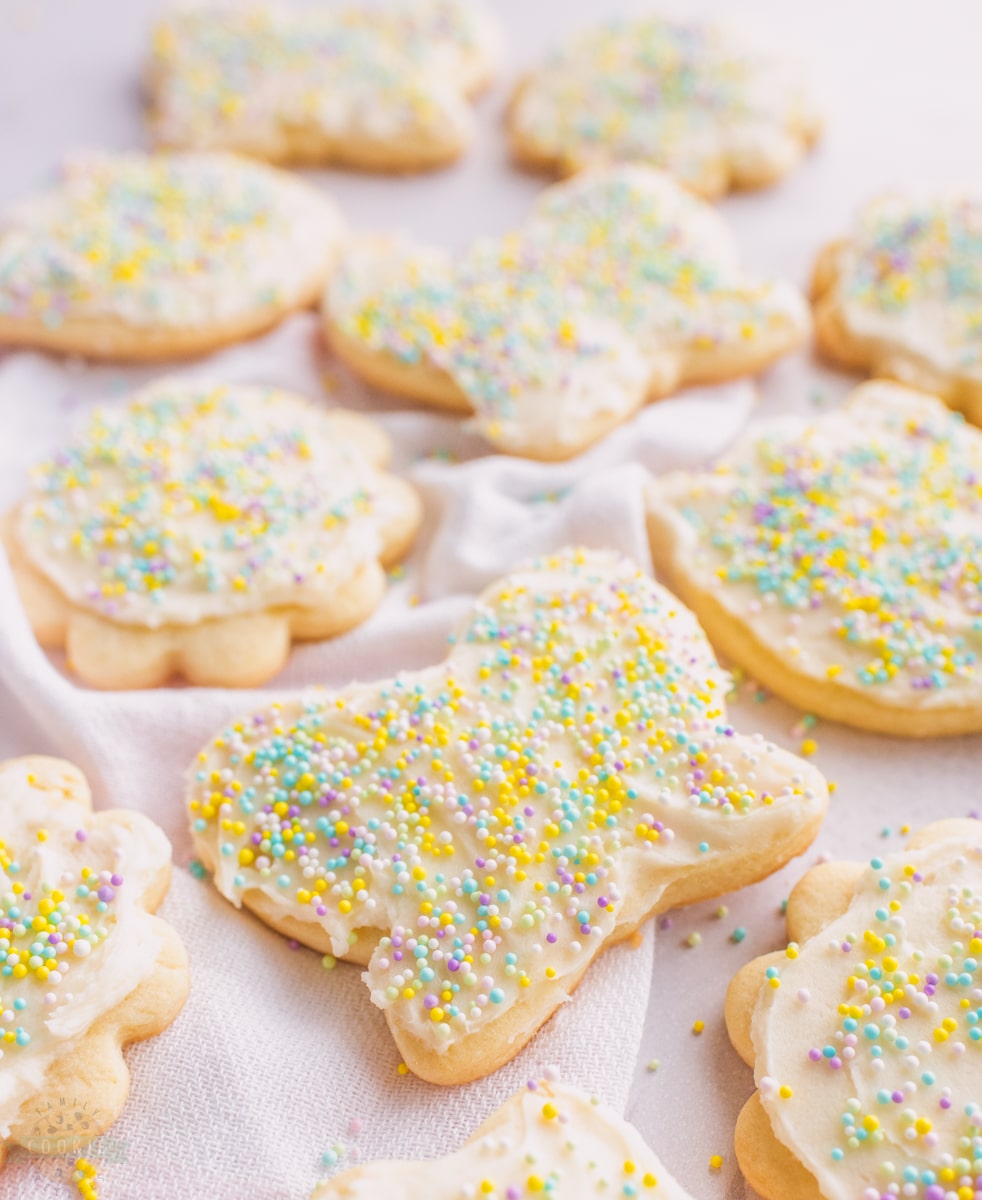 -Butter: Using ½ cup of softened butter (one stick) we can get a rich tasting cookie with lovely flavor.
-Sugar: Our sugar cookies need ½ cup of granulated sugar to stay nice and sweet. This also helps to get a chewy texture.
-Milk: To help thin the dough ever so slightly, you will need 3 tablespoons of milk.
-Egg yolk: We do not want to use an entire egg for this recipe. Just a single egg yolk is sufficient.
-Vanilla: You'll want to use a teaspoon of vanilla to help enhance the flavors in these cookies. Use stronger vanilla for better tasting results or use what you already have on hand.
For the Icing, you will need:
-Butter: Using ½ cup of butter we can make our icing rich tasting and delicious.
-Powdered sugar: You will need 1 ½ cups of powdered sugar to make the icing smooth, thick, and creamy
-Vanilla: To help flavor our frosting you will need 1 teaspoon of vanilla extract.
-Milk: You will use 1-2 tablespoons of milk depending on how thick or thin you would like the icing. Adjust to preference.
How to make butter sugar cookies
Cookies
Preheat your oven to 350 degrees F and line a baking sheet with parchment paper or spray with nonstick cooking spray. Set aside.
Combine flour, baking powder, and salt in a small mixing bowl.
In another bowl, use an electric mixer to cream the butter. Add in the sugar and beat until light and fluffy. Add in the egg yolk and vanilla and mix until well combined.
Alternate adding the dry ingredients and the milk to the butter egg mixture. Start and end with the dry ingredients.
Your dough should be soft but not sticky. Place into the fridge for 30-60 minutes.
Remove the dough from the fridge and on a lightly floured surface, roll the dough out to 1/4 inch thick. Use cookie cutters to cut out shapes, rerolling and cutting the dough as needed.
Place the shapes onto the prepared baking sheet and bake in the oven for 10-12 minutes or until lightly browned on the edges.
Allow the cookies to cool completely before topping them with the icing.
Icing
In a bowl, beat your butter with an electric mixer.
Add in the powdered sugar and beat again until smooth and creamy.
Add in the vanilla and mix.
Add in the milk, one tablespoon at a time until your desired consistency has been reached.
Spread the icing on the cookies, or pipe the icing with a piping bag (if it's thick enough).
Feel free to top your cookies with sprinkles! Enjoy!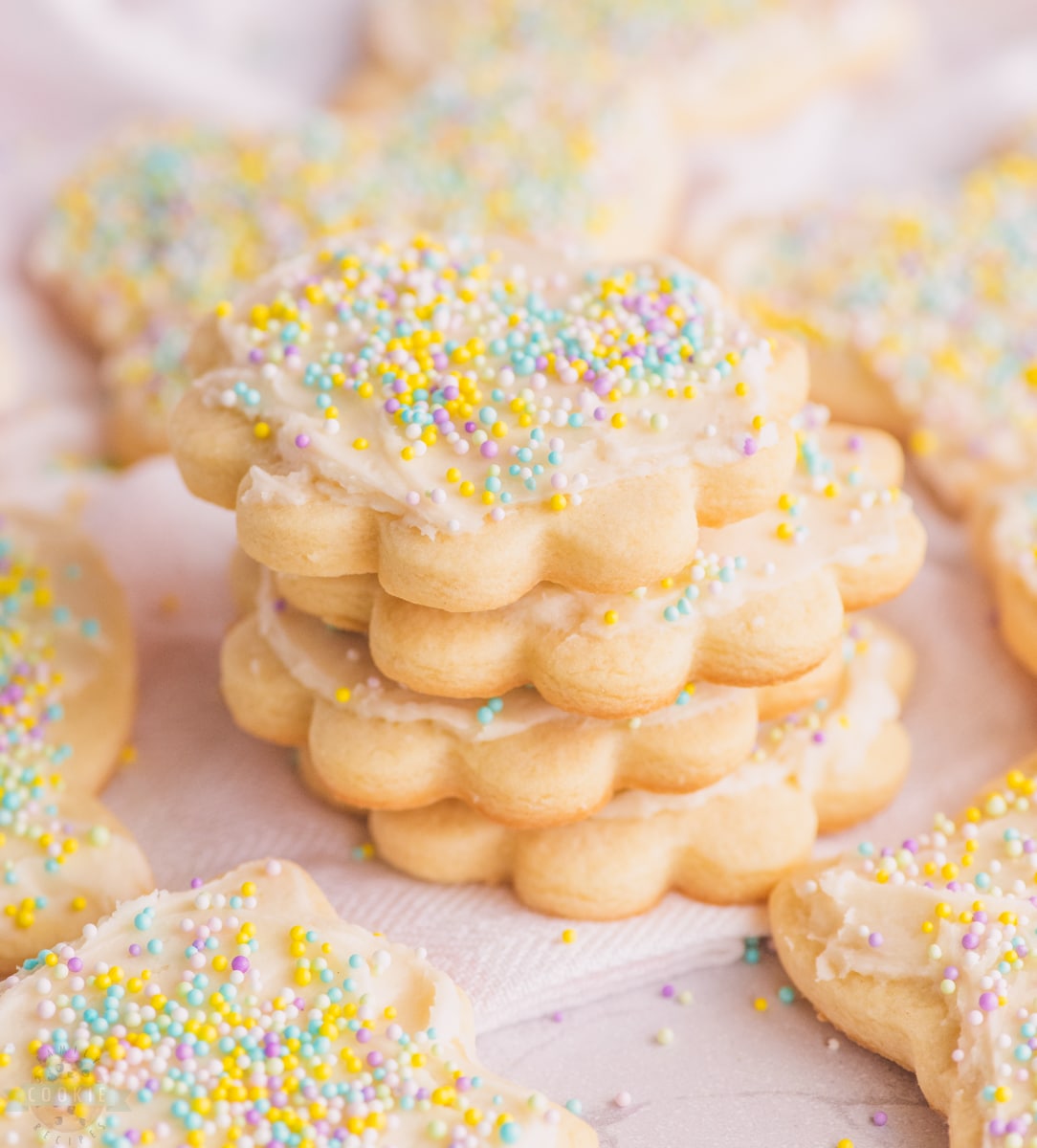 What is the difference between butter cookies and sugar cookies?
The big difference between the two is that the butter cookies have a higher butter to flour ratio. Both cookies can be made very similarly and shaped depending on the recipe, but butter cookies have the added fats making them taste richer.
What butter is best for sugar cookies?
You can salted or unsalted butter for cookie recipes if you prefer. Some people swear by using unsalted butter, but I love the flavor of salted. I love using a high quality butter like Plugra or Kerrygold because they contain a higher fat ratio that results in creamier butter, and cookies!
Need More Sugar Cookie Recipes? We've got you covered!
You're going to love these soft butter sugar cookies. Every bite is rich and wonderful and shaped like your favorite cookie cutters. With this easy recipe on hand, you'll always be prepared for the next party or event.


Two of our boys have really enjoyed playing flag football. In our area, there are 8 week seasons twice a year. We're just finishing up the Spring season and my youngest's team did so well! They placed 3rd overall. For our last game we arranged to come onto the field in style- with a makeshift tunnel, smoke machines, a banner & music!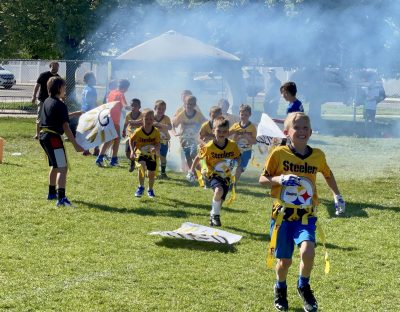 Our son ran out in the lead and oh my, that smile makes everything worth it! GO STEELERS!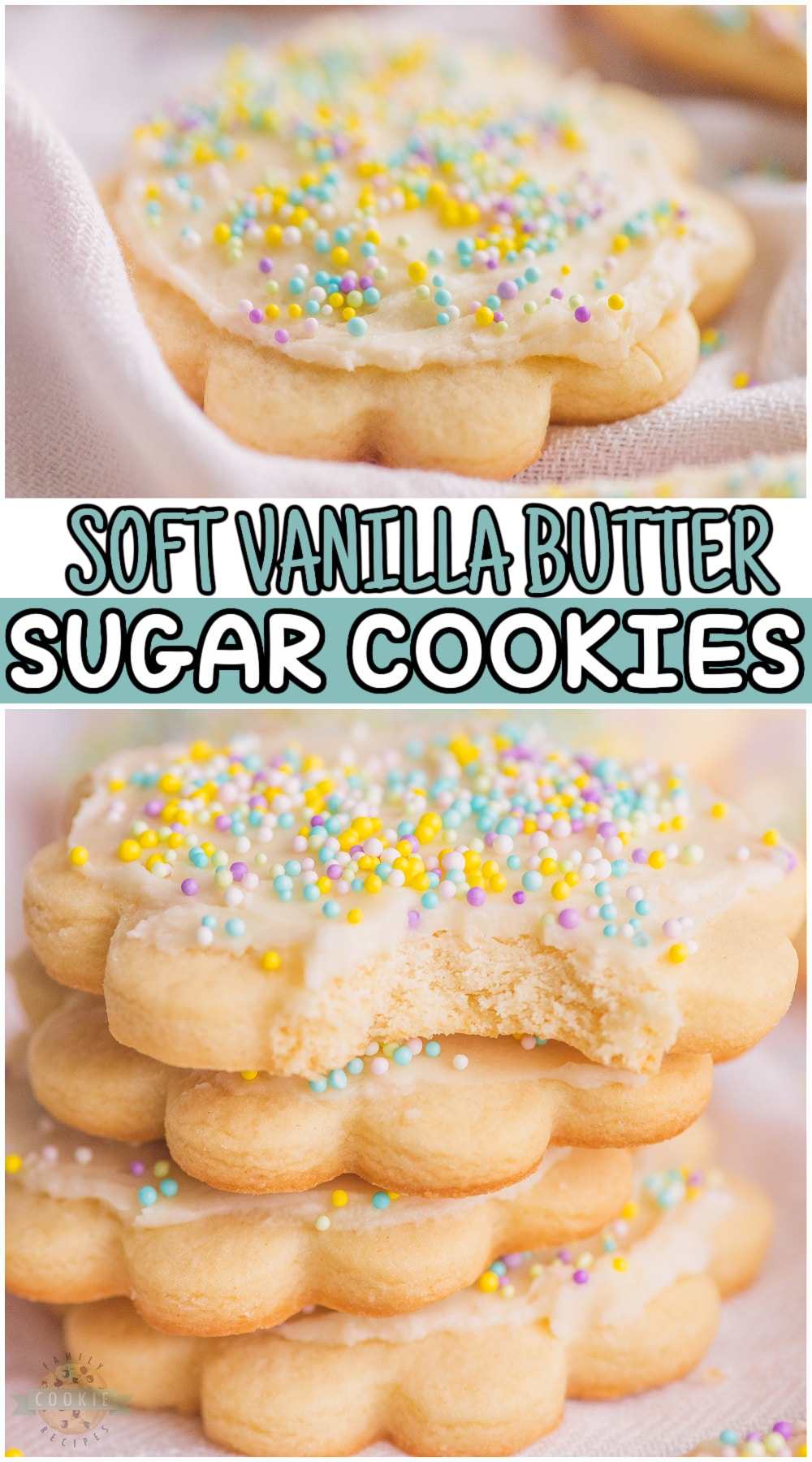 All Butter Sugar Cookies are soft & sweet cookies topped with a buttery vanilla frosting. Easy sugar cookie recipe made with simple pantry ingredients.