Ice Cream Cone Cookies made with waffle cone & chocolate chips in every bite! Fun, unique Drumstick Chocolate Chip Cookies made with the classic drumstick ice cream cones in mind!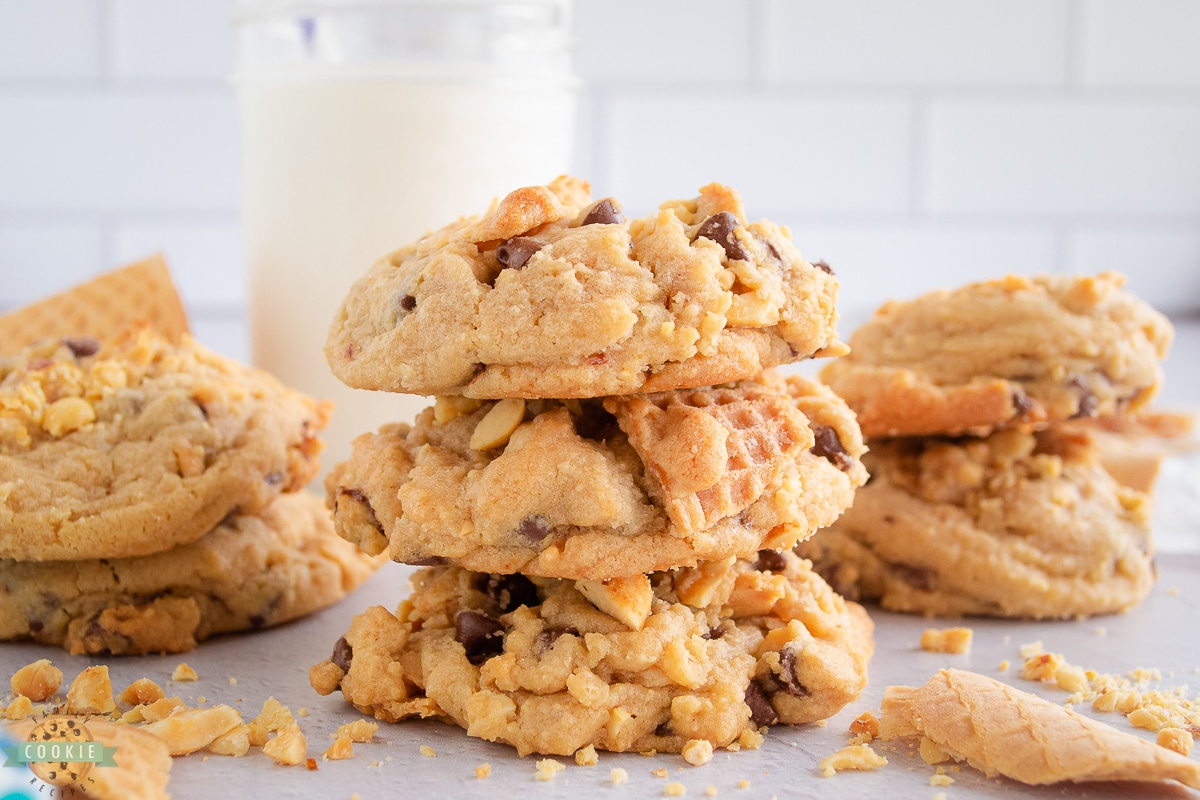 If you've been here before then you already know that we have many variations on the classic chocolate chip cookie recipe and every one of them is just as fabulous as the last, like our BISCOFF CHOCOLATE CHIP COOKIES and our CHOCOLATE CHIP S'MORES COOKIES. After some trial and error, we're finally ready to add this cookie recipe to our unbeatable collection of chocolate chip cookies.
Inspired by Drumstick Ice Cream Cones
A drumstick is a frozen ice cream dessert invented by the Parker Brothers in 1928 and is now a classic American dessert every summer. A Drumstick is an ice cream cone filled with ice cream and then topped with chocolate and peanuts. I have created a chocolate chip cookie with all the flavors of a drumstick! You can now enjoy your favorite flavors, minus the ice cream, all year round!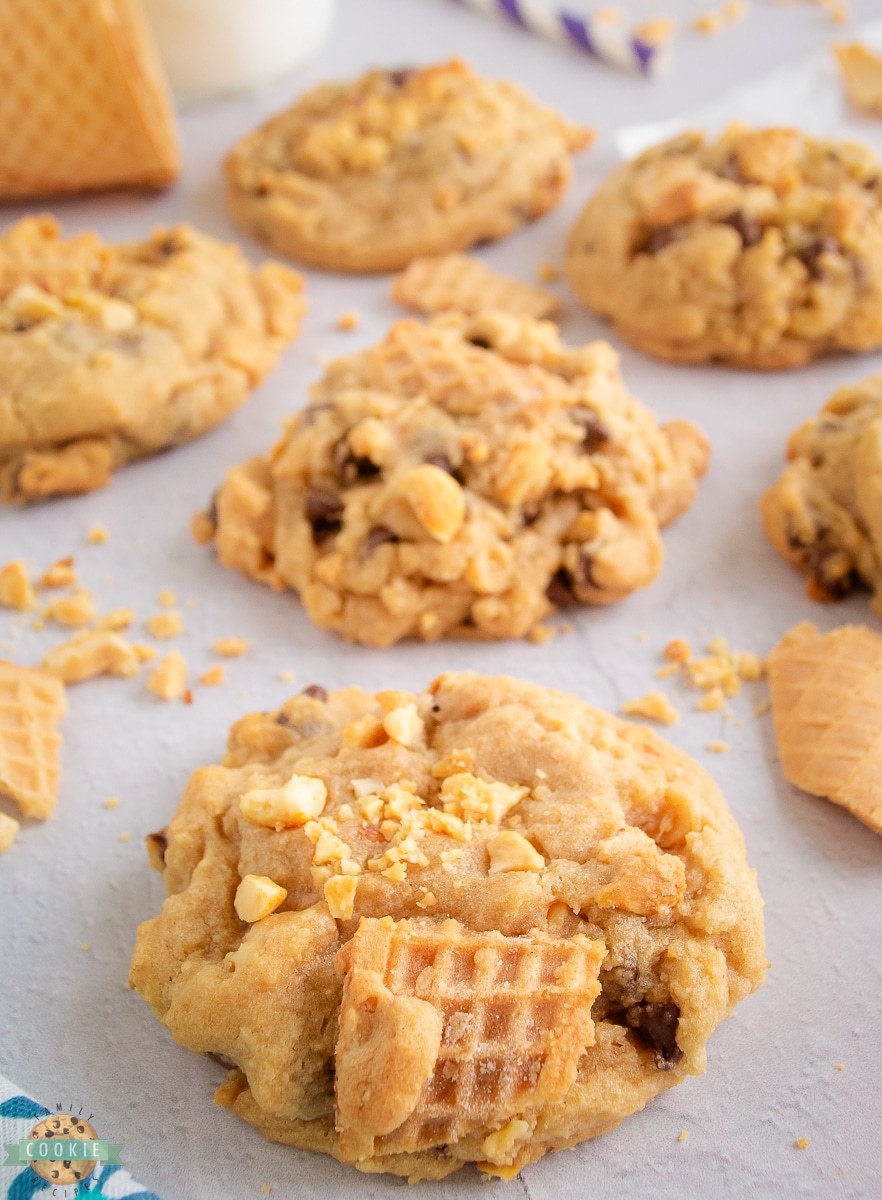 Why You'll Love This Fun, Unique Cookie Recipe
Hello, Waffle Cones are AMAZING. So let's add them to cookies, yeah?!
Simple ingredients. A classic cookie should be made with basic ingredients, so we made sure not to veer off too far from that, even with our unique additions.
This recipe is great for broken ice cream cones! Ever buy a box of ice cream cones only to find that several are already broken and unusable? Instead of feeling disappointed, get creative with a batch of fresh cookies.
There's no chilling required! This cookie recipe comes together quickly, bakes in minutes, and doesn't take hours of patience, either. So the faster you start in on this recipe, the sooner you can get a warm, delightful treat.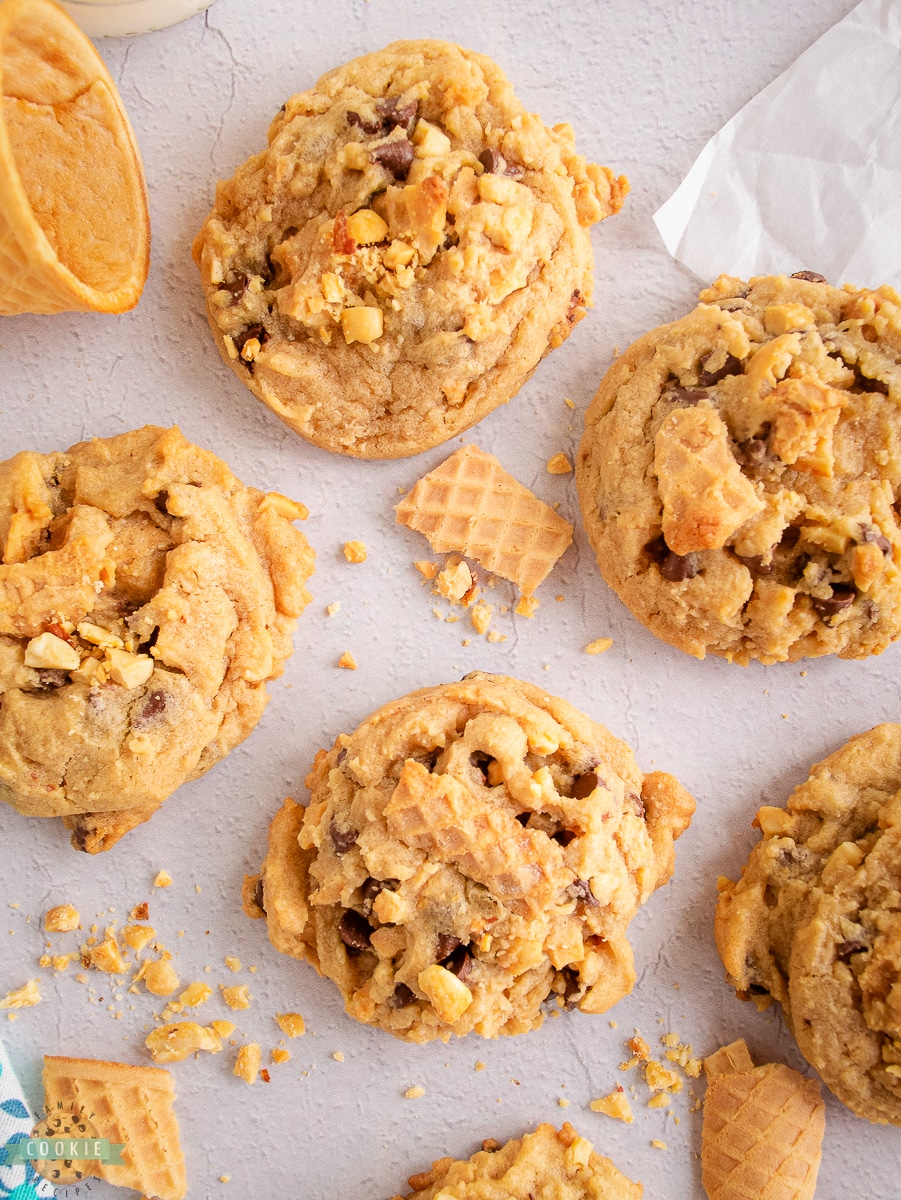 Ice Cream Cone Cookies Ingredients
Flour– You will need 1 1/2 cups of all purpose flour for the base of these cookies.
Baking soda- Use 1 teaspoon of baking soda to help the cookies spread out nicely.
Salt– Adding in 1/2 teaspoon of salt will help to enhance the flavors.
Butter– Use 1/2 cup of softened butter (one stick) to make the cookies richer in taste.
Brown sugar- For a classic chewy taste, you will need 1 cup of packed brown sugar.
Egg– Use 1 egg to bind the dough together well.
Vanilla– Mix in 1 teaspoon of vanilla extract for added flavor.
Ice cream cones- You will need 1/3 cup of broken waffle cone pieces so there's enough for all the cookies. If you can't find waffle cones, sugar cones or crushed waffle bowls will work. 
Chocolate chips- Mix in 1/2 cup of chocolate chips (semi-sweet or milk chocolate) as desired.
Peanuts– Drumstick ice cream is topped with chopped peanuts, so it makes sense to add in 1/2 cup of chopped salted peanuts to make our cookies taste similar.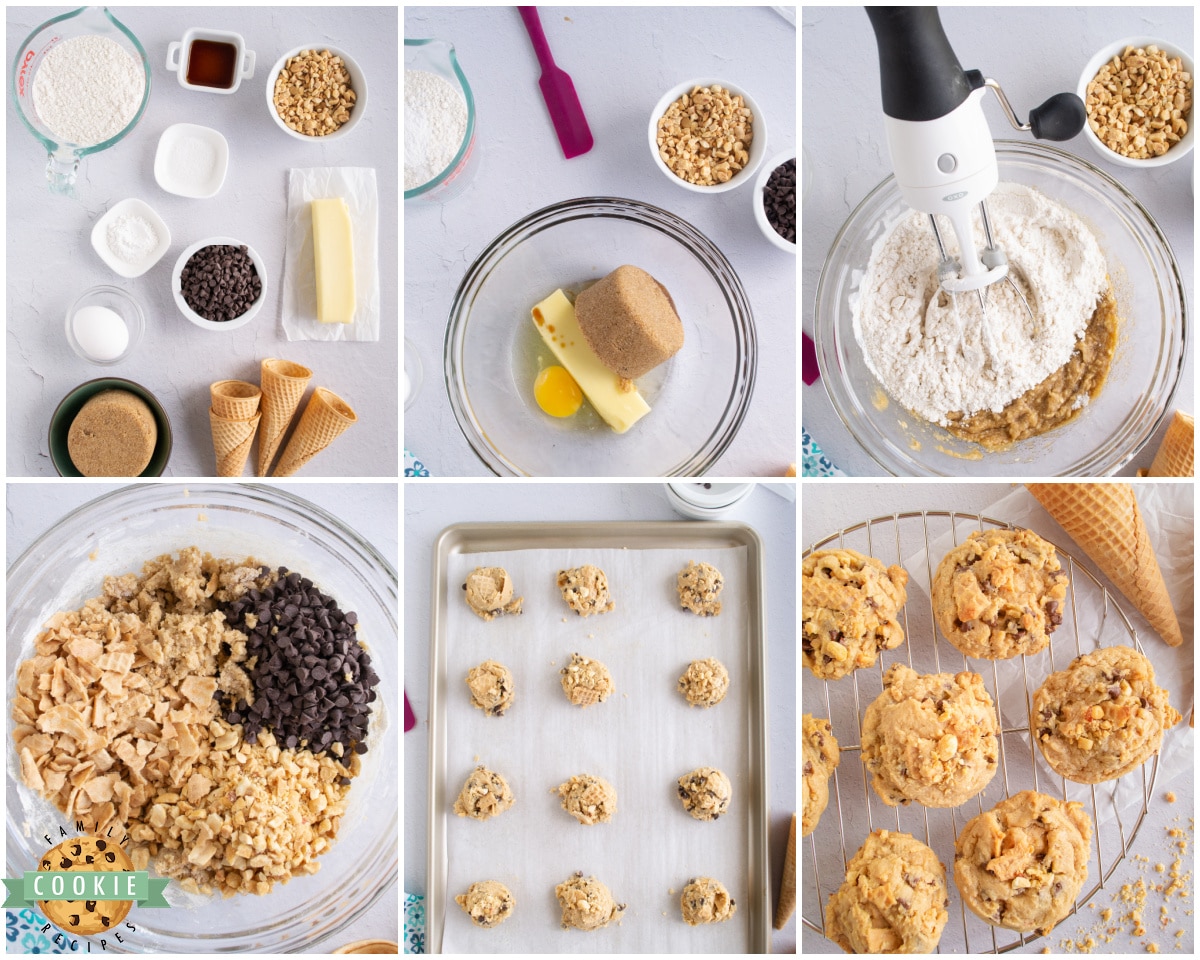 How to Make Drumstick Chocolate Chip Cookies
Prep
Preheat your oven to 350 degrees F.
Line a baking sheet with parchment paper and set it aside.
Mix the dry ingredients
In a medium sized mixing bowl, whisk together the flour, baking soda, and salt. Set aside.
Mix the wet ingredients
in a second bowl, cream together the butter, brown sugar, egg and vanilla until well mixed.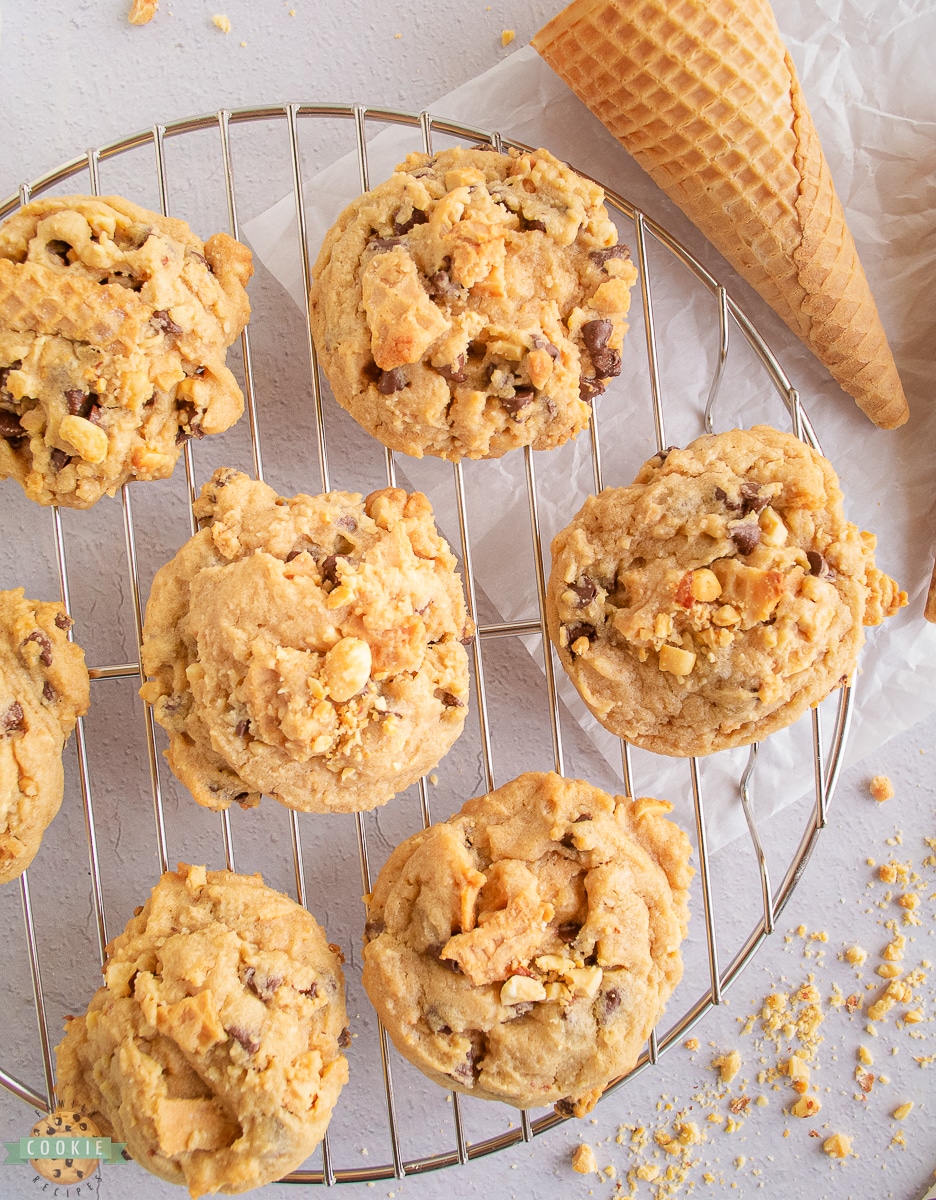 Combine the two & add in Waffle Cones
Add the dry ingredients to the wet ones and mix until a cookie dough is formed.
Fold in the broken waffle cone pieces, chocolate chips and peanuts.
Scoop the cookie dough
Use a cookie scoop to scoop up the dough into 1 inch sized cookie dough balls.
Place them onto the prepared baking sheet 1-2 inches apart.
Bake
Bake the cookies in the oven for 10-12 minutes until the edges look set.
Let the cookies cool on a wire rack. Serve warm & enjoy!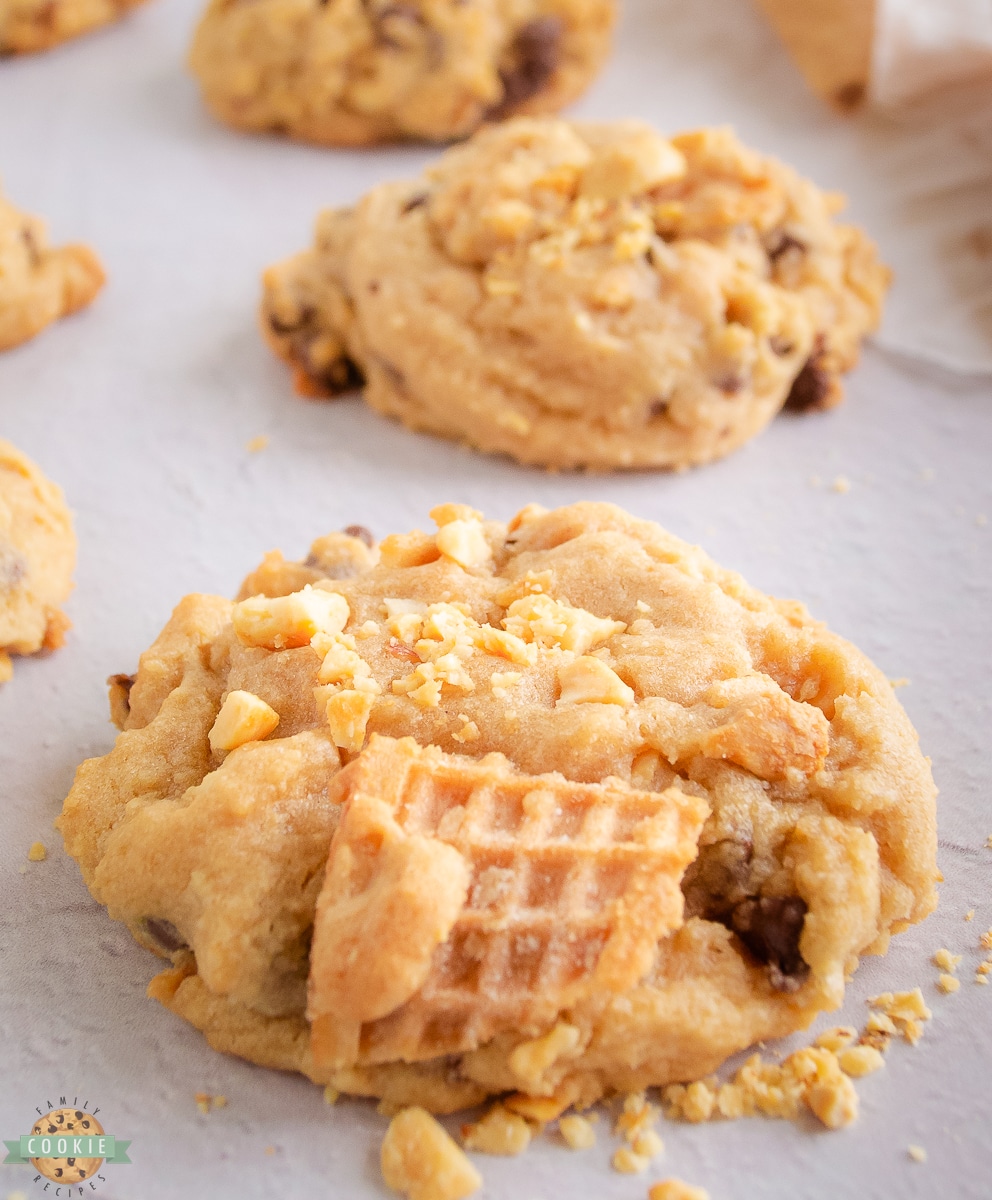 Do I have to Add Salted Peanuts?
We add salted peanuts to this cookie recipe because they come on top of a Drumstick ice cream cone! They're a fun & tasty addition that adds a bit of salty flavor to our sweet cookies. But you certainly can leave them out, or even add a different kind of nut if you'd like. These would be delightful with chopped pecans!
How do you chop nuts without a food processor?
We don't want to use a food processor or blender to crush the peanuts because we want them lightly chopped and not turned into a fine dust. To do this, I find that the easiest way is to simply buy them already chopped. If that's not possible, you can DIY the chopped peanuts by placing them into a freezer bag and crushing them in the bag with a rolling pin or meat mallet.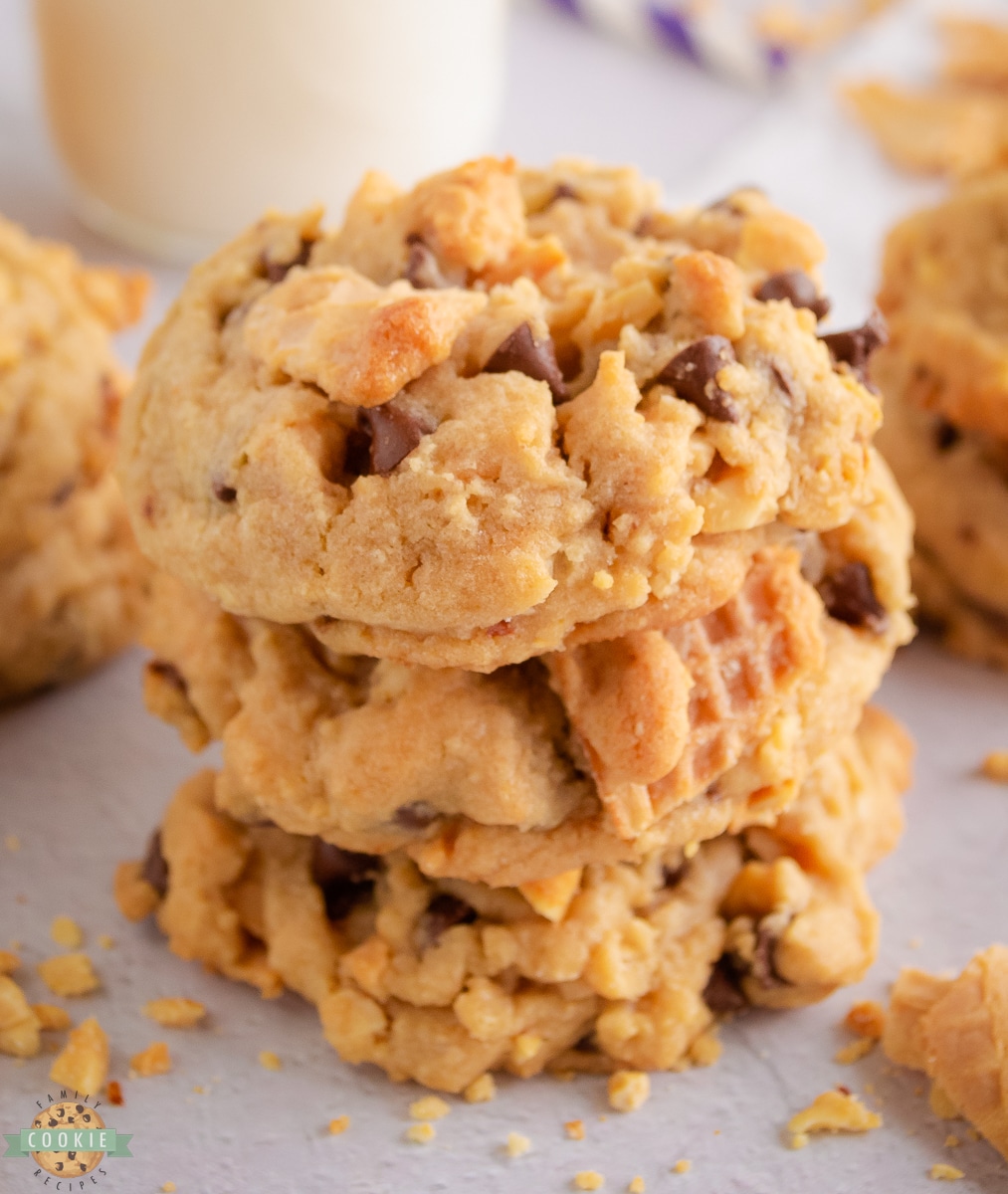 How long are chocolate chip ice cream cone cookies good for?
These cookies can last up to 5 days in an airtight container at room temperature, or you can freeze them for up to 3 months in an airtight container. Let the cookies thaw again before serving.
Can I use cake cones instead of waffle cones?
I don't recommend using cake cones for this recipe because they will not hold up as well as the harder sugar cones do. Cake cones will become soggy much faster, whereas sugar cones and waffle cones remain more firm and chewy.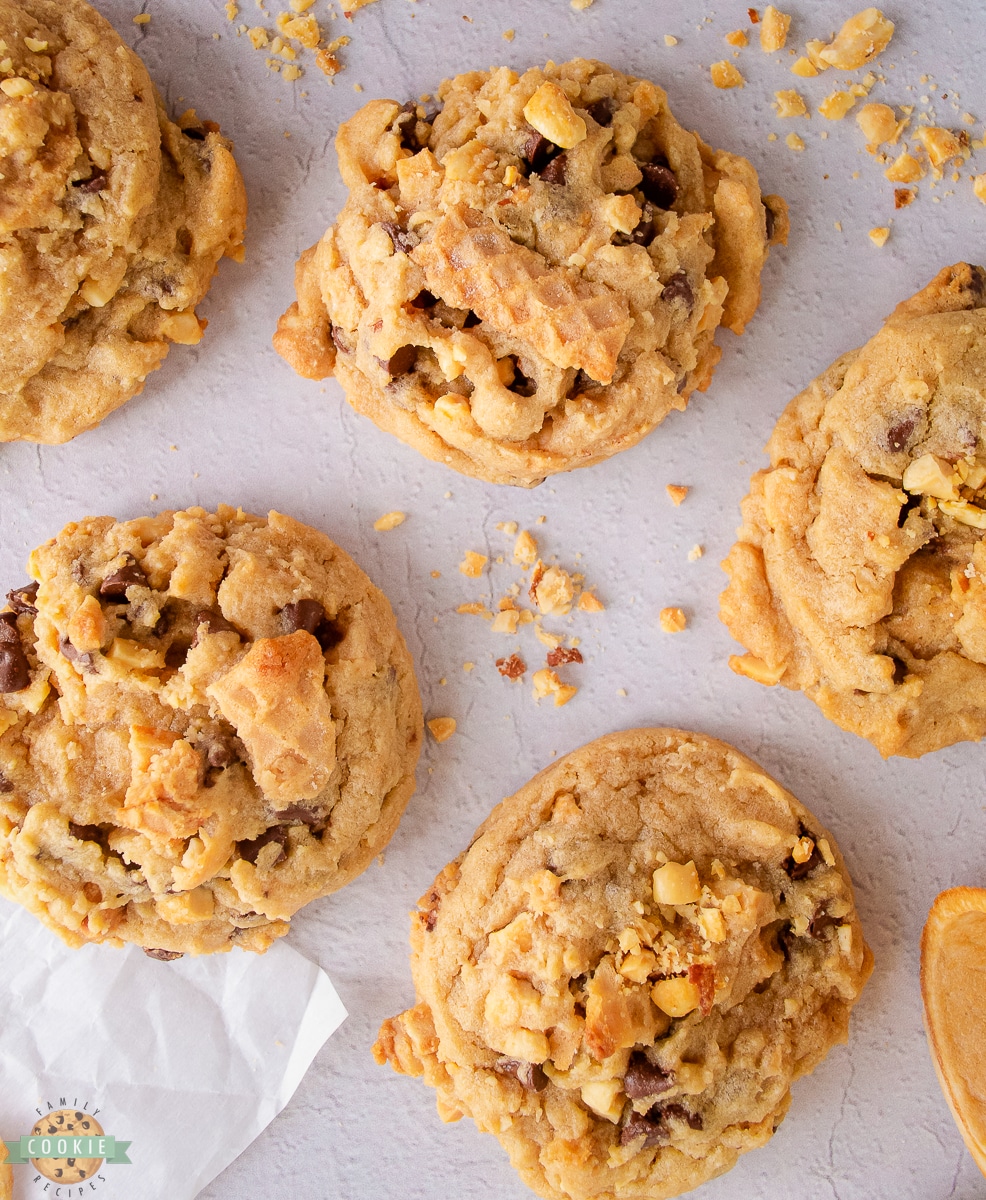 CAN YOU FREEZE COOKIES?
I love freezing cookies! There are 2 ways I prefer to freeze them. The first is by freezing the unbaked cookie dough balls. I scoop & shape the balls round with my hands, then freeze them in 1 layer on a cookie sheet. You can position them as close together as possible without touching. Freeze, then once solid, transfer them to a ziplock freezer bag. Then you can pull them out and bake them whenever you want! You'll want to either let them thaw on a cookie sheet while preheating the oven, or add a couple minutes to the bake time to compensate for frozen cookie dough.
The second way is to just freeze the baked cookies. My mother in law does this ALL the time. They turn out pretty well, albeit a tiny bit drier and more crumbly once thawed. Oh and you've got to make sure you thaw them. Frozen cookies are pretty hard to eat. Thankfully, they only take about 20 minutes or so to thaw out.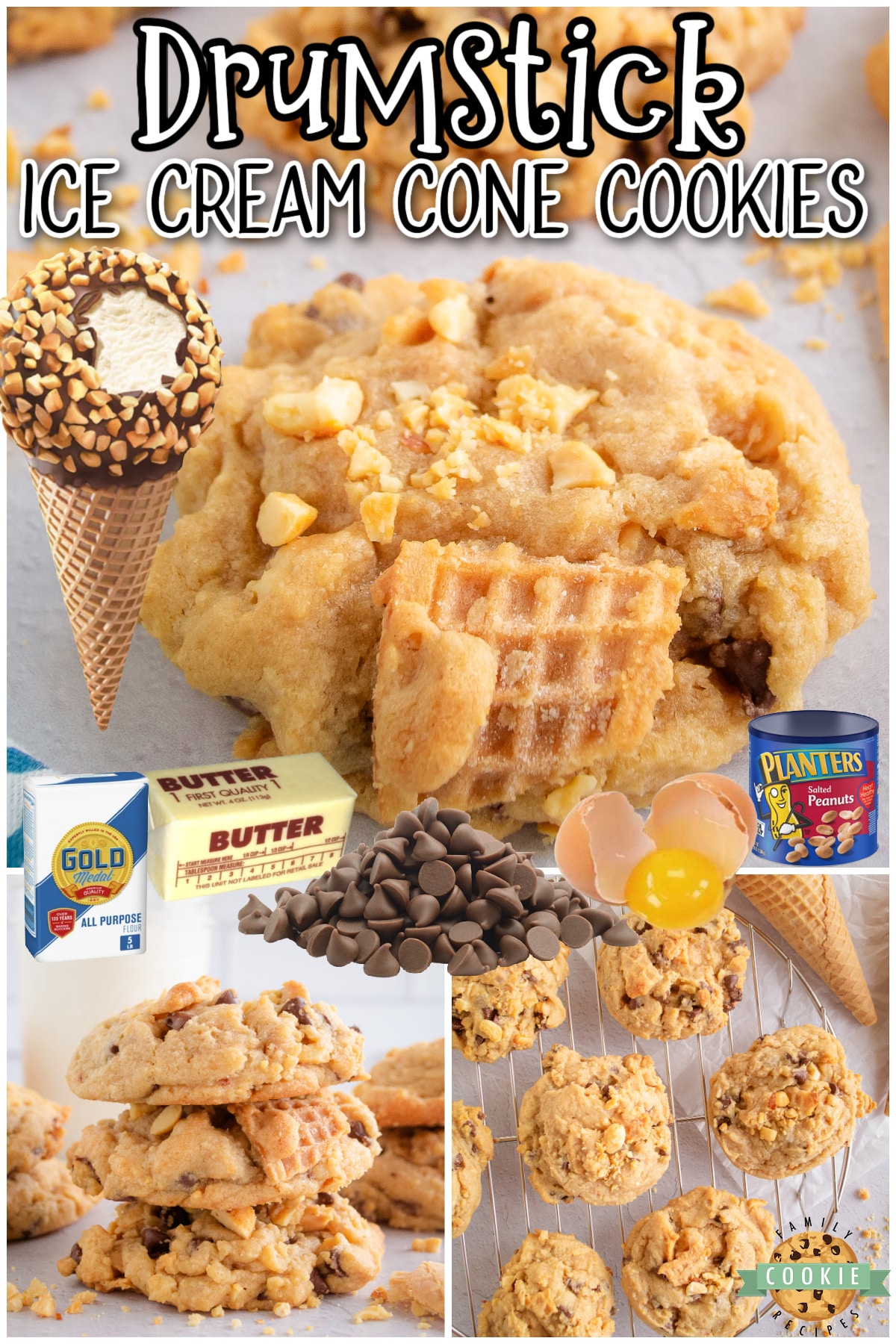 Now you can enjoy your favorite ice cream flavors in a unique new way. Made with ice cream cones and chocolate chips in every bite, these Drumsticks chocolate chip cookies are a fantastic twist on classic treats.