Chocolate Chip S'mores Cookies are soft, chewy chocolate chip cookies baked atop a graham cracker, then topped with chocolate chips & marshmallows!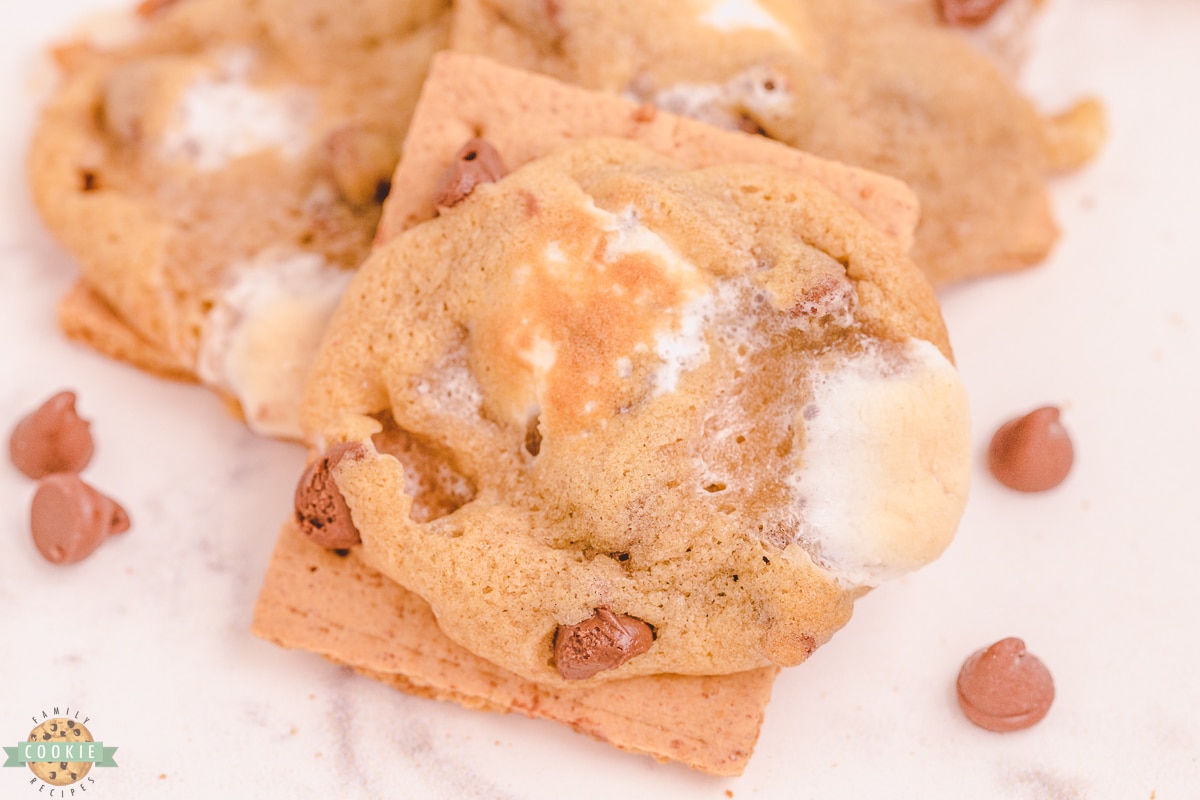 Packed with graham crackers, mini marshmallows and chocolate chips in every bite, these s'mores chocolate chip cookies are a great way to get that camping taste from your kitchen without all the hassle. Like traditional smores, this s mores cookie recipe will satisfy those cravings for campfires and roasted marshmallows in every sweet bite.
The BEST S'mores Cookies
These cookies are sure to fill you with a wonderful sense of nostalgia for one of America's favorite pastime. While you may not get the same campfire affect, you definitely can bring the favorite camping treat right to your kitchen. This delicious cookie recipe is made with basic ingredients, you may find that most of what you need is already in your home. You can even get your family involved in the baking process, I am sure they will love taste testing the mini marshmallows and chocolate chips!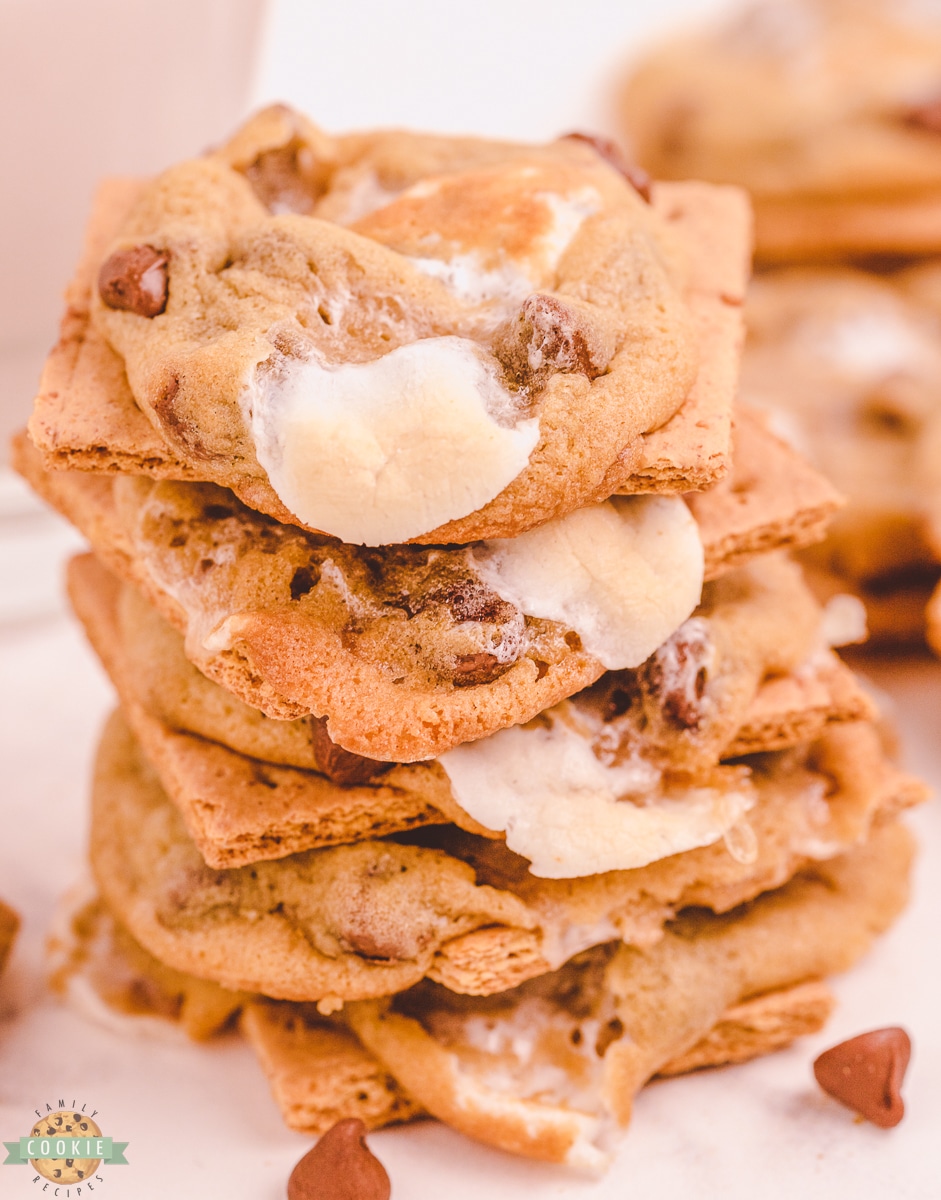 Why we think you should try this recipe today!
If you weren't already convinced to try this recipe, here are s'more reasons that we think you are going to love these cookies too:
No chilling is required. There is no dough chilling needed, meaning that within minutes of creaming that butter and sugar together, you can actually be holding a handful of warm cookies ready to be eaten. Don't forget the glass of milk!
They are an epic dessert. Combining the classic chocolate chip cookies recipe with a simple smore gives you a unique treat you will want to repeat often. Gooey marshmallows, melted chocolate, and crunchy graham crackers nestled in a soft and chewy cookie. What could be better?
They are perfect for any occasion. Serve them up to the kids as a simple weekend treat or showcase them at a sleepover as a special treat. They are also great for serving up on movie nights too.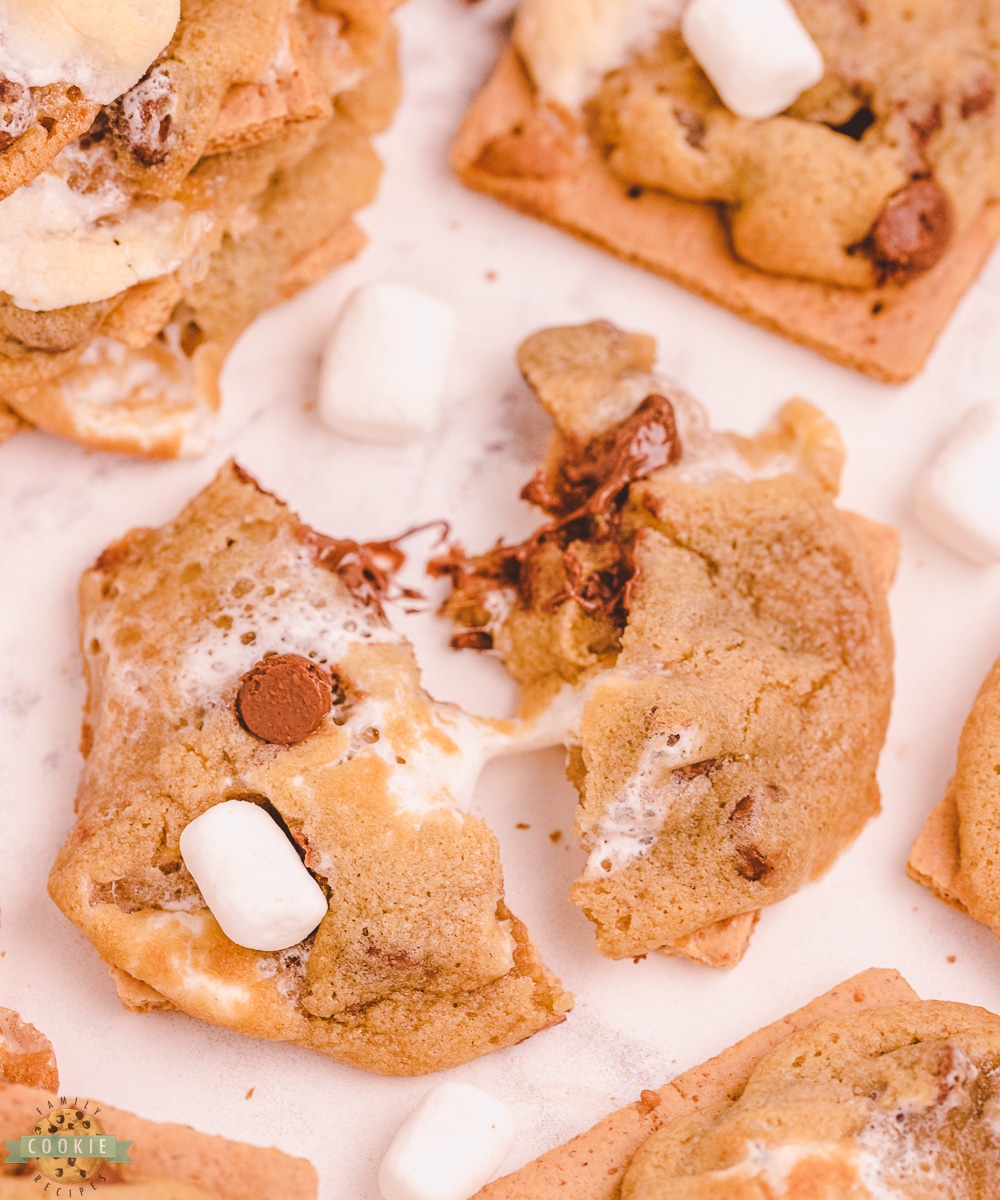 Chocolate Smores Cookies Ingredients
Butter: You will need 2 sticks of butter for this cookie recipe, this is equal to 1 cup of butter.
Brown sugar: Using 1 cup of brown sugar will make the cookies chewy, soft, and sweet.
Eggs: Use 2 large eggs to bind the cookie dough together well.
Vanilla extract: To enhance the flavors in the cookie dough, add in 2 teaspoons of vanilla extract.
Flour: You will need 2 ¼ cups of all-purpose flour to be the base of this cookie dough.
Salt: Add in ½ teaspoon of salt to enhance the flavors in the cookie dough well.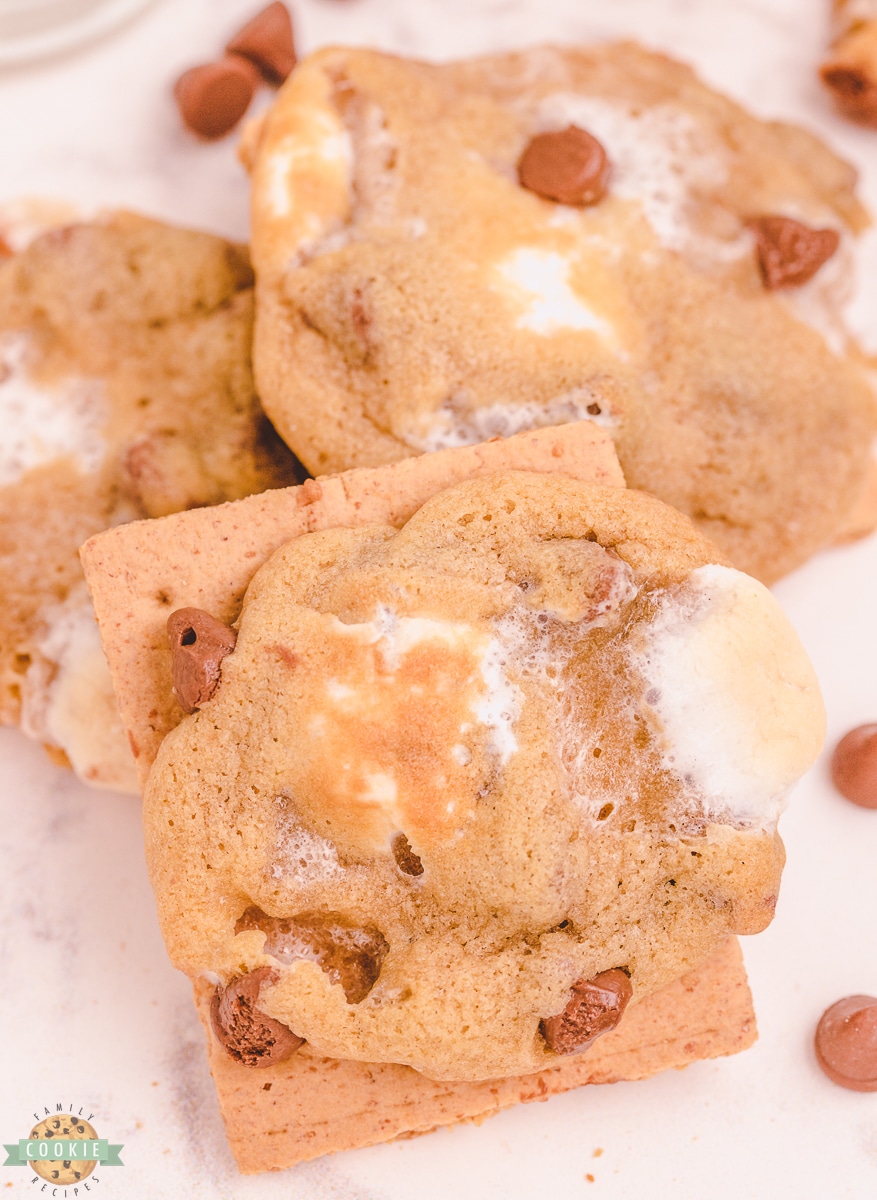 Baking soda: You will need 1 teaspoon of baking soda to make these cookies puff up and rise as they bake.
Chocolate chips: Use 1 cup of milk chocolate chips or one giant Hershey bar that has been chopped into pieces. Using a Hershey bar will give you more of a traditional s'mores cookie feel, but chips are just as delicious and easy.
Graham crackers. No s'more would be complete without the graham crackers. Use 12 whole graham crackers that have been broken in half.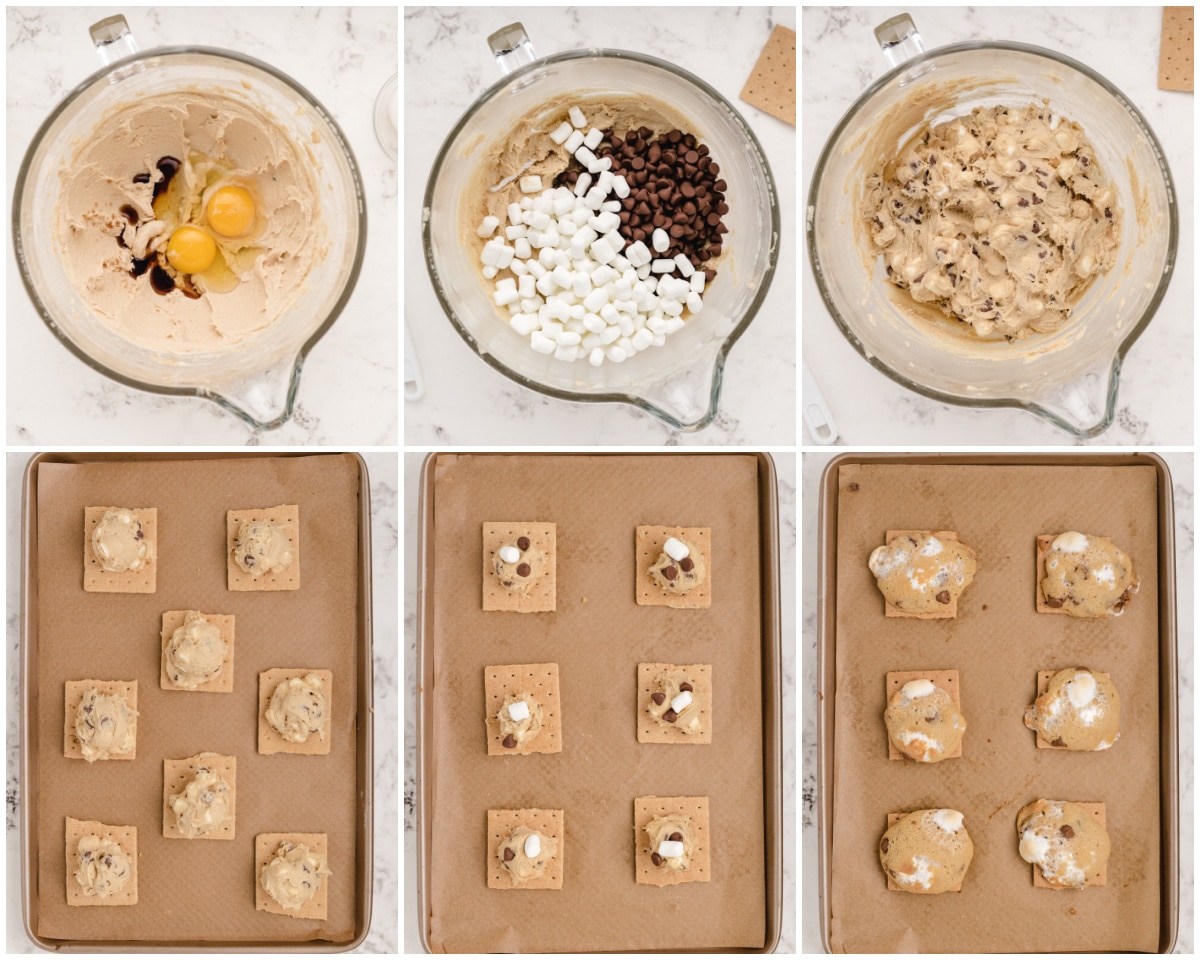 How to make Chocolate Chip S'mores Cookies
Prep
Preheat the oven to 325 Degrees F.
Then, line a baking sheet with parchment paper or use a silicone mat to prevent sticking. Use either of these options to make the marshmallow mess easier to clean up later.
Break each graham cracker in half and place each half onto the baking sheet, evenly spaced apart.
Cookie Dough
In a large mixing bowl, cream together the butter and sugar until light and fluffy.
Next, add in the eggs and vanilla extract and mix well to combine.
Then, add in the flour, salt, and baking soda and stir until no white flour can be seen.
Lastly, fold in the chocolate chips and mini marshmallows and combine well.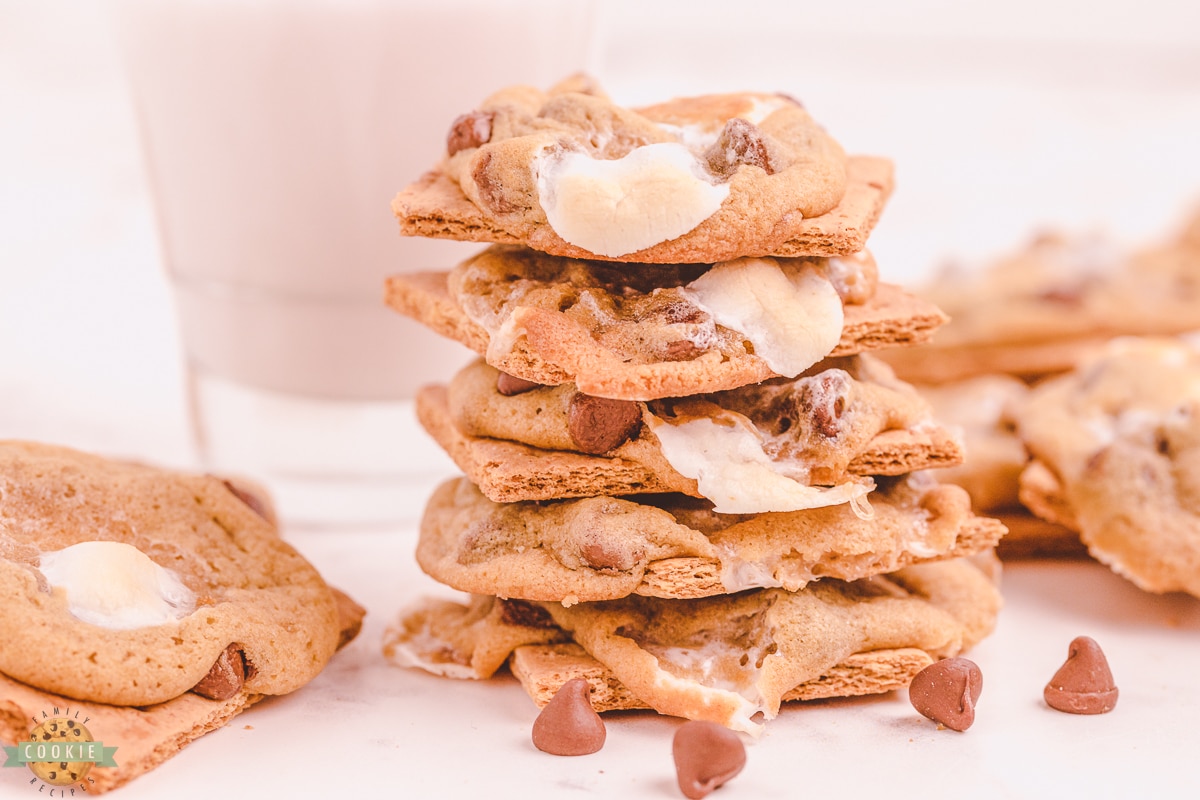 Bake
Proceed to scoop the cookie dough onto the graham crackers, about 1 1/2 tablespoon size.
Place in the preheated oven and bake for 9-11 minutes. Make sure that your oven rack is in the middle of the oven so that the crackers don't darken too much.
When done baking, lead on the baking sheet for at least 5-10 minutes to cool before serving.
Serve fresh and enjoy!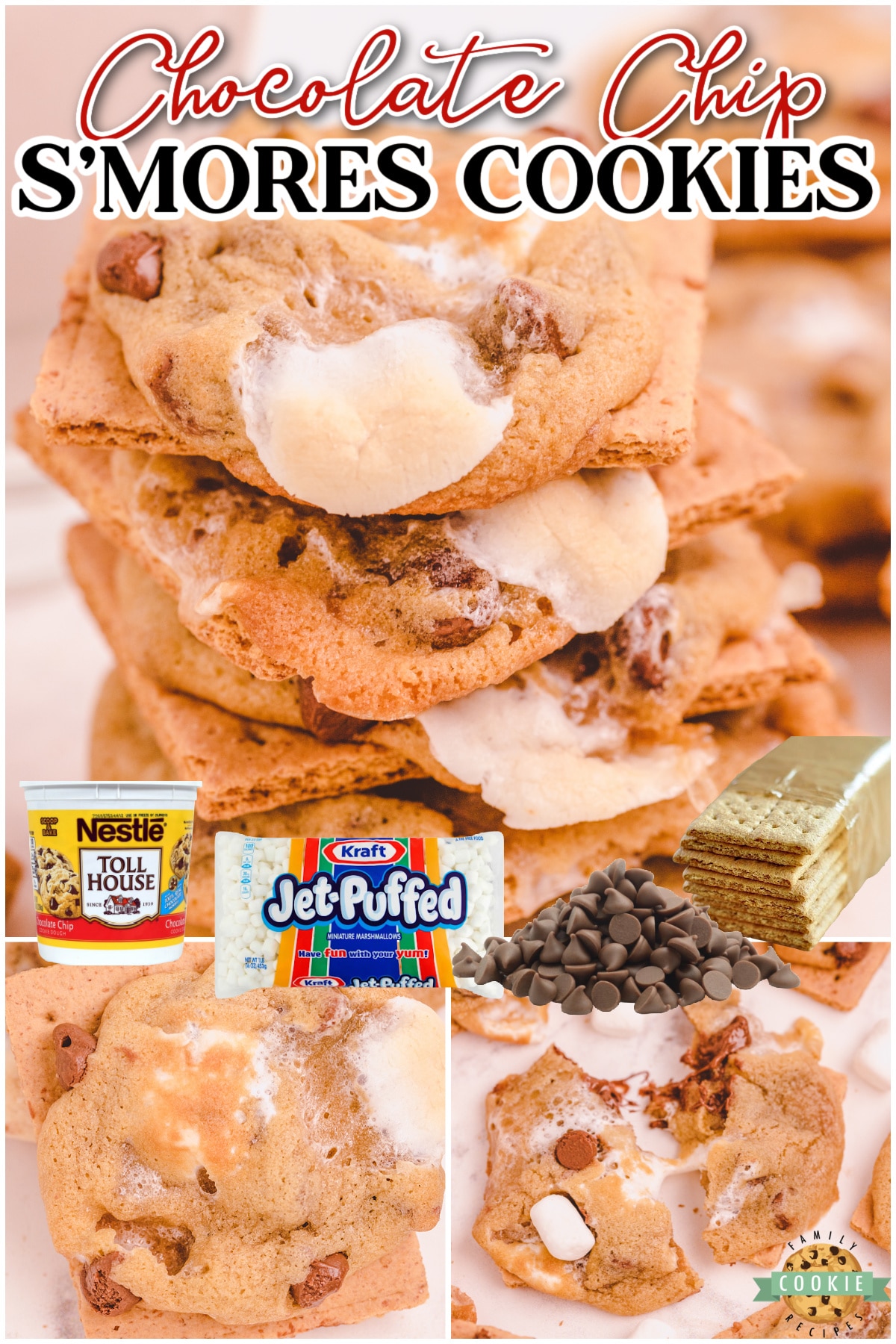 Baking Tips for Success
Do not overbake your cookies. When you pull your cookies from the oven, they may look soft and puffy, but they are finished cooking when the tops are no longer glossy. The cookies will set and finish cooking as they cool on the baking sheet.
Reheating the cookies. If you place your cookies on a plate in the microwave for about 10-15 seconds, you can recreate that fresh from oven taste the following day!
How long are S'mores Cookies good for?
These cookies can last about 4-5 days if kept at room temperature in an airtight container. Store them away after the cookies have completely cooled and the chocolate has set to prevent any cookies from becoming too messy. You can even put a layer of parchment paper between the cookies, prevent the cookies from sticking together and making a mess.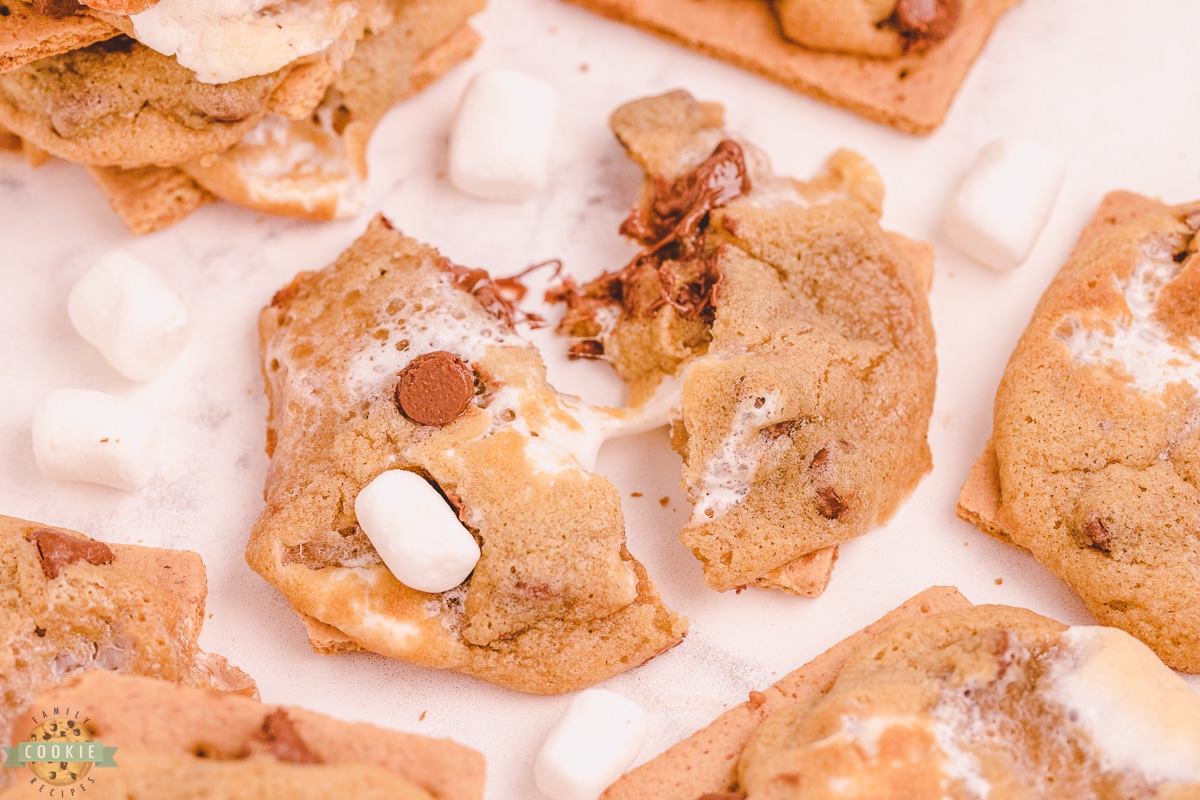 Can I freeze smore cookies?
Yes, you can freeze these cookies after they have been baked and cooled. Simply place them into an airtight container and freeze for up to 2-3 months. When you are ready to eat, just place them onto the counter to thaw first.
Can I make the cookie dough in advance?
Yes, you can make the dough and keep it in a well-covered bowl in the fridge for up to a day in advance. So make the dough one day and bake it the next. Perfect for parties and occasions where you want fresh cookies but without being in the kitchen for too long.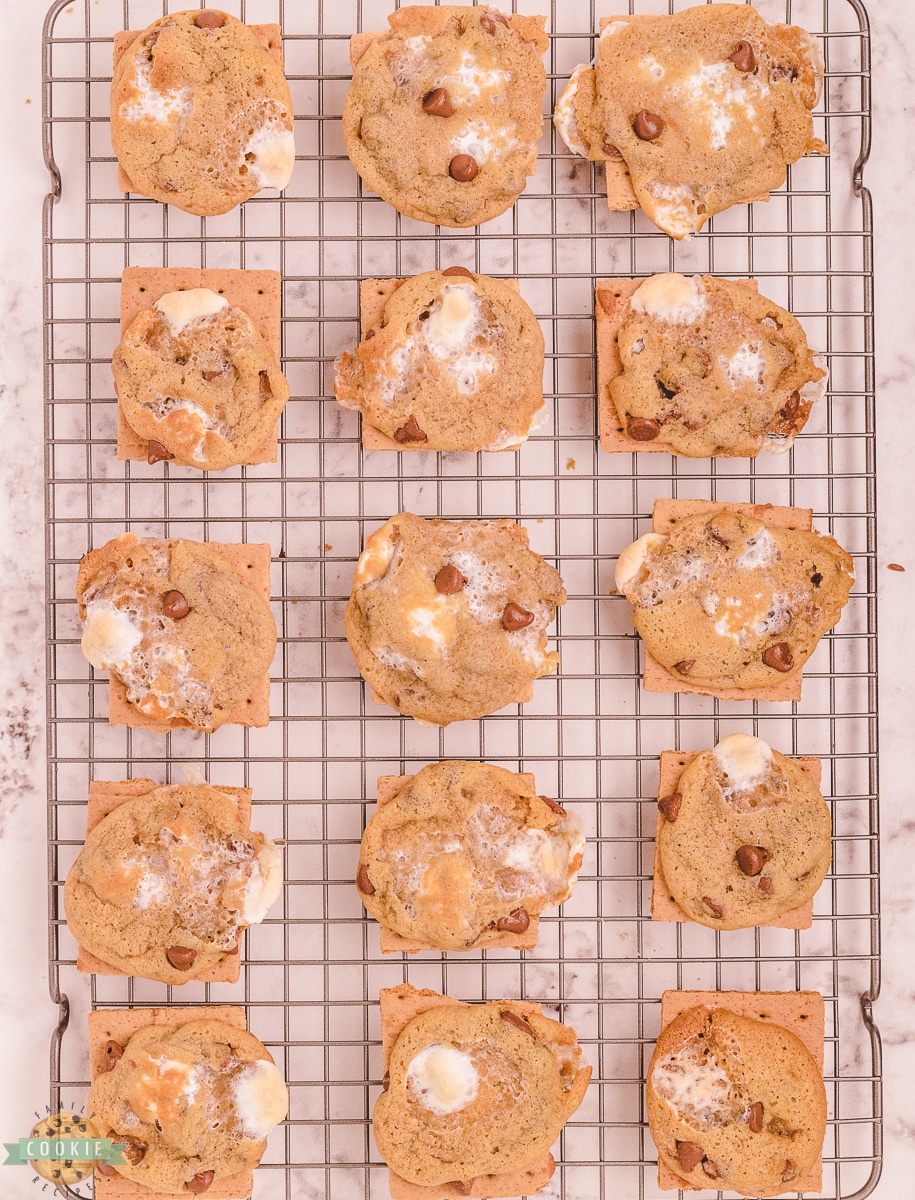 Why did my cookies spread?
If your cookies spread too much while baking, it was most likely a direct result of the dough being too warm. If it's hot in the kitchen or your butter is too soft, your dough will become warm fairly quickly. You can fix this easily by just popping the dough into the freezer for about 30 minutes to an hour or so before you continue to bake the cookies as directed.


I love looking back on family vacations! My kids especially enjoyed this one to Lake Powell. If you've never been there, it's like the Grand Canyon on a lake- there's incredible gorgeous scenery everywhere! Plus, the lake is so gigantic, you feel like you have it to yourself. I highly recommend it- I mean, look at those smiles!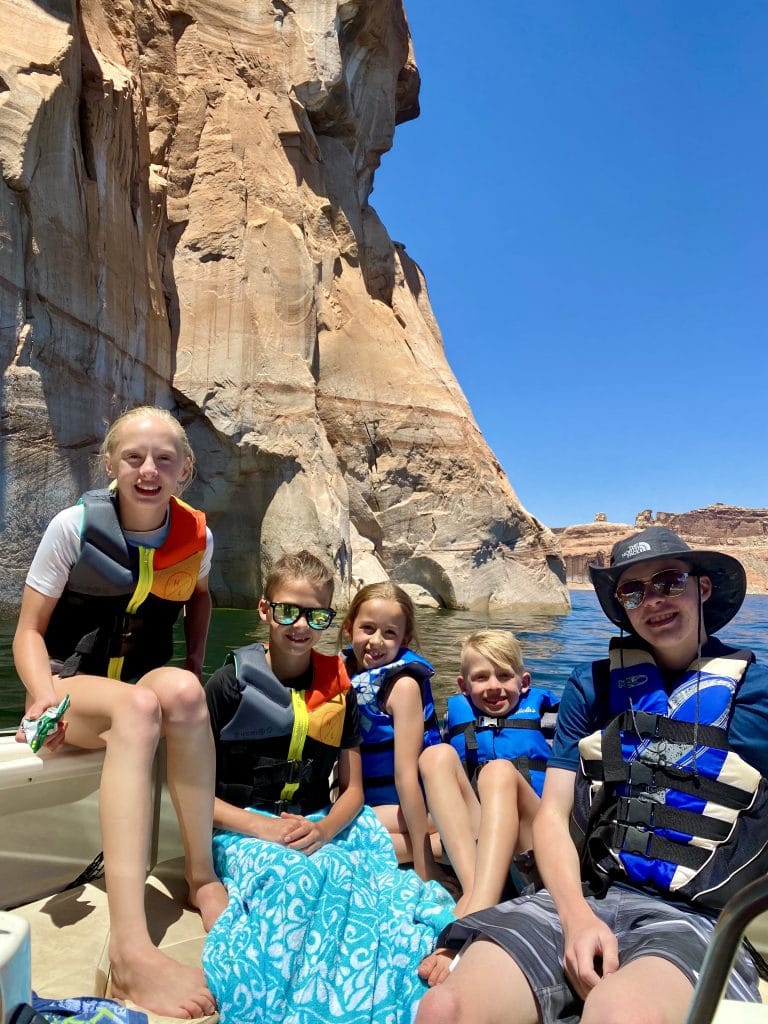 As a mash-up of your two favorite treats, this chocolate chip smores cookie recipe is sure to become an instant favorite. Made from scratch with simple ingredients, you'll find excuses to whip up a new batch soon.