Chocolate Chip S'mores Cookies are a delightful twist on the classic summer treat. This delicious marshmallow cookie recipe combines the rich flavors of chocolate and marshmallow with a soft and chewy cookie base.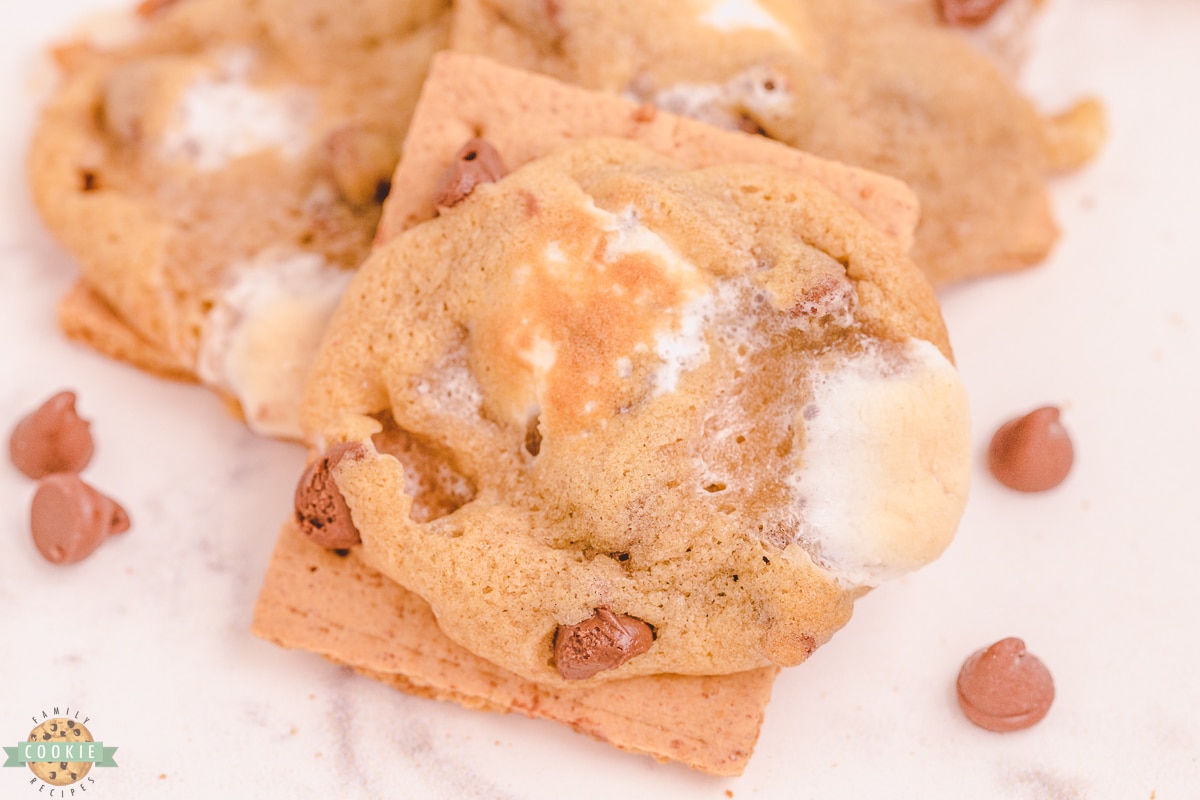 Whether you're looking for a fun and easy dessert to make with the kids or a sweet treat to enjoy with your morning coffee, these smores cookies are sure to hit the spot. The combination of sweet and savory flavors of these graham cracker cookies will satisfy your craving for campfires and roasted marshmallows in every sweet bite.
The BEST S'mores Cookies
These cookies are sure to fill you with a wonderful sense of nostalgia for one of America's favorite pastime. While you may not get the same campfire affect, you definitely can bring the favorite camping treat right to your kitchen. This delicious cookie recipe is made with basic ingredients, you may find that most of what you need is already in your home. You can even get your family involved in the baking process, I am sure they will love taste testing the mini marshmallows and chocolate chips!
The Amazing Taste & Texture of S'mores Cookies
S'mores cookies are a delightful combination of classic chocolate chip cookies and the traditional campfire treat, s'mores. These cookies have a unique texture and flavor that make them stand out from other cookie varieties.
The texture of s'mores cookies is soft and chewy, with a crispy base. The addition of the graham cracker under the cookie dough gives them a wonderful crunch that complements the gooey marshmallow and melted chocolate chips perfectly. The taste of s'mores cookies is a heavenly blend of sweet and savory flavors. The sweetness of the chocolate chips and marshmallows is balanced by the slightly salty graham cracker and buttery cookie dough. The result is a cookie that is not too sweet, but still satisfies any sweet tooth.
These s'mores cookies are a must-try for any cookie lover. With their incredible texture and delicious flavor, they are sure to become a new favorite.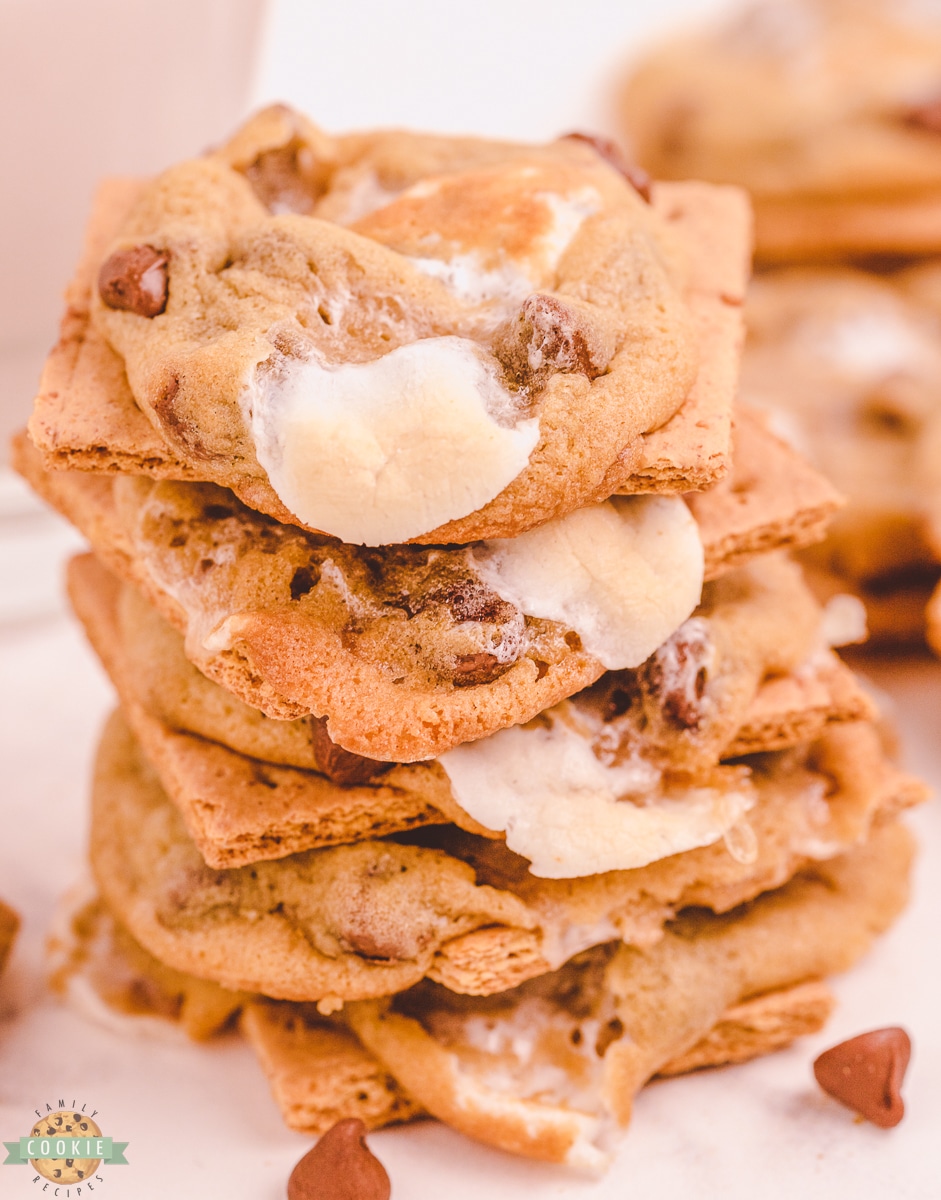 Why we think you should try this recipe today!
They are an epic dessert. Chocolate chip s'mores cookies are a delicious twist on the classic chocolate chip cookie. The addition of the graham cracker and mini marshmallows gives these cookies a unique texture and flavor that is sure to impress.
Versatility! You can easily customize these cookies to your liking by adding in different types of chocolate chips or even swapping out the graham cracker crumbs for something else. You could try using crushed pretzels or even potato chips for a salty twist on this classic recipe.
No chilling is required. There is no dough chilling needed, meaning that within minutes of creaming that butter and sugar together, you can actually be holding a handful of warm cookies ready to be eaten. Don't forget the glass of milk!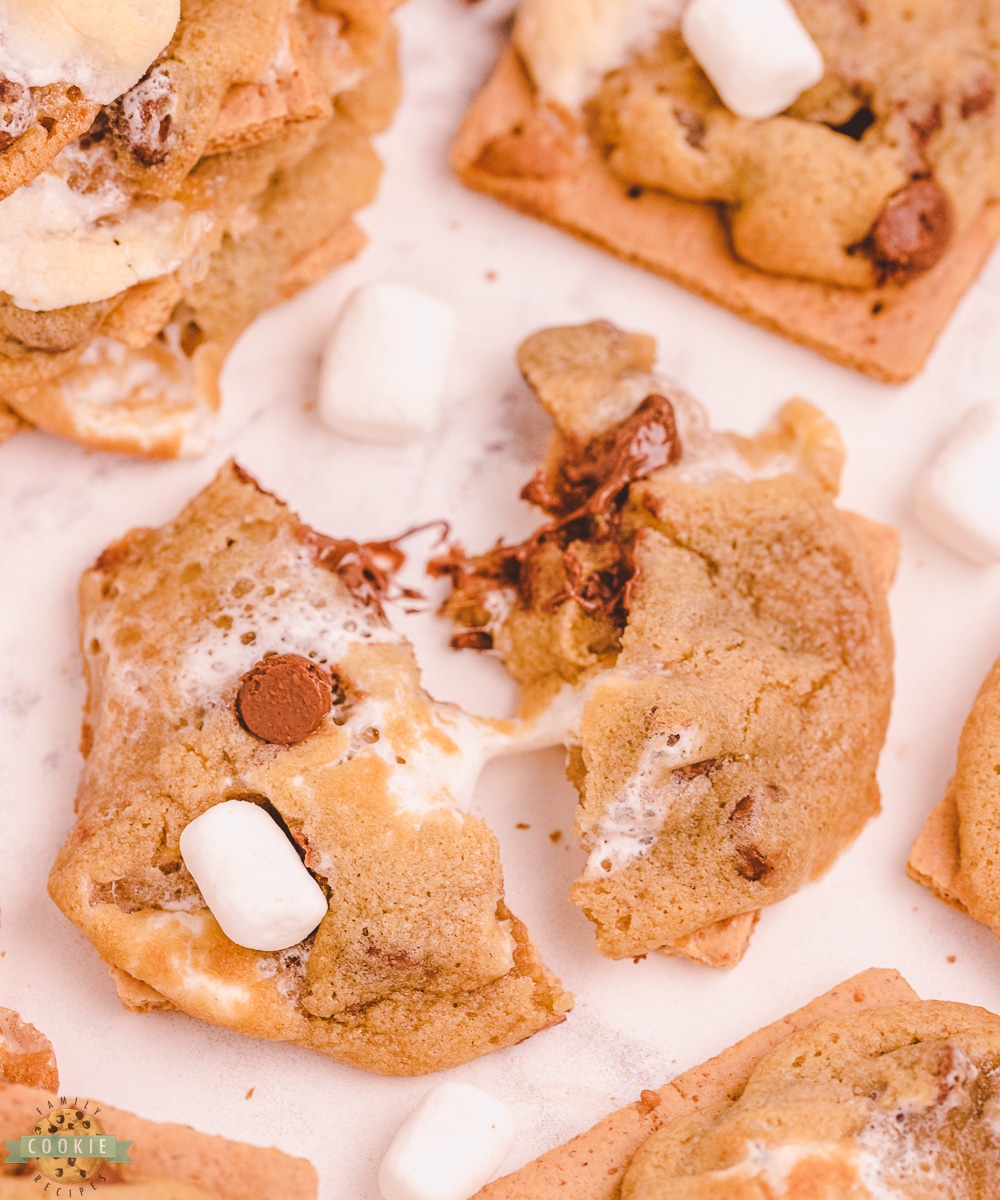 Chocolate Smores Cookies Ingredients
Butter: You will need 2 sticks of butter for this cookie recipe, this is equal to 1 cup of butter.
Brown sugar: Using 1 cup of brown sugar will make the cookies chewy, soft, and sweet.
Eggs: 2 large eggs will bind the cookie dough together well and give it great texture.
Vanilla extract: To enhance the flavors in the cookie dough, add in 2 tsp. of vanilla extract.
Flour: You will need 2 ¼ cups of all-purpose flour to be the base of this cookie dough.
Salt: Add in ½ tsp. of salt to enhance the flavors in the cookie dough well.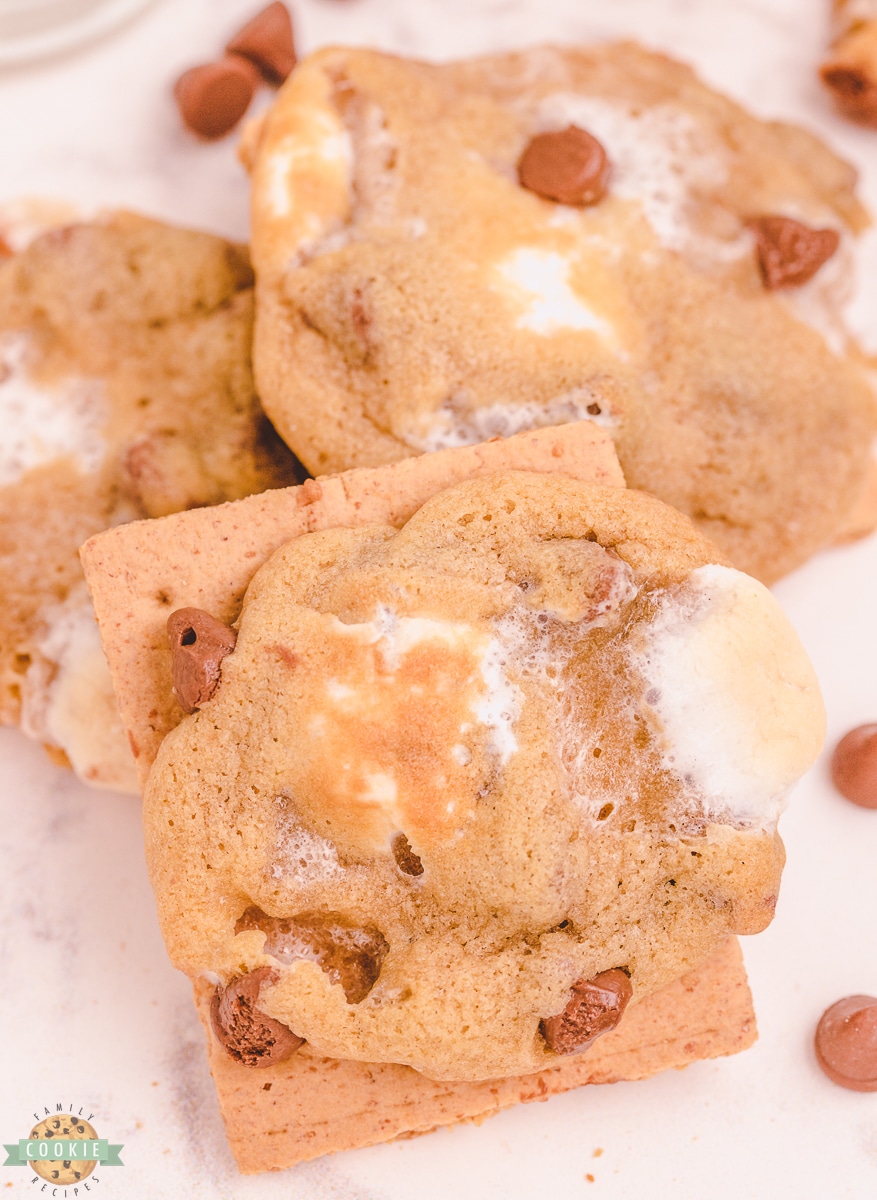 Baking soda: You need 1 tsp. of baking soda to make these cookies puff up and rise as they bake.
Chocolate chips: Use 1 cup of milk chocolate chips or one giant Hershey bar that has been chopped into pieces. Using a Hershey bar will give you more of a traditional s'mores cookie feel, but chips are just as delicious and easy.
Graham crackers. No s'more would be complete without the graham crackers. Use 12 whole graham crackers that have been broken in half.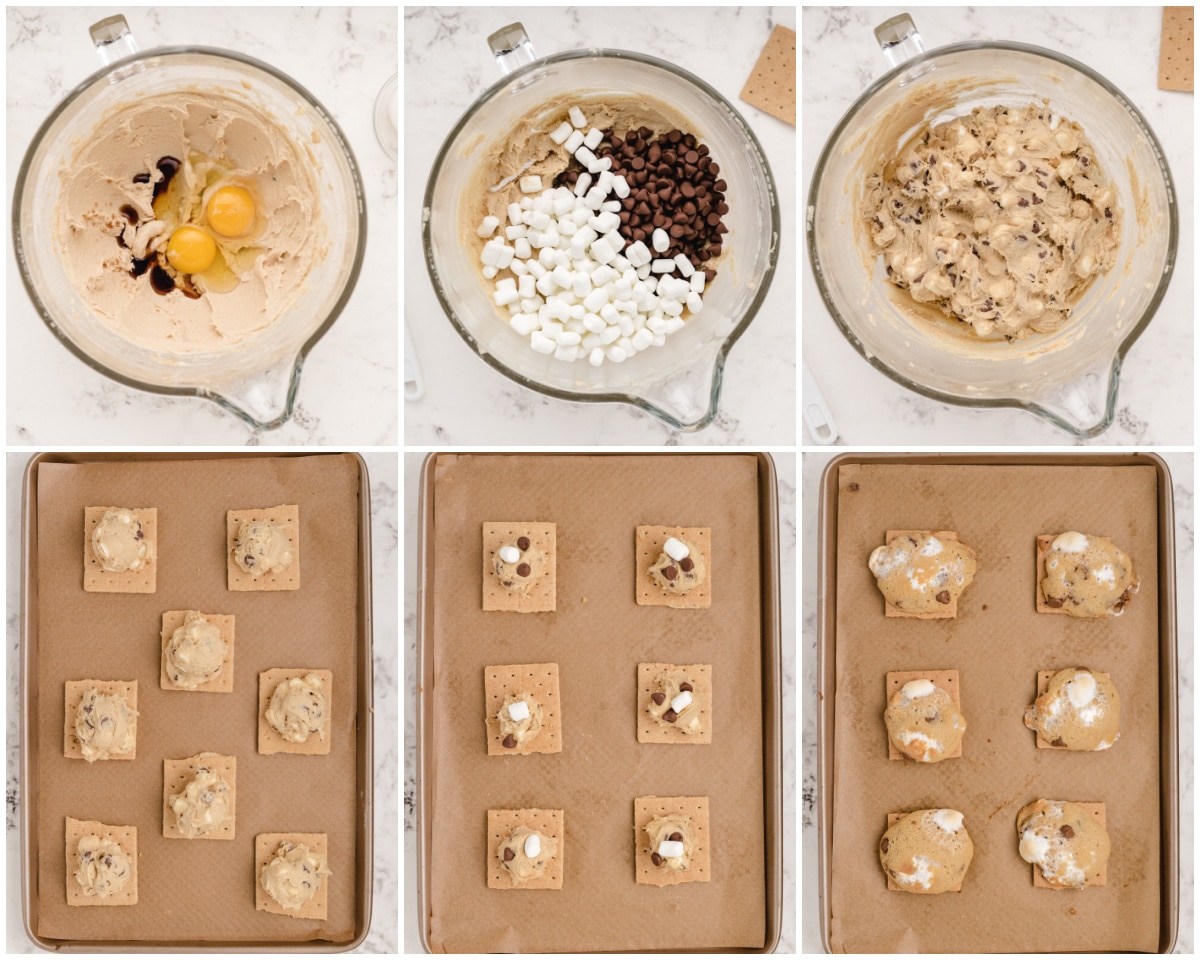 How to make Chocolate Chip S'mores Cookies
Prep
Get started by preheating the oven to 325 Degrees F.
Then, line a baking sheet with parchment paper or use a silicone mat to prevent sticking. Use either of these options to make the marshmallow mess easier to clean up later.
After that, break each graham cracker in half and place each half onto the baking sheet, evenly spaced apart.
Cookie Dough
In a large mixing bowl, cream together the butter and sugar until light and fluffy.
Next, add in the eggs and vanilla extract and mix well to combine.
Then, add in the flour, salt, and baking soda and stir until no white flour can be seen.
Lastly, fold in the chocolate chips and mini marshmallows and combine well.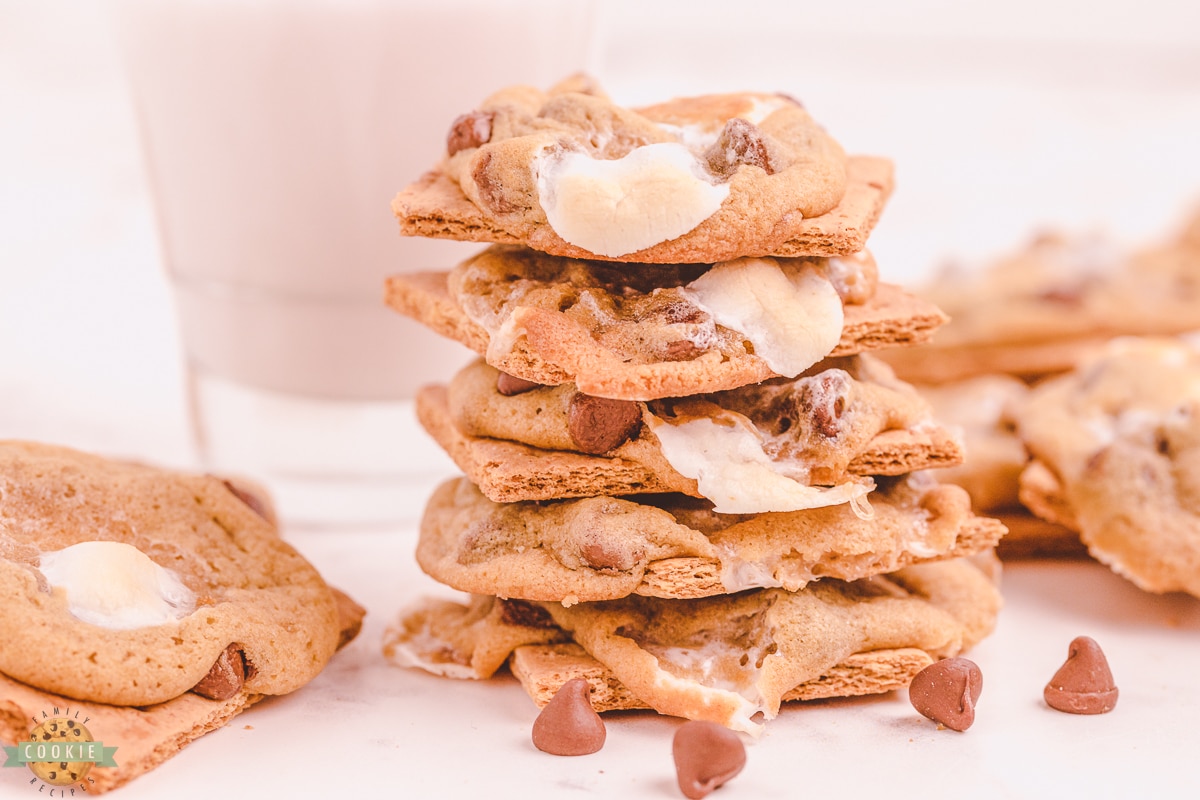 Bake
Proceed to scoop the cookie dough onto the graham crackers, about 1 ½ tablespoon size.
Place in the preheated oven and bake for 9-11 minutes. Make sure that your oven rack is in the middle of the oven so that the crackers don't darken too much.
When done baking, leave on the baking sheet for at least 5-10 minutes to cool before serving.
Serve fresh and enjoy!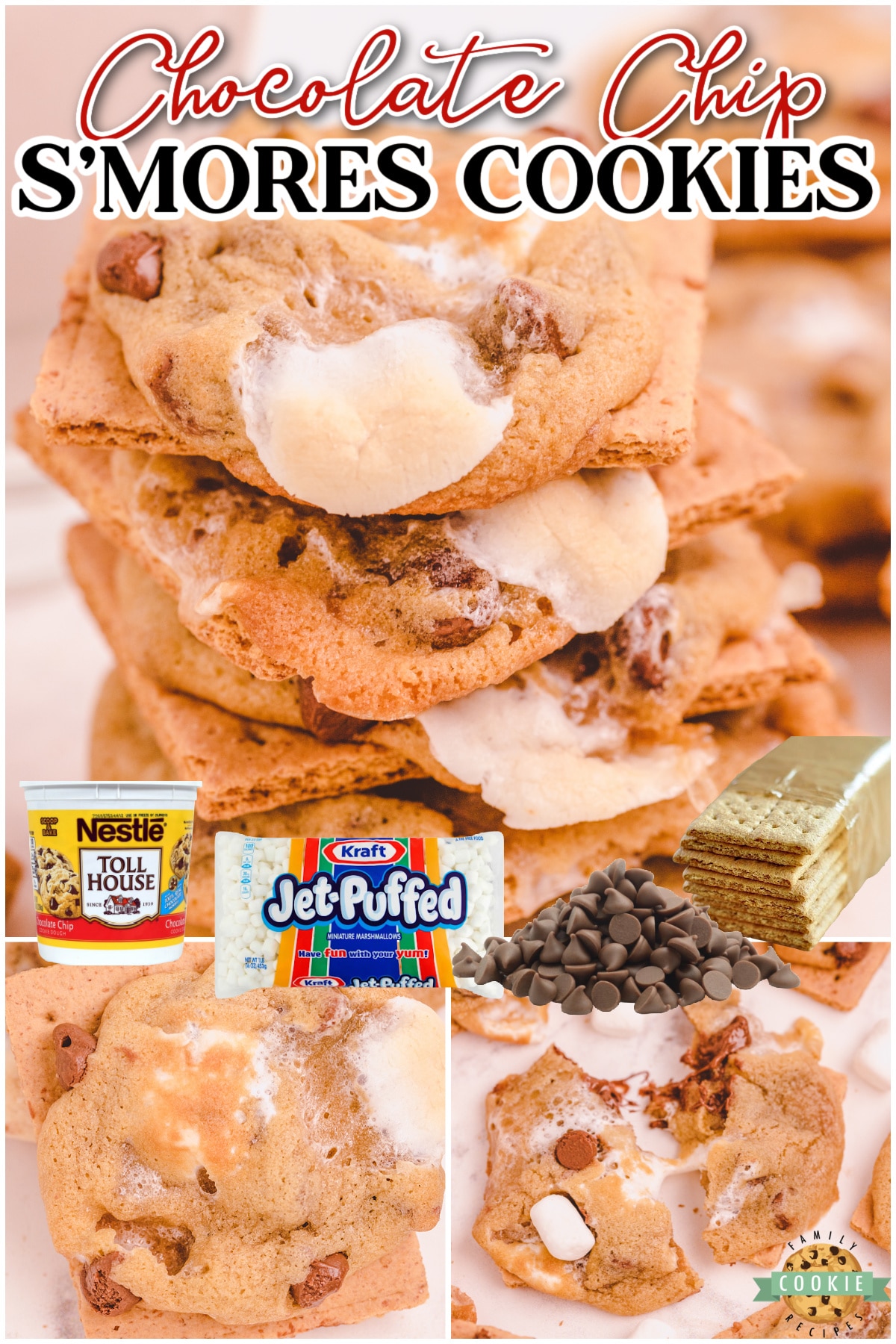 Serving Ideas for S'mores Chocolate Chip Cookies
S'mores Cookies are a delicious treat that can be enjoyed in many ways. Here are some serving ideas to help you get the most out of your cookies:
Serve the cookies warm with a glass of cold milk for a classic, comforting treat.
Use the cookies as a base for ice cream sandwiches. Simply place a scoop of your favorite ice cream between two cookies and press gently.
Pack the cookies in a lunchbox or picnic basket for a tasty snack on the go.
Serve the cookies as part of a dessert platter with other sweet treats like brownies, cupcakes, or fruit.
By following these storage and serving suggestions, you can enjoy Chocolate Chip S'mores Cookies at their best.
How long are S'mores Cookies good for?
These cookies can last about 4-5 days if kept at room temperature in an airtight container. Store them away after the cookies have completely cooled and the chocolate has set to prevent any cookies from becoming too messy. You can even put a layer of parchment paper between the cookies, prevent the cookies from sticking together and making a mess.
Can I freeze smore cookies?
Yes, you can freeze these cookies after they have been baked and cooled. Simply place them into an airtight container and freeze for up to 2-3 months. When you are ready to eat, just place them onto the counter to thaw first.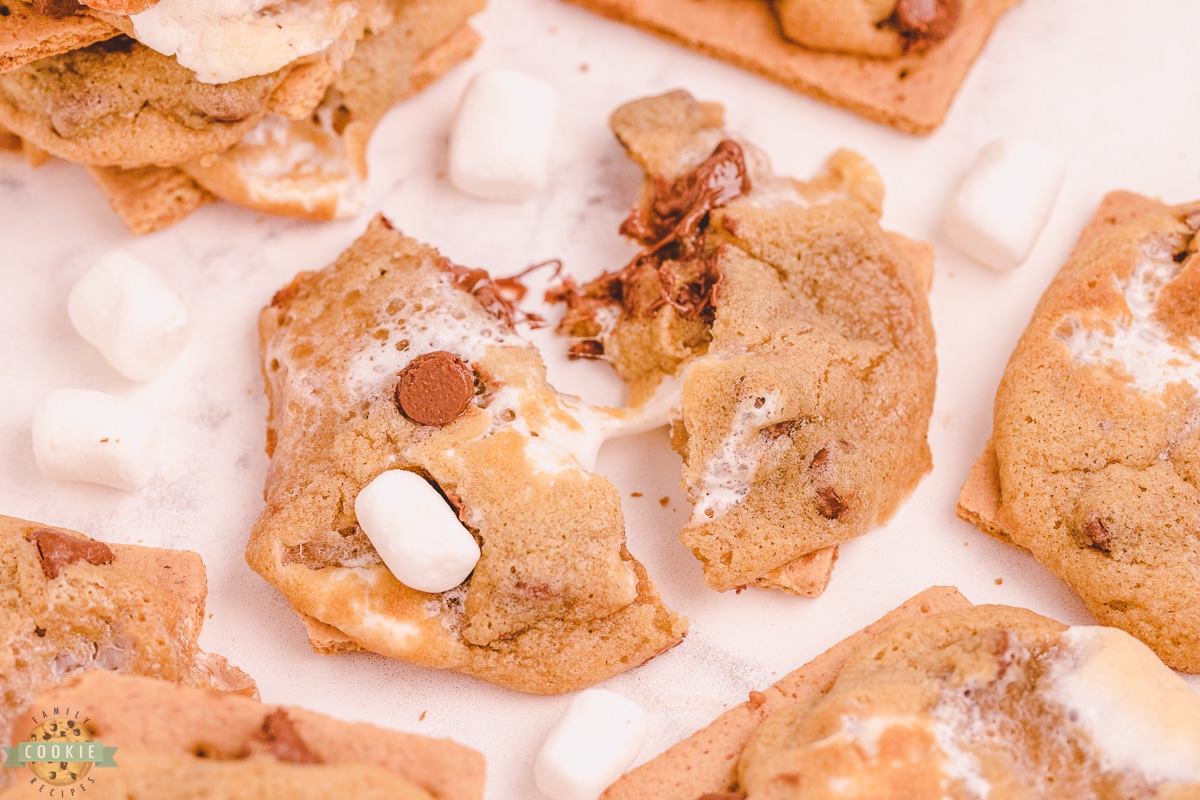 Can I make chocolate chip s'mores cookies in an air fryer?
To make chocolate chip s'mores cookies in an air fryer, first, preheat the air fryer to 350°F. Then, prepare the cookie dough as usual, adding in chocolate chips and marshmallows. Instead of a graham cracker cookie base, crumble the crackers and mix the chunks into the cookie dough. Form the dough into balls and place them in the air fryer basket, leaving some space between each cookie. Cook for 8-10 minutes, or until the cookies are golden brown and crispy on the outside.
Variations of s'mores cookies with chocolate chips
There are many variations of s'mores cookies with chocolate chips. Some people like to add marshmallow fluff or mini marshmallows to the cookie dough, while others prefer to top the cookies with marshmallows before baking. Some recipes call for using different types of chocolate chips, such as dark chocolate or white chocolate, to give the cookies a unique flavor. You can also experiment with different types of graham crackers or add in other ingredients, such as nuts or dried fruit.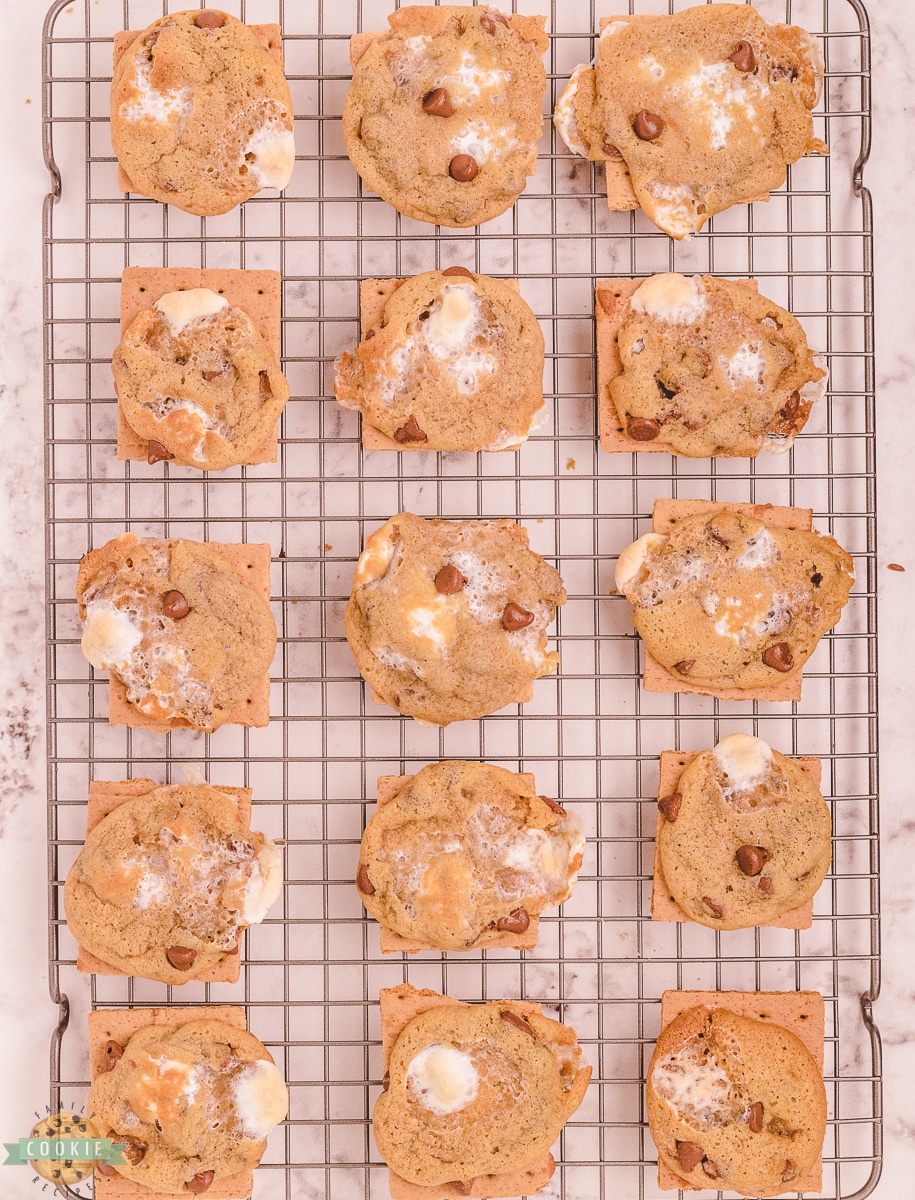 Low-calorie options for s'mores chocolate chip cookies
While s'mores chocolate chip cookies are typically not low in calories, there are some ways to make them slightly healthier. You can try using a sugar substitute, such as stevia, instead of regular sugar, or using whole wheat flour instead of all-purpose flour. You can also use dark chocolate chips, which are higher in antioxidants and lower in sugar than regular chocolate chips. However, it's important to note that even with these modifications, s'mores chocolate chip cookies will still be a treat and should be enjoyed in moderation.
What are some tips for baking perfect chocolate chip cookies?
To bake perfect chocolate chip cookies, it's important to follow the recipe carefully and measure ingredients accurately. Be sure to cream the butter and sugar together until light and fluffy, and add the eggs one at a time, mixing well after each addition. Use high-quality chocolate chips and mix them into the dough gently to avoid overmixing. Finally, be sure to chill the dough for at least 30 minutes before baking to prevent the cookies from spreading too much in the oven.


I love looking back on family vacations! My kids especially enjoyed this one to Lake Powell. If you've never been there, it's like the Grand Canyon on a lake- there's incredible gorgeous scenery everywhere. Plus, the lake is so gigantic, you feel like you have it to yourself. I highly recommend it- I mean, look at those smiles!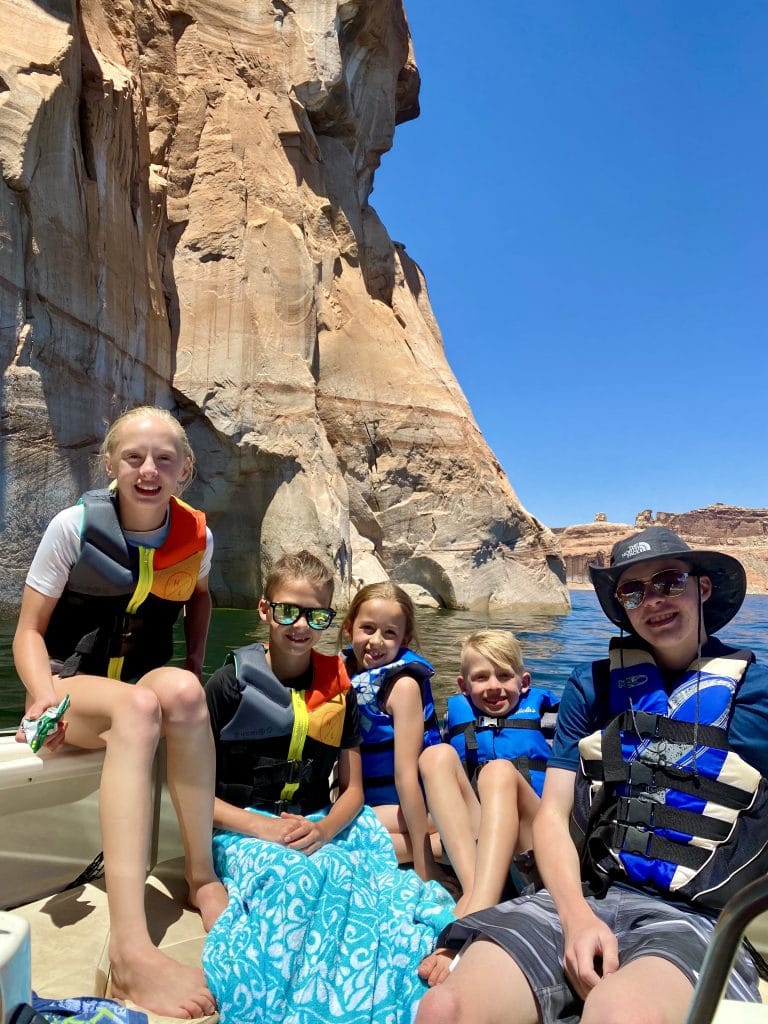 Chocolate Chip S'mores Cookies are a mash-up of two favorite treats, they are sure to become an instant favorite. Made from scratch with simple ingredients, you will find any excuse to make this marshmallow cookie recipe.