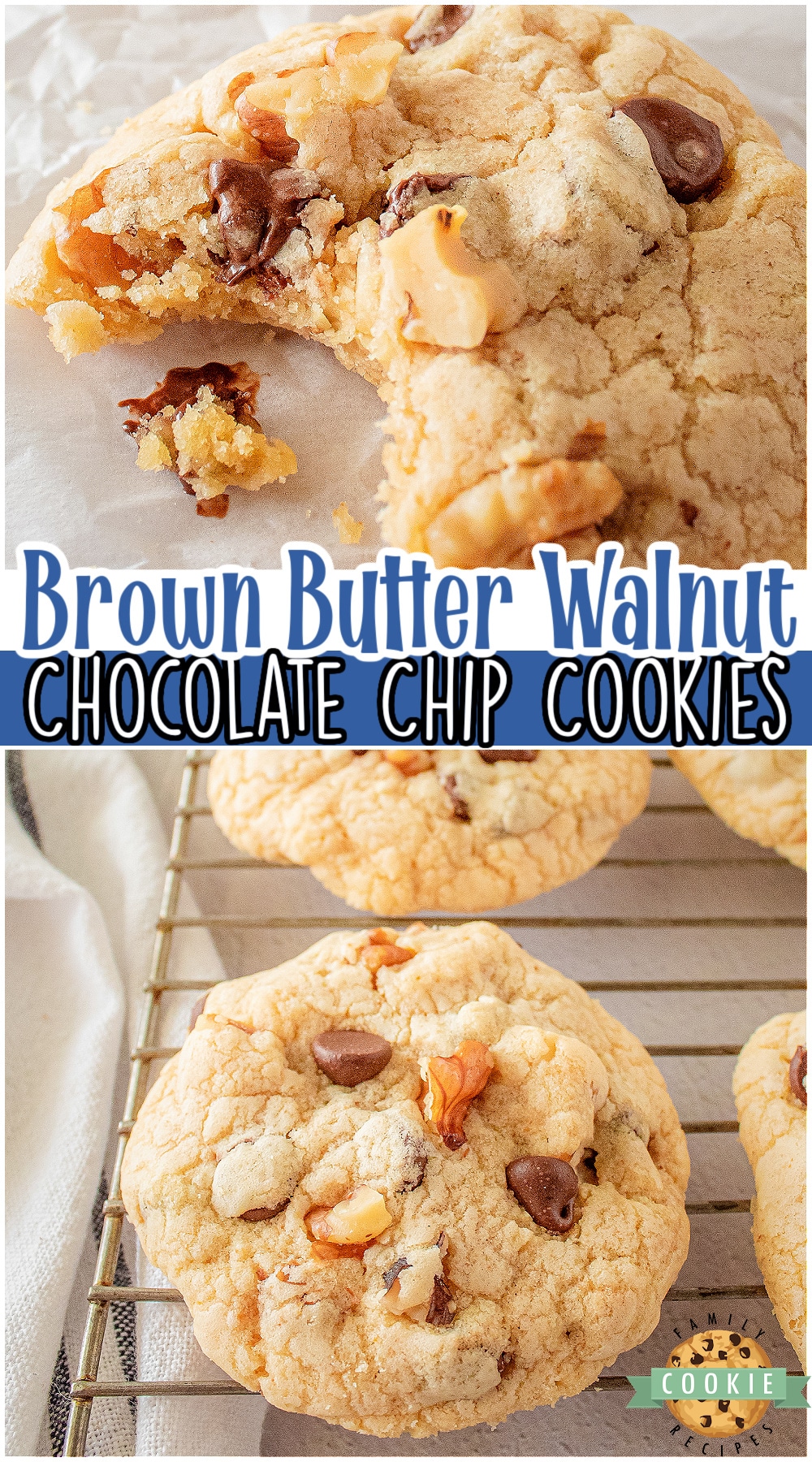 Brown Butter Walnut Chocolate Chip Cookies are classic chocolate chip cookies with a twist! We used browned butter & added walnuts for fantastic flavor and texture. These Chocolate Chip Walnut Cookies are soft & chewy with delicious buttery flavor; try them!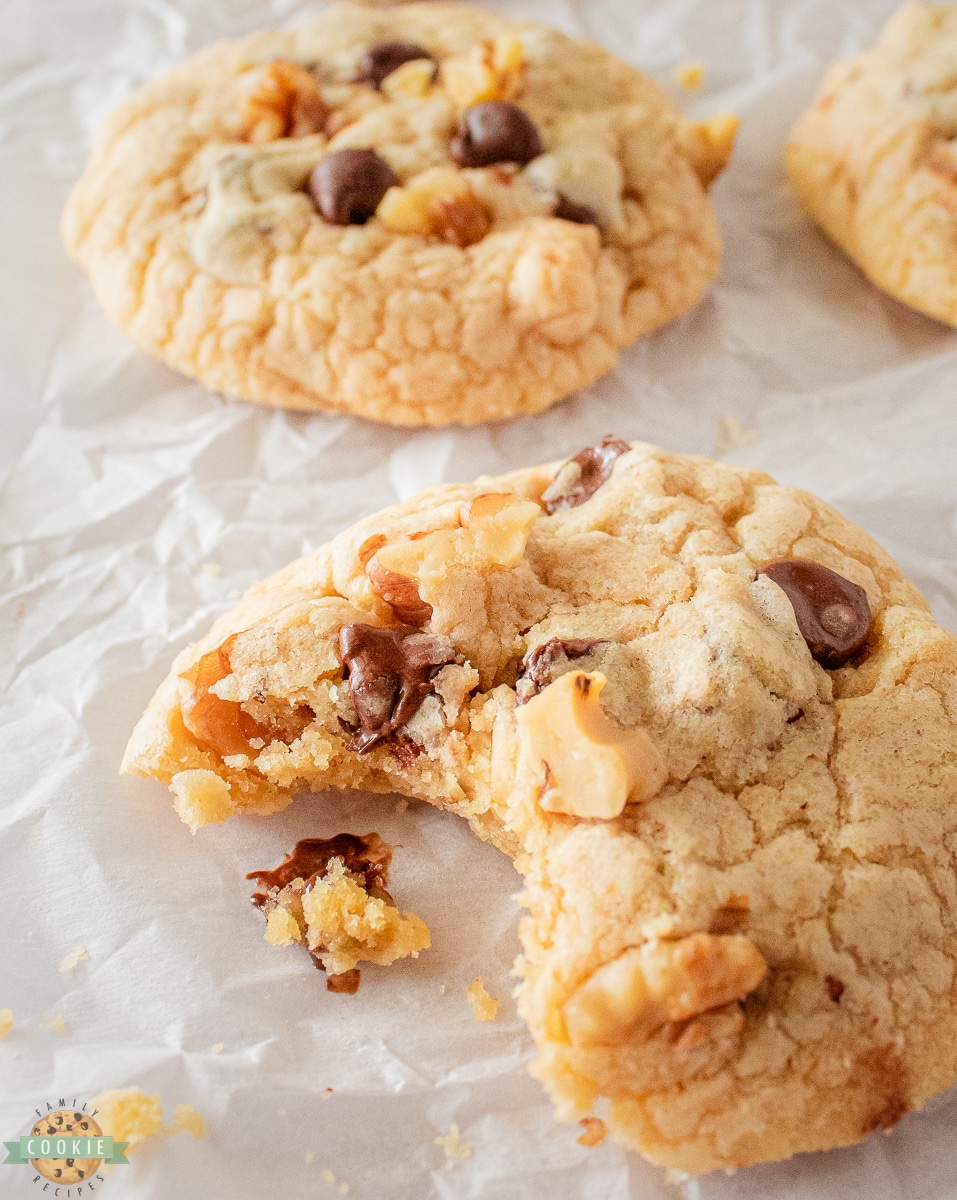 These delightful Chocolate Chip Walnut Cookies are a great recipe to bring out during the holidays to impress friends and family but they are also great year-round. Made with basic ingredients and simple steps these cookies are about as easy to make as your average chocolate chip cookie recipe. Except that there's nothing "average" about these delicious treats, give them a try and find out just how delicious they are!
Why should I brown my butter?
This is the trick to making these cookies EXTRA scrumptious, browning your butter gives the cookies a slightly nutty, caramel flavor. Basically, it is just an easy way to create a more complex flavor profile to impress your friends and family! When it comes to these cookies, the browned butter really helps to add an incredible depth of flavor unlike anything else. We guarantee once you try this cookie hack, you will be just as hooked. The extra time spent browning the butter is worth it in the end for these yummy walnut chocolate chip cookies.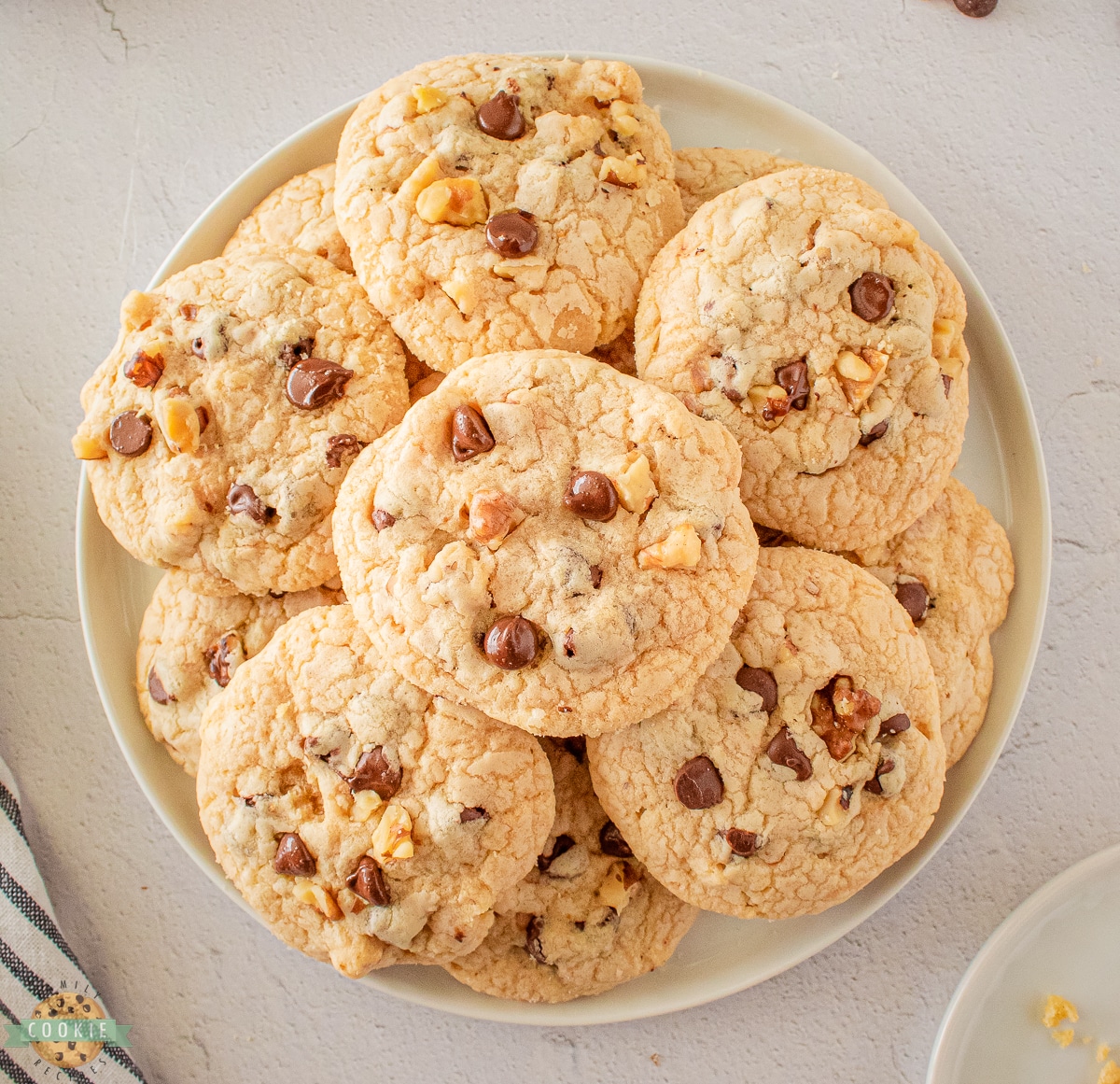 Brown Butter Walnut Chocolate Chip Cookie Ingredients
-Flour: You will need 2 cups of all-purpose flour for this recipe for the base of the cookie dough.
-Salt: Adding in ½ teaspoon of salt will help to enhance the flavors in the dough wonderfully.
-Baking powder: Adding in ½ teaspoon of baking powder will help the cookies to puff up nicely as they bake.
-Butter: You will need 1 cup of unsalted butter, this is two sticks. The butter will give the cookies a lovely rich taste.
-Sugars: Use ¼ cup of granulated sugar and ¾ cup of brown sugar to make these cookies sweet and heavenly.
-Eggs: You will need 2 eggs to help bind the dough together well.
-Chocolate chips: You will need ⅔ cups of semi-sweet chocolate chips for a wonderful chocolatey taste.
-Walnuts: Use ⅔ cups of chopped walnuts so that there is plenty of enjoyable crunch in every bite.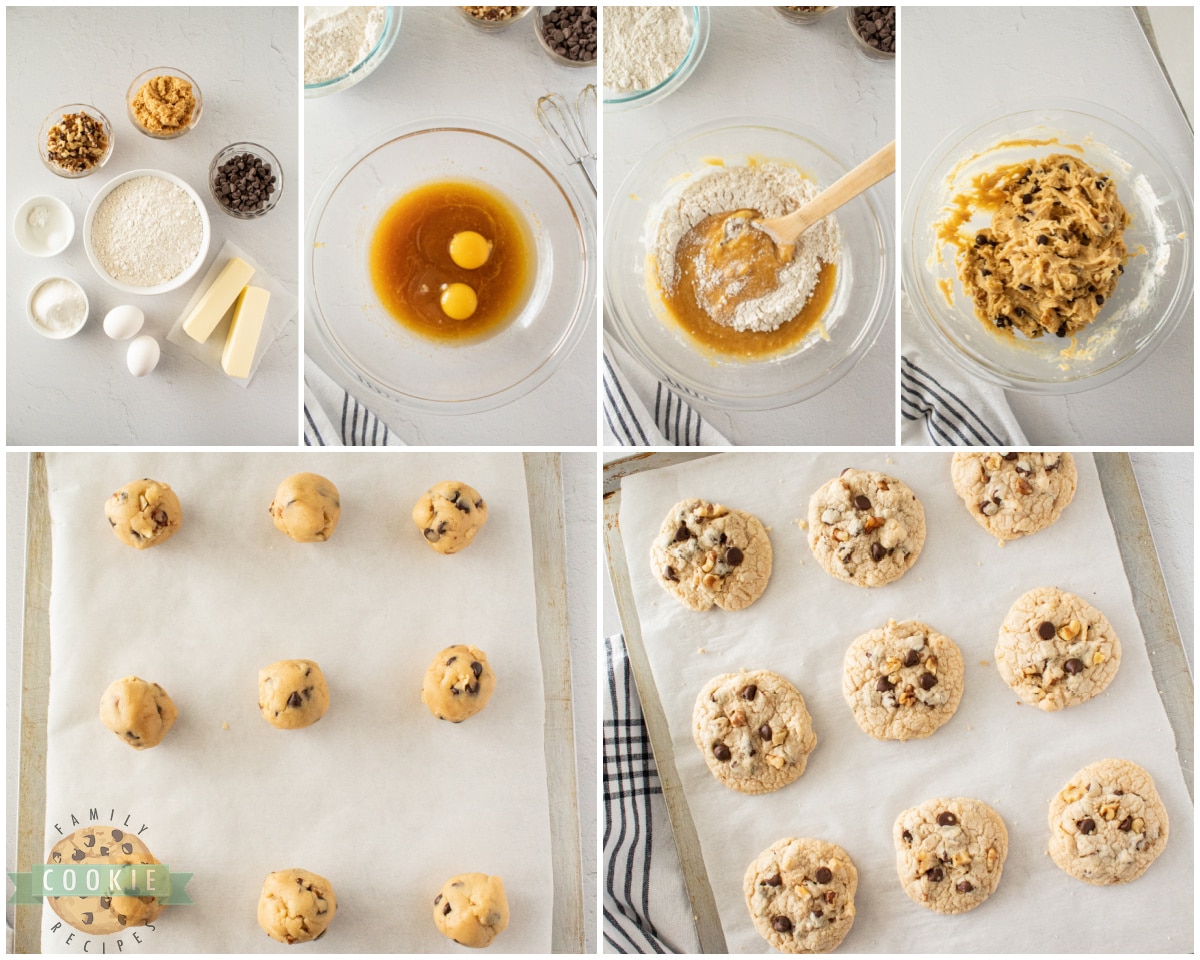 How to Make Brown Butter Walnut Chocolate Chip Cookies
Cookie Dough
In a small mixing bowl, combine the flour, salt, and baking powder together. Set it aside.
See the video below about how to brown butter! In a small saucepan over medium heat, melt and brown the butter for about 5 minutes. Bring it to a simmer while stirring constantly until the butter clears and light brown specks form. This will take about 10 minutes. It should smell faintly of caramel. Remove from heat and continue to stir until the bubbling stops. Allow cooling for 10 minutes.
In a medium sized mixing bowl, whip together the white and brown sugars and the butter with a handheld electric mixer.
Next, add in the eggs and mix again until combined.
Then, mix in the flour, a little at a time until all has been incorporated.
Continue to add in the chocolate chips and walnuts, mix until well combined.
Proceed to cover the dough in the bowl with plastic wrap and then place it in the fridge to chill for at least an hour.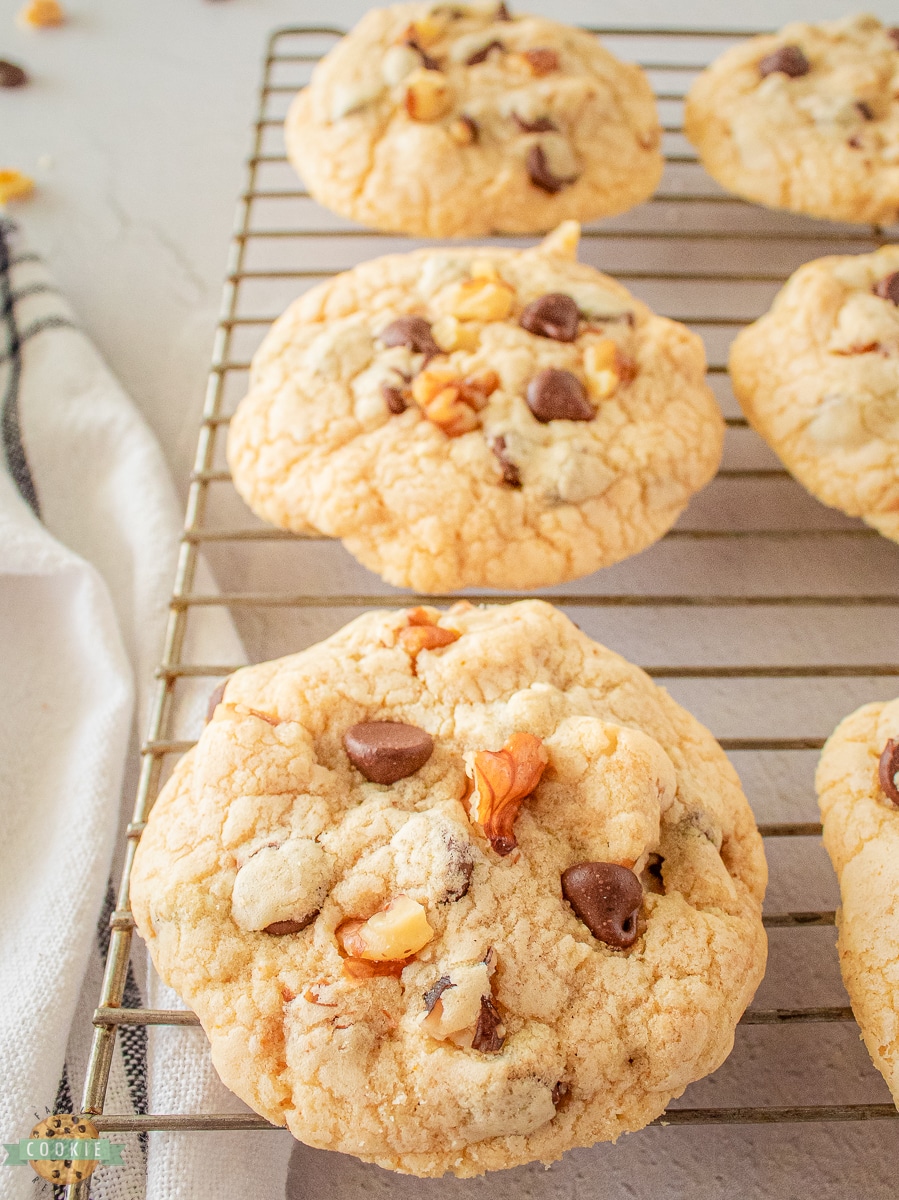 Baking
Preheat your oven to 325 degrees F. Then, line a baking sheets with parchment paper.
Next, roll the dough out into 1 inch sized balls and place them onto the baking sheet.
Flatten the tops of the balls slightly. This will help the cookies cook more evenly and come out perfect!
Bake in the oven for 17-18 minutes or until the bottoms of the cookies are slightly brown.
Transfer the cookies to a cooling rack and allow them to cool before serving. Enjoy!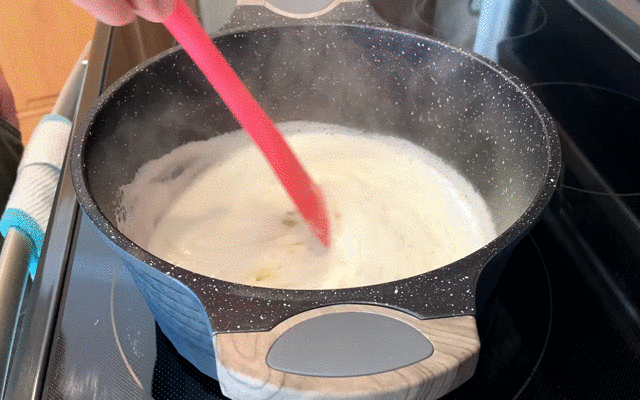 How to Brown Butter
Add all butter to a large saucepan over medium-high heat. (I know a large saucepan seems too big, but as the butter cooks, it foams up, so trust me on this one!)
Stir gently using a rubber scraper as the butter melts. Continue to stir as the butter cooks. It will first liquify, then start to bubble & foam, all while gently bubbling. Within about 5 minutes after the butter foams, it will begin to change color and brown bits will appear. It's easier to see the brown as your stir the butter- you can see the foam turn colors in the video above. I like to cook it about 45 seconds to 1 minute past when it changes color.
Remove from heat and the foam will settle and you'll be able to see BROWN BUTTER! Let cool until butter has solidified again. (It won't return to the same state as it was per-cooking. It will be more the consistency of sour cream.)
NOTE: You CANNOT use margarine to make brown butter! REAL BUTTER ONLY.
How do I know my butter is done browning?
Once you notice the butter becoming clear or transparent, keep a close watch as it is getting close. The butter will develop a bit of a darker tone and small, light brown specks will appear. Once the brown specks appear, remove your butter from the heat. If you leave it over the heat for too long, you run the risk of burning your butter. Burnt butter will have very dark brown/black specks that look like coffee grounds.
How do I store these cookies?
You should store these cookies in an airtight container, they will stay fresh for about a week or in the freezer for a month.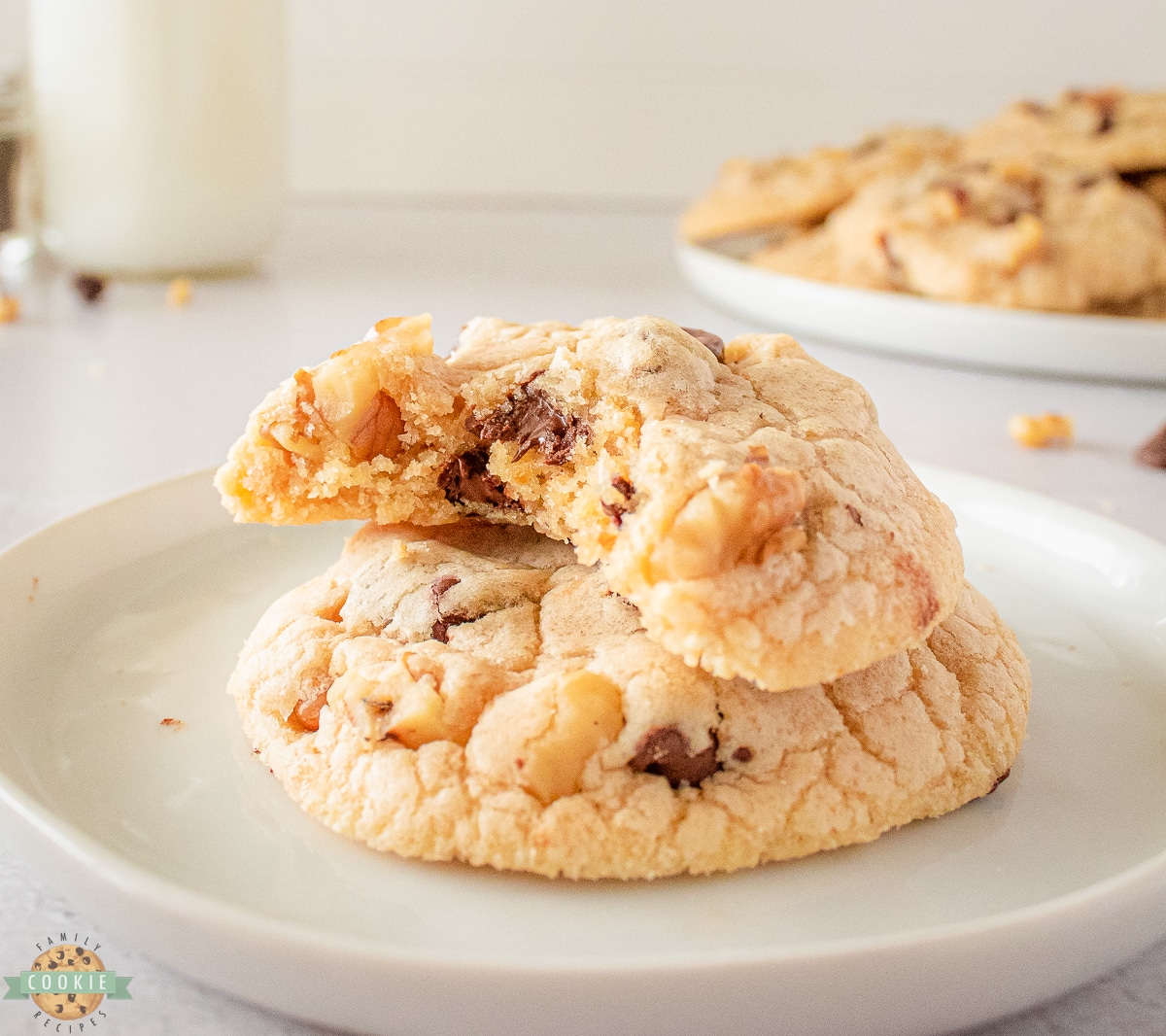 Can I substitute the flour/walnuts/chocolate chips?
This recipe has only been tested using all-purpose flour. Any other type of flour that readers want to use I recommend substituting in at half. The walnuts and chocolate chips can easily be exchanged for other favorite nuts or types of chocolate chips.
Why does the dough need to chill for an hour?
Chilling your cookie dough makes it easier to handle when rolling into balls. It also allows the butter to cool which helps prevent the cookies from overspreading while baking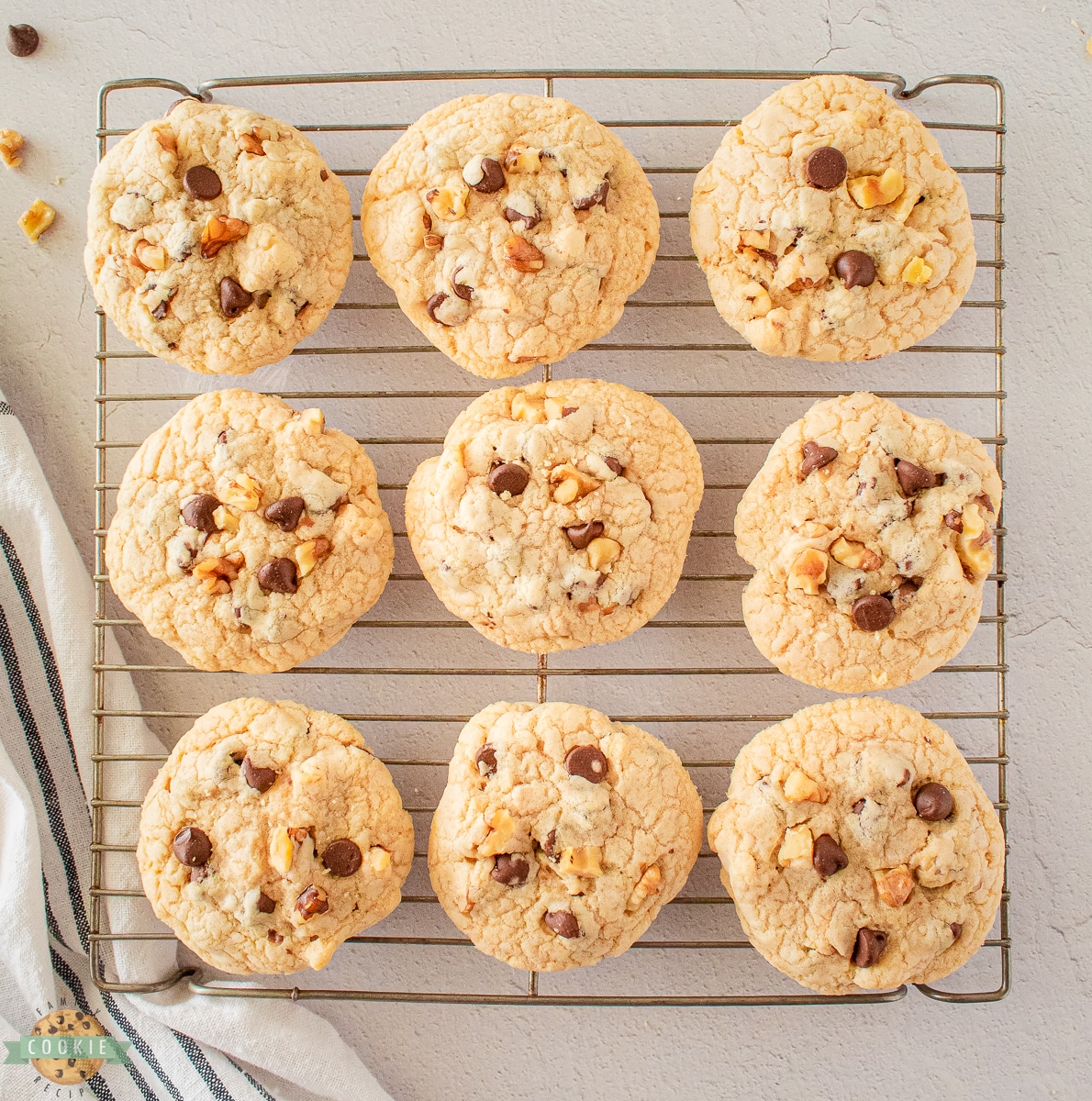 Why should I use parchment paper instead of cooking spray?
Parchment paper helps the cookies bake evenly. There's also a lot of butter in these cookies, so parchment paper over cooking spray will help prevent a greasy mess.
Here are some more great chocolate chip cookie recipes you might enjoy

After 2 failed cruises due to Covid, our family was finally able to set sail not long ago! We had an amazing time and can't wait to go again! Here my middle son and I are out for a walk and are just taking it all in. These cruise ships are pretty cool!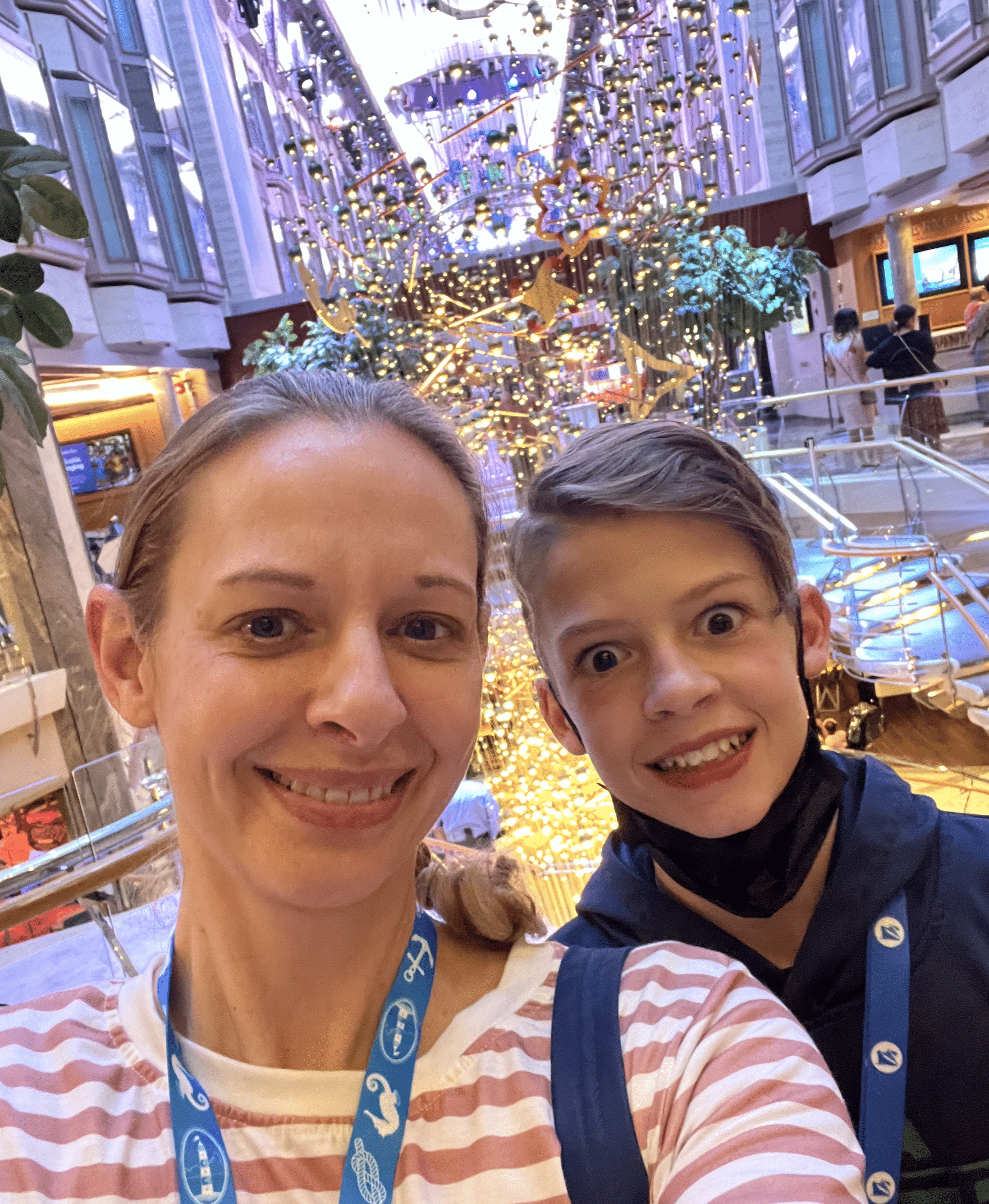 You are going to love these rich and delicious brown butter walnut chocolate chip cookies. They are packed with nuts and chocolate, what's not to love?!?